Okay, let's be real here…
We all have to be very careful with the kind of food we eat. It doesn't matter what the box packaging says; it's essential to do a little digging to find out exactly what you're ingesting.
You may think you're eating a gluten-free pizza, but that's just because the toppings don't have gluten. The dough actually does have some wheat in it. This can be dangerous to your health, especially if you've been diagnosed with celiac disease.
The safest way to know you're eating a gluten-free pizza is to DIY a homemade pizza recipe. Such recipes are plastered all over the web—just do a Google search, and you're good to go.
What If I Have Limited Time? 
I understand that there may be times when you're pressed for time. And you'd like a quick fix. You need a pizzeria company dedicated to offering gluten-free pizzas.
For the best gluten-free pizza, I recommend steering clear of the leading pizza providers like Domino's, Papa John's and similar pizza outlets.
Small, less-known pizzerias dedicated to gluten-free pizza guarantee there is no cross-contamination of gluten. The downside is the costlier price of gluten-free pizza.
Still, you can't afford to gamble with your health. You can't compare spending an extra few bucks to losing thousands of dollars in hospital treating yourself for obesity or celiac disease.
Anyway, here's a list of the 12 best gluten-free pizza brands:
The Best Gluten-Free Pizza Brands
1. Freschetta Gluten Free Pizza (Frozen) 
From many reviews I've read on gluten-free pizzas, the Freschetta comes top. Fans love it for coming so close to the real pizza. Some even claim it is 98 percent similar to the real thing.
Generally speaking, the Freschetta pizza is damn good!
For those who aren't purist vegetarians, I suggest adding Hormel crumbled bacon to make it yummier. What's even better about the Freschetta is that it's the type of gluten-free pizza whose crust doesn't fall apart – something common with rival brands.
The pizza also has a zesty scent to it, with traces of pepperoni filling the room. It might be a good idea to order more than a single serving if there's someone else in the house.
It comes baked with mozzarella, parmesan, and cheddar cheese. This makes the Freschetta pizza a perfect meal for a lazy night.
It's also made with flavorful tomato sauce alongside other ingredients like Fontina, Asiago, and Parmesan. With a light and crisp crust, Freschetta pizza is certified by the National Celiac Association.
It's easy to prepare the Freschetta pizza. All you need is to thaw it, preheat the oven at 450 F, and then cook for 10 to 13 minutes.
You can purchase the Freschetta 4 Cheese Medley on Amazon. It's also available at your nearest Walmart store. Or simply visit its official site here.
2. Against The Grain Gluten-Free Pizza 
The second best gluten-free pizza is the Against the Grain, a company dedicated to offering healthy pizza. Like the Freschetta, this pizza has a taste close to regular pizza.
The pizza is super cheesy and has a thick crust made of tapioca flour (gluten-free) and eggs. This causes the crust to have a fresh, hefty flavor.
The pizza slices are chewy and have a great texture. When placed in an oven, the cheese melts just right. Large pieces of grated cheese give this gluten-free chewy yet crunchy crust. The cheese melts nicely to produce a good texture.
The best thing, and probably the most notable aspect of this pizza, is its large size. Most veggie pizza lovers tend to complain about small servings of gluten-free products. That's not the case with Against the Grain pizza.
The pizza is large enough for two people. This compensates for its high price. You can buy a pack of 6 slices of the Against The Grain pizza from Amazon.
3. Udi's Gluten Free Margherita Pizza 
Any veggie lover who has ever tried gluten-free pizza must have heard of Udi's Margherita pizza. It's one of the tastiest gluten-free pizzas on the market right now.
Its crust is rather dark in color. But that shouldn't be a put-off. The crust is thin enough to deliver a flavorful bite of the pizza.
The pizza has a "Margherita" taste, making the crust feel a little bit light and crispy. While the taste is exquisite, don't expect much of a cheesy taste from the pizza.
It also comes with a flavorful tomato sauce layered on top of the thin and crispy crust. The sauce is made from garlic, extra virgin olive, and vine-ripened tomatoes.
Seemingly, Udi's Pizza goes the whole nine yards to make sure you're not only healthy but also get to enjoy a tasty pizza.
A single serving of the pizza contains 300 calories, 320mg of sodium and only 10 grams of fat. Get the Udi's pizza from Amazon here.
4. Sonoma Flatbreads Gluten-Free Pizza 
The objective of Sonoma Flatbreads was to come up with tasty gluten-free pizzas. So far, the company has been doing a great job.
The cauliflower crust makes the pizza tasty. Such toppings as roasted pepper, uncured pepperoni, and smoked provolone will leave you feeling like you're in heaven.
Its fantastic taste is partially attributed to nitrite-free meat. This makes a perfect pizza for a vegan looking to balance vitamin B12.
Since Sonoma is a brand dedicated to gluten-free pizzas, you can count on them to provide high-quality pizza. They actually use simple ingredients to come up with delicious pizza.
The most common toppings on the pizza include tomato sauce, ham, smoked provolone cheese, and pepperoni. Sonoma pizza has neither artificial flavors nor preservatives.
It's available on the brand's official site, but you can still order it from Walmart.
5. Simply Shari's Gluten-Free Pizza 
If you're diagnosed with Celiac disease, it's best to choose Simply Shari's gluten-free pizza. This brand has been certified to provide gluten-free pizza.
The company is recognized by the Celiac Sprue Association and even has a seal to prove this. The certification means the company doesn't share equipment for baking other types of pizza.
Since it's strictly meant for celiac patients, you'd expect the pizza to be bland. It's actually delicious and very tasty.
The crust is soft and chewy. You can get creative by adding various spices to make it saucier. I love that this pizza comes in varieties. If you prefer cheese, get Simply Shari's 6-pack Cheese  Pizza.
Alternatively, you can go with the Pesto Margherita. This has a combination of fresh pesto with basil leaves. You also get bits of diced tomatoes thrown in to make a light and chewy crust.
6. Amy's Kitchen Gluten-Free Frozen Pizza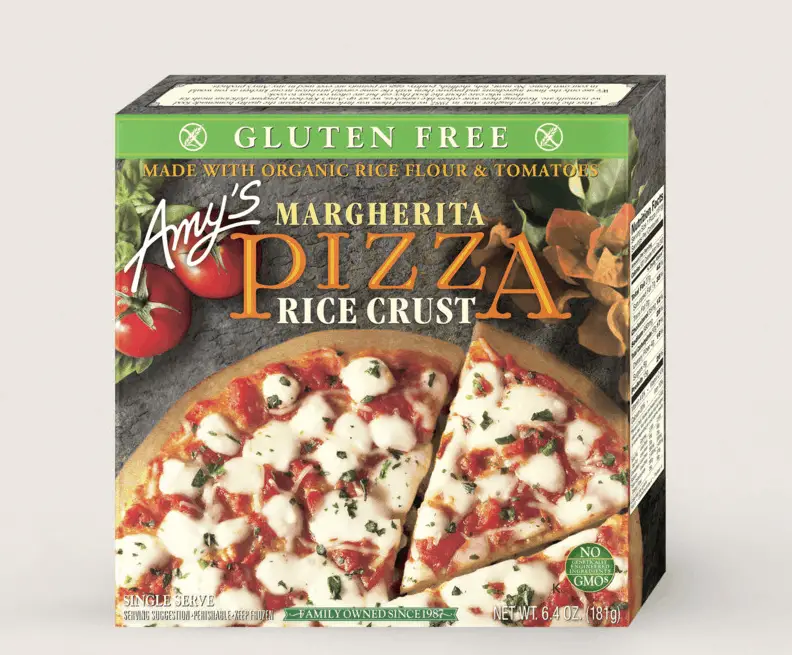 If you're in search of a perfect blend of tender and crispy, then the Amy's Kitchen Gluten-Free pizza will be your best bet.
They bake their pizza using broccoli, sweet potato, and cauliflower. The crust is made of rice, which is incredibly tasty with a nice crunch.
The pizza is topped with an in-house slow-simmering tomato sauce. They also add melty mozzarella. This pie will even make you wonder why pizza is never cooked like this!
A few complaints have emerged regarding its taste. But that's because the pizza is made for strict vegans.
Amy's Kitchen Gluten Free Pizza doesn't use fish, meat, poultry, peanuts, or eggs in any of its products. That might be a put-off if you are not vegan, but perfect for those looking to improve their health.
It's even better because Amy's Kitchen Pizza has the highest fiber per serving of any of its rivals. When reheating the pizza to eat, you'll want to give it more time to melt. The dairy-free cheese requires ample time to melt.
You can order a single-serve from their official site.
7. Pizza Hut Gluten-Free Pizza 
Okay, I just had to add one of the leading pizza retailers. Compared to other popular pizza outlets, it's only Pizza Hut that's working really hard to make sure their gluten-free pizza is safe.
Even though they openly admit to the possibility of cross-contamination in their kitchens, the pizza is still safe and very much gluten-free.
I love that they publicly admit this—which shows some form of trust. Anyways, the Pizza Hut gluten-free pizza is not recommended for those diagnosed with celiac disease.
Notably, Pizza Hut gets its gluten-free crusts from Udi's Pizza, a certified pizza company dedicated to cooking purely gluten-free pizza.
Also, Pizza Hut tries as much as possible to avoid cross-contamination by storing their gluten-free crusts, sauces, and toppings in a designated kit.
8. Gluten-Free BBQ Chicken Pizza by California Pizza Kitchen 
If you love a little bit of barbecued chicken but still want a gluten-free pizza, the California Pizza Kitchen has you covered.
The CPK gluten-free pizza features red onions, mozzarella, cilantro, hickory, and smoked gouda cheese. These ingredients give the pizza a sweet and tangy taste.
The BBQ pizza is cooked with fresh cheese that's 100 percent real. The California Pizza Kitchen has the policy of never using artificial flavors in their pizza.
This gluten-free pizza also doesn't have preservatives on its crust. And the chicken used in this pizza is naturally raised to avoid any additional hormones.
The CPK BBQ pizza is an excellent option if you need a quick, satiating dinner on a busy night. You can get its homemade recipe to cook at your comfort, or simply buy a ready-made pizza. [30 Best BBQ Pizza Recipes]
Wrap-up 
As a reiteration, your taste buds should guide you when choosing a tasty gluten-free pizza. Of course, mine is different from yours.
But once again, from the little research I did, it seems the Freschetta Gluten-Free Pizza is a winner. You can also go with the likes of Sonoma Flatbread or Udi's Pizza.
For strict vegans, Amy's Kitchen Gluten Free Pizza is your best bet. They don't use any animal-derived ingredients in their products.
You can also opt for the likes of Pizza Hut for a gluten-free pizza. But that's never a recommended option if you've been diagnosed with celiac disease.
That's because of the risk of cross-contaminating the gluten-free pizza. But still, if you're searching for a tasty gluten-free pizza, don't write off Pizza Hut.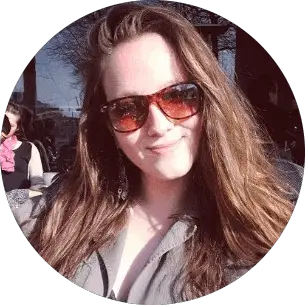 Barbara is an enthusiastic food-exploring person that goes through different culinary experiences. She got inspired by creating a pizza blog post after she tasted one of the best-selling pizzas in Toledo.