From places with new-style innovating pizzas to old-school thin crusty pies, you can be sure Indianapolis's, IN has them all.
Whether you are looking for a quick meal to-go or an elegant place to spend a nice evening with your significant other, Indianapolis has a great variety of pizza joints to visit.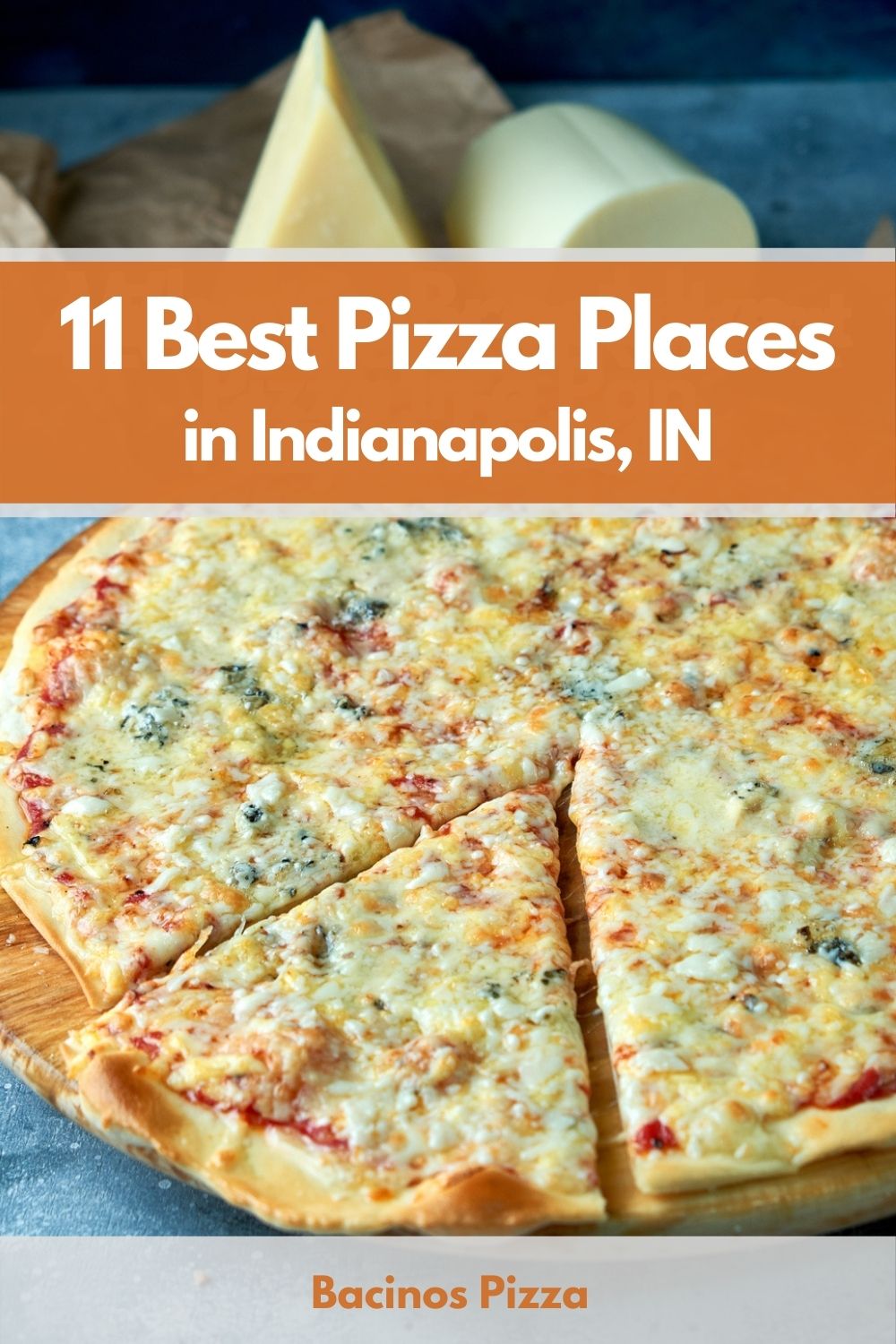 As the big pie fans we are, we couldn't make up our mind of which pizza joint was the best, so we had to gather around and make a list of the 11 best pizza places in Indianapolis, IN for you!
Address: 333 Massachusetts Ave, Indianapolis, IN
Phone: (317) 636-7662
Google Rating: 4.6/5
TripAdvisor Rating: 4.5/5
Yelp Rating: 4/5
We cannot talk about pizza in Indianapolis without mentioning Bazbeaux. Being a part of the city since 1986 this place has become one of the most famous pizza joints around.
They have the classic "create your own pizza" policy, but be aware that all their pizzas are made with a blend of mozzarella and provolone cheeses. What is best, they have their own homemade tomato sauce and it is simply incredible.
Bazbeaux pays special attention to their clients; all their pizzas can be ordered in a gluten-free or vegan option. Their "PIZZA ALLA QUATTRO FORMAGGIO" is a must-try, combining four different types of cheese, mushrooms, and bacon.
Just for you to take note, they don't call ahead reservations but do not worry; they have plenty of space to accommodate big parties in case you require it!
Address: 65 E Pearl St, Indianapolis, IN
Phone: (317) 638-3110
Google Rating: 4.5/5
TripAdvisor Rating: 4/5
Yelp Rating: 4/5
If you are looking for a place operated by their owners with a family-friend atmosphere and some of the best slices in Indianapolis, IN, Pearl Street Pizza is for sure the place for you.
Dave and Courtney Andrus, owners of Pearl Street take their pies and their beer seriously to please every different pizza lover. You will be tempted to choose a slice and enjoy some of the best beers while grabbing a seat at this popular bar to enjoy some sports in front of the big screens.
Dave loves to hang out and talk with the customers to make them feel at home. He will probably recommend you their hand-tossed style crust pizza and believe us, you will want to try it.
Our recommendation here is to definitely taste the "Quattro Formaggio" pie. The combination of mozzarella, parmesan, and ricotta cheese topped with some parsley and olive oil makes it an Indianapolis must-have.
Address: 114 E 49th St, Indianapolis, IN
Phone: (317) 925- 0765
Google Rating: 4.5/5
TripAdvisor Rating: 4/5
Yelp Rating: 4/5
Napolese Pizzeria stays true to all the classic techniques and flavors. They offer artisanal wood-fired pies with a smooth thin crust so good that you will feel Italy is closer than ever.
If you are looking for a real Italian deal, this may be the right spot to pass by and delight yourself with a few slices.  Their dough and sauces are prepared using only the finest and freshest ingredients grown specifically for Napolese.
"Cacio E Pepe" is by far the star of the menu; Braised pork, asparagus, goat cheese, and black pepper cream sauce, but if you are a classic pizza lover you can always choose the Margherita pie with mozzarella and fresh uncut basil.
Napolese manages online reservations for up to 10 people and you can also book a private event for a big party or a corporate meeting by their webpage in case you are planning to spend a warm evening with a large group of people.
Address: 8810 S Emerson Ave # 240, Indianapolis, IN
Phone: (317) 865-0911
Google Rating: 4.7/5
TripAdvisor Rating: 4.5/5
Yelp Rating: 4/5
Get a taste of New York pizza combined with Italian style right here on the South Side. Brozzini is a family-friendly spot ran by his owner James Cross, who came from the Big Apple to create an almost perfect pie.
James says they carefully hand-select every ingredient to recreate their Big Apple signature crust, and we must say that they do a really great job here! It is a nice experience. The ambiance is for sure welcoming and charming.
Their wines, food and especially their pies are absolutely amazing, also the staff is extremely knowledgeable and you can ask for recommendations of what toppings combine best!
If you visit Brozzini Pizzeria, you cannot leave without getting a taste of their "FIFTH AVENUE" pie. It is hands down the best New York-style slices you will ever taste being far from the real Big Apple.
Address: 452 N Highland Ave, Indianapolis, IN
Phone: (317) 602-7960
Google Rating: 4.4/5
TripAdvisor Rating: 4.5/5
Yelp Rating: 4.5/5
When it comes to hand-made fresh food, King Dough is a professional in the area as it is a place where the act of making pizza is a true craft, driven by quality. We must say they focus on the original style, preparing their pies with market-fresh seasonal ingredients.
Two things make King Dough a great spot to spend a nice evening, their lovely decorated patio and their stunning original dishes. It is said that this pizza joint has some of the best appetizers around. Be sure to get a taste of the cauliflower wings; they are the star of the show.
Referring to pizzas, they do them in a wood-fired oven to ensure you a thin-crust, hot-bubbling pie. The best thing here is that they have a large amount of different pre-made options for you to choose from. And all of them are incredibly tasty!
A suggestion here, if you are a sausage lover, is to get the "Destroyer pizza". Red sauce, aged mozzarella, rosemary, basil, garlic, goat cheese, king dough Italian sausage, and last but not least, their special "Mike's Hot Honey" combine to achieve one of the best pies in Indianapolis.
Address: 1134 E 54th St, Indianapolis, IN
Phone: (317) 820-5100
Google Rating: 4.5/5
TripAdvisor Rating: 4/5
Yelp Rating: 4/5
Diavola's motto is "In our crust, we trust" and after getting a taste of their slices, we must say that we understand why. This is maybe one of the best thin-crust we have ever tried.
While you wait for your pie, Diavola's homemade meatball appetizer is a great choice to delight yourself and get a taste of the quality of the place.
This place cooks their pizzas in a wood-fired oven and they just fall apart in your mouth. Keeping it Italian, they offer some thin-crust pizza made with Caputo flour to make it silky smooth.
If you are looking for a cool casual ambiance to hang out with friends and you are hungry for some stylish Italian pies, you will love Diavola. Great wines and great pizza, what else does a pizza lover need to be happy?
Address: 4919 38th St, Indianapolis, IN
Phone: (317) 293-4411
Google Rating: 4.6/5
TripAdvisor Rating: 4.5/5
Yelp Rating: 4.5/5
Magoo's California Pizza has been around since 2006 and has earned a really good reputation here in Indianapolis thanks to their original mix of flavors. California pizza combines New York and Italian thin-crust with toppings from the Golden State cooking style.
Pies here are topped with fresh vegetables and 100% Zabihah Halal meats, and they are so good you wouldn't believe it. You can ask for their famous garlic sauce or even a kebab sauce to try something new and unleash the real potential of flavors.
In our opinion, "Chicken Tikka Pizza" here is the star of the show. Lots of chicken, onion, green pepper, and one of the best garlic sauces we ever had. And the best thing is that Magoo's offers a really quick turnaround in case you are in a hurry!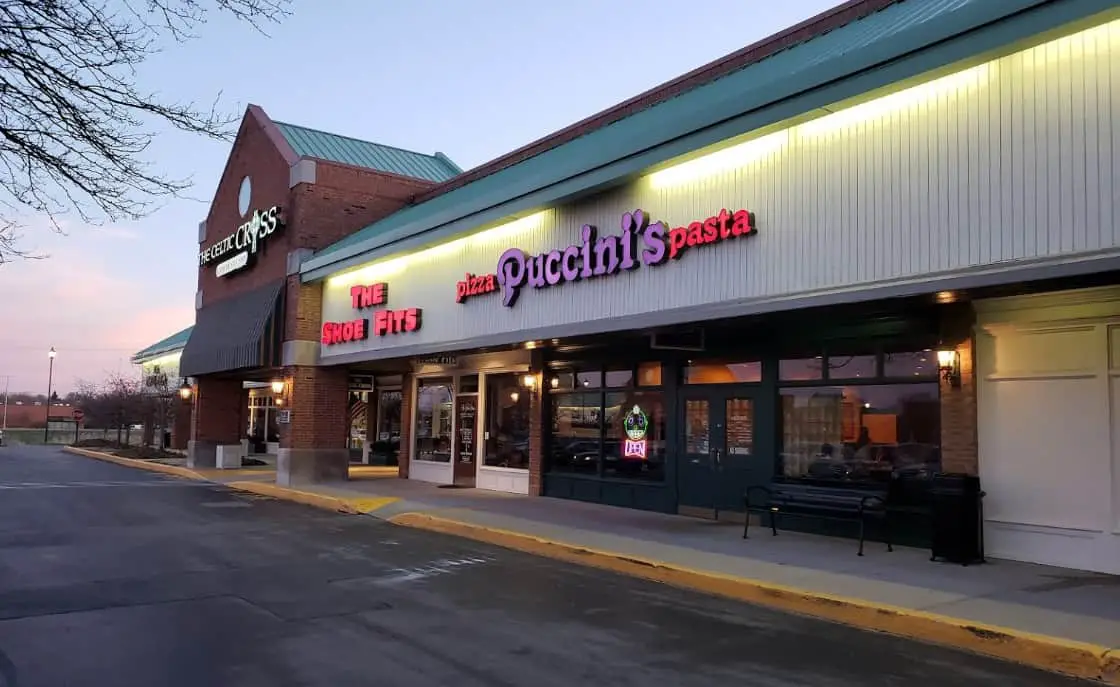 Address: 1508 W 86th St, Indianapolis, IN
Phone: (317) 875-9223
Google Rating: 4.4/5
TripAdvisor Rating: 4.5/5
Yelp Rating: 4/5
With almost 30 years in the pizza and pasta market, Puccini's specializes in high-quality original pies and Italian food. Puccini's menu has expanded during the last years to include Italian chicken dinners, calzones, sandwiches, and low-carb meals. However, pizza is the important deal here.
In 2012, Puccini's won the "Best Classic Pizza in the America" award at the World Championship of Pizza in Parma, Italy thanks to their "Campfire Pizza" a pie made with smoked sausage, sweet onion marmalade, gorgonzola, and fresh rosemary. So if you are around, don't forget to have a try of a slice of this prized pizza.
Puccini proudly claims to offer quality food at a reasonable price, and also takes care of his customers, offering more than 50 gluten-free dishes and a lot of vegan options!
You can book a reservation at their casual, yet stylish locations or you can even order a catering menu to your door to host a big party!
Address: 5615 N Illinois St, Indianapolis, IN
Phone: (317) 737-2056
Google Rating: 4.2/5
TripAdvisor Rating: 4/5
Yelp Rating: 4/5
With an almost paper-thin crust, Byrnes makes a spot between Indianapolis' best pizza joints. The crust here is foldable but yet crispy enough to hear the crunch when you take a bite, it is a great combination between crunch and chew.
The dough here is made from scratch and then rolled, to get some of that bubbles we all love. All pies come with Byrnes special sauce, shredded mozzarella, and asiago cheese. They got a nice variety of toppings, and they also offer gluten-free crust made of cauliflower, which is simply delicious.
Our suggestion here, if you are looking for a bit of tingling sensation in your tongue, is to go for their "Hot Momma" pie. This pepperoni, sausage, mushroom, and jalapenos combination will for sure make you want to visit Byrnes again!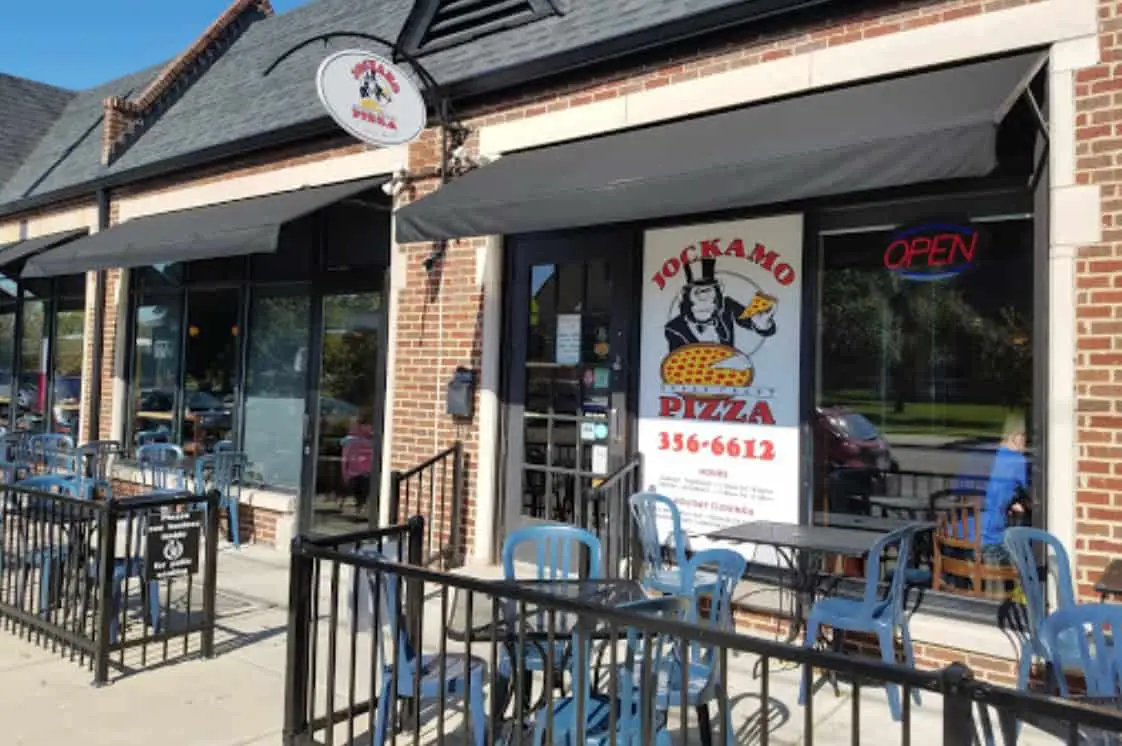 Address: 5646 E Washington St, Indianapolis, IN
Phone: (317) 356-6612
Google Rating: 4.6/5
TripAdvisor Rating: 4.5/5
Yelp Rating: 4.5/5
Jockamo Upper Crust has been in the Indianapolis pizza business since 2007 and has become one of the most famous corners in the city. Great pizza and great customer attention combine to provide an excellent experience to all pizza lovers who crave a thin-crust cheesy pie.
Offering the classic "build your own pizza" style, Jockamo offers three different pie sizes and even a 10" gluten-free crust. You can choose from more than 10 different sauces, including their famous Peanut Thai Sauce. Last but not least, they have both meat and veggie toppings. Our favorite is "Spicy Giardiniera"! For those looking for something new and special, you can go for the "Lump Crab" topping.
Jockamo is a great place to hang out with friends or even to spend a nice evening with your couple or family. It is said that if you go once, you will want to come back again!
Address: 43 N Illinois St, Indianapolis, IN 46204
Phone: (317) 288-3415
Google Rating: 4.3/5
TripAdvisor Rating: 3.5/5
Yelp Rating: 3.5/5
Giordano's has earned a reputation as having the best Chicago-style pizza in the region, and now, you can get a taste of that here in Indianapolis! Chicago pizza is so much more than cheese and crust and toppings. In Giordano's, it takes 6 pizza artisans to build up their famous stuffed pie.
Giordano's claims to use the freshest ingredients and some Wisconsin mozzarella made exclusively for them. They have a slow-baking technique to achieve a flaky crust that will leave you wanting more.
If you've never had deep dish pizza, you need to try Giordano's! Thick oozing pies with bubbling cheese. The best thing here is that even with a medium pizza you will have leftovers to bring home with you! Just make sure to try their "Chicago Classic", it's a must!
Conclusion
All things considered, and having tried all these great pizza joints, we must conclude that Indianapolis is a great place for any pizza lover. Great variety of pizza styles and different crusts, we are sure that this city will satisfy almost every different palate and taste. So go ahead and try one of these pizza joints, and please let us know your experience! We would love to hear your opinion.
---
Best Pizza Places In Indianapolis
Bazbeaux
Pearl Street Pizzeria & Pub
Napolese Pizzeria
Brozzini Pizzeria
King Dough
Diavola
Magoo's California Pizza
Puccini's Pizza
Byrne's Grilled Pizza
Jockamo Upper Crust Pizza
Giordano's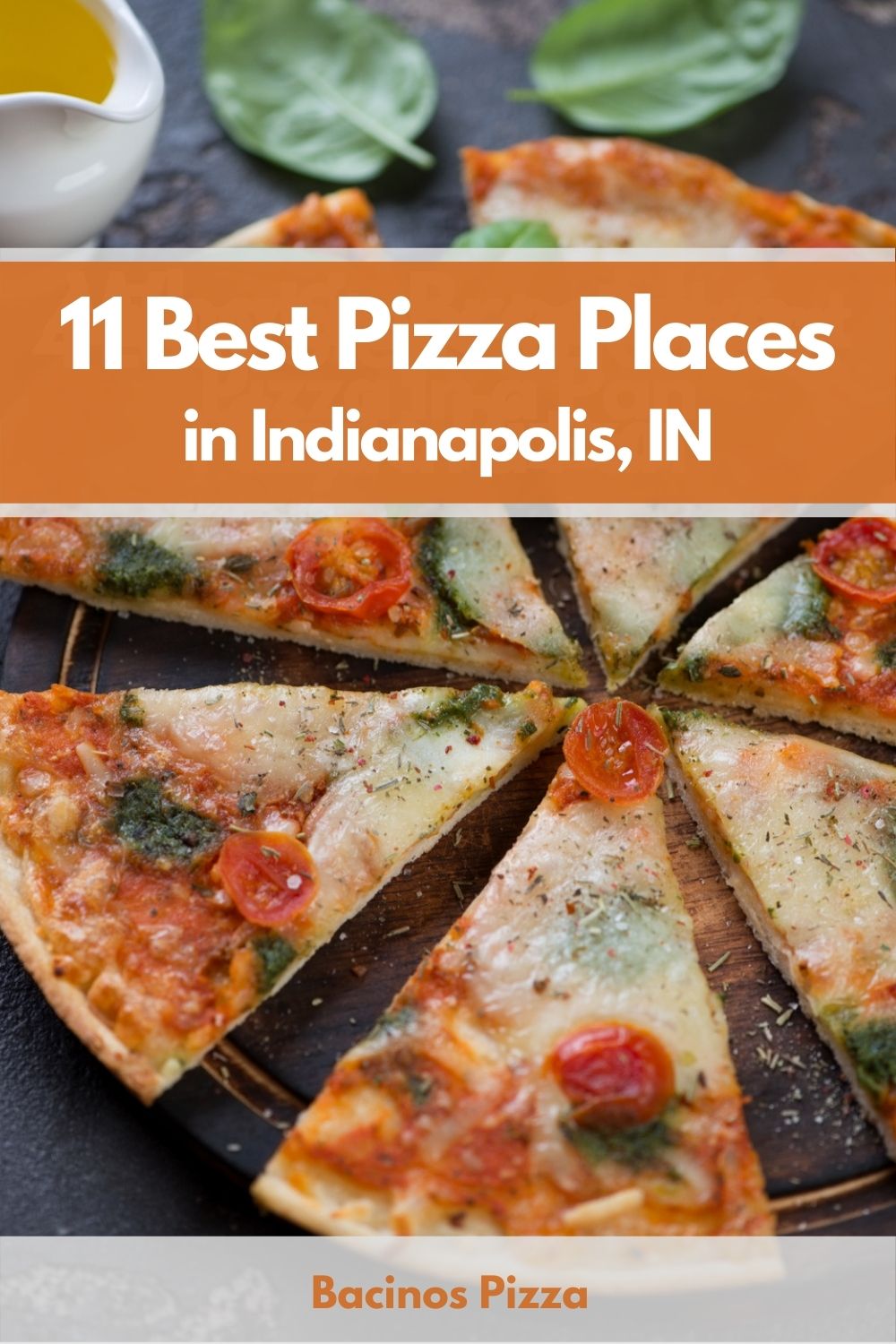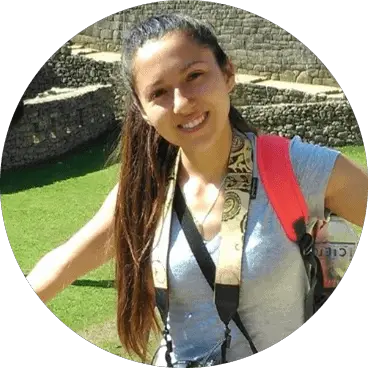 Kathryn's love for pizza started when she was still young. When she was young, she's been a picky eater–that's what her Mom used to say. The only food that she enjoyed and loved was pizza–until now! Her love for pizza turned into a passion!