When in San Jose, you'll be disciplined enough to try the local's favorite for a few days. But once you've had enough of lamb gyros in Nemea and Mac and cheese waffles in Café Stritch, you'll eventually miss pizza!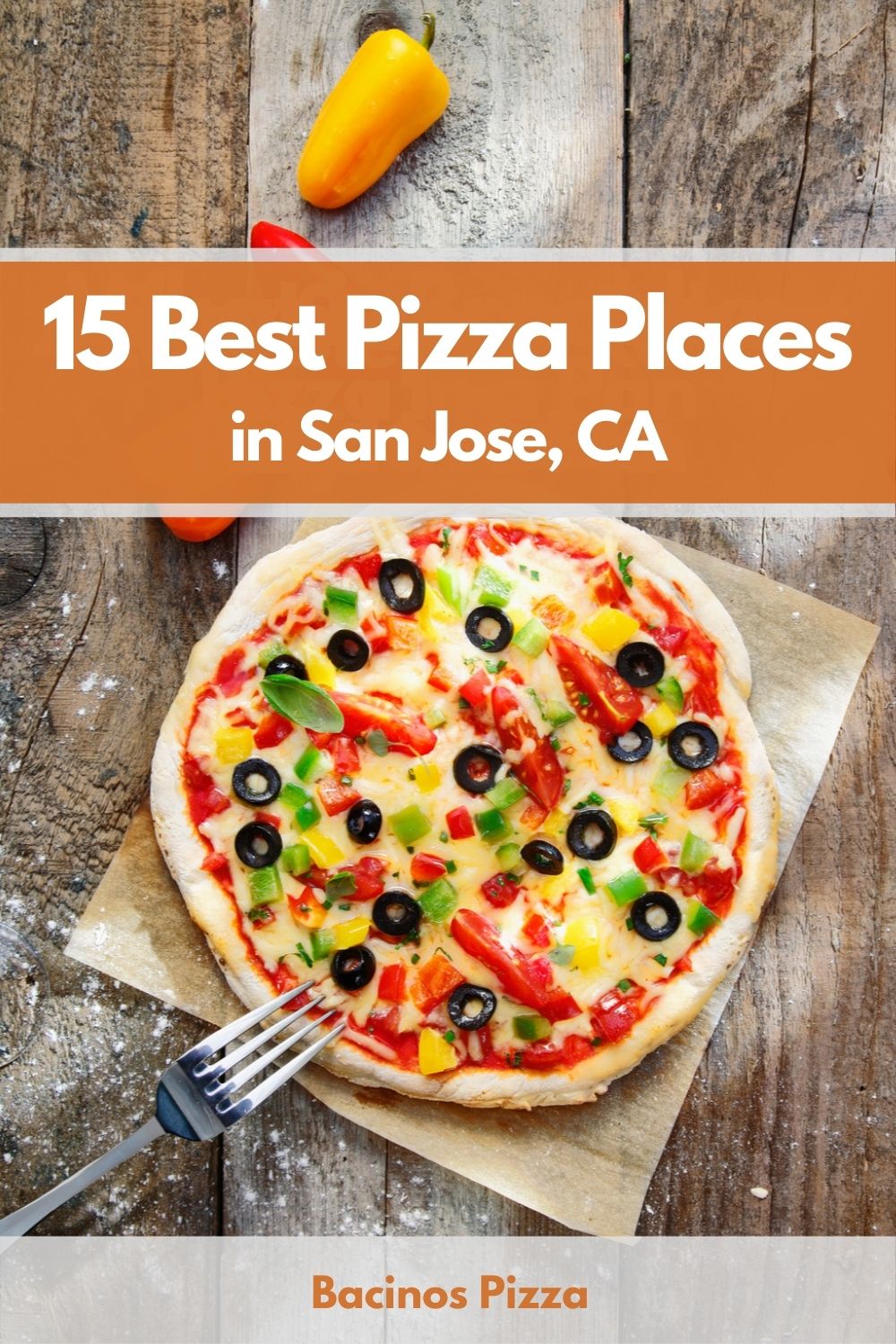 To your rescue, here's a list of 15 best pizza places in San Jose. We've taken reviews, ratings, and prices into consideration such that you can get the best pizza experience when you're in San Jose.
Some serve Neapolitan-style thick-rimmed pizzas whereas, some serve their pizzas with thin and crunchy crusts. Many of these pizzerias also have vegan and gluten-free options. So, what are we waiting for? Let's dig in!
Unlike many places where they pile up ingredients and toppings in the name of fanciness, A slice of New York likes to keep it simple. They say – pizza is a delicate balance of crust, sauce, and cheese. And we second that!
Relish the fresh New York-style pizzas in San Jose! Order a slice for yourself or a whole 20-inch pizza to enjoy with your friends and family; the choice is up to you!
This delivery and takeaway restaurant offers you varieties of food and at reasonable prices! If you love thin crusts and large pizza slices, this is your place!
Address: 3443 Stevens Creek Blvd, San Jose, CA 95117, United States
Contact: +1 408-247-5423
Pizza Antica is a part of Bacchus Management group family of restaurants opened over 10 years ago with the main purpose of evoking a feeling of eating in an authentic local Roman pizzeria. They fetch their ingredients fresh and high-quality from small family farmers.
Pizzas and pasta at Pizza Antica will rarely disappoint you. Moreover, reviewers are raving about how great the ambiance and location are and how the service crew is super helpful.
Not only Pizza Romana, but you'll also get to enjoy thick and chewy Neapolitan-style pizzas here. The prices are reasonable, and the pizzas are great! What else can you ask for?
Address: 334 Santana Row #1065, San Jose, CA 95128, United States
Contact: +1 408-557-8373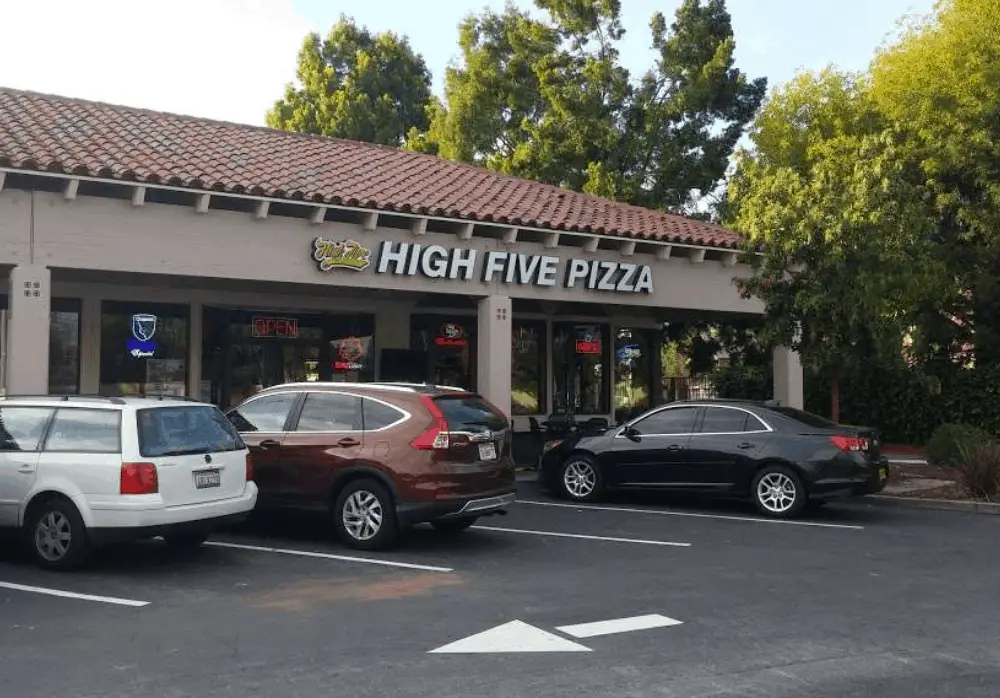 Located in the heart of the South Bay, High Five pizza has a casual sports bar vibe and multiple LEDs for the purpose, yet it is very family-friendly. Many love this place for enjoying games and drinking beers.
Though it offers a wide array of sandwiches, salads, appetizers, beers, and wines, High Five specializes in a variety of flavorful pizza. Loved by many is their supreme pizza!
Opened in 1989 by its current owner Myles, High Five has spent years developing its place amongst the locals. So, if you don't want to take any risk, visit this place for one of the most fantastic pizzas in California!
Address: 171 Branham Ln, San Jose, CA 95136, United States
Contact: +1 408-629-6800

Address: 800 Embedded Way, San Jose, CA 95138, United States
Contact: +1 408-365-5500
If you ever miss New York pizzas in San Jose, Colosseum New York Pizza has got your back! Baked into golden perfection, not only are their pizzas great, but the ambiance and the customer service are equally fantastic and will make sure you visit this place every time you're in San Jose.
Locals from New York are vouching how Colosseum pizzas are just as if they've ordered one from a pizzeria back home.
Besides pizza, their cheesesteaks and steak calzone are great too! The owner Dino and his wife definitely seem to know how to make the best NY pizzas in the Silicon valley!
Address: 761 E Capitol Ave, San Jose, CA 95133, United States
Contact: +1 408-262-8633
California Pizza Kitchen is a pizza chain that has expanded to more than 250 locations in 30 states and 11 countries. The nearest one from San Jose is located in Westfield Valley Fair, Santa Clara.
Needless to say, they serve an excellent variety of delish pizzas, but their appetizers are equally worth dying for! Since the place is usually busy, you can opt to enjoy a cup of coffee at Starbucks, just across the way.
The location is convenient, the service is quick, and the staff members are pleasant and friendly. What more can you ask from a chain eatery?
One more thing – many vouch that they serve one of the best dumplings in California! Now you know what to order for the appetizer, don't you?
Address: Valley Fair, 2855 Stevens Creek Blvd Ste. 1273, Santa Clara, CA 95050, United States
Contact: +1 408-243-0081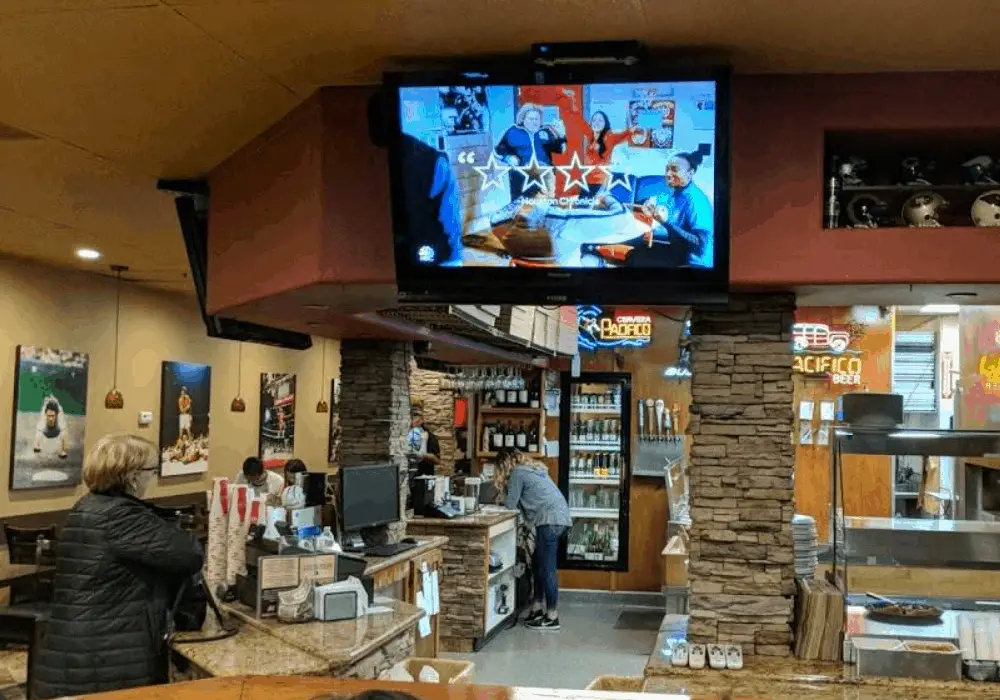 Legends Pizza Co is famous for its pizzas, wings, beers, and, of course, games! This place is perfect for sports fans and pizza lovers. If you're both, saying you'll regret not visiting this place would be an understatement!
The highlights of this pizzeria are thick and chewy crusts, ample toppings, courteous servers, reasonable prices, and of course, a welcoming and casual atmosphere. Even gluten-free pizzas at legends are finger-lickin' good!
Moreover, regardless of the size of the party and the dietary concerns, this local joint also acts as a pizza catering service.
Address: 5965 Almaden Expy, San Jose, CA 95120, United States
Contact: +1 408-323-9700
You can find Via Mia pizza, a truly authentic Italian pizzeria, in Camden Ave and Saratoga Ave in San Jose. Local owners, fresh ingredients, and a variety of pizza toppings combination! Via Mia also offers great Halaal pizzas. This pizzeria also offers a wide range of fresh salads.
So, if you're looking for a budget-friendly, delicious Italian pizza place with excellent customer service, Via Mia Pizza is your place to go!
Address: 5251 Camden Ave., San Jose, CA 95124, United States
Contact: +1 408-264-6222

Address: 1150 Saratoga Ave, San Jose, CA 95129, United States
Contact: +1 408-244-4100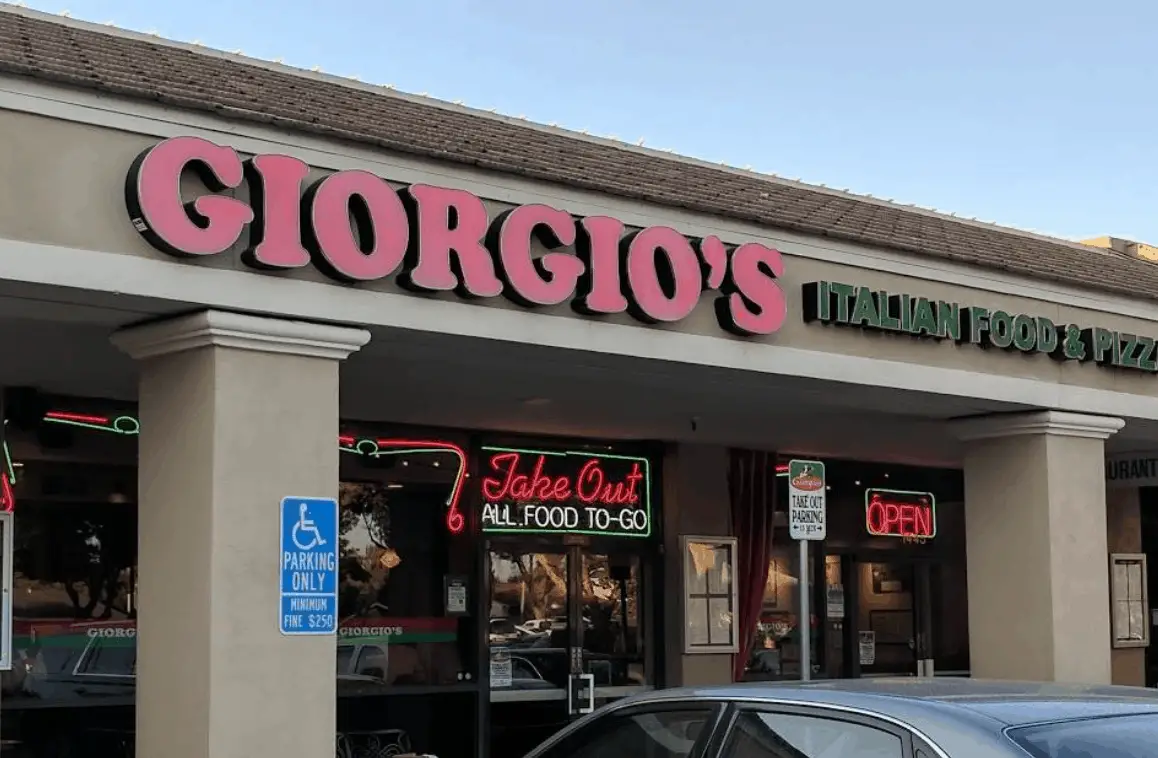 This family-owned Italian pizza house is famous as one of the best Italian food places in South Bay. Though the pricing might seem a bit high initially, you'll find it reasonable once you see the portion size. Likewise, the toppings in the pizzas are also of generous amount.
Besides pizzas, Giorgio's is also a great place for other Italian delicacies. The atmosphere is welcoming, and the staff members are friendly and helpful.
What's more, they offer an array of delicious gluten-free food options. Overall, the food is fantastic at Giorgio's would be an understatement!
Address: 1445 Foxworthy Ave, San Jose, CA 95118, United States
Contact: +1 408-264-5781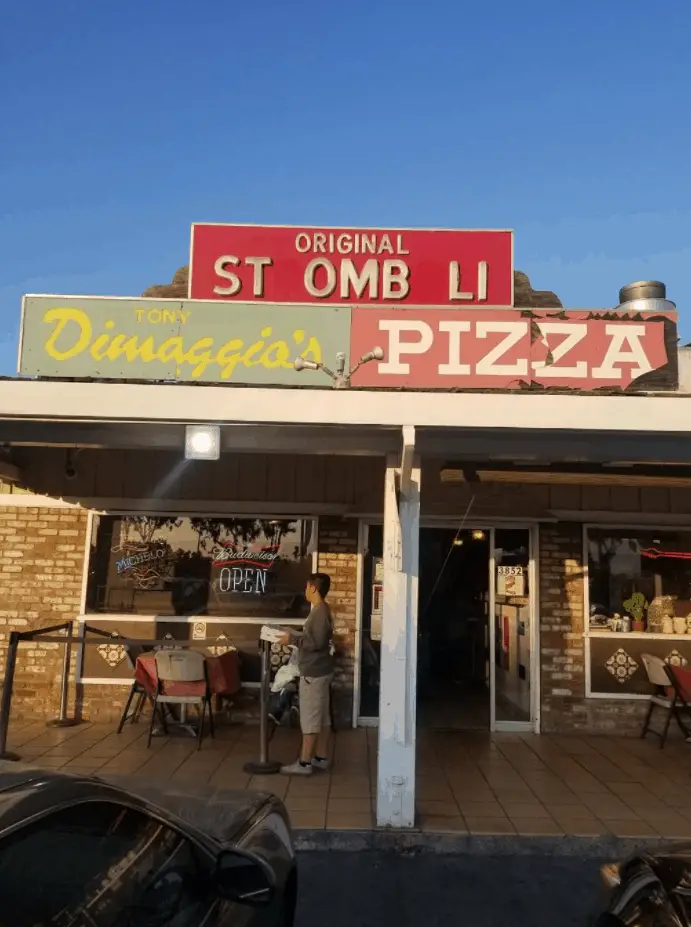 Tony Di Maggio's Pizza is famous among the locals, and they like to call it one of the San Jose's 'Best kept secrets'!
This pizza place opened by a Sicilian immigrant, Tony, is famous for its Stromboli. Many have vouched that Tony Di Maggio's Stromboli is the best they've ever had. So, make sure to give it a try!
Having said that, their pizzas are no less! The pizza crusts are thin, crispy, topped with moderate toppings. The atmosphere is cozy and homey, and the staffs are incredibly welcoming and friendly.
Address: 3852 Monterey Rd, San Jose, CA 95111, United States
Contact: +1 408-629-7775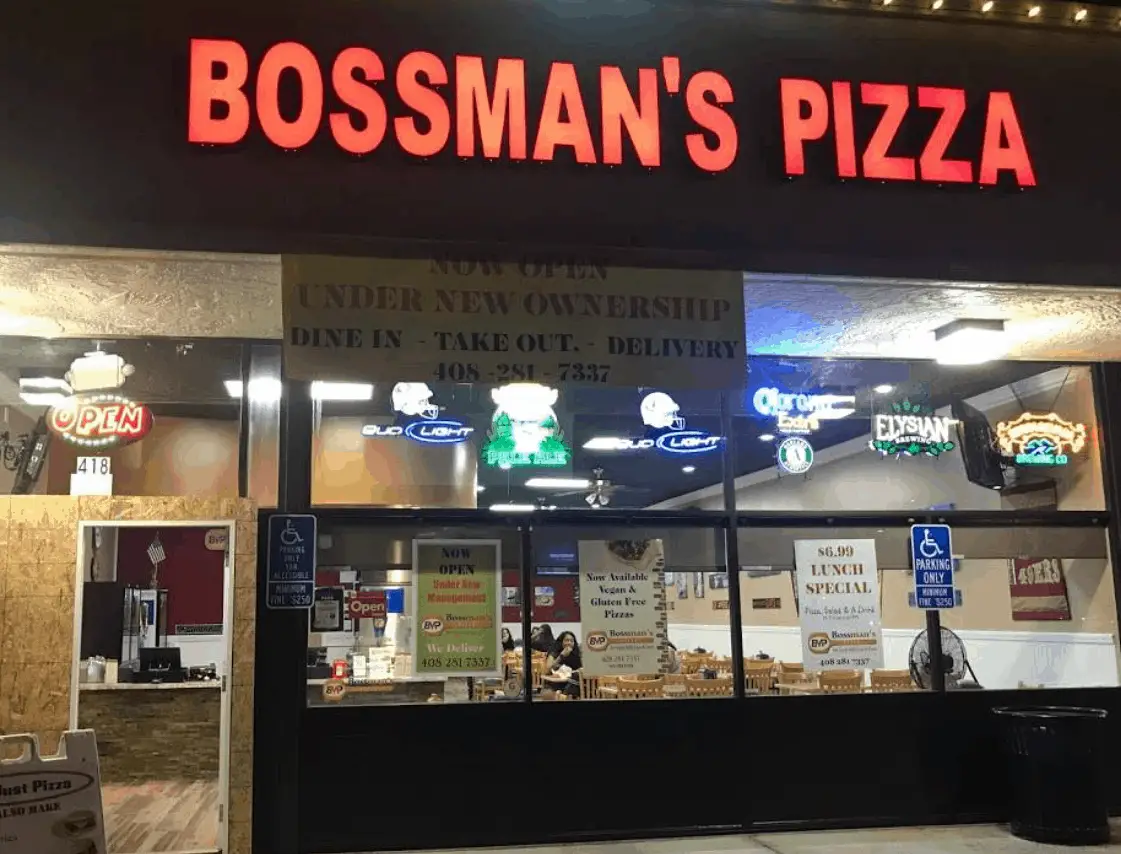 Be it Indian or Italian pizzas, Bossman's Pizza is one of the most elite pizzas you'll ever taste in San Jose. Their Chicken Tandoori and Palak Paneer pizzas are to die for!
This pizzeria is a family-run business, and you can tell from their food that they put a lot of attention and care into their recipes. Bossman's pizza is also famous for its variety of vegan pizzas with non-dairy cheese. The service is also fast, and the staffs are friendly and courteous.
So, if you're in San Jose and looking for great Indian and Italian fusion pizzas, or especially vegan pizzas, this place won't disappoint you!
Address: 418 W Capitol Expy, San Jose, CA 95136, United States
Contact: +1 408-281-7337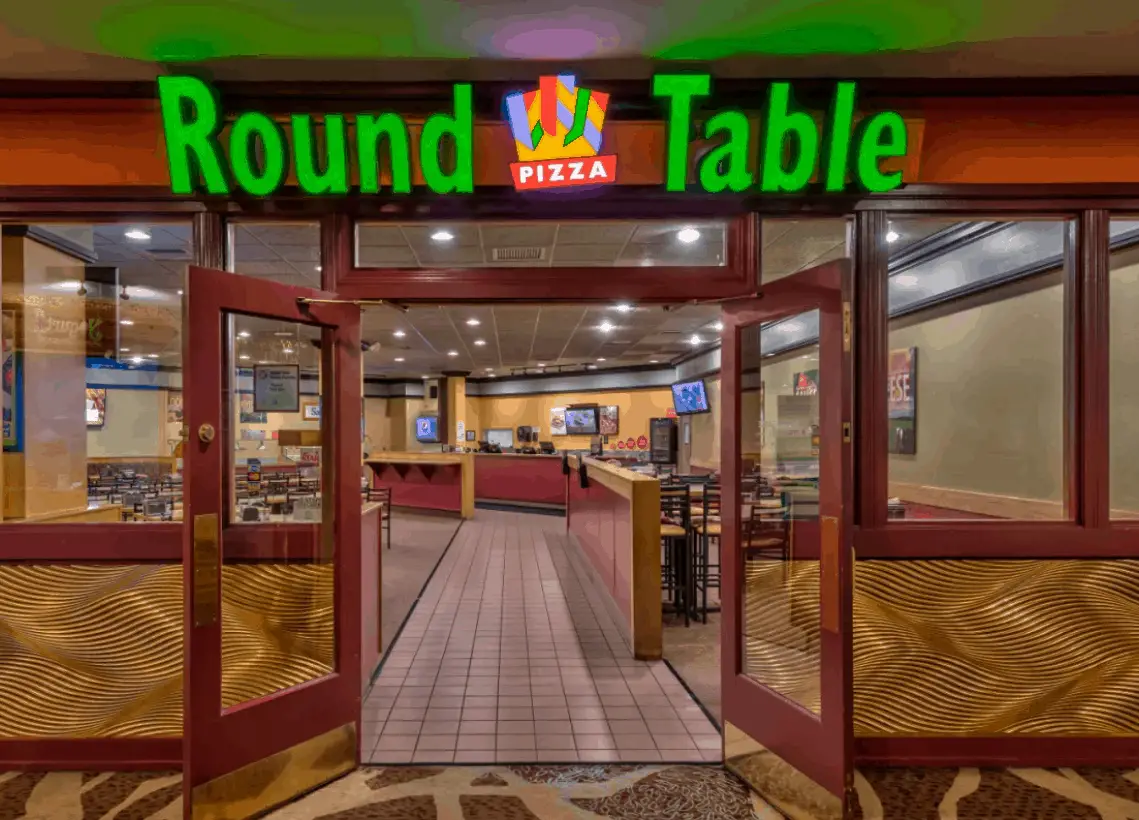 Round Table Pizza is a chain of elite pizza eateries and has 17 outlets in San Jose only! Their pizzas are rich, thick, and creamy, and the topping ingredients are fresh and tasty.
Overall, Round Table Pizza, which has been serving as pizza royalty for 60 years, is one of the best chain pizzerias in San Jose. They also have specials to save you a few bucks.
The ambiance is good, and the staffs are friendly as well. The only downside is that many find this place quite pricey. So, if Round Table pizza fits your budget, give one of their outlets a try!
Address: 1175 Lincoln Ave, San Jose, CA 95125, United States
Contact: +1408-2954-644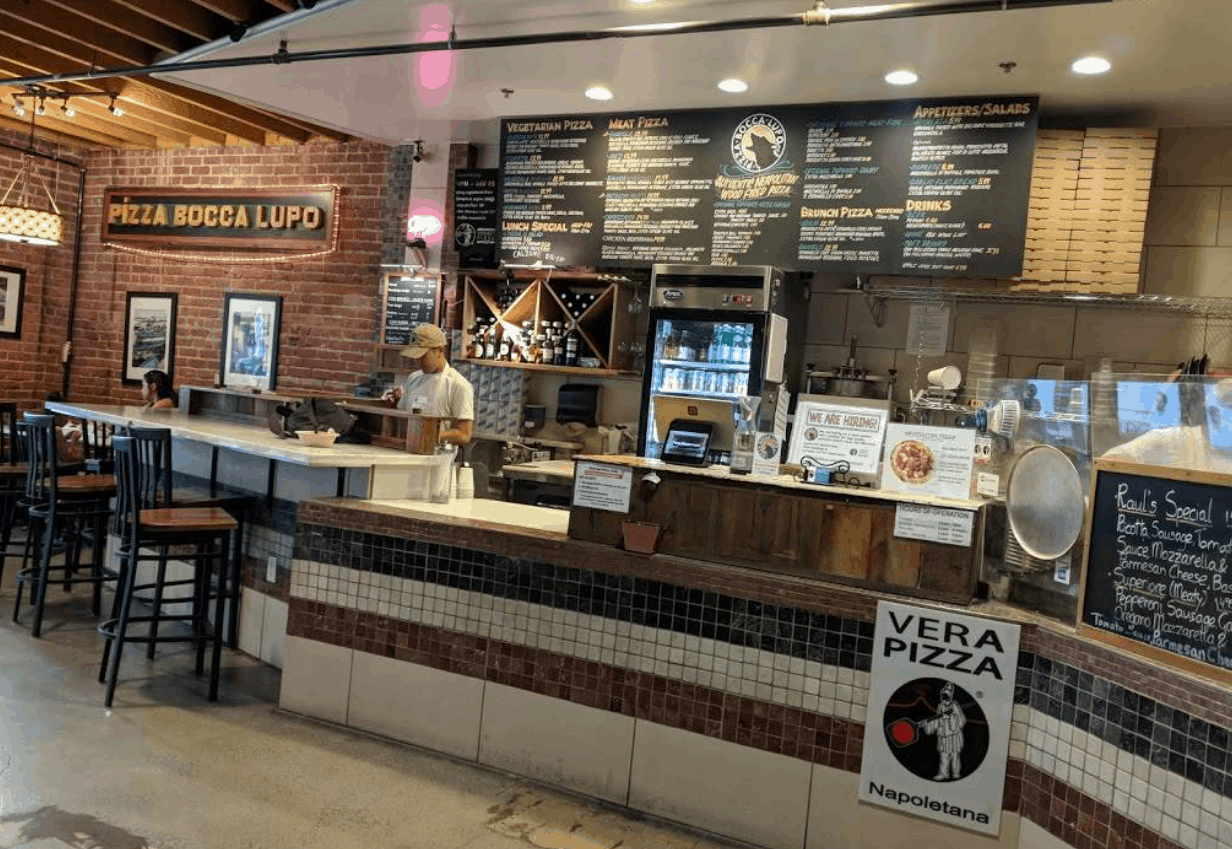 Relish the delicious Neapolitan-style thick-rimmed wood-fired pizzas at Pizza Bocca Lupo! This family-owned artisan restaurant is famous for its friendly and courteous staff. The pizza crusts are crunchy and perfectly charred on the outside and soft and airy on the inside.
Pizza Bocco Lupo also features a nice selection of beers and wines. What's more, their cocktails are incredible! If you're in San Jose, we'd highly recommend you visit this cozy Italian restaurant!
Address: 87 N San Pedro St, San Jose, CA 95110, United States
Contact: +1 408-289-1775
Bibo's Ny Pizza has the best New York-style pizza in San Jose, the toppings are always fresh, and the warm, oven-baked slices are simply irresistible. The staff is friendly, and the prices are reasonable. They have ample tables for customers to sit and enjoy their pizzas.
Though the deep dish pizzas take a bit of time to cook, it's totally worth the wait! You can order your pizza in advance if you're not okay with the waiting time.
Address: 1431 Bird Ave., San Jose, CA 95125, United States
Contact:  +1408-2179-084
The history of Cicero's Pizza dates back to 1968. This family-owned neighborhood pizza joint is in the game for almost 53 years and is famous for its thin and crispy crust pizzas.
Needless to say, Cicero's Pizza is one of the most popular pizzerias in the South Bay and is highly busy during the weekends.
For all the vegetarians out there, you've got to try their spicy vegetarian pizza! The quality and the taste is as premium as it was years ago, the only change is their service gets better and better! If you're craving some thin-crust pizzas, Cicero's Pizza will definitely put a smile on your face!
Address: 6138 Bollinger Rd, San Jose, CA 95129, United States
Contact: +1 408-777-0690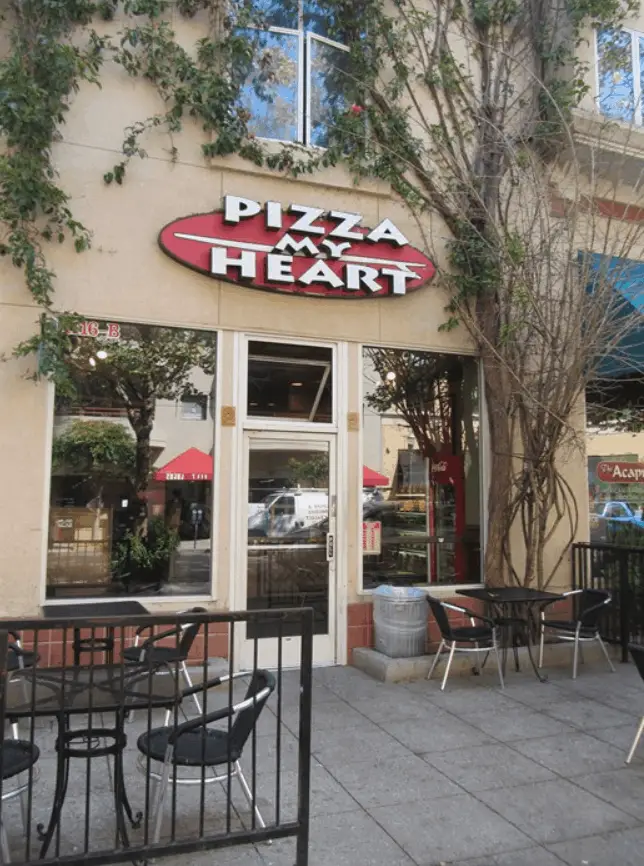 Pizza My Heart is another popular pizza chain in the San Fransisco bay area. In San Jose alone, you can find five of their outlets, all of which have ambient locations, a welcoming environment, and friendly and courteous crew members.
This truly Californian staple is a family-owned business, and they aim at serving the best pizzas in California.
These surf-themed pizzerias fetch their ingredients fresh and use wood ovens to create a variety of delish pizza recipes. A quick tip for you – Pizza My Heart's pesto pizzas are to drool over!
Address: 864 Blossom Hill Rd, San Jose, CA 95123, United States

Contact: +1 408-226-9100

Address: 4898 San Felipe Road, San Jose, CA 95135, United States

Contact: +1 408-238-6000

Address: 1390 Lincoln Ave, San Jose, CA 95125, United States

Contact: +1 408-279-4441

Address: 117 E. San Carlos St, San Jose, CA 95112, United States

Contact: +1 408-280-0707

Address: 2023 Camden Ave, San Jose, CA 95124, United States

Contact: +1 408-628-4748
Summary
Though San Jose is notable as the center of innovation, the food culture there is no less! Be it Italian style, New York style, Chicago style, or even Indian style; you can enjoy the tastiest pizzas in the Silicon Valley.
With this list, we hope to have made your pizza hunt in San Jose easier. Comment your favorite pizza place in San Jose and why!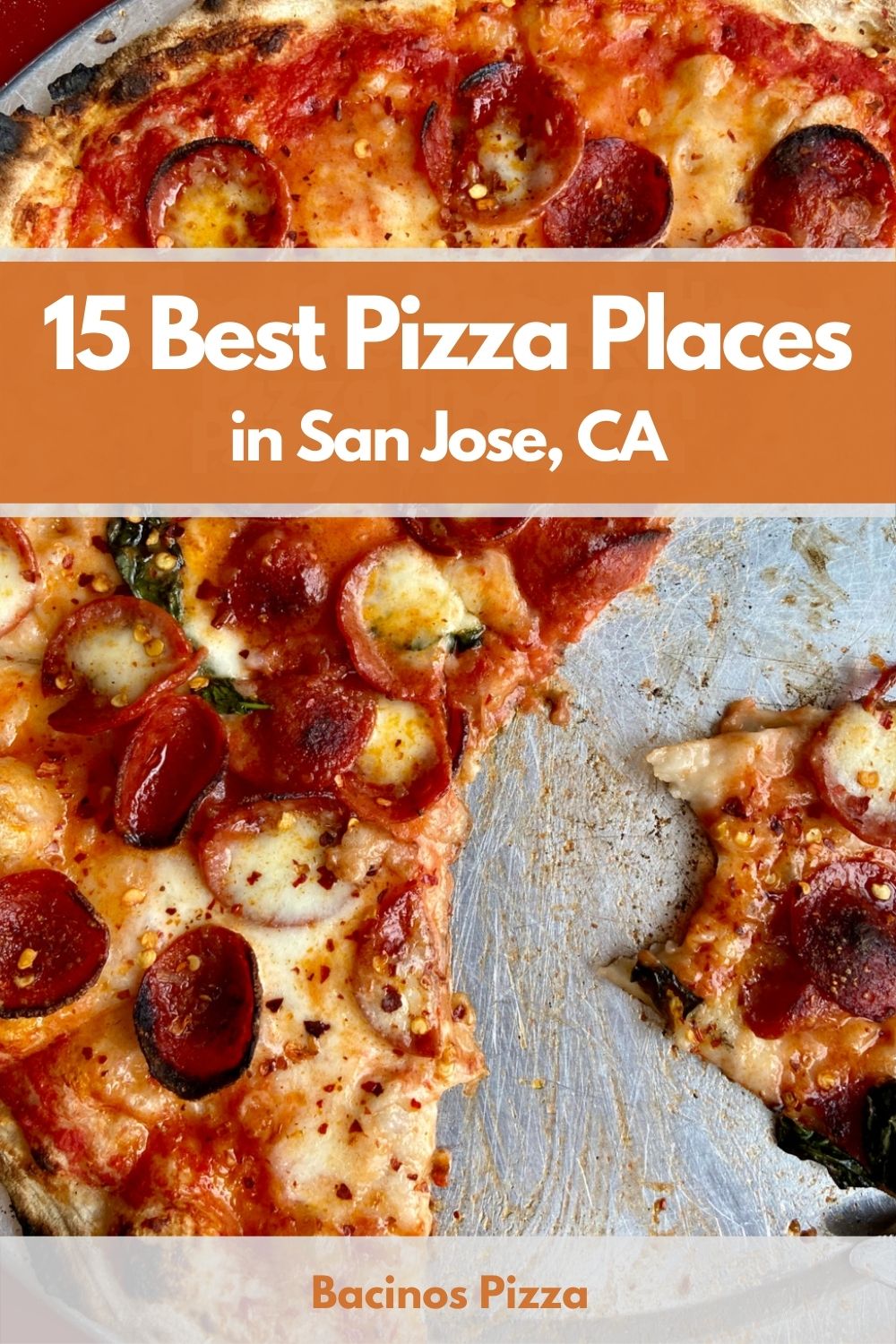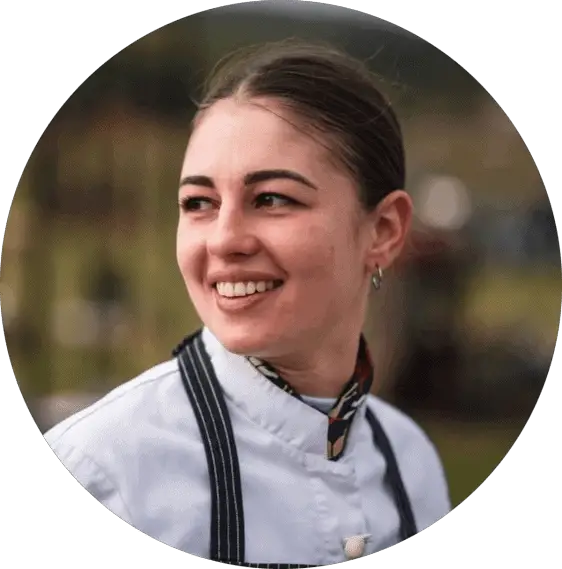 Julie has five years of experience in the restaurant industry, she decided to share her knowledge about her liking and fondness for food and pizza, of course, cooking as her love language. She's very passionate about what she's doing, making all the things she writes regarding pizza recipes, very amazing!