Chicken alfredo sauce and pizza base are two food items that were made for each other, so it's no surprise this classic combination has become a firm favorite everywhere people eat pizza – and making it is easy, requiring just a few simple ingredients.
There are plenty of variations on this basic idea, and many are utterly irresistible – so for anyone who wants to try, here are 27 chicken alfredo pizza recipes that can't fail to make you feel hungry.
At the end of a long day when you want a hearty, delicious meal that the whole family will love, alfredo pizza is always a hit, and this recipe uses fresh parsley, baby spinach and baby portobello mushrooms to give it some extra character. Combine this with quality parmesan and some succulent pieces of chicken breast and you have a treat that everyone will love.
2. Chicken Alfredo Pizza Recipe
This recipe for a well-loved topping uses mozzarella and Romano cheese along with a classic alfredo sauce to create a creamy sauce for your pizza. To this is added dried oregano and garlic powder along with a sliced chicken breast, and the result is an irresistible pizza that nobody will be able to turn down.
As long as it contains pizza base and alfredo sauce, you can hardly go wrong, so this delicious pizza flavor is also easy to customize to your own personal tastes, allowing you to get as creative as you like with the ingredients. This blogger customizes the recipe through the use of chewy pizza base and pieces of bacon on top for another version that will make your mouth water.
4. Chicken Alfredo Pizza with Alfredo Sauce Recipe
In this blog post, creating the perfect chicken alfredo pizza is broken down into three steps. First, you need to mix the fresh homemade alfredo sauce, after which you need to make the dough for the base. Once that's done, you'll need to cook the juicy chicken breast, and when you combine them all, you'll have a dish your family will crave again and again.
As this blogger writes, a chicken alfredo topping makes a refreshing change from the usual tomato sauce-based options we all usually eat, and in her version, she throws in a few spinach leaves to give it her own personal touch. She also gives you a recipe for making your own dough, so you can eat delicious homemade pizza like this as often as you like!
6. How to make Alfredo Chicken Pizza
We're not sure if this recipe is quite what most people picture when they think of chicken alfredo pizza because it's certainly a highly original take on the idea, but it looks like it works well. There's a certain amount of chili added to the mix too, so if you want to try your chicken alfredo with a spicy kick, this could be an interesting version to attempt.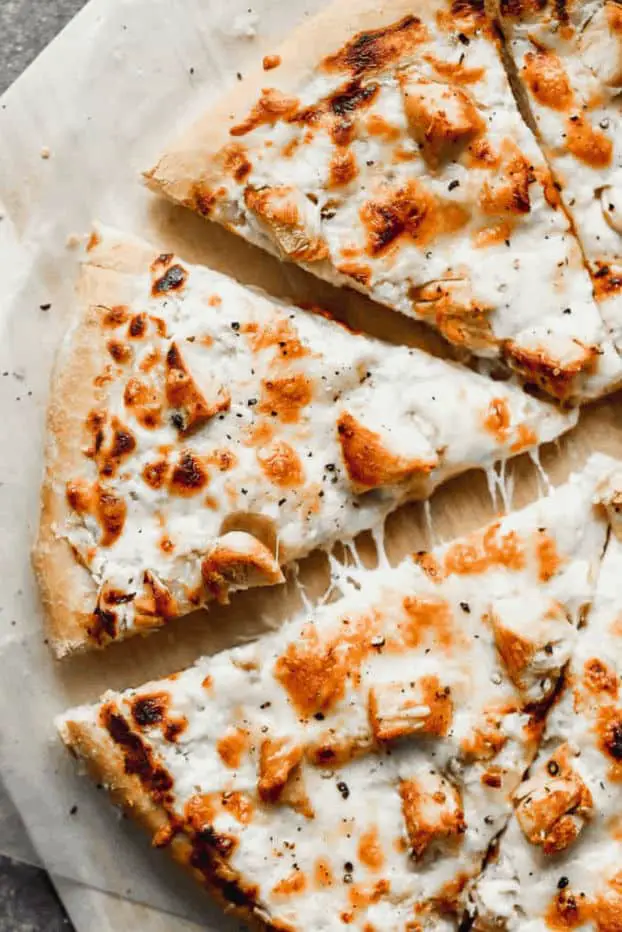 The pizza this blogger teaches us to make is more on the traditional side, and by copying her recipe, as she tells us, you can save yourself both money and calories. Just reading about adding the garlic to the cream cheese and then melting in the parmesan is making us hungry, and it's an easy recipe to copy too, so you shouldn't have any trouble recreating it at home.
8. Chicken Alfredo Sauce Recipe for Pizza
Here's a recipe for this enduring favorite that combines mushroom and spinach with the classic chicken alfredo topping to give this version its own distinctive character. The pizza in the video is then cooked in a special pizza oven, causing the edges of the base to fluff up perfectly, giving it an authentic Italian look.
When it comes to chicken alfredo, there seem to be two schools of thought – there are those who think it's ok to use tomato and those who think you shouldn't. If you're on the tomato side, here's a simple recipe for you to try that's sure to produce great results. And what do we think of tomato? Well, as long as you like the taste, you can use whatever you choose!
10. Alfredo Chicken and Garlic Thin Crust Pizza
There are those who believe you can never use too much garlic in a dish – because more garlic equals more flavor. This recipe for alfredo chicken pizza incorporates garlic in the mix, something that not all versions include, but if you're a garlic lover, this is a style you should adore.
You love the original chicken alfredo, right? And everyone loves pizza, yes? So it's pretty obvious that putting alfredo chicken on a pizza is sure to be a hit with almost everyone. That's the way this blogger thinks, and her version using Romano cheese and a touch of rosemary looks amazing. So why not have a go at making something similar yourself?
12. Chicken Alfredo Pizza Video Recipe from Rada Cutlery
There are probably as many versions of chicken alfredo pizza are there are people who try their hand at making it, and this version throws jalapeños, Mexican cheese and bell peppers into the mix. This one might be quite a departure from the original classic, but then again, if it tastes good, who are we argue?
As this blogger tells us, her version of chicken alfredo has all the deliciousness of the original pasta dish, but it's just served on top of a pizza base instead. With this creation, it's going to be super-difficult to stop after just one slice – or even two – but with food this good, why deprive yourself of more?
14. This Chicken Alfredo Pizza Recipe Definitely Is Better Than Domino's
If you're a Domino's fan and you've tried their version of chicken alfredo pizza, you're probably already hooked. But this YouTuber claims her version is even better, and since it's so quick and easy to make yourself, why not try recreating her recipe at home before picking up the phone to order?
One of the main tips this blogger gives us for making the perfect version of this dish is about how to sauté the chicken before it goes on the pizza. As she explains, since you'll be baking the chicken when the pizza goes in the oven, you need to know how to do it right or it will turn out overcooked and dry. Want to know her secret? Then give her blog a read to find out.
In the introduction to this version of chicken alfredo pizza, this blogger tells us it's a recipe we're going to go crazy for. It's the kind of recipe that keeps things simple and uncomplicated, concentrating on doing everything to perfection rather than relying on novelty ingredients to liven things up. She just uses a sprinkling of green onion at the end for some color and extra taste, and we think her creation looks like nothing short of pizza perfection.
17. Chicken Alfredo Pizza – Easy and Delicious
The recipe in this YouTube video is for a classic pizza with alfredo topping that includes nothing more than shredded chicken, spinach, garlic powder and dried oregano. There's nothing fancy or experimental here, so if you just want a normal – but irresistible – alfredo chicken pizza, this could be the recipe to try.
The innovation here is that the chicken is coated in a delicious brown butter sauce before being spread over the perfect homemade dough pizza base. Other than that, it's super-easy to make and only requires eight ingredients, but this is a pizza that's way more than the sum of its parts.
19. Chicken and Broccoli Alfredo Pizza
With many of the recipes we've seen for alfredo chicken pizza, people often try to personalize the classic recipe simply by changing or adding one ingredient, and that's what this version is like since it incorporates broccoli. It's not exactly an earth-shattering innovation, but we think it works extremely well. So if you want to try something just slightly different, why not give this variation a go?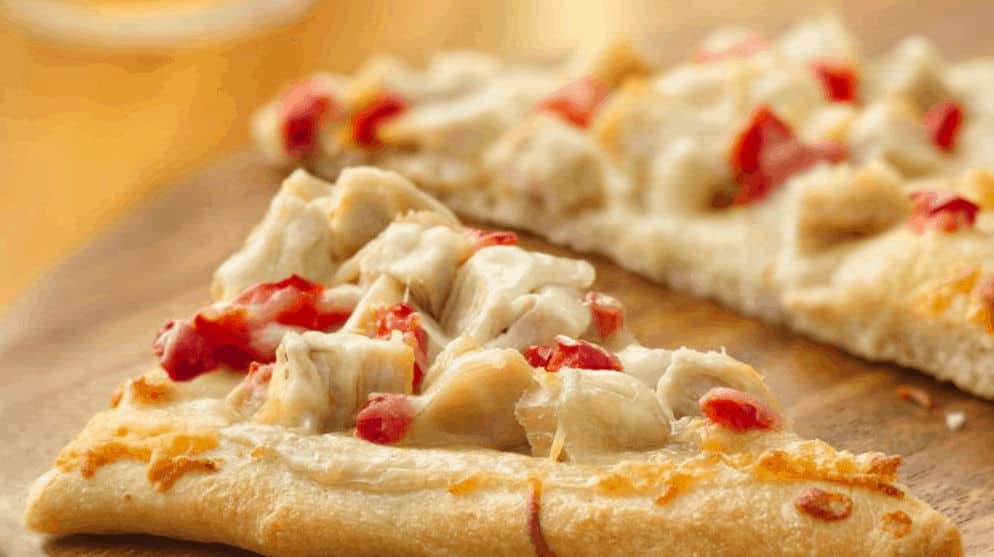 This version of chicken alfredo pizza is a bit of a cheat since it uses a ready-made base and ready-made alfredo sauce. However, not everyone wants to make everything from scratch, and if you're looking for a shortcut to delicious pizza, this is a method that's worth investigating.
21. Chicken Alfredo Pizza Recipe by SooperChef
Here's a recipe for alfredo chicken pizza that will appeal to those who aren't afraid to experiment with other ingredients. This one includes things like soy sauce and red chili flakes that probably don't feature in many people's idea of the authentic original. But it looks pretty tasty, and we can guarantee we wouldn't turn our noses up at a slice!
The shredded chicken on the pizza in this blog look absolutely delicious, and just seeing it is making us feel hungry. In this recipe, this blogger combines it with spinach, a pinch of nutmeg and a squeeze of lemon juice. As she writes, in her household, they have renamed this creation the "spalfrizza", and if you want to try making it, this post shows you how.
23. How to Make Chicken Alfredo Pizza with The Chew
In this YouTube upload from The Chew, Carla Hall shows rapper Bow Wow how to make a chicken alfredo pizza. We love the moment when he starts scooping out the white sauce to spread on the pizza – it looks so good, it draws gasps from the audience! And of course, if you want to know how to make something similar, the video includes all the instructions you'll need.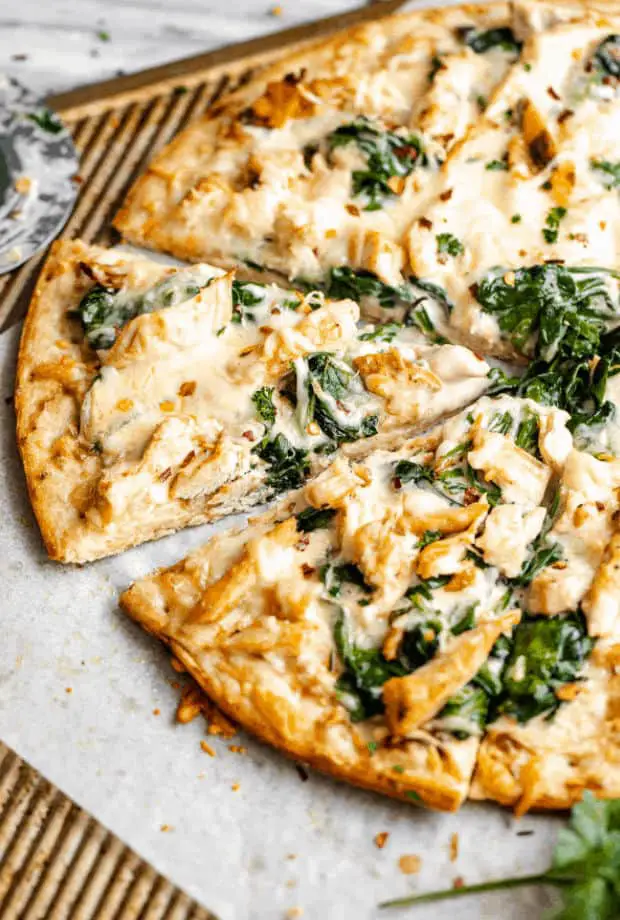 If you're looking for something you can knock together in no time, this recipe for white sauce pizza with chicken and spinach could be just what you need. This is another version that incorporates a pre-made base and bought alfredo sauce, but the name of the blog is Easy Weeknight Recipes, and for one of those, it's ideal.
25. Chicken Alfredo Pizza with Simply Sara Kitchen
Here's a fun video we enjoyed watching. In it, this YouTuber shows us her recipe for alfredo chicken pizza using bought dough and sauce along with spinach leaves, red onion and bell pepper. It's a shame we don't get to see what it's like when it comes out of the oven, but judging by the way looks before it goes in, we can imagine it must have tasted amazing!
After seeing so many recipes that are just slight variations on the basic concept, this is one we like a lot since it's quite an original take on the idea. In this post, this blogger shows us how she made chicken alfredo pizza – using biscuit dough instead of a pizza base. It's an intriguing take, and one we think just might work!
27. Chicken Alfredo French Bread Pizza
We only needed to watch the first two seconds of this video before we knew it was a recipe we wanted to try. The succulent shredded chicken with red onions in white sauce covered in stringy melted cheese looks like something we could eat all day long – and if you agree, this is a recipe you'll be excited to attempt.
Plenty of versions of this popular classic
Chicken alfredo pizza is an established classic and a go-to option for many family dinners – and as you can see, there's no shortage of recipes teaching you how to make a whole range of variations.
We've enjoyed collecting the recipes for you, so we hope you've enjoyed watching and reading them too. And above all, we hope we've helped you find the inspiration you needed to get into the kitchen and start cooking!
27 Chicken Alfredo Pizza Recipes
Ingredients
Chicken Alfredo Pizza Recipe

Chicken Alfredo Pizza With Alfredo Sauce Recipe

How To Make Alfredo Chicken Pizza

Chicken Alfredo Sauce Recipe For Pizza

Alfredo Chicken And Garlic Thin Crust Pizza

Chicken Alfredo Pizza Video Recipe From Rada Cutlery

This Chicken Alfredo Pizza Recipe Definitely Is Better Than Domino's


Chicken Alfredo Pizza – Easy And Delicious

Chicken And Broccoli Alfredo Pizza

Chicken Alfredo Pizza Recipe By SooperChef

How To Make Chicken Alfredo Pizza With The Chew

Chicken Alfredo Pizza With Simply Sara Kitchen

Chicken Alfredo French Bread Pizza
Directions
Select your favorite recipe.
Organize all the required ingredients.
Prep the recipe in 30 minutes or less!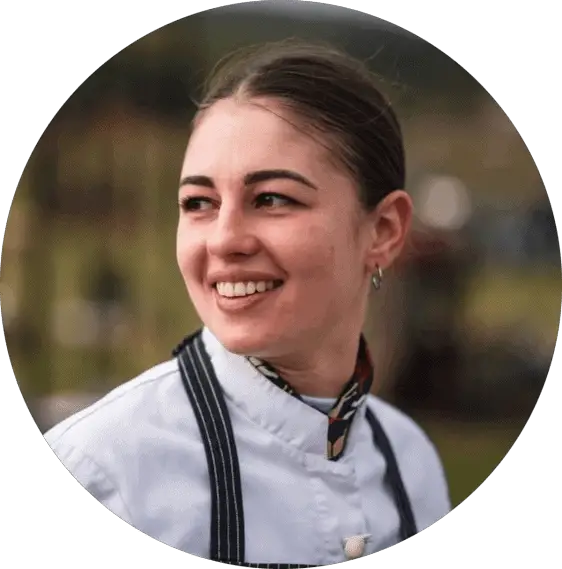 Julie has five years of experience in the restaurant industry, she decided to share her knowledge about her liking and fondness for food and pizza, of course, cooking as her love language. She's very passionate about what she's doing, making all the things she writes regarding pizza recipes, very amazing!