Costco Wholesale Corporation (Costco) is a US-based multinational food retailer founded in 1983. It was the fifth-largest retailer worldwide and the tenth-largest American corporation by total revenue last year. Interestingly, this corporation operates a membership-only big-box retail store chain.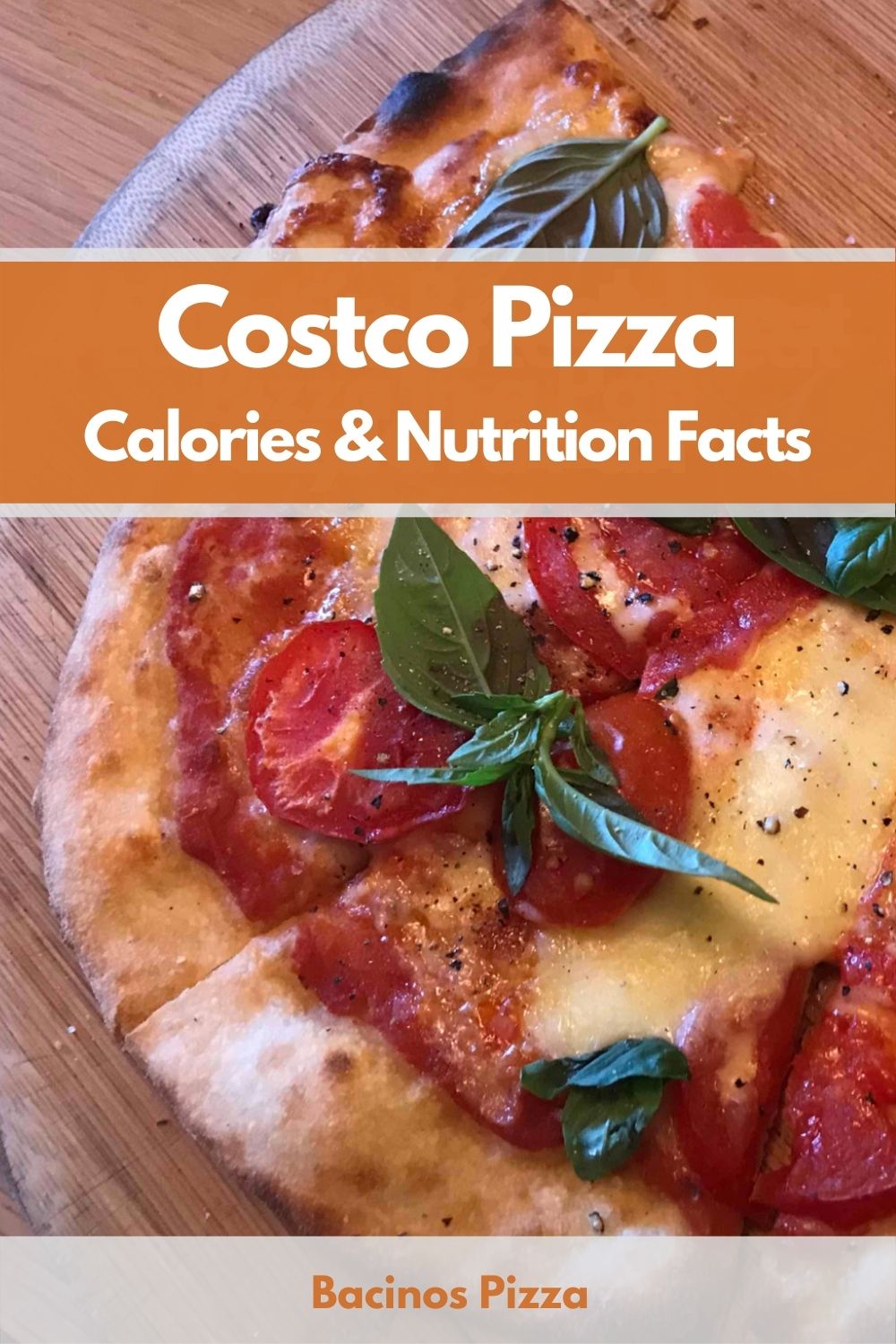 Besides chicken bakes and hot dogs, the impressive Costco food menu provides yummy pizzas you probably adore. The question is whether this affordable food is the best choice for your body. Let's check Costco pizza calories and nutrition.
Costco Wholesale's Products Range
Costco Wholesale operates as a membership-only warehouse club. It is famous for its recognizable big-box retail stores. The company is one of the world's largest organic food retailers, spread to 804 locations worldwide, including 558 in the US.
From its foundation in early 1983, Costco has constantly expanded its range of products. Initially, it used to sell products that were easy to handle by taking them out from the pallet, like beef, chicken meat, and wine. Nowadays, it sells many other products, such as clothing, furniture, electronic products, tires, and vacuum cleaners.
Costco Pizza Nutrition Values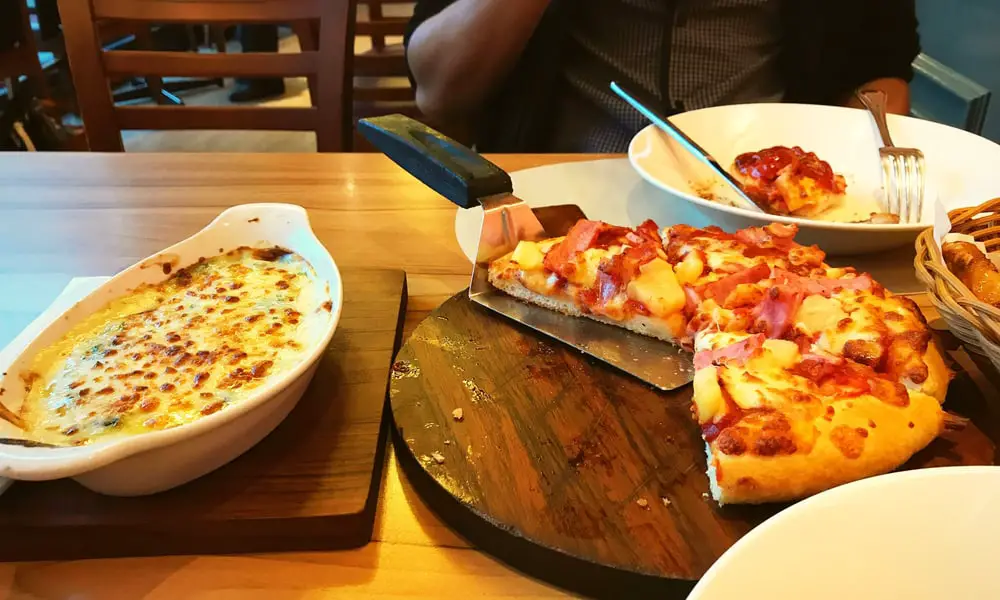 Costco pizza is something special. Even the pickiest gourmands can't resist the fantastic combination of delicious crust, salty Mozzarella, and sweet tomato sauce. Plus, you can get this gorgeous pizza and enjoy it at a ridiculously low price.
Unfortunately, connoisseurs often label this product as highly caloric and unhealthy because of the huge sodium and carb levels. It also contains a large amount of saturated fat, causing an increase in cholesterol in the arteries.
Costco pizza nutrition and calorie value vary widely, depending on the type and topping you choose. Let's see the difference.
Costco Cheese Pizza Nutrition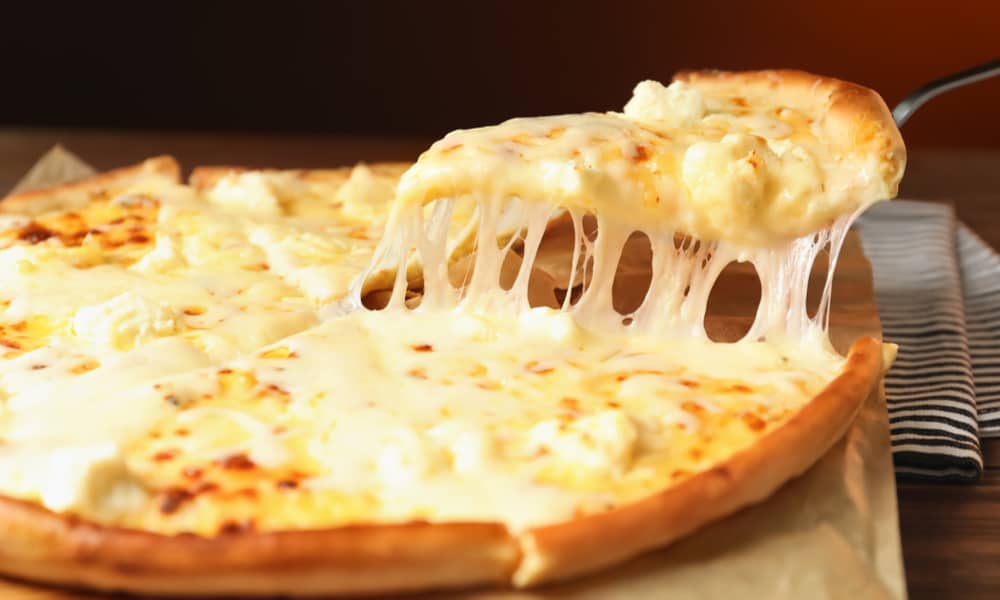 The concept of Costco cheese pizza is straightforward. It contains just dough, tomato sauce, and cheese. Its extraordinary flavor is based on 1.5 pounds (680 g) of Mozzarella and Provolone covering the extra-large pizza, 18 inches (46 cm) in diameter.
Costco Cheese pizza slice calories and nutrition

Nutrients
 Value
Daily nutrition value
Calories
700
/
Proteins
44 g
/
Total fat
28 g
36%
Saturated fat
14 g
70%
Trans fat
0.5 g
/
Polyunsaturated fat
1.5 g
/
Monosaturated fat
12 g
/
Cholesterol
75 mg
25%
Total carbs
70 g
25%
Sugars
7 g
/
Dietary fiber
3 g
11%
Sodium
1,370 mg
60%
As always, calorie sources are proteins, fats, and carbs, but the problem is in proportions and high carb levels. The cheese pizza calorie sources аре carbs, about 43%, fat (36%), and proteins (21%).
Keep in mind that Percent Daily Values are based on an average 2,000 calorie diet recommended for adults and kids over four. However, these values will vary depending on your individual needs.
Costco Pepperoni Pizza Nutrition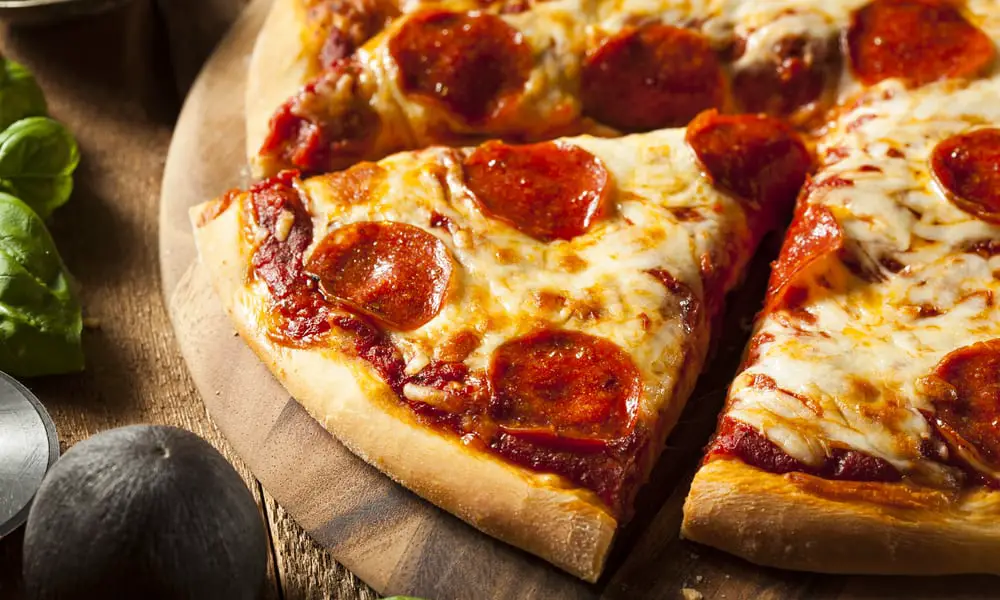 Costco has succeeded in making an incredible extra meaty pizza by adding sixty thinly sliced pepperoni over an 18 inches (46 cm) pizza pie. Spicy meat lets out fat during the baking so this pizza can be a bit greasy, but that doesn't reduce its fantastic taste.
Costco Pepperoni pizza slice calories and nutrition

Nutrients
Value
Daily nutrition value
Calories
650
/
Proteins
34 g
/
Total fat
24 g
31%
Saturated fat
11 g
55%
Trans fat
0 g
/
Polyunsaturated fat
2.5 g
/
Monosaturated fat
11 g
/
Cholesterol
60 mg
20%
Total carbs
68 g
25%
Sugars
7 g
/
Dietary fiber
3 g
11%
Sodium
1,290 mg
56%
The primary pepperoni pizza calorie source refers to carbs covering 43% of the recommended daily intake, fat (35%), and proteins (22%).
Costco Combo Pizza Nutrition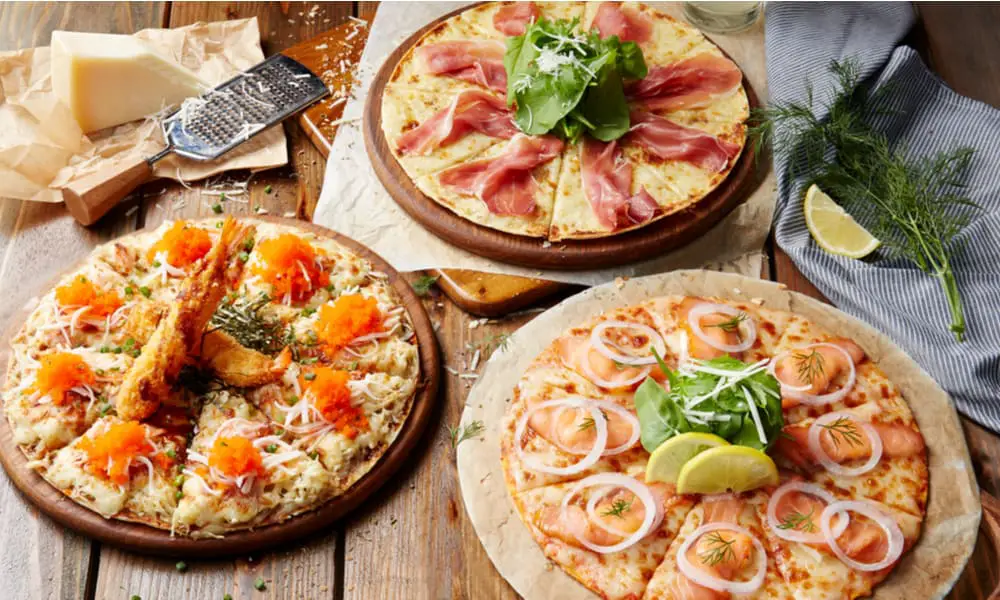 The Costco Combo pizza contains an incredible selection of different toppings. Plentiful pepperoni, sausage, green peppers, mushrooms, black olives, and red onion over-crowd the crust and make it so soggy.
All mentioned ingredients with additional burnt cheese point out the very high nutrition value this pizza type has.
Costco Combo pizza slice calories and nutrition

Nutrients
Value
Daily nutrition value
Calories
680
/
Proteins
36 g
/
Total fat
29g
37%
Saturated fat
12 g
60%
Trans fat
0.5 g
/
Polyunsaturated fat
2.5 g
/
Monosaturated fat
14 g
/
Cholesterol
65 mg
22%
Total carbs
72 g
26%
Sugars
8 g
/
Dietary fiber
4 g
14%
Sodium
1,540 mg
67%
The calorie breakdown shows that their primary origin refers to carbs (41%), then fat (38%), and proteins (21%).
Nutrition of Costco Frozen Pizzas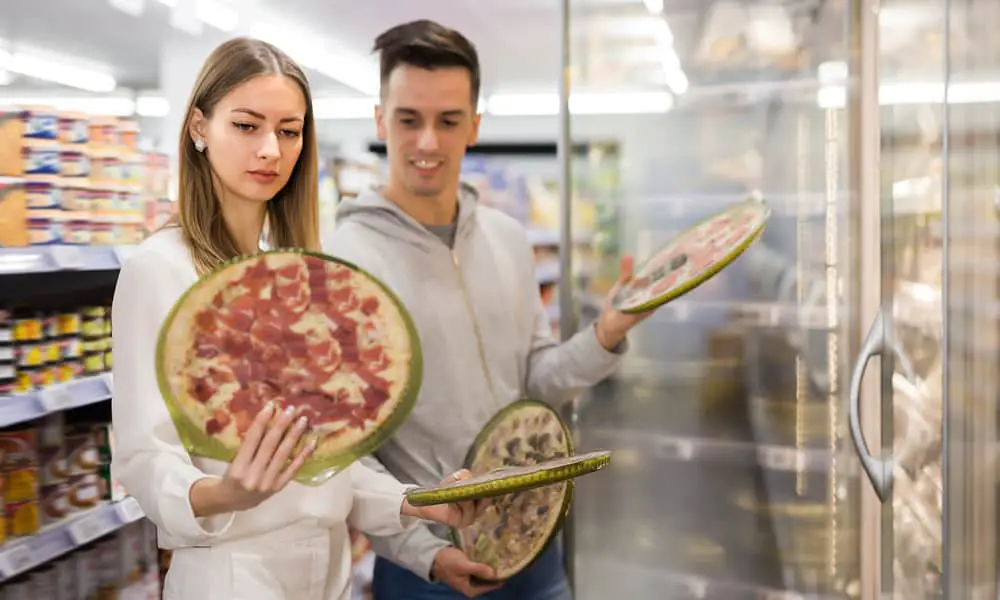 Costco's frozen pizza can be an absolute win-win solution for some occasions and your perfect choice to satisfy every member of your family.
It will allow you to select the toppings and groceries you want. However, you should be aware that the ingredients you add will directly affect how healthy your meal will be.
Cheese frozen pizza
Costco cheese frozen pizza contains 100% real cheese. Its primary ingredients are Mozzarella and white Cheddar cheese that covers the overall breadcrumb crust.
Costco cheese pizza slice calories and nutrition

Nutrients
Value
Daily nutrition value
Calories
290
/
Proteins
12 g
16%
Total fat
12 g
37%
Saturated fat
6 g
/
Cholesterol
30 mg
/
Total carbs
34 g
47%
Sugars
4 g
/
Dietary fiber
1 g
/
Sodium
660 mg
/
Potassium
144 mg
/
Pepperoni Frozen Pizza
Costco Pepperoni frozen pizza is a combination of thin and crispy crust, 100% real cheese, and delicious pepperoni slices as toppings.
Costco Pepperoni pizza slice calories and nutrition

Nutrients
 Value
Daily nutrition value
Calories
400
/
Proteins
16g
16%
Total fat
24g
55%
Saturated fat
10 g
/
Cholesterol
45 mg
/
Total carbs
29 g
29%
Sugars
5 g
/
Dietary fiber
1 g
/
Sodium
980 mg
/
 This pizza's nutritional value is higher compared to the cheese frozen pizza because processed meat is used as a topping.
Margherita frozen pizza
The primary Costco Margherita pizza ingredients are a perfect combination of three different cheese types, including Mozzarella, Parmesan, and Romano cheese. They cover the whole pizza with added tomatoes, garlic, and basil.
Costco Margherita pizza slice calories and nutrition

Nutrients
Value
Daily nutrition value
Calories
260
/
Proteins
12 g
/
Total fat
12 g
15%
Saturated fat
5 g
25%
Cholesterol
20 mg
7%
Total carbs
26 g
9%
Sugars
2 g
/
Dietary fiber
2 g
7%
Sodium
520 mg
23%
This pizza's nutritional value shows that the primary calorie content originates from carbs and fats. Margherita frozen pizza calories refer to 40% carbs, 42% fat, and 18% proteins.
Plus, this type of pizza contains a high level of saturated fats and sodium, which can carry a risk of heart disease.
Other Food Costco Offers
Besides delicious pizzas, you can also find different sandwiches and salads, hot dogs, ice cream, baked products, and desserts when taking a look at both indoor and outdoor Costco Wholesale food menu.
The best products at Costco food court

Food type
Calories
Berry smoothie
290
Mocha freeze
320
Very berry sundae
430 to 480
Vanilla non-fat yogurt
410
Swirl non-fat yogurt
430
Chocolate non-fat yogurt
450
California churro
470
All beef hot dog or polish
540 to 970
BBQ beef brisket sandwich
610
Chicken Caesar salad
650
Hot turkey and provolone sandwich
740
Chicken bake
770
Most food options on the Costco menu, such as hot dogs and pepperoni pizza slices, are full of fat and sodium, while many coffee drinks are packed with sugar.
Despite this, you'll often find long lines of people patiently waiting for their turn. That means these pizzas and other food hide a secret you should discover.
Tips to Make Pizza Healthier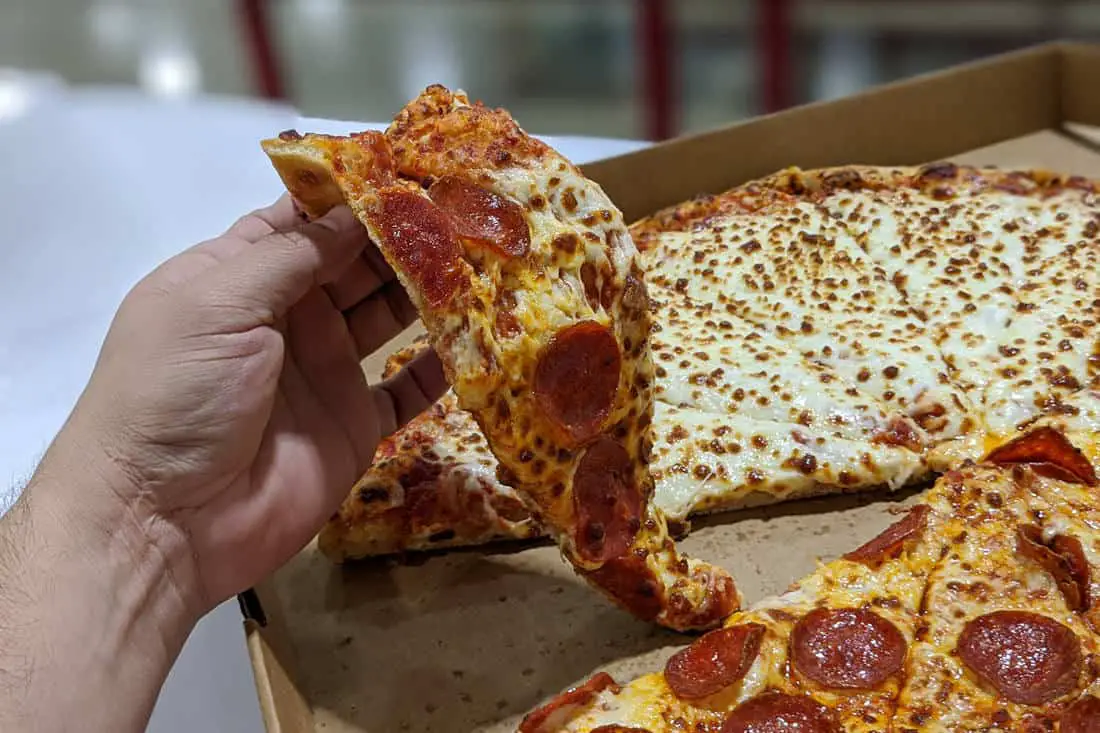 There are so many ways to increase your pizza's nutrient content and make it healthier. Your options include picking out whole-grain crusts, adding fresh vegetables, and controlling your portion strictly.
I will give you a few primary tips to quickly achieve your goal:
Pizza with plenty and fresh vegetables, mushrooms, cauliflower, and quinoa will increase the content of your meal's vitamins, minerals, fiber, and antioxidant ingredients.
You should always take care of nutritious toppings. Choose a sugar-free sauce to control carbs and keep sugar content to a minimum.
Pick out whole-grain crusts to increase the fiber content in your meal.
Instead of processed meat, such as pepperoni and bacon, it is much better to use grilled chicken or other healthier protein sources.
Avoid taking giant pizza slices and always consider portion control when cutting a pizza pie.
You might consider choosing a thin crust rather than the deep dish or stuffed crust to keep overall calorie and carb levels under control.
Summary
Whether you choose frozen, pre-made, or fresh Costco pizza, adding an extra topping can make it unhealthy. It is essential to focus on quality as much as possible and choose tasty, nutritious toppings.
If you only consume food high in proteins, fibers, and healthy fats, you will be full for a longer time, eat less, and spend less on foodstuff each month. Such a decision can be vital for your health, diet plan, and save your budget.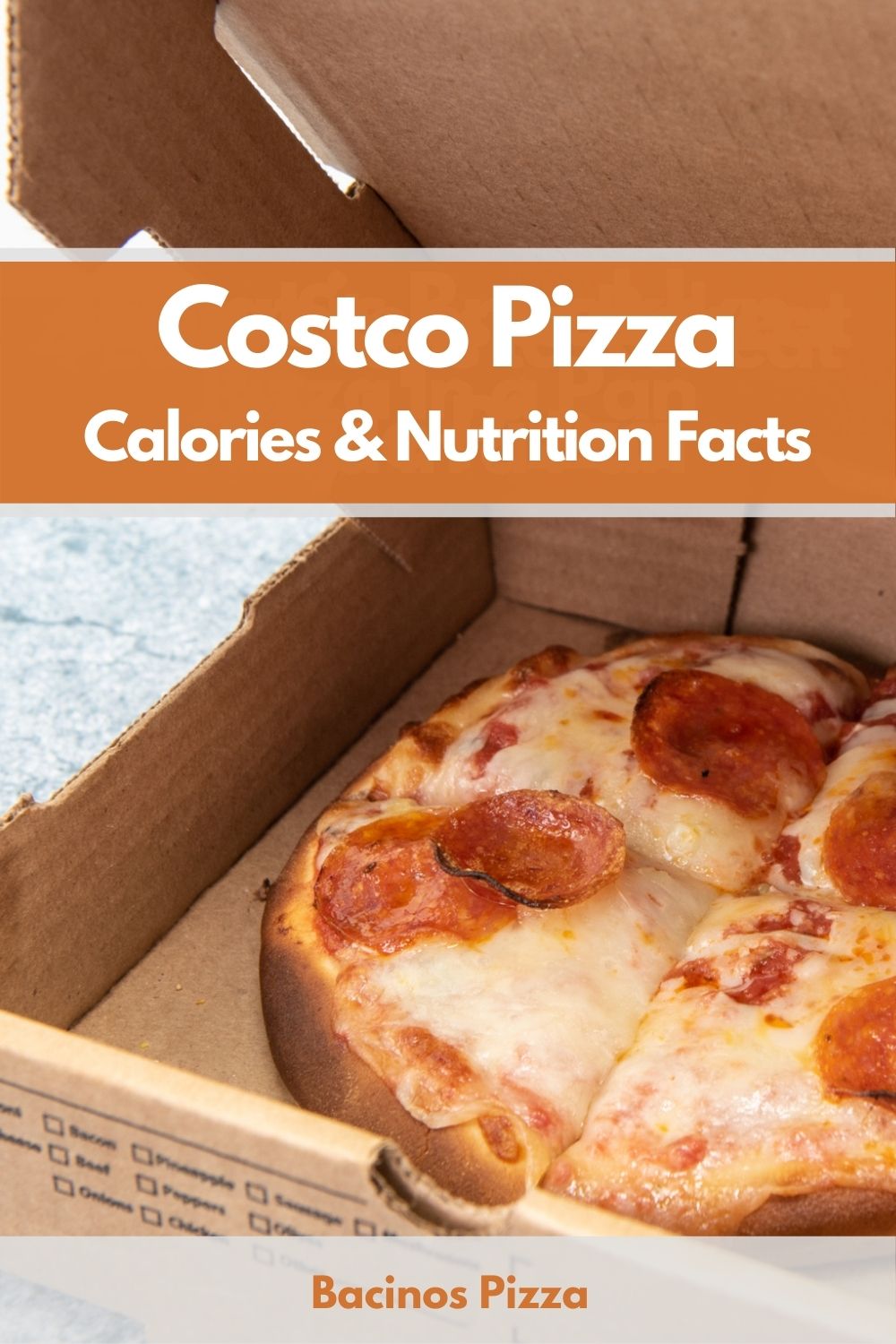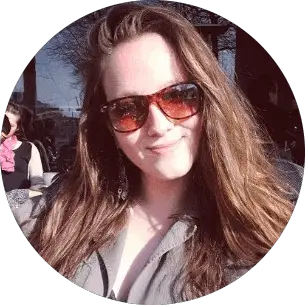 Barbara is an enthusiastic food-exploring person that goes through different culinary experiences. She got inspired by creating a pizza blog post after she tasted one of the best-selling pizzas in Toledo.