In some parts of the world, eggplants are called aubergines or brinjals. They're sometimes white, with these lighter versions being rounder and more egg-like. You may see them labeled as 'garden eggs' or 'veggie eggs'. But the most common kinds are long and purple. These elongated berries are technically fruits, but they're cooked as vegetables.
They're related to tomatoes but you can substitute eggplant for zucchini, pumpkin, or squash in most recipes. For fast-food dishes like eggplant pizza recipes, you might use sliced, cooked eggplant as a mini pizza base. Or you could sauté these vegetables and use them as a pizza topping.  Either way, the taste is divine so let's check out some top eggplant pizza recipes.
1. Mini Eggplant Pizza Recipe
When you're using eggplant as a pizza base, slice your toppings as thin as possible so the eggplant crust can support them. Cut the crusts half an inch thick. Salting the slices makes them taste better. The fatter your eggplant, the bigger your mini pizzas so look for fat veggies. This broad-based batch is topped with pesto, mushroom, and shredded chicken.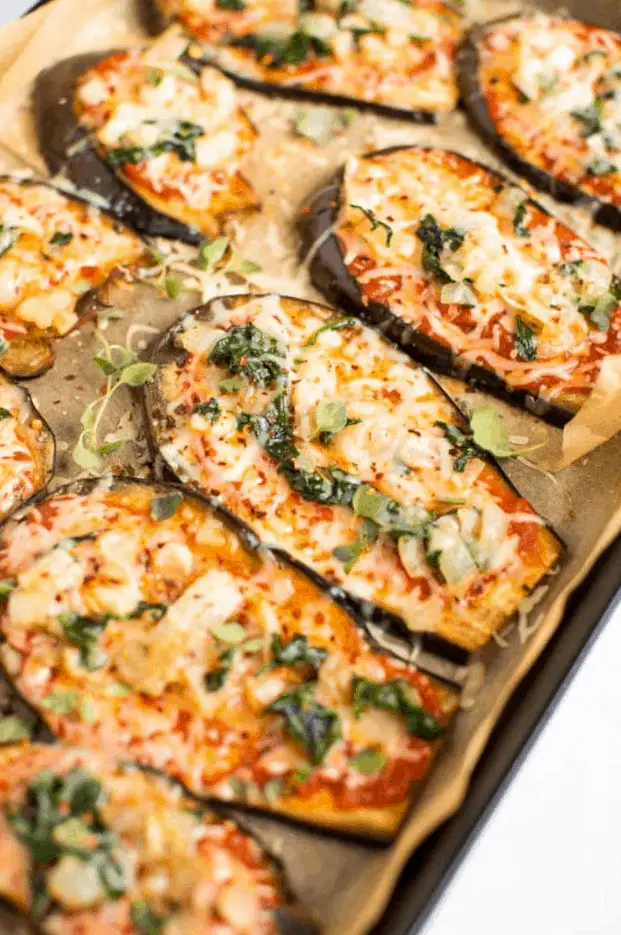 Salting eggplants isn't essential, but they do get bitter sometimes. Adding coarse salt and waiting 20 to 30 minutes will pull out part of the water in the berries. Sweating out the bitterness in this way will dulling that sharp taste. Don't forget to pat the slices dry. It removes that unpleasant flavor. These eggplant pizzas are topped with cheese and greens.
3. Lil Piece of Hart Eggplant Pizza
We keep talking about bitterness in eggplants. It's mostly the seeds though, so you can douse with salt and brush it off or just scoop out the seeds. And this low-carb version has barely 200 calories (8.5g carbs and 8.5g protein). This is a lite pizza, so just pizza sauce, mozzarella, pizza herbs, and spices (onion powder, garlic powder, oregano, basil, or Italian seasoning).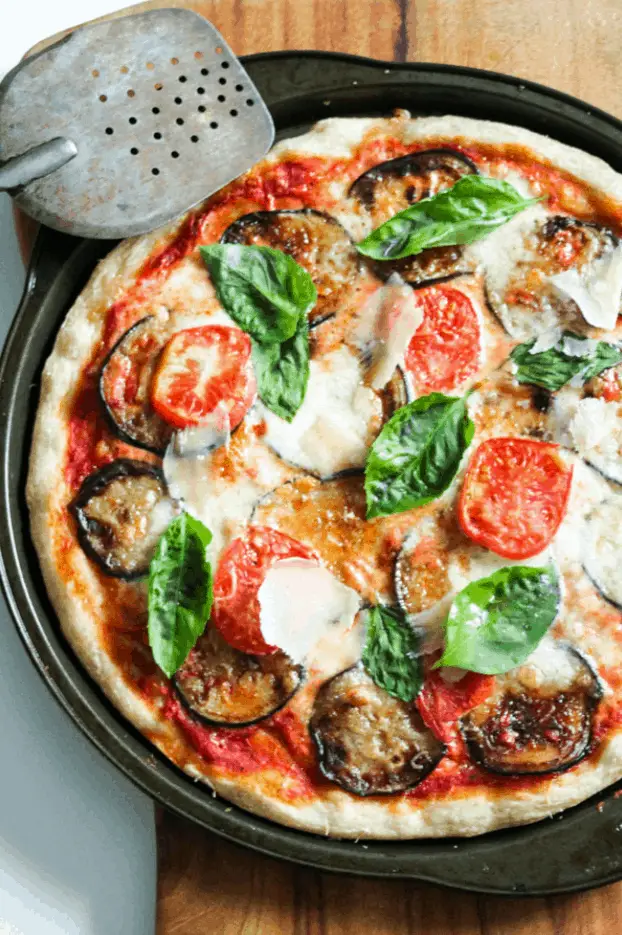 Let's look at the other kind of eggplant pizza recipe. The type with flour in it. It's almost a modified Margherita topped with sliced tomatoes, fresh basil, mozzarella, parmesan, and sliced eggplant. The recipe shows you how to make the dough from scratch using double-zero flour. And while Italian pizza sauce is often raw, this recipe cooks the stewed tomato puree.
5. Smiley Eggplant Pizza
Have you heard the joke about the kid who wouldn't eat his food because it was laughing at him? Well, if your toddlers and tweens don't mind smiley faces on their plates, try this eggplant pizza recipe. The base is sliced eggplant, the 'eyes' are cherry tomatoes and the smile is shredded cheese. But be careful with those cutting tools, especially for kids' recipes!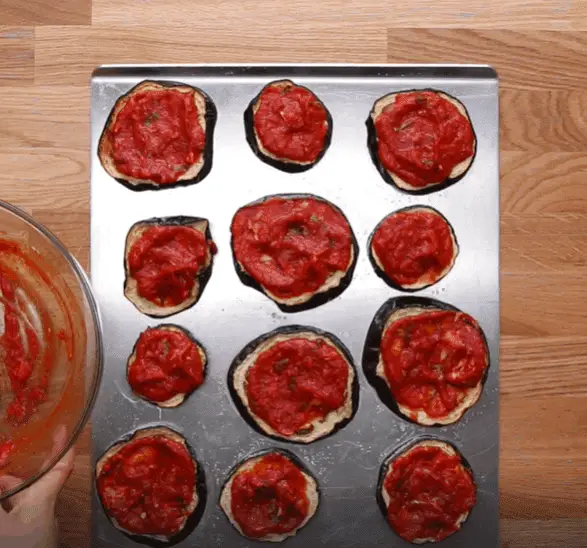 With most eggplant pizza recipes, you're not using flour or dough because the berry is the base. But there's still a bit of wait time. After salting, wait thirty minutes for the seasoning to draw out the moisture and bitterness. Then you need to pre-bake the oiled crust for another half hour. Finally, you can top the pizza with marinara sauce, mozzarella, and cheddar.
7. Nourished Eggplant Pizza
For this eggplant pizza recipe, the eggplant is a topping, not a base. So you can slice them much thinner – 1/8th on an inch works well. They'll still need salting though. The pizza base is rectangular dough so you can knead your own or get a frozen brand from the store. This recipe is for a veggie pizza (eggplant and mushroom) with chili flakes and Italian seasoning.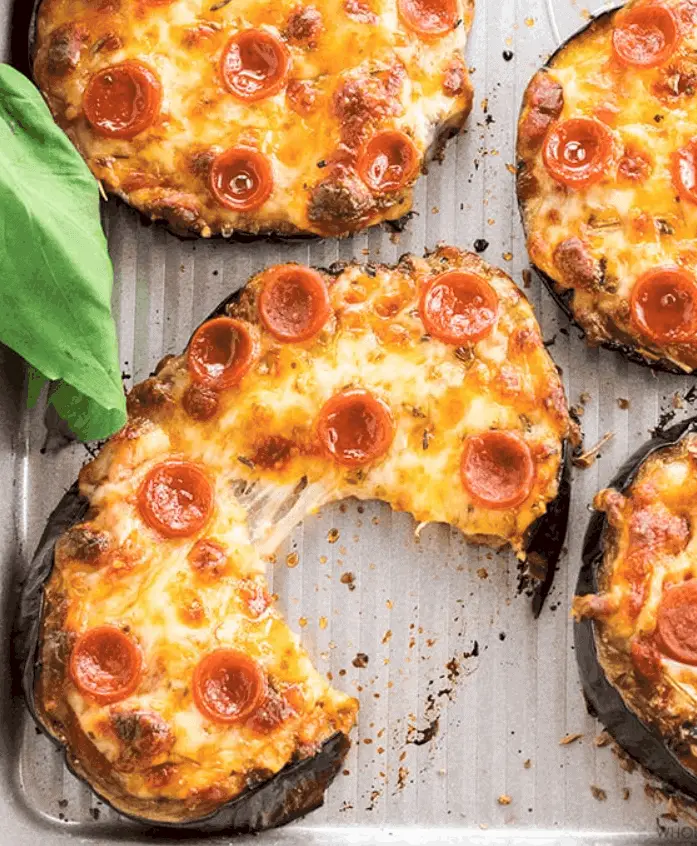 A lot of eggplant pizza recipes are vegetarian – sometimes vegan. But you can put some meat on them as well, provided the meat is thinly sliced or shredded. The recipe here is by the legendary Julia Child and the toppings include mozzarella and mini pepperoni. Italian seasoning gives your veggie-base pizza that distinct pizzeria flavor. Olive oil helps too.
9. Eggplant Mozzarella Veggie Pizza
Did you know eggplants can be male or female? Male berries have a shallow, round 'navel' while female ones have deeper, slits. Male eggplants have fewer seeds so they're not as bitter, making them better for pizza. If the eggplant is for topping, slim slices with spices work best. In this recipe, the eggplant is a topping but the recipe still calls for thickly spiced slices.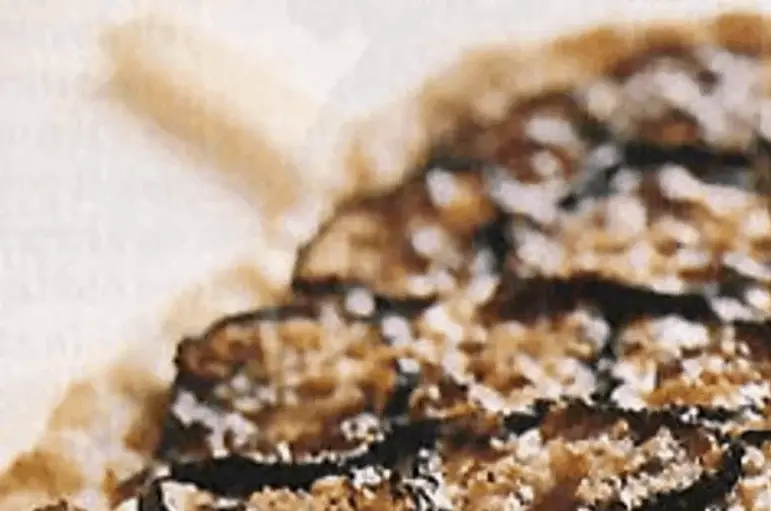 The thinner your eggplant slices, the crunchier they'll be. But thin crispy eggplant can't hold up pizza toppings. So if the eggplant serves as a pizza crust, cut it ½ inch or thicker. You can oil it to keep the outer surface firm but the inner base will be soft and squishy. Here, slices are 1/3rd inch thick and are used as toppings with Asiago cheese. The dough is homemade.
11. Orsara Vegetarian Eggplant Pizza
This grandpa's recipe takes a lot of putting together. But it's worth the complexity. The eggplant is sliced quite thick (3/4 inch). Then it's dipped in flour, eggs, and breadcrumbs before frying in a skillet. You could mix dried pizza herbs into the eggs, breadcrumbs, or flour for built-in flavor. Now top the eggplant pizza base with goat cheese and greens.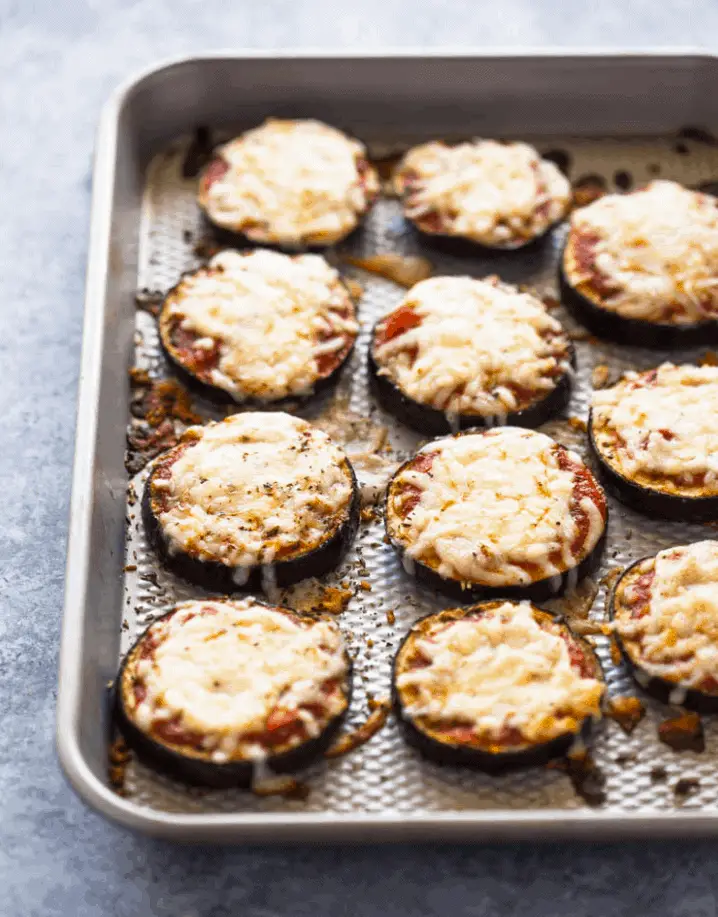 For a cheesy eggplant pizza, the cooking time is pretty short. You need to prebake the eggplant base. First, salt and dry them, then brush with olive oil and pizza spices before baking. That'll take about an hour (25 minutes for salting and 25 more for roasting). Then add the cheese and return to the heat source just long enough to melt the cheese. Use unsweetened pizza sauce.
13. Jen Selter's Eggplant Pizza
Eggplants for pizza are often sliced into circles but they don't have to be. Here's an eggplant cut lengthwise to provide a larger base for your toppings. It allows you to use heavier toppings choices like meat, but this recipe sticks to healthy greens and cheese. The eggplant prebakes with olive oil for ten minutes before adding the spinach sautéed in tomato sauce.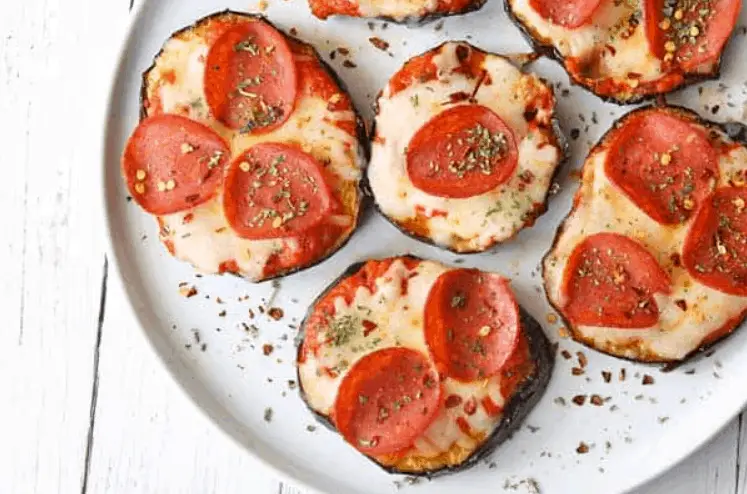 The size and shape of your eggplant pizzas will depend on your shopping skills. Yes, they'll still be mini pizzas. But if you can find fat firm male eggplants without dents, blemishes, or soft spots, it enhances your pizza's texture and flavor. This recipe uses pepperoni, marinara, and mozzarella. Bake the oiled crust for 10 minutes bare and 10 more minutes with cheese.
15. Miss Sunshine Eggplant Pizza
Eggplants are part of the nightshade family, which also includes tomatoes, potatoes, and peppers. And while potatoes are clearly root veggies, the others are berries, so they're technically fruits. Their skins are safe to eat though, so don't peel the eggplant. Salt the top and press the bottom side in semolina or cornflour for extra crunch before pre-baking.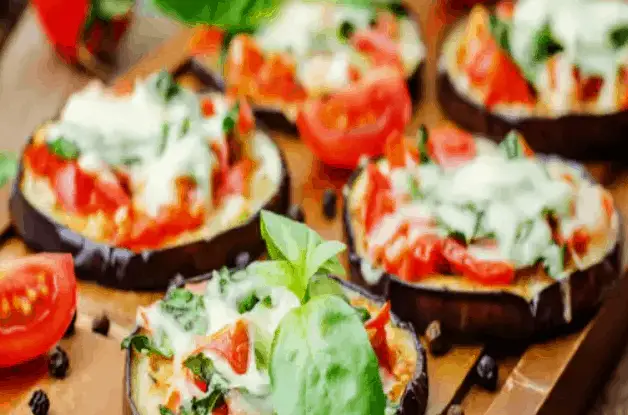 Salting eggplants has two purposes. It draws out some of the liquid which makes the eggplant one, crisper, and two, less bitter. So yes, you should salt both sides as directed here (and maybe rest them on their rim so both flat sides sweat evenly). This pizza recipe uses a sweet chili chutney as the pizza sauce. Top the eggplant base with tomato, basil, and cheese.
17. Zucchini Crust Pizza
This is a bit of a jerry-rigged eggplant pizza recipe. Zucchini, yellow squash, pumpkin, and aubergine are often interchanged in recipes. So try substituting eggplant for zucchini in this recipe. Grate the eggplant, drain it, then mix with corn starch, garlic, parmesan, and pizza herbs. Shape it into a pizza base and top with red sauce, cheese, and toppings of your choice.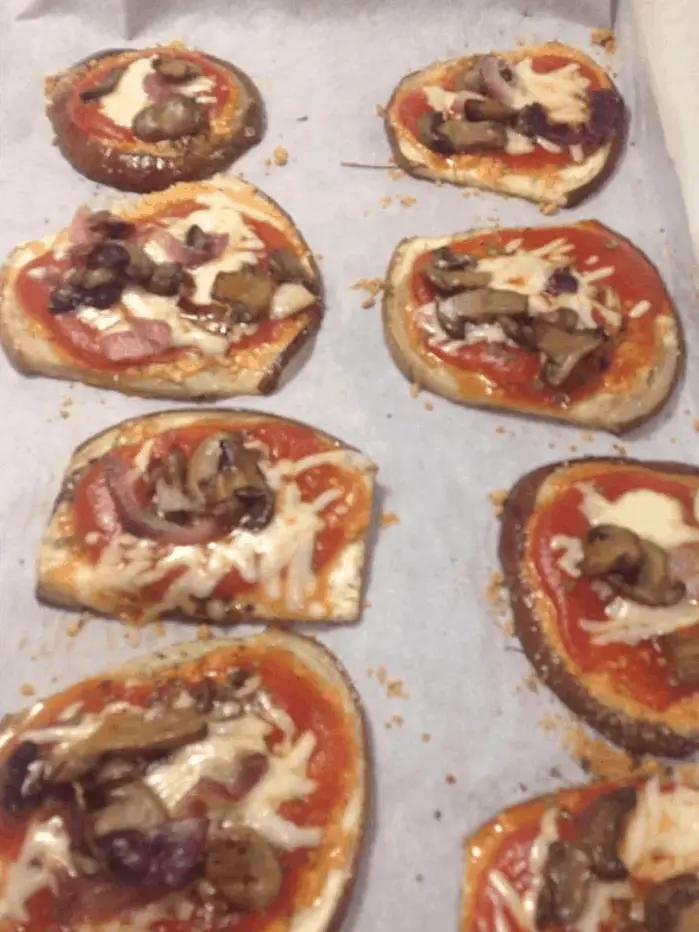 Flourless recipes are a dietary essential if you have gluten sensitivity. Or if you're living a low-carb lifestyle. But if you've looked at eggplant pizza recipes, you know plating is key. A badly served eggplant pizza can easily kill your appetite! The variant in this recipe has micro-coils of parmesan or garnish. You can also add thinly sliced mushrooms or olives as toppings.
19. Vito's Pizza Napoletana with Eggplant Parmesan
While everyone else is using eggplant pizza bases as a low-calorie alternative to eggplant parmesan, Vito Iacopeli's version merges the full-fat version with a flavourful floury dough. His recipe uses buffalo mozzarella (from buffalo milk) and grana cheese. He slices the eggplant extremely thin, coats them in egg and flour, then deep-fries them for toppings.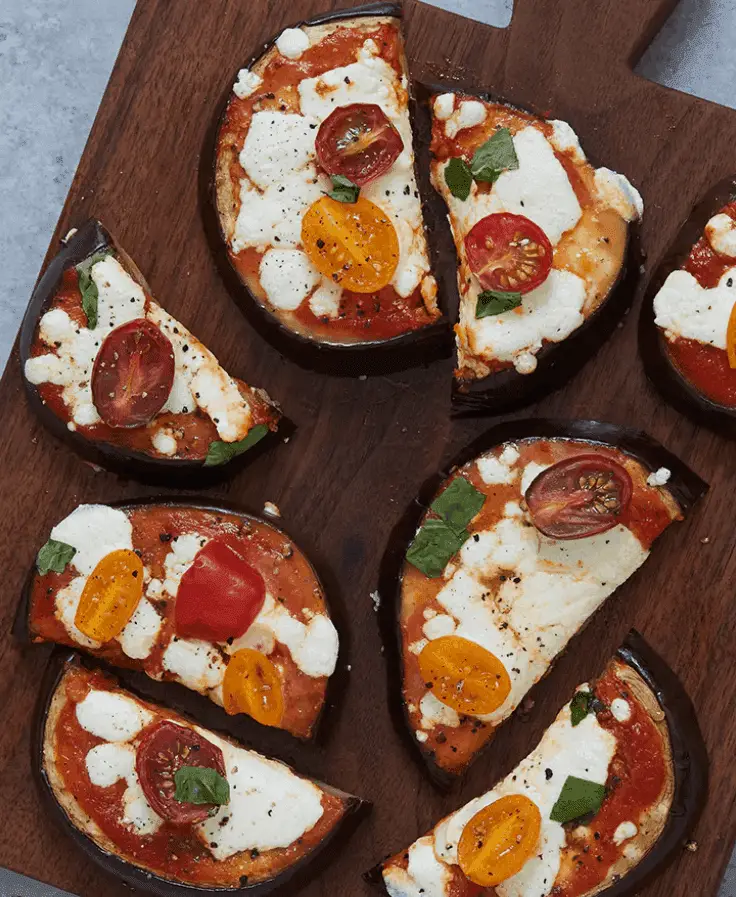 Colors can make a huge difference to your pizza visuals. And yes, that does change how the pizza tastes. So experiment with capsicum (red, yellow, green), olives (black, green), or cherry tomatoes (red, yellow, orange). This eggplant pizza recipe uses colored tomatoes for effect. You can also use torn basil leaves and shredded mozzarella though chunks can be prettier.
21. Eggplant Pizza for Kids
This eggplant pizza recipe will keep your kids fed and entertained because they can get involved in the cooking process. The eggplant is sliced vertically to give the kids a playful shape and more space for toppings. Lay out the toppings in bowls and let the children pick what they want in a self-service buffet-style. This peeled version is just cheese and basil.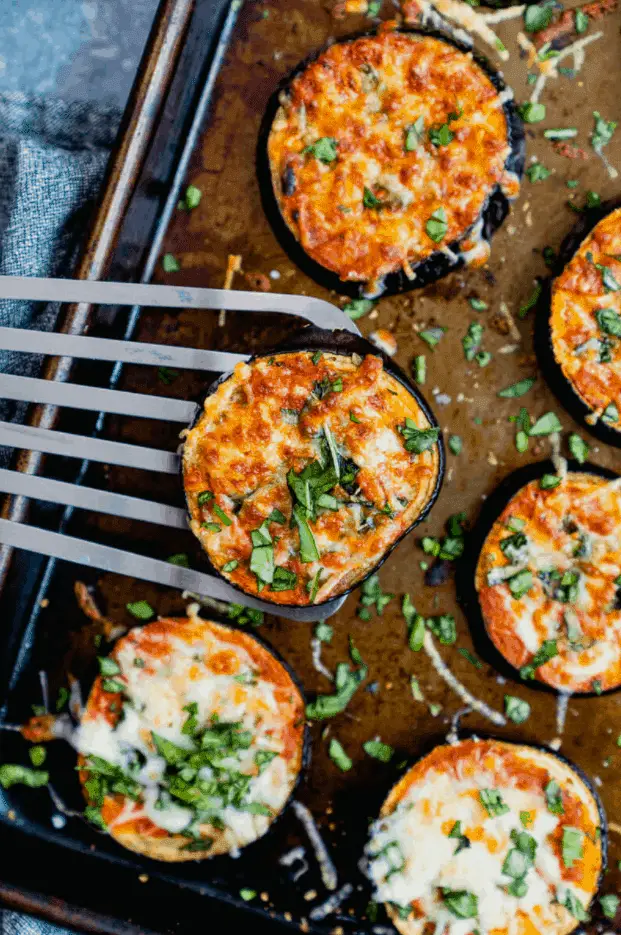 For most pizza recipes, the greens go on top for garnish. They'll be added at the end and probably won't end up in the oven. But for this version, slip a few basil leaves under the cheese for added flavor. Keep the eggplant slices thick – about ¾ inch. Salt both sides and pat them dry before brushing both sides with olive oil for prebaking. Top with cheese blends.
23. Eggplant Spinach Chicken Pizza
Cooking spray is a priceless kitchen shortcut. Spray your sliced eggplants with coconut oil on both sides. And make sure it's a coconut cooking spray, not a (natural) hair spray! Also, the video goes dark for a minute between 1.13 and 2.14 so skip ahead. After spicing and baking the eggplant slices, add marinara, (leftover) cooked chicken, provolone, and fresh spinach.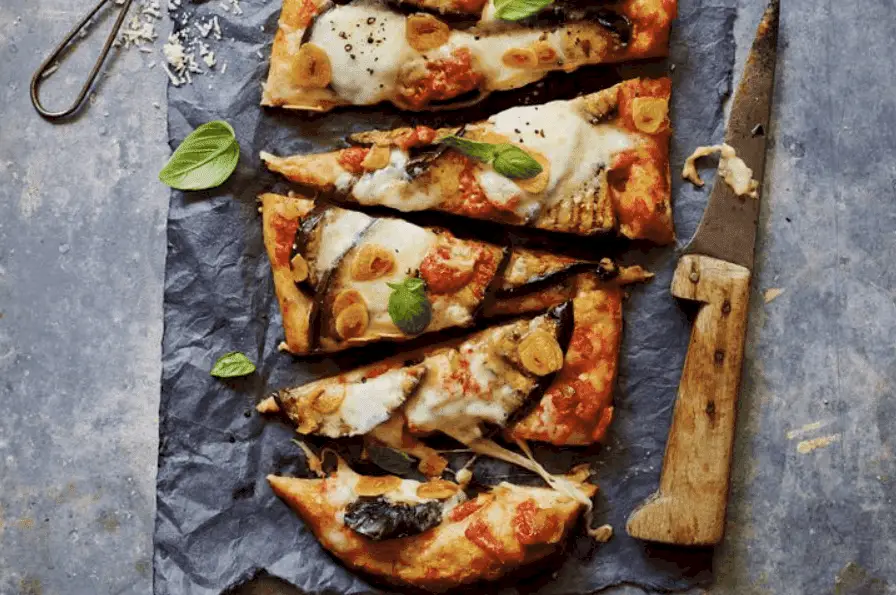 Technically, you can make cheese from the milk of any mammal. And while we mostly use cow cheese, you can also make mozzarella from buffaloes, camels, or goats. This recipe uses buffalo mozzarella on a flour-based dough. The dough is made from scratch and apart from the cheese and eggplant slices (cut lengthwise), other toppings include parmesan and basil.
25. Cooking Inventions Eggplant Pizza
Eggplant pizza recipes aren't necessarily vegan, keto, or even vegetarian. It's easy to inadvertently add carbs or gluten if you use a sweet pizza sauce. Or if you dust the eggplant with flour. If you use vegan cheese, you're possibly introducing nuts as well. But if you're allergy-free, these lengthy slices of eggplant pizza are a treat and cook in under 30 minutes.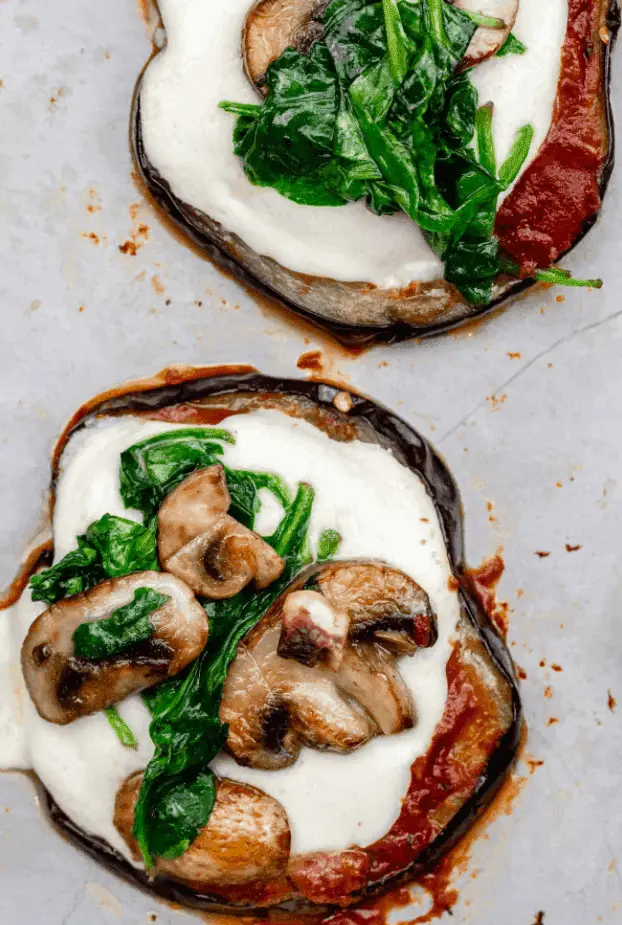 Here's another buffalo cheese recipe, but this one uses the eggplant as a pizza base. If you don't want the fuss, use store-bought marinara as your pizza sauce. Spiced ketchup also works (just add dried oregano, basil, garlic, ginger, onion powder, and/or Italian seasoning to the ketchup). The eggplant base is then topped with spinach, mushrooms, and mozzarella.
27. Sicilian Eggplant Pizza
The word 'Sicilian' automatically makes you think of the mafia. But this harmless eggplant pizza is far more genteel. And it tastes great too. It's a thin-crust recipe and the homemade dough is linked in the video description notes. The toppings include thinly sliced eggplants (1/8th inch), olives, capers, and cheese. Invest in a mozzarella press for fancy shredding.
Kids love round mini pizzas. But for adults, consider eggplant pizzas cut along their length. The shape elevates the dish and leaves space for elaborate adult toppings. Plus, provolone slices sit well on eggplant pizzas, whether the eggplants are cut vertically or horizontally. Other toppings on this pizza include mozzarella, spinach, cherry tomatoes, and chili flakes.
29. Keto Aubergine Pizza
This keto-friendly recipe is packed with protein sources – chorizo, mushrooms, and lots of cheese on long eggplant bases. The 'pizza crust' is cut lengthwise. Salt and pat both sides to 'sweat' them.  Cut your chorizo at an angle so the slim slanted slices sit snugly on your pizza base. And make sure your red sauce has no sugar or sweeteners since that'll add carbs.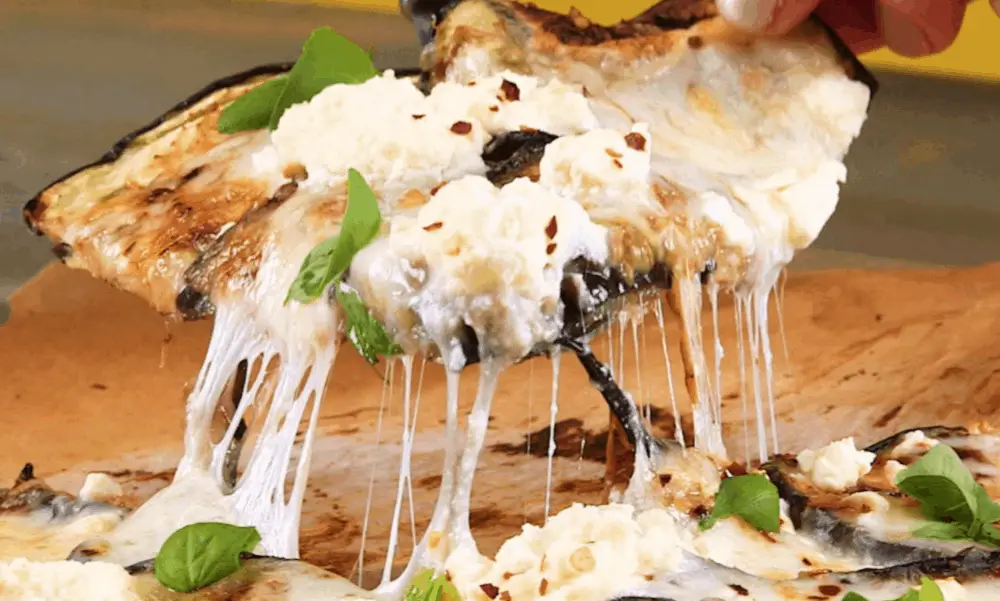 Eggplant pizzas are often miniature. Why? Because even the largest eggplant is maybe 4 inches in diameter. So if you'd like a quirky full-sized pizza with an eggplant base, arrange the slices in a spiral like you would with ratatouille. Oil the slices, bake them, add cheese, bake again, and keep layering. This recipe uses feta, ricotta, parmesan, and mozzarella.
31. Mom 'n Me Eggplant Pizza
Our final eggplant pizza recipe can be done in 15 minutes (excluding the dough rising, so make the dough overnight or grab a can from the store). The dough has three kinds of flour – whole wheat, all-purpose, and semolina. Roast the lightly oiled eggplant in a pan before adding them to the pizza. For the red sauce, add pizza herbs to a can of crushed tomatoes.
What's your favorite eggplant pizza recipe? Show us how to make it in the comments!
31 Best Eggplant Pizza Recipes
Ingredients
Mini Eggplant Pizza Recipe

Lil Piece Of Hart Eggplant Pizza

Smiley Eggplant Pizza

Nourished Eggplant Pizza

Eggplant Mozzarella Veggie Pizza

Orsara Vegetarian Eggplant Pizza

Jen Selter's Eggplant Pizza

Miss Sunshine Eggplant Pizza

Zucchini Crust Pizza

Vito's Pizza Napoletana With Eggplant Parmesan

Eggplant Pizza For Kids

Eggplant Spinach Chicken Pizza

Cooking Inventions Eggplant Pizza

Sicilian Eggplant Pizza

Keto Aubergine Pizza

Mom 'N Me Eggplant Pizza
Directions
Select your favorite recipe.
Organize all the required ingredients.
Prep the recipe in 30 minutes or less!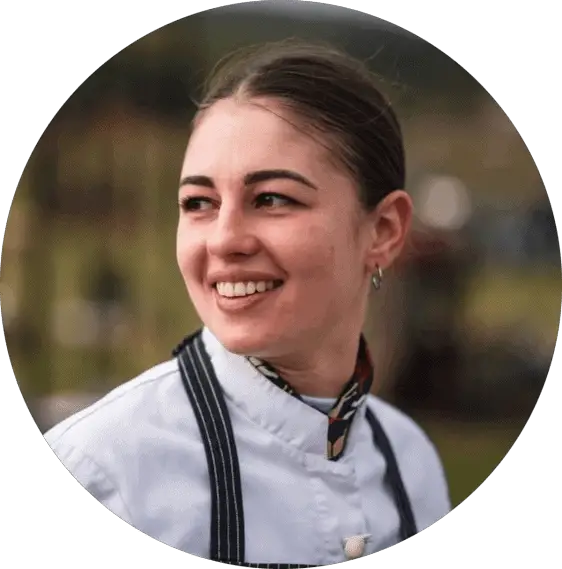 Julie has five years of experience in the restaurant industry, she decided to share her knowledge about her liking and fondness for food and pizza, of course, cooking as her love language. She's very passionate about what she's doing, making all the things she writes regarding pizza recipes, very amazing!