Portion control is a big part of any diet. So even on cheat day, you may feel safer with a mini pizza than a regular-sized one. Besides, you may feel better psychologically.
Because you're still – technically – eating a whole pizza. Mini pizzas are good for children too. They're more likely to finish it so there's less waste, and they're fun to eat! So let's find a few mini pizza recipes.
1. Barbara Bakes Mini Pizzas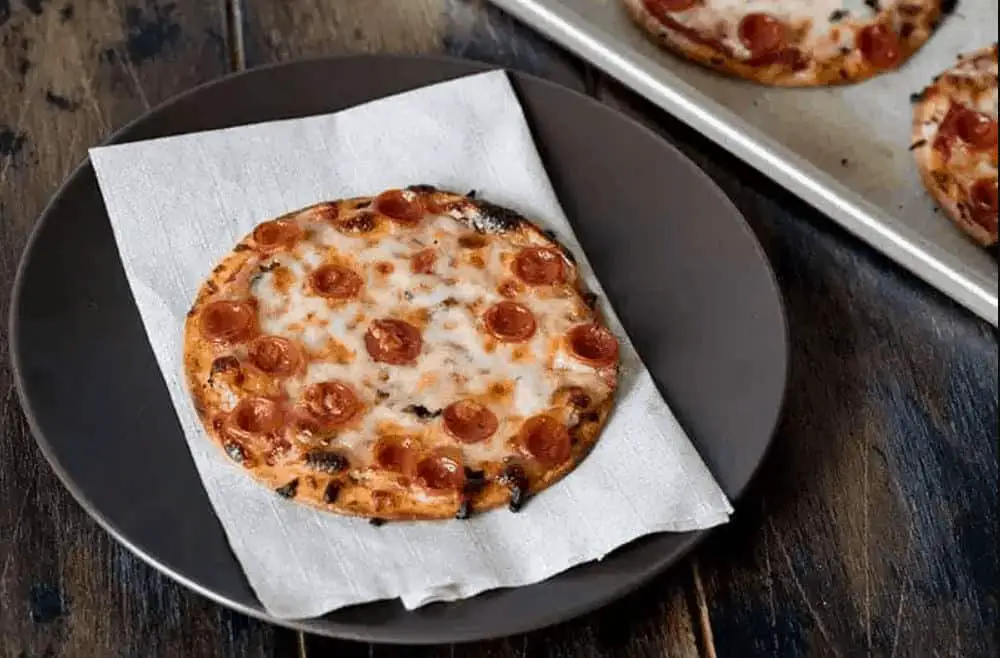 When you're making mini pizza as a kids' snack, sizing is crucial. It needs to be heavy enough to hold them until their next meal. But it should be small enough that it won't ruin their appetite for lunch or dinner. This recipe uses street-side tortillas (about 4 inches wide). Fill them with mini pepperoni and fresh basil. But you can let the kids pick their own toppings.
2. Chef Hut Bread Mini Pizza
Bread slices are naturally smaller than pizza, so they make the perfect mini pizza base. You could use regular rectangular slices or you could opt for 'shapely bread' like dinner rolls, baguettes, bagels, or brioche. Spread butter on the outside then add whatever toppings you like. Fry the bread in a saucepan or an oven toaster. This recipe uses garlic chili pizza sauce.
3. Good Cheap Mini Pizza Eats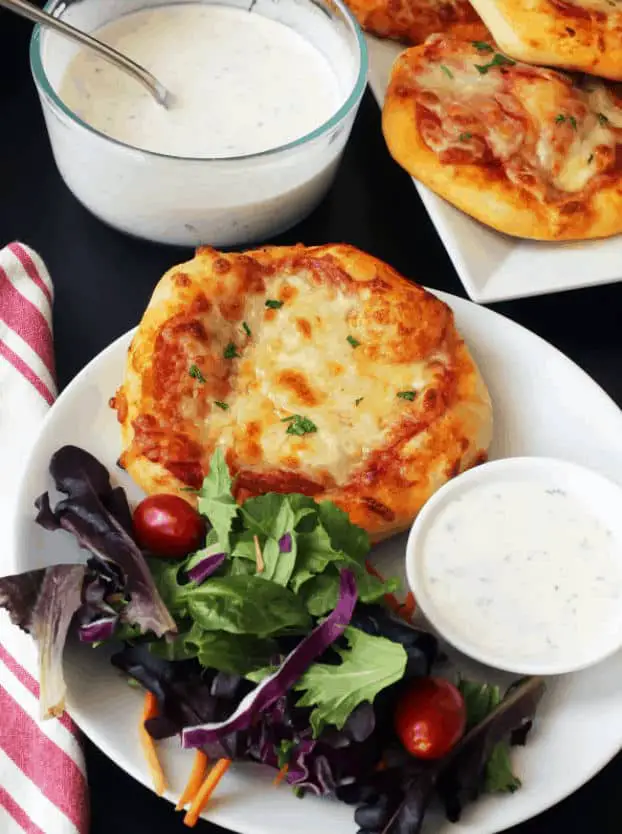 If pricing is an issue, making dough from scratch is cheaper (and more satisfying) than buying it from the store. You can bake pizza herbs into the dough to enhance its flavor. Plus, with this recipe, both the raw dough and the cooked pizza pockets can be frozen. For toppings, use anything you like, but cut small pieces so they fit snugly on your mini pizza.
4. Ayzah's Mini Pizza
Baking mini pizzas in batches can save time and power. But you should only do this if you know your oven well. Why? In theory, all the pizzas will cook at the same speed and heat level. But if your oven has hot spots and cold spots, you may need to arrange the min pizzas carefully for even cooking. This batch is topped with a ground beef sauce and lots of chili.
5. Mom 100 Mini Pizza Recipe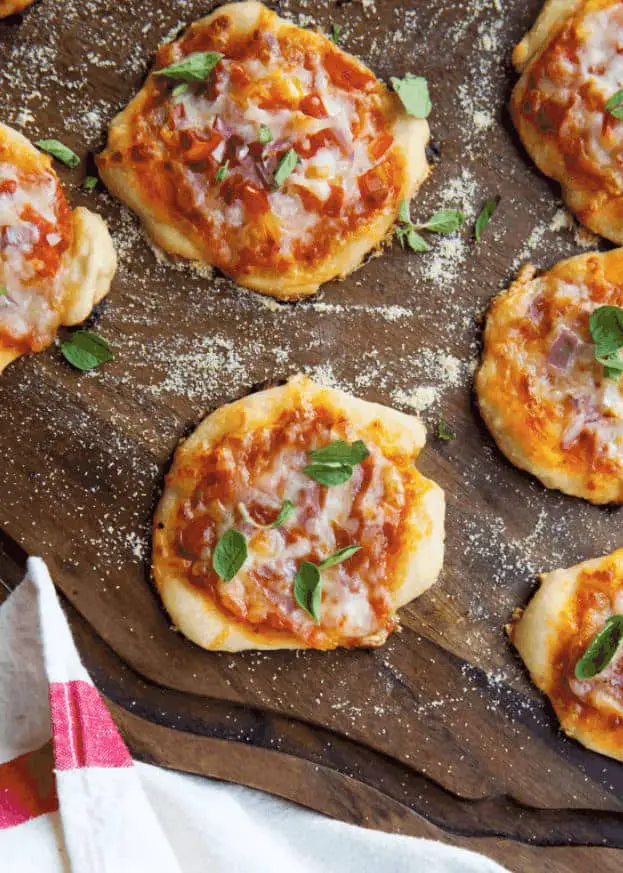 Pizza servings are tricky. The average person can eat two or three slices per sitting. But some of us can finish an entire pizza by ourselves! For mini pizzas, expect kids to eat 2 or 3 while adults may need up to five. It's best to bake mini pizzas on high heat because they're smaller and should cook faster. Drawing out your cook time will burn them so 10 minutes max.
6. N'Oven Mini Pizza
You can't always access a working oven, but you do have options. You could fry pizza in a skillet. Or jerry-rig an oven set-up using microwave metal racks and hot water, salt, or sand. For this recipe, the yeast is bloomed in milk, which later enriches the dough. Pre-fry the mini pizzas on a pan before adding the toppings (tomatoes, olives, colored capsicum, and cheese).
7. Kara's Homemade Mini Pizza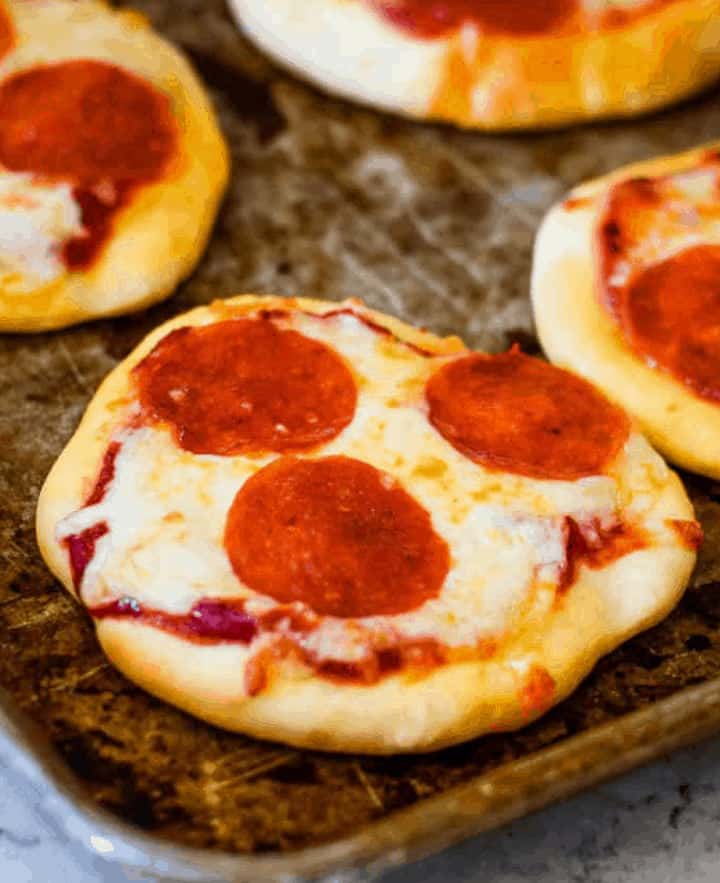 The best mini pizza recipe has a mixed bag of toppings, pun intended. Just do like Kara does. Make your regular batch of dough and homemade pizza sauce. Then prepare mini bowls of 'self-service' toppings. This works especially well for kids, but adults can join in. Toppings offered in this recipe include bacon, sausage, ham, cheese, pineapple, olives, and chicken.
8. Macho Mini Pizza
What makes this mini pizza recipe macho? Both the dough and the pizza sauce are fully homemade. The sauce has the usual pizza herbs plus paprika and chili flakes for added character. The mini pizzas are rolled thicker than regular-sized pizzas so they can hold the toppings better. It's mainly ground beef, chili, and mozzarella worked into a spicy sauce.
9. Richard Burr's Mini Pizza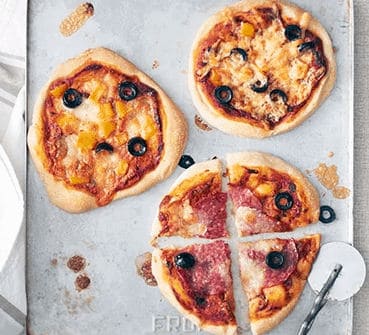 Mini pizza recipes often get the kids involved since they can customize their toppings. But your children into the process earlier. They'll love sticking their hands in gooey dough and shaping tiny pizza patties. Plus you can make enough that they won't feel bad about a few burnt or misshapen ones. Opt for kid-friendly toppings like salami and mozzarella balls.
10. Nefi's Mini Pizza Recipe
Nefi's mini pizza recipe may be kid-sized, but you can make an adult version. Just replace the julienned bell peppers with jalapenos. It has the same visual effect but is harder on untrained palates. (Kids with spicy cuisine e.g. South Asian or South American get used to chili early so they're fine.) The dough has milk and the sauce has thyme. Top with sausage and pepperoni.
11. Odehlicious Hotdog Mini Pizza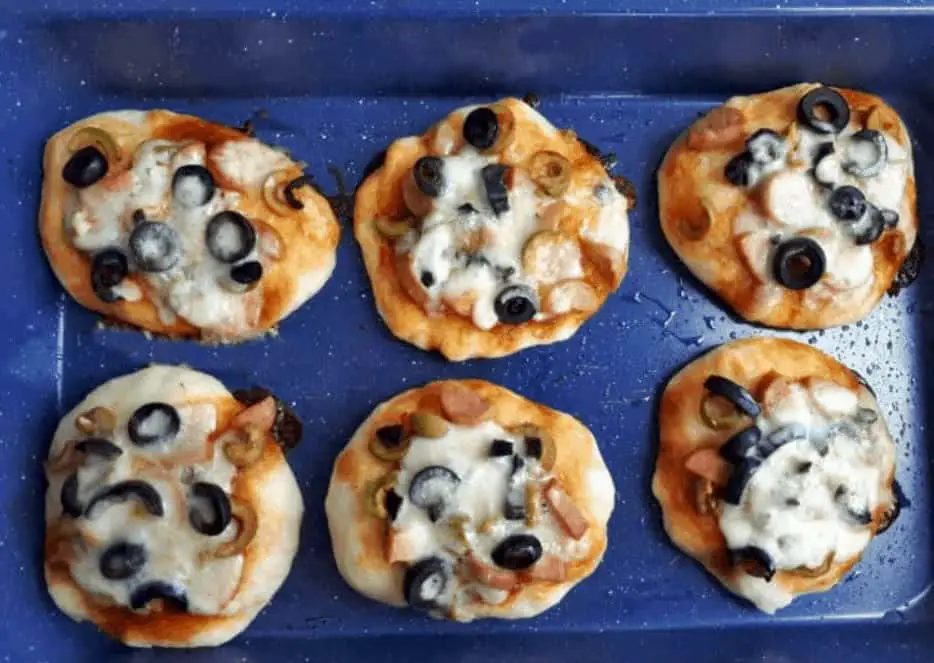 A lot of our recipes come from South Asia. Here's one from a different part of Asia (South East, though the Philippines was once part of US territory, so their culture is well-aligned with ours. Either way, this mini pizza recipe comes from a Jordanian-Filipino chef. The pizzas are topped with cheddar, mozzarella, green and black olives, and sausages or hotdogs
12. Emma's Mini Margheritas
When you're experimenting with new pizza recipes, Margherita (cheese + tomato + basil) and pepperoni are the easiest to try. For these mini Margheritas, the homemade dough is topped with a red sauce heightened with garlic and basil. You can use mozzarella or opt for a sharper cheese. This pizza is freezable, but only if you use freezer-safe toppings like sausage.
13. Dinner at the Zoo Mini Pizza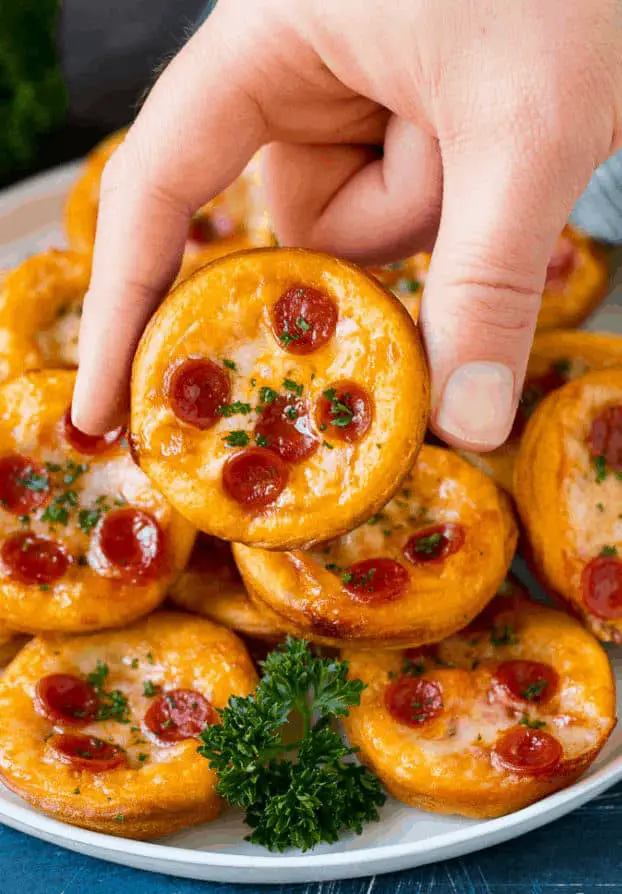 Many recipes on this list (so far) use dough made from scratch. Here's a quicker version with canned crescent roll dough sheets (not triangles). They're baked in a muffin pan so they're even smaller than typical mini pizzas. Top them with mini pepperoni or hotdog slices to get that cute button profile. You can use biscuit dough as well. For thin-crust versions, try tortillas.
14. Ana's Mini Pizzas
Here's our second Filipino recipe of the day. The video isn't (fully) in English but the captions are, and the directions and ingredients are listed. These mini pizzas are on the larger side. And Ana has a cute kitty helper (who might get tuna on his mini pizza if he plays nice!) Ana makes several toppings combinations including ham + pineapple or wurstel.
15. Madhouse Mini Pizza Bites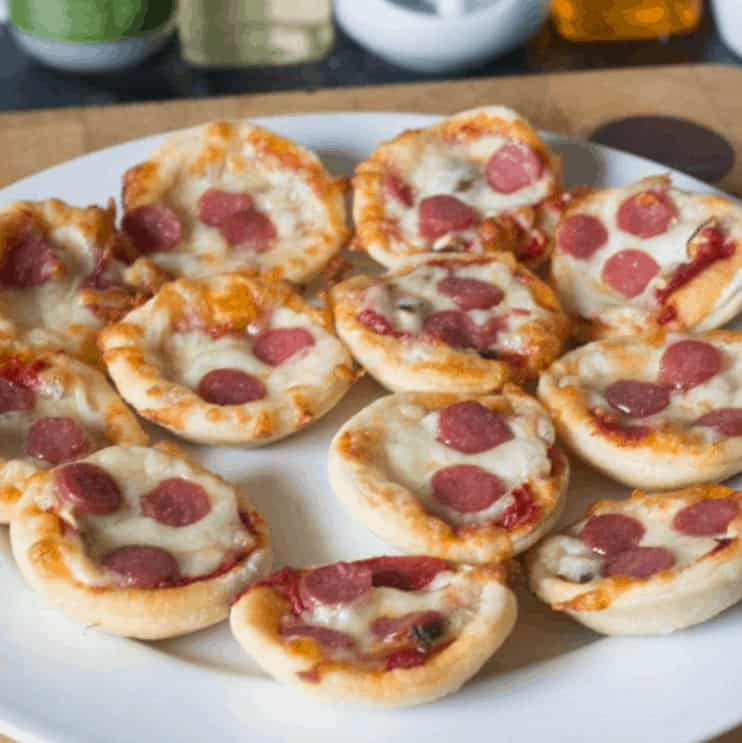 From zoos to madhouses, stay-at-home-mums have their hands full and their schedules packed. So mini pizza recipes are treasured because they save time and can keep the kids occupied for an hour or two. These mini pizzas are baked in shallow mini muffin cups and topped with mushrooms, pepperoni, and uncooked pizza sauce (either passata or puree).
16. Streetside Mini Pizza
Mini pizzas are a premium street snack in beach towns. So you can replicate the recipe at home knowing it's quick, simple, and low-fuss. These mini pizzas can be baked or fried with or without an oven. And while the audio isn't in English, ingredients are listed in English so you can easily follow the mini pizza recipe. You can use spaghetti sauce and ham toppings.
17. Hebbar's Mini Pizza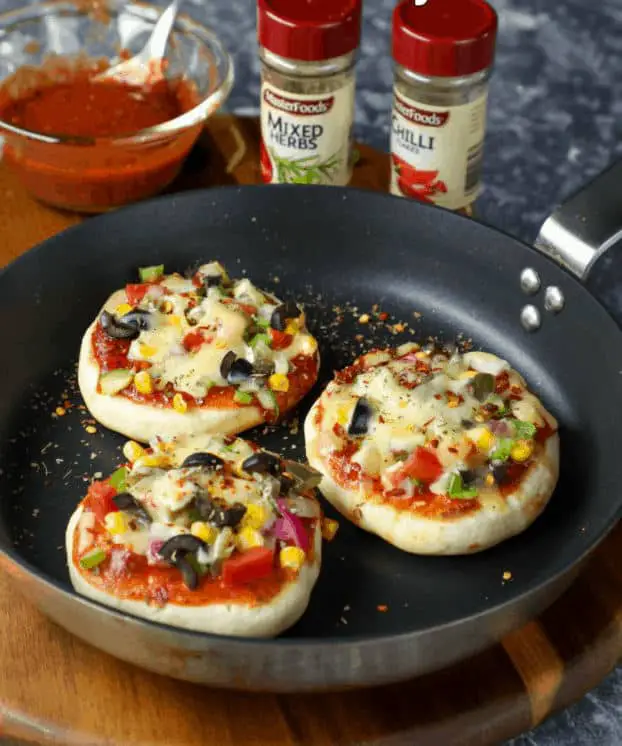 Steaming pizza may seem weird. But it actually cooks quite well. So if you don't have an oven handy, put your pizzas crust-side-down in a saucepan and cover with a lid. Clear lids are best because you can watch the food more closely. This mini pizza recipe 'cooks' on a tawa (frying pan). Toppings include olives, sweetcorn, tomatoes, capsicum, red onions, chili, and cheese.
18. Precy's Hawaiian Mini Pizza
The war on pineapple pizzas rears up every few months, and it can get quite vicious. Italians invented pizza, and they say no. A lot of us disagree. So if you enjoy that syrupy sweetness in a sea of red sauce, try this Tagalog Aunty's recipe. Her audio isn't in English, but you can hear the ingredients as she mentions them (in English) so that's probably no biggie. Enjoy!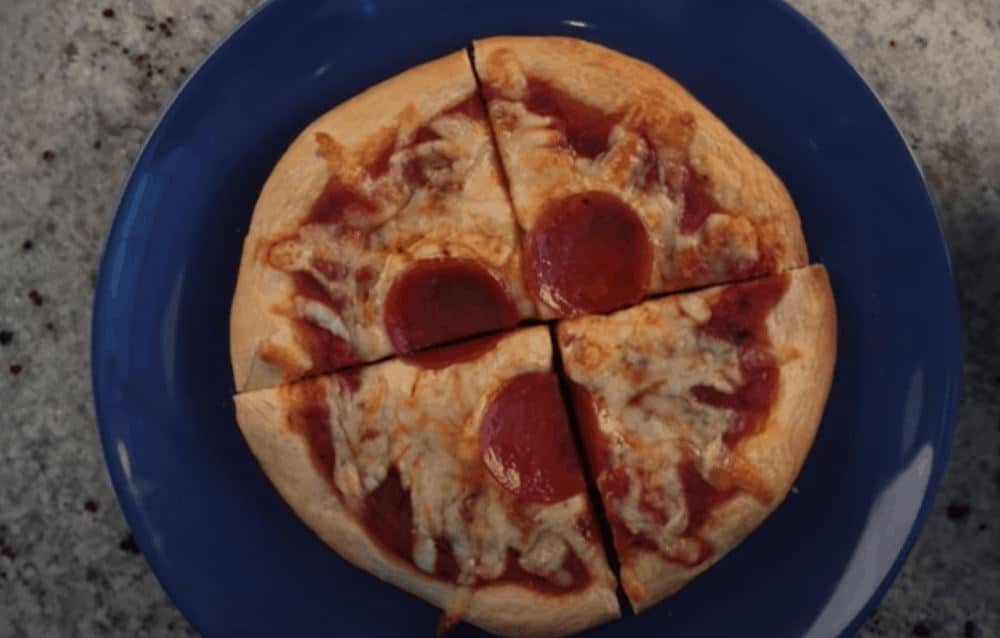 The dough for mini pizza recipes is dense and quick-cooking. So it often has a bready or biscuit texture and it helps if you pre-fry or pre-bake before you add toppings. But the type of dough you use does make a difference. This batch is baked with flaky Pillsbury layers of Original Biscuit so the mini pizzas have a puffy pie-like texture. Top with pepperoni.
20. Baker's Secret Mini Pizza
Usually, the audio disclaimers on these lists are about language. Or rather, non-English narration. In this mini pizza video, it's more about the weird choice of music … but the recipe is pretty solid so just tune out the sound. The notes below the recipe link to the homemade pizza sauce. And the side view of blooming yeast is … enlightening, pun intended.
21. Aussie Ham + Pineapple Pizza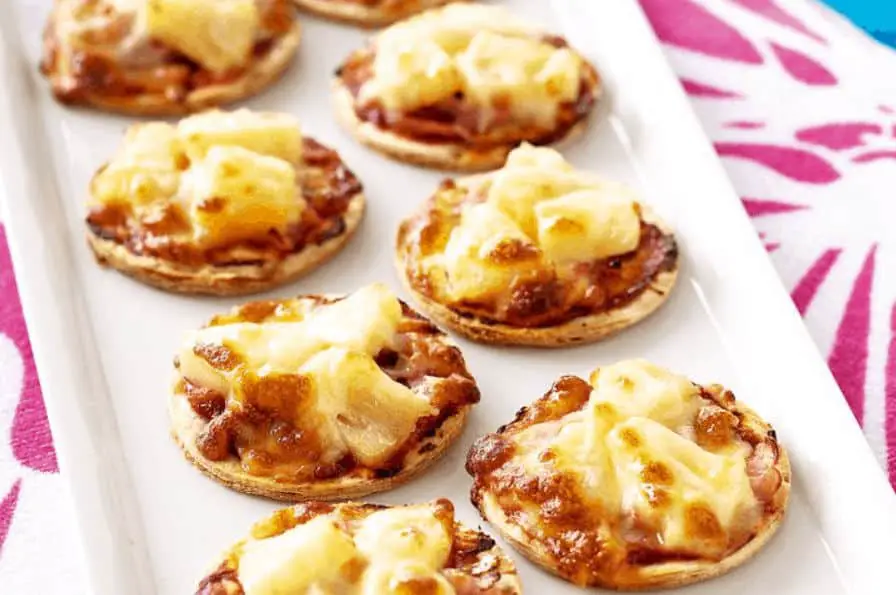 Australians are said to have a lot in common with us Americans. They're largely sunny and extroverted, just like we are. And yes, they eat pineapple on pizza. This recipe uses store-bought ingredients so it's quick and easy. Buy thin-crust pizza dough, canned pineapples, and shaved leg ham in extremely thin slices. You can use tomato paste as your pizza sauce.
22. Tiny Foods Mini Pizza
Tiny houses, tiny couture, and now tiny cooking? Yes! The cooking implements look like a kid's easy-bake set-up, but they can feed a fully-grown appetite. Enjoy this video with the kids, both for the recipe and edutainment value. But expect the children to request a tiny cooking set of their own. And arm yourself with tips on getting them to use their existing ones!
23. Lil Luna's Mini Pizza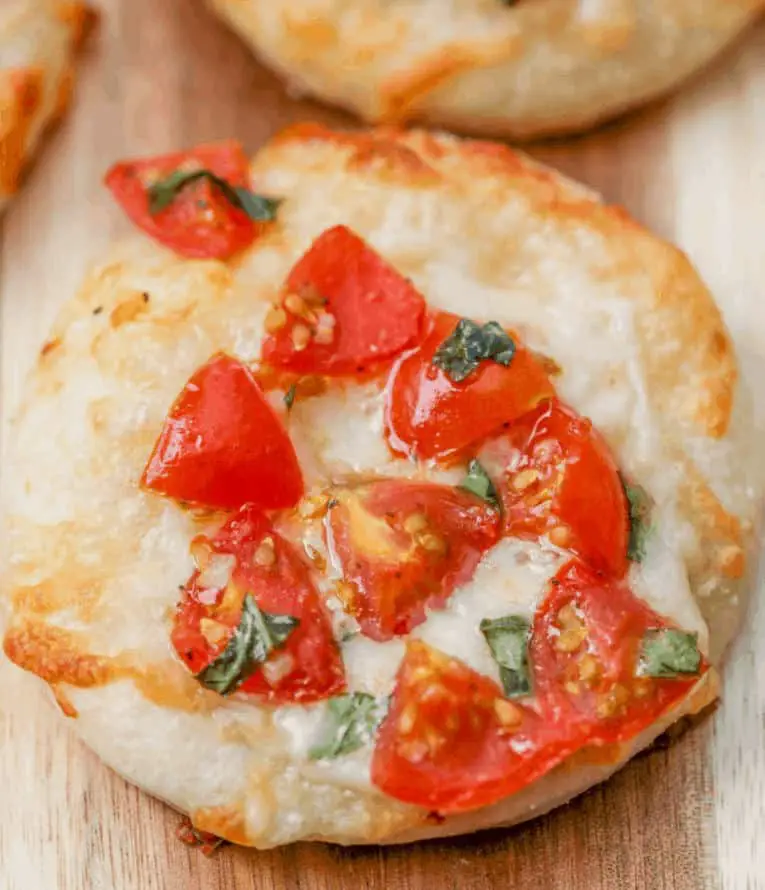 Tiny pizzas need tiny toppings. So they're often shredded or sliced super thin. You could also opt for baby veggies and baby deli meats. This mini pizza recipe uses quartered cherry tomatoes for that touch of tart. But you could also use crumbled sausage, bacon, pineapple, artichoke, or mushroom. Fresh basil leaves add color, flavor, and visual appeal to the pizza.
24. Clic and Bake Mini Pizza
Even on a mini pizza, you can form a thick crust. It would be quite intricate to stuff it with string cheese. But you could also just press a glass or bowl into the pizza base to form a fatter crust along the rim. This middle section can then be snugly packed with a meaty mix of ground beef. The meat and dough aren't precooked so they bake simultaneously in the oven.
25. Chelsea Sugar's Mini Pizza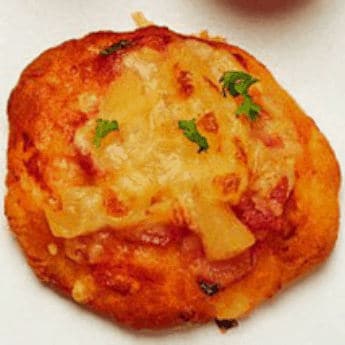 Now let's head over to the Kiwis. This New Zealand mini pizza recipe starts with a milky homemade dough (low-fat is recommended). It's a mini pizza so you only need a couple tablespoons of tomato sauce. The pizza is topped with streaky bacon, pineapple, and a well-flavored cheese of your choice. You can add a bit of green with parsley or chives if you like.
26. Chicken Mini Pizza
There's a lot of freezing talk in mini pizza recipes. But the truth is you'll probably pop them in your mouth as they come out of the oven. This chicken version uses boneless cubes sautéed in garlic and spice with a dash of lemon. Prick, oil, and pre-bake the pizza dough for 10 minutes before adding the toppings. These include chicken, cheese, olives, and onions.
27. Quick Flatbread Mini Pizza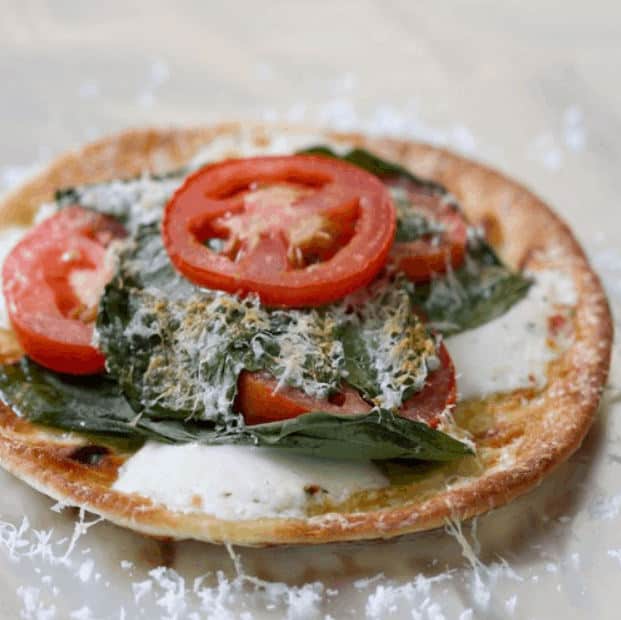 In (mini) pizza recipes, dough is often the most time-consuming. So using premade flatbread shaves hours off your cook time. Drizzle seasoned butter or olive oil on the bread then add toppings. These mini pizzas are quite basic, so just add cheese, torn basil, and a large sliced Roma tomato. If you like, you can brush the mini pizzas with balsamic glaze for a nice shine.
28. Sue's Kitchen Mini Pizza
Colorful pizzas excite kids, but they can be a delight for grown-ups as well. The trick is in the toppings. You want pizza fillings that will retain their vibrant hue even when cooked. This mini pizza recipe offers prime examples – sweetcorn, colored capsicum (that's green, yellow, or red bell peppers), and red (purple) onion. You could also use green + black olives.
29. Szechuan Mini Pizza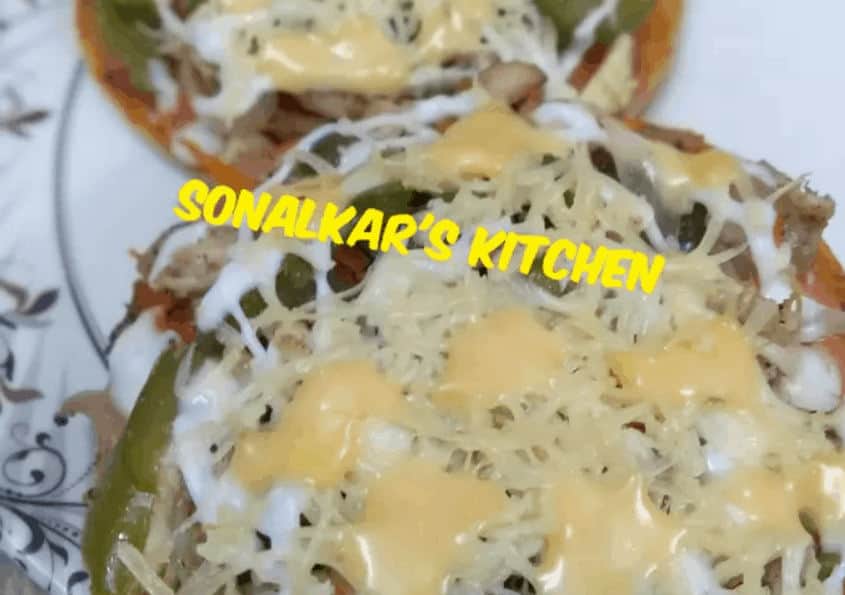 You've probably heard of Szechuan chicken. So you know how hot and spicy it is. But did you know it's locally spelled Sichuan and hails from a Chinese province that shares the name? For this mini pizza recipe, you'll use Szechwan sauce as your pizza sauce and add other hot spices to the pizza topping. These will include shredded chicken, bell peppers, carrots, and mayo.
30. Shaped Bell Pepper Mini Pizza
Capsicum (bell pepper) gives your pizza a pretty color and flavor. But they're usually sliced, diced, or julienned. For this mini pizza recipe, the bell peppers are sliced horizontally to form floral rings. Each ring is roughly the size of a single mini pizza. Other toppings on this pizza include shredded chicken and mozzarella. And the pizza sauce is chili-packed.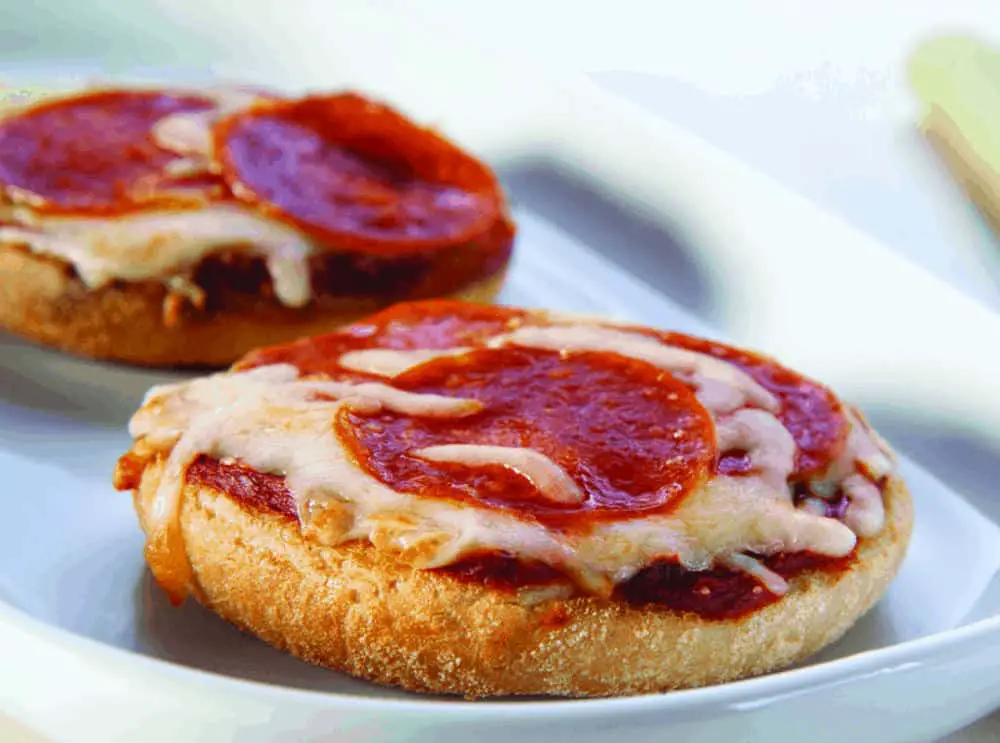 The Kraft Foods brand is best known for chocolate and ketchup. It's now called Mondelez but you can still enjoy this retro mini pizza recipe. For the pizza base, use toasted English muffins sliced sideways. You can use Kraft branded mozzarella and cheddar. For this specific recipe, the pizza sauce and pepperoni are branded too so there's less prep time needed.
What's your favorite mini pizza recipe? Show us tips on how to make it in the comments?
31 Best Mini Pizza Recipes
Ingredients
Chef Hut Bread Mini Pizza

Ayzah's Mini Pizza

N'Oven Mini Pizza

Macho Mini Pizza

Nefi's Mini Pizza Recipe

Emma's Mini Margheritas

Ana's Mini Pizzas

Streetside Mini Pizza

Precy's Hawaiian Mini Pizza

Baker's Secret Mini Pizza

Tiny Foods Mini Pizza

Clic And Bake Mini Pizza

Chicken Mini Pizza

Sue's Kitchen Mini Pizza

Shaped Bell Pepper Mini Pizza
Directions
Select your favorite recipe.
Organize all the required ingredients.
Prep the recipe in 30 minutes or less!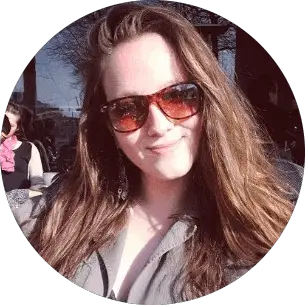 Barbara is an enthusiastic food-exploring person that goes through different culinary experiences. She got inspired by creating a pizza blog post after she tasted one of the best-selling pizzas in Toledo.