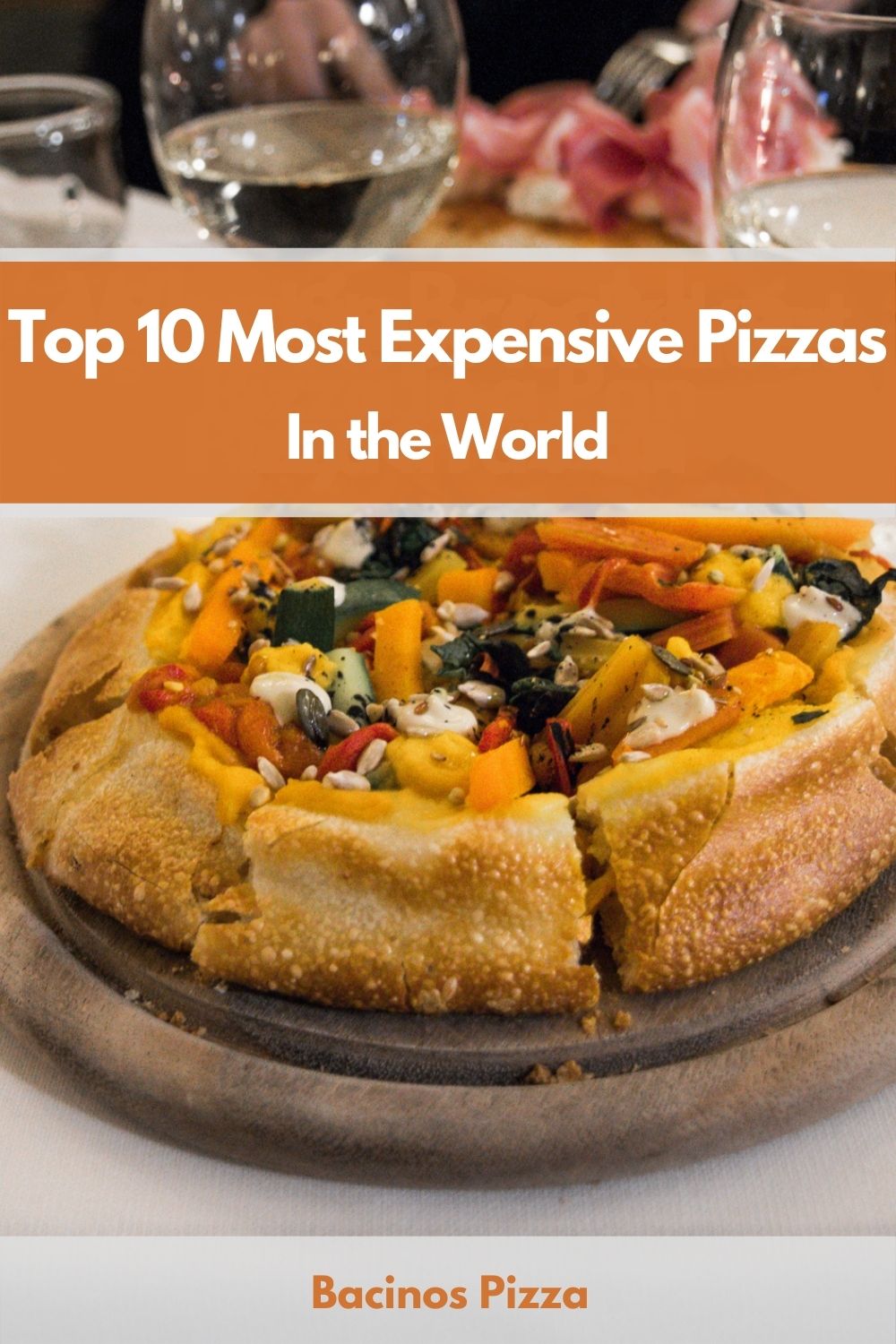 We're used to thinking of pizza as a tasty and cheap meal. But what if money were no object? Could you really spend a fortune on a pizza?
The answer, it turns out, is a resounding "yes"! We've scoured the internet for some of the most expensive pizzas out there. So if you want the crème de la crème of the pizza world, you've come to the right place!
Buckle up, as we take you on a tour of some eye-wateringly pricey pies …
Most Expensive Pizzas In the World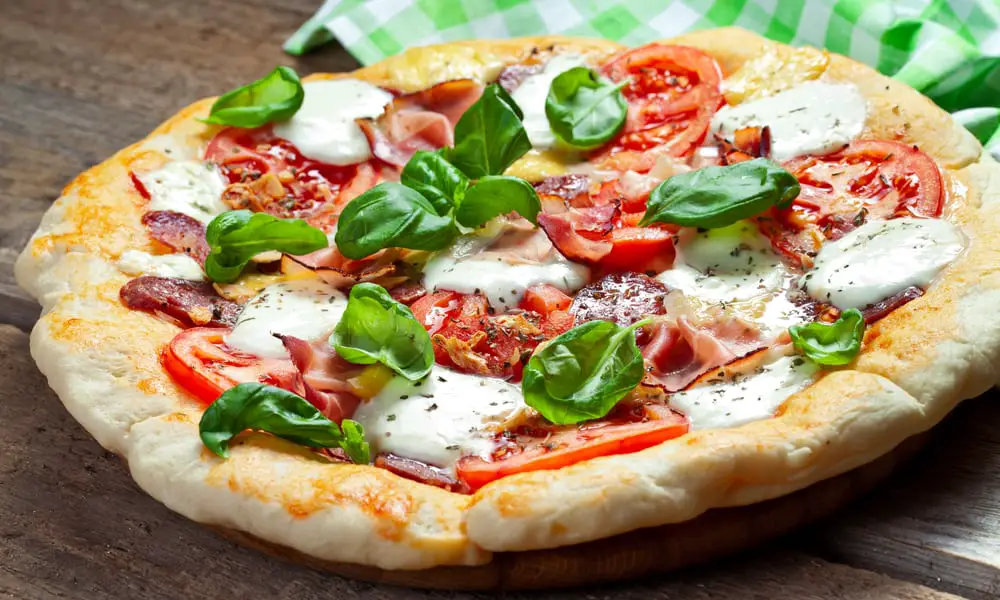 Pizza GoGo is a UK chain that's usually known for cheap and cheerful takeout pizza. But with Gold Pizza, they're providing a premium product for those who love their bling.
It costs a whopping £500 – that's about $700. For that price, you'll get a range of top-notch ingredients: fantail prawns, lobster and caviar. The pizza is then drizzled in white truffle oil and garnished with flakes of 23 karat gold.
It looks pretty delicious. But if superior seafood doesn't float your boat, you can always select your favorite toppings instead. They'll come with plenty of gold flakes on top so you can be sure you're getting your money's worth.
But with this pizza, the price is about more than the ingredients. When you order it, it will be walked up a red carpet to your front door. And it will be delivered by your very own butler, who will wait on you throughout your meal.
If you're looking for high-end takeout pizza, this is as impressive as it gets.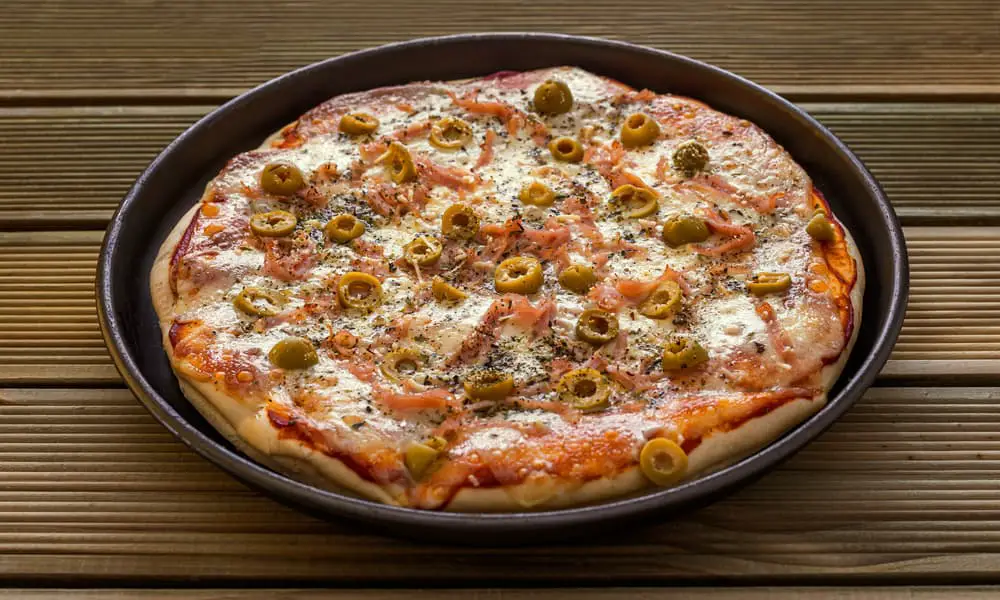 If you find yourself on the island of Tunisia, Dapietro's Pizzeria is the place to go for lovers of pricey pie. Here, you can spend $360 on a pizza.
That might sound relatively inexpensive compared to some of the other pizzas on our list. But when Tunisians' average weekly wage is $220, it's clear that this is very much a luxury item.
The crust here is black, made with charcoal and black garlic. This is then topped with black and white truffles, buffalo mozzarella and delicate slivers of smoked duck breast. Gold flakes go on top, with the edges of the crust sprayed in more gold.
The pizza is targeted at well-heeled Tunisians who would typically travel abroad to sample expensive foods. With the pandemic hitting travel plans, this aims to give them something to enjoy closer to home.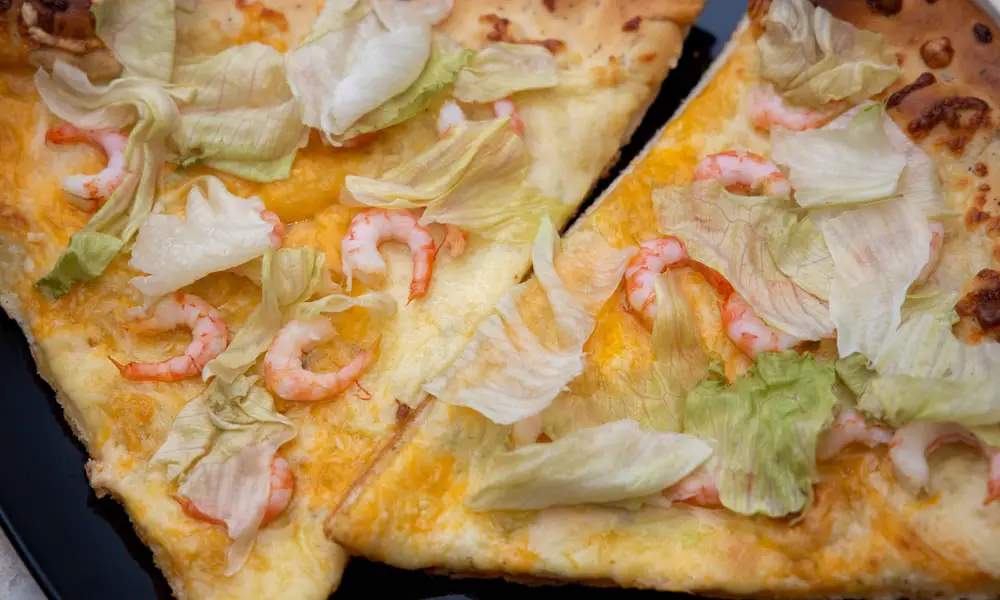 Steveston Pizza Co in Canada takes an unusual approach to its delicious pizzas. Yes, you can get a pepperoni or Margherita Classic. But that's where the similarity to conventional pizza menus ends.
You can select your pizza according to color. Green, for example, is topped with herb pesto butter, single cream brie, shrimp and scallions. Pink has smoked salmon, bocconcini, asparagus, onions and a drizzle of pesto.
Alternatively, you can opt for a pizza categorised by the journey – Mediterranean, Japanese or Mexican, to name but a few. Or by element – fire, water, wind and earth, plus other unique options like mist and harmony.
But the pièce de la resistance on the menu is the C6, costing 850 Canadian dollars. This prince among pizzas is topped with a medley of tiger prawns, lobster ratatouille, smoked steelhead and Russian caviar. And you'll get a shaving of Italian white truffles too.
Glasgow chef Domenico Crolla created the Pizza Royale 007 back in 2007 for charity. It was a one-off, made to raise funds for the Fred Hollows Foundation, which works in developing countries to cure blindness.
The pizza was won at auction by Italian lawyer Maurizio Morelli. Crolla flew to Rome to prepare it for Maurizio and his wife Sabrina as a Valentine's Day treat. The price? £2,150 – that's about $4,000 dollars at 2007 exchange rates.
It was topped with lobster marinated in cognac, champagne infused caviar, smoked Scottish salmon and venison. The name was inspired by the Bond film, Casino Royale, which had just been released in cinemas. And the pizza came accompanied by a vodka martini. Shaken, not stirred.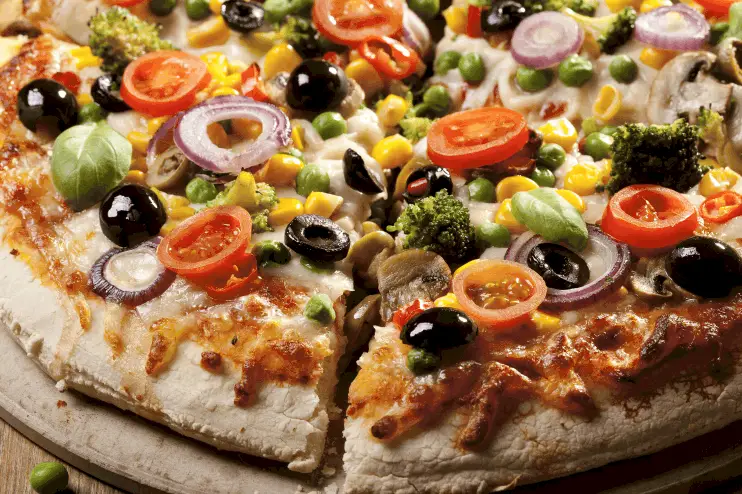 Back in 2015, Margo's, on the Mediterranean island of Malta, showcased its own super-expensive pizza. It cost $1,800 and was given the self-explanatory title of "Not-So-Poor-Man's Pizza".
It was a white pizza topped with fresh, organic buffalo mozzarella, Italian white truffles and – of course – gold leaf. The truffles were flown in especially from Alba. And they were dispatched within eight hours of being harvested, keeping them as fresh as possible.
The pizza no longer appears on Margo's menu – but that might be because the logistics mean it needs careful preparation. Flying in those truffles means the restaurant needs at least a week's notice if you plan to order one.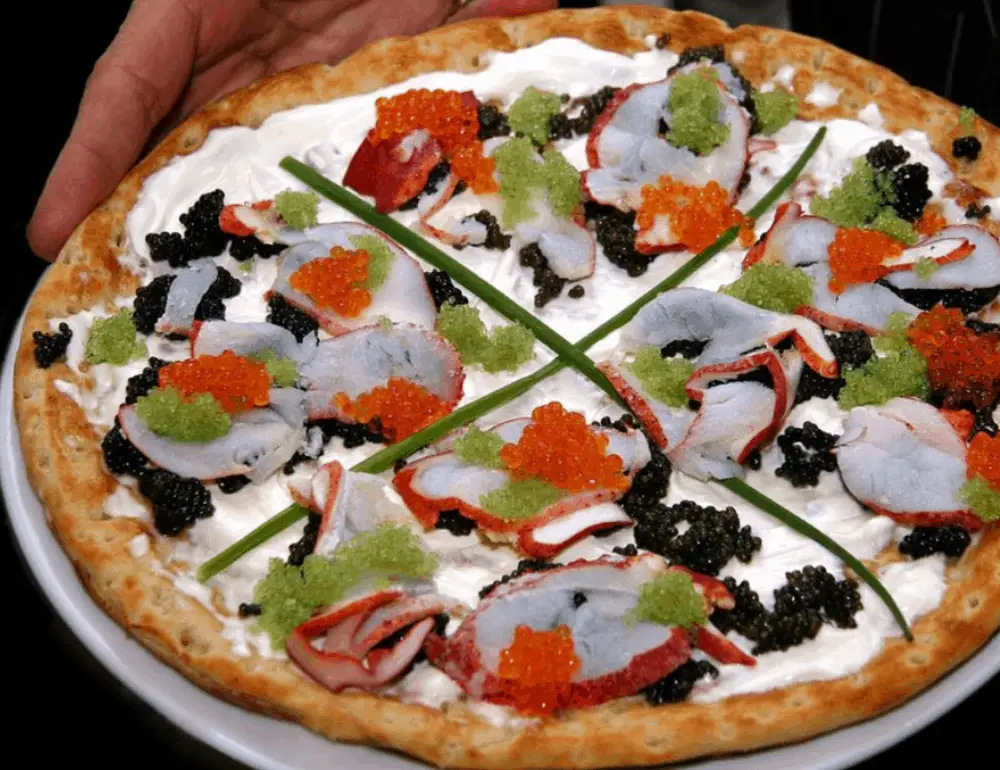 New York City pizzeria Favitta is sadly now closed. But back in the day, it offered a special Pizza for Lovers, for the princely sum of $8,180.
It was created as a way for those intending to pop the question to propose to their (hopefully) pizza-loving partners. The heart-shaped pizza came with a regular tomato sauce, mozzarella and your choice of toppings. So what made it so expensive?
That would be the diamonds. Yes, you heard that right – diamonds.
This pizza came in two varieties. The first was sprinkled with diamond dust. The other arrived with a diamond ring. And a bottle of Dom Perignon champagne was included for happy couples to celebrate their engagement.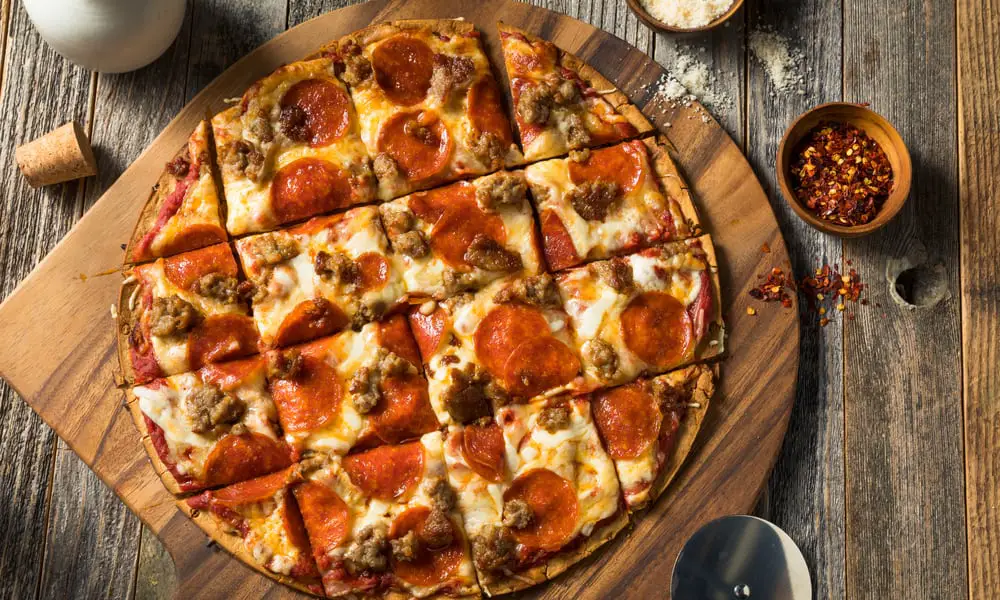 Italian Renato Viola is a world-renowned chef who has also trained hundreds of others in the art of pizza making. His Pizza Louis XIII will set you back €8,300 if served in Italy – that's about $10,000.
The price will vary depending on where you live. That's because Renato and his chef and sommelier will travel to your home to prepare your meal. The only element that's prepared in advance is the pizza dough, which is made 72 hours earlier. And all the cutlery and dishes are limited edition.
The crust is made with organic flour and Australian pink salt from the Murray River.  The pizza is then topped with three types of caviar, prawns, lobster and squilla mantis, a type of shrimp.
It's served with Louis XIII cognac by Remy Martin, Krug champagne and a rare brandy. Now that's a premium pizza.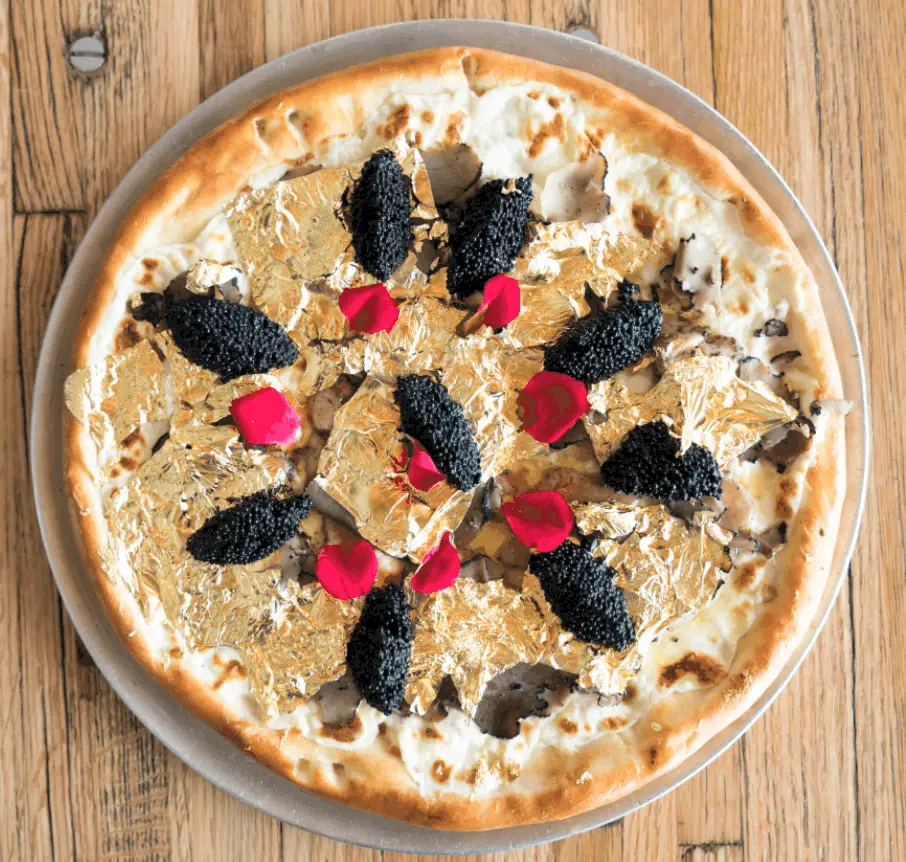 The 24K Pizza was an ultra-pricey pie made as much for publicity as in the expectation anyone would actually order it. It's no longer on offer on the menu of its birthplace, the Industry Kitchen in New York. But it retains a place on the hallowed list of the most expensive pizzas ever made.
The clue to the contents is in the name. This $2,000 dollar pizza was adorned with flakes of 24 karat gold. The crust was infused with squid ink to give it a dark color to offset its expensive garnish. It was topped with white stilton, foie gras, Ossetra caviar and white truffles.
And if all that wasn't enough for you, you could bling up your pizza even more. An extra topping of Almas caviar could be yours for a meager additional $700.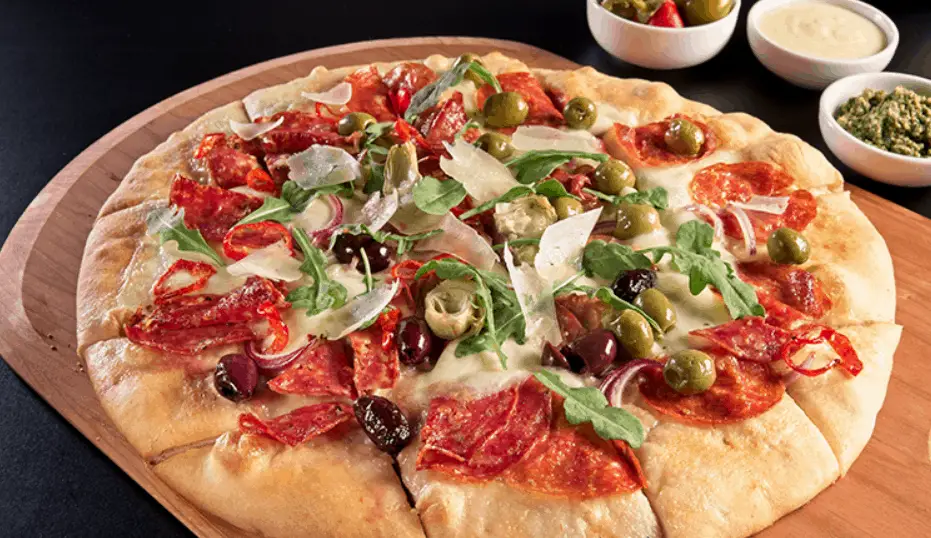 Another New York pizzeria, Nino's has a history of offering exorbitantly priced pizzas. Previously known as Nino's Bellissima, it offered a $1,000 pizza with the self-conscious title of "The One Percenter".
It was topped with slices of lobster caught in Maine, and no fewer than six different kinds of caviar. The restauranteur claimed that the price of the ingredients made the profit margin on each pizza a slim $180. When you look at it like that, it was a real bargain …
Perhaps the expense and difficulty of sourcing all that caviar signed the death warrant for the One Percenter. It's no longer on offer at Nino's, although it's still referred to on their website as a milestone in the restaurant's history.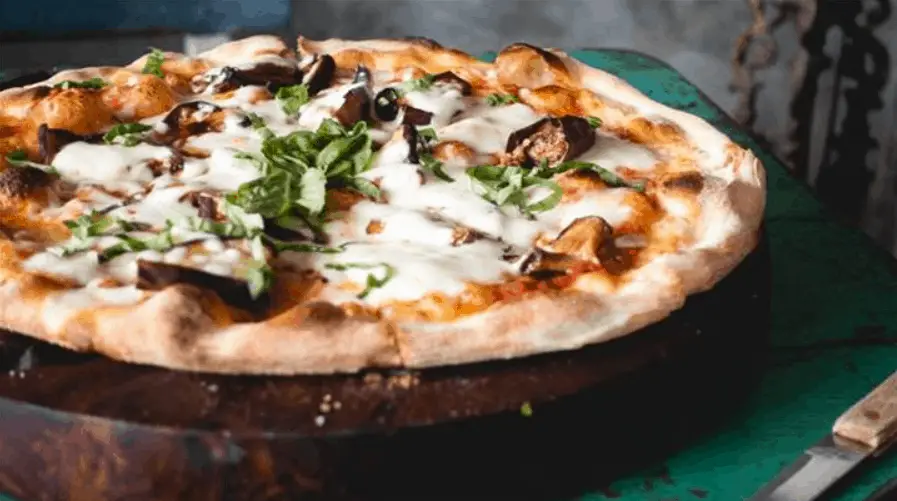 If money is no object, why order from a menu, no matter how exclusive? Instead do what YouTuber Jimmy Donaldson, aka MrBeast did, and engage your own chef to create a bespoke masterpiece.
MrBeast specializes in expensive stunts, so buying and eating an outrageously expensive pizza was the perfect plan. This one was made by a private chef with an exclusive clientele. The base was coated in an ounce of gold, followed by a bechamel sauce made with aged parmesan.
But on to the toppings. These included wagyu beef and foie gras from the Hudson Valley. The beef was marinaded in a $10,000 grape juice, while the foie gras was steeped in apple juice costing $6,000 a bottle. Quite how you make fruit juice this expensive remains a mystery …
Then there was $4,000 worth of white truffle shavings, flown in from Italy. And $16,000 worth of albino caviar, allegedly the world's rarest caviar. It was finished with sea salt and – you've guessed it – more gold.
The sum total for this pizza extravaganza? A staggering $72,000. And the verdict from MrBeast? "It's actually really good."
Would you fork out for pricey pizza?
So now you know what you get if you're prepared to pay for the world's most expensive pizza! Truffles, seafood, and a pile of gold leaf.
But with some of these pizzas, the experience goes well beyond the flavors. Having your own private chef and being waited on like royalty certainly has its charm.
We think we might just save the money, though. Now where's that takeout menu …?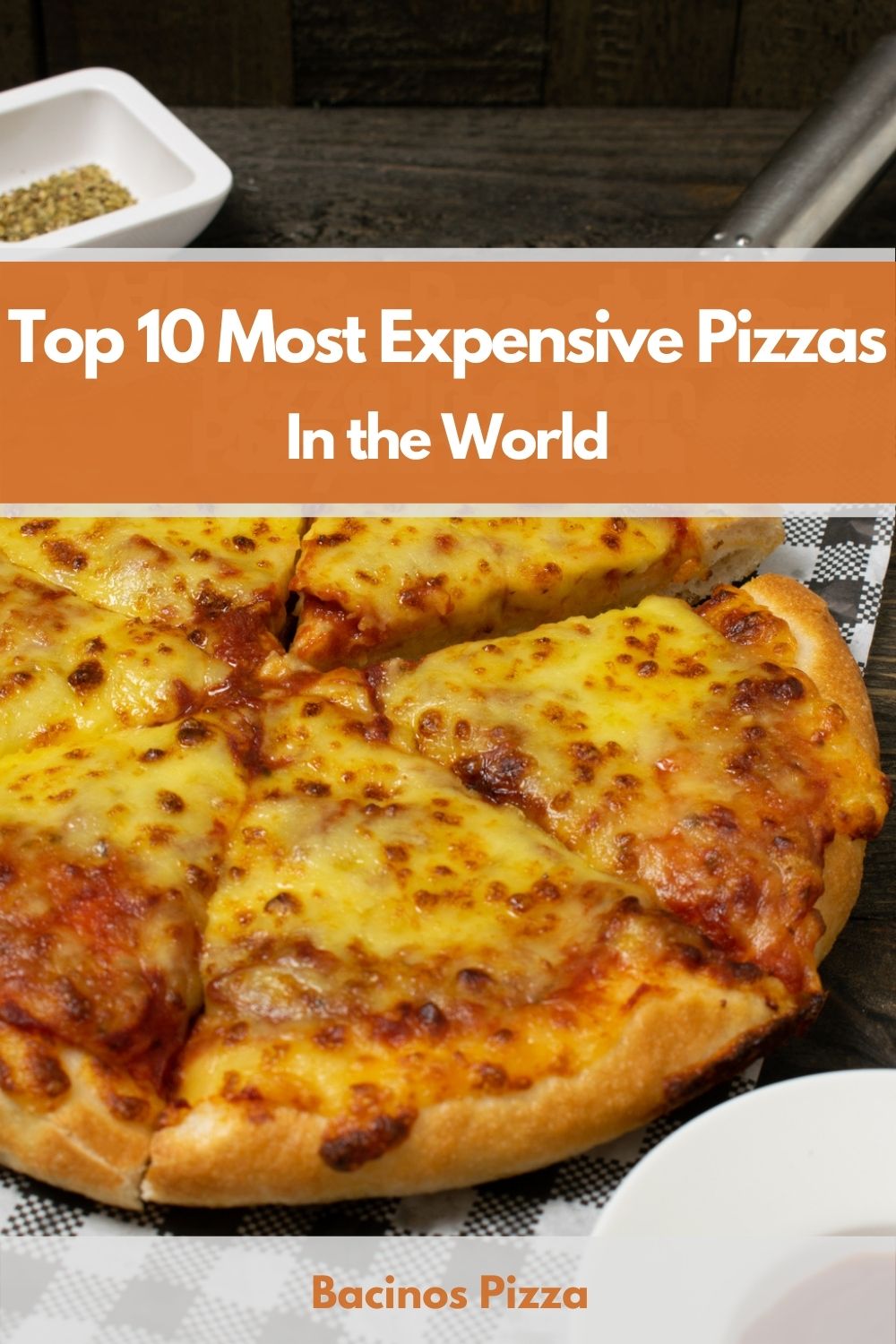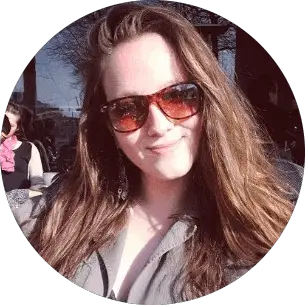 Barbara is an enthusiastic food-exploring person that goes through different culinary experiences. She got inspired by creating a pizza blog post after she tasted one of the best-selling pizzas in Toledo.