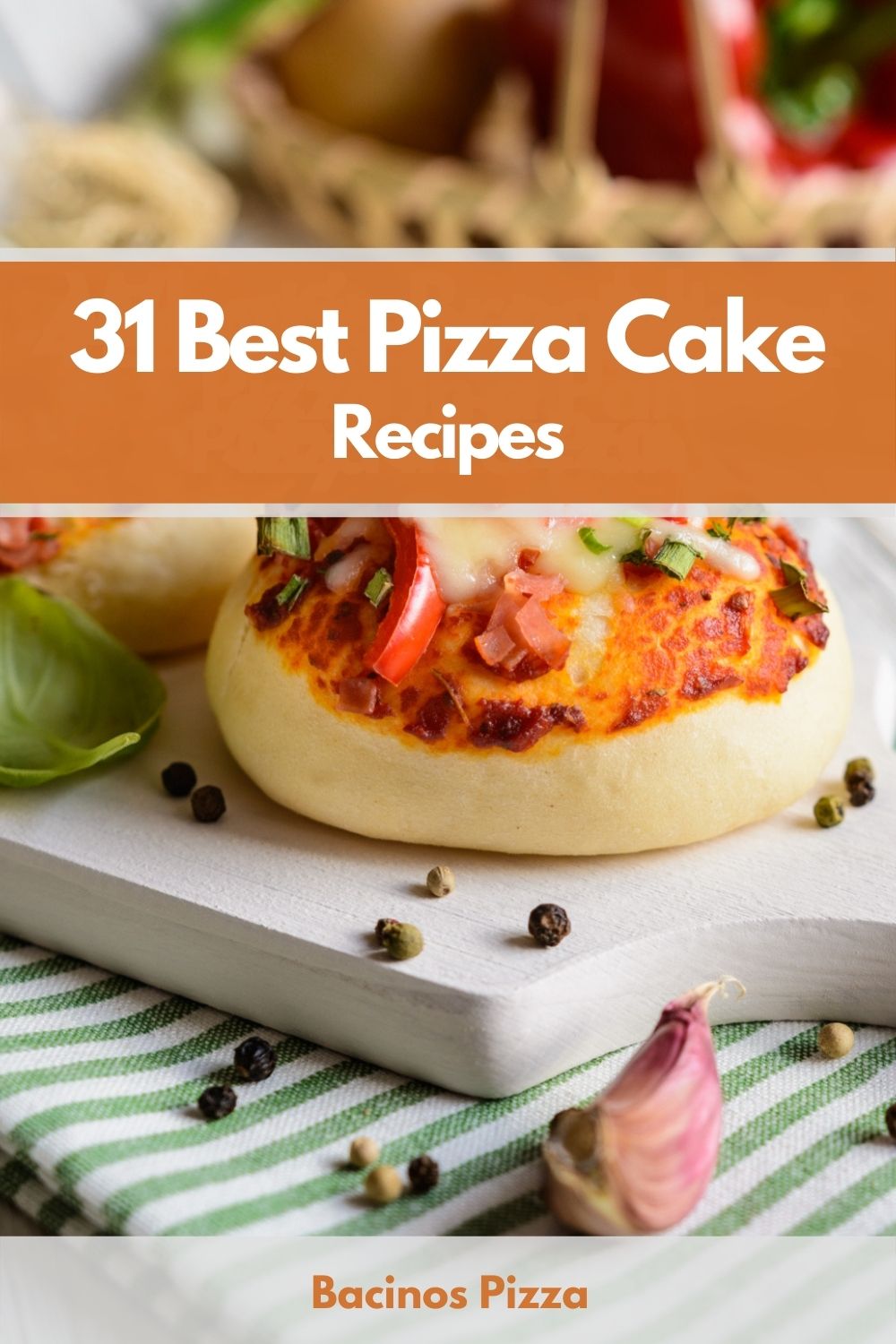 Remember when everything was cake? Well, in the case of pizza cake recipes, you could bake a regular cake … but frost it to look like pizza. Or you could layer pizza crusts and toppings so they get the shape and texture of a cake. Either way, let's check out 31 top pizza cake recipes.
1. Burgermeister Pizza Birthday Cake
Not everybody has a sweet tooth. Some of us would be happier blowing candles off something far more savory. And the best of us prefer a birthday treat with lots more umami. This pizza cake recipe offers layers of gooey deep-dish goodness topped with olives, Italian sausage, and pepperoni. The butter glaze has oregano, melted butter, and parmesan.
Try these quick tips when baking pizza cake. Use a baking ring – they make it easier to slip the cake out. Your pizza bases should have different thicknesses with the thickest at the bottom and the thinnest at the top. Pre-bake the bases and the ingredients separately to ensure everything cooks through. Parchment paper helps too. Ensure you thaw the dough before using it.
3. Hellthy Pepperoni Pizza Cake
Have you heard of visual versus textual learning? Some of us learn better by watching someone (on a video or in-person), while others would rather study an instruction manual or read an online recipe. This video tutorial demonstrates the previous Pillsbury recipe, so try both versions and see what's easier to follow. And tell us what worked best for you!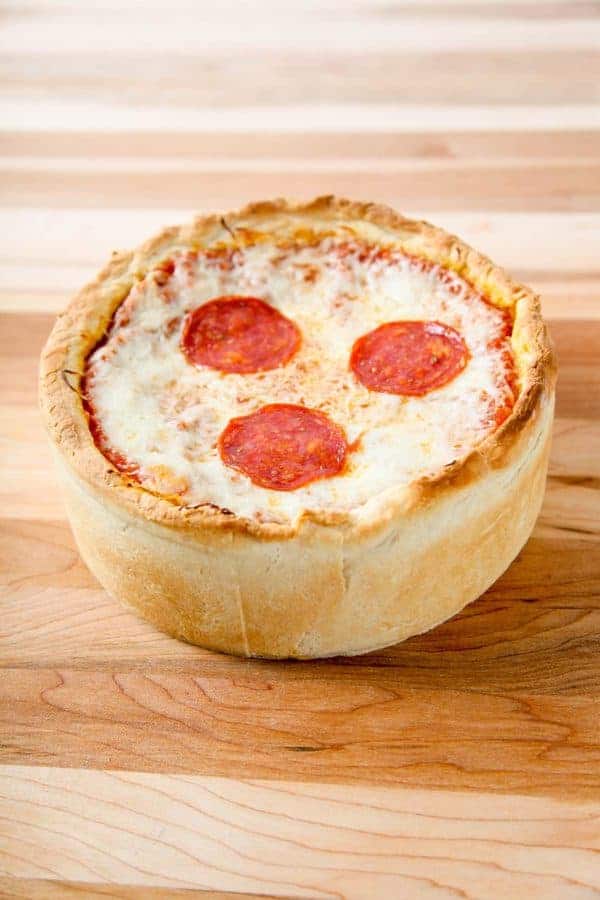 When you're using a pizza cake recipe, leave the pizza cake in the baking pan for at least 10 minutes after taking it out of the oven. If you 'unpack' it too soon, the outer casing won't hold and your cake will fall apart. Another pro tip is to make your dough with pizza yeast. This customized raising agent is instant, meaning you don't have to wait for the dough to rise.
5. Pizza Cake Frosting Ideas
A lot of pizza cake recipes stick to pepperoni because it's so easy. But you can also fill your pizza cake with ham, sliced mushroom, ground beef, bacon, sausage, or veggies. Use thin slices to avoid raw spots.
But if your pizza cake is on the sweeter side (and is an actual cake), try these frosting suggestions to give it that authentic pizza look. Warn your diners that it's a dessert, not a savory pizza.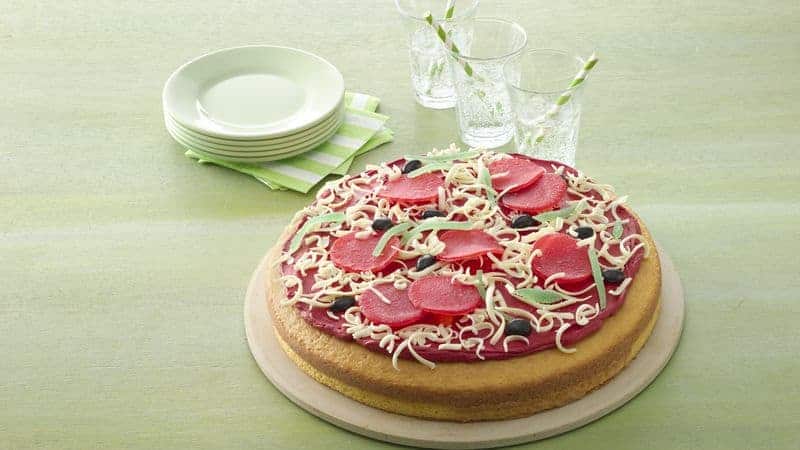 We're assuming you pre-bake your layers of pizza cake dough as a rule. But the top layer is still exposed to burning, so consider putting tin foil over the top as it bakes (or at least around the thick crusty ring) to stop it scorching. This is a cakier recipe though. Use a box of yellow cake mix with grated white chocolate as 'cheese' and sliced fruit rolls as 'pepperoni'.
7. Nerdy Nummies Pizza Cake
Many pizza cake recipes start by lining the baking tin with rolled dough. That forms the 'cake frame' while the flat, round dough forms the cake layers. Put parchment paper between the dough and the baking tin to stop it from burning. Never substitute with wax paper – it can't handle the heat. The pizza dough in this recipe has sugar and honey so it's sweet and cakey!
Yes, you can now find fully fleshed-out recipes on WikiHow and e-How. Who knew! But you want to be clear whether you want a sweet pizza cake recipe (cake that looks like pizza) or a savory one (pizza that looks like cake). This quick version has lots of umami with six layers of store-bought dough and bottled pizza sauce (in a jar). Shredded cheese works best.
9. Hyper-realistic Pizza Cake
After that condensed savory pizza cake, let's move on to a complicated sweet one. This video is a long one, but it has step-by-step bona fides for everything from mixing to frosting. And just like umami pizza cakes, pepperoni frosting is the easiest to do. If you want sugary replicas of mushrooms or olives, be prepared for more effort.
If you thought rich aunties don't eat pizza, you might be pleasantly surprised. Try this classy pizza cake recipe from Better Homes & Gardens. Toppings include cooked sausage, diced ham, pepperoni, sweet peppers (chopped and pre-cooked), sautéed mushroom slices, roasted veggies, or even cooked chicken (diced or shredded). Ranch dressing works too.
11. Lego Island Pizza Cake
You don't need to be a cake artist for a perfect pizza cake. Here's an easier version you can bake when you're starting in the sweet pizza cake space. The topping needs careful concentration, even at its simplest level. So save yourself the stress by baking a simple yellow-mix box cake so you can focus on the frosting. Red and yellow buttercream is best.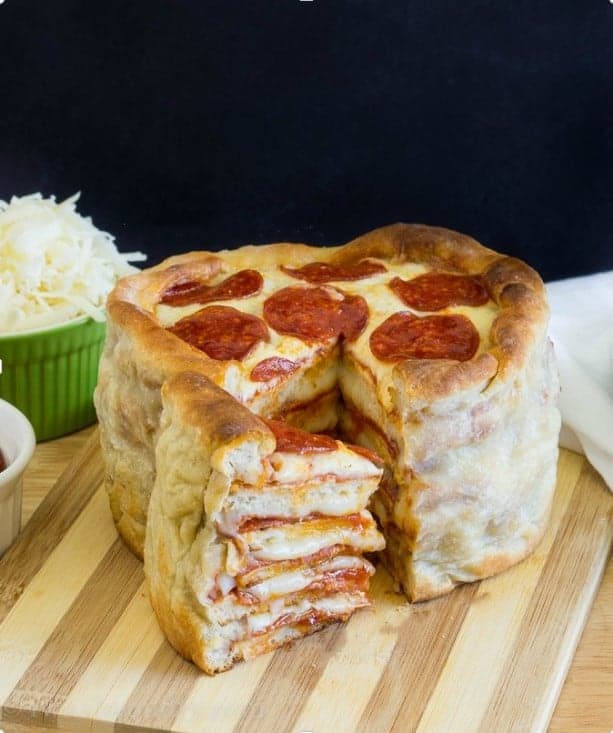 A lot of us are doing things for the 'Gram. So when this pizza cake recipe made it to Buzzfeed, NPR, and TMZ, its baker was rightly proud. It's an easy recipe though – one based on Pillsbury frozen dough. It gives your pizza cake that soft, cakey texture. The trick is to unfurl the dough and bake before cutting and topping. This helps the layers hold their shape better.
13. McPhoney Pizza Cake
Uncle Joe's pizza cake recipe has five ingredients and is easy enough for (supervised) kids to bake. The sauce is made from a can of tomato puree and the toppings are pepperoni and red onions. They both cook quickly (and so does mozzarella) so you don't have to worry about raw bits in the middle of the pizza. A baking tin with a removable bottom is useful for sizing.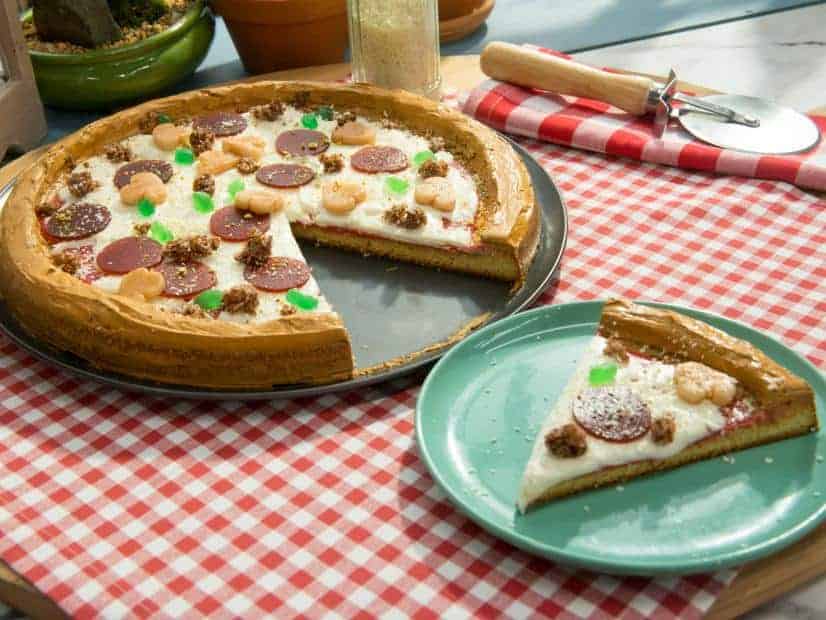 It turns out candy offers tons of options for faux pizza toppings. Licorice is good for olives. Sour gummies can reliably mimic bell peppers or spring onions. And chocolate shavings look a lot like shredded cheese. This pizza cake also throws rice cereal treats to simulate sausage bits and ground beef. And fruit leather (or fruit strips) make good pepperoni or salami slices.
15. Yolanda Gammp's Pizza Cake
When you're baking a sweet pizza cake, you need to think about the flavor profile. Yes, the toppings are mostly candy. But if you like sour sweets, you can lean more towards tangy gummies and fruit rollups (as opposed to textured fondant). You could also go for pepper-flecked candy if you're a fan of heat. This one-layer pizza cake bakes in a greased pizza pan.
This next pizza cake recipe may puzzle you. Why? The website calls it savory, so you may think it's pizza. But it's a baked cake, so it fits better in the sugary category. It does have several sour elements though – the pizza toppings are made with sour straps, jelly beans, and jubes. Jubes are the Aussie answer to gummies – they're a kind of sugar-crusted jelly candy.
17. Saima's Pizza Cake
Saima's pizza cake recipe is South Asian, so expect lots of heat and spice. These recipes often use enriched dough, made from scratch with butter, curds, milk, or yogurt. This version has red chili, mushrooms, capsicum (bell peppers), chicken tikka chunks, olives, herbs, and mozzarella. It's not in English so if you like, you can mute the audio and just follow along.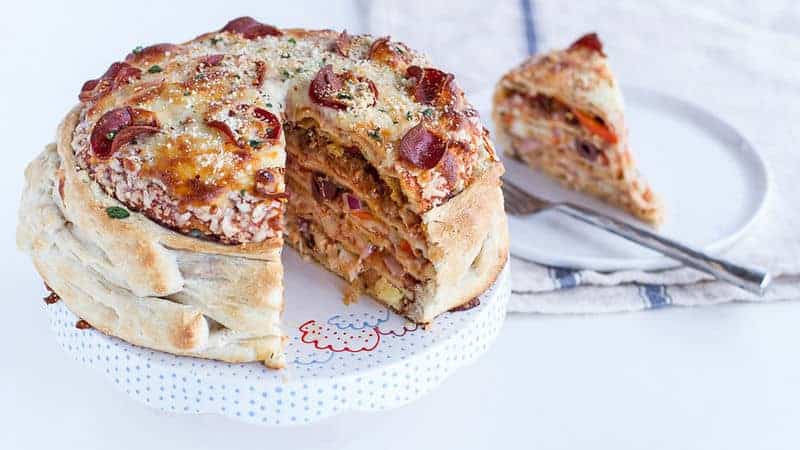 Savory pizza cake is the easiest thing to make. You're just stacking pizza slices, so it's not that complicated. But what if you want to spice things up? This pizza cake recipe from Half Baked Harvest uses a different set of toppings for every layer. These include chicken + bacon, ham + pineapple, Italian sausage + mushroom, roast veggies, and a pepperoni layer on top.
19. One Chew Three Pizza Cake
Can you bake a stuffed-crust pizza cake? Technically all pizza cake recipes are stuffed with toppings. But for this recipe, the excess dough isn't just folded over the lip of the cake tin. Instead, the crust that overlaps the edge is rolled and pinched around string cheese to give your pizza cake a little extra pizzazz. Prebake the dough slices with parmesan and olive oil.
Fun-sized portions can be annoying. But this three-ingredient pizza cake from Bobbi's Kozy Kitchen can be fun to make. Especially since the layers are made of pre-topped 9-inch pizzas (Wild Mike's Fun Size). So all you do is stack and bake! You do need some frozen dough to line the sides of the pan – the frame of your pizza cake. Add cheese between layers.
21. DIY Giant Pizza Cake
If it involves Julia and JP, you know it's going to be fun. So if you want something silly and exciting, follow the crew as they bake Julia a 'pizza birthday cake'. This is pizza cake with a light touch, so it's quite playful. Order your favorite pizzas, stack them, apply tomato paste on the sides, add cheese slices, garnish with pepperoni, and bake.
We're going from a high-calorie savory pizza cake to a sweetly decadent version. Most of the saccharine pizza cakes we've explored had a slim vanilla base. But for this recipe, the base cake is a red velvet brownie. Also, while this recipe falls on the sweet side, the flavors are slightly tart. Use low-sugar strawberry jam as pizza sauce and coconut flakes as cheese.
23. Chelsweets Pizza Cake
The name already marks this as a cake-based pizza cake recipe. It uses half a portion of a layered vanilla cake to make it slimmer. The pizza crust is made of fondant browned with a culinary blow torch. The toppings are various bits of carved fondant, so they don't need to look as realistic as candy toppings. But strawberry jam makes a good pizza sauce stand-in.
Pizza cakes use two types of pizza dough. The round sections should be pre-baked. Otherwise, you'll have raw sections in the middle of your cake. The side sections don't need to be pre-baked since they're in contact with the hot metal of the baking pan so they'll cook through. This pizza cake uses Pillsbury dough rolls, Muir mozzarella, and pepperoni slices.
25. Cake Boss (and Carlo) Pizza Fake-Out Cake
This list wouldn't be complete without a Cake Boss cameo. Buddy hollows out the center and saves the crumbs to make faux parmesan. 'Dirty icing' makes a white sauce base. Chill, cover with rolled fondant and follow with chunky red jam. Use chocolate shavings for cheese, and fondant for pepperoni, olives, and bell peppers. Use strawberries as tomatoes. Steam the top.
Birthday cake served in a pizza box? Yes please! Curiously, if you read the fine print, you'll see it's an old (circa 2007) recipe by Julia Gulia, who we now know as the Hellthy Queen. But back to Jake. He recommends using a cake mix with a mild flavor (e.g. vanilla) to avoid overpowering the toppings. These include malt balls, candy melts, and dried blueberries.
27. Sooper Chef Pizza Cake
Ironically, this spicy pizza cake recipe looks less like pizza and more like cake. But it's delightfully savory, with pepperoni, mozzarella, red onions, and chili flakes for heat. Pre-bake each sheet of dough for 6 to 8 minutes before layering the toppings. The side sheets don't need pre-baking, and you can use the side dough at the bottom of the baking tin.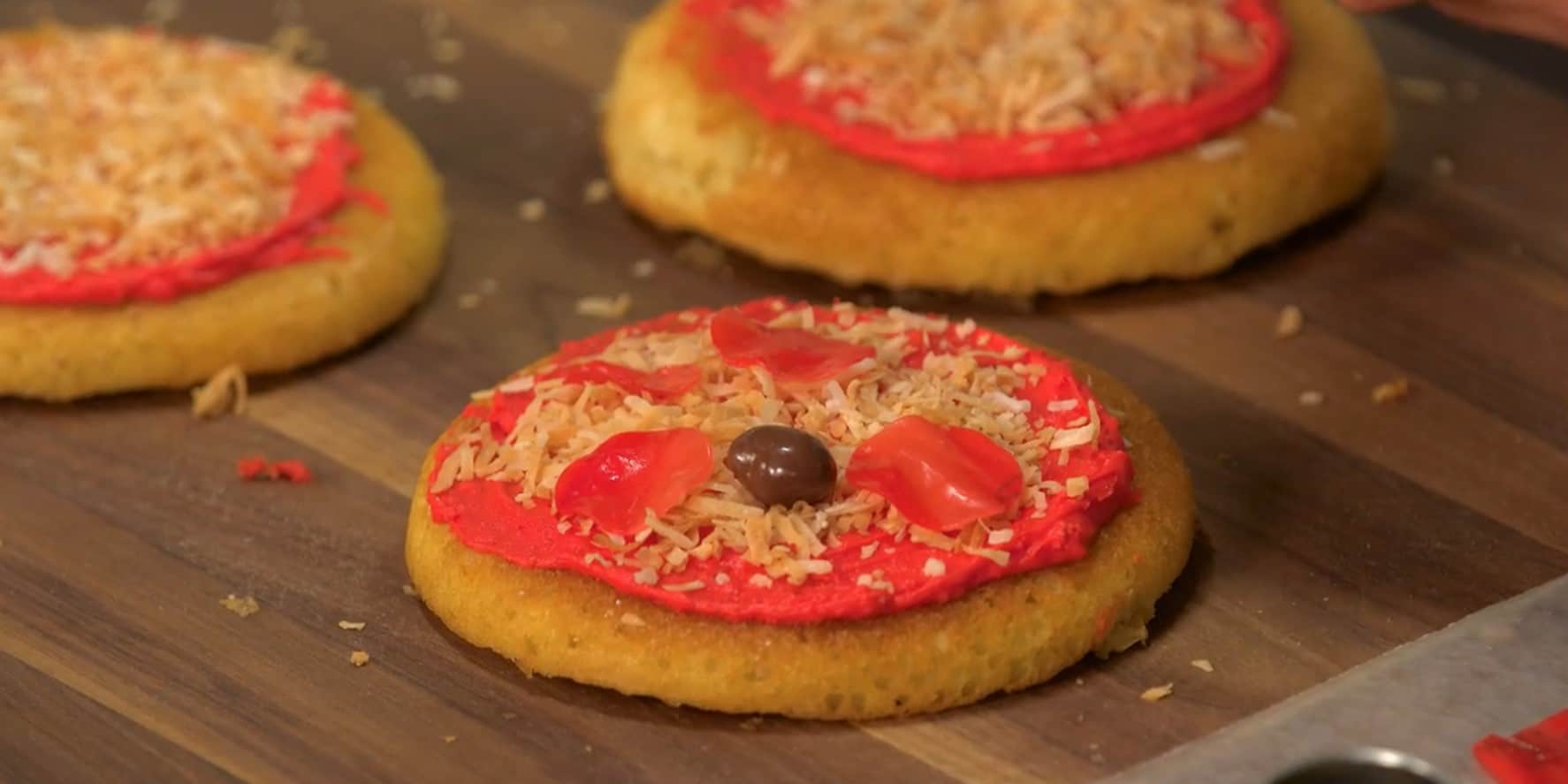 Pizza cake is the ultimate treat for kids. And if they can make it themselves, even better! These fun-sized desert pizzas are quick and easy. Start with small personal-size cakes in 8-inch tins or smaller. Flip the cakes and top the back with red fondant as pizza sauce and toasted coconut shreds as cheese. Other topping options are raisins, gummies, and licorice.
29. Spoon University Pizza Cake
 Should you place the pizza sauce above or below the cheese? It's a matter of preference. For flat pizza, the sauce might make the crust soggy, so you may want the cheese directly on the base (though you can add some on top for garnish). But with a pizza cake, you can start with the sauce down since the middle layers soften and get gooey either way. Put pepperoni up top.
This might be the best pizza cake recipe we've looked at so far. Why? Because at a glance, you can't be sure whether it's a savory pizza or a saccharine cake! The secret is the frozen pizza rolls (try Totino's – you'll need two bags). Follow the instructions on the pack to bake your pizza rolls. Alternate layers of mozzarella and Totino's in a Bundt pan. Top with pizza sauce.
31. Easiest Pizza Cake
Our last pizza cake recipe is our simplest one. Yes, you'll have to make the dough from scratch, enriching it with milk and egg. But you won't have to put dough on the sides because the cheese will ooze down to help the cake retain its shape. Each pizza layer has milky dough, shredded cheese, olives, mushroom slices, cubed chicken, bell peppers, and red sauce.
What's your favorite pizza cake recipe? Show us your photos and recipes in the comments!
31 Best Pizza Cake Recipes
Ingredients
Burgermeister Pizza Birthday Cake

Hellthy Pepperoni Pizza Cake

Pizza Cake Frosting Ideas

Nerdy Nummies Pizza Cake

Hyper-Realistic Pizza Cake

Lego Island Pizza Cake

McPhoney Pizza Cake

Yolanda Gammp's Pizza Cake

Saima's Pizza Cake

One Chew Three Pizza Cake

DIY Giant Pizza Cake

Chelsweets Pizza Cake

Cake Boss (And Carlo) Pizza Fake-Out Cake

Sooper Chef Pizza Cake

Spoon University Pizza Cake

Easiest Pizza Cake
Directions
Select your favorite recipe.
Organize all the required ingredients.
Prep the recipe in 30 minutes or less!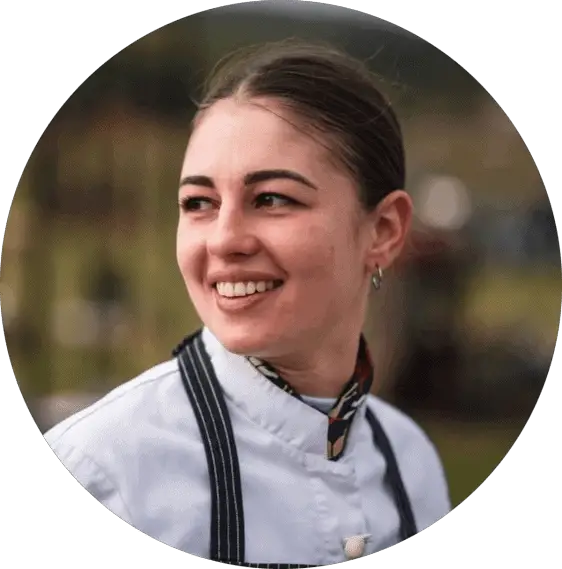 Julie has five years of experience in the restaurant industry, she decided to share her knowledge about her liking and fondness for food and pizza, of course, cooking as her love language. She's very passionate about what she's doing, making all the things she writes regarding pizza recipes, very amazing!