Casseroles are dishes comprising a variety of ingredients, layered or mixed together, and then baked in a large deep pan or oven. American-style casseroles are typically baked foods with three main components: pieces of meat or fish (or other proteins), various chopped or canned vegetables, and a starchy binder, such as flour, pasta, or potato.
Usually, casseroles are cooked slowly, often uncovered. You can serve these baked dishes as a main course or side dish. And there is no harm in serving them in the vessel in which they were cooked.
Now, here's a sneak peek at 31+ pizza casserole recipes that are taking the world by storm.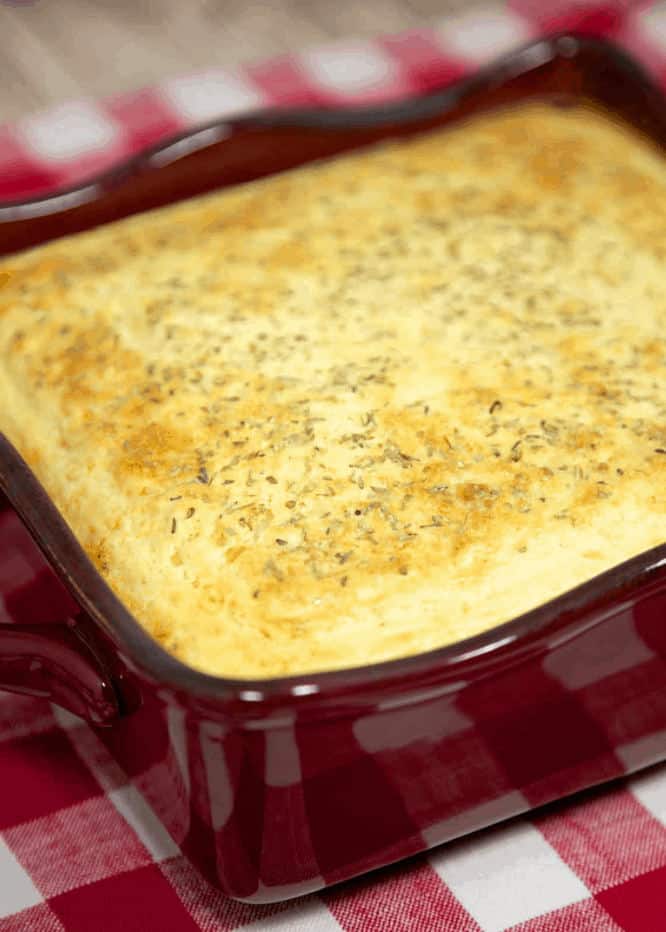 This Upside Down Pizza Casserole recipe, with the crust baked on top, provides a great change to a regular pizza. Ok, I don't mean to say a regular pizza is bad…nope! But a fun recipe that switches things up is even better.
Use hamburger and mini pepperoni. Add your favorite toppings—olives, peppers, sausage, mushrooms, onions. Just get creative and put anything befitting of your family's tastes.
2. The PERFECT Pizza Casserole – South's Best Recipes
The PERFECT Pizza Casserole is a deluxe mixture of pizza fillings sealed with a layer of golden melted cheese. No matter the occasion, this pasta bake will win over the whole family any day of the week. Let the kids take the first bite and watch their faces light up. With a variety of toppings – from fresh shredded mozzarella to freshly ground black pepper— grown-ups will smile, too!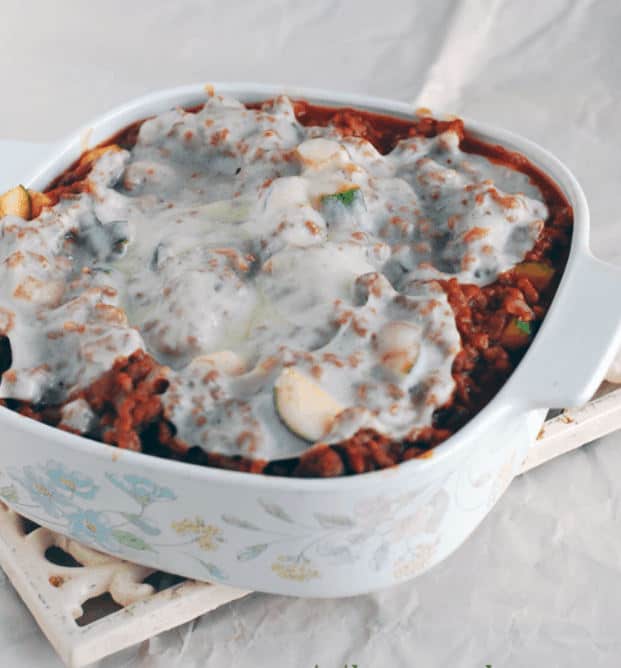 Tired of canned soup and cold sandwiches for lunch? Tiffany King of Sargento Foods, Inc. encourages you to slow down and plan a real lunch. This Easy Pizza Rice Casserole requires a handful of quick ingredients: instant brown rice, Italian Sausage, and zucchini. Top this casserole with slices of Sargento provolone cheese for a hearty lunch at home. Who doesn't like a cheese topped casserole? Mmm!
4. Pizza Casserole Recipe – Baked Pizza Pasta Dish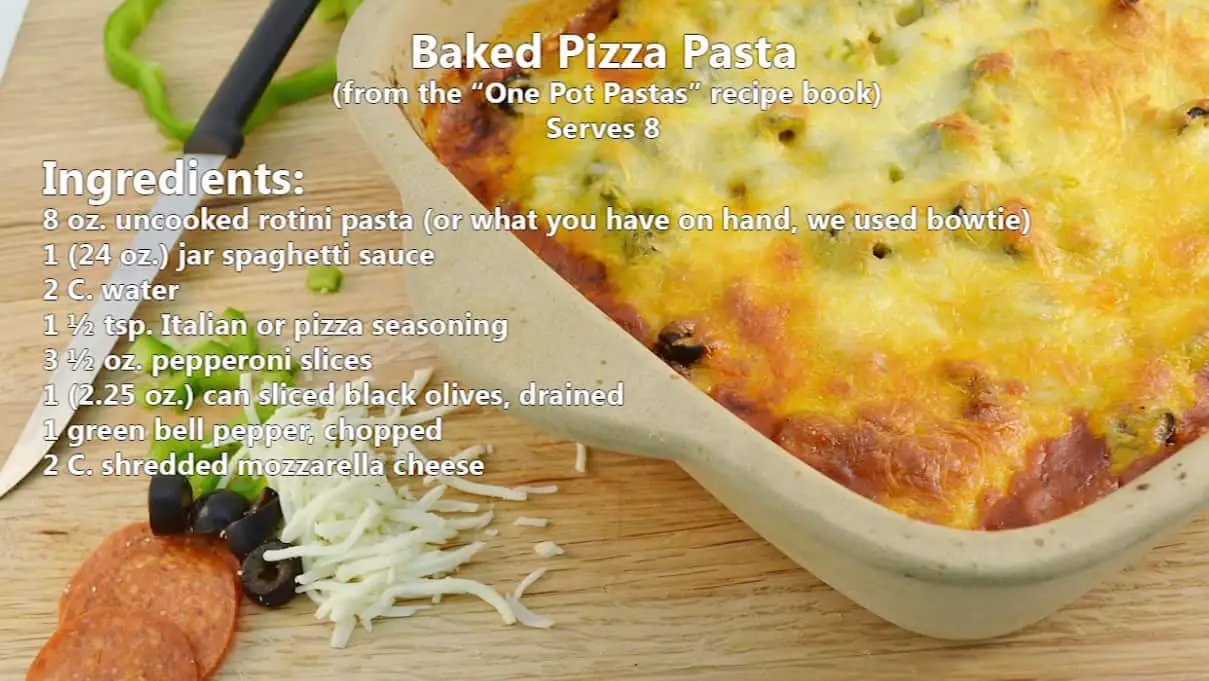 A delightful pizza topped pasta dish all mixed and baked in one pan! That's a great weeknight meal the whole family will love. It's easy and quick…no pre-broiling the pasta ahead. Just grab a 9 x 13 dish and coat it with cooking spray. Combine the ingredients in it. Bake until it's hot and bubbly. Remove and eat. The outcome is superbly delicious!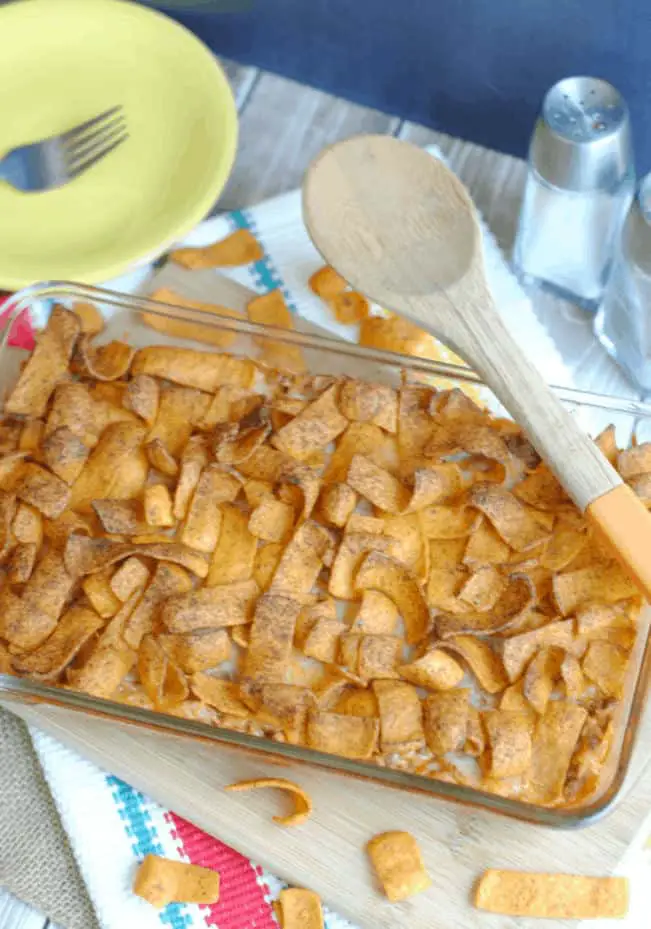 It's hard to go wrong with anything taco flavored, although individual taste buds may differ. So if this is not your cup of tea, there's a Taco Tater Tot Casserole Recipe that's also…oh so delicious! Ok, no distractions with rights and wrongs…it's time to make a killer Frito Taco Casserole dinner that's easy and tastes yummy! Now, if this is not comforting food, I don't know what is…lol!
6. Pizza Casserole – I Heart Recipes
Ok, first let's agree on something: nothing's more Italian than a pizza and pasta combo! This video demonstrates how to mix the two favorites to form one fun, delicious recipe for the whole family. You can use jarred pasta sauce to speed things up. And, of course, the possibilities don't stop there. You can make do with homemade sauce, and throw in your favorite pizza toppings!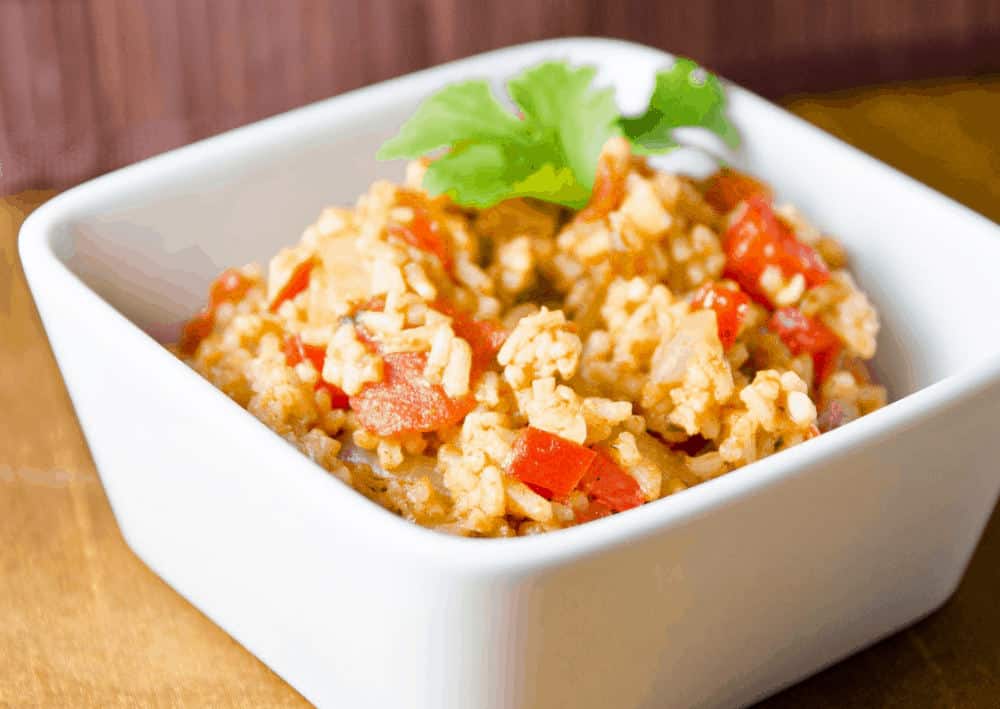 The Pizza Spaghetti Casserole is the ultimate comfort food for everyone…including me! Mix the pizza ingredients and pasta. Toss the mixture in a casserole pan. Add some fresh cheese. Bake until done. This is the go-to meal for weekends, and still quick enough for weeknights. It turns out scrummy. My kinda meal! Time for you to prep it up!
8. Catherine's Pizza Casserole – Easy Weeknight Dinner Idea
Catherine's Pizza Casserole recipe is a super hit. It's not only delicious but also toddler-friendly. You can follow the recipe as is. But that doesn't mean you can't tweak things to suit your taste buds. Substitute the bell pepper for morel mushrooms, bacon for sausage, or anything else that you think will cure your craving. This is mouthwatering…another clear winner!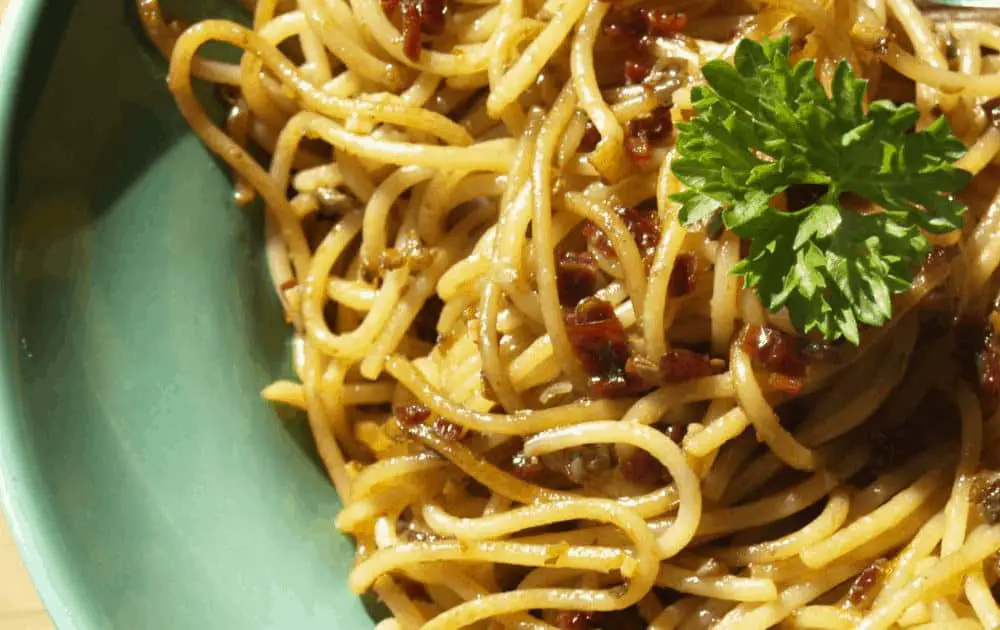 Chili Cheese Spaghetti Casserole is packed with all the flavor. It's a big dish of comfort, perfect for the whole crowd. This recipe marries three of my favorite ingredients: chili, spaghetti pasta and shredded cheddar cheese. Now, I bet some folks didn't know the world of chili and that spaghetti can collide. Anyways…time to get in the kitchen and cook some delicious food.
10. Easy Keto Low Carb Pizza Casserole Recipe – 5 Ingredients
You need just five ingredients to make this Easy Keto Low Carb Pizza Casserole recipe. This recipe is the bomb. It's easy, good, and completely satisfying! For a no crust pizza option, this will be your absolute favorite. But if you prefer a traditional everything pizza, try this Crustless Pizza recipe in a cast iron skillet. Use veggies and sausage as the base instead of cauliflower.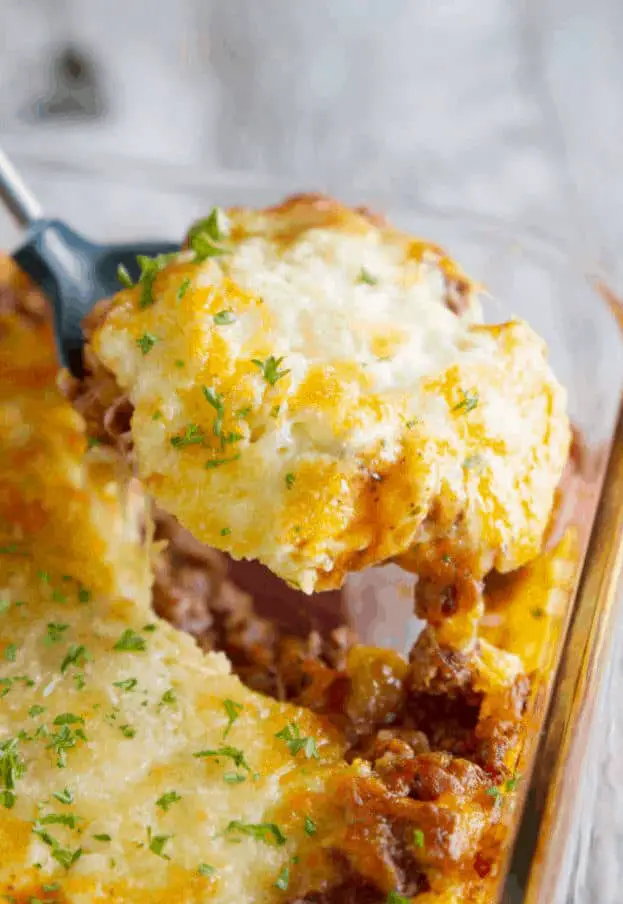 Family-friendly and a crowd pleaser, this pizza casserole recipe is a hit with kids and adults alike. A Puffed Up Casserole is such a comforting dish; the flavors are all boundless and vigorous.
The recipe has a ground beef layer filled with a cheesy homemade dough layer…far from most recipes that use canned biscuit dough! Add some diced pepperoni to make it better. And then taste and tell me!
12. Deep Dish Pizza Casserole – Mr. Food Test Kitchen
With most schools back in session, you'll need a fast and budget-friendly way to feed the kids. Mr. Food Test Kitchen's Deep Dish Pizza Casserole caters to your exact needs. I award this fabulous casserole recipe an A+ rating for its simplicity and flavors. Its cheesy pizza goodness is sure to delight the kids—even the most fussy ones!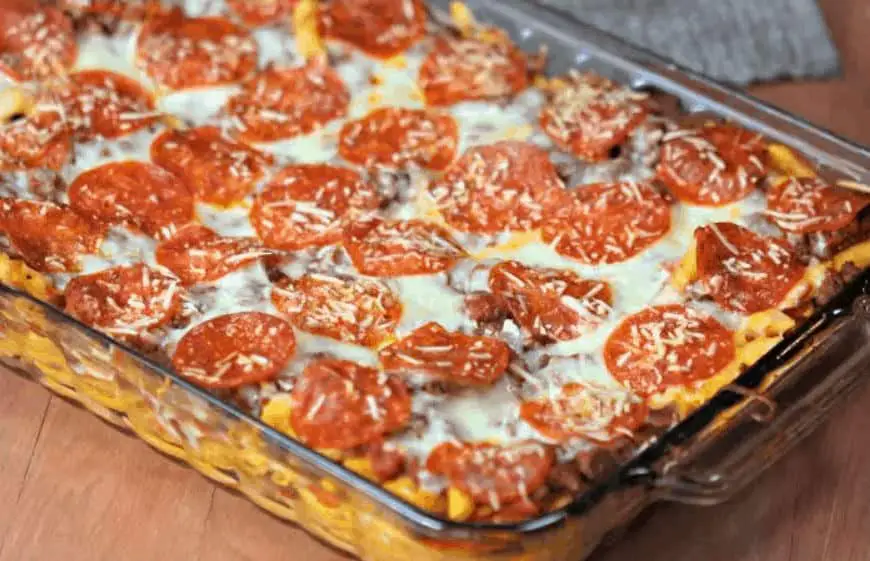 This freezer-friendly Easy Pizza Pasta Casserole recipe will have your family raving about how terrific it was. Don't let the simple ingredients fool you. A tad fancier than pizza, the dish has rich and bold flavors that'll keep your kids begging for more. The best part is that you can make a few batches and toss them in the freezer to make another night even easier for you!
14. Garlic Bread Pepperoni Pizza Casserole
Garlic Bread Pepperoni Pizza Casserole is the perfect dish to serve for a fun dinner. Pile some layers of cheese, sauce, and pepperonis. Top with balls of pizza dough. Finally, brush with garlic butter.
This big dish full of melted cheese and garlic butter deserves a place of honor in that hot dish recipe canon! It will leave people asking: is it loaded with garlic knots? A meal full of savory bread pudding?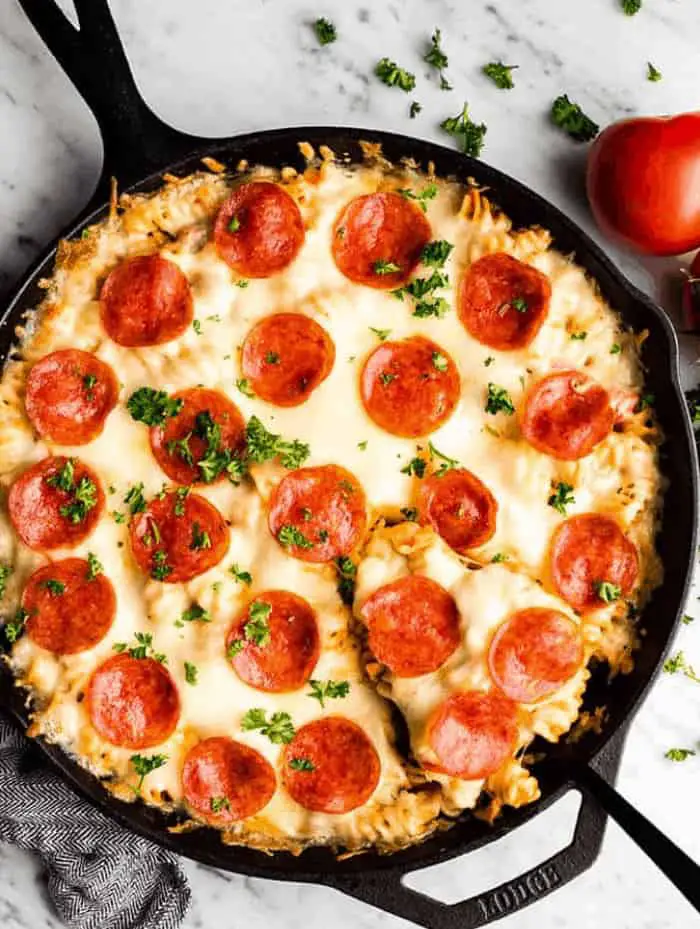 This Easy Pizza Casserole recipe is both kid tested and husband approved. Laura, a chemistry teacher turned homeschooling mom, brings us a family-favorite meal to feed a crowd. Her recipe requires 9 ingredients and takes no more than 10 minutes to make. Plus, this pizza casserole recipe is adaptable to suit different dietary needs and restrictions!
16. Slow Cooker Pizza Casserole
The Slow Cooker Pizza Casserole is the ideal option for feeding a bunch of fussy eaters. With the added layers of cheese, it turns out incredibly cheesy and full of flavors. This fulfilling meal is more than enough to feed the crowd without the need to double the recipe. Above all, the leftovers can stay in the fridge for 3-5 days without going funky!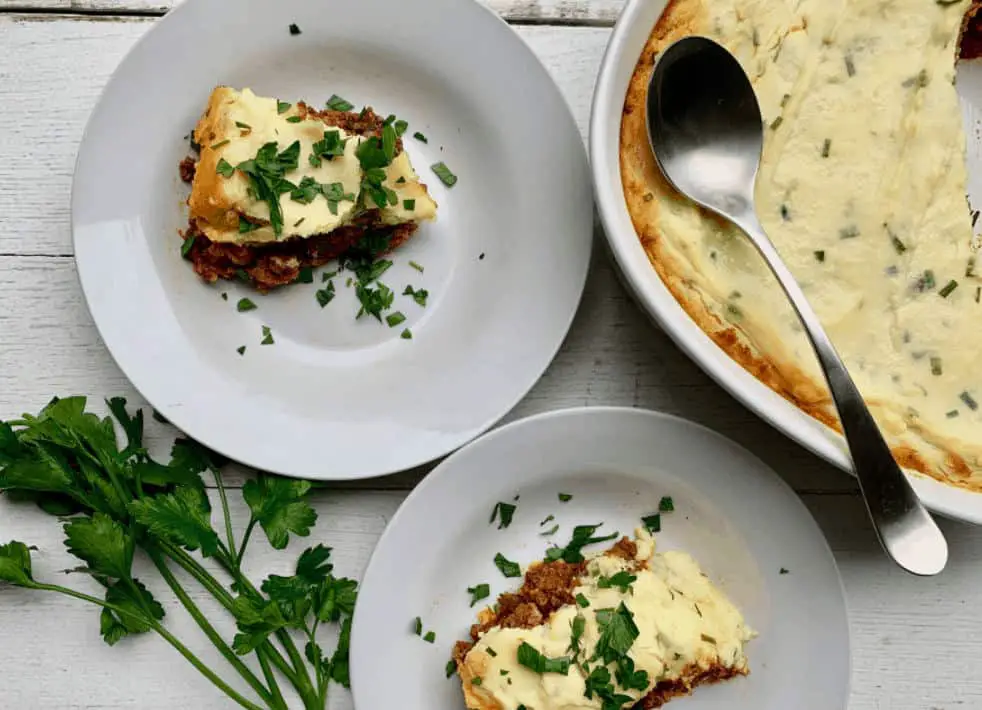 The Meatloaf Casserole recipe represents a Southern cross breed of two classic beef meals: meatloaf and shepherd's pie. The Worcestershire and tomato lend the distinctive flavor of Southern meatloaf to the meat filling.
The meatloaf casserole is topped with creamy mashed potato topping and enriched with chives, butter, and garlic. Add this casserole to your weekend repertoire and you won't regret…ever!
18. Mama's Pizza Casserole – Recipe Lion
It doesn't get easier than Mama's Pizza Casserole recipe. Ideal for a fantastic weeknight dinner, this pepperoni casserole recipe is a Midwest cuisine favorite. You can follow the recipe as it is to ensure a fool-proof meal that everyone will drool over. Alternatively, you can customize it with your favorite toppings to produce something that you know will be a hit.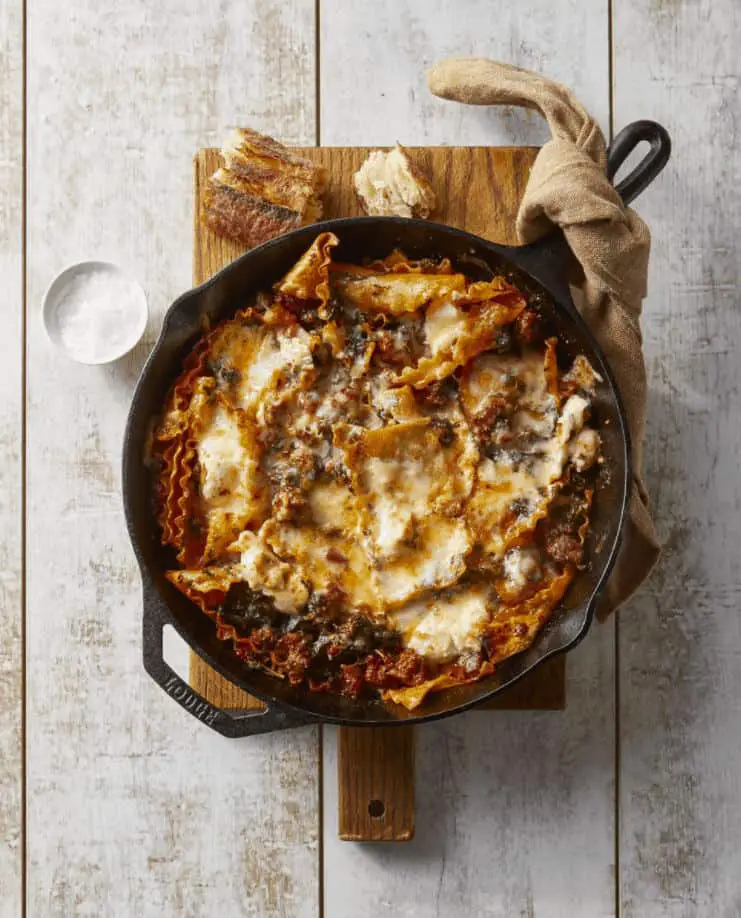 Lasagna is just but the original casserole! It should've appeared at the top of this list…but it doesn't matter, after all. Topped with ricotta, mozzarella, and parmesan, this one-pan recipe earns a place at your table for being…not just delicious, but also easy. Everything from prep time to table takes just 40 minutes. It can't get faster than this!
20. Keto Meat Lovers Pizza Casserole
Who doesn't like a meat-lovers pizza? I love it, and I bet you love it, too! Whether your family is into keto diet or not, everyone will devour this one-skillet Keto Meat Lovers Pizza Casserole. The savory marinara sauce jam-packed with its cheesy goodness is something to die for! Better yet, its ingenious blend of zesty Italian sausage, pepperoni and ground beef is out of this world!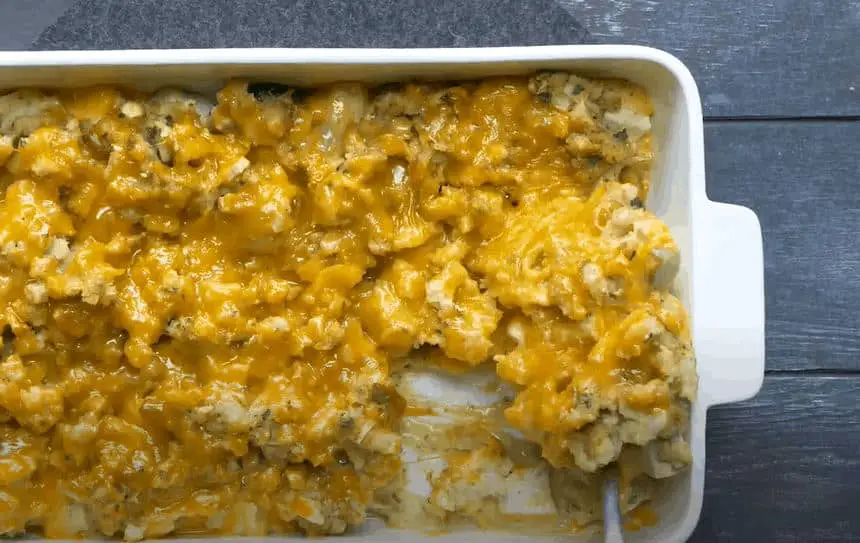 This is a chicken and broccoli casserole recipe with a twist. It uses fresh and flavorful ingredients to yield a lovely, refreshing quality. The Contest-Winning Broccoli Chicken Casserole is hearty and filling. Top it with cayenne powder (a pinch or two), dried mustard powder, freshly ground black pepper, and smoked paprika for a warm, pleasant family meal!
22. Keto Cauliflower Pizza Casserole Recipe
If the flavor of pepperoni combined with the creamy comfort of a casserole sounds good to you, give this Keto Cauliflower Pizza Casserole recipe a shot. Use steamed cauliflower as a base instead of carb-loaded pasta. It will induce a rich sauce with notes of oregano, tomato, basil and garlic.
Squash Casserole is the perfect dish for family gatherings, holidays, special occasions, summer Sunday suppers…you name it! Load the casserole with fresh squash and top it with cheese and crushed butter crackers. The outcome is a lip-smacking squash casserole that's an all-time favorite for many!
24. Pizza Pasta Bake Recipe – An Easy Pizza Casserole
This Pizza Pasta Bake recipe by Alea Milham is a variation of a pasta bake. It's a family favorite recipe that's quick and easy to whip up…takes less than 40 minutes! Alea uses rotini pasta, but there's no harm in using your favorite pasta and toppings to bring out your family's favorite flavors!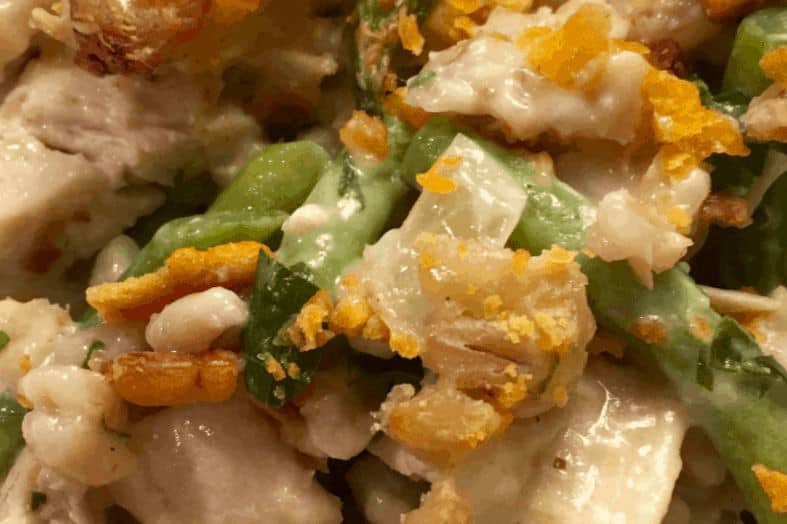 This Green Bean-and-Barley Chicken Casserole recipe is adapted from Country Living. With green beans and creamy chicken topped with iconic cheese crackers, this one is particularly yummy…just like most Southern recipes. Without a shred of doubt, the meal is a nostalgic nod to all Nanas across the world!
26. Crockpot Pizza Casserole – Julie's Eats & Treats
Anyone who loves pizza and pasta will obviously say 'yes' to this Crockpot Pizza Casserole recipe. It's one of my family's favorite casseroles ever. It contains layers of pasta, pepperoni, meat sauce, and cheese. Complement it with a tossed salad and Olive Garden Breadsticks…and dinner is ready to go in a jiffy!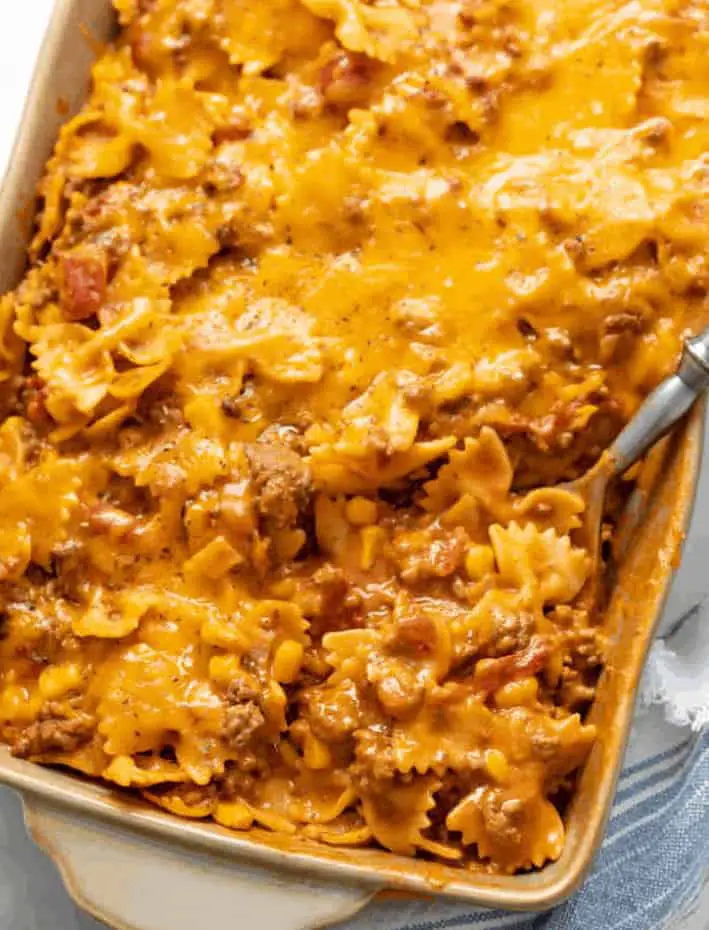 It's rare to find someone who can resist a saucy, savory Sloppy Joe Casserole! This mess-free casserole converts all those beloved beef savors into an easy-to-eat casserole. The recipe can't get easier…prepare the filling in one pot. Transfer it into a casserole dish. Smother with cheese, corn and diced tomatoes. And bake. Easy, huh!
28. Pizza Noodle Casserole
If Shin Ramyun is your go-to comfort food, then you'll absolute love this Pizza Noodle Casserole recipe. It shows you just how well the noodles can go with cheese. Be sure to cook the ramen as per package directions to get the desired results, though.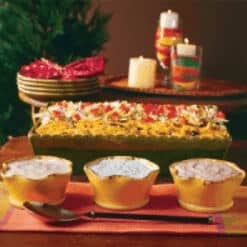 Serving something with a little kick doesn't hurt anyone. Celebrate the flavors of Tex-Mex with this Texas-style enchilada Casserole recipe. Start with ground chuck. And then put the pie together. Cut corners with the crust since the recipe requires frozen mashed potatoes. The recipe is easy to make, but even much easier to eat!
30. Gluten-Free Low Carb Deconstructed Pizza Casserole
This is a delightful comfort food casserole the whole family will devour. Actually, Brenda's Gluten-Free Low Carb Deconstructed Pizza Casserole is one of the most popular low-carb casserole recipes across the web. And it's been a hit among many folks who feel deprived when they give up carbs. This low-carb comfort food feels like a treat. And it really is!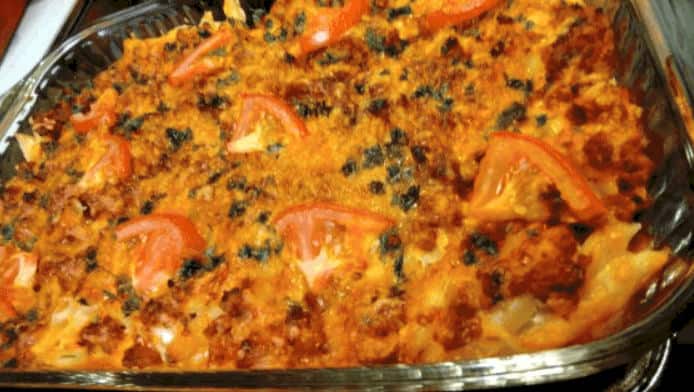 With just 11 ingredients, the Tomato 'N' Beef Casserole with Polenta Crust recipe is hands down simple to make. This cornmeal-based crust is full of hearty flavors, with toppings including ground beef, sharp cheddar cheese, and tomato paste. Beef and tomato are indulgent. And the Italian-inspired polenta crust adds significant crispiness to the dish's meaty interior.
31 Best Pizza Casserole Recipes
Ingredients
The PERFECT Pizza Casserole – South's Best Recipes

Pizza Casserole Recipe – Baked Pizza Pasta Dish

Pizza Casserole – I Heart Recipes

Catherine's Pizza Casserole – Easy Weeknight Dinner Idea

Easy Keto Low Carb Pizza Casserole Recipe – 5 Ingredients

Deep Dish Pizza Casserole – Mr. Food Test Kitchen

Garlic Bread Pepperoni Pizza Casserole

Slow Cooker Pizza Casserole

Mama's Pizza Casserole – Recipe Lion

Keto Meat Lovers Pizza Casserole

Keto Cauliflower Pizza Casserole Recipe

Pizza Pasta Bake Recipe – An Easy Pizza Casserole

Crockpot Pizza Casserole – Julie's Eats & Treats

Pizza Noodle Casserole

Gluten-Free Low Carb Deconstructed Pizza Casserole
Directions
Select your favorite recipe.
Organize all the required ingredients.
Prep the recipe in 30 minutes or less!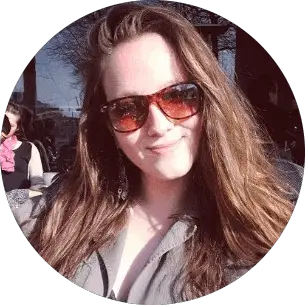 Barbara is an enthusiastic food-exploring person that goes through different culinary experiences. She got inspired by creating a pizza blog post after she tasted one of the best-selling pizzas in Toledo.