Since the first pizzeria in the US opened, pizza delivery drivers have proliferated in different cities. And even though their profession is a bit underestimated, they are among the most diligent workers. Their role is crucial for many pizza stores because it ensures the pizza reaches the consumer hot and fresh within a certain period.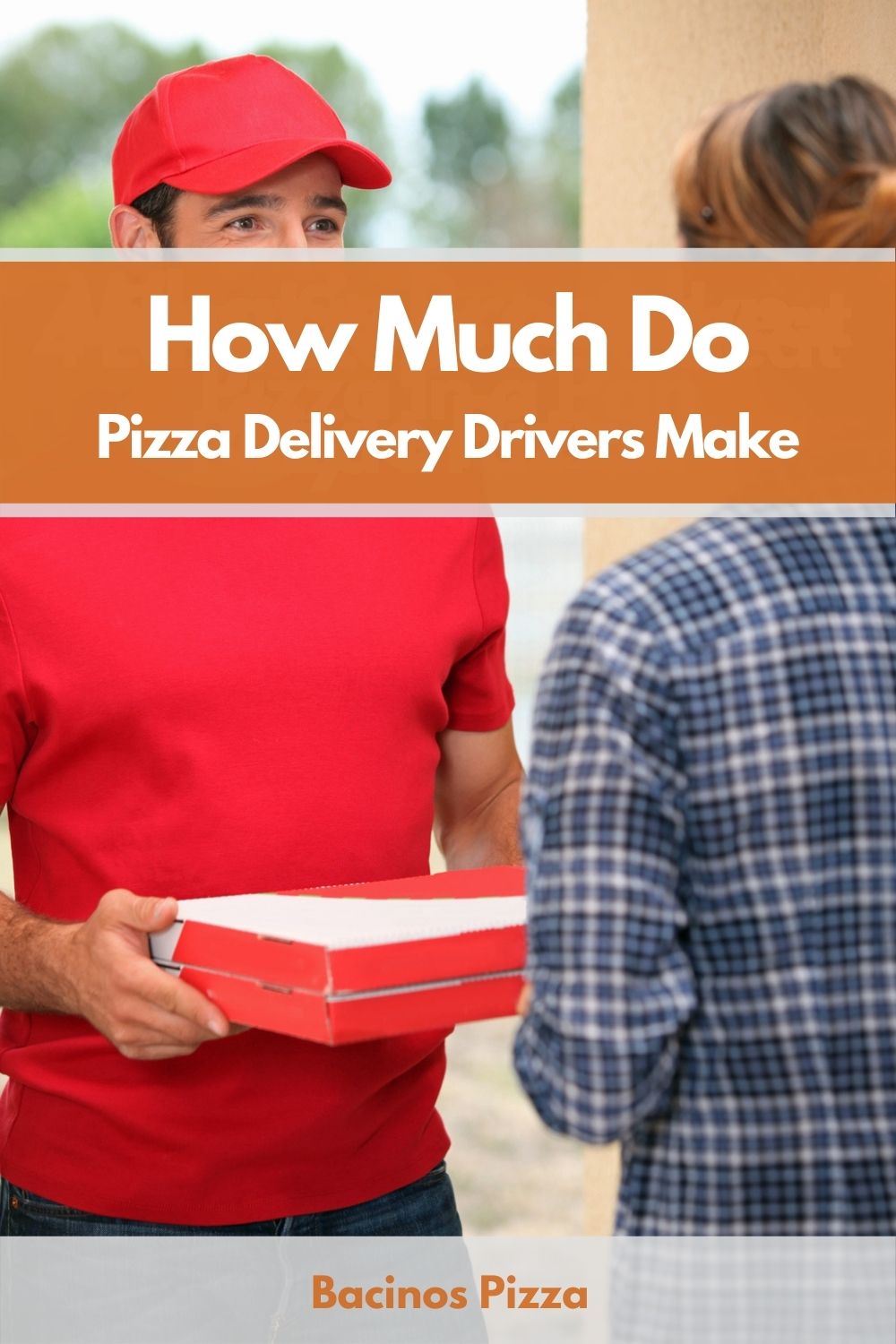 Pizza delivery drivers are paid by the hour, with the possibility of higher earnings with tips and compensation for fuel and mileage when using their cars. This job is not the most lucrative, but it is often helpful for students and people who want to supplement their budgets with other work. So, today we're discussing how much delivery drivers make.
Pizza Delivery Drivers' Job Description
The pizza delivery drivers' job is to organize the delivery—in the best way—so that the ordered food arrives at the destination fresh and undamaged. Fast delivery ensures the pizza quality remains at the required level.
In most scenarios, a pizza delivery driver uses a car, but it is also possible to organize delivery on a bicycle or motorbike. When the driver is not engaged in delivery, they can perform other duties in the pizza shop, such as cleaning or washing dishes.
Pizza Delivery Drivers' Necessary Skills
This job doesn't require advanced formal education. All you need is a high school diploma and a driver's license. On the other hand, pizza delivery drivers need to have specific skills, including:
The ability of deft and fast driving
Good communication with consumers
Basic knowledge of mathematics
Pizza delivery drivers need to drive the delivery vehicle carefully to prevent possible damage to the pizza during transport. It is crucial to avoid sudden braking and fast turning. Unfortunately, there is a catch because a slow ride means delivering a cold pizza to the consumer.
o prevent this, they should have a good knowledge of the area where they work. It will allow them to use shortcuts and quick route changes during a traffic jam. Also, a huge advantage is when drivers have an excellent understanding of GPS technology because it makes their work much simpler.
Risks Involved
Although pizza delivery driver works in the food and catering industry, their responsibilities are mostly outdoors. That can put these hard workers at risk, which other employees in the food industry rarely face.
Traffic Accidents
As the earnings of pizza delivery drivers in most pizza shops depend on the number and speed of deliveries, there is a real possibility of traffic accidents.
In recent statistics, delivery drivers showed a higher risk of injuries than construction or police officers. This represents 72.3% of all workplace injuries in a span of one year. Selected events include roadway incidents involving a motorized land vehicle and striking an object.
Robbery
Another common risk of this business is the likelihood of robbery. Based on BLS statistics, this accounts for 17% of reported cases concerning injuries and fatalities.
The vehicles used in delivery usually have a pizza shop advertisement, indicating that the driver has cash in the wallet. The risk primarily depends on the neighborhood where the pizza delivery drivers work, but something like that can actually happen everywhere.
Pizza Delivery Drivers' Earnings In The US
Believe it or not, this is the most popular first job for many young Americans. It is suitable for those who still don't have an education for better-paid jobs. Some companies pay their pizza delivery drivers decently, although some are paid much less than they deserve.
In most cases, companies pay pizza delivery drivers by the hour. They can also use a system that combines an hourly rate and a bonus paid to the driver upon delivery.
Some provide their employees with a vehicle to do the job, while others look for those who can use their own cars for delivery. In that case, workers receive compensation from the restaurant for fuel and mileage. Sometimes, they can also receive compensation for running costs and car depreciation.
Remember that some companies pay drivers for pizza delivery only upon delivery, meaning they earn nothing when there are no pizzas to deliver. That motivates pizza delivery drivers to move faster and bring out more pizzas per hour by taking more orders at once.
Tips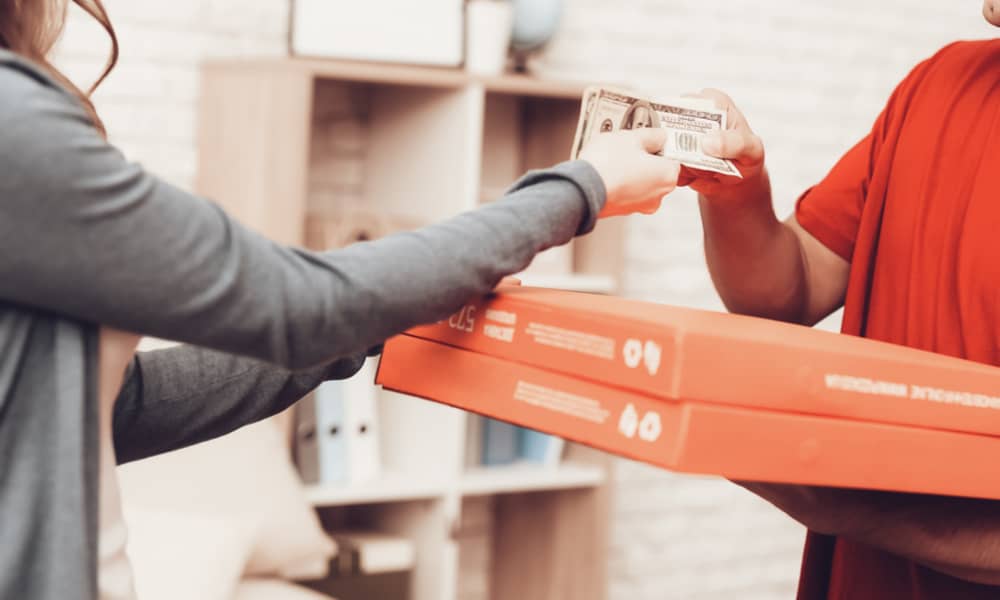 In addition to the salary, many pizza delivery drivers earn additional income partly from tips. The amount of money gained that way will vary depending on:
Ordering party distance
Order size and price
Time of the day
The average earnings from tips can go up to $50 per day. If you work the evening shift on Fridays, Saturdays, and Sundays, your tips can be even higher than average. Unfortunately, it won't be the case if you work the morning shift during working days.
In any case, the pizza delivery driver has the right to keep these tips. But be aware that some restaurants offer drivers a lower salary because of high gratuity.
Also, some restaurants require collecting the tips of all employees in one bowl and their equal distribution to everyone. However, that is a rare practice for pizza delivery drivers who work independently.
Pizza Delivery Drivers' Salary Variation By State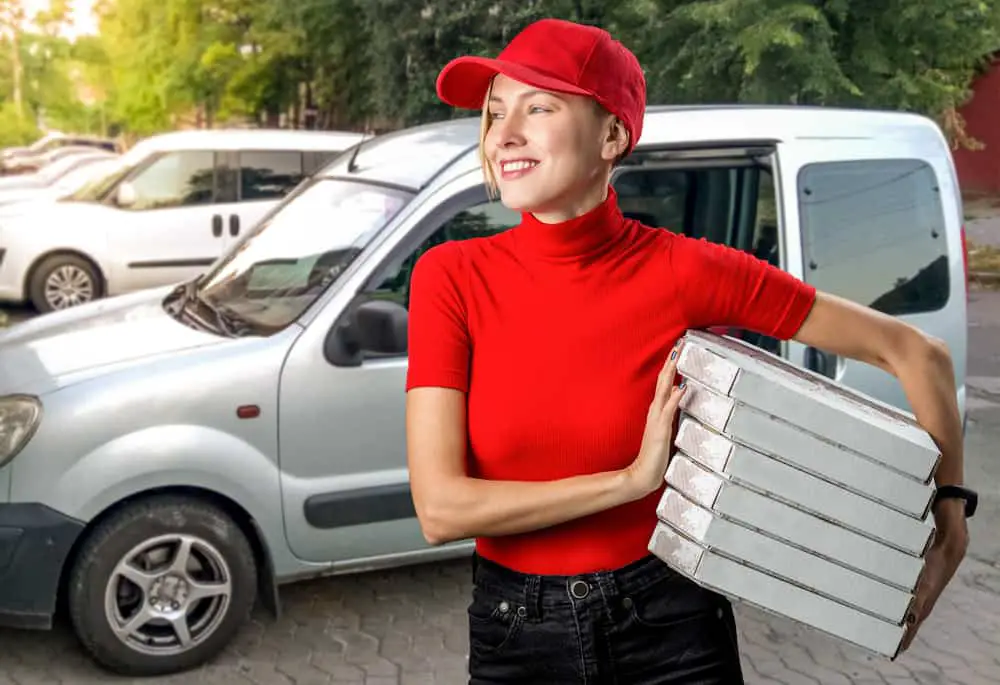 Pizza delivery drivers earn an average of $21,690 yearly, or $10.43 per hour at the US level. However, there is a significant variation in driver earnings for delivering pizza depending on the state where they live.
That is mainly influenced by the population density and the average income of the particular state's population. States with a higher population density have more pizza orders per hour, which positively affects drivers' salaries. Besides, pizza shops located in regions with better incomes will charge more for delivery, and delivery drivers will earn more money.
Pizza Delivery Driver's Salary
State
Annual Salary
Mississippi
$17,592 to $22,477
South Dakota
$18, 311 to $23,395
West Virginia
$18,711 to $23,907
Montana
$18,730 to $23,927
Oklahoma
$18,982 to $24,253
Idaho
$19,039 to $24,327
Alabama
$19,090 to $24,391
Missouri
$19,102 to $24,404
Kansas
$19,159 to $24,477
New Mexico
$19,167 to $24,489
Nebraska
$19,322 to $24,688
Kentucky
$19,496 to $24,908
Wyoming
$19,558 to $24,989
South Carolina
$19,618 to $25,066
Florida
$19,740 to $25,243
Louisiana
$19,757 to $25,243
Iowa
$19,827 to $25,332
North Carolina
$19,890 to $25,411
North Dakota
$19,894 to $25,416
Tennessee
$19,946 to $25,485
Utah
$19,975 to $25,393
Maine
$20,027 to 25,588
Vermont
$20,256 to $25,879
Ohio
$20,380 to $26,039
Wisconsin
$20,407 to $26,073
Georgia
$20,409 to $26,077
Texas
$20,426 to $26,098
Arizona
$20,527 to $26,227
Virginia
$20,594 to $26,311
Michigan
$20,608 to $26,331
Oregon
$20,830 to $26,613
New Hampshire
$20,992 to $26,819
Nevada
$21,122 to $26,988
Minnesota
$21,294 to $27,208
Washington
$21,339 to $27,262
Illinois
$21,351 to $27,280
Maryland
$21,424 to $27,374
Alaska
$21,706 to $27,731
Rhode Island
$21,776 to $27,824
Hawaii
$21,801 to $27,856
Pennsylvania
$22,051 to $28,174
Washington, DC
$22,229 to $28,400
Connecticut
$22,396 to $28,615
Massachusetts
$22,614 to $28,894
New Jersey
$22,876 to $29,228
California
$22,919 to 29,284
New York
$24,415 to $31,196
As you can see, the annual pizza delivery drivers' earnings vary from less than $17,000 in Mississippi to approximately $30,000 in New York.
Pizza Delivery Drivers' Salary Variation By Company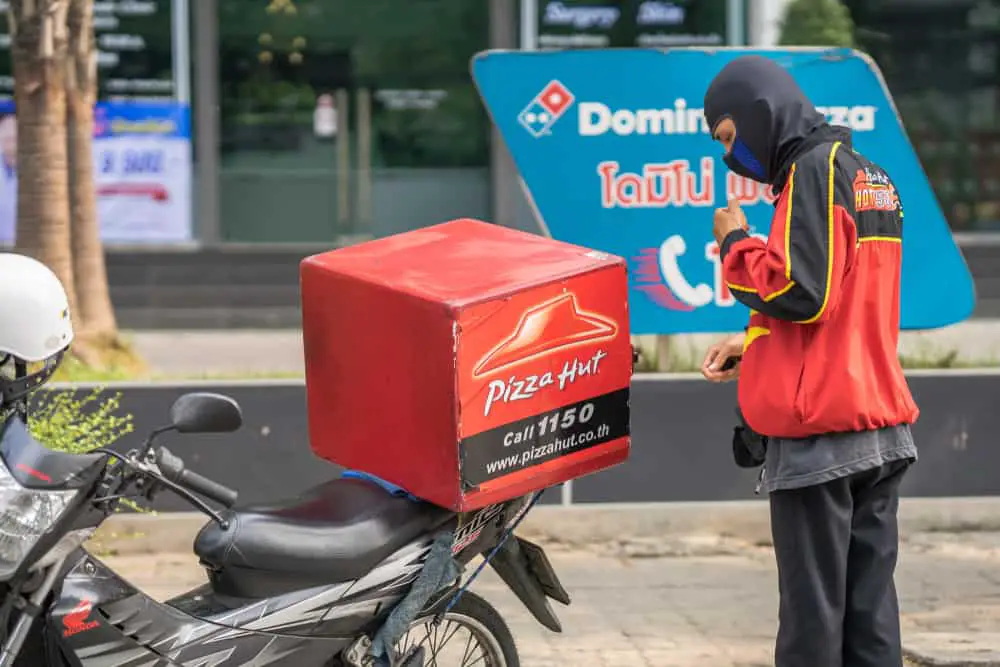 Besides significant variations in earnings at the state level, you can notice that pizza delivery drivers' salary often differs depending on the company they work for. For instance, Pizza Hut stands out as the company that provides the highest average salary annually.
Annual Pizza Delivery Drivers' Salary
Company
Salary
Pizza Hut
$34,595
Papa John's Pizza
$32,885
Domino's Pizza
$31,265
Pacpizza
$20,990
American Pizza Partners LP
$20,630
Pizza delivery drivers working at Pizza Hut earn an average of $15.66 per hour, and at Papa John's Pizza, their daily earnings are $12.53 per hour. At Domino's Pizza, these workers get $14.72 per hour at the US level.
Average Pizza Delivery Driver's Salary
State
Company
Pizza Hut
Papa John's Pizza
Domino's Pizza
New Jersey
$15
$15
$15
California
$15
$14
$15
Missouri
$14
$14
$13
North Carolina
$14
$13
$13
Keep in mind that salaries for this position are not the same for employees in the same company. They vary depending on the state and even the city where the pizza store is located.
Pizza Delivery Driver's Salary
City
Pizza Hut
Papa John's Pizza
Hourly rate
Hourly rate
New Orleans, LA
$7.25
$12.79
Brandon, MS
$12.55
$14.77
Ithaca, NY
$10.49
$14.65
Kansas City, MO
$13.58
$13.81
Saint Louis, MO
$11.38
$16.36
Pittsburgh, PA
$16.96
$11.55
Las Vegas, NV
$15.25
$13.10
Charleston, SC
$24.43
$13.82
Minneapolis, MN
$14.88
$16.93
Cleveland, OH
$14.17
$17.10
Chicago, IL
$13.76
$18.85
Milwaukee, WI
$16.99
$17.39
Dallas, TX
$13.22
$13.56
Tacoma, WA
$14.04
$18.64
Phoenix, AZ
$17.90
$19.10
Los Angeles, CA
$18.81
$13.47
Manchester, NH
$16.25
$9.56
Paterson, NJ
$17.00
$13.08
Atlanta, GA
$16.97
$13.36
San Francisco, CA
$16.99
$16.27
Charlotte, NC
$17.01
$13.27
Denver, CO
$17.26
$18.09
Springfield, TN
$17.32
$16.00
Richmond, VA
$17.32
$16.51
Lafayette, IN
$17.32
$16.67
Miami, FL
$18.54
$18.68
Still, these variations in earnings in the same company are not significant at the state level. Believe it or not, the situation is entirely different at the city level, and you can notice differences that can go up to $11 per hour.
Frequently Asked Questions
1. What is the highest pizza delivery pay?
The highest-paying city in the US for pizza delivery drivers is New York City. It offers an average salary of $26,994 with an hourly pay of $18.96. Thus, making it 13% higher than the national average of $11 an hour.
2. Is pizza delivery a good side hustle?
It is a good side hustle if you're looking for a flexible work schedule. You can apply for a full-time or part-time job depending on your free time. Plus, it is a low-risk side hustle without getting stressed out with a pricey package.
3. Do pizza delivery drivers receive benefits?
It depends on the company you work for and your employment status. Independent contractors usually don't receive benefits. But under some circumstances, here are some of the benefits you'll encounter:
Discounts on pizza chain meals
Healthcare coverage
Life Insurance
Paid day off
4. How do you apply as a pizza delivery driver?
Different pizza chains have different requirements for their pizza delivery driver. Although, here are two things that are for sure: (1) you don't need any fancy diploma, and (2) secure a driver's license.
To ensure you have the other requirements, you can visit the career portal of your chosen pizza chain. Then, complete the job application online or in person, if necessary.
Summary
Pizza delivery drivers are not high-income workers in the US, but they are necessary for every pizzeria. How much they earn depends on their assigned location and the tips they receive from customers.
During the work, they acquire knowledge and skills that can often be used in business life later. Remember that this job enables learning the organization's skills and strategy on a functional level, making it the desired experience for many young people.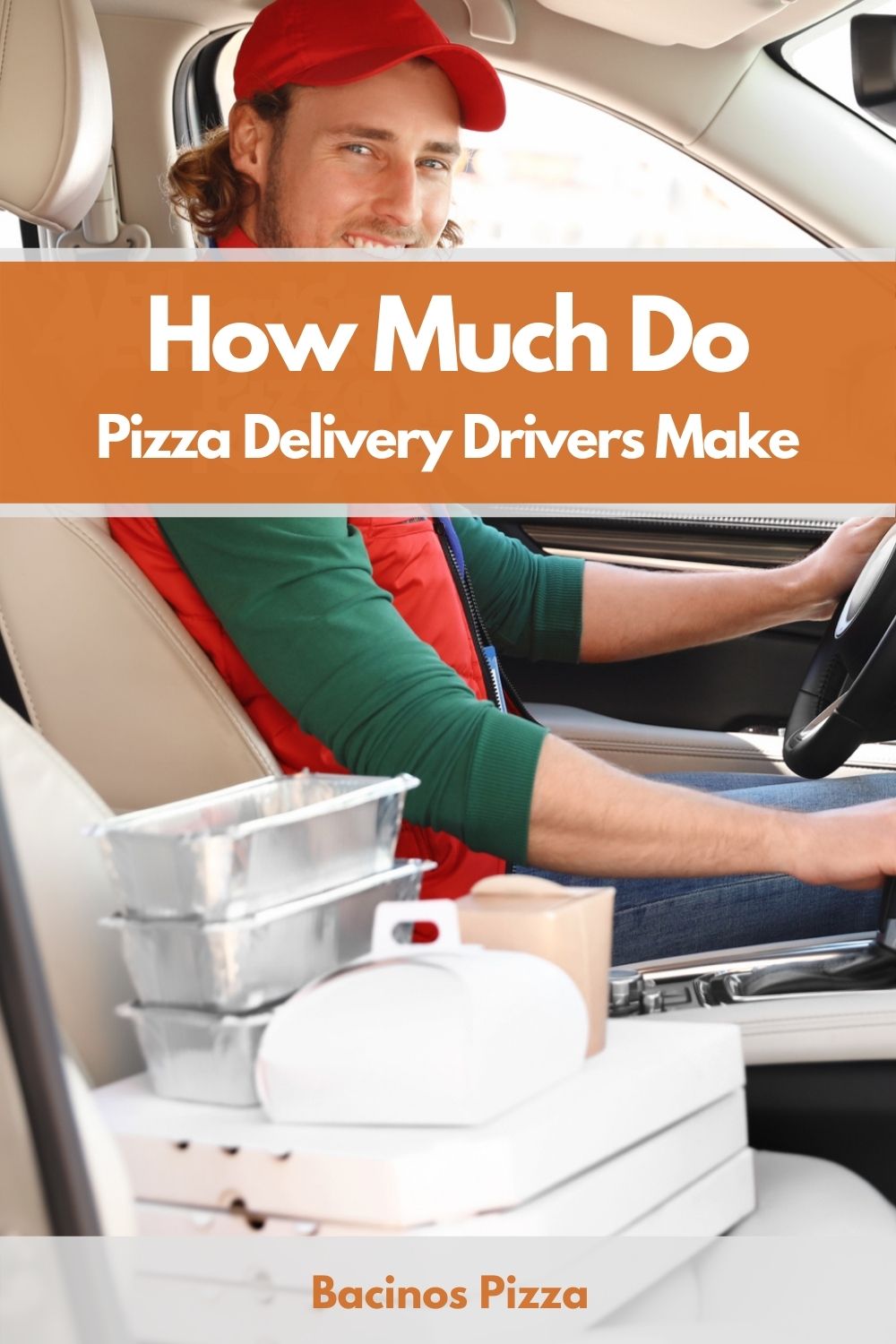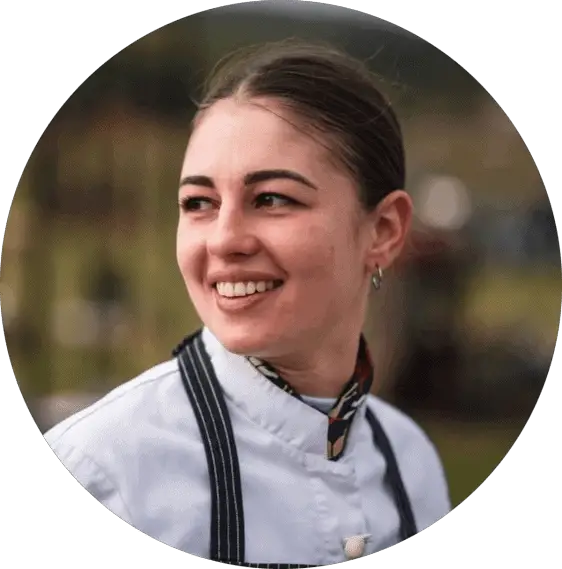 Julie has five years of experience in the restaurant industry, she decided to share her knowledge about her liking and fondness for food and pizza, of course, cooking as her love language. She's very passionate about what she's doing, making all the things she writes regarding pizza recipes, very amazing!