New York City is a highly diverse city with cuisines from all over the world. Often synonymous with New York City, Manhattan is the smallest borough geographically but has the highest population of the five boroughs. Below you'll find the 25 Best Pizza Places in Manhattan, NY.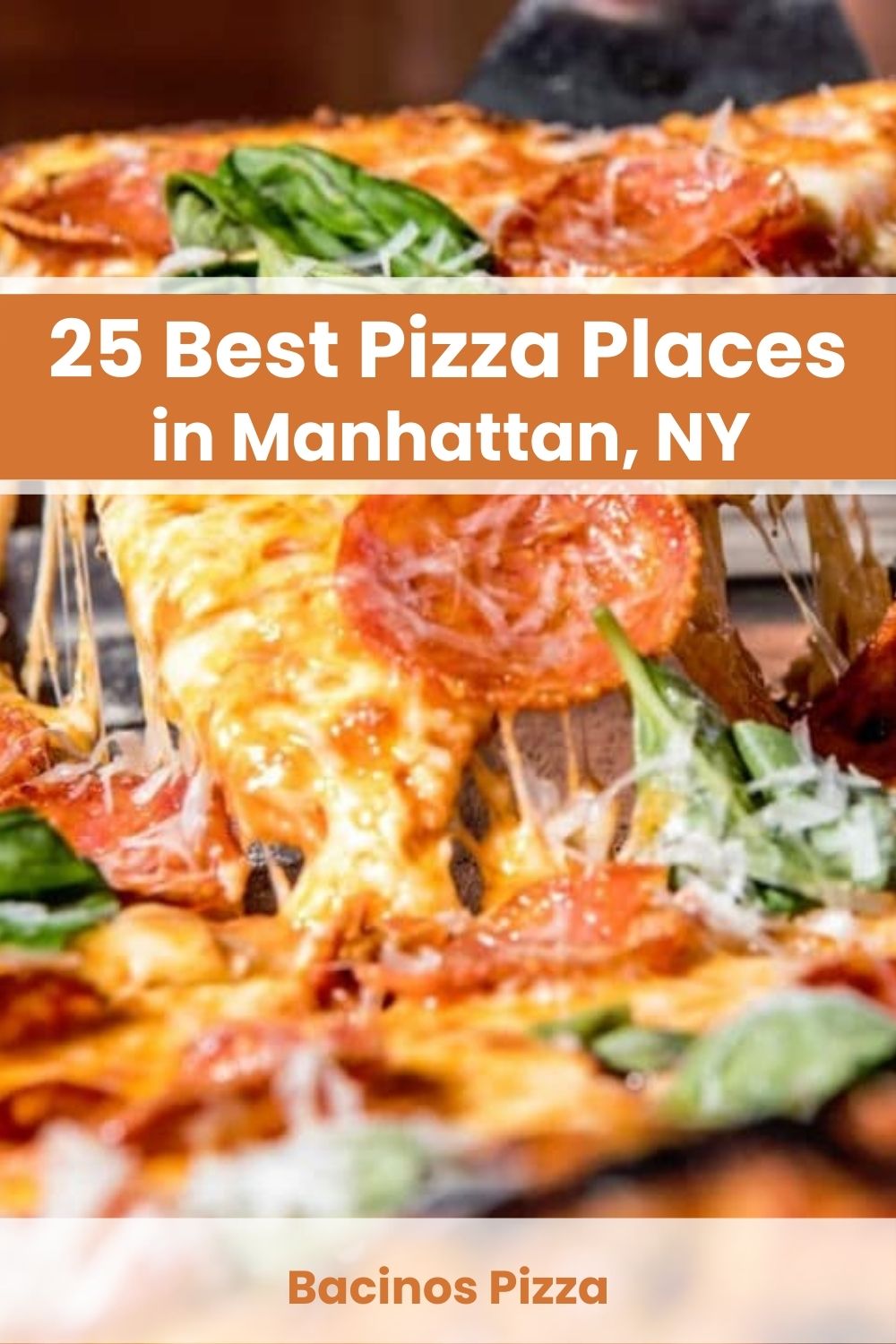 Price: $
413 8th Ave, New York, NY 10001
(212) 594-8939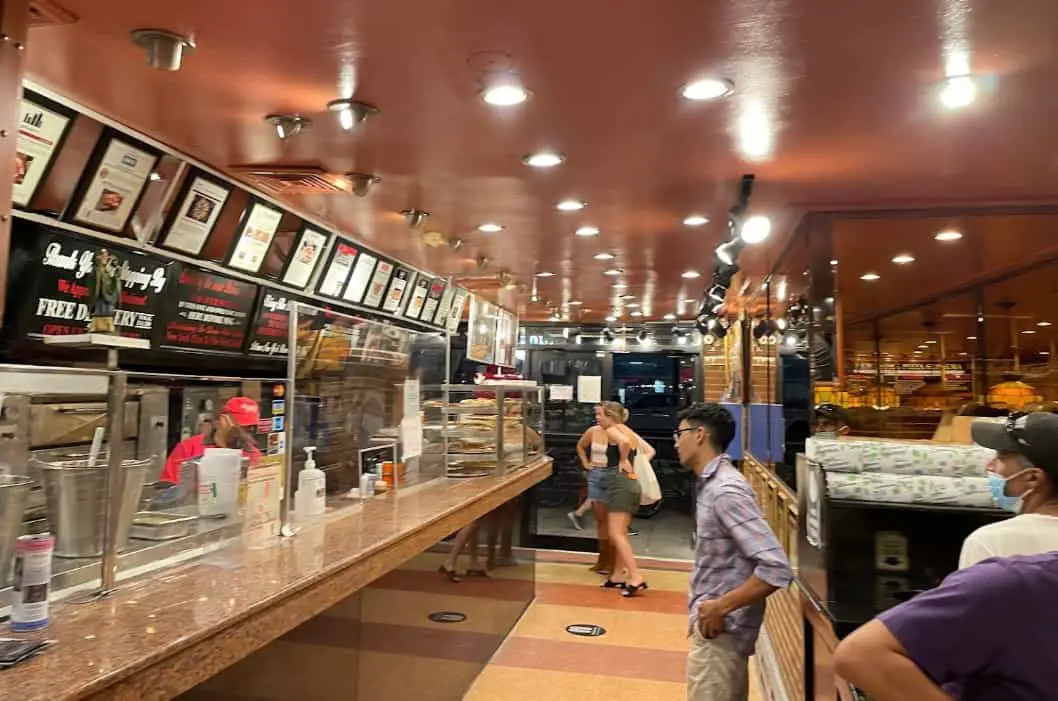 NY Pizza Suprema is in the heart of Manhattan, across the street from Madison Square Garden. It's not new to the pizza scene, as it's been owned and operated by the same family for over fifty-six years! They specialize in their plain cheese pizza (no toppings!), but they also recommend The Fresh Mozzarella with Basil and the Upside Down.
Price: $$
547 9th Ave, New York, NY 10018
(212) 695-690
Capizzi specializes in wood-fired pizzas with either tomato sauce or white sauce. However, if you're interested in something extraordinary, try their Messina Pizza. Topped with roasted eggplant, tomatoes, olives, and shredded Ricotta Salata cheese, the Messina Pizza stands out beyond the basics. If you're still hungry after pizza, try their Oreo Truffle Cannoli.
Price: $$
66 Gold St, New York, NY 10038
(212) 243-1500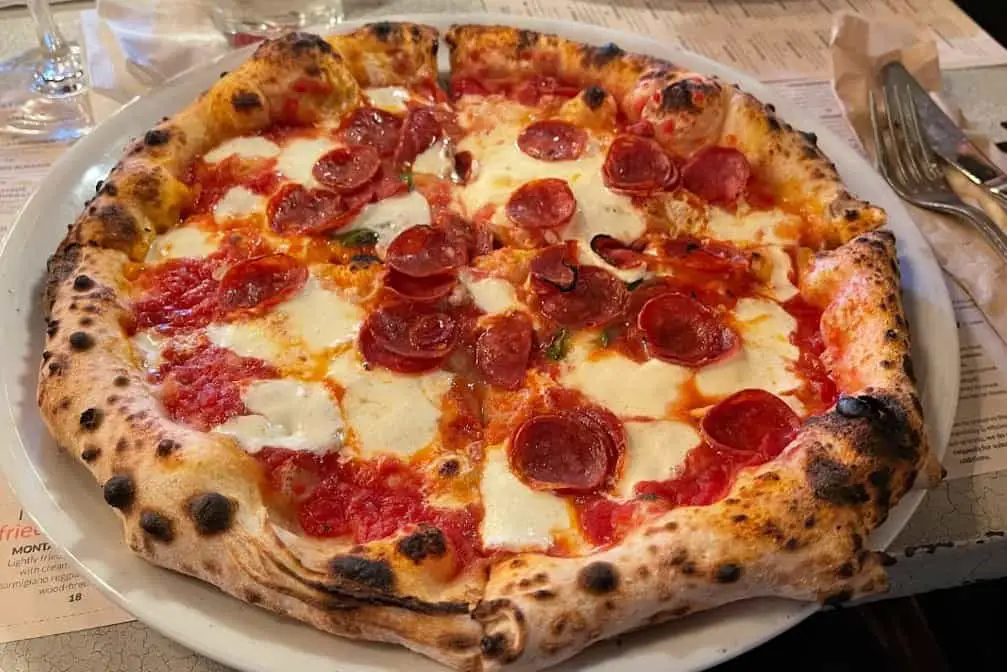 Keste Pizza & Vino is located in Southbridge Towers in Manhattan. They specialize in lightly fried pizza dough called Montenara, but they also serve delicious red and white pizzas.
Keste offers over twenty different red pizzas, ranging from Margherita with Italian Roasted Pork to Puttanesca Pizza with anchovies. Then, order the Salsiccia and Friarielli with sausage and broccoli rabe for a delicious white pizza.
Price: $$
27 Prince St A, New York, NY 10012
(212) 966-4100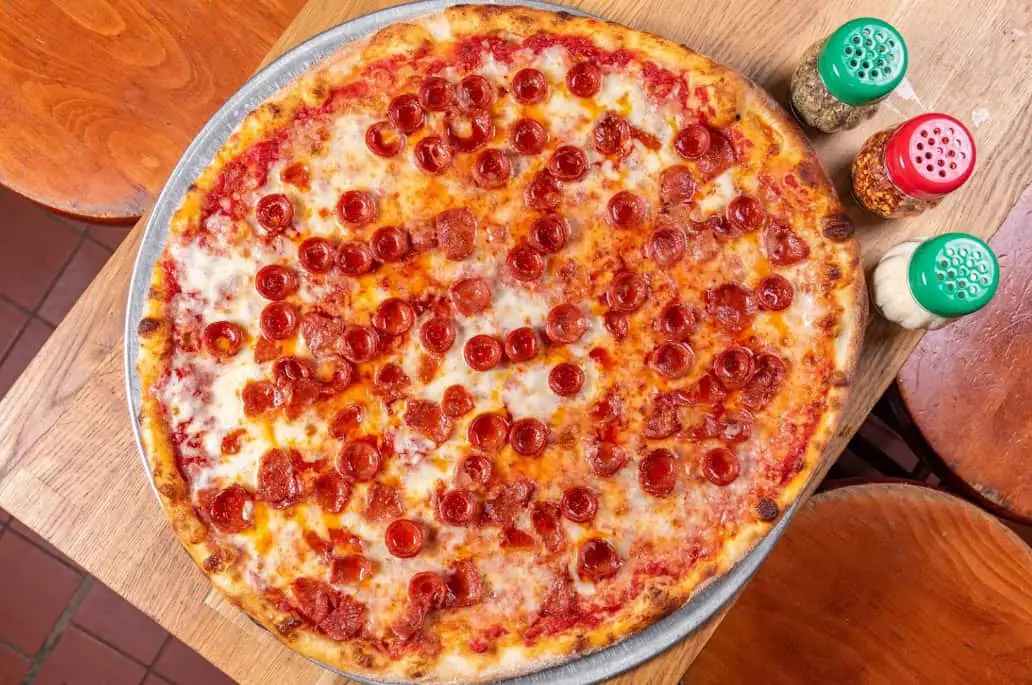 Prince Street Pizza is a short walk from the New Museum in Manhattan. They are known for their Original Soho Square pizzas and offer Neopolitan-style pizzas for diners who prefer round pizzas. Their house specialty is their Margherita Pizza called The Fancy Prince, but you also can't go wrong with their Prince Perfection square pizza.
Price: $$
235 Mulberry St, New York, NY 10012
(212) 965-0500
Rubirosa is a popular Italian eatery serving dishes such as pasta, salads, and pizzas. Their pizzas are either 14″ (small pie) or 18″ (large pie). Rubirosa offers pies with vodka sauce, red sauce, or a cheese base (no sauce). You can build your own or order one of their delicious specialty pies.
Price: $$
168 1st Ave., New York, NY 10009
(212) 677-4992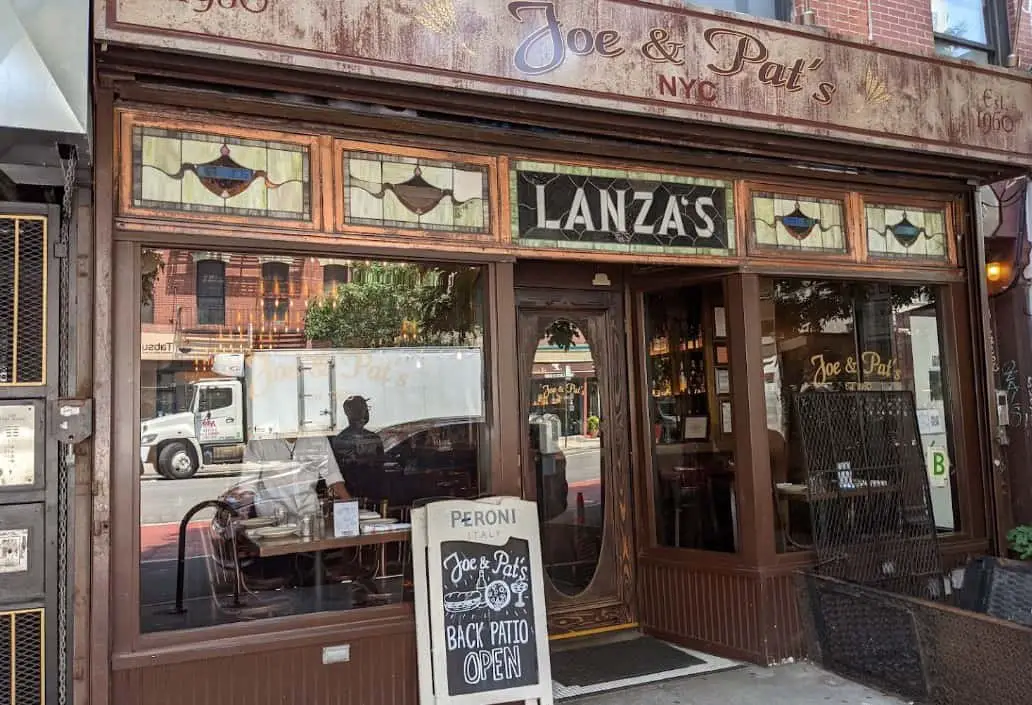 Joe & Pat's NYC is an NYC staple, serving thin-crust pizzas to locals for over sixty years. The Italian owners brought their secret recipe for their now-famous thin-crust pizza from Naples.
That secret recipe is what keeps New Yorkers coming back for more. Their pizzas come in 10″ and 16″, with options ranging from their original cheese pizza (aptly named, 1960 Original) to a White Clam Pizza.
Price: $$
310 2nd Ave, New York, NY 10003
(212) 716-1200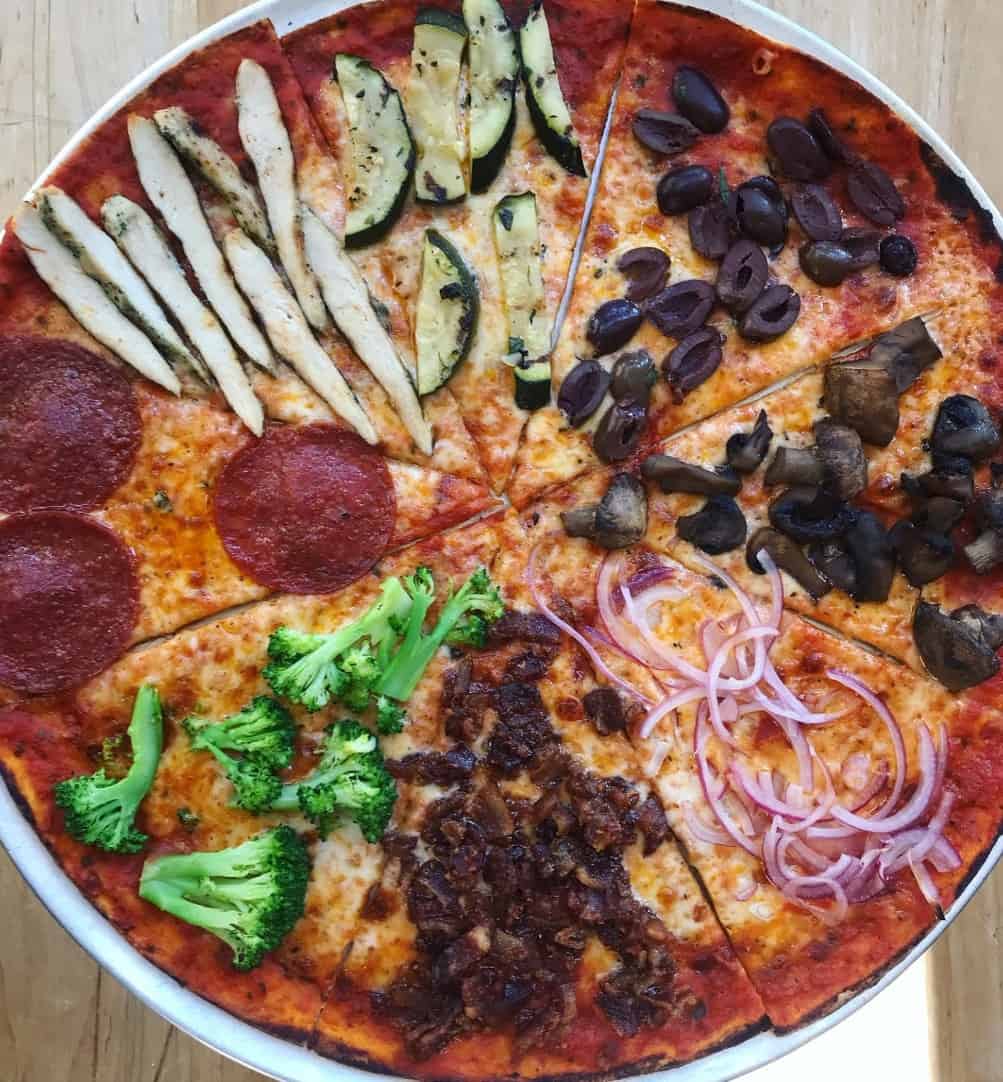 Posto specializes in thin-crust pizza (hence its name). Sizes range from personal to large, and they offer both house and customizable pies. Their menu offerings are delectable, with options such as El Greco (think Greek salad but on a thin crust) and Shroomtown (you guessed it, mushrooms).
In addition, Posto offers multiple options for customizing, such as spicy marinara, Bianca, pesto, and regular marinara bases.
Price: $$
278 Bleecker St, New York, NY 10014
(212) 243-1680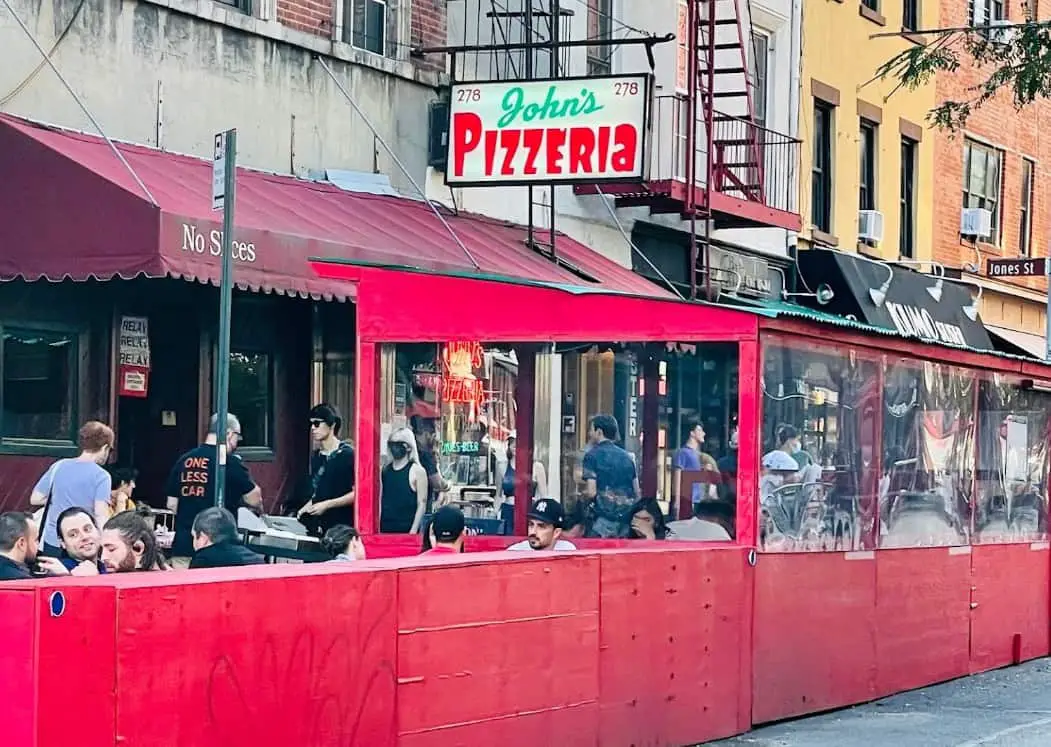 John's of Bleecker St. is an NYC staple. This location started in 1929 and is a family-owned establishment. They focus on coal-fired pizza in a comfortable environment.
They offer medium and large pizzas (14″ vs. 16″ respectively), and while you can customize one, they have nine specialty pizzas to die for. The Piccante Pie is spicy and topped with pepperoni, garlic, and cherry peppers. The Meat-lovers Pie is your dream if you like sausage, meatballs, chicken, and pepperoni.
Price: $$
176 Lexington Ave, New York, NY 10016
(212) 839-8300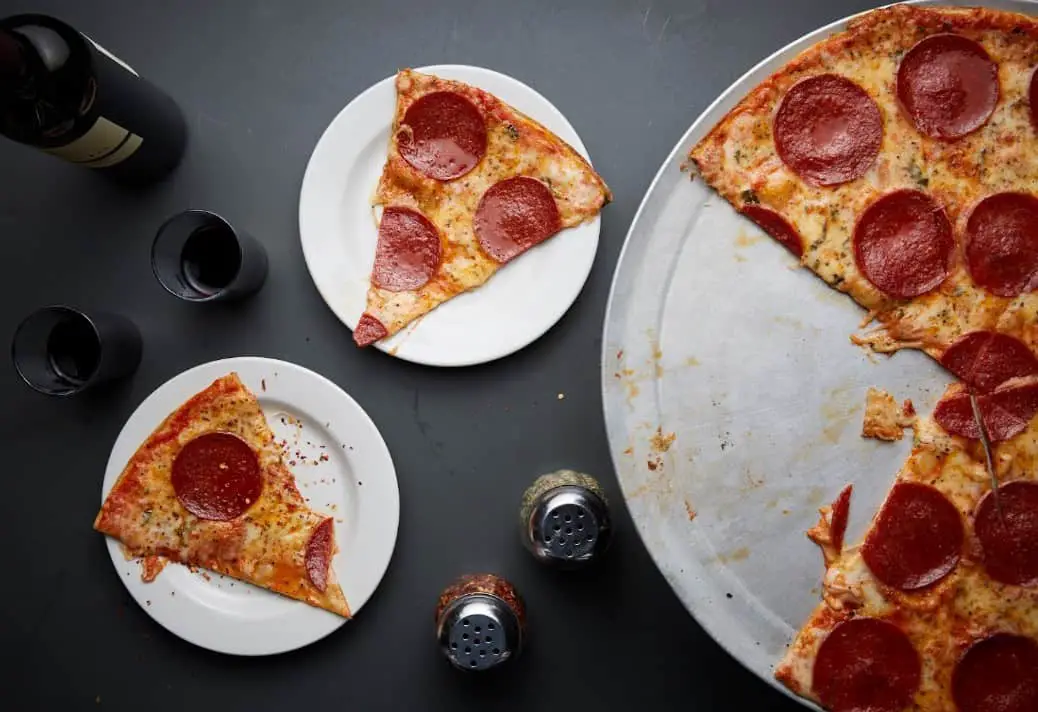 Vezzo NYC is a sister restaurant to Posto, and they have similar menus. Vezzo specializes in thin-crust pizzas as well. However, customize your pizza with chorizo, beef meatballs, goat cheese, shiitake mushrooms, or ricotta cheese. If you don't want to customize your pie, leave it up to them and order a specialty pie.
Price: $$
700 3rd Avenue, New York, NY 10017
(646) 858-1505
Slice Pizza is a short walk from the Chrysler Building in Manhattan and offers counter service. Their specialty is brick-oven pizzas in a casual counter-service environment. Basic pizzas include cheese, pepperoni, and hamburger. Signature pizzas include Buffalo Chicken, White Spinach, Chicken Bacon & Ranch, and Philly Steak.
Price: $
50 Fulton Street, New York, NY 10038
(212) 571-7700
Little Italy Pizza has multiple locations in Manhattan. They are consistently rated close to 5 stars for their delicious pizzas. They offer a tremendous amount of pizzas by the slice and whole pies. You can find pizzas ranging from white spinach pizza, spicy pepperoni, baked ziti, chicken and broccoli, and chicken ricotta.
Price: $$
175 Orchard St, New York, NY 10002
(646) 476-4457
Una Pizza is different from most other pizza joints in NYC because it's only open Thursday through Saturday. In addition, it's only open for dinner starting at 5 pm, and once the fresh dough is gone, they are closed. Enjoy seeing the Una team work the dough by hand and make only three pizzas at a time in their wood-fired oven. The options are limited, but the focus is meticulous.
Price: $$
349 E 12th St, New York, NY 10003
(212) 777-2644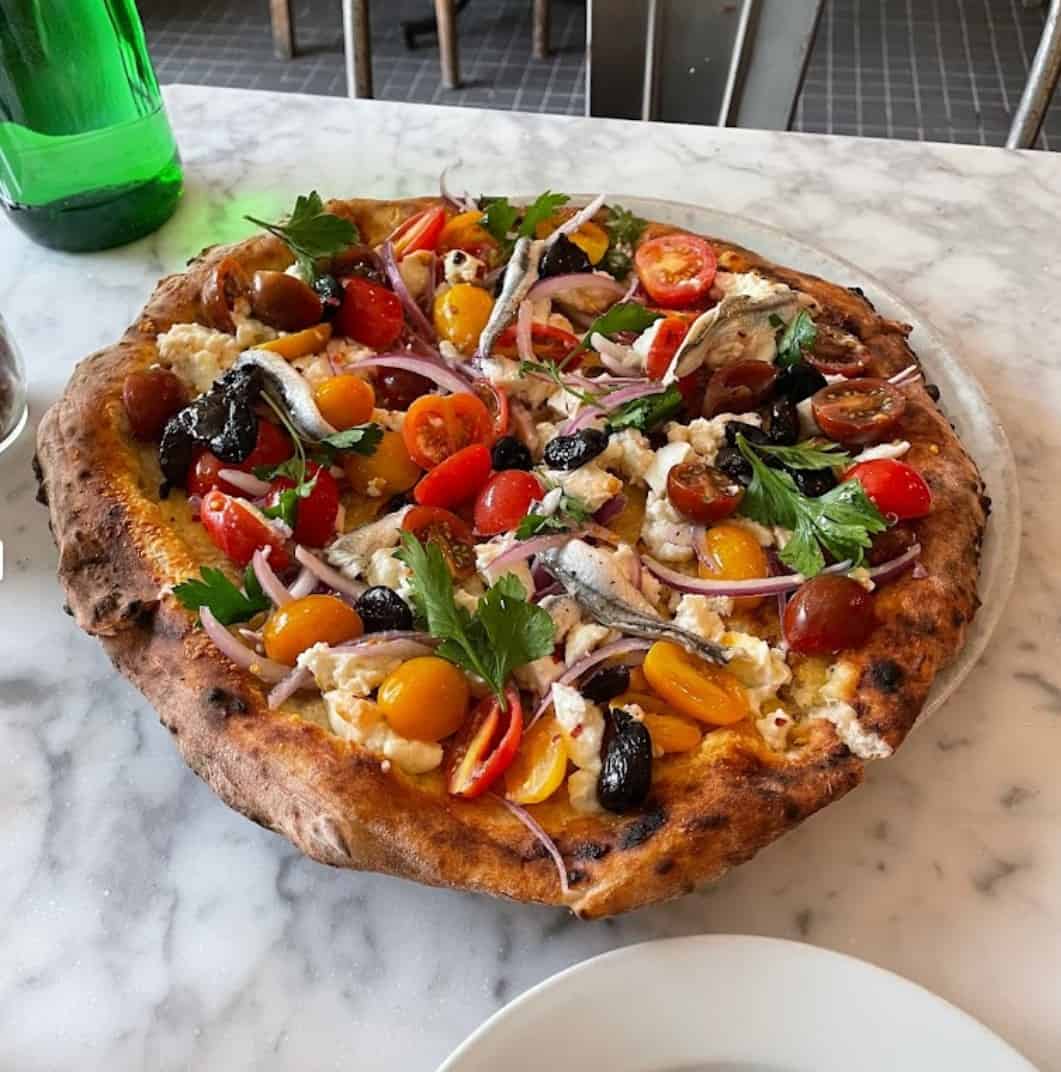 Motorino Pizzeria specializes in Neopolotan style brick-oven pizzas. The NYC location is one of five other Motorinos, but the rest are located internationally. They offer delicious red and white specialty pizzas and the option to create your own pie. Toppings include Brussel sprouts, salt-cured olives, fresh clams, and white anchovies, among the more standard fare.
Price: $
145 1st Ave., New York, NY 10003
(212) 529-4545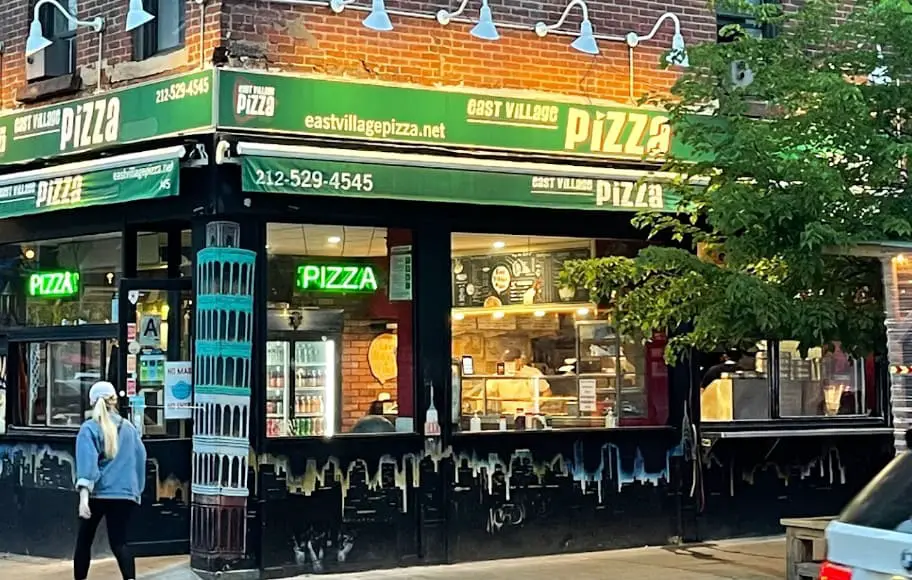 East Village Pizza started in 1997, with the current owner taking over in 2003. They are unique because they serve Italian Mediterranean fusion, so the pizzas reflect that.
One of their most unusual items is the Double Stacked Pizza, which comes with one topping inside and one on the top of the pizza. The combinations of Stacked Pizza options are endless! They also offer standard pizzas as well as gluten-free individual pizzas.
Price: $
2287 1st Ave., New York, NY 10035
(212) 534-9783
As its name implies, Patsy's Pizzeria is not just a pizza joint. They specialize in coal-fired pizzas, but they also serve traditional Italian food. Specialty pizzas include:
The Caprese (with mozzarella and basil).
Napoletana (with anchovies, black olives, and garlic).
Polpette (with meatballs, mozzarella, and onion).
Of course, you can also build your own style of pizza with a multitude of fresh ingredients.
Price: $
2750 Broadway, New York, NY 10025
(212) 510-7256
Mama's TOO! is a counter service pizza restaurant serving some delicious pizza options. Pie offerings include the Upside Down (square pizza only), Cacio e Pepe (topped with mozzarella, parmesan, romano, and marscapone), and Pepperoni (topped with pepperoni cups and mozzarella). Slices are only available in person, and no substitutions or customizations are allowed.
Price: $
22 Orchard St, New York, NY 10002
(212) 334-3481
Scarr's Pizza serves three different sizes of pie- small (12″), large (19″), and Sicilian (18″ x 12″ square). You can order one of their specialty pies or create your own. Toppings include cremini mushrooms, fried eggplant, cured anchovies, beef pepperoni, and meatballs.
Price: $$
309 W. 50th St, New York, NY 10019
(646) 719-1043
Don Antonio serves Neapolitan-style pizza in the center of Hell's Kitchen. They serve Montanara, a lightly fried pizza, along with many other choices. In addition, Don Antonio serves quite a few red and white pizzas and their specialty pizzas. For example, try their Noci e Zucchini with walnuts and zucchini or their Vesuvio stuffed with salami, ham, and cheese.
Price: $$
1559 2nd Ave, New York, NY 10028
(212) 861-2434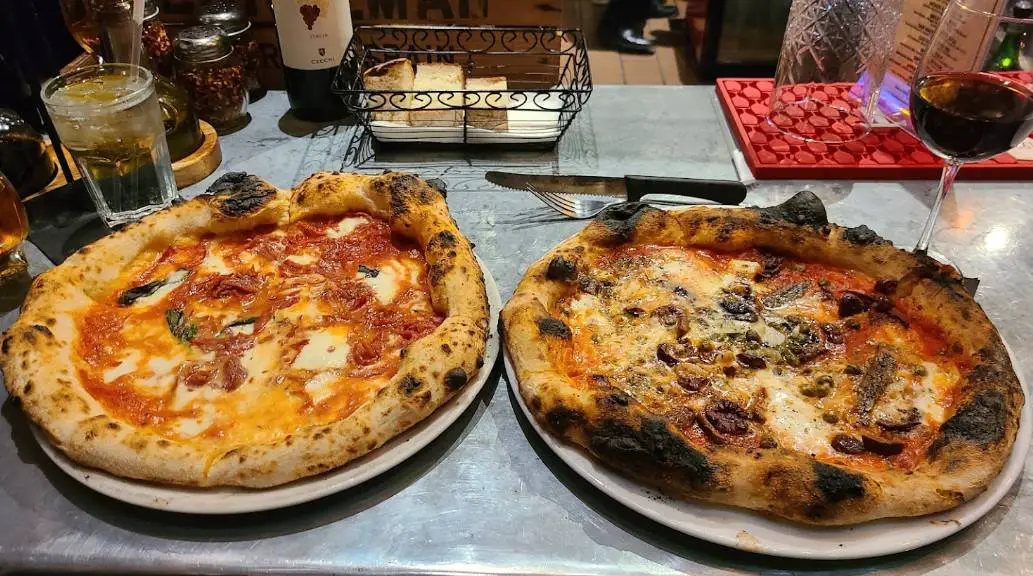 San Matteo Pizzeria e Cucina is known for its Neapolitan wood-fired pizzas. They have been serving New York residents a variety of gourmet red and white pizzas since 2010.
Order anything from their Margherita pizza to the Cetara (topped with anchovies, basil, garlic, and black olives). If you prefer a white pizza (no tomato sauce), order the Patate & Porcini (porcini mushrooms, potatoes, and parmesan) or the Siberiano (topped with sausage, basil, and mushrooms).
Price: $$
500 11th Avenue at W 45th St, New York, NY 10036
(212) 956-9339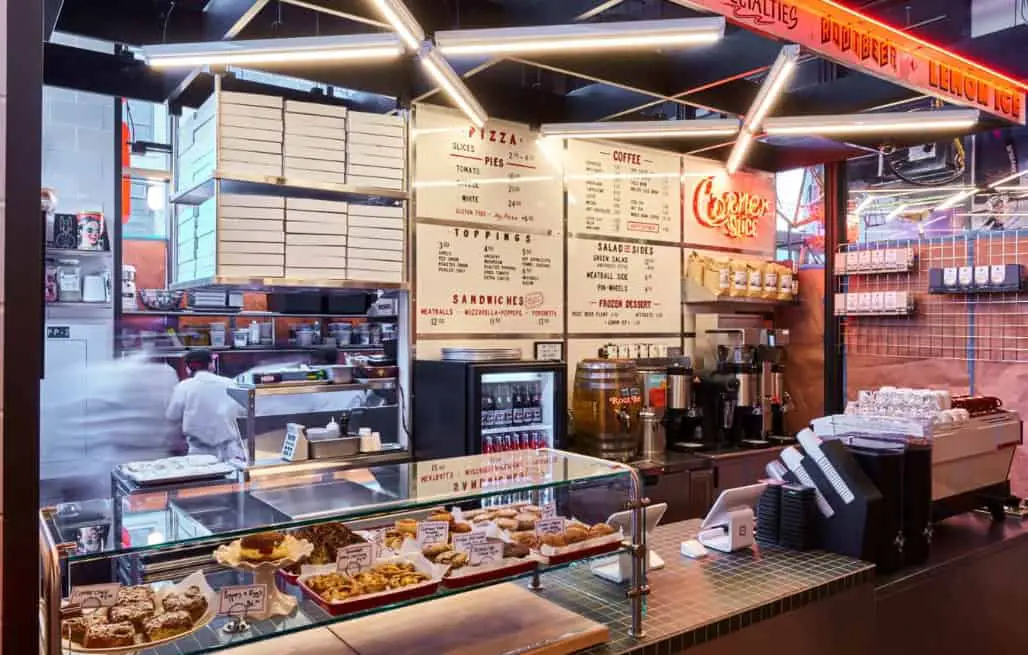 Through casual counter service, Corner Slice offers square pizzas, 1/2 square pizzas, and individual slices. In addition, you can order a whole pie (10″ x 17″) or a piece of an entire pie. Menu options range from a simple cheese pizza to Vodka pizza (with vodka cream sauce, mozzarella, and chili) and Buffalo Chicken Pizza (fried chicken cutlets, mozzarella, ranch, scallions, and buffalo sauce).
Price: $
941 Amsterdam Ave, New York, NY 10025
(212) 531-3797
Mama's Pizzeria has been open since 1969 on the Upper West Side of NYC. It's been family-owned since the beginning, and you'll still find the same authentic New York-style pizza today!
Mama's offers multiple sizes- a personal pizza (12″), a small pizza (16″), a large pizza (18″), and a Sicilian (square). In addition, you can customize your pizza or order one of their specialty pizzas. Options include the Grandma Pizza, Prosciutto-Arugula Pizza, and Upside Down.
Price: $$
690 Lexington Ave, New York, NY 10022
(212) 317-1850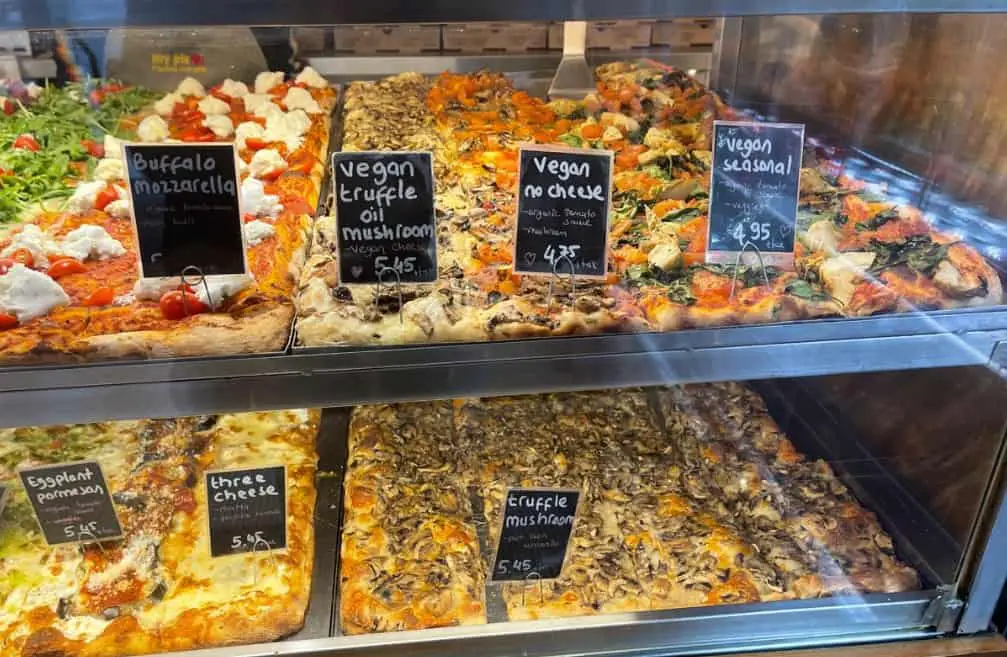 My Pie Pizzeria Romana is located in Hotel 57 in Manhattan. They specialize in Roman-style pizzas made with raw flour and no added sugar. Similar to other NYC joints, My Pie offers multiple sizes- medium, large, extra-large, and by the slice. So get the Spinach and Artichoke pizza, Caramelized Onion pizza, or a traditional Grandma's pizza.
Price: $
473 Lexington Ave, New York, NY 10017
(212) 661-6221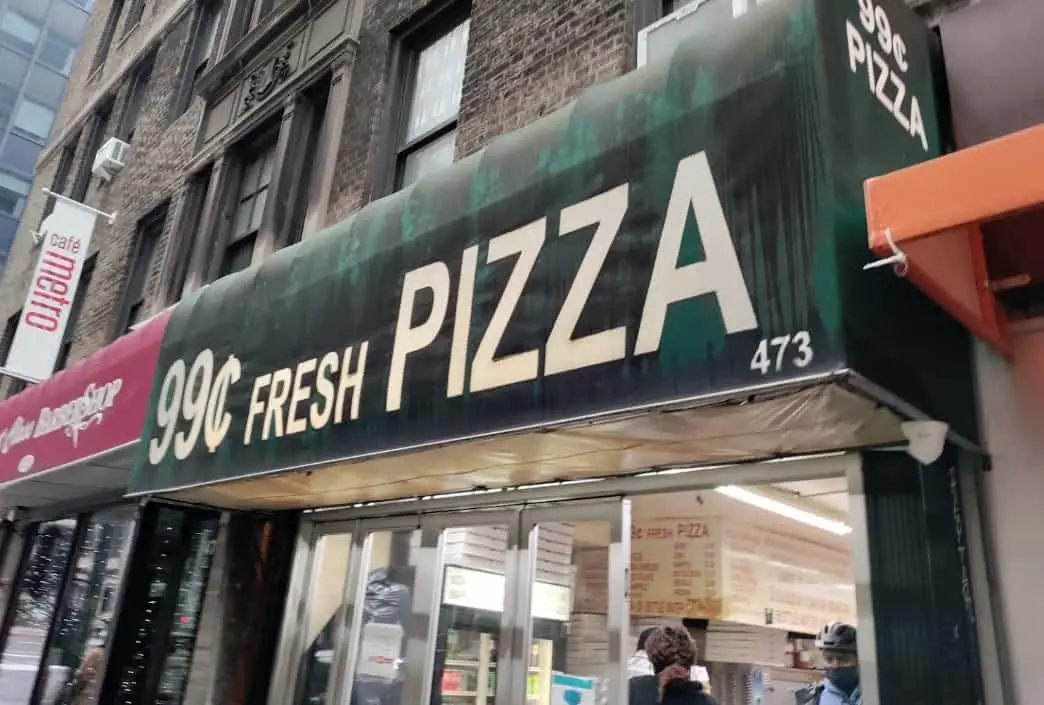 99 Cent Fresh Pizza has multiple locations across NYC. They've been open since 2001 selling delicious pizza slices to hungry locals. While only the cheese slice is $1.00, the other pieces are very budget-friendly, ranging from $1.50 to $2.00. You can also purchase 18-inch pies for very reasonable prices.
Price: $
1038 1st Ave, New York, NY 10022
(212) 644-8400
Best Pizza is located in Stonehenge 57 in Manhattan. They offer a wide selection of pizza by the slice, including classic Pepperoni and Fetta Pizza Slice. They also offer whole wheat, white, red, and Sicilian pizzas. In addition, you can order a clam pizza with red sauce or a white pizza with broccoli.
Price: $$
117 W 57th St, New York, NY 10001
(212) 333-4333
Angelo's Coal Oven Pizzeria is known for its thin-crust pizzas and family atmosphere. They are located near Carnegie Hall in Manhattan. Angelo's offers 13″ and 17″ round pizzas and white pies, all of them fully customizable. They don't have any specialty pizzas, but they put you entirely in control of what toppings you add.
Summary
As you can see, there are so many fantastic pizza restaurants in Manhattan that serve delicious pies. You'll find New York style, Neapolitan style, white, red, and even fried. Hopefully, you will get to try one of the best 25 pizza places in Manhattan, NY, while you're here!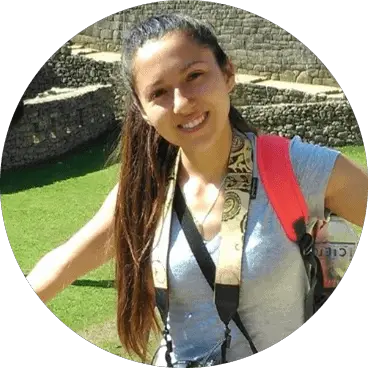 Kathryn's love for pizza started when she was still young. When she was young, she's been a picky eater–that's what her Mom used to say. The only food that she enjoyed and loved was pizza–until now! Her love for pizza turned into a passion!