There are not many people who don't like a slice of pizza or two, but in the winter, there are few dishes as comforting as a bowl of steaming soup. So somebody somewhere had the bright idea of combining the two, and pizza soup was born.
For those who think that sounds like a dish they'd like to sample, we've had a look online to see what other people have been trying – and as a result, here are our top 27 pizza soup recipes you can easily make at home.
1. Contest-Winning Pizza Soup Recipe: How to Make It
This contest-winning recipe for a hearty pizza soup includes popular pizza toppings like pepperoni, peppers, mushrooms and mozzarella along with oregano and basil for extra flavor. However, as this blogger writes, you can always experiment with other ideas like meat sausage – and when served with a slice of crusty bread, it will make a warm and filling meal.
2. Pepperoni Pizza Soup – Food Network
Here's a simple recipe for pepperoni pizza soup that's effortless to make and can easily feed a whole family. It includes mozzarella cheese in the soup and a sprinkling of grated parmesan on top to finish, and they recommend serving it with sourdough bread – we can just imagine how good it must taste!
3. The Best Pizza Soup – The Country Cook
With a generous handful of grated cheese and some large, crunchy garlic croutons, the pizza soup in this post looks divine. It also incorporates a portion of Italian pork sausage along with a helping of pizza sauce to give it that authentic Italian pizza flavor. Want to know how the rest of it goes? Then check out this recipe to find out.
4. Hearty Pizza Soup recipe
In this video, these YouTubers show us how to make another version of a hearty pizza soup, this time filled with pork sausage, pepperoni and pepper among other ingredients – and as they tell us, it's the kind of meal you can make all winter long. They also discuss some other items they think might go well in this soup, allowing you to customize it however you like.
5. Pizza Soup – Cookthestory.com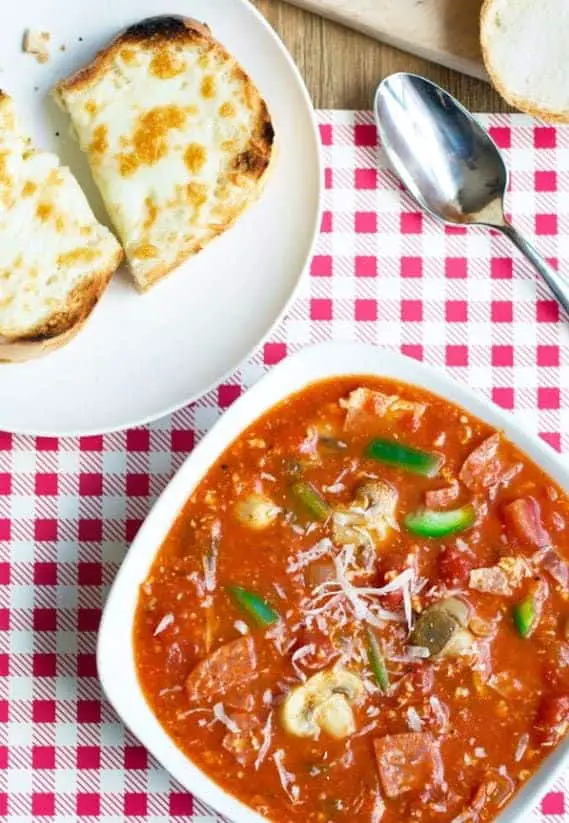 Pizza soup is not only delicious, but it's also super-easy to make, and you can even have it ready to serve in around 15 minutes. This blogger also gives us an idea for melted mozzarella toast to serve with it, and that's a suggestion we can't wait to try for ourselves!
6. Pizza Soup Recipe from Pop Kitchen
We've already mentioned how quick and easy pizza soup is to make, which means you don't need to spend lots of time watching long and complicated tutorials before you can start. Rather, you can just check out a short video like this one – it's under a minute long – and then you can head straight to the kitchen to start cooking.
7. Pizza Soup Loaded with Sausage and Pepperoni – Gatherforbread.com
Meat-based soup with pepperoni and sausage seems to be a popular option when it comes to pizza soup because there's no shortage of recipes teaching you how to make it – and here's another one that's worth a look. As this blogger writes, the time of day when the kids come home from school when she has a thousand things to take care of is an extremely stressful moment for her, but having recipes like this up her sleeve can help relieve some of the pressure.
8. Keto Pizza Soup
If you're on a keto diet, you might be missing pizza since regular pizza dough is a big no-no. Recipes for keto-friendly pizza base are available, but another option is just to skip the crust altogether and opt for keto pizza soup instead. Sound intriguing? Then give this video a watch to find out how to make it.
9. Pizza Soup – All the Flavors of Pizza in Comforting Bowl!
This blogger seems to have made a hobby of turning classic Italian recipes into soups – check out her lasagna soup to see what we mean. She also has a great recipe for pizza soup, and her version includes pepperoni and sausage, which she usually serves with cheesy garlic bread. That sounds like the kind of comforting meal we'd love, and if you're the same, her blog will teach you how to make it.
10. Pizza Soup from Annemarie Rossi
Sometimes we just prefer the most uncomplicated recipes, and if you agree with us, this one-minute tutorial for pizza soup should appeal to you too. The recipe includes mushrooms, tomato sauce, broth, honey, basil, oregano and salt – and after half an hour of simmering, it's ready to serve with a sprinkle of cheese and a nice piece of rustic bread. And even better, this YouTuber estimates it only costs $0.96 per serving!
11. Pizza Soup & Crusty Italian Bread
Here's a fun video from a YouTuber whose content we enjoy. A while back, she made a series of videos as part of her "Crocktober" challenge in which she set out to see how many different dishes she could create in her crockpot. In this episode, she attempts crockpot pizza soup – so give her video a watch if you want to see how it went.
12. Pizza Soup Recipe – Allrecipes
When this blogger writes that most people seem to frown when they first hear of pizza soup, we think she sums up the reaction pretty well. However, most of them also fall in love with its rich and hearty goodness once they try it, and if you haven't yet sampled its delights, this is a recipe that will teach you an easy way to make it.
13. Pizza Soup – Healthy and Super Delicious
Pizza soup isn't just delicious, it can also be healthy too. It just depends on the ingredients you choose, but since it doesn't have a dough base like a regular pizza, it's already a whole lot less fattening. This video teaches you about a recipe for pizza soup that's "healthy and super-delicious", and when you put it like that, how can anyone resist?
14. Cheesy Pizza Soup Recipe – The Gunny Sack
With the addition of noodles, we're not sure if this dish qualifies as pizza soup or if it would be better described as pizza pasta. In any case, semantics aside, it's packed full of pepperoni and cheese and is served with a side of garlic bread – and if it tastes as good as it sounds, who cares what it's called?
15. Pizza Soup – Foodbeast Kitchen
We've seen several videos that get right to point, but at only 44 seconds, this might be the shortest of them all. In it, you'll learn how to make pizza soup that includes onion, garlic, carrots, bacon, pepperoni and loads of cheese – and since you don't have to spend too long watching the video, you'll have more time to spend eating it!
16. Pizza Soup – Can't Stay Out of the Kitchen
The pizza soup in the photo at the top of this blog looks particularly hearty and wholesome, and we're trying to identify all the ingredients in there just by looking. Have a go and see how many you can pick out – then check out the recipe and see if you can make something just like it yourself!
17. Crockpot Pizza Soup
Here's another recipe for crockpot pizza soup, this time using sausage meat, pepperoni and green peppers among other ingredients. When it's all done, it also receives a generous portion of grated cheese, and the whole thing looks fantastic, so we're sure this is a recipe that lots of crockpot chefs out there will be eager to replicate.
18. Pizza Soup Recipe – Delish.com
What's interesting about this recipe is that, since it's topped with bread, melted mozzarella and pepperoni, it actually looks like it has a real pizza sitting on top, and it's only when you dig into it with a spoon that you uncover the delicious broth below. It's a highly original take on pizza soup, and for anyone who wants to try making it, this recipe has all the details.
19. Pizza Soup for a Crowd
Regular pizza is a great option for parties since it's easy for everyone to grab a slice when they're hungry. However, most people only have ovens large enough to cook one or two pizzas at a time, and if you're hosting a larger gathering, pizza soup could be a smart alternative. If that sounds like the solution you need, you'd do well to check out this post since it teaches you how to make pizza soup for a crowd.
20. Slow Cooker Pizza Soup Recipe – Shugarysweets.com
Soup has always been a great wintertime food, and if you'd like to combine a warm winter dinner with the taste of your favorite pizza toppings, this is the recipe for you.  It's inspired by Chicago-style pizza and involves plenty of sausage and cheese. As this blogger writes, you can also get as creative you want with the ingredients, making a version you and your family will adore.
21. Pizza Soup from Slim Body by Kim
The pizza soup this YouTuber teaches us to make is designed for a paleo diet, so if that's the diet you're following and you're craving your favorite pizza flavors, this is the recipe for you. It's based on Italian sausage and chicken broth, but of course, you're free to add any other paleo-friendly ingredients you want, allowing you to enjoy this hearty meal while still sticking to the rules of your diet.
22. Pepperoni Pizza Soup Recipe
Here we have a recipe that takes the concept of pizza soup and bulks it out with the addition of some tasty hearty vegetables. It looks perfect with the bread soaking in the middle and the melted cheese all over the top. This is definitely something we could eat – and we're certain we're not alone!
23. Healthy Recipes – Vegetable Pizza Soup
There's no lack of recipes for pizza soups full of meat, but if you want a vegetarian version, this could be a good alternative. We like the idea of adding a little chili powder to give it some kick, and it's also keto-friendly, making this a recipe that lots of people are sure to want to try making at home.
24. Meatball Pizza Soup – Melanie Makes
If you're a meat-eater, this pizza soup could be the best of them all because long with all your favorite pizza ingredients, it also contains some big, juicy meatballs. Add to that a few veggies and a generous helping of grated cheese and you will have obtained pizza soup perfection. Check out the pics to see what we mean.
25. Camp Cooking – Pizza Soup Recipe
Although there are ways to make campsite pizza, some people might find them too inconvenient – in which case, serving pizza soup with a few hunks of bread is certain to hit the spot instead. This video teaches you how to make pizza soup when in the great outdoors, making this a recipe everyone who enjoys camping needs to learn.
26. Pizza Soup – Meal Planning Mommies
The idea of this recipe is to take the ingredients of a supreme pizza – mushrooms, pepperoni, sausage, onion, bell pepper, bacon and cheese – and turn them into a soup instead. It's a quick and easy way to prepare a hearty meal, and the kind of thing busy parents will appreciate knowing how to cook.
27. How to Make Pizza Soup
As this YouTuber tells us, all kids love pizza, but using the ingredients in a soup rather than on a dough base is a much healthier way to feed them. He lists the ingredients you'll need and then goes on to explain how to combine them in the soup, allowing you to produce a filling meal your kids will ask you to make over and over again.
Plenty of fun and delicious recipes to experiment with
As you can see, there's no shortage of fun and delicious recipes to experiment with, allowing you to combine your favorite pizza ingredients in a hearty and filling soup.
We've enjoyed collecting these recipes for you, so we hope you've enjoyed reading and watching them too. And above all, we hope we've helped you find the recipe you needed to make a version of pizza soup yourself.
27 Best Pizza Soup Recipes
Ingredients
Pepperoni Pizza Soup – Food Network

Hearty Pizza Soup Recipe

Pizza Soup Recipe From Pop Kitchen

Keto Pizza Soup

Pizza Soup From Annemarie Rossi

Pizza Soup & Crusty Italian Bread

Pizza Soup – Healthy And Super Delicious

Pizza Soup – Foodbeast Kitchen

Crockpot Pizza Soup

Pizza Soup For A Crowd

Pizza Soup From Slim Body By Kim

Healthy Recipes – Vegetable Pizza Soup

Camp Cooking – Pizza Soup Recipe

How To Make Pizza Soup
Directions
Select your favorite recipe.
Organize all the required ingredients.
Prep the recipe in 30 minutes or less!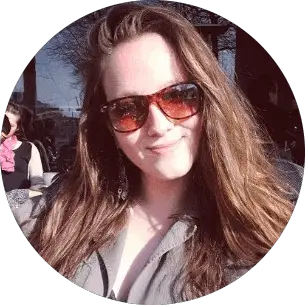 Barbara is an enthusiastic food-exploring person that goes through different culinary experiences. She got inspired by creating a pizza blog post after she tasted one of the best-selling pizzas in Toledo.