Everyone loves pizza and everyone loves strawberries, but have you ever thought of combining the two and making a sweet fruit dessert pizza instead? Think of a strawberry crêpe but with a crispy pizza-style base instead and you'll be somewhere close.
For anyone who thinks that sounds like something they might like to try, we've scoured the internet to see what other people have been trying – and as a result, here are our favorite 27 strawberry pizza recipes you can have a go at recreating at home.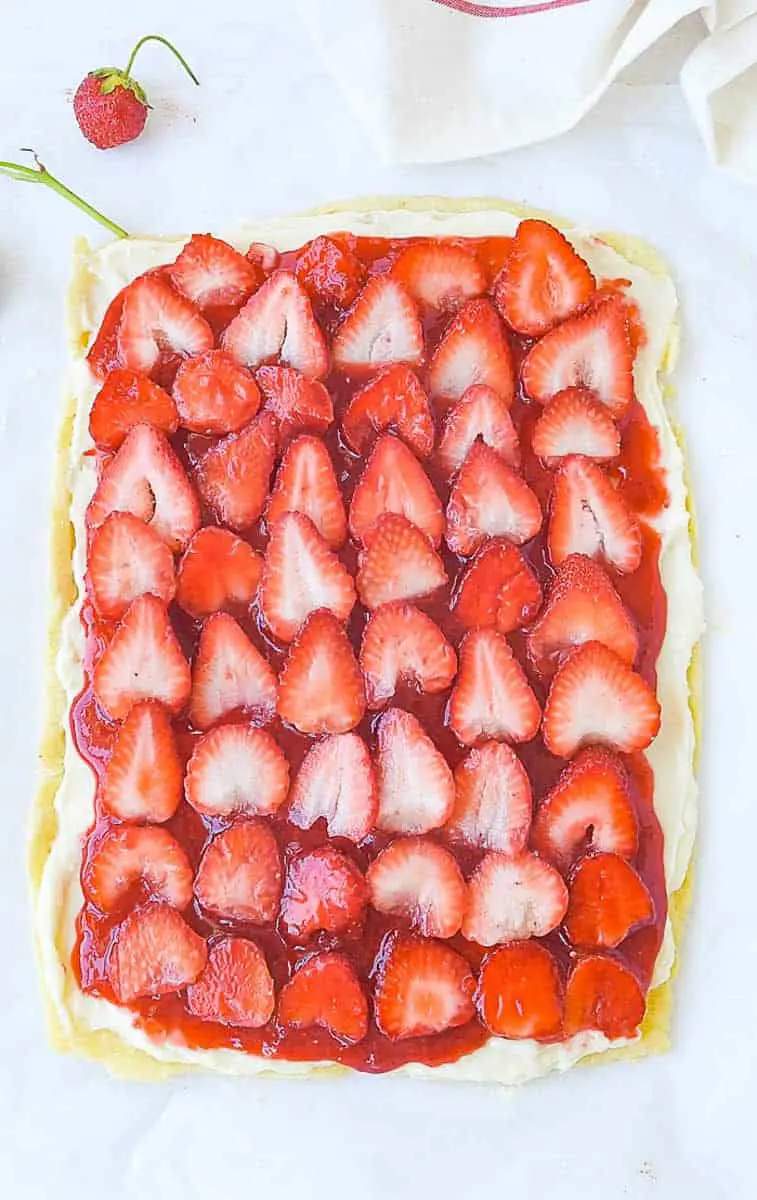 The strawberry pizza this recipe teaches us to make is described as having a tender sugar cookie crust spread with a layer of sweet cream cheese and topped with fresh strawberries in a strawberry glaze. We don't know about you, but to us, that sounds like something close to strawberry pizza heaven – and if you want to know how to make it, this post has all the details you'll need.
2. How to Make a Strawberry Pizza from Florida Strawberry Growers Association
This short video recipe comes from the Florida Strawberry Growers Association, so these are people who know a thing or two about high-quality strawberries. Judging by the pizza they make, they know a bit about desserts too, so if you want to learn from the pros, give their video a quick watch!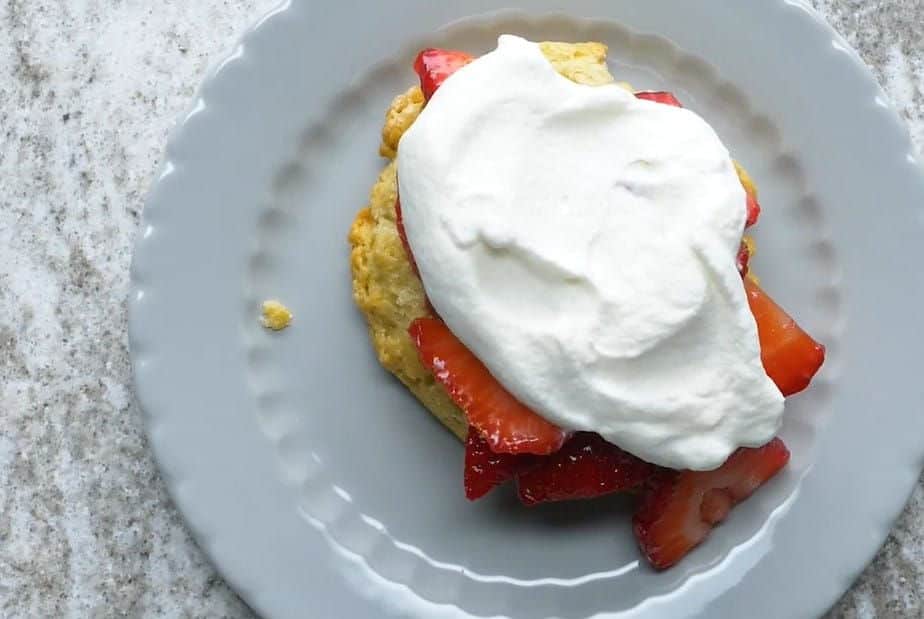 As we are told in this post, this is a recipe that will appeal to anyone who likes either strawberries or cheesecake – or both. Putting strawberries on a sweet pizza is an inspired idea, so it's no wonder it's becoming such a popular dessert option, and if you want to know how to make an irresistible version of your own, this is a reliable recipe you can turn to.
4. Strawberry Pizza from Foodamentary: Adventures in Food
The strawberry pizza in this video tutorial is based on ready-made sugar cookie dough. That means you don't even have to worry about making your base, so all you really need to do is add the cream cheese and the strawberries along with a couple of other simple ingredients and you're good to go. So easy – and so delicious!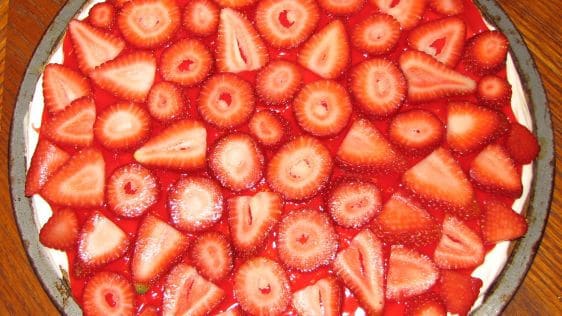 Here's another great recipe that looks amazing in the photo – we just love the way the pizza base is so covered with strawberries that there's not even the tiniest space left for more! This one requires you to make the base yourself – although that's hardly a difficult job – and after that, you can look forward to sampling your own yummy dessert pizza just like the one in the pic.
6. Strawberry Pizza from Cooking with the Kidd
Strawberry pizzas don't require you to use many ingredients, so lots of recipes end up being very similar to all the others. However, the innovation here is to throw some chopped pecans into the crust to give the dessert a little extra flavor and a bit more complexity.
It doesn't make it any more difficult to make though, and we're sure lots of people will enjoy preparing – and eating – this tasty version.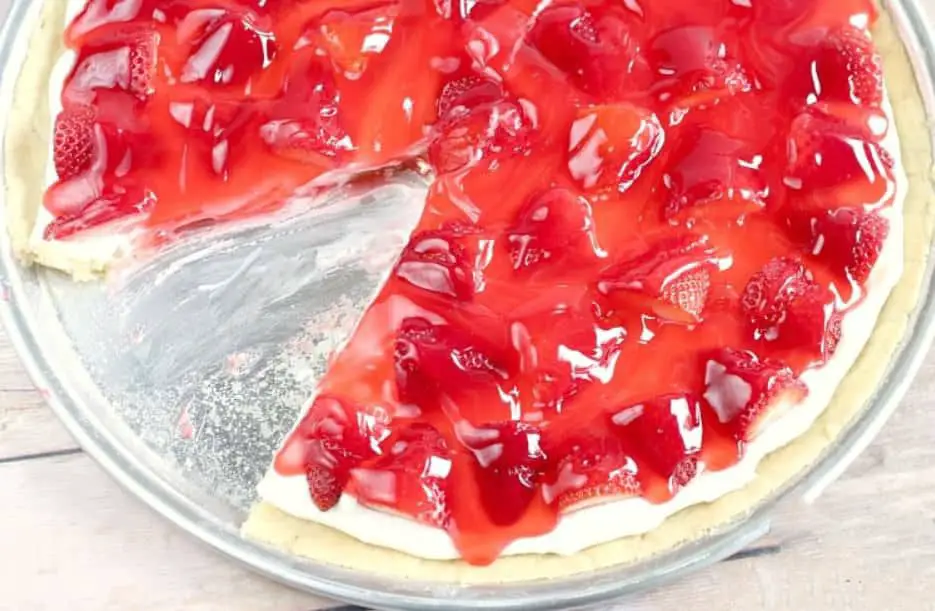 This strawberry pizza is a slightly different take on this dessert since it includes a strawberry glaze made of Jell-o. That makes it look a bit fancier than many other versions, although it doesn't really add to the difficulty level, making this a great option if you're looking for something easy that will still impress your family or friends.
Here's another slightly original take on the strawberry pizza, this time one that incorporates a rennet custard mix. If you want to get even more creative, there are photos of other versions that include blueberries and raspberries along with the strawberries for the topping, showing you that the only limit to how you prepare this dessert is your own imagination.
9. Kamado Joe Strawberry Pizza
If you have a kamado-style oven, you might not have thought about using it to make a strawberry pizza, but this video tutorial proves it's possible. This one uses a traditional pizza base that you'll need to make yourself – although if you're feeling lazy, you can just as easily use one you bought ready-made from a store.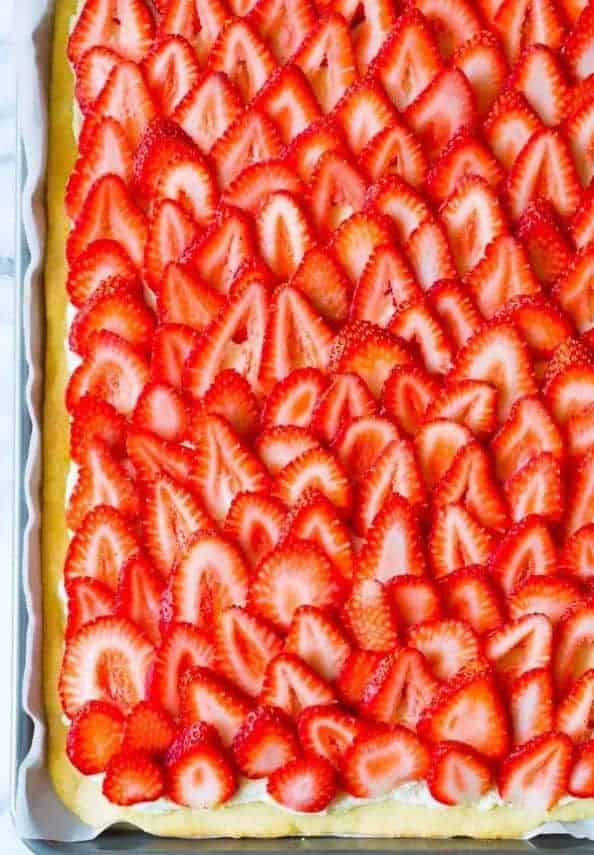 This is an interesting recipe that uses a cookie base and incorporates tangy goat's cheese along with fresh strawberries to create a spectacular result. This is the kind of dessert that people will find it impossible to turn down, and we're sure everyone will be going back for second helpings – so just be sure to make enough, or your guests will be going home disappointed!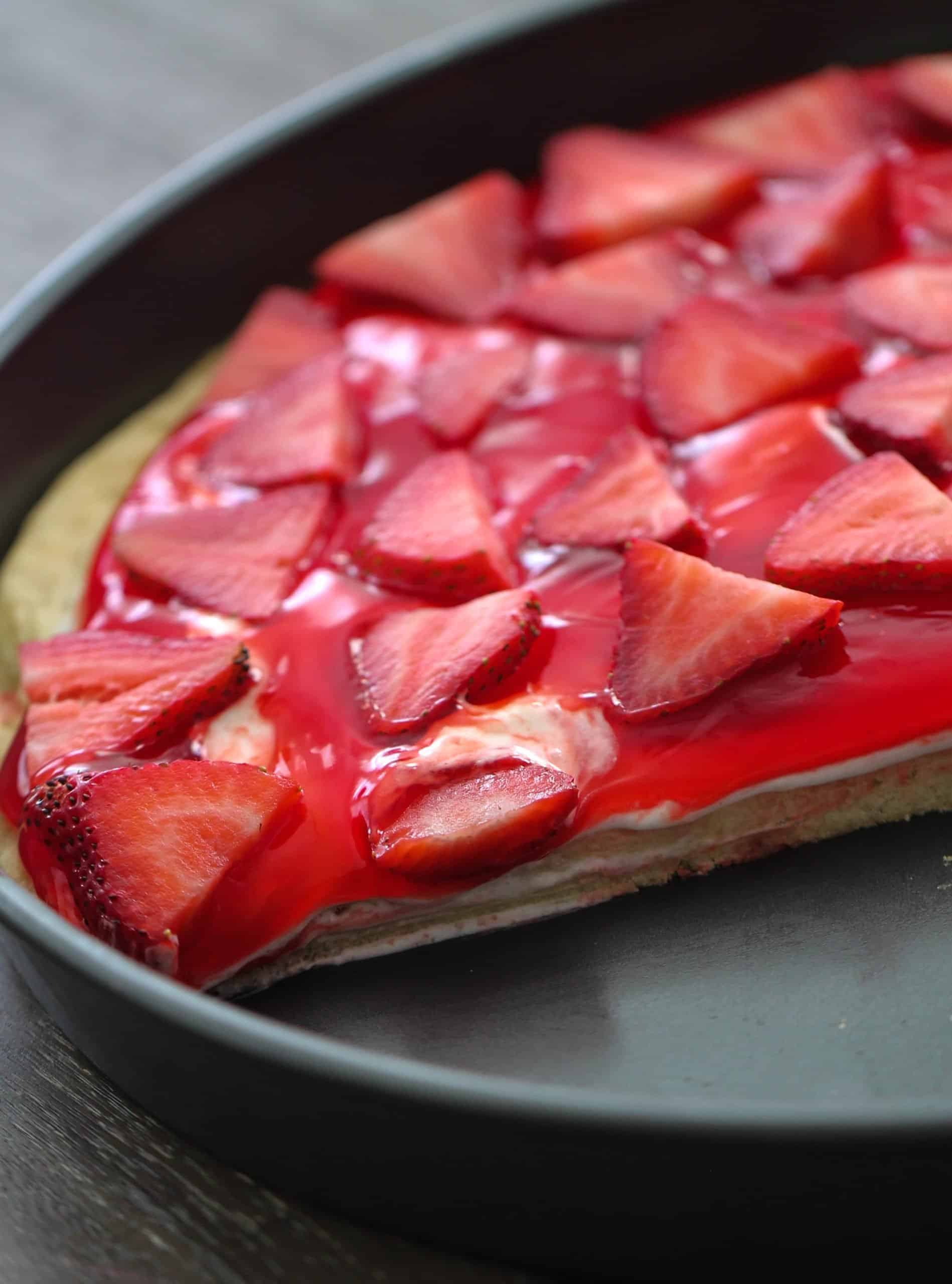 For those who have never attempted to make a fruit pizza before, this recipe could be a great place to start since it's about as easy as it gets. You'll only need a few basic ingredients, and it's the kind of recipe that almost nobody can mess up, so if you're in the mood for a bit of simple culinary experimentation, this could be just the thing to try.
12. How to Make Strawberry Pizza from TodaywithTavanna
Sugar cookie dough, cream cheese, cool whip, sugar, strawberries and glaze – with ingredients like these, how can you go wrong? However, once you've assembled everything you need, you still have to know how to put them together, and this tutorial gives you all the info to make sure you get it right.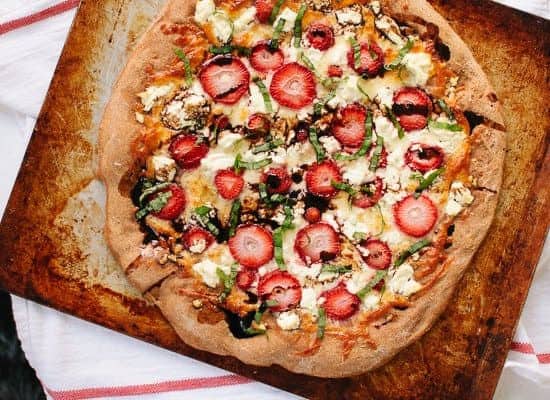 The pizza in this post is an intriguing affair since rather than using cookie base and cream cheese, it combines strawberries with mozzarella, goat's cheese, basil and a dash of balsamic vinegar on a regular pizza base. We're not sure if it's a dessert pizza or a savory one – but we're convinced it would work, so this is a recipe we're looking forward to trying ourselves!
14. Making Strawberry Pizza from Abigail Sauble
In this short video, we get to see how quick and easy it can be to make a simple strawberry pizza. This is the kind of dessert that takes very little effort to make but that is always a big hit – so why not have a go at making something like it yourself?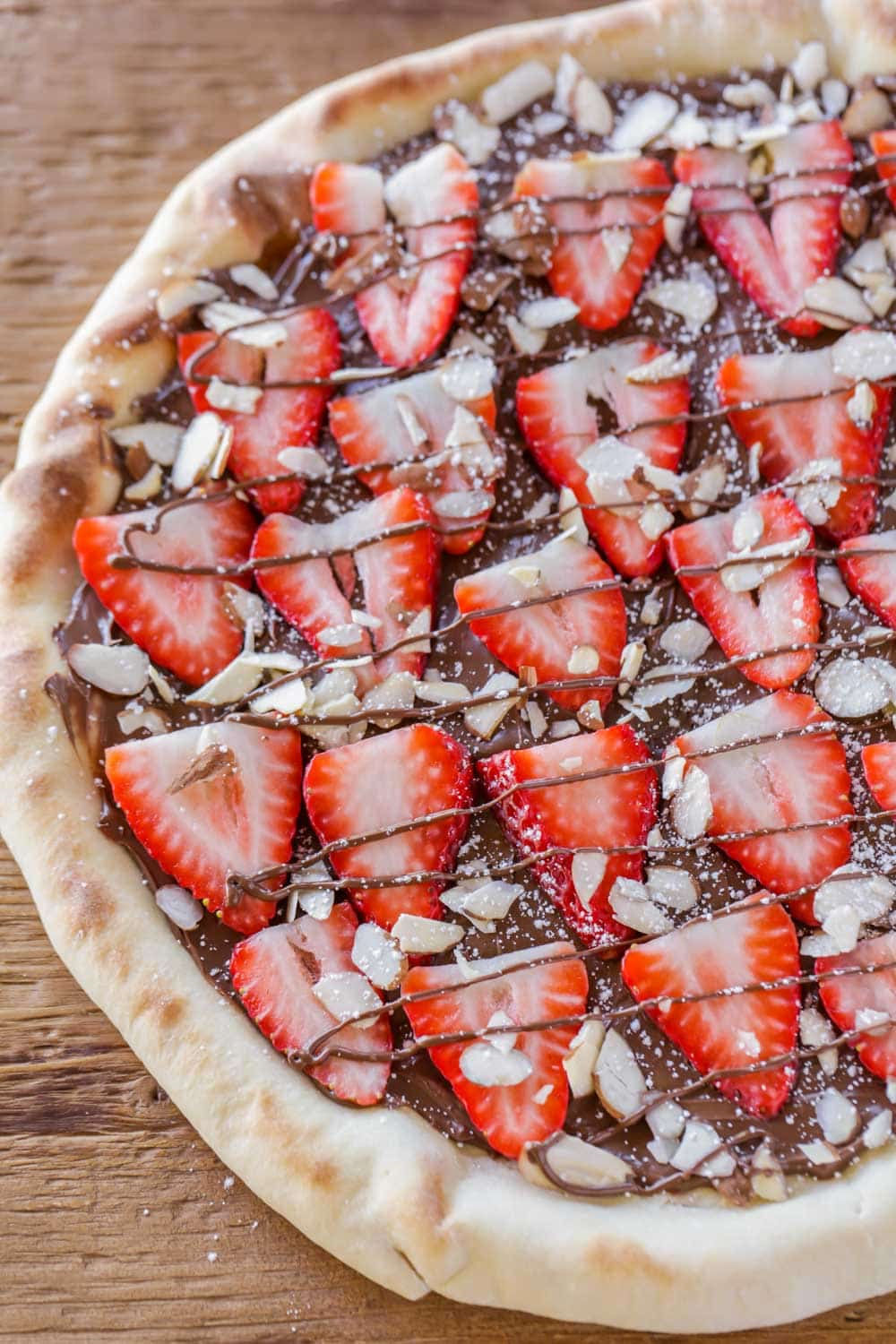 If there's one thing that's sure to improve the flavor of strawberries, it has to be Nutella, and if that sounds like the kind of delicious combo you might enjoy, this recipe is well worth a look.
It consists of a pizza base spread with Nutella and topped with strawberries. It's then sprinkled with chopped nuts, coconut flakes and chocolate flakes to leave you with a truly decadent treat you're sure to love. Enjoy!
16. Strawberry Dessert Pizza Recipe from Leigh Anne Wilkes
The best cheat for making a strawberry pizza is to use store-bought cookie dough for the base, which takes away the only part that's even slightly challenging. After that, there's not much more to it than simply arranging the other ingredients on top – and this video tutorial is a great example of how it works.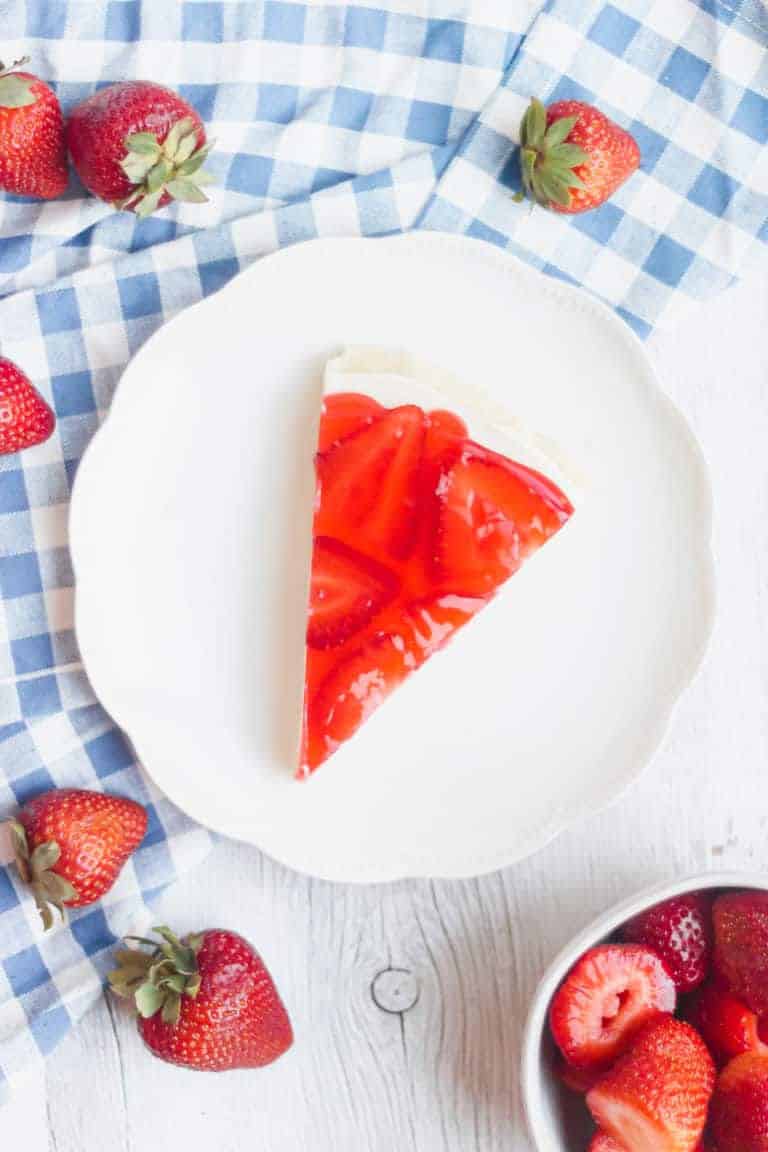 As this blogger tells us, this strawberry pizza was one of her fondest memories from her childhood, and making it transports her right back to where she grew up. We can understand why too because judging by the photos, it must have been a memorable dessert. And if you want to sample it too, her post has all the details you'll need.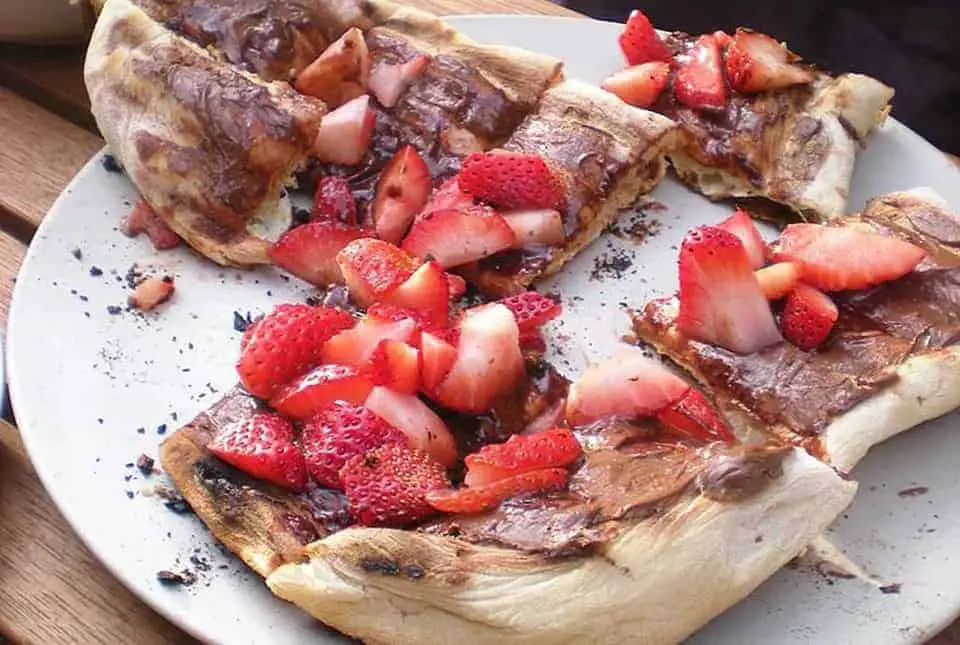 If you're looking for something to combine with a strawberry pizza to make it more original and even more delicious, bananas could be the secret ingredient you require. Throw in some Nutella-style spread and you have a simple but delicious dessert your family or friends will be clamoring for whenever you cook!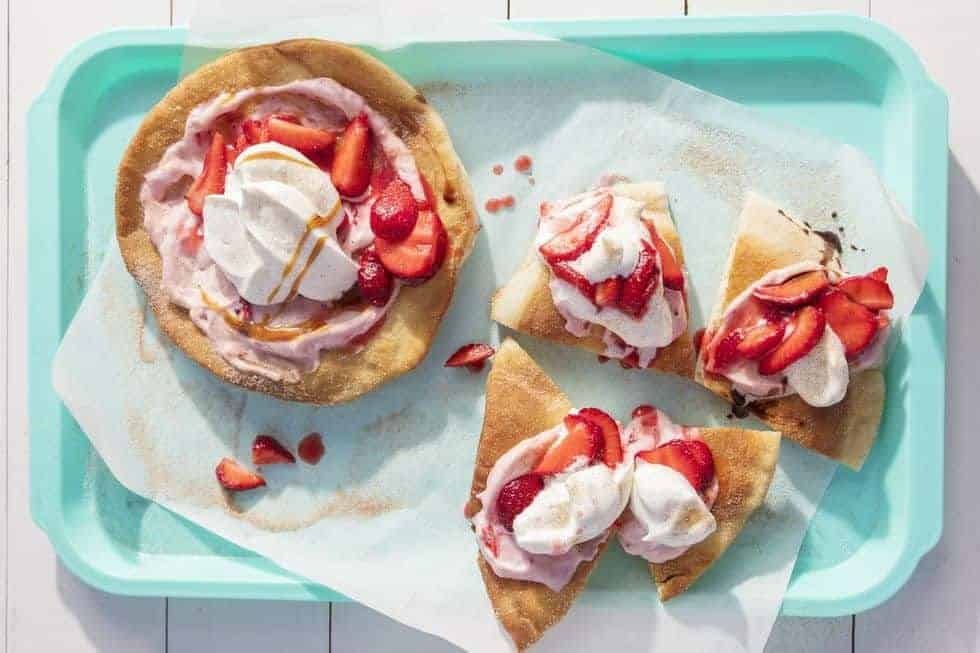 This recipe calls for a few more ingredients than some of the others we've seen, but when you think about adding lemon juice, caramel sauce and vanilla extract among others to the mix, you can probably imagine how good it will taste. This dessert pizza will be a special treat – and something everyone is sure to adore.
20. Chocolate, Banana and Strawberry Pizza from Got2EatPizza
Some strawberry pizzas use a cookie base, so although they taste great, we're not convinced that they can really be called "pizza". However, this version with strawberry, banana and chocolate on a regular pizza base and cooked in an Ooni Koda oven is definitely the real deal – and when he pulls it out of the oven, it looks amazing too!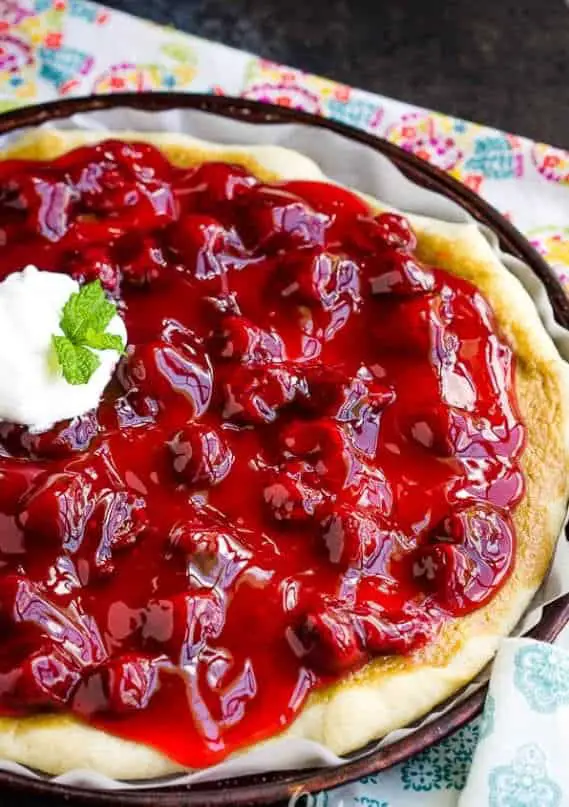 With authentic pizza crust topped with sweetened cream cheese and strawberry pie filling, this is another recipe that can't fail to be a big hit. It's extremely easy to make too, so it could be the ideal option when you need to knock together a delicious dessert in a hurry.
22. Strawberry Pizza – Kids Special from ChefHarpalSingh
Here's a fun video to watch made by a YouTuber with no shortage of energy or enthusiasm! The video is aimed at kids, so if you want something that will help get your children involved in cooking, this could be an ideal project to try with them – because they'll enjoy making these strawberry pizzas, and they will most definitely love eating them!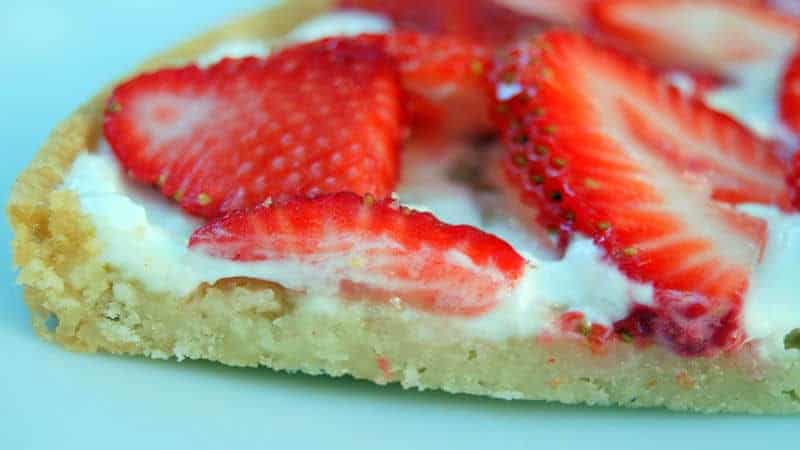 As we've already mentioned, many recipes for strawberry pizzas are quite similar, but by just varying or adding one or two ingredients, you can come up with an original version to sample. This recipe uses honey and vanilla Greek yogurt to give it a bit of extra personality, and we're convinced it's going to taste fantastic!
24. Strawberry Pizza with Sugar Cookie Crust from Sue Harrell
In this video, we learn how to make another super-easy version of strawberry pizza, this time using only four ingredients including store-bought cookie dough for the base. That means this recipe involves minimum effort but maximum flavor, so if you're short of time, this could be an option to consider.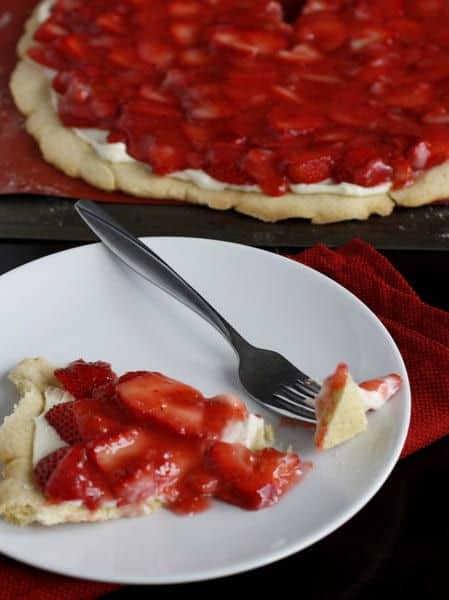 Everyone loves strawberry picking because there's something about collecting your own that just makes them taste that bit better. However, you then have the problem of what to do with all those strawberries you've gathered, because there's only so much jam you can make. One solution is to use them to make a tasty dessert pizza – and this recipe teaches you a great way to do it.
26. Nutella Strawberry Pizza – by Nonna G
Strawberries and Nutella are perfect for one another, so it's inevitable that there are plenty of recipes available for combining them and using them as a pizza topping. Here's another tutorial for using these two wonderful ingredients, and the whopping pizza she made with both fresh and cooked strawberries looks like the kind of thing we'd love. How about you? We're willing to bet you'll feel the same way when you see it!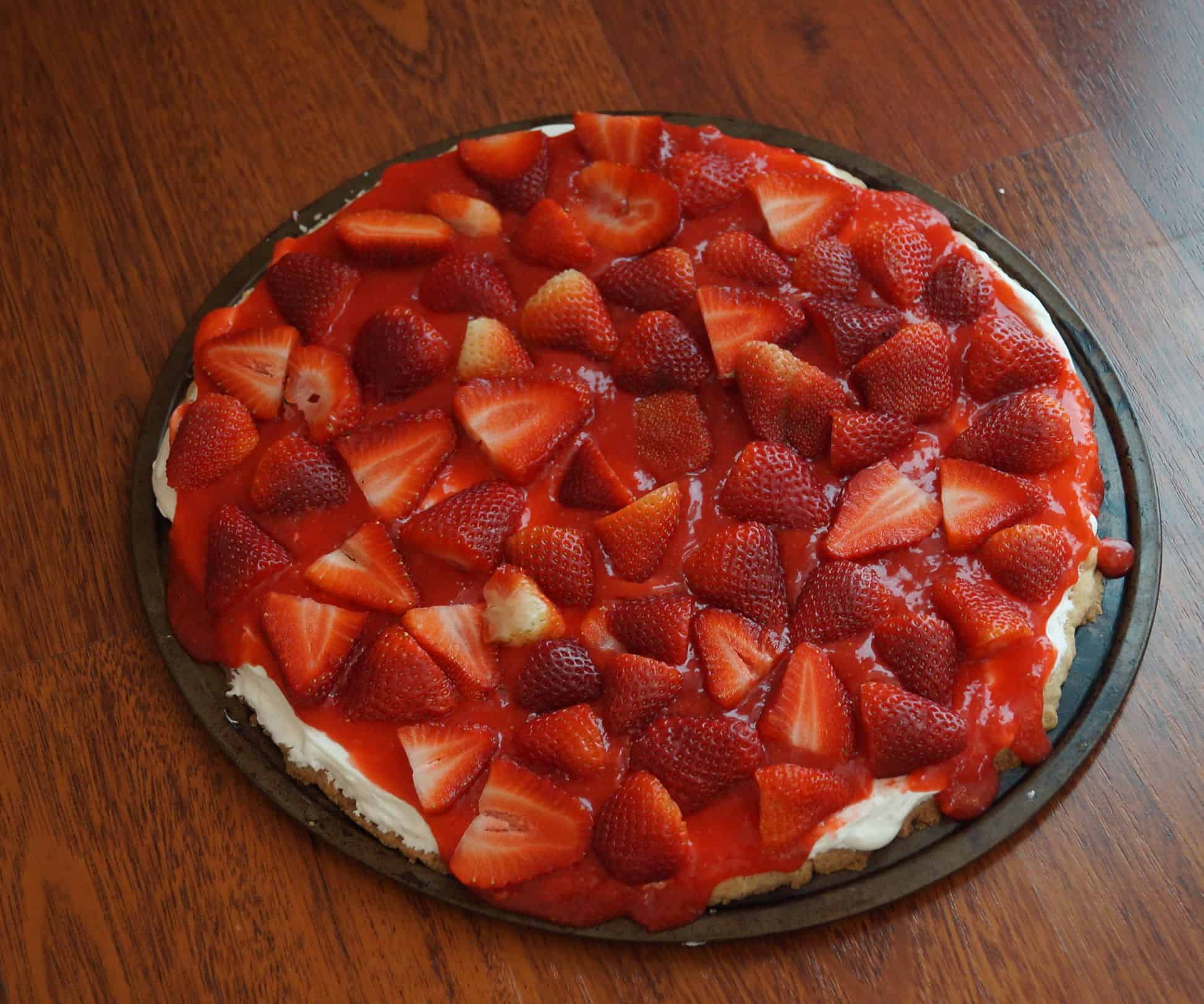 This simple recipe incorporates chopped pecans and cream cheese to accompany the strawberries on this pizza. This is a classic version of a strawberry pizza, but sometimes there's no need to reinvent the wheel – so if you just want to make a basic but utterly delicious dessert, this is the kind of recipe that should appeal.
Loads of great recipes to help you get inspired
As you can see, there is no shortage of strawberry pizza recipes, including those that use cookie dough crust and others with a traditional pizza base – so you have plenty of options when it comes to making a sweet pizza dessert.
We've enjoyed collecting these recipes for you, so we hope you've enjoyed reading and watching them too. And above all, we hope we've helped you find a recipe or two that will help you get inspired to have a go at making one yourself.
27 Best Strawberry Pizza Recipes
Ingredients
How To Make A Strawberry Pizza From Florida Strawberry Growers Association

Strawberry Pizza From Foodamentary: Adventures In Food

Strawberry Pizza From Cooking With The Kidd

Kamado Joe Strawberry Pizza

How To Make Strawberry Pizza From TodaywithTavanna

Making Strawberry Pizza From Abigail Sauble

Strawberry Dessert Pizza Recipe From Momma Vlogs

Chocolate, Banana And Strawberry Pizza From Got2EatPizza

Strawberry Pizza – Kids Special From ChefHarpalSingh

Strawberry Pizza With Sugar Cookie Crust From Sue Harrell

Nutella Strawberry Pizza – By Nonna G
Directions
Select your favorite recipe.
Organize all the required ingredients.
Prep the recipe in 30 minutes or less!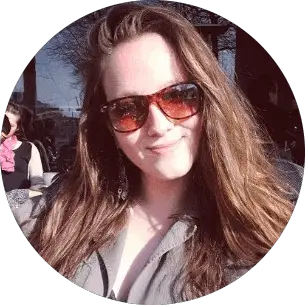 Barbara is an enthusiastic food-exploring person that goes through different culinary experiences. She got inspired by creating a pizza blog post after she tasted one of the best-selling pizzas in Toledo.