A twist on any traditional dish can create massive hype and following. One of the most trending recipes today is the upside-down pizza. From the name itself, the preparation of this pizza is the complete opposite of the standard ones. If this intrigues you, these 20 upside-down pizza recipes can please your curiosity.
Are you craving a cheesy BBQ chicken pizza? Do you like your pizza loaded with veggies? Or how about no-crust pizza? Have you tried those? Whether you're looking to reinvent your comfort food or searching for something to bake. An upside-down pizza is something you should try. Now, bid goodbye to soggy pizza crust and say hello to crisp, flavor-packed reversed pizza.
1. Upside-Down Red Cheesy Pizza
A cheese-layered pizza is a must if you like a smooth and delicate texture tickling your taste buds. With slices of cheddar, provolone, and mozzarella, expect a delightful cheese pull that you and your kids can enjoy. You can also top it with red and yellow pepper for added flavor. Basil also works well with this recipe if you prefer a slight peppery edge and freshness.
Have you tried creating a homemade pizza using crescent dough? This store-bought dough is not only good for rolls but also a pizza! Aside from the crust, you'll also need herbs and spices like dried oregano for more flavor depth. In 50 minutes, you'll have an upside-down pizza good for eight people. Perfect for a family backyard dinner night.
3. Upside-Down One-Pan Pizza
When you see food in a cast-iron pan, you can expect the food to taste amazing. Skillets not only keep the food warm, but it also cooks the dish evenly. In this recipe, you'll learn to assemble the pizza using only one pan in under 10 minutes. Plus, an extra 45 minutes for baking. So if you're new to baking and love pizza, you can pull this off without fuss.
Some might find this very intriguing, but this recipe exactly resonates with those who don't like a layer of dough on top of their pizza. So don't judge right away if you haven't tried it yet. The filling is similar to any cheesy pizza, but the final layer makes all the difference. Try this recipe if you want to know the four ingredients used to conceal all the pizza topping.
5. All-veggie Reverse Puff Pastry Pizza
Who says pizza can't be healthy? Brimming with flavorful roasted vegetables, you wouldn't even notice it's a pizza! Aside from the vegetables, the herbs create an earthy and sweet aroma enticing the nose before it even reaches the palate. Lastly, a smooth and butter pastry covers the vegetables and is baked until golden brown and crispy.
The innovative pizza crust saga continues in this recipe. By now, you've noticed how different the crusts are in each recipe. Some are from scratch, while others don't have any. But have you heard of a crust made from packed refrigerated biscuits? This recipe requires only four ingredients, but it can be altered depending on availability and taste preference. If you're up for some exploration, try this recipe.
7. Upside-Down Pizza For Beginners
This recipe is for you if you're a beginner but still love some challenges. For most, store-bought dough would be efficient to use. But nothing beats a dish made all from scratch and with effort. In the video, you'll learn to make dough to top your one-pan pizza with a few ingredients. Baked for 30 minutes, and you've got a thick pizza to serve for your kids.
If you love the sweet and savory taste combination, having pineapple on a pizza is a no-brainer. And although these pizza toppings divide the world, it's still a fusion food worth trying. In the recipe, pineapple slices are pressed into grated Parmesan to balance the flavors and act as glue. So that when you flip the pan, the pineapple slices are still intact and in good form.
9. Reverse Shortcut Pastry Pizza
Shortcut pastry has a sweet and savory taste making it ideal for pies and tarts. But aside from those, you can also elevate it by turning it into a reverse pizza. This recipe contains an array of vegetables and fruit, but you can add any meat if you like a pronounced savory taste. Expect a balsamic glaze and fresh basil garnish on top for a more intense flavor.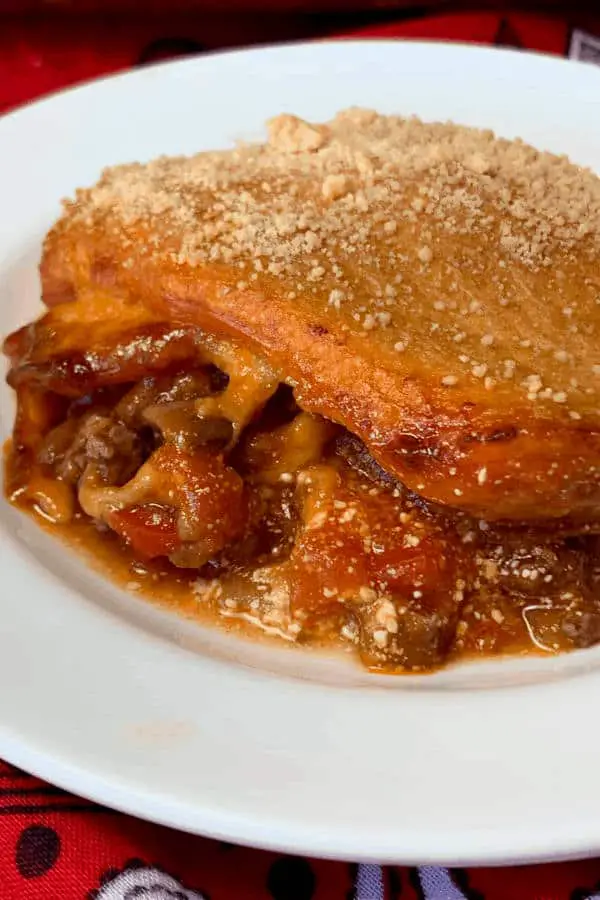 An easy family meal is something we need on one of those busy nights. Thankfully, this 30-minute upside-down pizza is easy to assemble and can be customized however you like. If you enjoy a slightly acidic taste in your pizza, the sour cream ingredient in this recipe can work its magic. The hamburger meat also doubles the treat! It's like enjoying a pizza and burger in one bite.
11. Classic Upside-Down Pizza
For a standard pizza dough, you'd expect it to be smooth and slightly tacky when touched. Conversely, this recipe reminds us of a creamy lasagna when assembled. But it transforms into an upside-down pizza with a golden and crispy crust once baked. It has a double meat filling and bubbly popover top that taste exactly like a classic pizza, making it an epic treat.
An accidental upside-down pizza recipe? Yup! Among our list, this is the upside-down pizza you would not expect but is worthy of trying. Traditionally, you'd layer the ingredients before placing the dough. But in this recipe, one component sinks to the bottom, naturally making it a reverse pizza. And the soundest thing about this is you only need three ingredients and pre-made dough.
13. Upside-Down Smoked Pizza Pot Pie
Wood fire oven adds flavor to the pizza compared to a regular one. But only some have access to those fancy ovens. Try this recipe if you like a smoky flavor similar to artisan pizzas. The grill provides more heat at the bottom, melting the cheese evenly. The barbeque spice also enhances the flavors of the meat, making it a great addition to BBQ dinner parties.
Are you looking for a fully loaded upside-down pizza recipe? If you do, this 35-minute pizza recipe can satisfy your cravings. You can assemble your pizza into an all-meat lover, an all-vegetable, or a combination of both for a fuller flavor. However you like it, there are tons of alternatives you can add to it. Have fun exploring the flavors until you achieve your desired taste.
15. Cheesy BBQ Chicken Upside-Down Pizza
To all our chicken lovers, we wouldn't miss this recipe in the list for you. The BBQ chicken filling has a secret kick that we're sure the adults would love. This recipe also features a 2-ingredient pizza dough, making it less hassle to prepare. Hands-on time requires 25 minutes for the preparation of the filling and layering. Hands-off time is 45 minutes, giving you plenty of time for other work.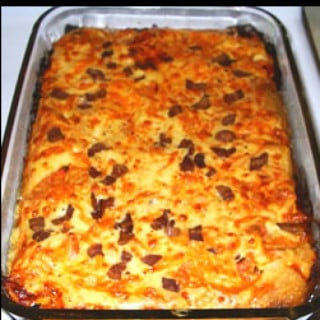 We all know how good bacon goes with a cheesy, meaty pizza. This recipe features crisp cooked bacon, crumbled and mixed in a chunky pizza sauce. Italian plum tomatoes also go in for more texture and acidity. A mixture of ground beef and spices creates the filling before topping it with plentiful cheese. And lastly, another layer of crumbled bacon for that meaty goodness.
Are you trying to lose weight but are craving a pizza? Worry no more, for this weight watcher recipe contains the calorie you need for a whole meal while providing enough protein and carbs. Switching ground beef with ground turkey is also a great alternative if you want a new taste. The herbs in this recipe give it a fresh taste yet are filled with flavor.
18. BBQ Cream Cheese Upside Down Pizza
Cream cheese mixed with bacon and barbecue sauce makes a perfect flavor combo in one dish. This recipe features three kinds of cheese enveloping slices of bacon before being covered with homemade dough. Once baked, the BBQ sauce is poured all over the crust before serving for a tangy, slightly sweet flavor.
This upside-down recipe is a keto dish that is ideal for a weeknight supper. It contains the flavors of a regular pizza but has lesser carbs. This recipe also makes a great freezer meal, following proper freezing and thawing procedures. Keto pizza toppings recommendations are also included in the blog. So the next time you need a craving-killer, you have it in store waiting for pick up.
20. Best Vegan Upside-Down Pizza
A crusty base pizza filled with roasted vegetables and vegan cheese fits any day of the week. Along with the veggies and seasonings, the mushrooms and cherry tomatoes add depth to the flavor. It is layered with puff pastry, shredded vegan cheese, and basil for added freshness. Then baked for another 5 minutes to grill the top.
Summary
If you're looking for a twist to elevate your favorite comfort food, consider these 20 upside-down pizza recipes. Different styles cater to anybody's preferred taste and diet preference. From an all-meat cheesy pizza to an all-veggie gluten-free, there is an upside-down pizza you can enjoy any time of the day.
20 Appetizing Upside-Down Pizza Recipes
Directions
Select your favorite recipe.
Organize all the required ingredients.
Prep the recipe in 30 minutes or less!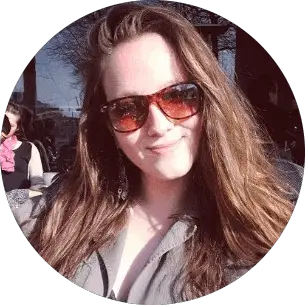 Barbara is an enthusiastic food-exploring person that goes through different culinary experiences. She got inspired by creating a pizza blog post after she tasted one of the best-selling pizzas in Toledo.