Looking for a pizza that is perfect for your weight loss dietary needs? You've come to the right place! We have 30 weight watchers pizza recipe ideas that will satisfy your craving and keep your fitness journey on track.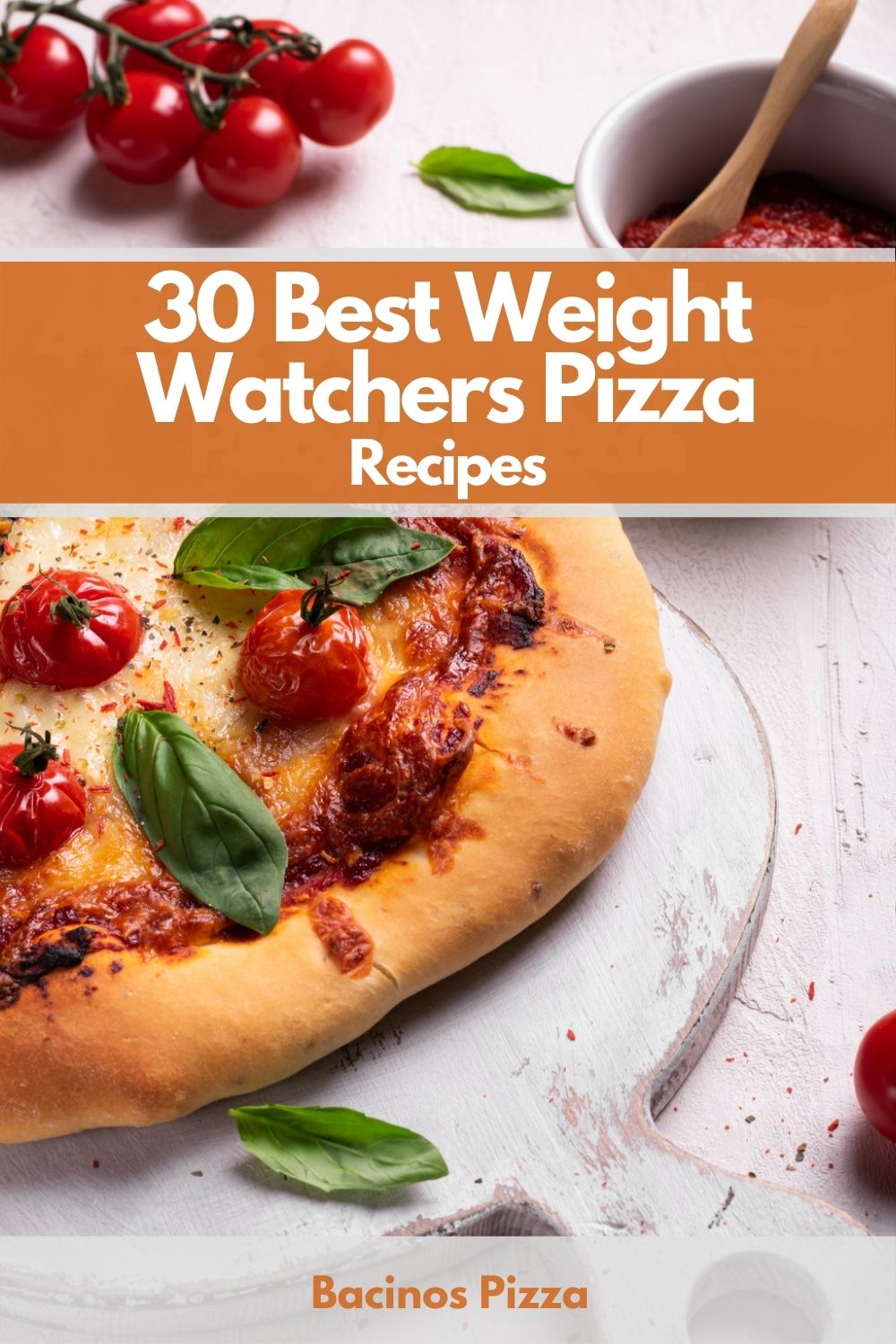 With these delicious, low-point recipes, you can enjoy your favorite pie without feeling guilty. Yes, these pizzas still have the crust and cheese you crave but are healthier. And the best part? They are so easy to make – no need to spend long hours in the kitchen!
So, let's get the ball rolling, shall we?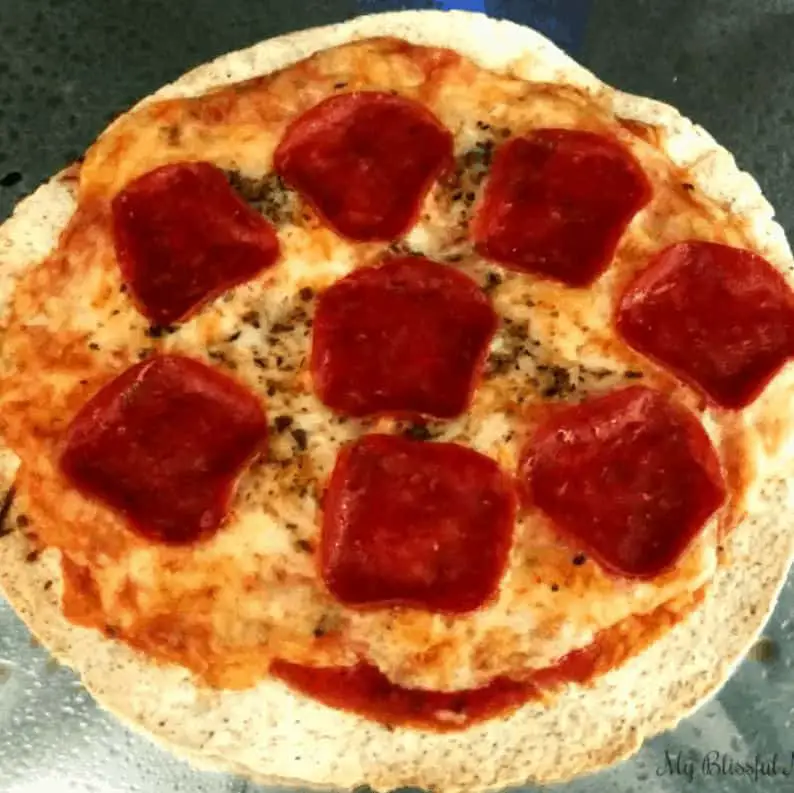 This is one of our favorite weight watchers pizza recipes because it's highly customizable and can be made in just a few minutes. All you need is a whole wheat tortilla, low-fat Italian blend cheese, pizza sauce, turkey pepperoni, and Italian seasoning. You can replace the Italian cheese with any other low-fat cheese or add your favorite veggies if you like.
2. Vegetable Crock Pot Pizza
Another recipe that will help you with your weight loss journey is this vegetable crock pizza, perfect for those times when you don't know what to eat and want it done quickly. You can use whatever vegetables are in your fridge, but we recommend using onions, bell peppers, mushrooms, garlic-infused olive oil or margarine, tomatoes with green chiles, and black olives.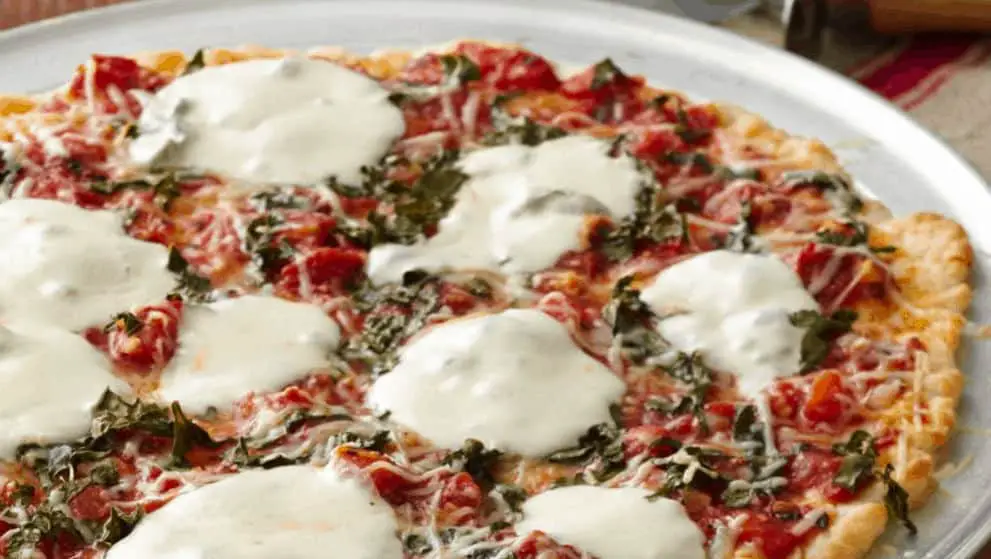 With simple sauce and minimal toppings, this recipe is great for those who don't eat gluten. If you're craving a Margherita pie, then this healthy alternative should work just fine! All it takes to make is all-purpose gluten-free rice dough, fresh gluten-free parmesan cheese, mozzarella cheese, and seasoning. Bake for eight minutes and that's it.
4. Three Cheese Garlic Pizza
Want to have a taste of some of the most intense Mediterranean flavors and still keep your weight in check? How about this three cheese garlic pizza! It has roasted garlic, low-fat goat cheese, oregano, tomatoes, and capers. Plus it is a recipe that anyone can master! It may take a little longer to cook but the end product is totally worth the wait.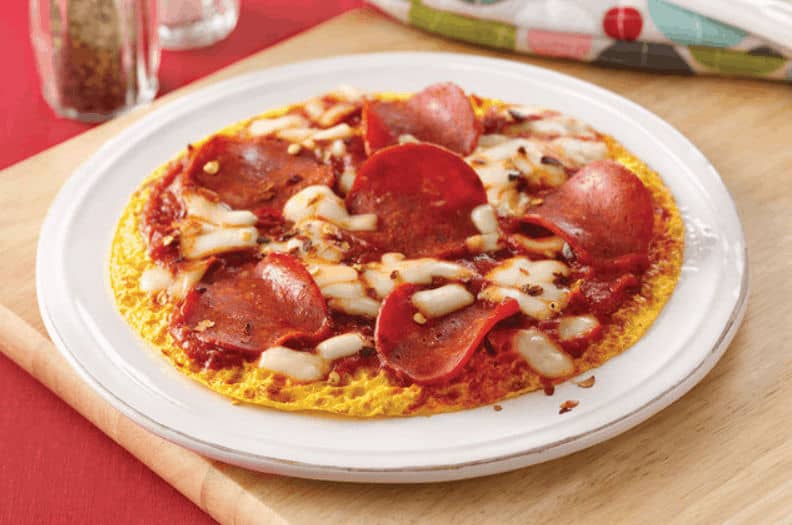 If you are looking for something other than eggs or oatmeal for breakfast, try pepperoni breakfast pizza. This pie is perfect for you, as it is light, fluffy, and tastes like your typical breakfast. The only difference is that it has pepperoni, well, which makes it even more flavorful. You will have a delicious meal in just ten minutes.
6. Mushroom Pizza
Mushroom pizza is one of our favorites, so we had to include it on the list. With only four weight watchers points, this pizza will be a hit! This specific recipe uses portobello mushroom as the first layer (the base that holds all the other toppings), tomatoes, spinach, and marinara. Seal all that in with cheddar and low-fat mozzarella and bake for about twenty minutes. Utterly delicious!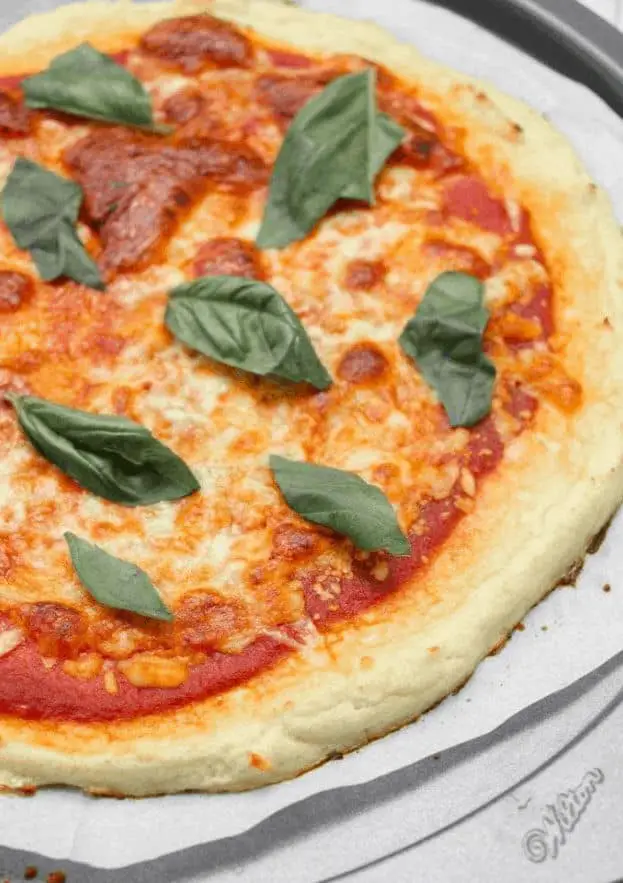 If you're looking for something a little healthier than the traditional crust, this is it. This weight watcher's cauliflower pizza crust is cheesy, crispy, and will disappear from your plate in seconds! What's even better is that it is easy to make; it will take only twenty minutes to prep everything. And you will need only three ingredients: one head of cauliflower, eggs, and mozzarella cheese. [Is Cauliflower Pizza Healthy? (Calories, Carbs, Fat & Sodium)]
8. Barbecue Chicken Pizza
The barbecue chicken pizza is a great twist on the traditional recipe. Not only does it have fewer calories, but many of us love barbecue sauce with our pizzas! Just get one large whole wheat pita, low-fat barbecue sauce (honey-flavored), chicken, garlic powder, and mozzarella cheese. Put everything together and set in the oven for about ten to twelve minutes and you are good to go.
Your weight loss journey will never be the same again with this scrumptious pie. Topped with pineapple, Canadian bacon, and mozzarella cheese, the Hawaiian pizza is a flavor explosion! This specific recipe uses English muffins as the base. Cut them in half and roast them lightly. Then add the toppings and bake for about ten minutes. That's it!
10. Buffalo Chicken Pizza
When you're craving buffalo wings, this is the pizza for you. Just like your favorite dish, this one will not only make your pizza nights memorable; it will also bring you closer to your weight loss goals! And it cooks in only twenty minutes. Try topping with celery sticks for extra crunch. Sprinkle with basil and a little bit of olive oil to serve.
We love this healthy zucchini crust pizza because it's basically just like your regular pizza, but way lower in points and calories. Just blend fresh zucchini in a food processor, then spread it into a thin crust. Top with sauteed mushrooms, cooked sausage, sauce, and mozzarella, but you can use whichever toppings you like! The possibilities are endless. Bake for around thirty minutes.
12. Blue Plan Tortilla Pizza
The blue plan tortilla pizza is every weight watcher's dream come true. If you are looking for a quick and healthy pie, this is it. It is super delicious and takes only seven minutes to bake. Plus you will need only a few ingredients: tortillas, pam spray, tomato sauce, turkey pepperoni, fat-free mozzarella cheese, and seasoning of your liking.
So, you're a true pesto lover and want to find ways to include it in every meal? This pizza is for you! With just a few ingredients, including a quick homemade pesto, this pie is easy to make and is rich in flavor. Use whole wheat flatbread; it is low in sugar and has a high fiber content. You will also love the fact that it takes only four to five minutes to cook.
14. Cheese Waffle Pizza
Big appetite? Fill up your stomach with this indescribably delicious cheese waffle pizza. With a low-carb, low-calorie waffle crust and thick topping, this five-minute pie is not just mouth-watering but also healthy.  The best part? You don't have to use the toppings used here. You can fully customize the dressing and make the pizza your own.
With a little extra effort, you can make this French onion pizza that is light, healthy, and flavorful. It's one of those recipes you want to have in your back pocket when you have some friends over, as it can serve up to sixteen people. The fresh rosemary and cured olives make the crust super delicious. Combine these with cheese and you will never make your pizza any other way.
16. Chickpea Crust Pizza
Another healthy, gluten-free pizza that cooks in as little as fifteen minutes is the chicken crust pizza. While it may take a little longer to get ready than the previous two recipes, the resulting pizza is flat-out delicious – just look at how amazing it looks with its golden crust topped by thick creamy cheese, oregano and tomato sauce, zucchini, and onion.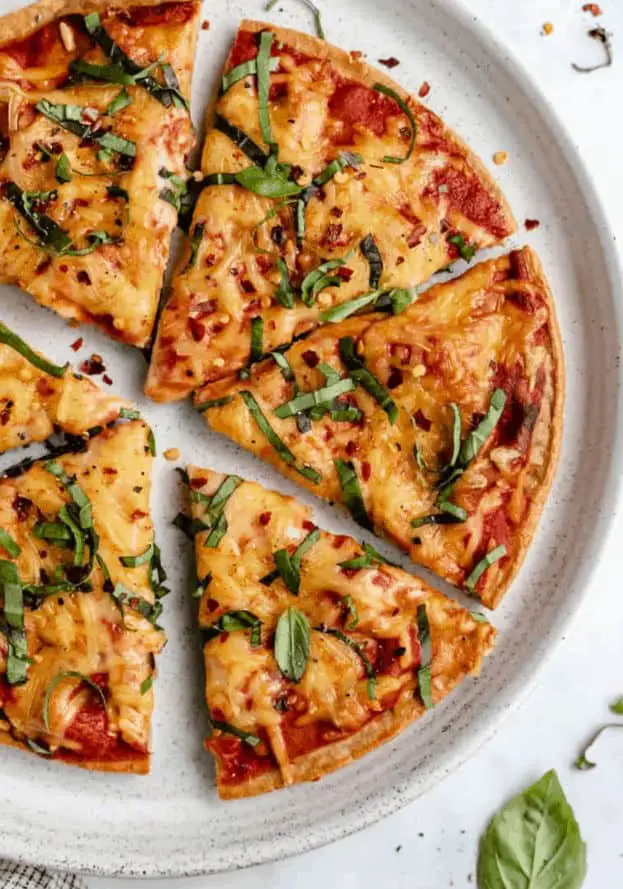 Not a fan of chickpeas? No problem! This quinoa crust recipe will serve you just as well. It is not only healthy and packed with protein but also tastes way better than any other low-point or weight watchers friendly recipe on your list. Plus you will need only six ingredients: quinoa, baking powder, olive oil, salt, water, and your favorite toppings.
18. Barbeque Tofu Vegan Pizza
Are you a vegan who is on a weight loss journey? You can still be able to enjoy a slice of pizza with this tofu vegan pie. It's made with barbequed tofu and topped with vegetables and low-fat mozzarella to make your meal healthier while still being totally delicious! And that sprinkle of pineapple chunks makes all the difference. Bake for eight to ten minutes.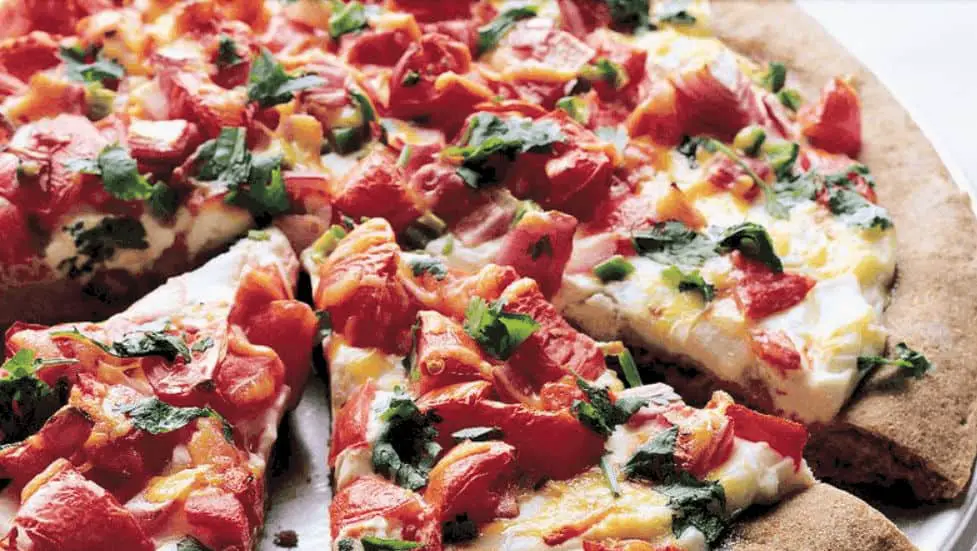 Just because you're watching your weight doesn't mean you have to give up on all those delicious flavors! Try this deep-dish Mexican-inspired pizza with whole-wheat flour and non-fat low-carb refried beans. Dressed with reduced-fat cheddar cheese and chunks of salsa, this pie is like a one-stop shop for most of your day-to-day nutrient requirements. It bakes in twenty minutes.
20. Spinach Artichoke Pizza
With a white sauce that packs in the flavor, this is yet another pie that will get you achieving your fitness goals quickly. It is a classic munchie – just mix up some dough (or buy ready-to-go) and get creative! It will take about ten minutes to cook and you can serve it with extra spinach for added nutrients. You could also spice things up a bit by adding extra veggies of your liking. [30 Best Artichoke Pizza Recipes]
Who said the only way you can enjoy broccoli on pizza is by having it as a topping? Try this easy-to-make broccoli crust and you will certainly feel the difference. With just three ingredients, our broccoli pizza base is a healthy and delicious alternative to cauliflower and quinoa crusts. Just blend fresh broccoli, add your toppings, and bake for fifteen minutes.
22. Vegan Kale Pizza
Yay! We have another recipe for the pizza lover who's also vegan and looking to incorporate more plant-based foods into their diet. This one has a classic thin Naan bread, uses organic olive oil and pasta sauce, and includes kale – which provides iron, vitamin C, calcium, and fiber. Did we mention this pizza tastes amazing too? Yes, it is incredibly tasty!
Eggplant doesn't' have a flavor as strong as other vegetables used for pizza crust but it pairs nicely with garlic, onion, mozzarella, and spinach. If you are a vegetarian or looking for a healthier pizza idea, try this recipe. You can use the toppings recommended in the recipe or introduce your own. Bake for five minutes and serve with fresh oregano.
24. Sweet Potato Crust Pizza
Contrary to what many people think, sweet potato is perfect for a gluten-free diet. This recipe contains shredded sweet potato, garlic powder, quinoa flour, nutritional yeast, salt, and eggs. It does not only cook fast but also holds all your favorite toppings together to produce an irresistible pie. The crust can be made ahead of time and refrigerated or frozen until you need it.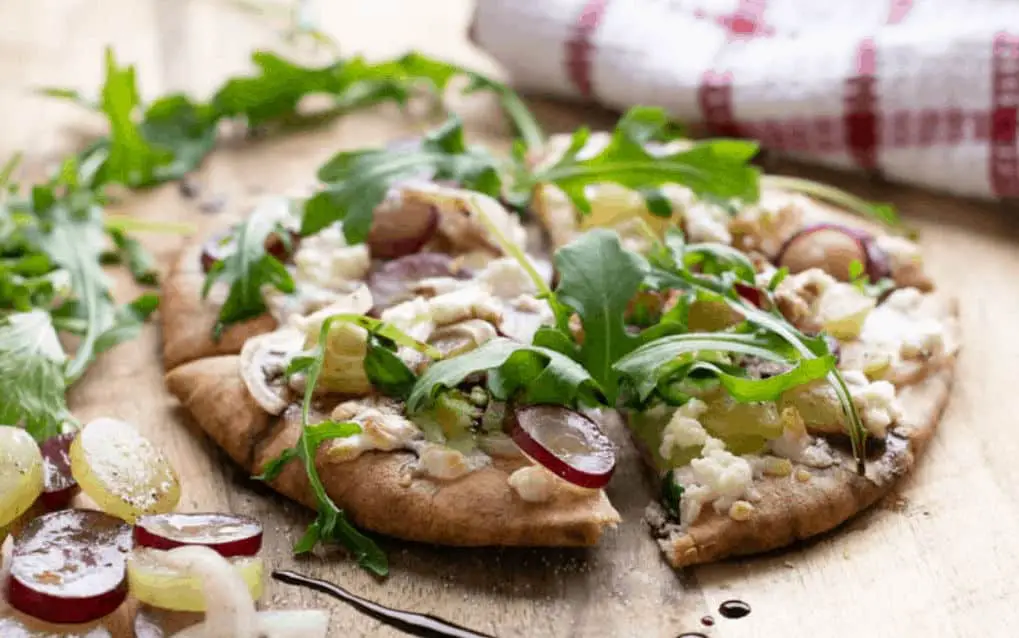 Walnuts are one of our favorite pizza toppings; not only do they add extra crunch and earthiness but they are also rich in nutrients. They are a great addition to every weight watchers' diet. This recipe combines these incredible nuts with grapes and low-fat goat cheese to produce a delicious low-calorie pizza. Serve with baby arugula for an extra burst of flavor.
26. Polenta Pesto Pizza Bites
Don't know what to do with that leftover pesto? Why not make some pizza bites! These cute little bites are just the perfect munchies for kids, parties, or for times when you want to eat something extremely light. They will take you around twenty minutes to cook. All you will need is dairy-free basil pesto, nutritional yeast, dairy-free milk, and fresh basil leaves.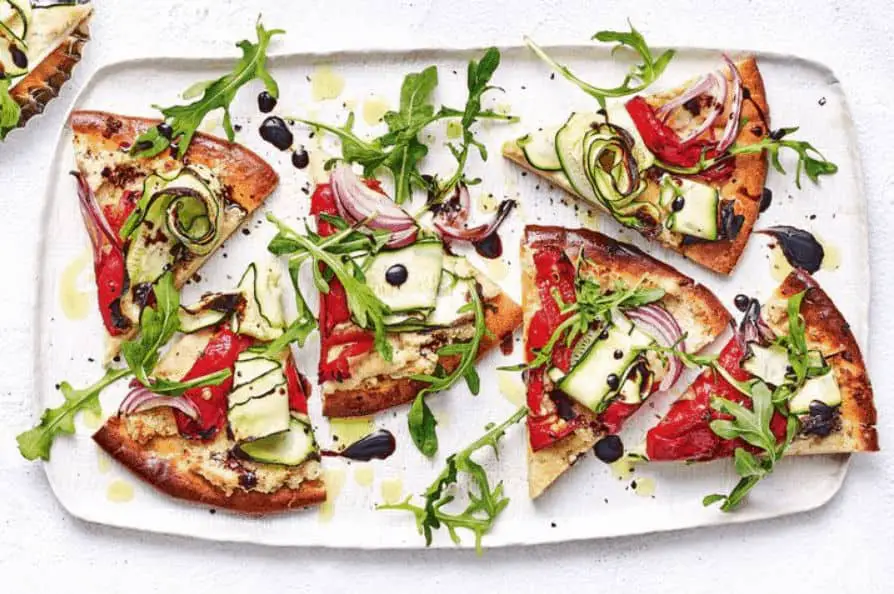 This recipe uses blended cashews instead of the traditional tomato sauce to produce an awesome nutty flavor that combines with zucchini to give you a nutrient packed pizza. It is gluten-free and the pizza itself takes only ten minutes to bake. Top with fresh rocket leaves and sprinkle with balsamic glaze to serve. You will love it!
28. Oats Pan Pizza
Oats pizza topped with capsicum, tomatoes, onion, corn, cheese is one delicious meal. Not just that; it is an extremely healthy diet for anyone looking to cut down on carbs and calories. We love this pizza because it is one of the easiest to cook. It will take you only five to seven minutes. Plus you don't even need the oven.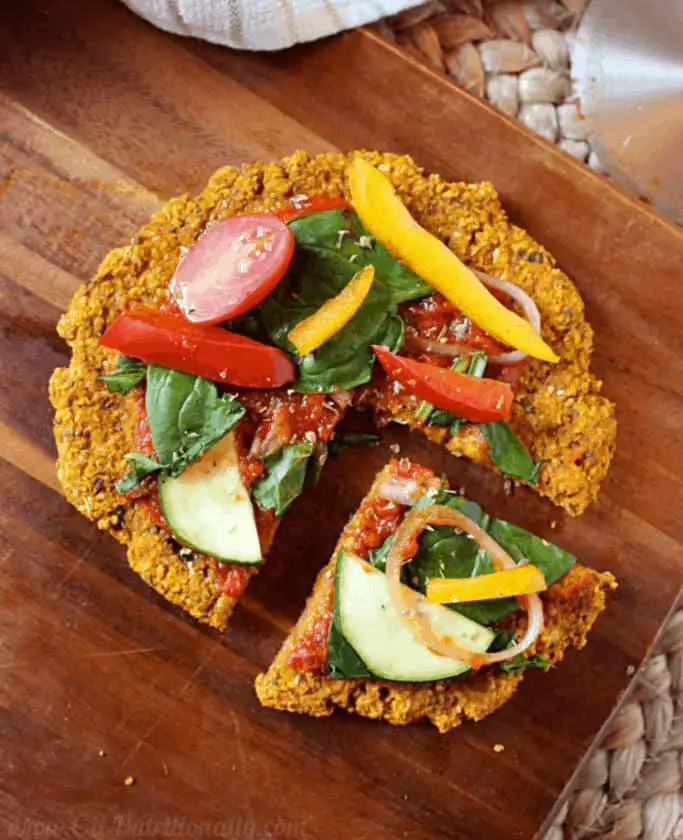 If you love pumpkin, you will definitely love this gluten-free pizza crust recipe that holds all the cards in terms of being low in carbs and low in calories. Not only is it nut-free, egg-free, peanut-free, and dairy-free; it also tastes heavenly. The crust takes fifteen minutes to bake and you can dress it with any toppings you please.
30. Carrot Crust Pizza
Carrots are not just for snacking; they also make excellent pizza crusts. They result in a gluten-free pizza that is perfect for anyone looking to shed some pounds. To make sure the crust is nice and crispy, squeeze out as much water as possible before mixing the grated carrot with other ingredients. Top with your favorite veggies and bake for eight minutes.
There you go! 30 extremely easy weight watchers pizza recipes. Do you already have a favorite? Let us know in the comments!
30 Best Weight Watchers Pizza Recipes
Ingredients
Vegetable Crock Pot Pizza

Three Cheese Garlic Pizza

Mushroom Pizza

Barbecue Chicken Pizza

Buffalo Chicken Pizza

Blue Plan Tortilla Pizza

Cheese Waffle Pizza

Chickpea Crust Pizza

Barbeque Tofu Vegan Pizza

Spinach Artichoke Pizza

Vegan Kale Pizza

Sweet Potato Crust Pizza

Polenta Pesto Pizza Bites

Oats Pan Pizza

Carrot Crust Pizza
Directions
Select your favorite recipe.
Organize all the required ingredients.
Prep the recipe in 30 minutes or less!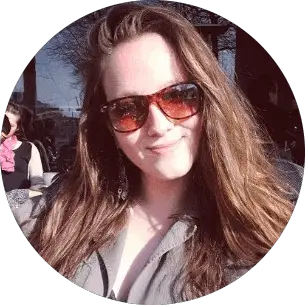 Barbara is an enthusiastic food-exploring person that goes through different culinary experiences. She got inspired by creating a pizza blog post after she tasted one of the best-selling pizzas in Toledo.