Its majesty – the BBQ Pizza! Who doesn't love both BBQ and pizza? Exactly! We all love it, so why not combine it all in a delicious BBQ pizza? Making this pizza is a breeze, even if you've never made one before.
It may take a while if you're making the dough from scratch, but store-bought is also an option. You don't need lots of ingredients, and what's best is that you can play around with toppings until you find your favorite version. Check below for some of the best BBQ pizza recipes you can try now.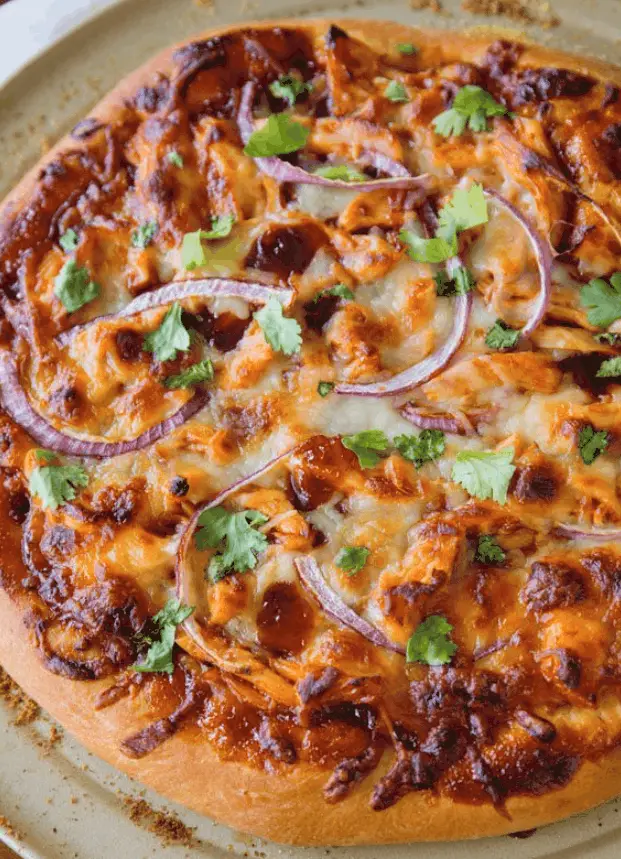 Sally's BBQ pizza has an incredible BBQ flavor you'll keep coming back. This recipe makes enough for two 12-inch pizzas, so make sure you have a crowd to share it with. If not, you can freeze it for another time. The toppings used are BBQ sauce, chicken, cheese, and red onion. She uses two kinds of cheese – shredded mozzarella and smoked gouda.
2. Jenny's BBQ Pizza
This 11-minute video of Jenny's simple recipe will make your mouth water. It looks amazing once done, and it doesn't require much effort. Although you're making the dough from scratch, the whole process is simple, and you only need a few ingredients. She shows how to top the crust with sauce and other classic toppings.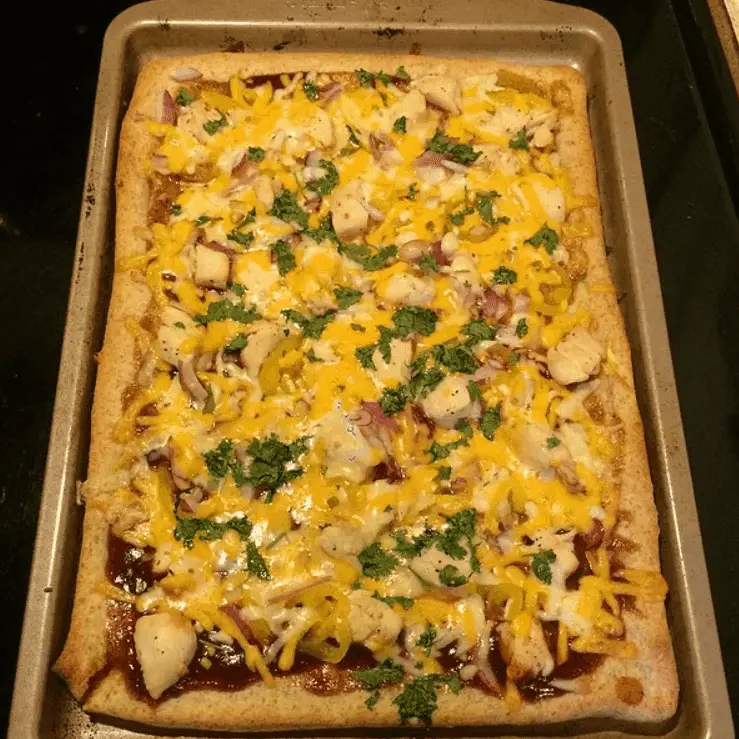 You may think that 45 minutes is too long to wait for pizza – this one will be worth it. The recipe calls for pre-made dough, which makes the process even faster. Now, this can be leftover sourdough or store-bought. For toppings, you'll need barbeque sauce, diced chicken, onion, peppers, cilantro, and of course, cheese. Here, Colby-jack cheese is the star, but you can use any other you like.
4. Homemade BBQ Chicken Pizza
Do you have some leftover chicken? If so, this recipe is perfect for using that on a fantastic BBQ pizza. Interestingly, she's making the dough with Greek yogurt that's not as common but makes for a perfect crust. She's also mixing some of that sauce with the chicken before arranging it all on the crust.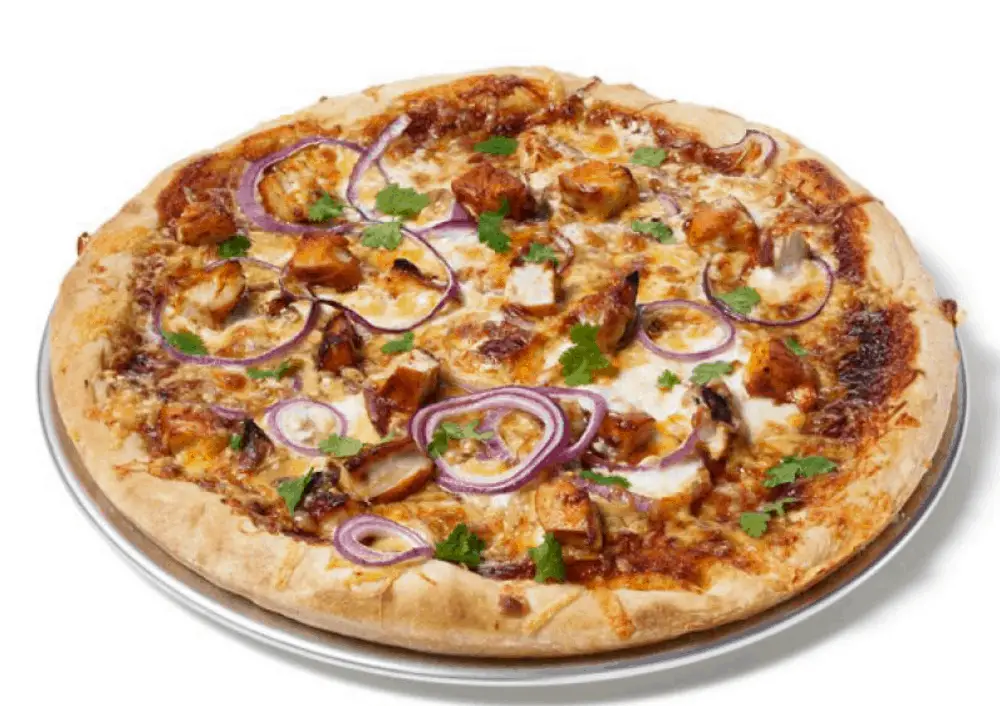 This is another recipe that shows how to use the pre-made dough. Still, it must be at room temperature before you start topping it with your favorite ingredients. The recipe calls for chicken breast, smoked gouda, mozzarella, red onion, fresh cilantro, and BBQ sauce. It takes an hour and a half to complete, although only thirty minutes of that time will involve active work.
6. Quick BBQ Chicken Pizza
This one also includes chicken, but you can totally skip the meat if you're not feeling it. Or, you can replace it with something else like turkey. The recipe goes into detail, showing every step of the process, from preparing the dough to topping it with the ingredients. Preheat your oven to 425°F as you arrange the toppings and bake everything for about 12 to 15 minutes.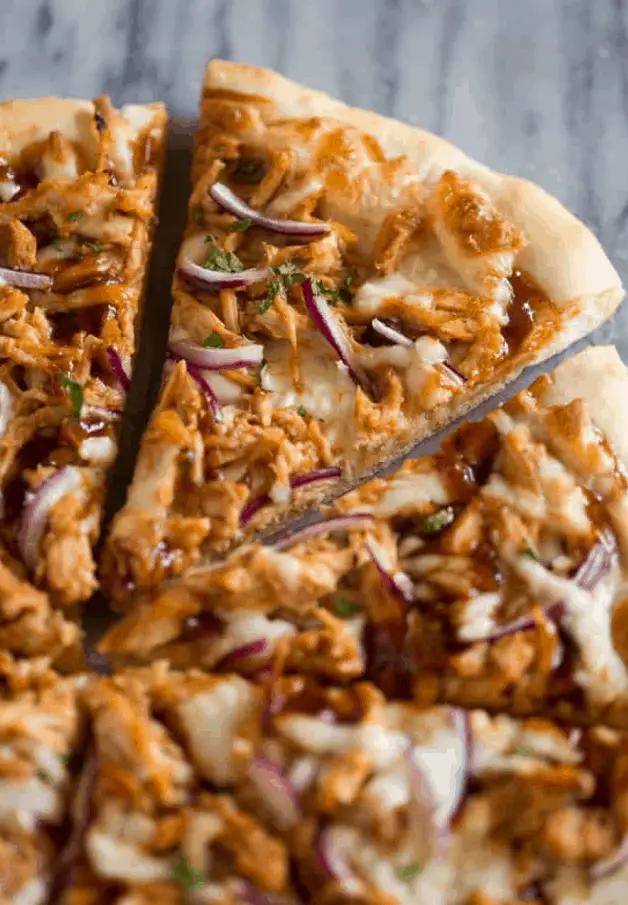 Lauren shares her easy-to-follow recipe for this delicious pizza. She's also using pre-made dough, but again, you can make a fresh batch specifically for this purpose. Either way, spread it gently before topping it with some barbecue sauce. Add some cooked and shredded chicken that you've also topped with the sauce. Go ahead and add your red onions, mozzarella, and cilantro before baking it until golden. It shouldn't take longer than 15 minutes.'
8. BBQ Pizza on a Gas Stove
This isn't your classic BBQ pizza because it doesn't include barbecue sauce. Instead, you should first bake the dough before adding mozzarella cheese directly to it. The rest of your toppings come right after the cheese. He uses bell peppers, chicken, sausage, and yellow squash, all of which you should grill to get the maximum barbecue flavor.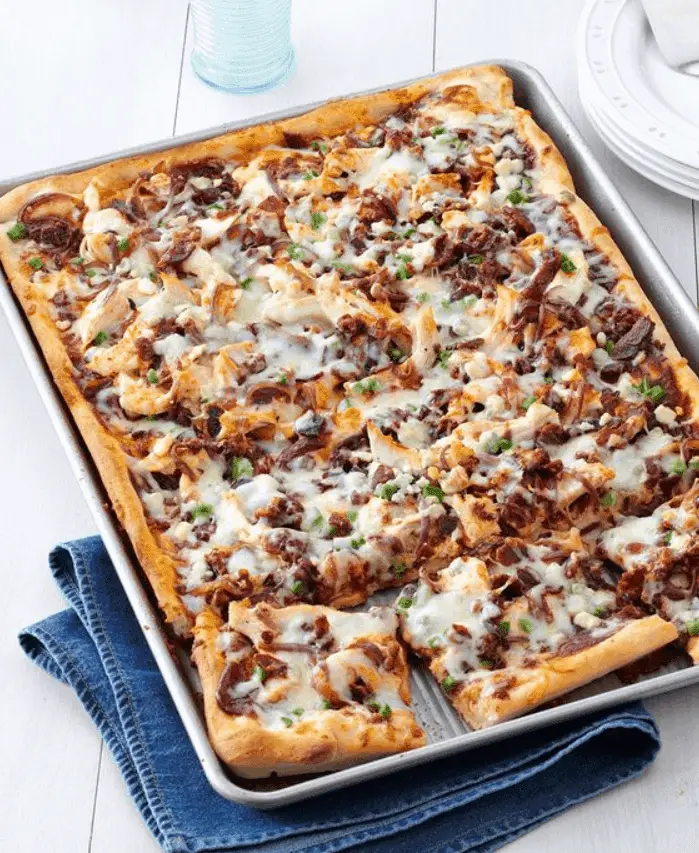 Oh, the perfect combination of bacon, gorgonzola, and chicken. It goes well with BBQ sauce, making this a mouth-watering pizza. Several other toppings include red onions, jalapeno peppers, garlic powder, paprika, and mozzarella. It takes about 45 minutes to prepare and bake since it suggests using a pre-made crust. It's such an easy recipe the entire family will love.
10. Tasty BBQ Chicken Pizza
All you need for this recipe is two minutes to see the video and thirty minutes to whip up the pizza. It's easy to make since you're using pre-made dough, which usually takes the most time. You can use store-bought dough or if you have some leftovers in the freezer. Roll it out, put the sauce, chicken, gouda, red onion, and mozzarella.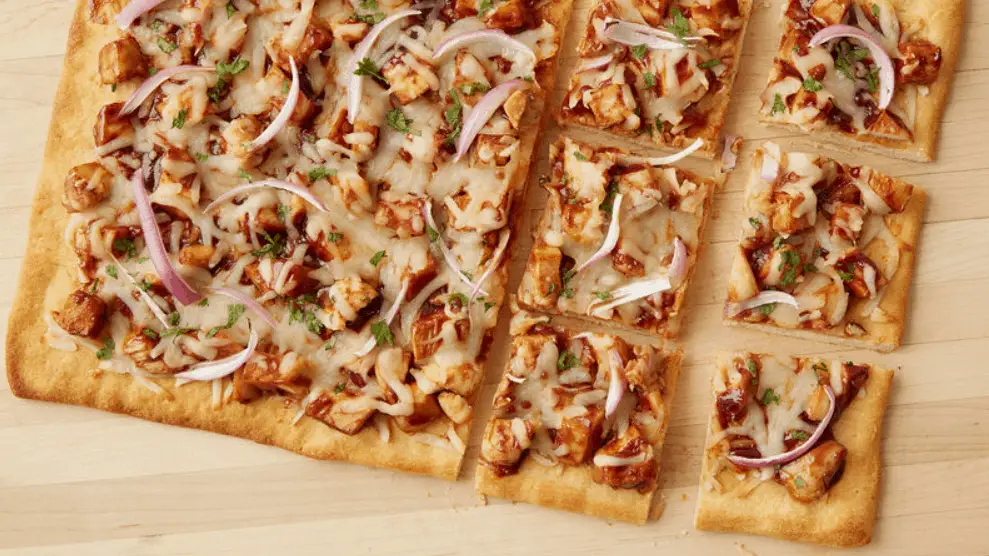 Are you tired of the basic delivery pizzas that take a long time to get to your house? Well, this recipe shows how to make a delicious BBQ chicken pizza in less than 40 minutes. A part of what makes it so easy to make is the store-bought pizza crust. Roll it out and add toppings like barbecue sauce, chicken breast, mozzarella, red onion, and possibly cilantro.
12. Best Ever BBQ Pizza
These guys show how to make delicious pizza but also go into detail explaining the process. It's a simple pizza to whip up in half an hour, but you'll see they make it on a wood grill. The wood gives the special barbecue flavor, but you can also make this one in an oven if it's more convenient for you. If you can burn wood, you'll absolutely love this pizza.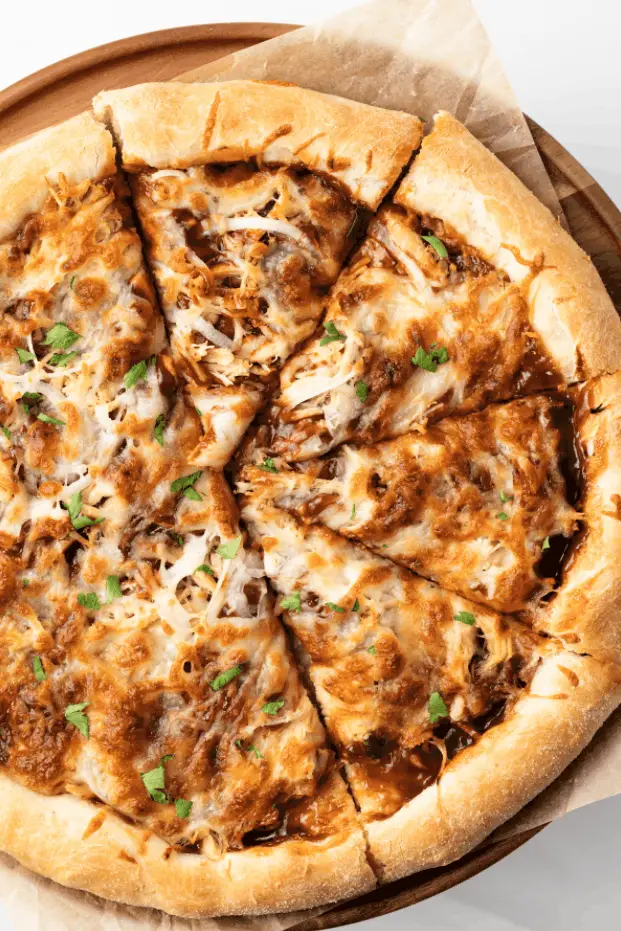 Jen's wholesome recipe explains all the details of making this pizza from scratch. She explains how to make the crust before preparing other toppings. Although you won't need anything more than barbecue sauce, chicken, red onion, mozzarella, and cilantro, she offers other topping ideas as well. Ever thought about adding ranch dressing?
14. Laura's BBQ Chicken Pizza
This is yet another version of this classic pizza you'll love for your next pizza day. Laura does a fantastic job of explaining how to make the dough. Once you handle that step, you can add the toppings before baking everything at 450°F. It should take about 15 minutes to become crispy, golden, and ready to eat.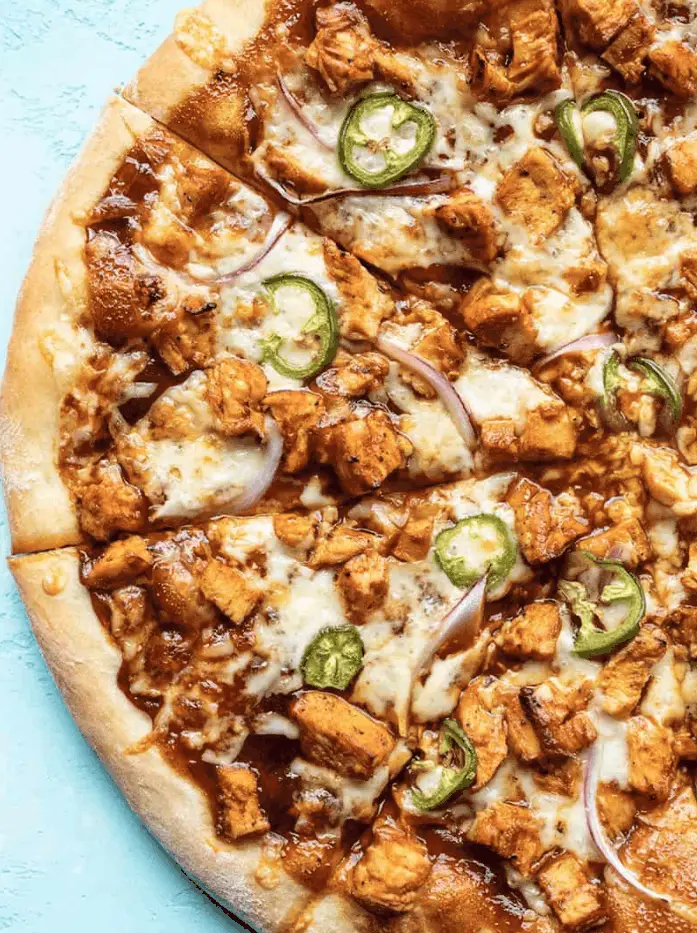 You should check this out if you want to make delicious pizza without spending too much. It's not nearly as expensive as delivery, so why not give it a try? The best part is that these toppings go well on any crust, so you can make it yourself or use store-bought. You might even want to try adding some feta to your BBQ pizza as it goes well with the sweet taste of the sauce.
16. Easy Grilled BBQ Chicken Pizza
How about a bit of a rustic-looking pizza? This one doesn't have the conventional round shape we know pizza comes in. instead, you're making it look irregular but still excellent. The taste is there, mainly thanks to the sauce and chicken combo. Plus, he's putting the sauce as the crust bakes for maximum flavor. And the shape is quite interesting, right?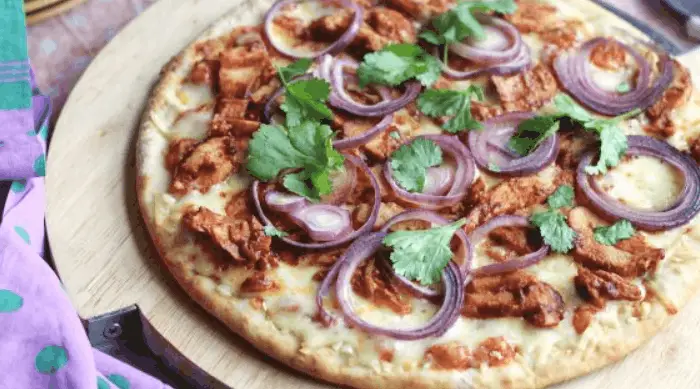 Most of these call for chicken because it goes so well with the sauce. However, you can totally omit the meat and replace it with beans, for example. Other ingredients you'll need are cilantro, olive oil, mozzarella, gouda cheese, and red onion. This one takes only 25 minutes to prepare and bake since you're using prepared pizza crust. Again, you can make some ahead or buy it at your local supermarket.
18. Street Food BBQ Pizza
This one doesn't show how to make the dough, but that's easy to fix by using store-bought. And you can also tell they're using an actual pizza stove with wood and all. Most of us don't have that, but that's fine. Nonetheless, the video goes into depth, showing how to prepare and arrange the toppings to get the authentic street food barbecue pizza. It'll taste just as good in your kitchen oven.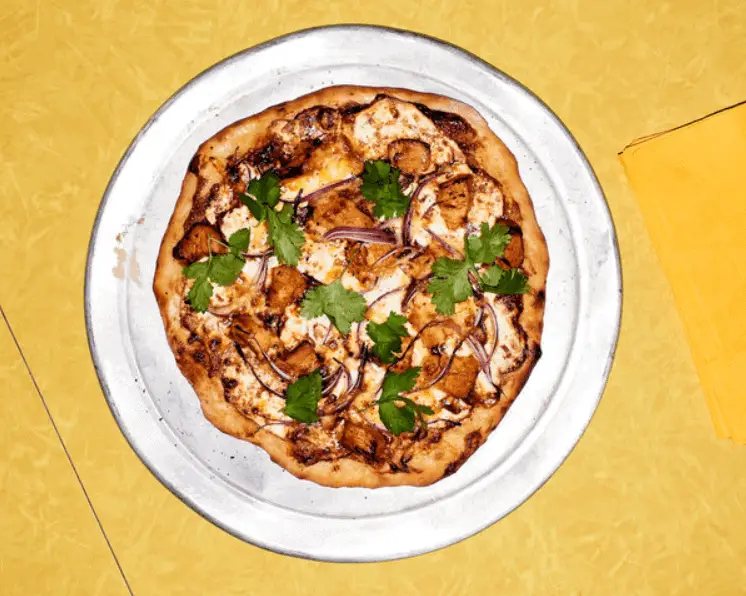 This recipe dates back to the 1980s, so it's definitely worth trying. It uses classic ingredients like red onion, cilantro, two kinds of cheese, chicken, and barbecue sauce. Mozzarella and gouda take the throne but make sure both are sliced/grated roughly. It really gives the whole pizza a unique texture. The recipe gives two 12-inch pizzas and is ready in a little over 30 minutes.
20. Simple & Tasty Barbecue Pizza
There's more to BBQ pizza than just adding the sauce and some leftover chicken. While you can do that for a quick dinner when you're in a rush, putting some time into it will make it that much better. This recipe shows how to prepare the chicken with the sauce and other spices to get that full flavor. You'll also need mozzarella, crushed red peppers, and onions.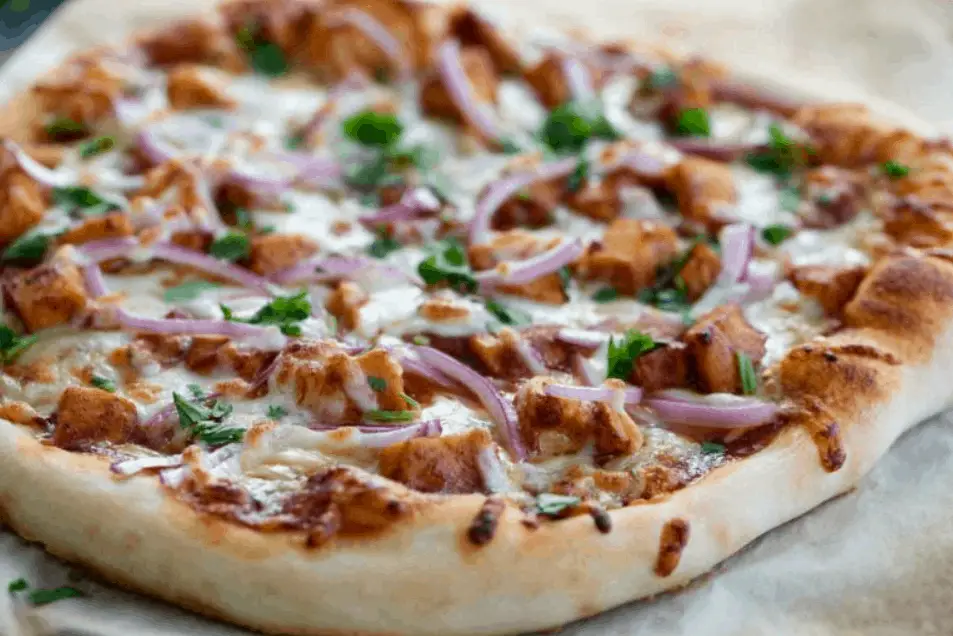 This one takes a bit longer to prepare and make, but you'll love the taste and texture. The trick is in marinating the chicken for at least two hours, which is why the recipe takes as much time. Still, she suggests you make the dough earlier, but you could totally do it while you wait for the meat and the sauce to do their thing. The actual arranging and baking don't take longer than half an hour.
22. Pulled Pork BBQ Pizza
Most of these recipes show how to use your leftover chicken, but what about if you have some leftover pork? If that's the case, you should make this wonderful pizza. You need Alabama white BBQ sauce, onions, mozzarella, cheddar, and jack cheese. He bakes the pizzas for about ten minutes on a grill, although your kitchen oven will probably need a few more minutes.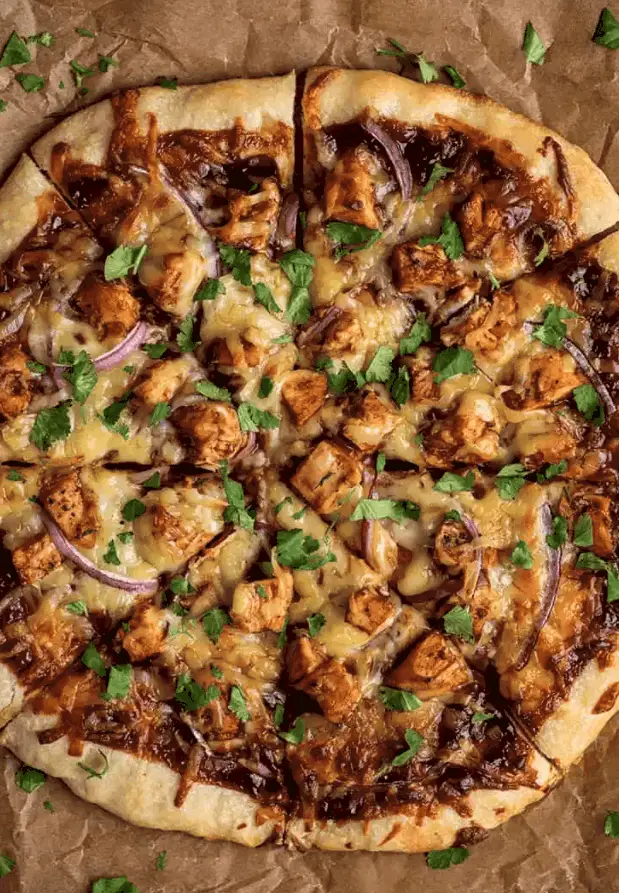 Tracy offers detailed instructions on how to make this iconic pizza. She also suggests several toppings you can use if you want to step away from the classic chicken that's so commonly used. Have you thought about bacon or pineapple? Jalapenos are also a good choice for a bit of a spicy kick. As always, you can make the crust in advance or right then and there.
24. Grilled BBQ Pizza
This recipe shows how to use pulled pork, but you can replace it with any other meat of your choice. The sauce he made himself, but the recipe is included, so you can whip it up quickly. It takes several ingredients, but you do get a nice batch for several pizzas. Other things you'll need are onions, mozzarella, and sliced jalapenos.
For this one, you need only thirty minutes and some classic ingredients. Use any dough you prefer, whether you made or bought it. Roll it out, add the barbecue sauce, chicken, cheese, red onion, and cilantro. Feel free to swap the red onions for any other you like. Jamielyn also has an easy recipe for barbecue sauce you can use here.
26. Vegan BBQ Pizza
Bet you never thought a BBQ pizza could be vegan. Well, it can, and it's just as easy to make with a few essential ingredients. Everything in this recipe is vegan-friendly, but the barbecue taste is still there. Plus, you also get to see how to make the dough from scratch, which might be time-consuming for some. Still, it's worth the effort.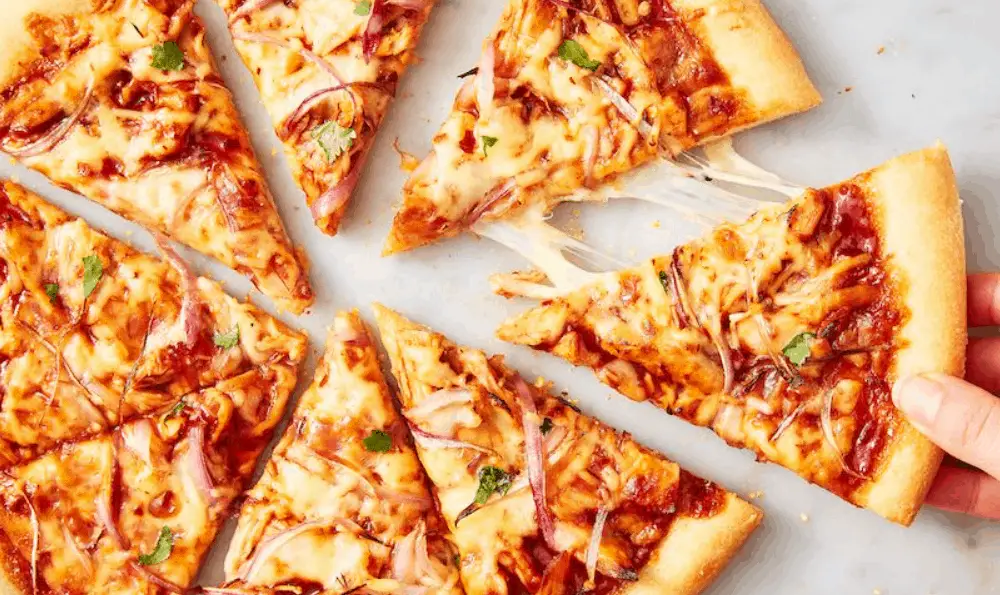 The trick here is to refrigerate the dough for at least two hours. This will help it stay fresh and not turn into a soggy mess as you top it with sauce. Use shredded chicken, mozzarella, gouda, thinly sliced red onion, and red pepper flakes. As always, top that with fresh cilantro if you're a fan. The recipe is good for two pizzas, and you only need 40 minutes to make them.
28. Failproof Barbecue Pizza
Are you scared of making the dough? Don't be because Ashely is here to help with her wholesome video recipe. It's a quick and easy one, so you won't even spend too much time working on your dinner. Plus, the ingredients are simple, most of which you have at home. You'll need cooked chicken, sweet barbecue sauce, mozzarella cheese, cheddar, and sliced onion.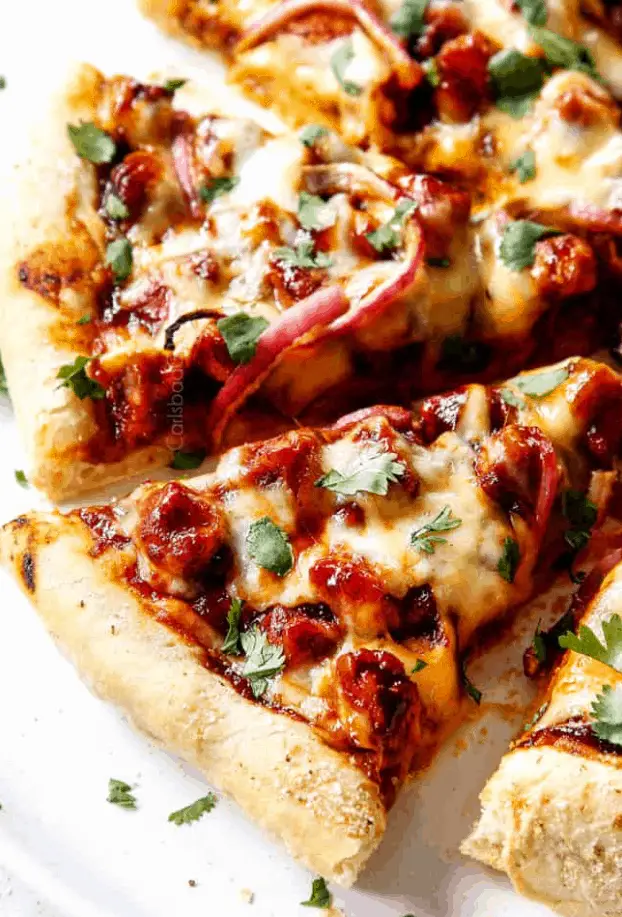 Jennifer claims this one can rival any restaurant pizza, so why not check that? It sure sounds delicious, and it seems easy to make. She gives out the recipe while also sharing some tips on how to make it in less time. It makes enough for two pizzas, but you can easily make more if you double the recipe. She listed some additional topping ideas like olives, bacon, and ham to switch things up.
30. Keto-friendly BBQ Pizza
Keto can be challenging, especially if you're a fan of delicious food like barbecue pizza. Well, this recipe shows you don't have to give up your favorite things even if you're on a special diet. She shows how to make the dough, rolling it out so that you have a thin crust. You will, however, need a few things like almond flour, cream cheese, and an egg.
Which one of these will you try? Tell us how your BBQ pizza came out in the comments below.
30 Best BBQ Pizza Recipes
Ingredients
Jenny's BBQ Pizza

Homemade BBQ Chicken Pizza

Quick BBQ Chicken Pizza

BBQ Pizza On A Gas Stove

Tasty BBQ Chicken Pizza

Best Ever BBQ Pizza

Laura's BBQ Chicken Pizza

Easy Grilled BBQ Chicken Pizza

Street Food BBQ Pizza

Simple & Tasty Barbecue Pizza

Pulled Pork BBQ Pizza

Grilled BBQ Pizza

Vegan BBQ Pizza

Failproof Barbecue Pizza

Keto-Friendly BBQ Pizza
Directions
Select your favorite recipe.
Organize all the required ingredients.
Prep the recipe in 30 minutes or less!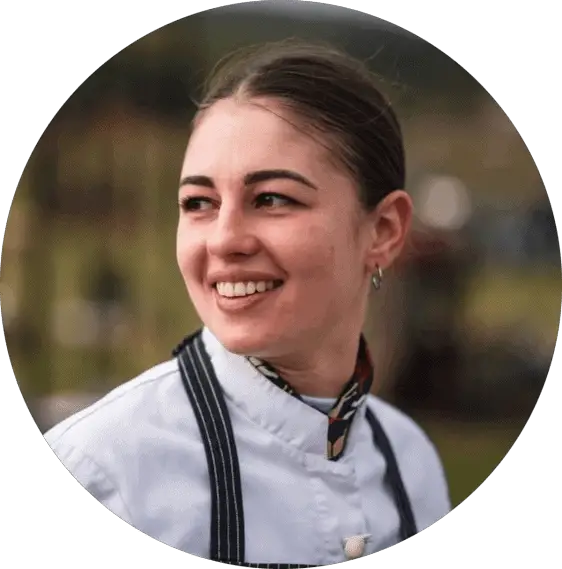 Julie has five years of experience in the restaurant industry, she decided to share her knowledge about her liking and fondness for food and pizza, of course, cooking as her love language. She's very passionate about what she's doing, making all the things she writes regarding pizza recipes, very amazing!