Albuquerque boasts one of the most vibrant pizza scenes in the United States. As a matter of fact, the best wood-fired artisan pizza comes from the heart of Albuquerque.
Today, we're taking a tour of Albuquerque to find out some of the best pizza places to chill and have a great pizza bite. You can also order and enjoy the pie at the comfort of your home.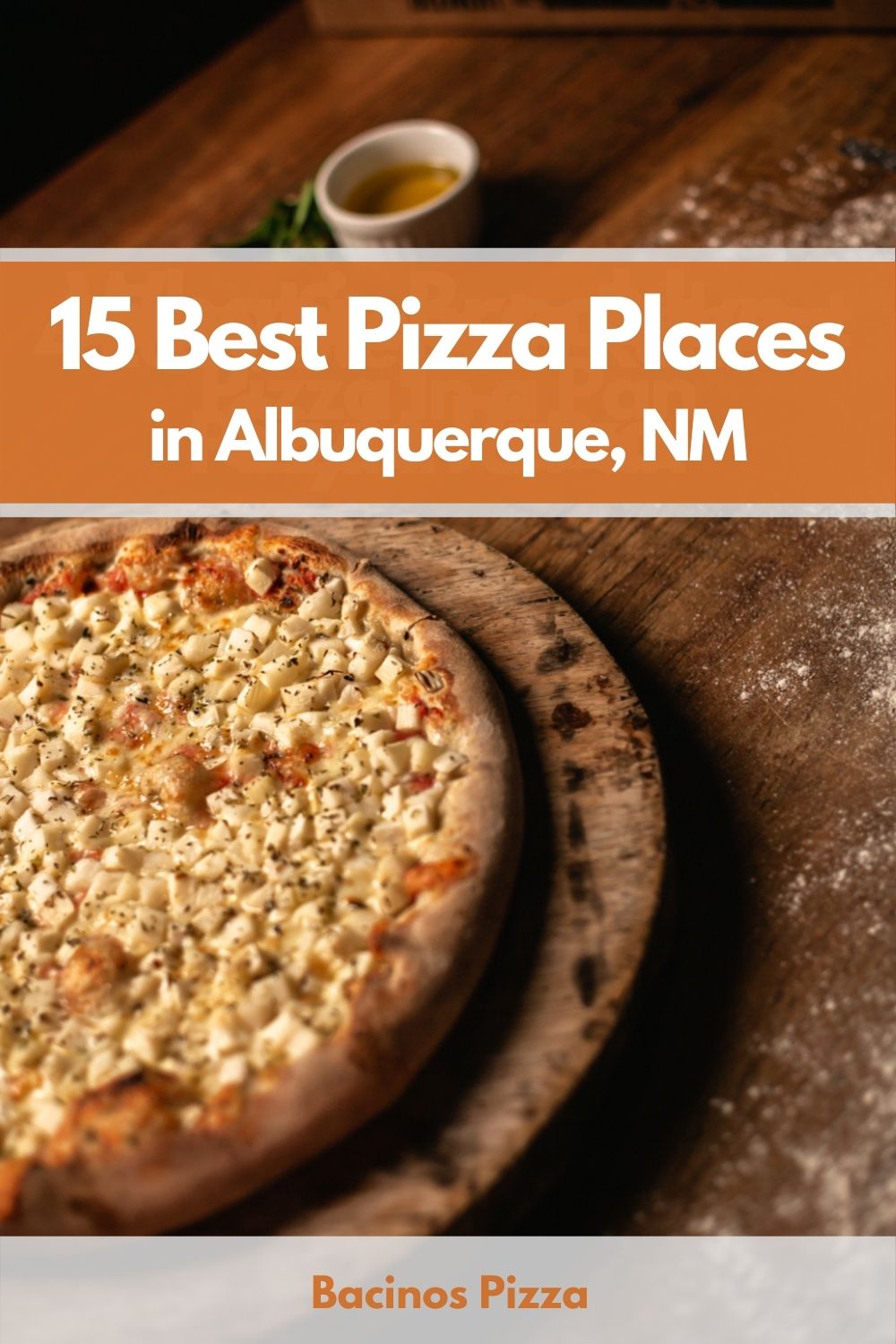 Note that some locations have limited hours of operation and capacity restrictions due to the COVID-19 pandemic. I suggest contacting the location directly for the most up-to-date information regarding the hours of operation.
Anyways, here are the 15 best pizza places in Albuquerque, New Mexico.
Address: 7200 Montgomery Blvd NE STE A2, Albuquerque, NM 87109
Phone: (505) 312–8579
If you're searching for a pizza place with a touch of romance, you can never go wrong with Richie B's Pizzeria in Albuquerque.
The place is locally owned and run by couples — Chuck and Leah. And although the business is relatively new (established in 2019), it is formerly a 'Mom & Pop Pizza' shop. This means they are experienced enough as pizza connoisseurs.
While Chuck handles day-to-day operations, Leah handles the accounting side of things. Still, both frequently pop up to show love to their customers. Every staff at Richie B's Pizza is friendly and accommodating.
Nonetheless, their hospitality isn't the only upside; their pizza is delicious too. The cheese is scrumptious as the pizza is overall New York-inspired. So, expect large, foldable pizza slices.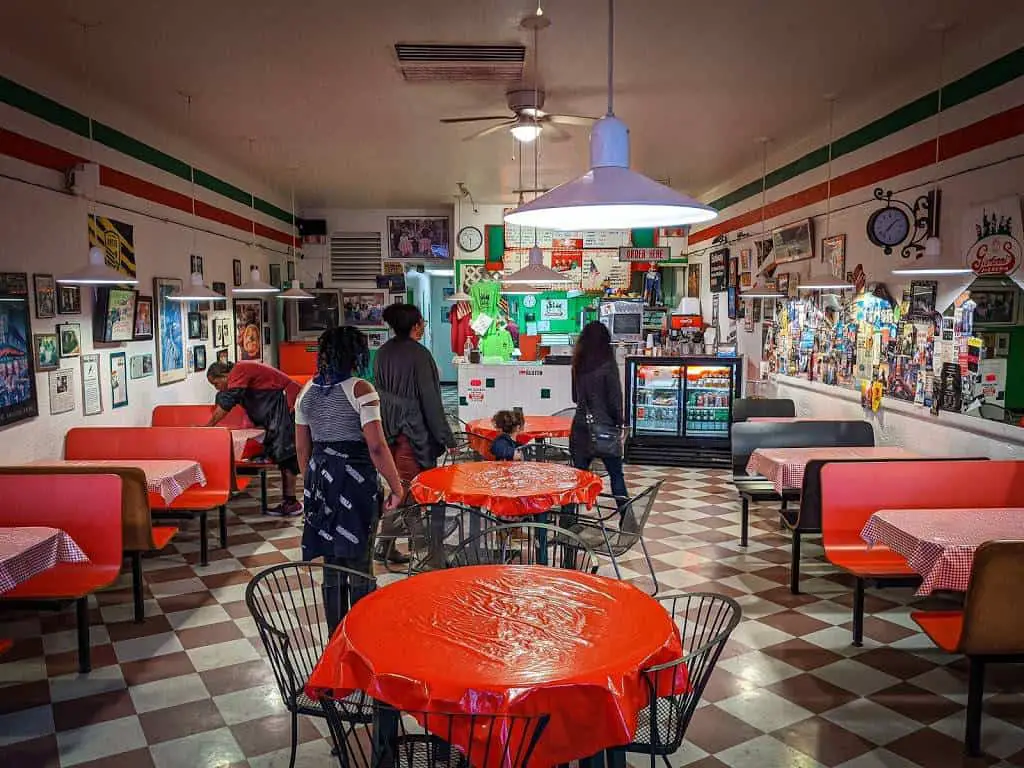 Address: 921 San Pedro Dr. SE, Albuquerque, NM 87108
Phone: (505) 255–1233
Whenever Albuquerque locals argue over the best pizza, Giovanni's Pizzeria always comes up.
Well, it's difficult arguing against its authentic and finger-licking great pizzas. Anyone who has ever visited Giovanni's Pizzeria claims the spot is their favorite pizza place.
Other than their deliciously-cooked pizza loaded with toppings, Giovanni's has a laid-back kind of feel to it, and the servers are friendly and very professional.
I love how they are New York-inspired, and their Italian entrees are really good. It would be best if you tried their Neapolitan pizza and calzones. The pizza is greasy but doesn't drip down your elbows.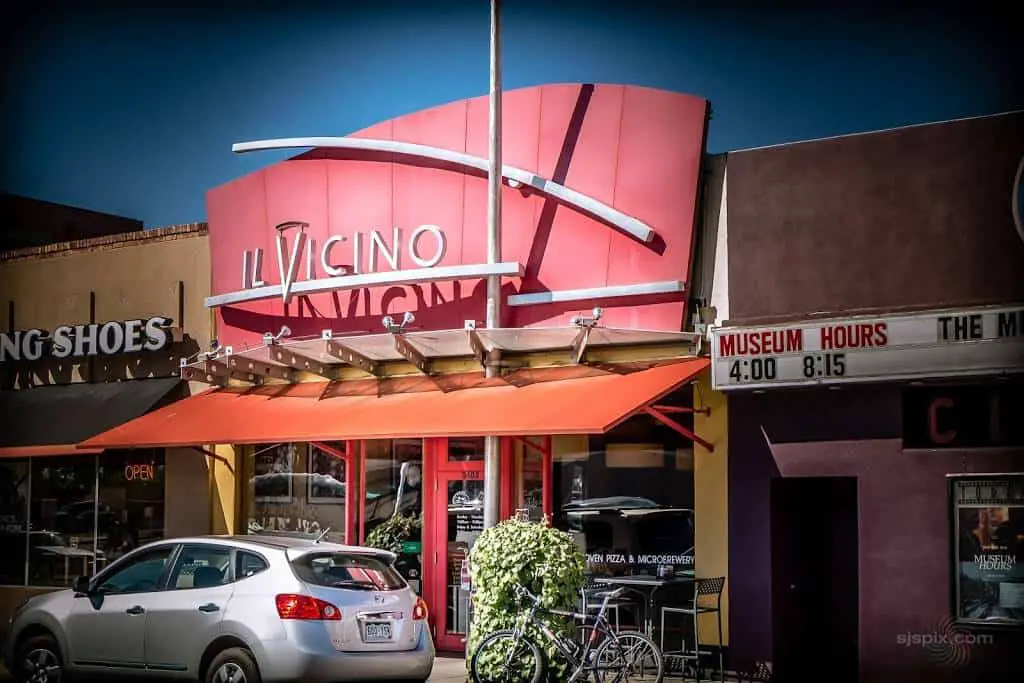 Address: 3403 Central Ave NE, Albuquerque, NM 87106
Phone: (505) 266–7855
This terrific pizza place has three branches — Albuquerque Heights, West Side, and Nob Hill. I always prefer the latter.
The II Vicino Pizza place in Nob Hill has fantastic pizza with a crispy crust and less doughy overall. I love how their sauce is a little bit spicy — not too much.
I recommend ordering the pizza alongside their iced tea. You won't regret it. Their deliveries are always fast, and the pizza arrives while still hot. As for pick-ups, you'll find the pizza already done, and you don't have to wait.
The II Vicino Wood Oven in Nob Hill is a hidden gem. And the pizza is of high quality, offered at a fair price.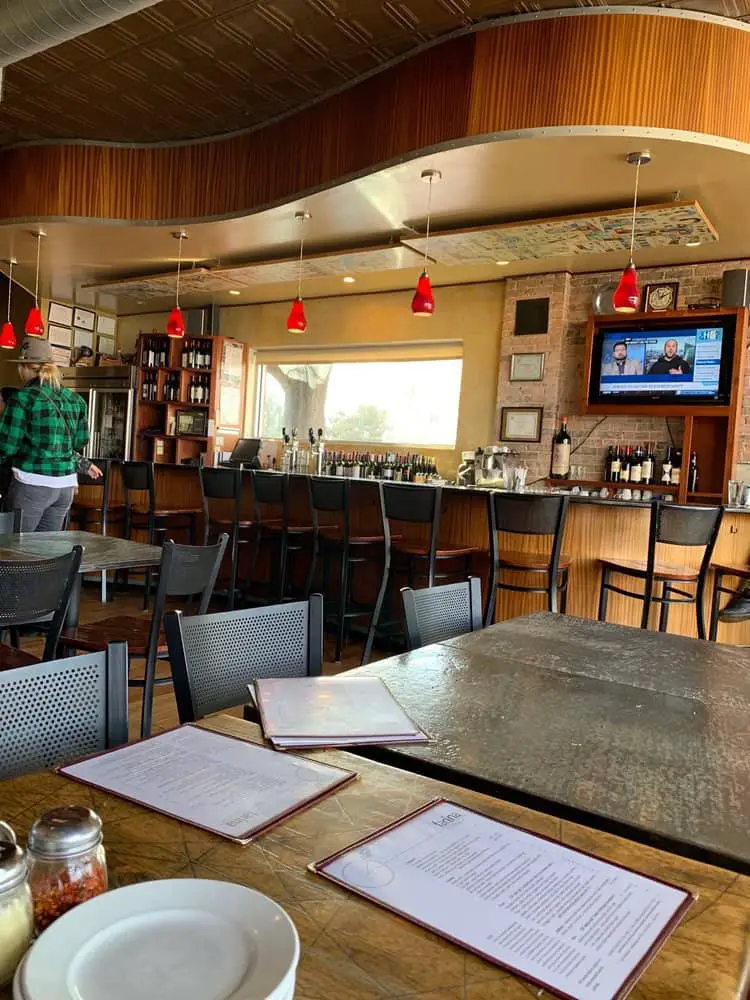 Address: 510 Central Ave SE, Albuquerque, NM 87102
Phone: (505) 243–0130
This is an excellent place for folks who love beer. It's also a superb spot to catch a game with the boys.
The Farina Pizza in Albuquerque is known for its artisanal pizzas and its in-house pasta and fresh salads.
For Dine-ins, the Farina Pizza has a laid-back atmosphere, thus engulfing a local Albuquerque vibe.
The pizza is baked using the most refined organic flour, and the crusts are handmade. The cooks at the Farina Pizza top the pizza with fresh ingredients like local organic chile and artisan cured meat.
Apart from their amazing pizzas, Farina also offers great salads, all made of fresh ingredients, just like the pizzas.
They are known for playing around with their specials, most of which are very creative, thus bringing out amazingly tasty and delicious pizzas.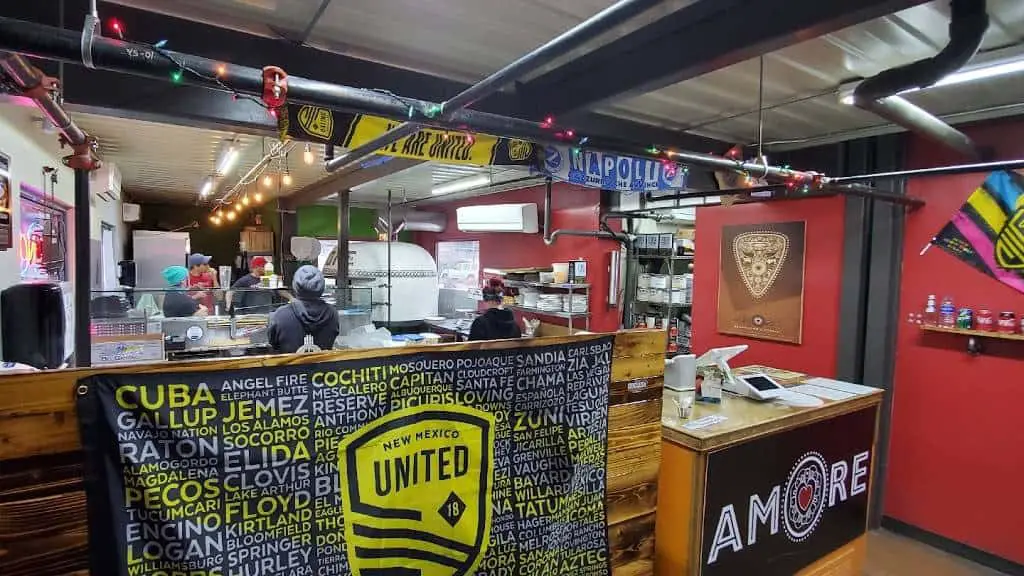 Address: 3600 Cutler Ave NE #3, Albuquerque, NM 87110
Phone: (505) 554–1967
Fancy a pizza slice with a cool pint of beer? If yes, the Amore (Green Jeans Farmery) is your go-to pizzeria.
You not only enjoy a delicious pizza made of fresh ingredients, but the pizzeria also shares space with the brewer (Santa Fey Brewing). Hence, a cold beer is always within reach.
These guys prefer the ol' school way of cooking pizza, making sure the pizza is well-cooked and has perfect crisp.
The Amore Neapolitan Pizzeria uses local ingredients, and the pizza is loaded with flavorful toppings.
The pizza has a balanced flavor to it, and it's light across the tongue. You'll feel full but not heavy.
For a first-timer, I recommend trying their Zia and Imperatore pizzas, which you should complement with a root beer.
Apart from the Green Jeans Farmery, they also have another branch at the Tin Can Alley.
Address: 9221 Coors Blvd NW, Albuquerque, NM 87114
Phone: (505) 899–8444
This is one of the locally owned businesses the Albuquerque residents love supporting. Once you have a taste of one of the pizzas at Fox's Pizza Den in Albuquerque, you'll understand why the pizzeria has such a loyal customer base.
They derive their inspiration from traditional Italian recipes. And to top that off, the ingredients are of high quality.
I particularly love their All-Meat Pizza. The crust was well-cooked, which made it crispy and tasty. The toppings are loaded and full of flavor.
For Dine-in sessions, I'm sure you'll be impressed by their atmosphere, which is so laid-back, as the friendly staff makes sure you're perfectly treated.
I recommend the Fox's Pizza Den as a great place for a romantic date. You'll both love it.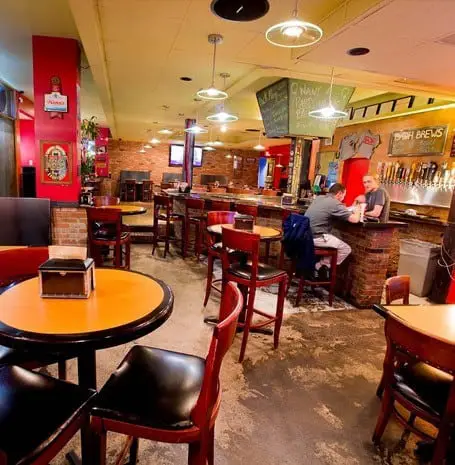 Address: 215 Central Ave NW, Albuquerque, NM 87102
Phone: (505) 766–6973
The pizzeria sells itself as a great place for a family to eat out. And they surely don't disappoint. It's their goal to provide you with a complete and unforgettable dining experience.
I love how JC's servers are so patient with noisy kids. Something unique about them is that they ask if any family member has food allergies. That's so thoughtful.
They'll explain every ingredient used on their pizzas — to make sure you don't experience any allergy incidences.
Better yet, their pick-up services are fast, and when you make a call order, you'll find the pizza ready.
As for the deliveries, the pizza comes while sizzling hot. And it's delicious too. The crust is thick and inspired by New York pizza, so expect authentic, well-cooked slices.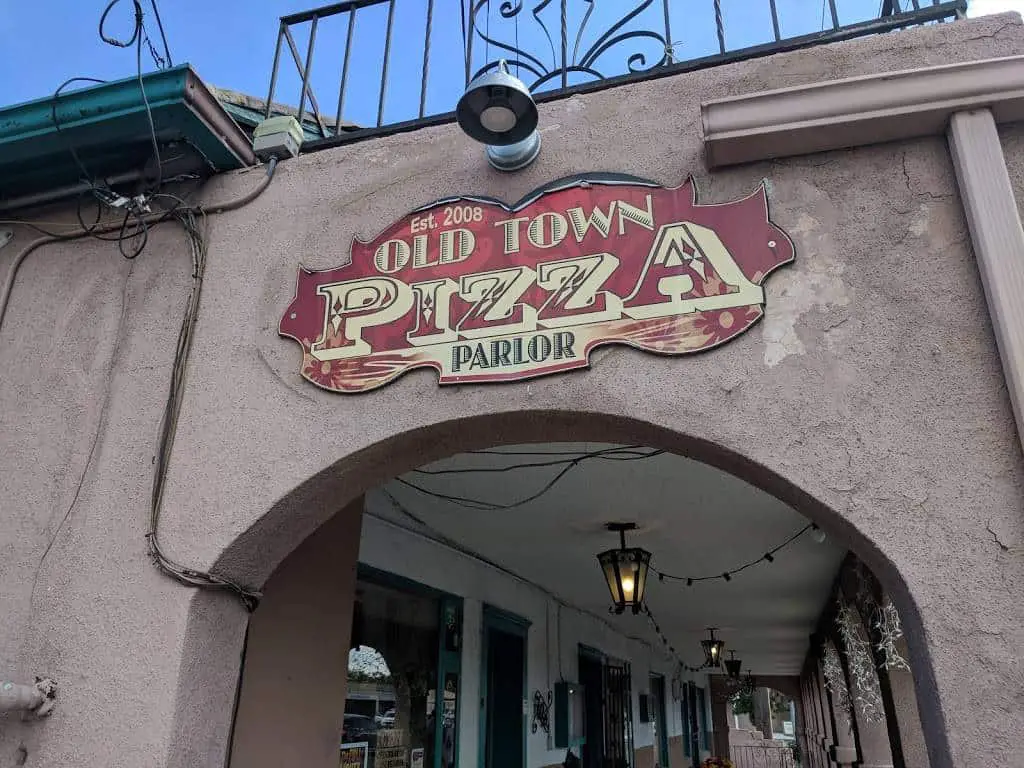 Address: 108 Rio Grande Blvd NW, Albuquerque, NM 87104
Phone: (505) 999–1949
If you love a Mexican setting as a place for a family eat-out, then you're in luck. The Old Town Pizza Parlor is set in an old hacienda located along the famous Route 66.
So, if you're on a road trip with your family, don't miss out on this amazing pizzeria. You won't be disappointed, especially by their delicious pizzas.
The pizza is made using fresh ingredients featuring local flavors such as roasted green chili — all of this cooked with a New Mexican twist. You'll love their red chili olive oil, which is very good.
The Old Town Pizza Parlor offers private party patios. Therefore, it is the perfect spot to host corporate events, launches, and celebrations.
Address: 4300 Eubank Blvd NE, Albuquerque, NM 87111
Phone: (505) 332–2270
As the name suggests, the place is inspired by Chicago's famous pizza, which is always flavorful and unmatched.
The sauce is perfect — very chunky. And the cheese is well melted yet not overcooked. The service at Chicago Pizza Kitchen in Albuquerque is friendly, and deliveries are fast.
I love that this pizza spot is owned and run by two war veterans, both disabled! They have a combination of 25 years in military service.
So, if you really love supporting the troops, the Chicago Pizza Kitchen will make you feel patriotic enough.
Best of all, the spot offers a discount to veterans, peace officers, first responders, and even school teachers. It's their way of showing community support.
That's not everything. Chicago Pizza Kitchen also offers event specials. So, if you have a celebration of some sort (birthdays, corporate meetings, etc.), these guys are more than willing to offer assistance.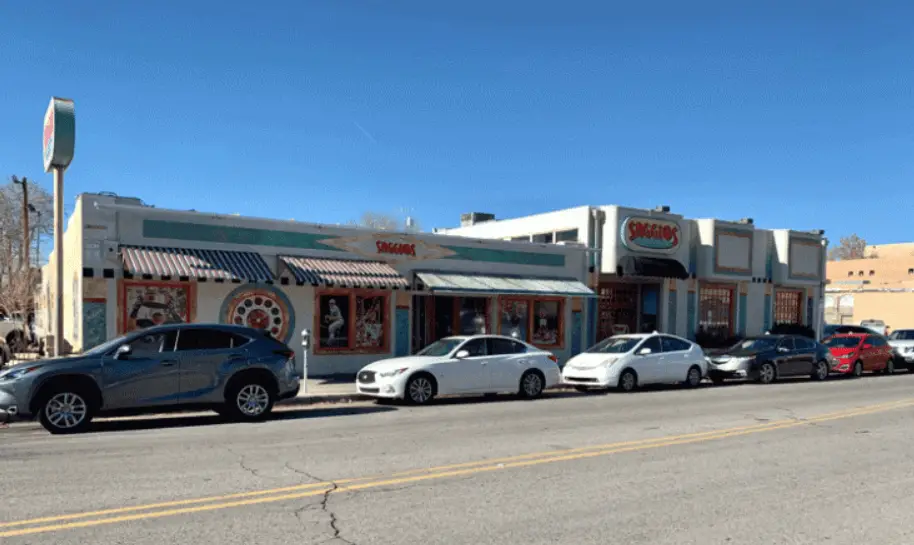 Address: 107 Cornell Dr SE, Albuquerque, NM 87106
Phone: (505) 255–5454
I love its simple name — Saggios! But that's not the only notable thing great about this pizza spot. Their pizza is delicious and very tasty.
The crust is well cooked, and the tomato sauce has a bit of acidity to it, which is excellent since it balances off the fats in the mozzarella.
Oh yes, the toppings are perfectly portioned too. This makes the Saggios pizza appropriate for all ages — old and young. If you love Canola, you're in luck because Saggios is one of the best in the area.
You'll probably love how Saggios is located near UNM (University of Mexico), with the walls designed using amazing murals to give it a hippy feel.
Your only worry is their pizza specials, which are so popular, and you may miss out if you don't order early enough.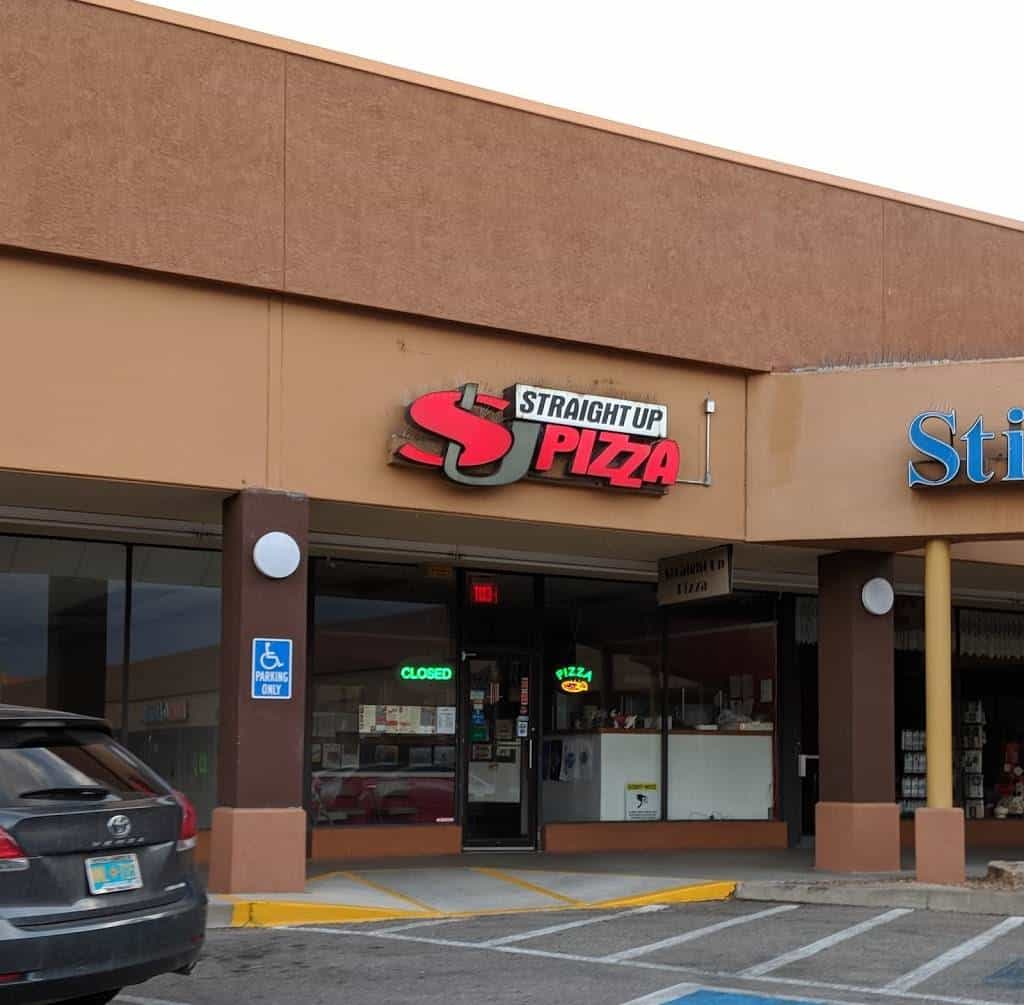 Address: 2801 Eubank Blvd NE suite g, Albuquerque, NM 87112
Phone: (505) 796–9343
Do you prefer locally owned pizza places or popular national chains? Well, I think we all love family-owned pizza spots for their quality handmade pizzas.
When it comes to cooking high-quality pizza in Albuquerque, you'll never go wrong with Straight Up Pizza.
As expected, every pizza is handmade, and the ingredients are fresh. Nothing's recycled here. Both the marinara sauces and the dough at Straight Up Pizza are made from scratch every day!
I recommend trying their Lean Dream Pizza, which is my personal favorite. But Straight Up Pizza in Albuquerque has several other calzones, most of which are never disappointing.
I love how Straight Up Pizza handles its deliveries. Their deliveries are fast, and the pizza arrives while hot.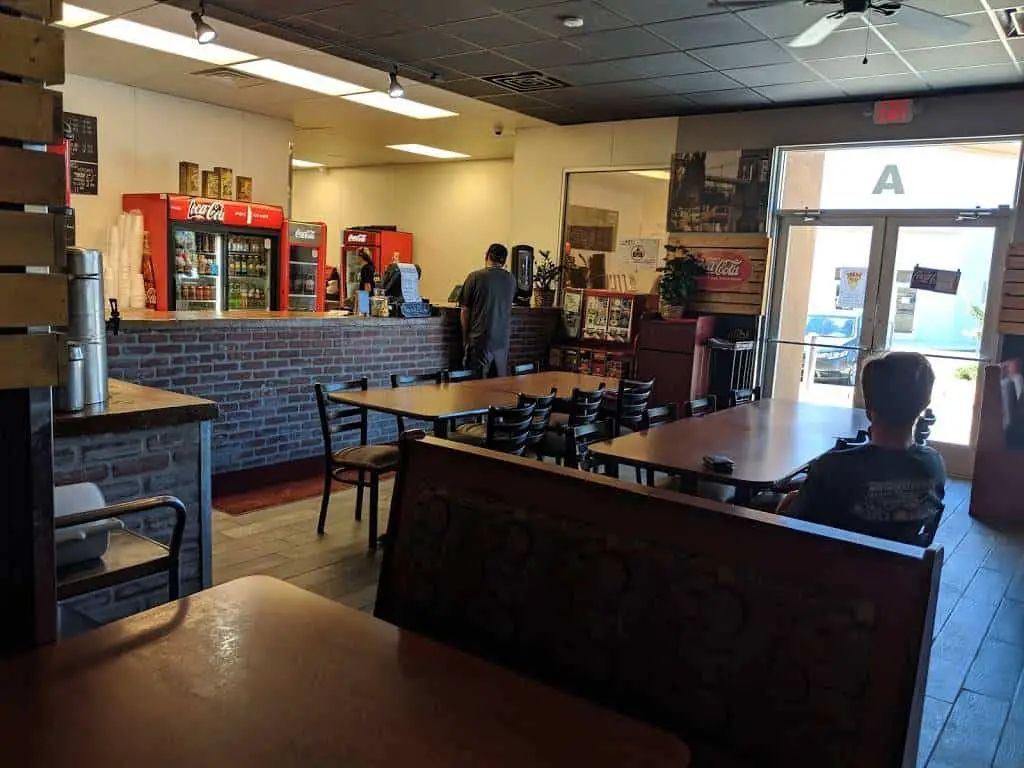 Address: 1220 Eubank Blvd NE, Albuquerque, NM 87112
Phone: (505) 292–8358
Oh yeah, I love their fantastic parking lot! Just get your calzone and go to the lot and enjoy.
They also have a dine-in, which is also amazingly designed, and the servers are friendly. An eat-out at the Pizza Castle in Albuquerque is an experience you'll never forget.
Their pizza is delicious too. The dough is perfect — neither too bready nor too much of a cracker. You can taste its crunchiness at the bottom while still chewy on the top and around the edges.
You'll definitely love the tomato sauce offered at Pizza Castle, as the pizza comes with a reasonable amount of cheese, which is properly cooked. The service is good, and the pricing is fair.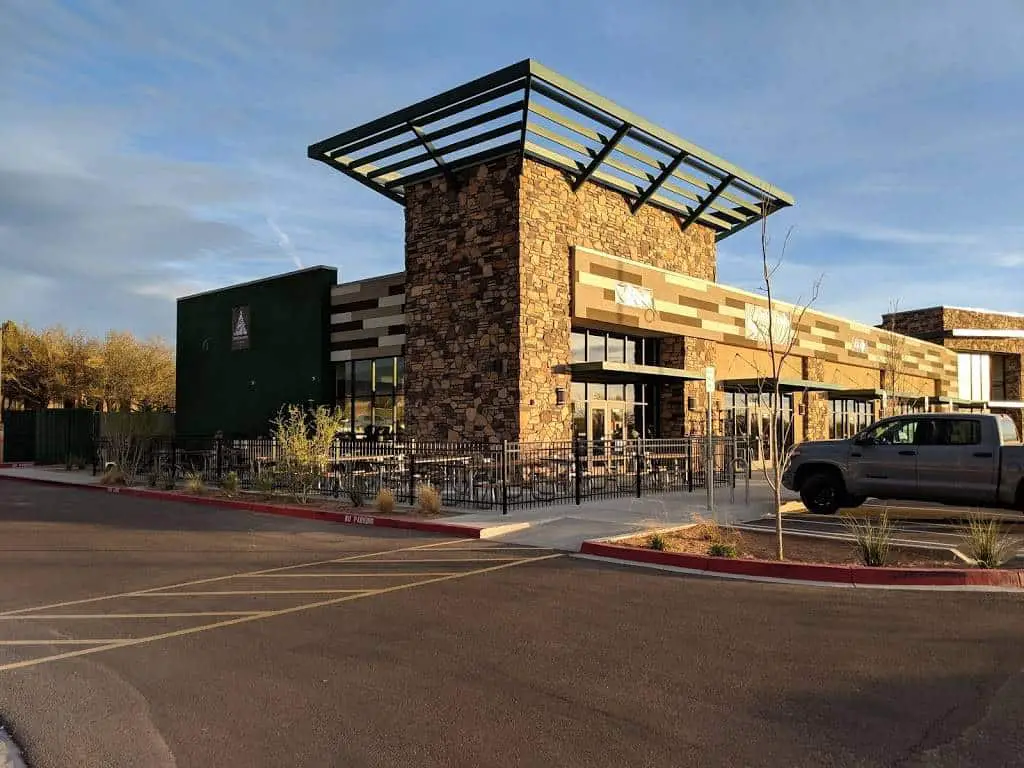 Address: 5161 Lang Ave NE suite a, Albuquerque, NM 87109
Phone: (505) 582–2720
This is the best place if you love pizza and beer. As a matter of fact, Restoration Pizza in Albuquerque sells itself as a spot to share beer and pizza, especially as a community.
The pizza is tasty too. The mozzarella isn't too much or too little. It doesn't cover the entire pizza, but its bits are enough to give it an unforgettable taste.
The pizza at Restoration Pizza in Albuquerque is greasy enough that it doesn't drip onto your shirt. Also, the ingredients are fresh, and the cheese is natural and well-cooked.
I recommend trying their Caprese pizza of the month, which is really, really good!
Address: 6400 Holly Ave NE, Albuquerque, NM 87113
Phone: (505) 318–1489
Now, if you're looking for a pizza place within Albuquerque that offers specials for those with dietary needs, the Blaze Pizza is the place to be.
The pizza spot understands the needs of vegan and vegetarians and those diagnosed with Celiac disease.
Blaze Pizza cooks its pizza with fresh ingredients as the dough is made from scratch and developed by renowned Executive Chef Brad Kent.
The dough requires more than 24 hours of fermentation to produce a crisp, light-as-air crust. I love that Blaze Pizza Albuquerque lets you build your own pizza, which they cook for you within minutes.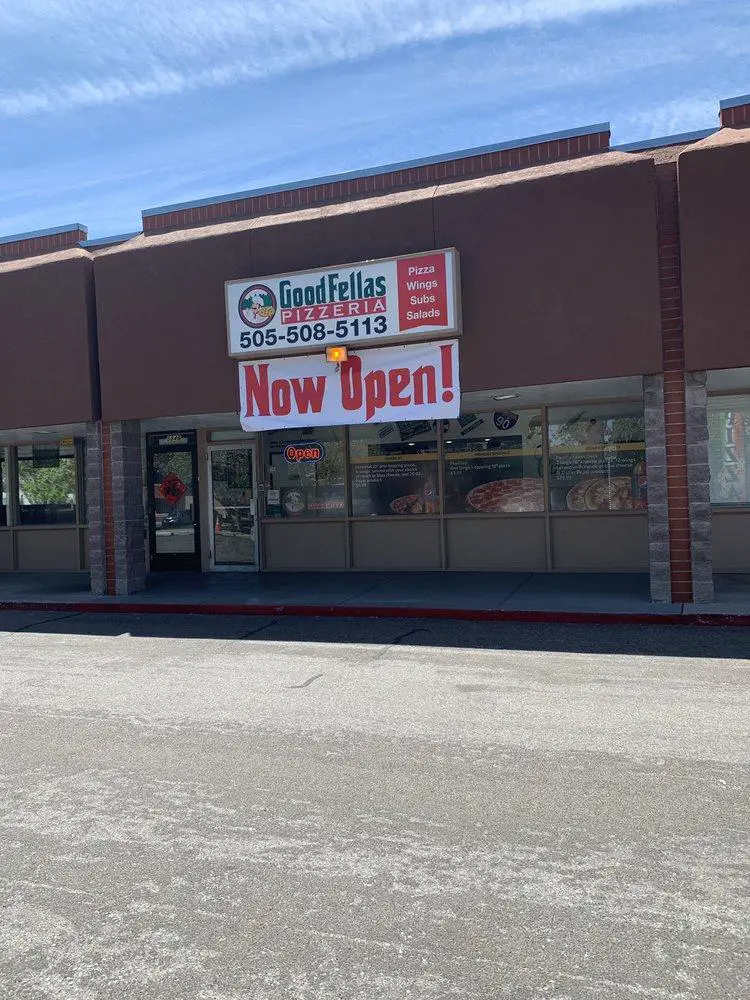 Address: 5844 Osuna Rd NE, Albuquerque, NM 87109
Phone: (505) 508–5113
The pizza has a crispy crust that's chewy yet not too doughy. The sauce is very flavorful, and the toppings are marinated with olives.
Some of their toppings range from classics such as pepperoni and sausage to spicy vegan chorizos and artichokes.
They have such an incredible and welcoming patio where you can relax with your friends and colleagues after a long day at work.
Finally, the staff is so helpful and pleasant to everyone. They are so patient with kids too.
Wrap-Up
With this well-thought-out list of the best pizza places in Albuquerque, I hope you find what's perfect for you. As I mentioned earlier, be sure to call in advance or check out their websites to verify their hours of operation. So, which of these joints tickles your fancy and why? Please let us know in the comments section.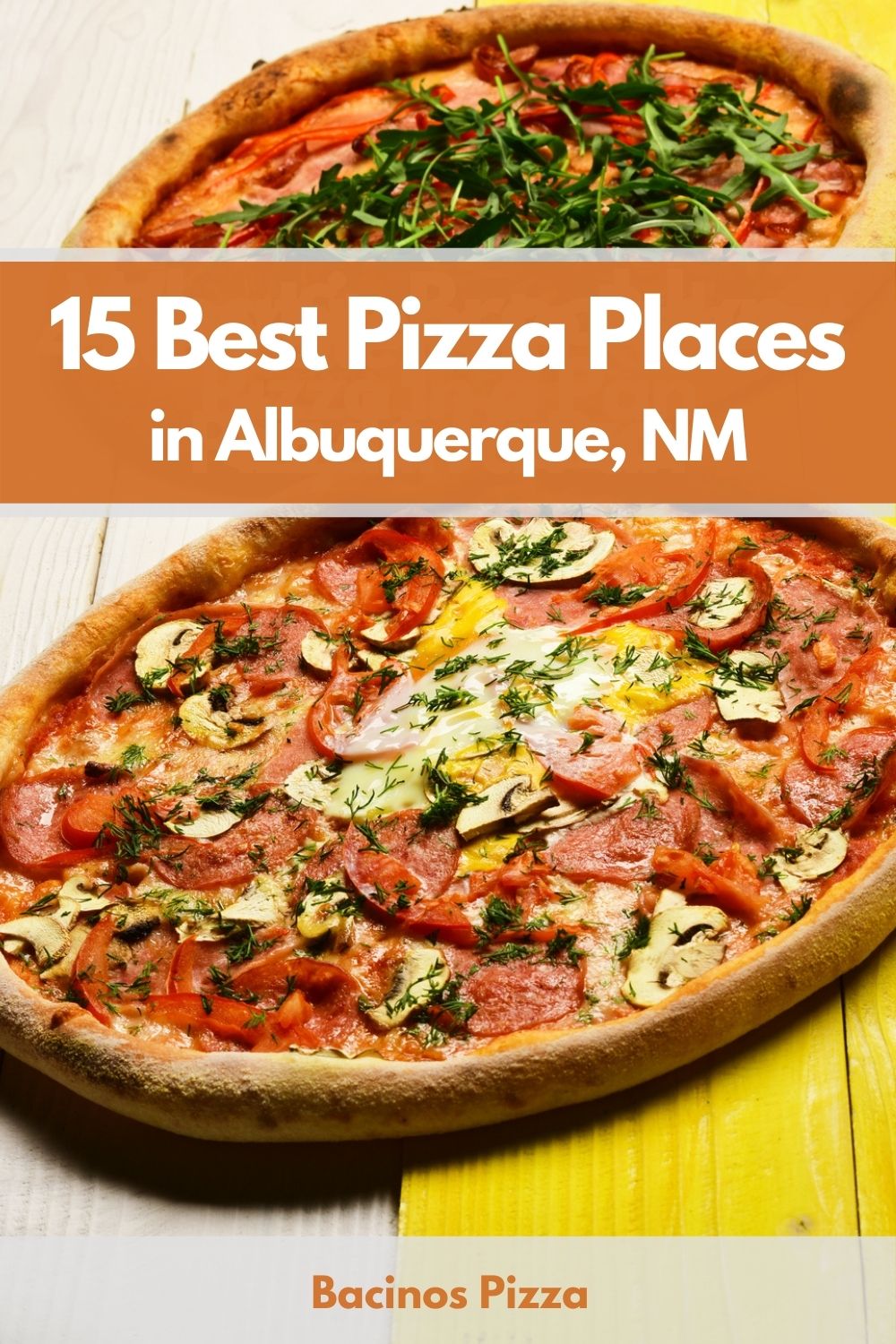 ---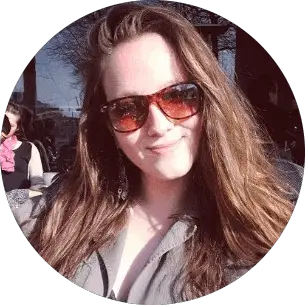 Barbara is an enthusiastic food-exploring person that goes through different culinary experiences. She got inspired by creating a pizza blog post after she tasted one of the best-selling pizzas in Toledo.