The largest city in Sunshine State, Jacksonville, is often known for its picturesque natural beauty and stunning beaches. But did you know that you can find some excellent pizzerias in the Bold New City of the South?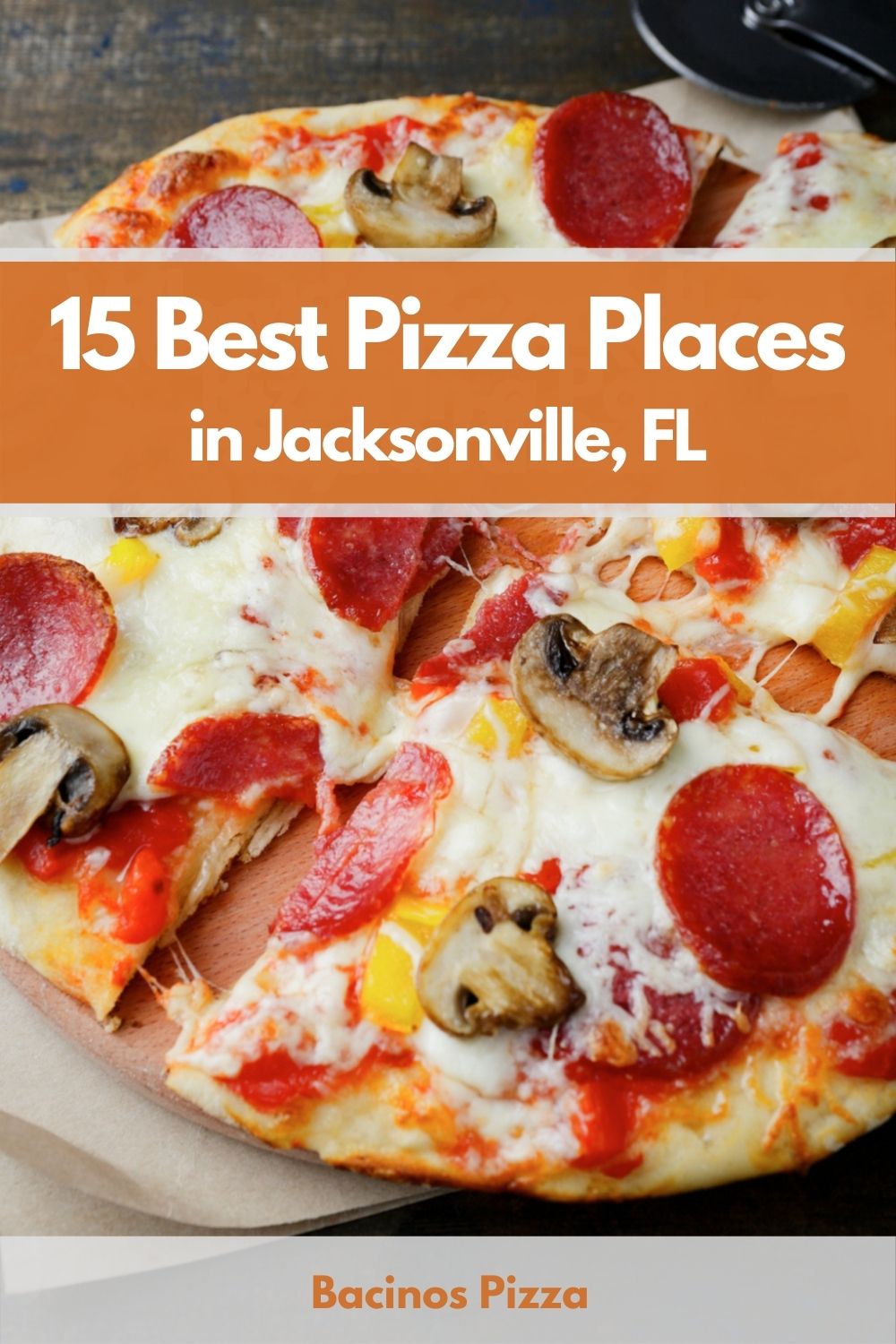 So, if you're craving a cheesy, crispy, chewy, delicious slice in Jax, you're in the right place! Here are 15 best pizza places in Jacksonville. Let's start our list with a local pizza pub, Carmines Pie House!
Be it thin-crust New York-style pies, or Chicago deep dishes, whatever you're craving, Carmines Pie House will fulfill all your pizza wishes!
Carmines Pie House prides itself on being easily the best pizza in Jax. And, we couldn't agree more with them. For starters, we highly recommend their Zucchini fries. Carmines also features quite a good beverage selection.
The atmosphere is fun and friendly, and the staffs are amazing at Carmines. What's more, they even have trivia night on Mondays! How great is that?
Address:  2677 Forbes St, Jacksonville, FL 32204, United States
Contact: +1 904-387-1400
This chain pizzeria has been in the pizza business for over 40 years. Located on Deer Lake Court, Mellow Mushroom Jacksonville – Town Center is one of the local favorites in the area. They feature a selection of 48 draft beers and handcrafted cocktails.
You can also find Mellow Mushroom at three other locations in Jacksonville – Avondale, River city, and Jacksonville Beach. Stone-baked pies at Mellow Mushroom are prepared using the freshest ingredients available.
When it comes to pizza, you cannot go wrong at Mellow Mushroom. If you're a mushroom lover, you'll love their Holy Shiitake Pie – an olive oil and garlic base topped with roasted shiitake, button, and portobello mushrooms, caramelized onions, and cheeses.
Mellow Mushroom also whole-heartedly welcomes customers with special dietary needs. Many of their pizzas can be made vegan/gluten-free.
Address: 9734 Deer Lake Ct Ste 1, Jacksonville, FL 32246, United States
Contact: +1 904-997-1955
Biggies Pizza believes to have brought New York and Jax beach together in their carefully crafted pies. This neighborhood pizza place serves their New York-style pies through their four locations in Jacksonville, the details of which you can find below.
Biggies can be a great place to unleash your inner pizza demon. They open until late at night, generally up to 12, except for Friday and Saturday when they close at 2. They also have a good selection of appetizers and a great flavorful pizza by the slice options.
You can choose to dine-in in their lively ambiance for a slice or swing by to take an entire pie home to your family. You can also get your pizza delivered hot and fast from Biggies.
Address: 1053 Park St, Jacksonville, FL 32204, United States

Contact: +1 904-580-5879

Address: 311 3rd St N Unit#101, Jacksonville Beach, FL 32250, United States

Contact: +1 904-853-6327

Address: 4160 Southside Blvd, Jacksonville, FL 32216, United States

Contact: +1 904-683-5694

Address: 13423 Beach Blvd, Jacksonville, FL 32246, United States

Contact: (904) 683-5002
You can find relish Blaze's pizzas in two locations in Jacksonville – Town Center and River City Marketplace. At Blaze, thin crusts topped with creative sauces and toppings are fast-fired to give you a luxurious pizza experience.
If your pizza craving is real bad, Blaze is the perfect place for you! The service here is super quick, and the food is amazing. What else could anybody ask for?
This pizzeria also offers you some great keto and vegan options. So, what are you waiting for? Do as Blaze Pizza says, "Fire up your next pizza at Blaze Pizza."!
Address: 4488 Town Center Pkwy, Jacksonville, FL 32224, United States

Contact: +1 904-512-0694

Address:  840 Nautica Dr, Jacksonville, FL 32218, United States

Contact: +1 904-310-1765
Mikey's Pizza & Italian Restaurant is undoubtedly one of the best pizza joints in the city. So, if you're looking for an authentic New York-style pie in Jax, Mikey's is your place!
Besides their Jax famous pizzas, they also serve a variety of top-notch appetizers and other celebrated recipes, including sandwiches, calzones, Stromboli, seafood, pasta, and many more.
Mikey's Chicken Parmigiana and Fettuccine Alfredo have got rave reviews. And, their calzones are amazeballs! So, if you don't feel like pizza, you know what to order, don't you?
Address: 7544 Beach Blvd #3004, Jacksonville, FL 32216, United States
Contact: +1 904-721-7333
VPizza's delicacies have been featured by many acclaimed magazines and publications, and they have won #1 positions plenty of time.  In 2021 their pizza has been voted #1 by Folio Weekly and Carry Living.
Though their story started from their San Marco location, you can relish the Italian treats they offer from two more locations in Jacksonville – Jacksonville Beach and Mandarin. V Pizza bakes their pizzas in 905 degrees wood-fired stone-oven for about 60-90 seconds.
It goes without saying that V Pizza serves finger-licking good wood-fired pizzas, but wings are off the chain! Try their signature wings; you'll not regret it!
Address: 1406 Hendricks Ave, Jacksonville, FL 32207, United States
Contact: +1 904-527-1511
Craving a New York pie in Jax? If yes, TonyD's New York Pizza & Restaurant is the perfect place for you to satisfy your cravings!
This Italian pizza joint specializes in New York-style pies and also offers many other exciting delish recipes. Mondays at TonyD's are pasta night, where you'll be able to grab an amazing deal on pasta. Similarly, Tuesdays are pizza night! Make sure you schedule your visit accordingly.
Even if you're a New Yorker who grew up eating the best pies in the country, you will be able to taste home at TonyD's pies. Give TonyD's a try; you won't be disappointed!
Address: 8358 Point Meadows Dr #10, Jacksonville, FL 32256, United States
Contact: +1 904-538-0555
If you're craving a crispy, cheesy slice at 1 in the morning in Jacksonville, look no further than Five Star Pizza! You can find this takeaway and delivery-only chain pizzeria at three different locations in Jax.
First opened in 1988, this pizzeria has expanded to 20 locations as of now and is expecting to share its delicious pies and recipes via more locations in the near future.
The slogan of the Five Star Pizza is – Bigger, Better, Faster says it all!! And the slogan aptly describes what this pizzeria stands for. Swing by their storefront to take home their delish dishes or opt for their delivery services. And a quick tip for you – don't sleep on their garlic knots!
Address: 3325 Plymouth St, Jacksonville, FL 32205, United States

Contact: +1 904-388-8879

Address: 3546 St Johns Bluff Rd S UNIT 106, Jacksonville, FL 32224, United States

Contact: +1 904-512-6000

Address: 9825 San Jose Blvd, Jacksonville, FL 32257, United States

Contact: +1 904-262-9590
Ever tried Hungry Howie's flavored crusts? If yes, it's about time you try it again in Jax. If not, what are you waiting for?
Hungry Howie's offers 8 different mouthwatering crust flavors. Their relatively new combination crust – the garlic, butter, and herb seasoning crust, though not available on menu and displays, is terrific as well!
If you're at Howie's and you don't feel like eating a pizza. That's okay as well; Howie's have many more delicious food options to choose from.
Try Howie's oven-baked subs stuffed with fresh, mouthwatering ingredients or their juicy wings. If you love bread, Howie's bread is also quite sought-after.
Address: 8011 Merrill Rd Suite #20, Jacksonville, FL 32277
Contact: +19047439100
Food? Phenomenal! Owners and staff? Absolute gems! Pricing? Decent! Halal Pizza & Grocery ticks all the boxes!
This pizzeria is the best-kept secret of Jax and beats many so-so chain-pizzerias by miles when it comes to pizzas. The restaurant is hidden within the grocery store and closes pretty soon – at 8 PM.
Build your pizza as you like at Halal Pizza for unbeatable prices. Besides their pizzas, their calzones, strombolis, Philly cheesesteaks, and wings are equally sought-after.
However, the ambiance is not like that of typical restaurants where you sit and enjoy your food in a laid-back atmosphere. So, it'd be best if you opt for takeaway or delivery rather than dining in.
Address: 2683 St Johns Bluff Rd S, Jacksonville, FL 32246, United States
Contact: +1 904-300-3330
Have you ever tried St. Louis-style pizzas? Thin cracker-like crusts, made from unleavened yeast-free dough and toppings piled up generously! Sounds like your type of pizza? If yes, you should definitely give Picasso's a try!
Picasso's also features New York-style and Mediterranean-style pies on their menu. The dessert selection at this restaurant is out of the world. Get their Gooey butter cake!
One of their signature pizzas, The Kitchen Sink, topped with Pepperoni, sausage, bacon, ground beef, roasted peppers, Vidalia onions, pepperoncini, black olives, garlic, and more fresh toppings, seems to be a crowd favorite. And, shrimp and grits at Picasso's are off the chain!
Address: 10503 San Jose Blvd, Jacksonville, FL 32257, United States
Contact: +1 904-880-0811
Be it fresh salads, thin-crust pies, pizza by the slice, beverage, or calzones, Moon River Pizza does everything best! The customer service is fabulous in this pizzeria, and the staffs are friendly, quick, and always welcome you with a smile.
The atmosphere within the pizzeria is laid-back, and the interior features local artwork on display. Moon River's White Pizza topped with a generous amount of mozzarella, feta & parmesan cheese, extra virgin olive oil, oregano, black pepper, and fresh garlic is loved by many.
What's more, their Greek salad is fresh and tastes heavenly delicious! Even if you're a vegan, feel free to visit Moon River. They have plenty of vegan options for their special customers.
Address: 1176 Edgewood Ave S, Jacksonville, FL 32205, United States
Contact: +1 904-389-4442
Rojas Pizza opens at 9 in the morning and closes at 5:30 in the evening. So, if you're looking for a restaurant to have pizzas for dinner, you might want to keep looking!
This pizzeria serves one of the best New York-style pies in Jacksonville. The service is quick at this place, and prices are fair, given how high-quality food they provide to their customers.
Treat your tastebuds with Roja's pepperoni pizzas for lunch. This pizzeria also serves pretty great strombolis. Make sure you check them out!
Address: 440 W Adams St, Jacksonville, FL 32202, United States
Contact: +1 904-525-0432
D&LP Subs is where American and Italian classic recipes meet in Jax. From Italian pizzas and subs to wings and Philly Cheesesteaks, this restaurant creates magic with its recipes.
D&LP is easily one of the best local spots for pizzas and wings in the beach area. They make their sauces, meatballs, and pizzas in-house using the freshest ingredients available. The founder brothers Chris Lewis and Dan D'Ambrosio have truly converted their dreams into reality!
Address: 1409 3rd St S, Jacksonville Beach, FL 32250, United States
Contact: +1 904-247-4700
Located in Boulevard Corner, at Mega's Pizza, you'll get served authentic Italian food by real Italian people.
Whatever you're craving, hand-tossed New York Style thin-crust pizza, gourmet thin-crust pizza, or Sicilian-styled thick-crust pizza; Mega's Pizza is at your service. Among other Italian delicacies offered at this pizzeria, their calzones are the most sought-after.
Dine-in or opt for curbside pickup or delivery; Mega's is definitely a must-visit pizzeria when you're in Bold City!
Address: 5800 Beach Blvd #107, Jacksonville, FL 32207, United States
Contact: +1 904-396-1164
Summary
When it comes to pizzas, these restaurants are a cut above the rest. These 15 pizza places have time and again proved that they put care and passion in their recipes, which is perfectly reflected in the dishes they serve!
Even before you fill your tummy with their delicacies, their friendly and welcoming smile will fill your heart with warmth. We don't want to distract you any longer. Just pick a place and order a pie already!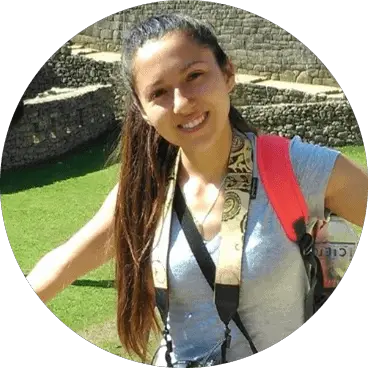 Kathryn's love for pizza started when she was still young. When she was young, she's been a picky eater–that's what her Mom used to say. The only food that she enjoyed and loved was pizza–until now! Her love for pizza turned into a passion!