You'll be spoilt for choice if you're searching for pizza in New York. Little Italy was the birthplace of the American take on the pizza pie, and there remain loads of pizzerias in the area. So how do you go about making the right choice?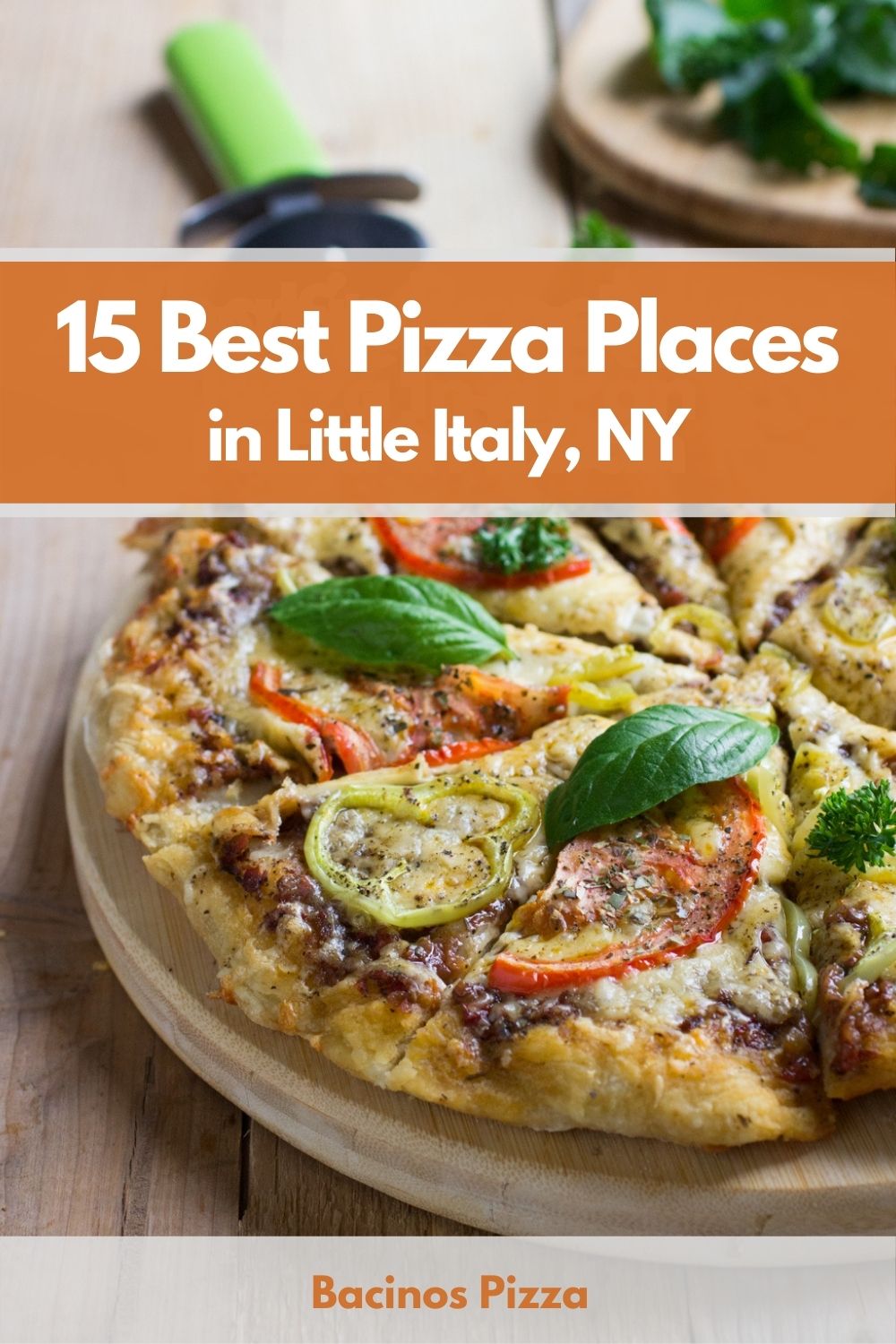 That's where we can help! We've rounded up 15 places to get the best pizza in Little Italy, New York. And we're going to tell you what makes them great.
So buckle up, and get ready to find your new favorite pizzeria!
Address: 113 Mulberry Street, New York, NY 10013
Tel: 212-961-6183
Manero's Pizza provides simple standing counters for eating in its narrow dining room. But while this may not be the location for a lengthy meal, it's perfect for those wanting fantastic pizza fast. You can also pick up your takeaway here, or get your food delivered.
The menu is focused on New York slices, although you can also get a range of whole pies. The latter concentrate on classics like the Margherita, Pepperoni and Spicy Sopressata. There's also a no-cheese vegan option.
There's a small range of additional toppings, including creamy burrata, Calabrian chili, broccoli rabe, sweet sausage, red onion and Kalamata olives. And the menu also features arugula and caesar salads, pinwheels and garlic knots.
Manero's is open seven days a week from midday to midnight.
Address: 68 Kenmare Street, New York, NY 10012
Tel: 646-895-9131
Nolita Pizza has won a devoted following for its tasty food and friendly service. It's open seven days a week, and is dedicated to serving great pizza however late you crave it. On Friday and Saturday nights, it caters to the post-clubbing crowd, staying open until 4.30am.
You can pick up your food or have it delivered to you. And if you order online, you'll get a 10 percent discount.
The menu includes whole pies and pizza by the slice, and there are gluten-free options too. Most pizzas are round, but there's also a spicy square pepperoni pie, and a square Grandma Rosemarie pizza. The marinara sauce is made fresh in-house every day, and the cold-pressed olive oil comes directly from Italy.
Beyond pizza, you'll find appetizers, salads and a range of pasta dishes. And if you're feeding a crowd, check out the catering entrees for great flavors and good value.
Address: 186 Grand Street, New York, NY 10013
Tel: 212-226-1600
Gelso & Grand offers dine-in, takeout or delivery, and it's open seven days a week. Head to the restaurant and you'll be treated to comfortable dining in spacious, rustic surroundings. And there's a bar too.
The menus change seasonally, but you'll always find a small but delectable range of pizzas. The focus is on quality rather than wide choice – and it's an approach that seems to work. Some customers say this is the best pizza they've ever eaten.
Current options include the classic Margherita, Pepperoni and Quattro Formaggio. Those who like heat will want to check out the Inferno, featuring spicy capicola, chili flakes and chili oil. And for luxury, choose the Truffle Mushroom, with truffled crème Fraiche, roasted mushrooms, banana peppers and mozzarella.
Also on offer is a concoction known as the "capizza" – a combination of a calzone and a pizza. And there's soup, grilled sandwiches, pasta, sides and bruschetta too.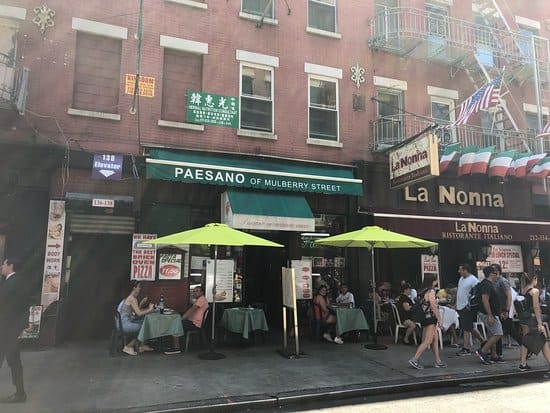 Address: 136 Mulberry Street, New York, NY 10013
Tel: 212-965-1188
Dine it at Paesano's and you can enjoy classic Italian cooking in a rustic, wood-beamed interior. If you prefer to dine at home, their food is available for takeout or delivery too. It's open every day from 11 am to 10 pm. And if you place your order online, you'll save 10 percent on your bill.
The menu here is vast, and changes depending on whether you're eating lunch or dinner. Note that pizza is strictly a lunchtime option, and it's served by the slice. Choose from a classic cheese pizza, create your own, or go all-out with the Pizza Supreme.
For dinner, there's a huge range of appetizers, salads, meat and seafood entrees, pasta dishes, vegetables and grills.
Address: 32 Spring Street, New York, NY 10012
Tel: 212-941-7994
If you want to dine at the heart of New York pizza history, there's no better choice than Lombardi's. Its founder is the man who first brought pizza from Italian American kitchens to New York streets.
Today, Lombardi's continues to bake pizza in a coal-fired oven, with freshly made tomato sauce and creamy mozzarella. It's something of a tourist haunt these days, so it's fairly expensive. But options like the Clam Pie get consistently high ratings from diners.
Also on the menu are calzones, Stromboli, pasta dishes and salads. And for dessert, you can choose between cheesecake or cannoli.
Address: 17 Cleveland Place, New York, NY 10012
Tel: 212-226-3777
Order online from Champion Pizza and you'll be able to get your food delivered at no extra charge. You can also pick up your food yourself or, if you prefer, dine in and enjoy the hip, laid-back vibe.
Here you'll find an extensive selection of both round and square pies. You can buy your pizza by the slice too. And if you want to, you can bake your own pizza at home using a pre-cooked crust and a range of toppings.
Specialties include the Margherita Pesto, which uses Champion's own secret sauce. And there's the NYC Round, featuring meatballs, pepperoni, mozzarella, onion and homemade marinara sauce.
Champion's is open daily from 11 am. It closes at 11 pm Sundays to Tuesdays, midnight on Wednesdays, and 3 am on Thursdays, Fridays and Saturdays.
Address: 265 Canal Street, New York, NY 10013
Tel: 910-469-4288
Enzo Bruni is a low-key Italian eatery situated inside Canal Street Market. You can dine in, get takeaway, or have your order delivered to you at home. It's open seven days a week, from 11 am to 8 pm.
The menu has all the classics, plus gourmet options like La Monella, with speck, buffalo ricotta, cherry tomatoes, pecorino Sardo and balsamic fig glaze. Or why not try Le Bruni, with a crust colored with squid ink and a topping of shrimp, cuttlefish, arugula, balsamic and cherry tomatoes from Vesuvio.
Also on the menu are pastas, salads and meat and seafood dishes. And there's an amazing selection of desserts. While this isn't the cheapest option out there, the flavors are really something special.
Address: 165 Mulberry Street, New York, NY 10013
Tel: 212-203-2766
Amici brings homestyle cooking to the heart of Little Italy. Dine-in and enjoy the convivial atmosphere and good service, or order your food for takeout or delivery. It's open seven days a week from 11 am to 10.30 pm.
The pizzas here are offered alongside a huge menu of appetizers, soups, salads, risottos, pasta and meat and seafood dishes. The pies are all Neapolitan style – round, with a light and crispy crust. The focus is on classic toppings like the Margherita, Pepperoni, Funghi and Quattro Stagioni.
Although the choice of pizzas isn't huge, there are still options for either meat lovers or vegetarians. And you can accompany your meal with a glass of sangria too.
Address: 231 Mott Street, New York, NY 10012
Tel: 212-966-1234
At Emporio, you can enjoy wood-fired pizza and homestyle pasta. Choose to dine in, pick up takeout or get your food delivered seven days a week. It's open until midnight on Friday and Saturday nights, until 10 pm on Sundays, and until 11 pm the rest of the week.
The dedicated pizza menu offers a good selection of favorites with the ability to add extra toppings. And there's a gluten-free crust for an extra $2.
All the ingredients here are top-notch, with fior di latte and buffalo mozzarellas and San Marzano tomatoes. Other highlights include Corbezzollo bitter honey, squash blossoms, truffle oil and roasted hen of the wood mushrooms.
There's also a range of cocktails, draft beers and wine by the glass.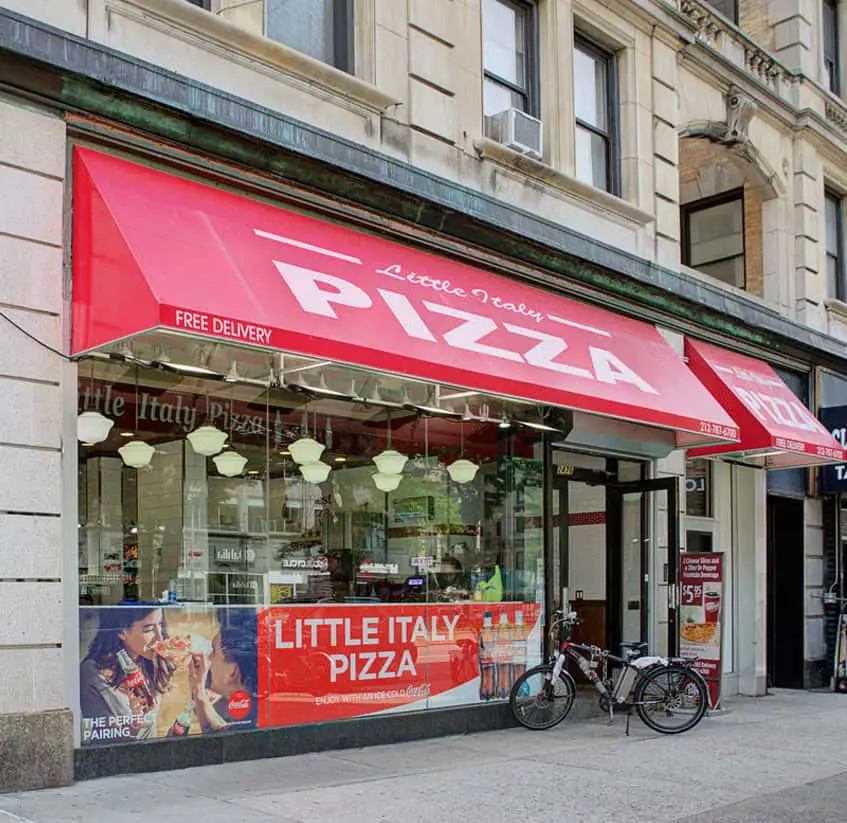 Address: 11 Park Place, New York, NY 10007
Tel: 212-227-7077
Little Italy Pizza is open from Monday to Friday between 9 am and 6 pm for takeout and delivery. You can order whole pies or slices, and you can skip the line by ordering online.
The pies here are large – 18 inches across – and each one will give you eight slices. The specialty range all has a thin crust. There's a huge selection, including options like the Amatrice, with bacon, onions, mozzarella and tomatoes.
There's just as big a choice of gourmet pizzas, all of which are made from dough mixed fresh daily in-house. Grandma's Pizza is the exception to the eight-slice rule. Order one of these, and your pie will give you nine slices.
Also on the menu are calzones, rolls, hot heroes and salads.
Address: 325 Church Street, New York, NY 10013
Tel: 212-226-7900
Saluggi's offers you the option of dine-in, pick-up or delivery every day except Sunday. The rest of the week it's open from 11 am to 8 pm.
The pizzas, cooked in the brick oven, are the specialties of the house. There's an excellent range of specials, with plenty of choice for vegetarians or meat-eaters. And you can create your own pie, selecting from an enormous list of toppings.
There's also a great range of starters, sides and salads to accompany the main event. And if you're not in the mood for pizza, there's a wide choice of pasta dishes, rolls and heroes too.
Address: 27 Prince Street, New York, NY 10012
Tel: 212-966-4100
Located near the New Museum, Prince Street Pizzeria offers tasty food for takeout or delivery. It's open seven days a week, including until 3 am on Friday and Saturday nights.
The pizzas come in a choice of Neapolitan round pies or Soho squares. Giggle at the names – the Fancy Prince, Buzzy Broome Vodka, and Broadway Breadcrumb – then tuck in and enjoy the tasty flavors. Some of the pies can also be made vegan.
You can also get sides of house marinara, vodka and spicy sauces. Service here is super-quick, and the crust, sauce and cheese are in perfect proportion.
Address: 51 Spring Street, New York, NY 10012
Tel: 917-409-2989
Upside Pizza is open seven days a week from 11 am until 10 pm. Dine-in or order takeout or delivery. Wherever you choose to eat, you'll enjoy pizzas crafted from premium, locally sourced ingredients. And they'll come to you straight from the classic Montague Hearth Bake brick oven.
Enjoy your slice from either a round or Sicilian pie. Options include classics like cheese and pepperoni and innovative combinations like the Falcowitz. The latter features white wine lemon cream sauce with mozzarella, sauteed mushrooms, lemon zest, parsley, black pepper and Parmigiano Reggiano.
Toppings are generous and packed with flavor. And there's a range of soft drinks to quench your thirst.
Address: 383 Canal Street, New York, NY 10013
Tel: 212-966-1110
As the name suggests, the emphasis at 99 Cent Fresh Pizza is on bargain prices. But that doesn't mean you have to compromise on quality. The pizza here is fresh and tasty, and the service is quick and attentive. You can eat at the stand-up counter, pick up your takeout, or get your food delivered.
There's a great range of pizza slices, and you can add additional toppings to any of them. If you need to feed a crowd, you can also order a whole 18-inch pie.
The prices offer exceptional value, and you can also order bundles of slices and soft drinks.
Address: 22 Orchard Street, New York, NY 10002
Tel: 212-334-3481
Scarr's Pizza is a lively spot to dine in, or you can get a takeaway or delivery if you prefer. It's open until 10 pm seven days a week. From Tuesday through to Sunday, doors open at midday. On Mondays, they don't open until 4.30 pm.
The pizza crusts here are made with 100 percent natural stone-milled flour. There's a choice of red and white pizzas, round and Sicilian, and both styles can be made vegan too. Highlights include the DJ Clark Kent Sicilian, with Italian chicken sausage, fresh garlic, tomato sauce and a blend of cheeses.
There's also a select choice of cocktails, Presidente beer, and a small but good selection of wines by the bottle.
Ready for pizza night?
That brings us to the end of our tour of the best pizza in Little Italy, New York. It's hardly surprising that the home of New York pizza has such an excellent range of options! We hope we've helped you narrow down your search.
Whether you're looking for a dine-in experience to celebrate a special occasion, or just want a tasty slice at home, there's somewhere in Little Italy to fit the bill.
We hope you enjoy your next pizza night!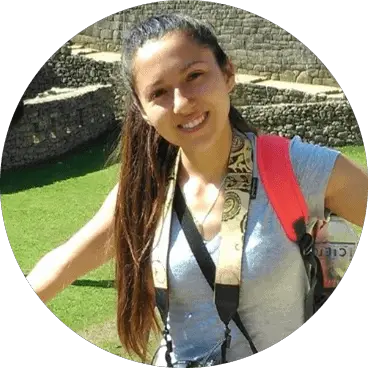 Kathryn's love for pizza started when she was still young. When she was young, she's been a picky eater–that's what her Mom used to say. The only food that she enjoyed and loved was pizza–until now! Her love for pizza turned into a passion!