When in Rome, well, you know what to do! Enjoy the delicious Roman-style local pizzas just as Romans do! Unlike Neapolitan-styled pizzas served in soft, bubbly, and chewy crusts, Romans like their crusts thin and crispy.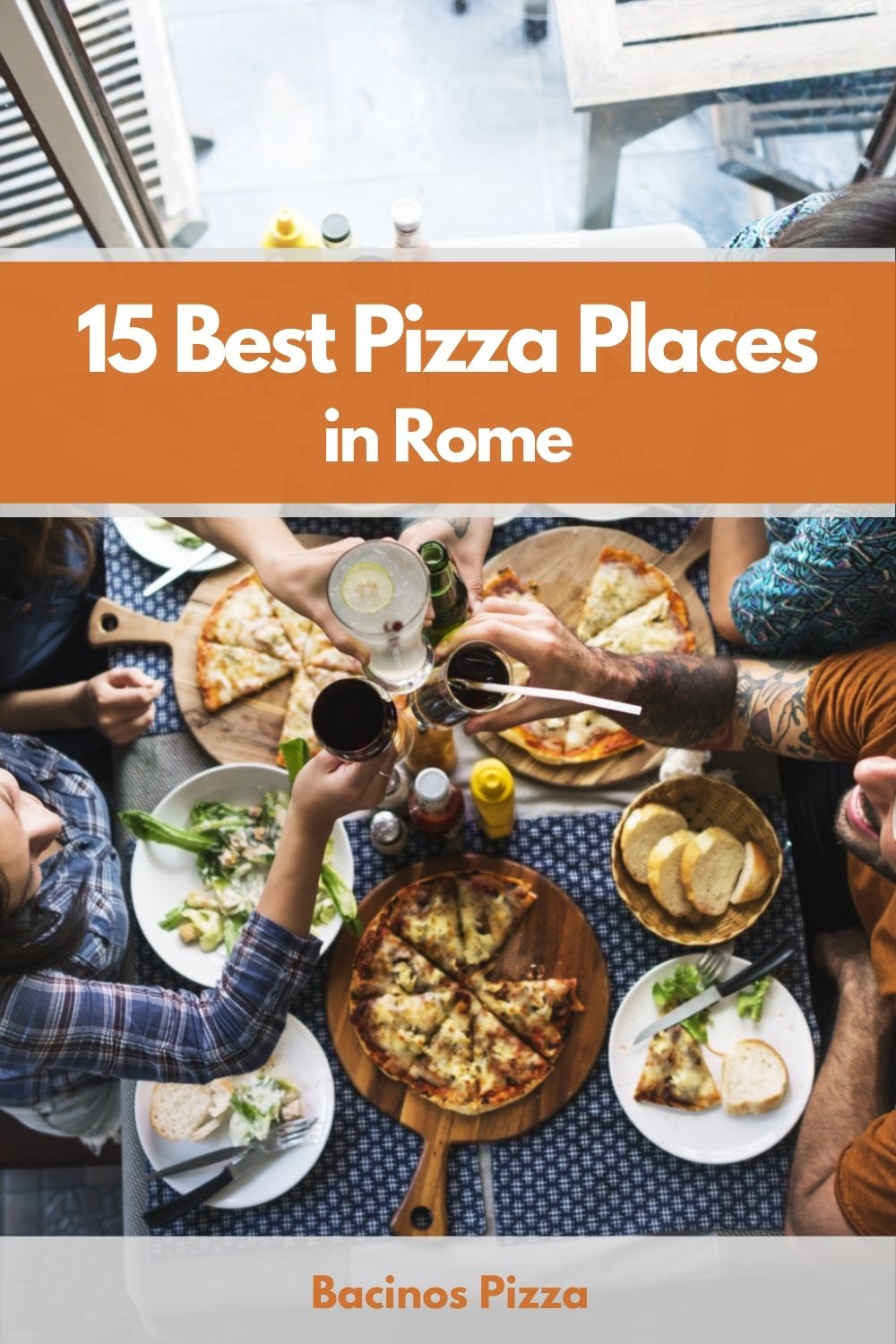 Romans take pride in their pizzas! Thus, it goes without saying that the smell of freshly baked pizzas will waft into the olfactory senses of passers-by every 5 minutes. So, where do you start your pizza hunt? Here are 15 best places in Rome where you can enjoy fantastic Italian delicacies.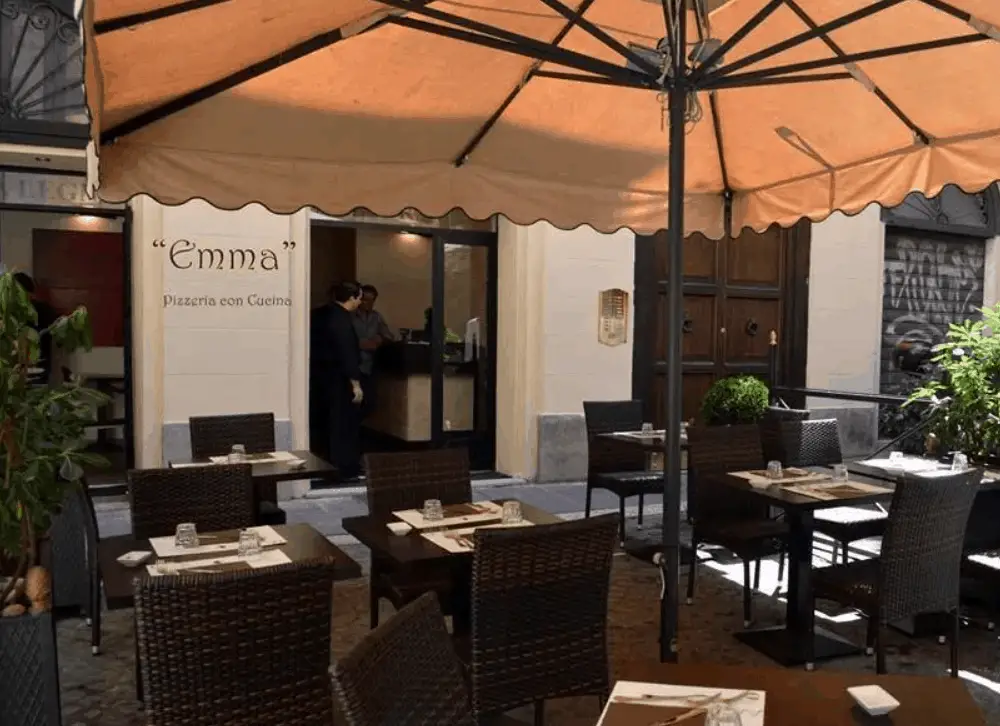 Located in the historical heart of the city, nearby the Campo de' Flori and Largo Argentina, Emma Pizzeria is one of the truly authentic Roman restaurants.
Famous for its contemporary setting and audibly crunchy thin crusts pizzas, this elegant restaurant is a part of the Roscioli family empire and was founded in 2014 by Francesco Roscino. The ingredients and toppings used here are of the finest quality.
The dough recipe used for Emma's thin-crust pizzas includes a mixture of organic flours, carefully formulated by Pier Luigi Roscioli. For those who want to try more of their delicacies,  many have raved about their fritti.
Emma has a small ambient seating area, so if you're planning your lunch or dinner here, make sure to book beforehand.
Address: Via Monte della Farina, 28/29 – 00186 Rome
Contact: 06 64760475
From winning the hearts of the locals as their go-to street food to opening multiple franchise outlets in Rome and even in New York, Trapizzino, today, has become an international sensation. In Rome alone, Trapizzino has 8 outlets, the details of which we have listed below.
The signature triangular pocket made up of Pizza bianca, i.e., plain pizza base and the mouth-watering flavor-burst of the fillings inside, is where the traditional recipes meet the innovation.
All the credits for this authentic Roman pizza go to Rome-based pizzaiolo Stefano Callegari. The pizzas are wood-fired, and the fillings are creative yet classic. So, if you're looking to try something new when you're in Rome, this is your place!
Address: via Giovanni Giolitti 36

Contact: +390646202910

Address: via Giovanni Branca 88

Contact: +39 0643419624

Address: Piazzale di Ponte Milvio 13

Contact: +390633221964

Address: Piazza Trilussa 46

Contact: +39065817312

Address: Via Vespasiano 2

Contact: +390694421854

Address: Piazzale delle Provincie 9

Contact: +390690239685

Address: Victory Square 15

Contact: +390697242671

Address: Via Neghelli, 4

Contact: 00393408743637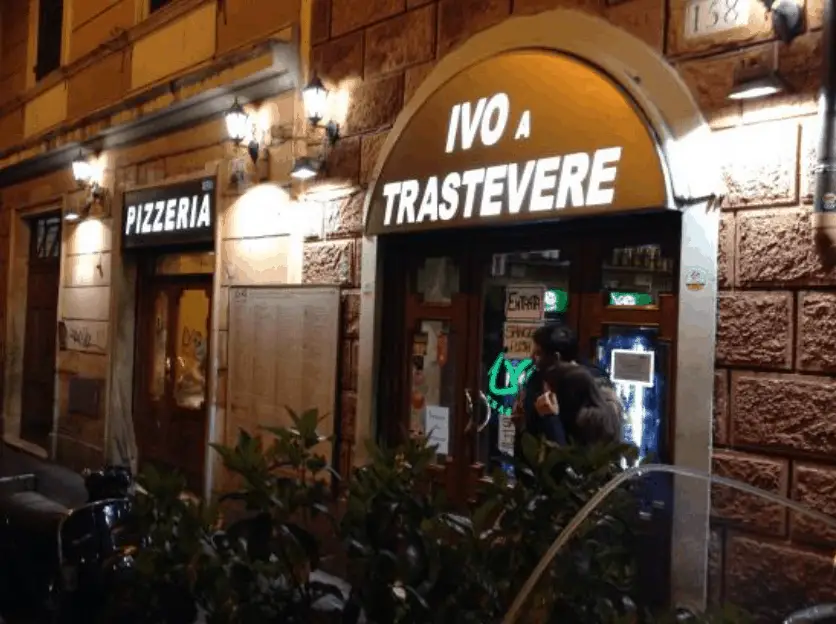 The story of Ivo a Trastevere started from a room with an oven. In the early 1960s, Ivo Stefanelli and his wife Romana began winning the hearts of Trastevere with their exquisite and delicious sweets. History tells us that he started baking the first Roman-style crunchy thin-crust pizzas.
One room slowly became four, and a desert store slowly turned into a city's one of the most loved pizzerias. You can expect many diverse faces in this pizzeria since it is famous amongst students who are in Rome for study-abroad programs.
If you're hoping for a peaceful dine-in session, make sure to be early, or you may have to settle for take-aways.
Address: Via di S. Francesco a Ripa, 158 – 00153 Rome
Contact: 06 581 7082
If you're worried that you won't be able to get that Neapolitan-style taste even when you're in Rome, you're totally mistaken. Seu Pizza Illuminati serves you one of the best Neapolitan pizzas in Rome!
What's more, Pier Daniele Seu, often known for his experimental toppings, makes sure that the double-leavened Neapolitan-style crust, which is chewy yet crunchy with a hint of Roman twist, is served with creative and daring flavor combinations.
This contemporary pizzeria is only open for dinner and is often quite busy despite having a wide sitting space. Though weekends are notorious for being busy, we'd recommend you to pre-book a table even if you're visiting Seu Pizza Illuminati on weeknights.
Address: Via Angelo Bargoni, 10 – 18 – 00153 Rome
Contact: 06 588 3384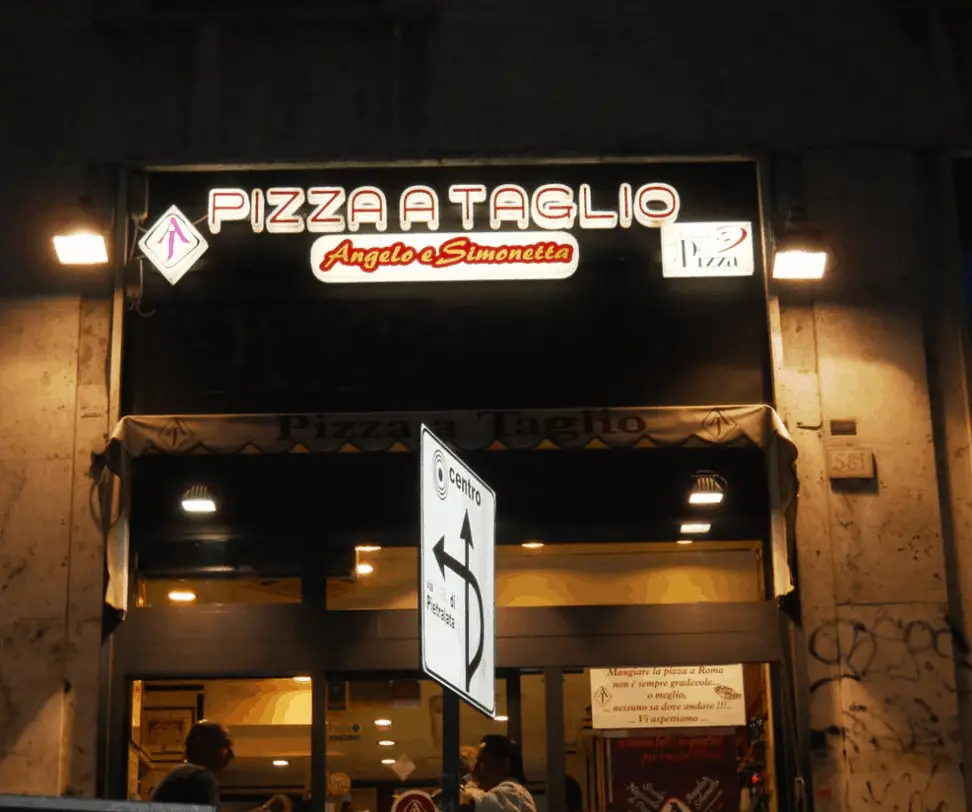 A little out of the way, in the Nomentana neighborhood, lies a fantastic pizzeria where you get served in slices. Many vouch that Pizzeria a taglio Angelo & Simonetta serve one of the best pizzas in Rome.
The ingredients are fresh and of top-notch quality, and the combination of the toppings is carefully formulated and changes every day. Slow and long leavening results in thick, flavorful crusts that complement the toppings in the best way possible.
Address: Via Nomentana, 581 – 00141 Rome
Contact: +39 06 8718 8853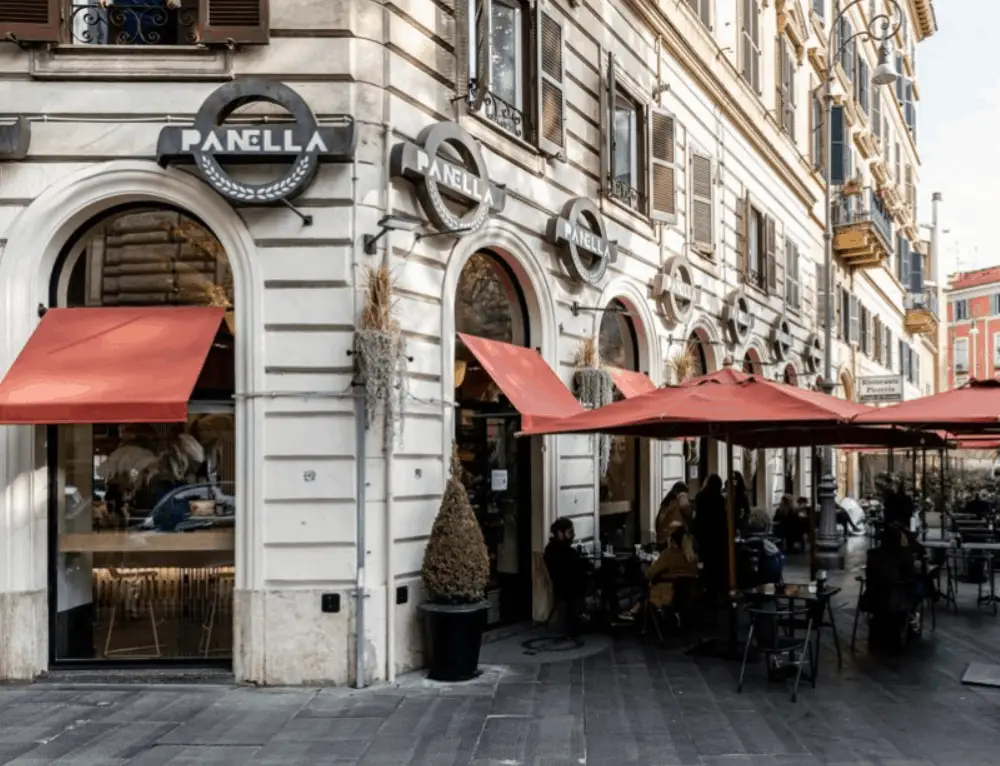 Panella, led by Maria Grazia Panella, was among the first to offer gluten-free bakery products more than 30 years go, and still continues doing so.
Panella is located at the heart of Rome, a stone's throw from the Colosseum, and the outdoor setting makes sure that the customer gets to enjoy Rome's beauty while they chew on their delicacies.
Open since 1929, Panella bakes more than 70 types of bread today. Though a bakery at its core, it serves one of the best old-school Roman pizzas, i.e., thin crusts and light dressing. If you ever visit Panella, make sure you relish their coffee and desserts as well. You'll not regret it!
Address: Via Merulana, 54 – 00185 Rome
Contact: +39 06 487 2435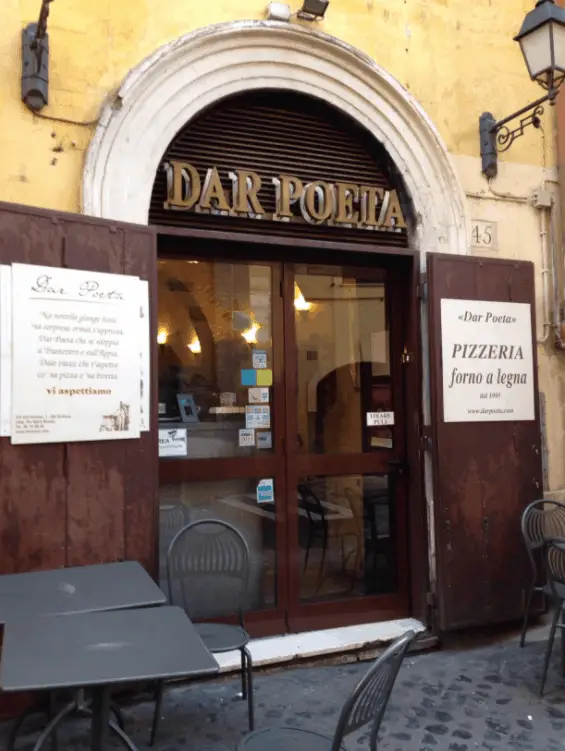 Dar Poeta is named after an Italian poet, Belli. Needless to say, you'll find plenty of his creations adorning the walla of this cozy restaurant. The pizza crusts have soft crumbs, are enclosed in crunchy casings, and the taste and aroma remind you of ancient bread.
At Dar Poeta, they believe that leavening and maturation of the dough must be done appropriately in order to create more digestible crusts, which do not swell in the stomach. Besides their fantastic range of doughy pizzas, Dar Poeta is also famous for its Nutella calzone!
Address: Vicolo del Bologna 45 – 00153 Rome
Contact: +39 06 5880516
In partnership with Antonio Pratticò, a beer and wine expert, this sit-down pizzeria is another creation of Stefano Callegari. Sforno opens only for dinner and is best known for its Neapolitan-style risen pizzas.
Sforno also specializes in light fritti. We'd definitely recommend their suppli', rice croquettes. Besides suppli', fiori di zucca, fried zucchini flowers, is also one of the customers' favorites.
Sforno's thick-rimmed pizza is heavy and is best shared with friends. You can find a wide range of wines as well as imported and domestic craft beers that pair perfectly with the classic topping combinations of Sforno's pizzas.
Address: Via Statilio Ottato, 110/116 – Rome
Contact: 06 71546118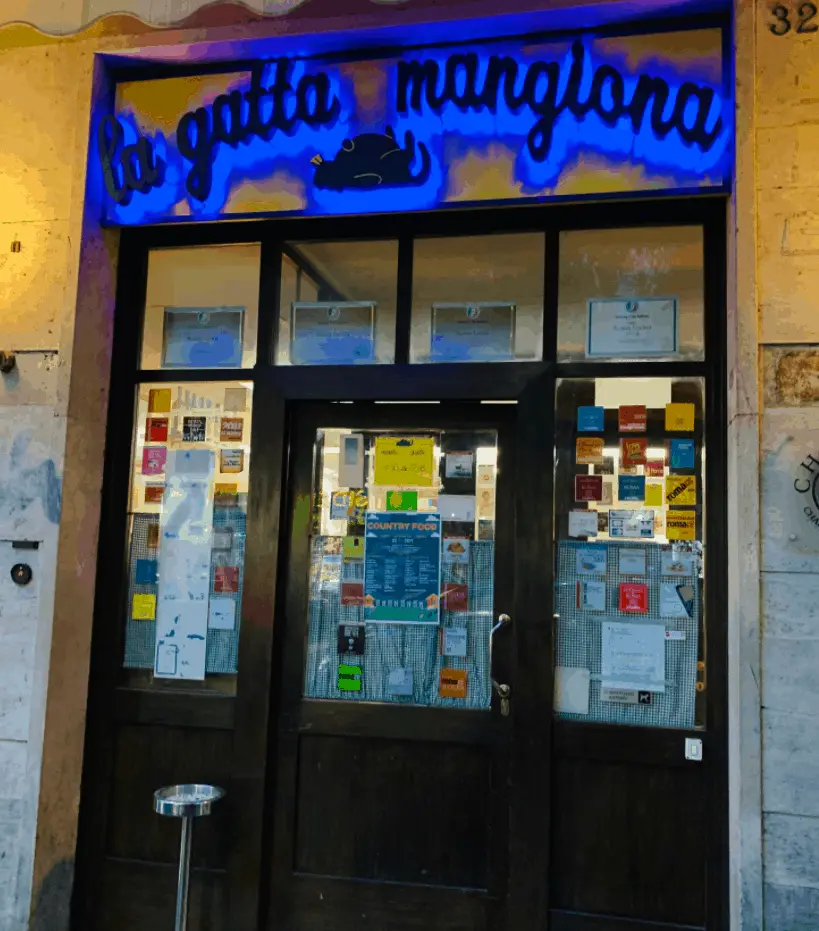 Locals vouch that this cat-themed restaurant serves one of the best suppli' in entire Rome, and their wine selection is surprisingly mindblowing!
La Gatta Mangiona – which roughly translates to the overstuffed female cat, features two dining rooms, the walls of which are adorned with framed pictures of well-fed cats.
Opened in 1999, La Gatta Mangiona is where the Neapolitan and Roman pizza traditions blend seamlessly, thick and chewy yet crispy crusts! The pizzaiolo of this restaurant, Giancarlo Casa, has been prioritizing the quality of the ingredients above everything else.
Despite having spacious dining areas, this restaurant is often busy. So, we'd highly recommend you to reach early.
Address: Via F. Ozanam, 30-32 – 00151 Rome
Contact: +39 06 5346702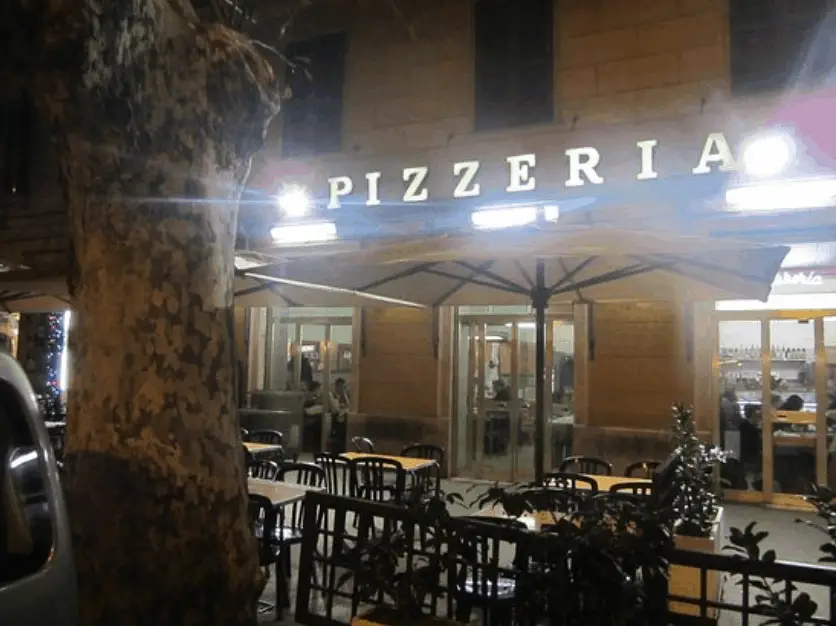 Ai Marmi is famous for its suppli' and fiori di zucca. So, before drooling on their crispy wood-fired pizzas, make sure to check out these fritti first. Marmi means marble in Italian, and the pizzeria got its name from the marble tabletops.
This place is fantastic for a large group of friends and families looking for good food in a decent price range. Pizzas are served quickly, and hot, and the table turnover rate is quite high.
However, if you're looking for a fancy dine-in restaurant, you might want to look for other high-end pizzerias.
Address: Viale di Trastevere, 53 – 00153 Roma
Contact: +39 06 580 0919
The history of Forno Cerruli dates back to the 1900s. Pompeo Luigi started this bakery and was handed over to subsequent generation as a family business. Today, three Cerruli brothers, Roberta, Fabio, and Umberto, manage the bakery.
Many who love artisan baked products visit this bakery for their world-class bakery items, including pizzas. Their pizzas are prepared by following traditional Roman recipes.
82 years into this business, and still their pizzas are one of the best pizzas in Rome. Forno Cerruli also offers a few vegan options as well.
Address: Via di S. Nicola da Tolentino, 53, 00187 Roma
Contact: +39 06 488 2627
Located in the eastern neighborhood of Centocelle, is famous for their fritti and, of course, Pizza Romana. The interior of this pizzeria is colorful and oddly appealing.
Besides the classic Margharita and Marinara pizzas, this pizzeria offers a wide variety of pizzas with some local-inspired toppings combination, and some formulated creatively by their own pizzaiolo.
Once you've devoured on these classic thin crusts of Roman pizzas, don't forget to end the session with the local cakes and pastries offered at 180g Pizzeria Romana.
Address: Via Tor de Schiavi, 53 – 00172 Rome
Contact: +39 391 144 6575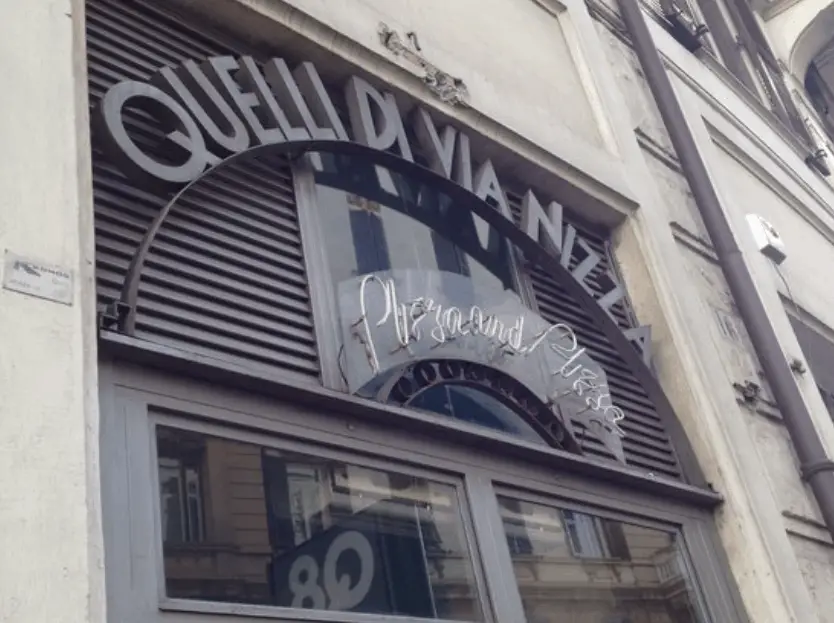 If you're on a tight budget, it would be smart to opt for out of the way pizzerias such as Quelli Di Via Nizza than to visit fancy restaurants in the tourist area. After all, the pizza tastes equally delicious, if not more!
Quelli Di Via Nizza offers al taglio only, i.e., you weigh the pizza slice and pay for it accordingly. Some of its most loved toppings combinations are mushrooms and creamy cheese and Caprese pizza, which includes fresh tomatoes, mozzarella strips, parsley, and a hint of mayo.
A quick tip for you – when in doubt, go for the classic Margherita pizza. Even the plain cheese and tomato toppings baked atop Quelli Di Via Nizza's pizza crust taste delicious!
Address: Via Nizza, 16 – 00198 Rome
Contact: +39 345 212 1304
Pinsa e Buoi Ristorante is situated in three locations in Rome. One in the San Giovanni neighborhood, the other in the San Lorenzo neighborhood, and the latest one is situated in the Parioli area.
Unlike other al taglio only restaurants, you can relish delicious Roman pinsa in the aromatic and friendly atmosphere of the restaurant. Besides pinsa, carbonara with truffle, and Pecorino cheese stuffed dumplings are some of the mouth-watering traditional dishes that the restaurant offers.
Toppings varieties at Pinsa e Buoi Ristorante is where you'll notice some traditional Italian classics as well as a wide range of innovative combinations.
Address: Via Salaria, 217 – 00178 Rome

Contact: 345 155 9870

Address: Viale dello Scalo San Lorenzo, 15 – 00185 Rome

Contact: +39 06 445 6640

Address: Viale Carlo Felice, 51/53 – 00185 Rome

Contact: +39 06 7720 1760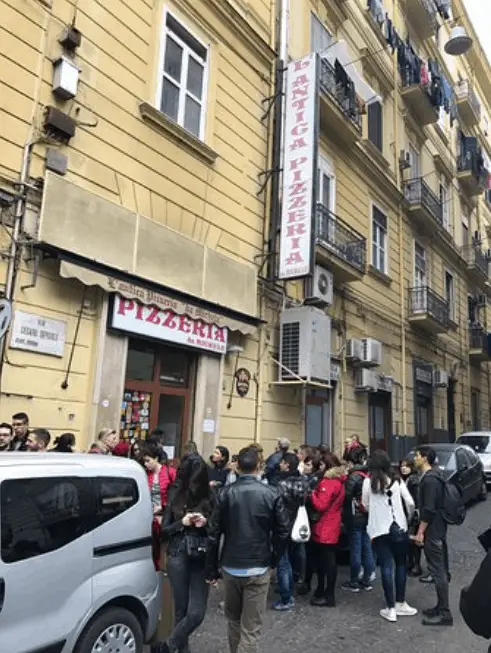 As Antica Pizzeria de Michele has expanded its franchise to four other countries, it no longer remains Italy's little secret. The history of this pizzeria started in Naples when Michele Conduro, a famous pizza maker, started this pizzeria in 1870.
Passed from generation to generation, today, Antica Pizzeria de Michele has two outlets in Rome where they serve authentic Neapolitan-style pizzas.
Fantastic pizzas, honest price range, convenient locations, and a rich history! What more could you ask for? Saying Antica Pizzeria de Michele is one of the most sought-after pizzeria when it comes to Neapolitan-style pizzas would definitely be an understatement!
Address: Via Flaminia, 82 – 00196 Rome
Contact: +39 06 3260 0432
Summary
Contrary to common belief, this capital city has much more to offer to its tourists besides its signature Pizza Romana.
From Romana-styled al taglio, meaning, by the slice, to tonda, round fulfilling pizzas mostly preferred for lunch and dinner, you can even find fantastic Neapolitan pizzerias in the streets of Rome.
When the choices seem overwhelming, this list will surely come in handy. Happy 'Rome'ing!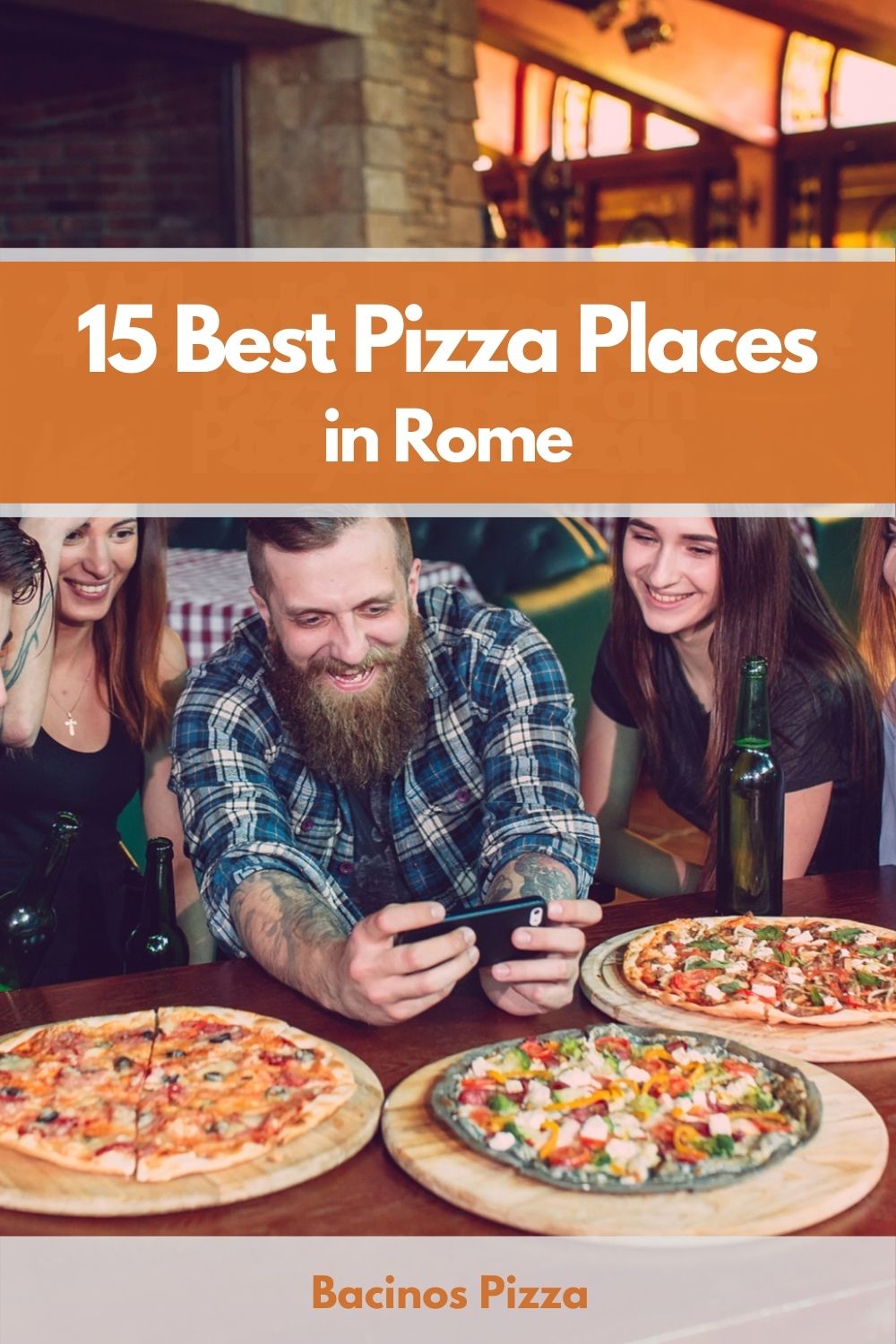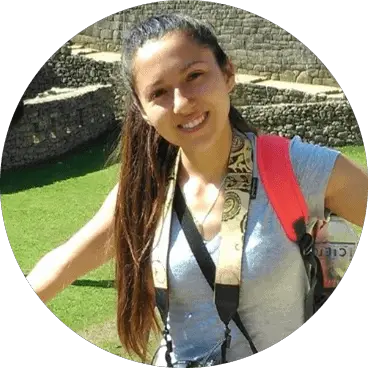 Kathryn's love for pizza started when she was still young. When she was young, she's been a picky eater–that's what her Mom used to say. The only food that she enjoyed and loved was pizza–until now! Her love for pizza turned into a passion!