Nothing tastes better than a gooey, cheesy, flavorful pizza after a long day at work. And even though Salt Lake City hasn't invented its own pizza style yet like Chicago, Detroit, or New York, it still has some great offerings.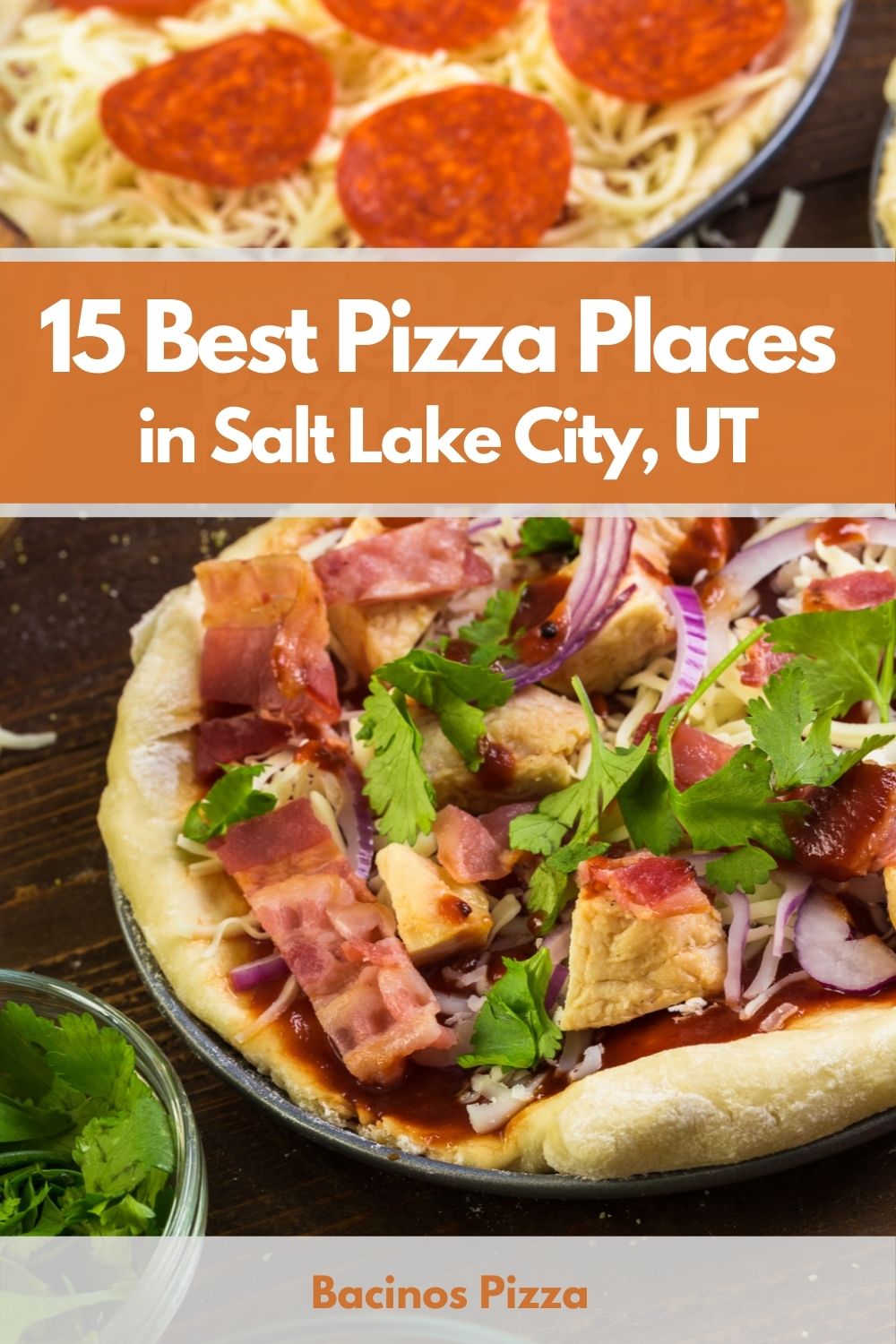 In this guide, we tell you exactly where to find the best Pizza in Salt Lake City so you can enjoy some of the numerous delicious varieties this town has to offer. Ready?
344 S State St, Salt Lake City, UT 84111
Tel: (801) 359-4653
If you are having a late night and want to grab something quick, head to Pie Hole. This place opens at 11:00 am and stays open long after clubs and bars have closed for the evening.
Classic toppings like cheese, pepperoni, potato bacon, and roasted pepper & bacon are available, but the restaurant also offers different topping varieties every day. Try the Old School, Drunk Candy, Ninja Pie, or Munchy Mango; you will be obsessed.
And the best part? You don't have to buy a whole pizza. You can order by the slice and some pizzas will cost as low as two bucks and ninety cents per slice. If you are lucky to catch their happy hour, you will even be able to get two slices at the price of one.
2148 S 900th E Ste 1, Salt Lake City, UT 84106
Tel: (801) 485-3699
You will definitely love the New York style pizza sold at Este Pizzeria. It is huge, crispy, and thin-crusted – everything that defines a good pizza. The crust and sauce are truly something you will live to remember; they are so delicious you won't need to top the pizza with anything else.
This place has something for everyone including vegan and vegetarian options like the Garden of Vegan, Green 4, Vegan White, Grandma Phi Phi's, and Italian Flag. You can get any of your favorite pies either by the slice or as a whole.
And if nothing in the menu impresses you, choose your own crust and toppings and have your custom pizza made from scratch.
The restaurant is open from 12:00 pm to 9:00 pm. Place your order for takeout or have it delivered to you.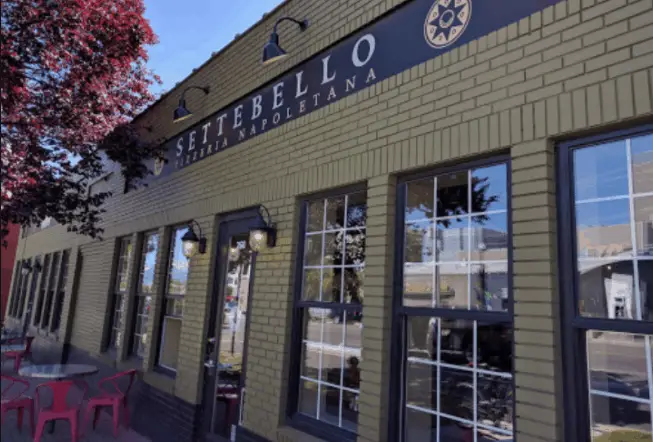 260 S 200th W, Salt Lake City, UT 84101
Tel: (801) 322-3556
Settebello Pizzeria Napoletana is known for its thin-crust Neapolitan pizza that comes with loads of tomato sauce and a thick layer of mozzarella cheese. Not just that. They use fresh ingredients every day to bring out the all-natural Italian taste you look for in a Neapolitan pizza.
On your second visit, try the Margherita. It is the most consumed and for good reason; it keeps your taste buds dancing with every bite. Or if you want something spicy, get the Diavola, everyone loves it.
Like Este Pizzeria, Settebello opens at noon but doesn't close any later than 8:00 pm. You can pick up your pizza from the restaurant or just stay home and have it delivered to you.
1063 E 2100th S Salt Lake City, UT 84106
Tel: (801) 484-1804
Situated in the historic Sugar House, Salt Lake Pizza & Pasta offers some of the best pies, salads, and pasta in the city. All pizzas come with a generous topping of fontina and mozzarella cheeses.
Try the SLP&P Combo. It comes with marinara sauce, ham, pepperoni, olives, bell peppers, and Italian sausage and only costs ten bucks. It's our favorite. Their BBQ Pulled Pork and Spicy Buffalo Chicken are also very good. You could also customize your pizza by choosing your own toppings.
The restaurant operates Monday to Sunday and is mostly open between 11:00 am and 11:00 pm. Bring your loved ones and dine in the private, cushioned booths. Kids will love what's on the menu for them, especially the cheese pizza.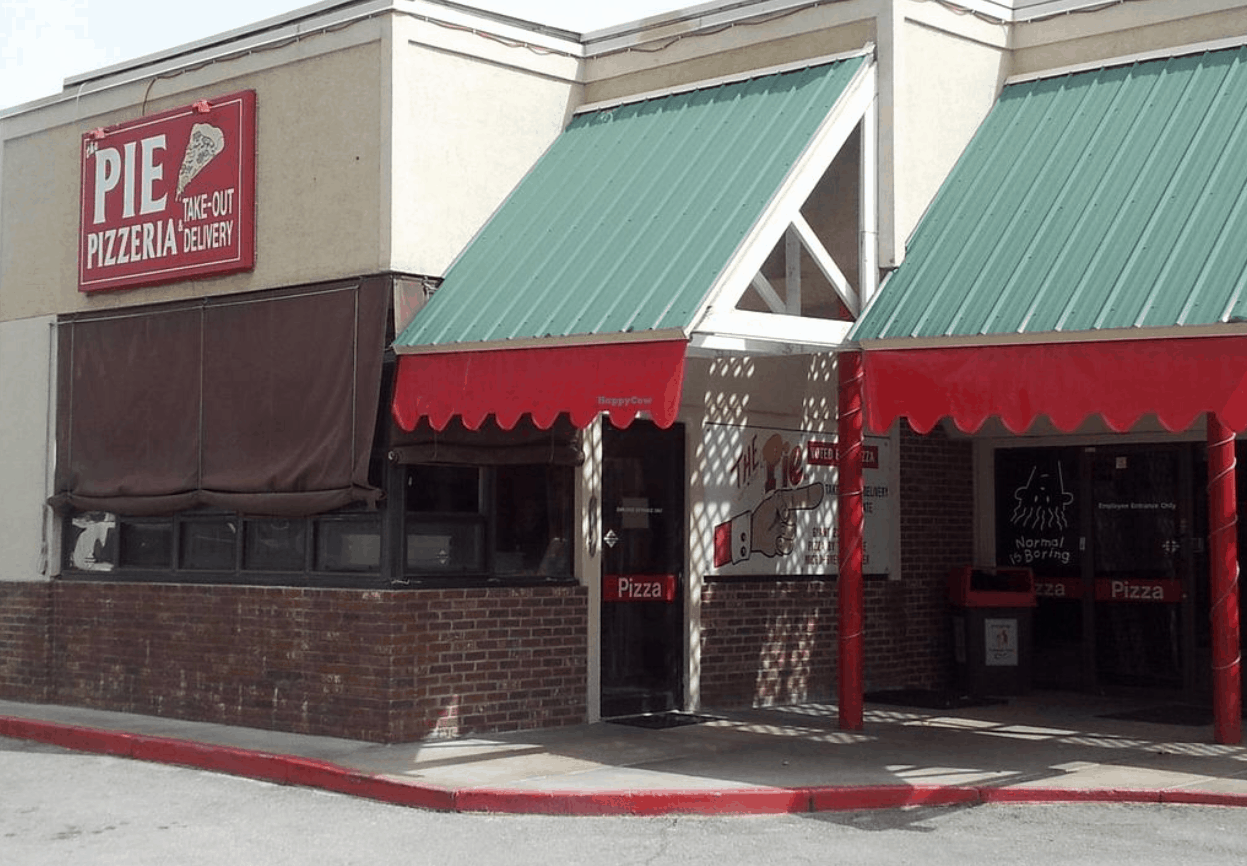 275 S 1300th E Salt Lake City, UT 84102
Tel: (801) 582-5700
If you are looking for something cheesy and garlicky, head to The Pie. This pizzeria includes peanuts, eggs, milk, soy, and tree nuts in their pies to give their customers an end product that keeps them coming back.
One of the things we love about The Pie is that they make your pizza when you order it. That means no frozen dough or pre-shredded cheese. The dough is prepared and hand-rolled the traditional way and dressed with toppings that are chopped fresh every morning.
The Pie opens at 11:30 am and closes at 11:00 pm. You can place your order as carryout or just sit down and dine in the cozy indoor space.
925 East 900 S Salt Lake City, UT 8410
Tel: (801) 702-3580
The woodfired pizza is what draws crowds to this elegant pizzeria, located in the high-end 9th and 9th district. Their gently burned crust dressed with a flavorful selection of traditional toppings is certainly something to die for.
The classic Yes Yes is a staple but we are so obsessed with the Rocket Man that comes with fontina, arugula, grana parmesan, mozzarella, Proscuitto di Parma, and a sprinkle of extra virgin olive oil. Yum!
Come here any time between 11:30 am and 9:00 pm and you will be amazed by all the additional pizza varieties they have on the menu including Beehive and A la Vodka.
613 E 400th S Salt Lake City, UT 84102
Tel: (801) 953-0200
Pizzeria Limone works just like how most pizza joints work these days; select the toppings you want and watch the pizza being prepared.
Their signature Impossible Meatball is heavenly. It features classic marinara, meatballs with homemade spices and ingredients, and five cheeses (fresh mozzarella, aged mozzarella, asiago, Pecorino Romano, and Parmigiano Reggiano.
Ask what everybody else is ordering and they will tell you the Secca. It is a delicious pizza that comes with dry salami, five cheeses, kalamata olives, house marinara, and a drizzle of olive oil.
The restaurant is open for business from 11:00 am to 9:00 pm, offering carryout, curbside pickup, and dining-in services.
10290 State St Sandy, UT 84070
Tel: (801) 930-5147
Another pizzeria you ought to have on your list is Slackwater. Their California Sunrise, which comes with a crunchy base topped with bacon, chicken, avocado, spinach, and grape potatoes, is a crowd pleaser.
Other fascinating varieties include the Italian Job, Gyro Trip, Cardiac Arrest, and the truly delicious From the Earth. If none of these interests you, however, go for the Picky Pie option and build your own pizza.
Place your order for takeout or dining-in. You can do this any time between 11:00 am and 10:00 pm.
2819 S 2300 E Salt Lake City, UT 84109
Tel: (801) 484-0448
Don't drive past the Nuch's without taking a minute to try their New York style pizza. It is flat-out one of the best in the city. Everything is prepped from scratch with fresh ingredients to maintain the natural taste of this pizza.
Check out their combo pizza, too, that comes with pepperoni, mozzarella, sauce, green pepper, onion, mushroom, black olives, ham, Italian sausage, and roasted pepper. It is also very good.
You can visit the restaurant any time between 4:00 pm and 10:00 pm. Just make sure to call beforehand for reservations because the restaurant is so small and intimate.
357 S Main St Salt Lake City, UT 84111
Tel: (801) 328-0304
Looking for a pizzeria where you will not have to venture into town? Go to Maxwell's. This place makes very good New York style pizzas. The slices are not only thin-crusted; they are also massive in size to keep your stomach full for hours.
Our favorite is the Godfather featuring mushrooms, artichoke hearts, sundried tomatoes, and red bell peppers. Super scrumptious! There are other flavors like My Blue Heaven, A Bronx Tale, and Eddie Would Go that are just as delicious. Be sure to check them out.
Maxwell's operates between 4:00 pm and 9:00 pm but unlike most of the pizzerias we have discussed here, it only opens on Thursday, Friday, and Saturday.
1465 S 700th E Salt Lake City, UT 84105
Tel: (801) 953-0636
Craving pan pizza? Bricks Corner's got you covered. The pizza itself is a work of art; it is made from dough that has been double-proofed for twenty four hours, topped with a generous amount of mozzarella, baked in high-end granite stone ovens, and served with fresh parmesan.
The Roots is what everyone is talking about. It comes with marinated tomatoes, roasted carrots and squash, red onion, EVOO and smashed garlic, and crispy salty Brussel sprouts. Other fascinating options include the Italian Beef Dip, The Randazzo, and The Brick House.
The restaurant opens for business at noon and closes at 9:00 pm, and offers takeout, curbside pickup, and delivery services.
62 E Gallivan Ave Salt Lake City, UT 84111
Tel: (801) 961-9000
From Scratch, as the name suggests, makes your pizza just that – from scratch. And not just pizza. Any other meal you buy from this restaurant is made while you watch with fresh ingredients prepared every morning.
You can order your pizza from what the restaurant has on the menu or just choose different toppings and have a custom pie made for you.
The Fennel Sausage pizza features their flavorful house made fennel sausage, green onion, red onion, crème Fraiche, and mozzarella cheese. It's a good place to start if you aren't sure what to order.
The pizzeria is open from 11:00 am to 9:00 pm and will deliver your order right at your door.
1722 S Fremont Dr Salt Lake City, UT 84105
Tel: (801) 467-0909
Nomad Eatery has one diverse menu, serving the locals super delicious salads, pies, and sandwiches. But what you are visiting the restaurant for is the wickedly delicious pizza baked in a woodfired oven.
They have many unique options that can satisfy your craving including our all-time favorite, the Betty White Pizza. This one is topped with arugula, EVOO, fontina, mozzarella, garlic cream, and pickled cauliflower. One bite and you'll have something to talk about for the rest of the week.
The pizzeria opens from 11:00 am to 7:00 pm and you can have your order as takeout or curbside pickup.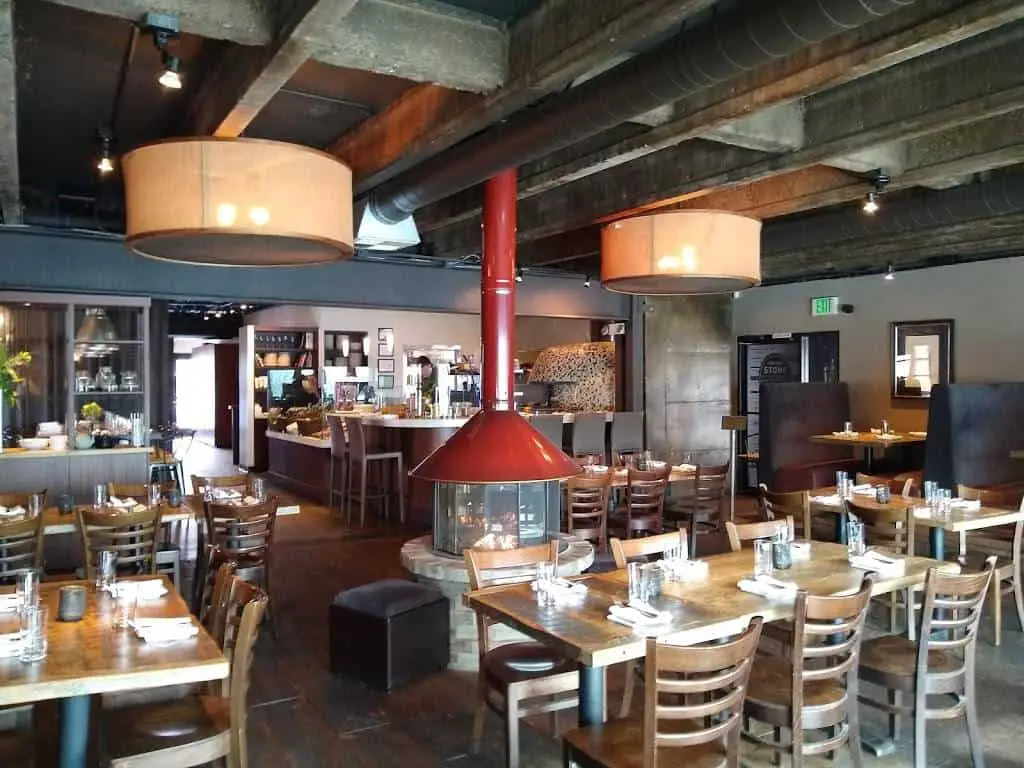 249 E 400th S Salt Lake City, UT 84111
Tel: (801) 364-1368
Grab a slice of Neapolitan style pizza and enjoy every bite as you delight in the stunning views of Salt Lake City from the restaurant's rooftop patio.
This is the perfect place to dine with your loved ones or unwind after a long day at work. And it's not just because of the incredible scenery; it's also because this spot has a wide variety of pizza options to grace your dinner.
Get the one with house ricotta, dried oregano, crème Fraiche, Pecorino Romano, and whole milk mozzarella. It's not just scrumptious; it will get you full with just a few slices.
Stoneground opens at 5:00 pm and closes at 9:00 pm most days. You can head to the restaurant and dine in or pick up your order from the curbside.
716 E 400th S Salt Lake City, UT 84102
Tel: (801) 359-5352
You haven't had pizza in Salt Lake City if you haven't been to Litza's. We guarantee you; that any pizza served here will get you hooked at first bite.
They make their dough daily to give you the freshest crust, then top it with their house made sauce that is blended with mozzarella, fresh meat and veggie toppings, and an array of herbs and spices to produce some of the most flavorful pies in the city. Don't believe us? Try their Lone Peak!
You can place your order any day (except Sunday) from 11:00 am to 10:00 pm and they will deliver it to you.
Is any of these pizza joints your favorite? Let us know in the comments section.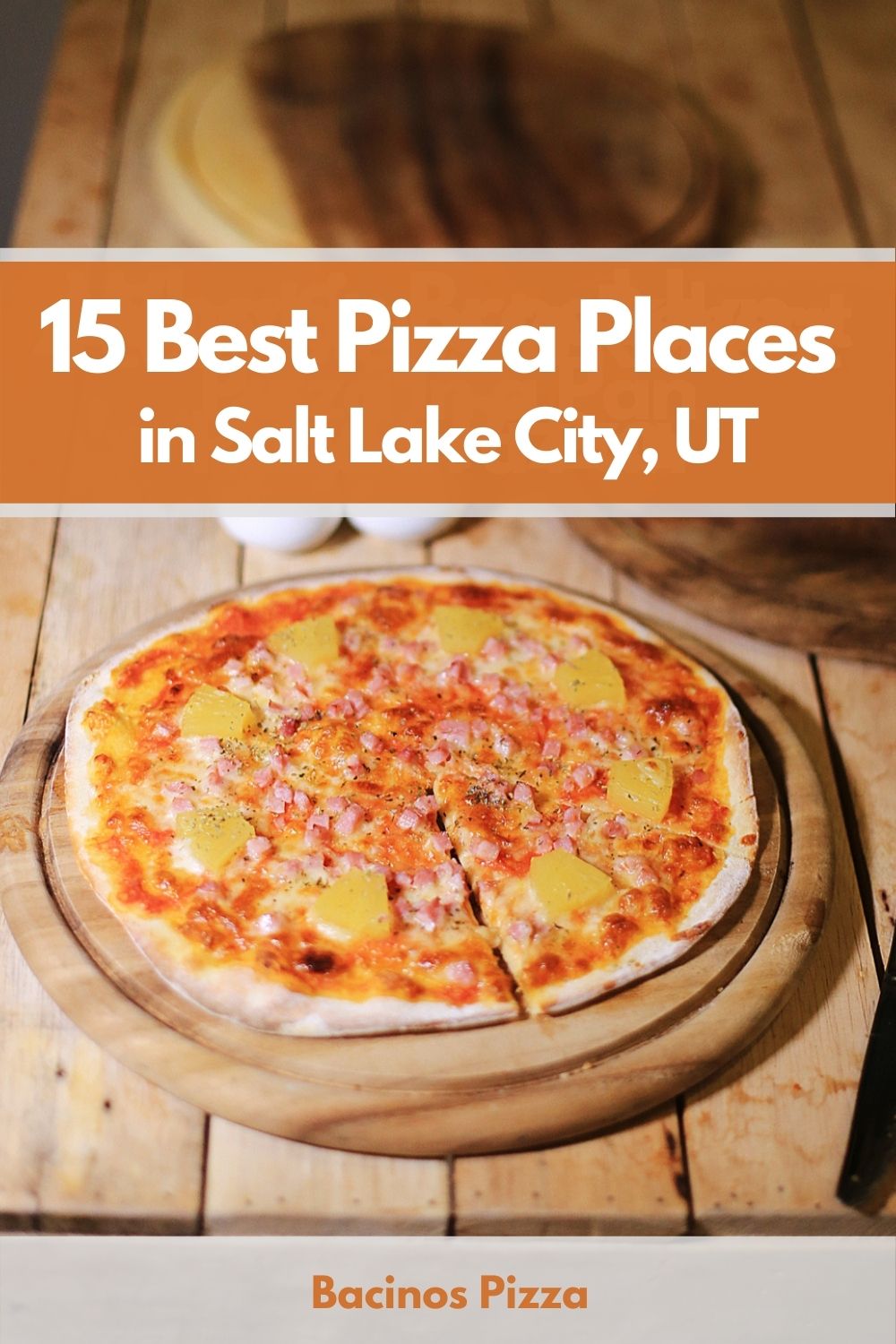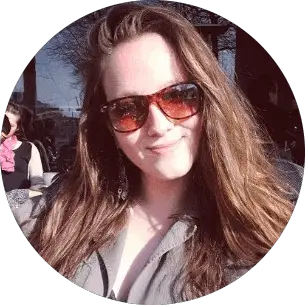 Barbara is an enthusiastic food-exploring person that goes through different culinary experiences. She got inspired by creating a pizza blog post after she tasted one of the best-selling pizzas in Toledo.