You're craving a tasty pizza – but where do you go? If you live in Santa Barbara, that's exactly what you're about to find out!
We're going to take a tour of 15 places to get the best pizza in Santa Barbara. And we'll give you all the information you need to choose a pizza that will hit the spot!
So read on and find out where to get your hands on the perfect pie …
Address: 928 Embarcadero del Norte, Goleta, Calfornia 93117
Tel: 805-968-6969
Woodstock's is a student haunt that's not in the least bit flashy. And you have to travel to the college town of Isla Vista to get there. But it's won numerous national awards for the quality of its pizza – so it's well worth the journey.
The generous pies are topped with Californian mozzarella and sauce made from locally grown tomatoes and a secret blend of spices. You'll find that same sauce inside the freshly baked crust too.
There's a great range of toppings, with innovative combinations. And you can choose from wholewheat, white, cauliflower or gluten-free crusts. There's a special thick crust option too. And there are plenty of choices if you prefer to buy your pizza by the slice.
You'll also find a good selection of sides, salads and desserts. And there are some excellent budget-friendly deals, as well as a good loyalty scheme.
Address: 12 West Figueroa Street, Santa Barbara, California 93101
Tel: 805-962-9442
Gino's offers a menu with a Sicilan flavor. The pizza dough here is made daily on the premises, and everything is made to order, with an emphasis on locally sourced ingredients.
You can buy pepperoni or cheese pizza by the slice, with your choice of extra toppings. Or you can choose a personal, medium, large or extra-large pie. And there's an excellent range of toppings to suit either vegetarians or committed carnivores.
Other options include wings, appetizers and a great selection of paninis. Everything is competitively priced. Check out the deals to keep it even easier on your wallet.
Address: 2026 De La Vina Street, Santa Barbara, California 93105
Tel: 805-687-3083
Taffy's has been a Santa Barbara institution since 1974. Visit and dine inside beside the cosy fireplace, or outdoors on the attractive patio. You can also order online for curbside collection. Just note that it's closed on Mondays.
You can buy your pizza by the slice, or in pies in 8, 10, 14 and 16-inch diameters. You can choose from a regular or wholewheat crust. And there's also a gluten-free version, although that's only available for a 10-inch pie.
There's an extensive range of meat, cheese, herbs and vegetable toppings. The latter includes more unusual options like avocado. Aside from capers, though, you won't find any seafood here.
Address: 905 State Street, Santa Barbara, California 93101
Tel: 805-899-4999
At Persona Pizza all the pies are baked in a wood-fired oven to give them that authentic and traditional flavor. The menu is available for takeout or delivery, though during the pandemic it's closed Monday through Wednesday. Check the website for the latest position.
The range of specialty toppings isn't as large as you'll find at some pizzerias. But there are all the flavors you'd expect, as well as simple, flavorful Italian combinations. We love the Ensalata di Prosciutto Pizza, which combines prosciutto with mozzarella, mixed greens, olive oil and vinaigrette.
Also on the menu are calzones, salads, wings, sandwiches, pasta and soft drinks.
Address: 3925 State St, Santa Barbara, California 93105
Tel: 805-334-1254
Blaze Pizza regularly updates its menu and has plenty of different deals on offer online and in-store. Recent additions include the delicious berry salad, featuring feta cheese with seasonal berries and blackberry vinaigrette on a bed of seasonal greens. Yum!
But what about the pizzas? Well, there's a wide choice of toppings in either 11 or 14-inch pies. There are vegetarian and vegan options, as well as keto and protein-packed toppings.
The dough for both the standard and gluten-free crusts is made fresh in-house. You can also choose cauliflower or keto crust. You can dine in or order food for delivery or collection. Check out the menu for some specials that are only available for pick-up.
Address: 3020 State Street, Santa Barbara, California 93105
Tel: 805-682-3621
Giovanni's is open every day for delivery or collection. Outside pandemic restrictions, you can also dine in.
The menu features pizzas in four sizes from 7 to 16 inches, plus giant slices and build your own. You can also order calzones with your choice of fillings and sauce. And both meat eaters and vegetarians are well catered for.
In addition to pizzas, there's a good choice of sandwiches, plus salads and appetizers. And if your food is served between 11am and 3.30pm, you can take advantage of a range of good value lunchtime specials.
Address: 232 West Carillo Street, Santa Barbara, California 93101
Tel: 805-564-1111
Rusty's can be found at nine locations across Santa Barbara. This one on West Carillo Street has won particularly positive reviews from its customers.
There's a good range of specialty pizzas available in 10, 12 and 15-inch pies. These include an impressive Garden Special for vegetarians, with mushrooms, bell peppers, tomatoes, zucchini and black olives.
Alternatively, start with your own deluxe pizza and add your own toppings. Each one is available in thin crust or pan, and comes with four different cheeses. Also on the menu are wings, subs, salads and desserts.
It's open daily from 11am until midnight. And if you dine in, you can take advantage of the fresh salad bar and big screen TVs.
Address: 2733 De La Vina Street, Santa Barbara, California 93105
Tel: 805-682-6955
At Marty's, the specialty pizzas come in medium and large sizes. Options include classics like the Hot & Spicy, with pepperoni, sausage, ground beef, jalapeno and onion, and the Vegetarian, with mushrooms, black olives, onion, green pepper and tomato.
There are some more unusual flavor combinations too, like the Thai Chicken and Nutty Chicken. And those who are watching their weight can opt for the Lo-Calorie Supreme. Build your own pizzas are available too, with a choice of wholewheat or white crusts.
There's no dine-in option here, but you can collect your food yourself or have it delivered to your door.
Address: 11 West Victoria Street, Suite 21, Santa Barbara, California 93101
Tel: 805-899-2699
At Olio's, you can dine in or order your food for pick-up. A delivery service is planned soon. It's open six days a week, closed on Mondays. But Monday opening is planned too, so check the website for updated information.
It's also a great option for celebrating a special occasion, with two private dining options. The Terrazza room will seat up to 22 guests, while the Taverna has space for 32.
The pizza here is authentic Italian, with premium options like Umbra featuring robiola cheese, crimini mushrooms and Umbrian black truffles. Seafood lovers will appreciate the Mare Chiaro, with calamari, shrimps, clams, mozzarella, garlic and parsley.
You can even make your own pizza at home, with Olio's very own artisan pizza dough balls.
This is a more expensive dining venue, but the food is great quality. It's well worth it for a pizza night that's a cut above the usual.
Address: Montecito Country Mart, 1014 Coast Village Road, Santa Barbara, California 93108
Tel: 805-770-2383
Bettina's offers indoor and outdoor dining options, as well as takeout, delivery and curbside pick-up. Same-day pre-ordering is recommended. That's especially important if you plan to eat during the peak hours of 5.30 to 7.30pm, Thursday to Sunday.
The pizzas here are fairly pricey, but the quality is excellent. Choose from specialties including Pepperoni, made with a drizzle of Ojai wildflower honey, and Asparagus, featuring raclette, cream, sherry and braised leeks.
There's also a simple cheese pizza for kids, antipasti, salads and a couple of dessert options. The wine list is very good too.
Address: 127 Anacapa Street, Santa Barbara, California 93101
Tel: 805-284-0358
Lucky Penny gets its name from its unusual exterior, which is covered in more than 150,000 copper pennies! It's open every day, closing an hour later on Friday and Saturday nights.
The pizzas here are cooked on a traditional wood-burning stove and made with fresh, locally sourced ingredients. You can choose a gluten-free crust for an additional $3. The menu isn't huge, but everything is good quality. And there's plenty of choice for both vegetarians and meat eaters.
There's also a good range of salads, small plates and paninis, and a small wine list. And with regular live music on Saturday nights, this is a great place for an evening out.
Address: 14 West Calle Laureles, Santa Barbara, California 93105
Tel: 805-687-8888
Family-owned Petrini's has been offering delicious pizza to the people of Santa Barbara since 1958. All the food is cooked fresh to order, and the restaurant prides itself on its attentive service.
There's a delicious range of pastas, salads, burgers and starters, all using fresh and locally sourced ingredients.
And when it comes to the pizzas, Petrini's decades-old experience is evident in every bite. The dough is made fresh from scratch, and the crust is light and crispy. Pies come in 12 or 16-inch diameters, and you can also choose an individual 7-inch Piccolo, and add your own toppings.
Opt for the House or Meatless Specials, or build your own pizza or calzone. All pizzas come with the house sauce.
The pizzas here are cooked in a traditional hearth oven, rather than on a conveyor belt. That means you may need to wait a little longer for your order – but it's worth it.
Address: 38 West Victoria Street, Santa Barbara, California 93101
Tel: 805-884-9419
Local chef Dario Furlati serves up homemade pizzas and fresh salads at the eponymous Ca'Dario Pizzeria Veloce. Here you can order your food for pick-up or delivery.
The pizzas here are smaller, at 10 inches across. Choose from innovative toppings like the Egg and Bacon, made with pancetta, farm egg, panna and mozzarella. Or keep it classic with options like the Testarossa, made with pepperoni, chilis, tomato and mozzarella.
You can substitute your cheese for vegan mozzarella for $3. And there's the option of a gluten-free crust for an extra $4. You can also build your own pizza from scratch, or choose one of the ever-changing daily specials.
Address: 21 North Milpas Street, Santa Barbara, California, 93103
Tel: 805-962-1966
Pizza chain Little Caesar's is known for its cheap and cheerful pizza and has been rated the best value pizza chain for 12 years on the trot. Order here and your food will be available for pick-up or delivery.
You can choose from the thin crust or pan pizzas, stuffed crust or standard, and a wide range of toppings. The create your own pizza gives you the choice of having a topping on half or all of your pizza. And you can choose which side it goes on, enabling you to customize it for two diners.
Add dips, wings and breads to your order, plus a large bottle of soft drink. There's everything you need here for an inexpensive and tasty pizza night at home.
Address: 719 Paseo Nuevo, Santa Barbara, California 93101
Tel: 805-962-4648
At the Santa Barbara branch of California Pizza Kitchen, you can dine in or order your food for takeout or delivery. And you can also choose a Take and Bake pizza to cook at home for that just-cooked aroma.
There's a great range of classic and more unusual pizza toppings here. And while meat eaters will have lots of choices, there's a very decent selection for vegetarians too. Those with gluten intolerance can choose a certified gluten-free pizza on a cauliflower crust.
The menu also features appetizers, small and large plates, soups, pastas and sandwiches. And the dessert selection is one of the best in town.
Pizza time!
We hope you've enjoyed our tour of 15 of the best places to get pizza in Santa Barbara! Whether you're looking for a high-end restaurant experience, or a tasty slice in front of the TV, there are options here to suit.
Whether you're new to town or looking to try somewhere different, we hope we've inspired you. Here's to your next pizza night!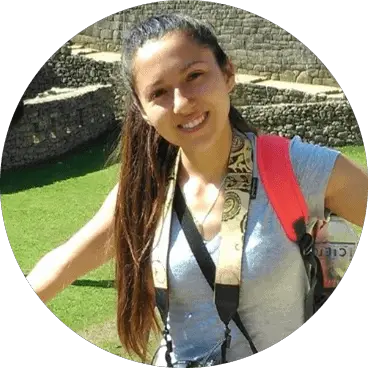 Kathryn's love for pizza started when she was still young. When she was young, she's been a picky eater–that's what her Mom used to say. The only food that she enjoyed and loved was pizza–until now! Her love for pizza turned into a passion!