The city of Tampa, nestled on an inlet reaching far into the west coast of Florida, is the economic hub of western Florida. Particularly, Tampa's Busch Gardens is where tourists gather to delight in the thrill of an amusement park and the fun of a zoo – all in one!
But that's just the tip of the iceberg – Tampa is also best known for pizza. While it may not have the same infamy as a New York slice or Chicago deep dish, Tampa's pizza scene is pretty intense.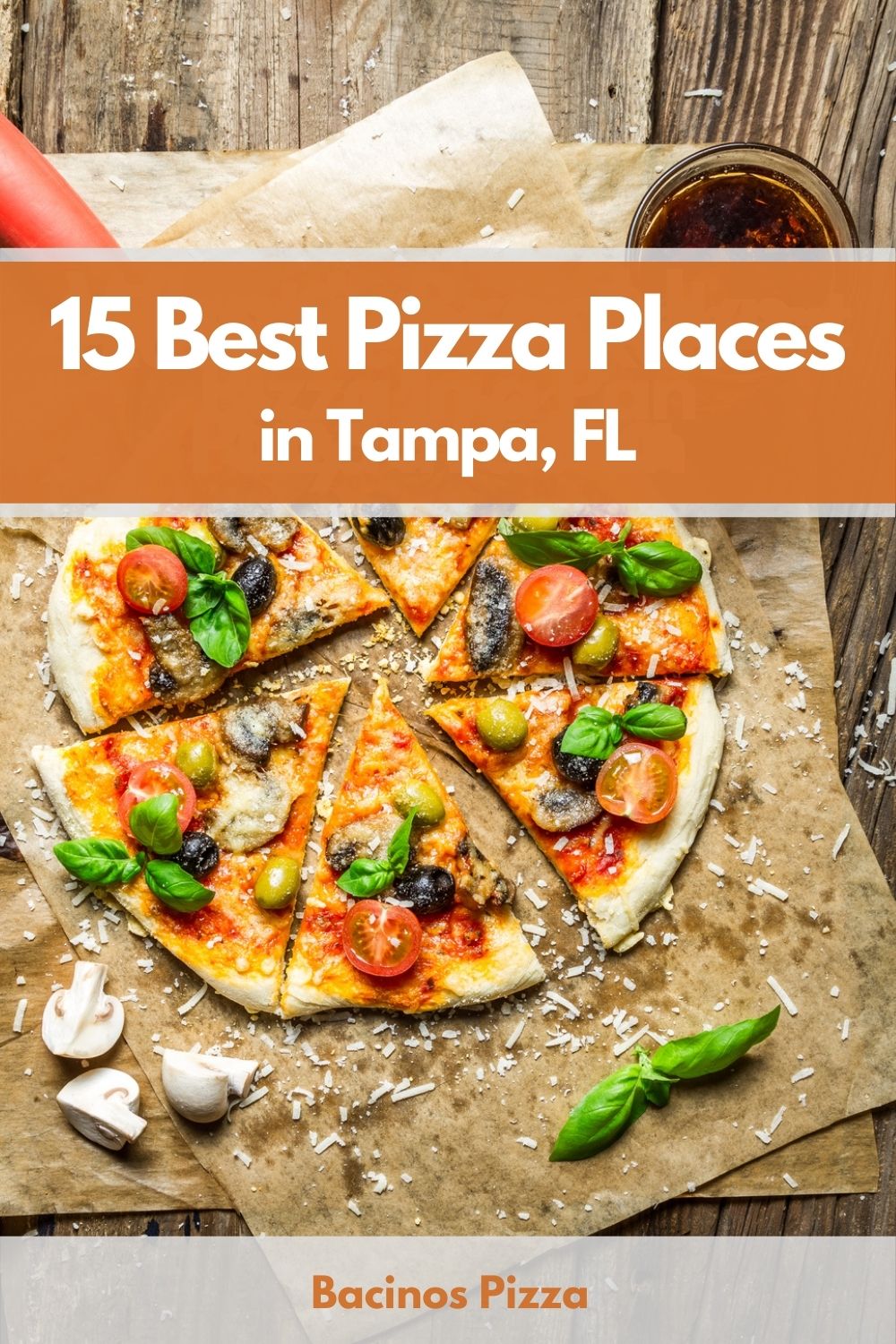 Whether you're a plain cheese lover or an adventurous topper, you're sure to find something to suit your buds. When in Tampa, don't miss out on one of the following 15 best pizza places in Tampa, Florida.
These are certainly the best places for wicked good pizza in Tampa. Now, take a look!
Address: 203 E Twiggs St, Tampa, FL 33602
Phone: 813-229-8500
Tourists and locals have been reveling in Eddie & Sam's authentic and mouthwatering New York-style pies since 1998. Founded in 1982 in New York, the joint serves wide, foldable New York slices with a thick, flavorful crust.
The iconic crust is credited to the minerals in the New York City tap water used to make the dough. Eddie & Sam's kneads the dough with New York waters to bring authentic New York-style slices to the Florida family.
Their pies come out crisp, hot, and fresh from the oven. You'll also find other favorite dishes, including primavera, Sicilian, Hawaiian, buffalo wings, and hot and cold sandwiches.
I love that you can actually see what Eddie & Sam's chefs are doing in the kitchen, so you know what ingredients are being used to make your pie. Don't forget to try this pizza shop's garlic knots and gelato – they're to die for!
Expert Tip: Don't worry if there is a long queue at Eddie & Sam's. These guys are good at what they do, and they move the line pretty fast.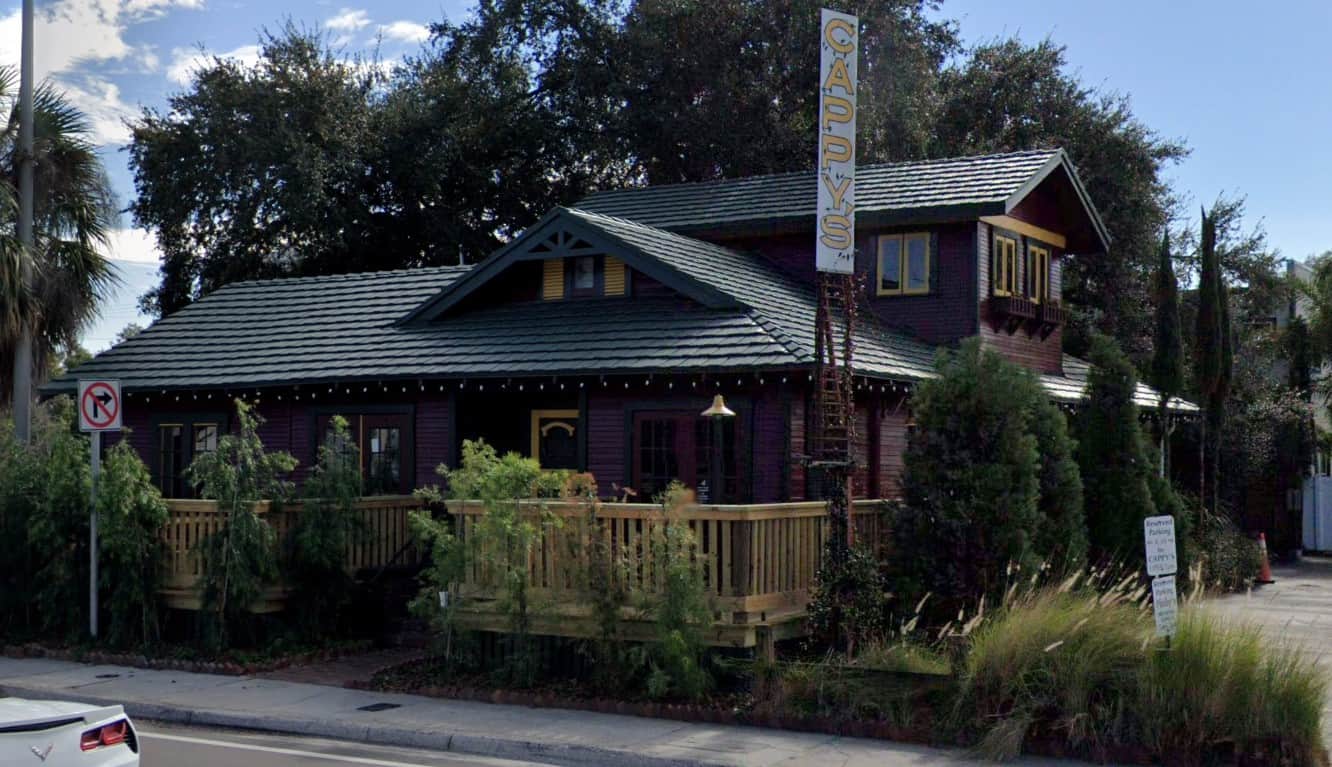 Address: 3200 W Bay to Bay Blvd, Tampa, FL 33629
Phone: 813-835-0785
Cappy's is a renowned, award-winning pizza outpost serving various pies in an old-school setup with retro memorabilia. If you ever crave a great Chicago deep-dish pizza in South Tampa, Cappy's Pizzeria is the place to be.
While this Tampa-based pizza chain has five locations, the South Tampa location has a cult following. That location is actually one of Tampa's favorite pizza joints – where folks indulge in their deep-dish pies for a great taste of Chicago.
Even though they also do New York-style pies, most folks swear by their Chicago deep-dish. It has a doughy crust covered with the cheese first, and then the sauce. Don't expect any fancy toppings, though, but just go there expecting all of the old standards.
Customers also rave about this pizzeria's generous-sized Greek salads, topped with kalamata olives, feta, pepperoni, and house-made potato salad and dressing. Cappy's Pizzeria also serves beer and wine. You really don't want to miss what Cappy's has in store for you.
Address: 4301 W El Prado Blvd, Tampa, FL 33629
Phone: 813-443-8500
Viva Napoli Restaurant & Pizzeria is tucked away in Tampa Bay's discreet neighborhood of Virginia Park. It is best known for its coal-fired pies, coupled with friendly service. This shop also serves traditional, authentic Italian dishes like pasta dinners.
The Viva Napoli kitchen imports ingredients from Italy to ensure the authenticity of their Neapolitan cuisine. Authentic Italian cheeses, herbs, and sausages result in pies with uncompromising flavors. The joint allows you to savor in the delightful flavors that elicit the passion of Italy!
A large wood-fired oven, made in Napoli from the legendary "biscotto di Sorrento" stone, forms the foundation of their kitchen. Thanks to this oven, Viva Napoli creates pizzas with a soft crust and striking airy pockets that add a pleasant crunch.
Unlike other run-of-the-mill recipes, Viva Napoli's recipes are unique. You'll love their pistachio pizza with their signature toppings. Want to take your pizza experience a notch higher? Be sure to complement Viva Napoli's pies with their Italian wines.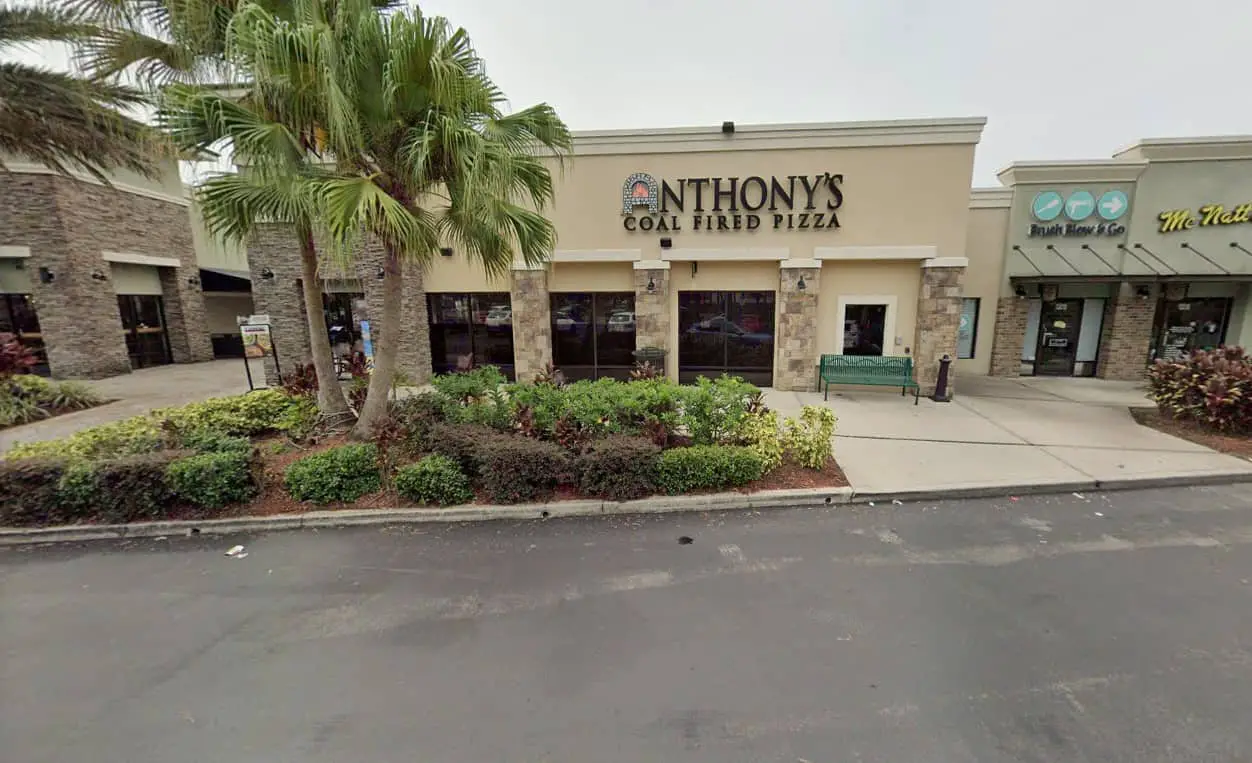 Address: 13020 N Dale Mabry Hwy, Tampa, FL 33618
Phone: 813-265-2625
Anthony's Coal Fired Pizza is a relatively small chain with three Tampa locations. One of their prominent locations is in the Carrollwood neighborhood of Tampa. It features a winning blend of authentic 800-degree coal-fired ovens, high-quality ingredients, and personalized service.
Their pies set them apart from other pizza shops within the area. At Anthony's, chefs cook pies to ultimate perfection. The dough is made fresh in-house every day. And they mostly top their pizzas with the finest quality mozzarella, Roman cheese, Italian plum tomatoes, fresh basil, and olive oil.
Their menu also features Italian soul food as the specialty item. You'll find such delicacies as coal oven-roasted chicken wings, sandwiches, and hand-rolled meatballs with Eggplant Marino and ricotta cheese. I'm particularly impressed with their chicken wings as they're never frozen.
What's more, their service is a cut above the rest. The workers are always attentive and knowledgeable. You're assured of a customized service that exceeds your expectations. Visit Anthony's and enjoy their delicious pies fresh out of their 800-degree coal-burning ovens. The experience will be one of a kind!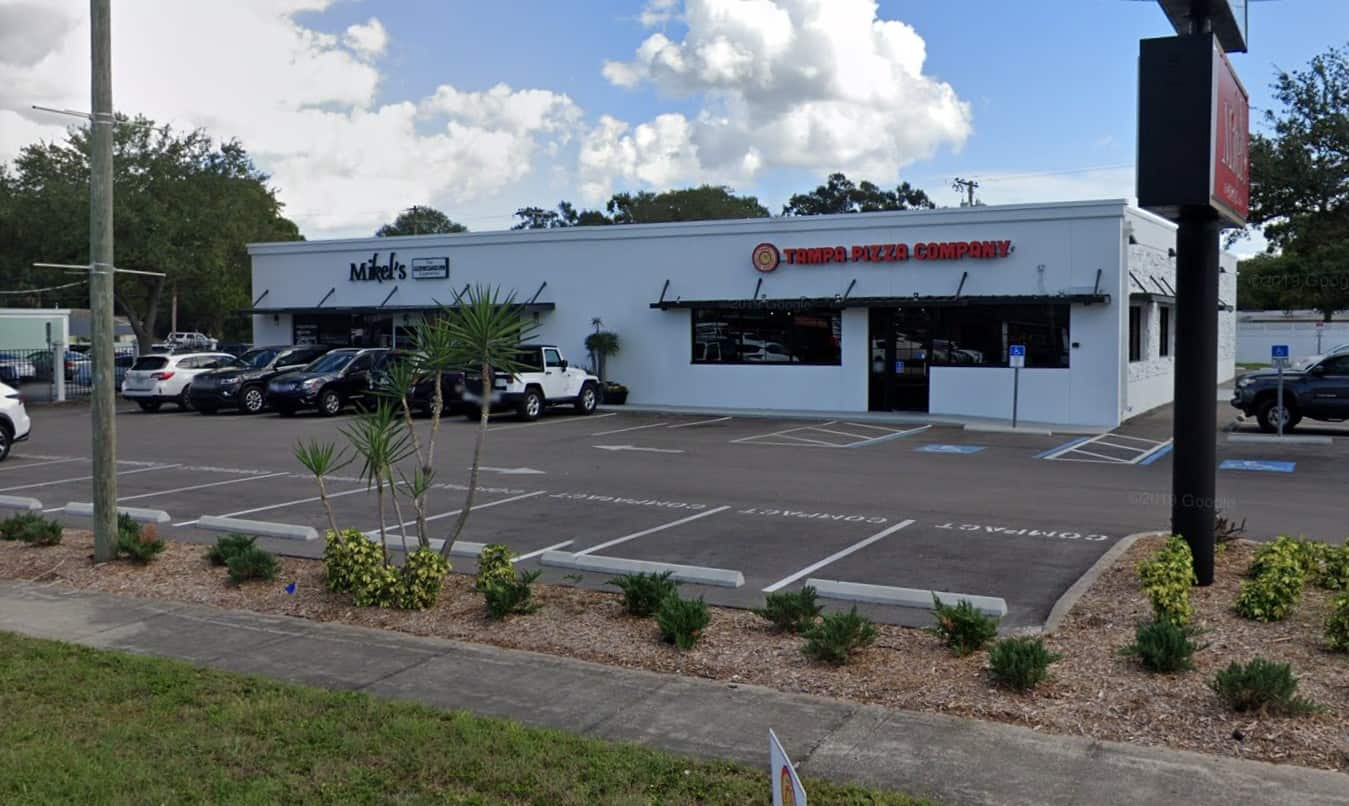 Address: 4110 Henderson Blvd, South Tampa, FL 33629
Phone: 813-443-1822
Located in the North Franklin Street Historic District of Downtown Tampa, Tampa Pizza Company serves health-conscious pizzas with uncompromised taste. Whether you're a pizzatarian, vegan, vegetarian, soy-free, or dairy-free, this joint is committed to cooking healthy food that tastes great.
Their pure, all-natural ingredients include organic flour, hormone-free meats, all-natural premium cheeses, and so much more. Each bite at Tampa Pizza Company feels wonderfully refreshing.
At Tampa Pizza Company, chefs make each pizza, one at a time. And they also prepare all ingredients daily. This pizzeria takes pride in offering all-natural, healthy crust with various choices of toppings.
You can expect incredible service from staff. Above all, this pizza parlor strives to minimize their detrimental impacts on Mother Nature. It's a local business that cares about protecting the environment and natural resources.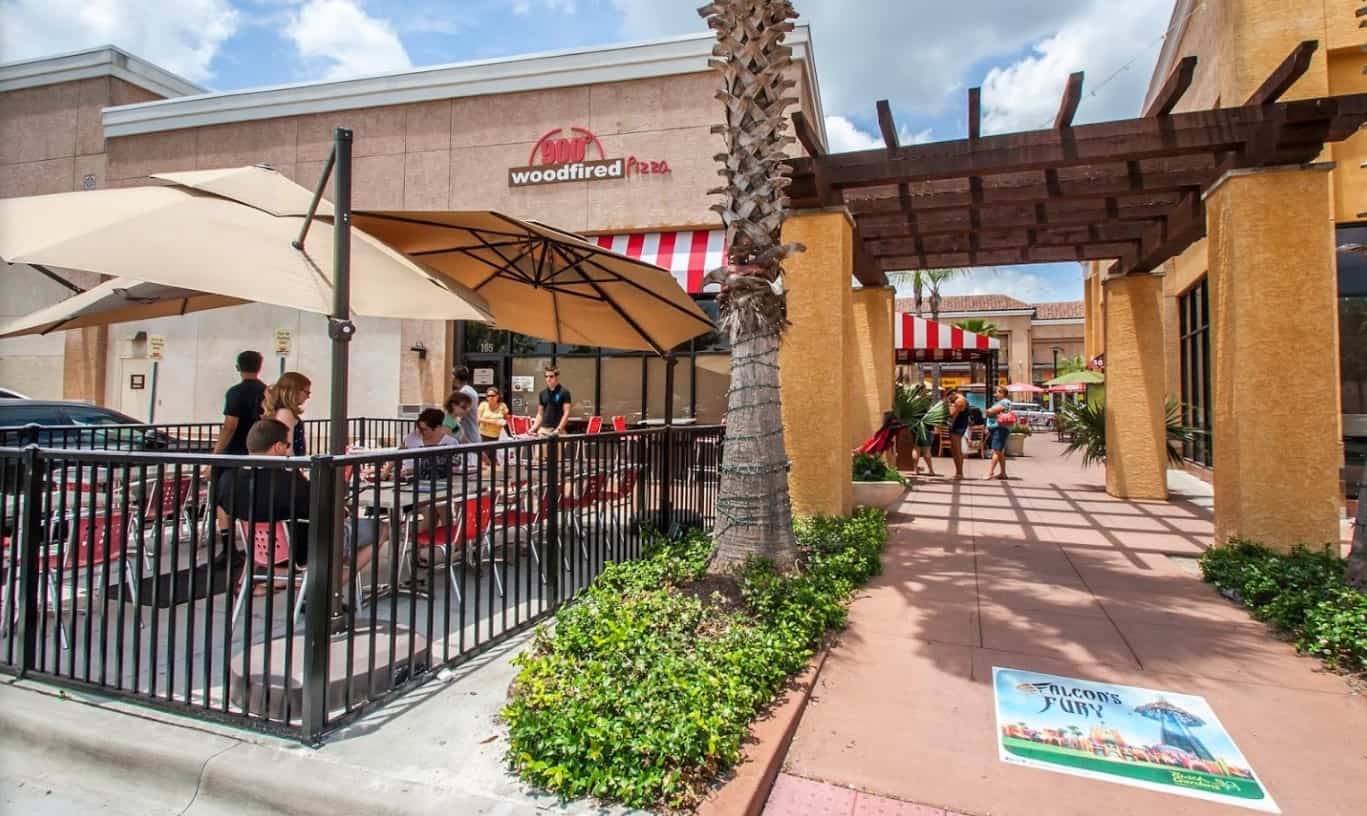 Address: 28152 Paseo Drive #195, Wesley Chapel, FL 33543
Phone: 813-527-6940
900 Degrees Woodfired Pizza is a bright, casual joint owned by a native New Yorker, Steve Falabella. It specializes in authentic Neapolitan and original New York-style pizza.
Owner Steve learned how to prepare the pizza Napoletana while living in Italy. He's trained his staff to make Nutella pizza to die for!
Although this pizza joint is small, it has brought all the beloved classic traits of a pizzeria to New Tampa.
When you go to Wiregrass for a bit of shopping, be sure to stop in at 900 Degrees Woodfired Pizza for lunch – or maybe dessert. Their unique, authentic hand-tossed pies are lip-smacking.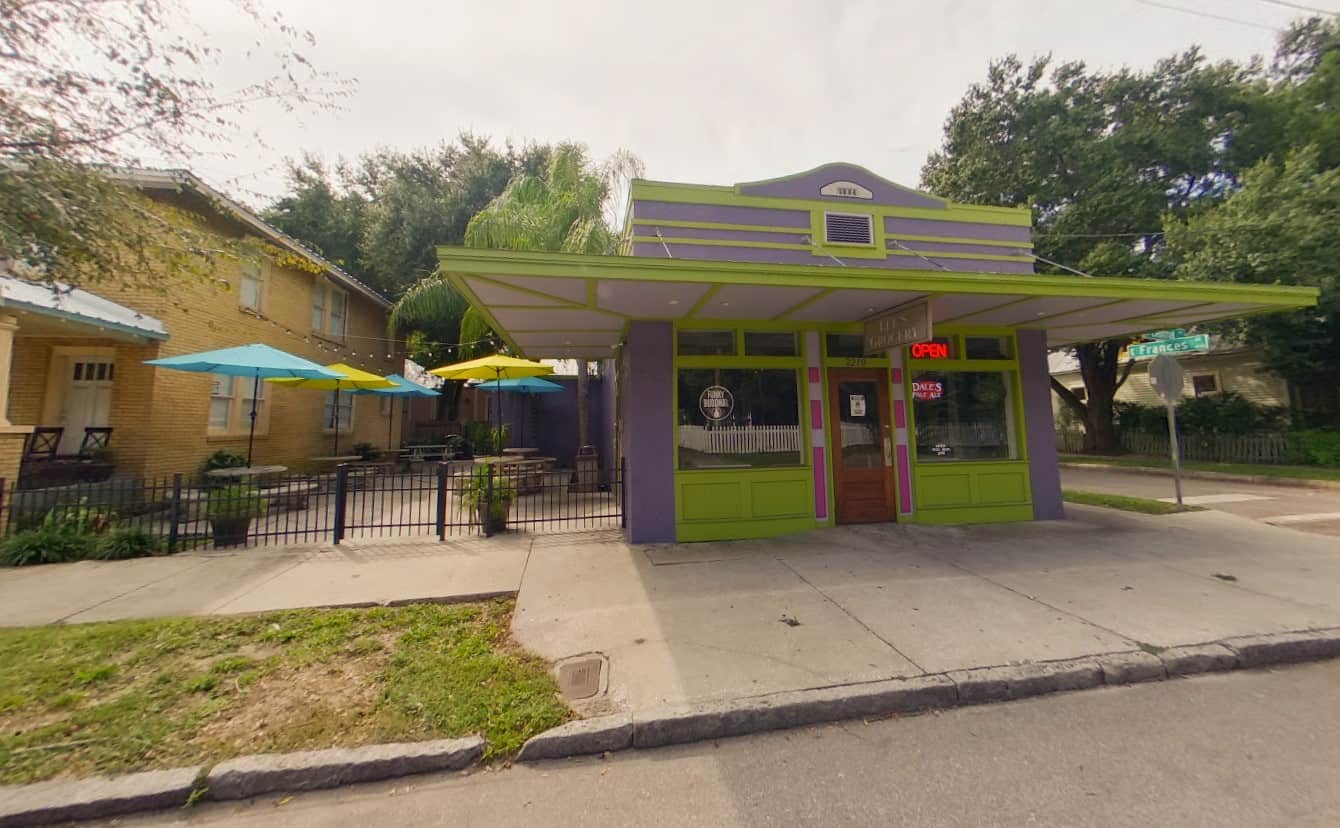 Address: 2210 N Central Ave, Tampa, FL 33602
Phone: 813-374-0179
Located just south of the picturesque Robles Park Center, Lee's Grocery is one of the most sought-after pizza places in the Tampa Bay area.
This place toes the line between a pizza joint and a pub, and I absolutely love it. Actually, Lee's used to be a grocery store when it opened its doors way back in 1884.
However, it was turned into a chill pizza place with great food, craft beer, and friendly service. The joint boasts counter seating for pizza, wings, and other amazing delicacies.
This is a relaxing place with plenty of stone pizzas as well as microbrew, wine, and non-alcoholic beverages. As for their service, you'll be dumbfounded- to say the least!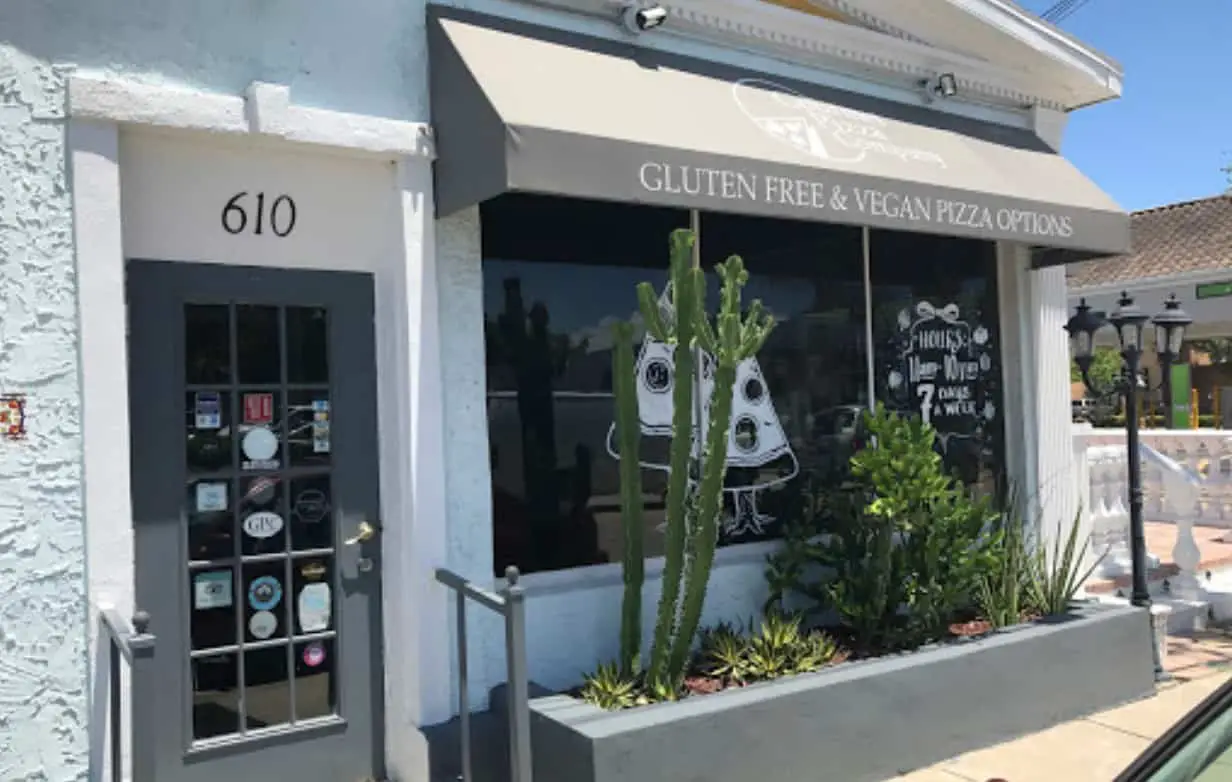 Address: 610 S Armenia Ave, Tampa, FL 33609
Phone: 813-258-1999
Gourmet Pizza Company takes their work so seriously that they hire only the "finest pizza specialists" to ensure their pies are the best in Tampa Bay.
Furthermore, this locally-owned and operated pizza parlor always incorporates ideas that are as fresh as their ingredients.
This restaurant specializes in serving health-conscious, guilt-free pies. You can order regular pizza topped with their house cheese blend, parmesan cheese, and garlic herb butter.
Alternatively, you can have their delectable gluten-free pizza or vegan cheese pizza (Daiya) with hand-tossed crusts. Whether you're in the mood for regular pizza or not, this place has pretty much everything you need to match your palate.
Address: 107 N Kings Ave, Brandon, FL 33510
Phone: 813-689-2282
Babe's is a time-honored pizza parlor known for double-decker pies, toy trains, and '50s music. Their double-decker pies come in three sizes: 9, 12, and 14 inches.
Babe's double-decker pizzas are thin-crust pies sandwiched between two layers of cheesy, saucy goodness. Not in the mood for double-decker pies? No problem. Babe's also serves a single-layer pizza.
You can also ask your server to let you build your own pie. If you go that route, your dough will be cut to the size you want. Then, chefs will add their in-house sauce, your preferred meats, a layer of cheese, and any veggies of your choice.
They'll also put another crust and pleat the edges to form a pie before tossing it in the oven. It usually takes about 30 minutes to cook, and when done, you'll thank yourself for your patience. You might also want to try their specialty pizzas like Buffalo, BBQ, and cheesesteak.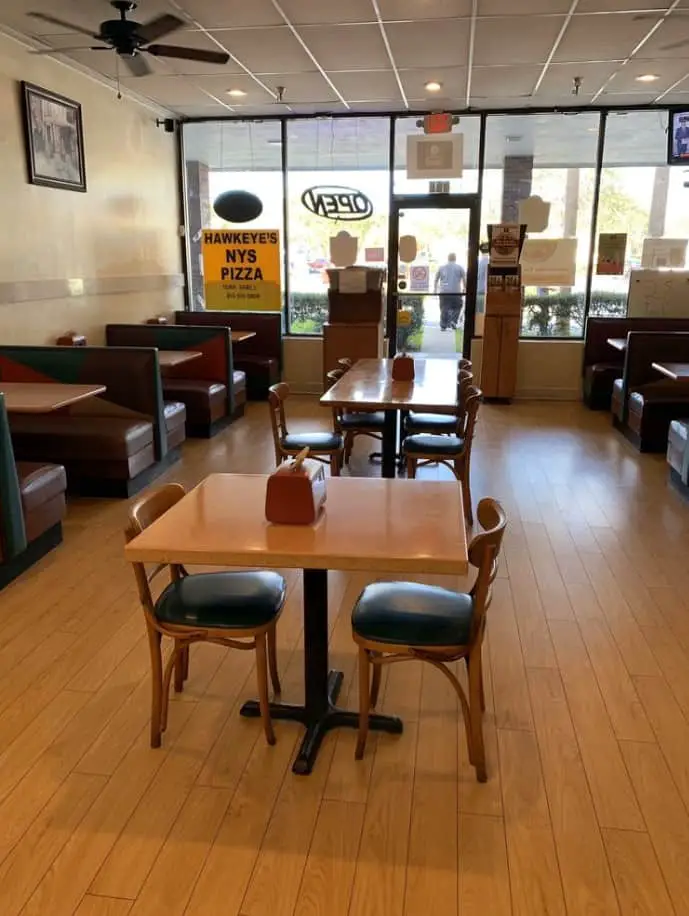 Address: 126 W Fletcher Ave, Tampa, FL 33612
Phone: 813-515-5808
Hawkeye's Pizza has been in the same New Tampa spot since it opened its doors in 2009. This shop sells pizza, pasta, calzones, subs, stromboli's, salads, wings, and so much more!
Whether you're interested in dine-in, pick-up, or delivery, Hawkeye's got you covered. Anthony, the owner of the parlor, emphasizes both quality and quantity in the same measure.
The shop offers giant 28-inch pizzas that are cheesy and flavorful. When it comes to value, nothing beats Hawkeye's Pizza. The pricing compared to the portions, quality, and flavor is just unique.
It would be best to order their Halal (kosher pizza) – the ONLY Halal pizza in town. You can't go wrong with their Greek salad, either.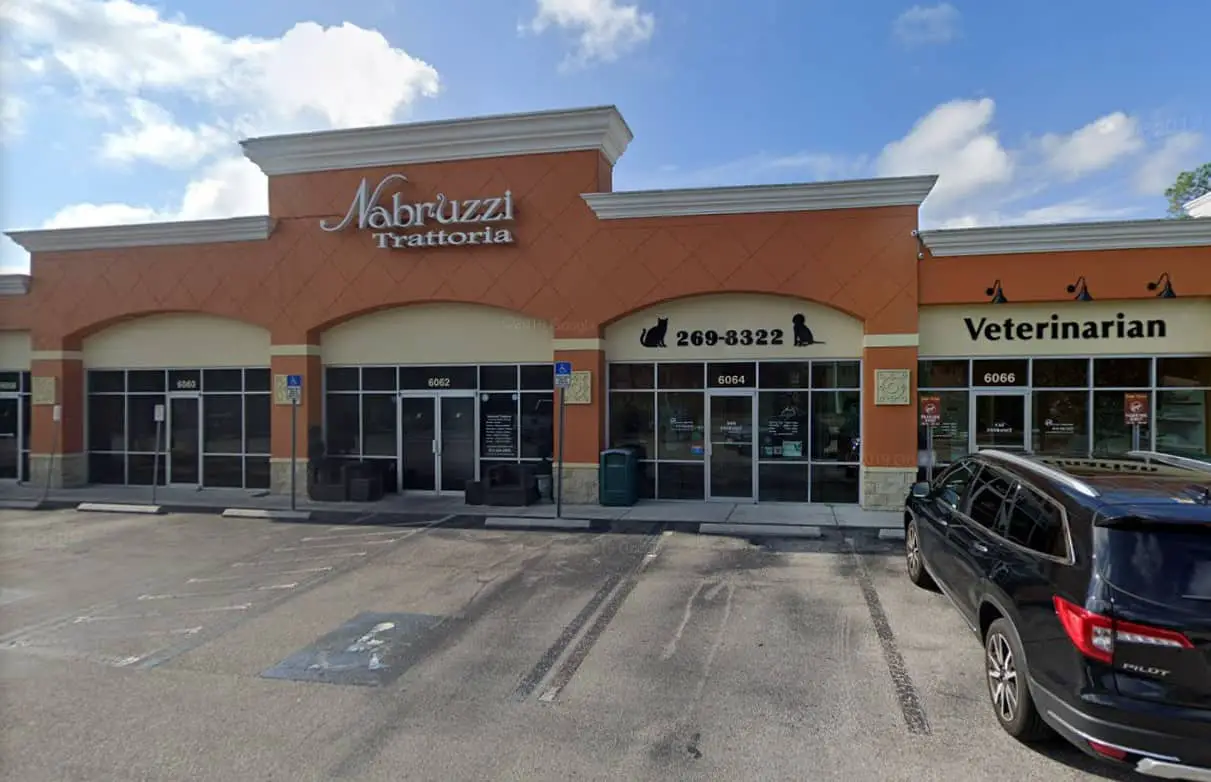 Address: 6062 Van Dyke Rd, Lutz, FL 33558
Phone: 813-304-2583
Nabruzzi Trattoria specializes in wood-fired pizza, handmade pasta, and other Italian specialties. Similarly, there are over 80 wines to choose from boutique wines from Italy.
Nabruzzi Trattoria has been serving genuinely authentic Italian pizza to the Lutz area since 2014. The atmosphere here is dusky with a modest array of wall art. Prices are modest, too!
At Nabruzzi Trattoria, the menu is just but the beginning of an exceptional gourmet experience. Each of their dishes brings you closer to their Italian homeland!
When you stop by Nabruzzi Trattoria, you'll be treated like family. And that's because they truly consider customers as family. Call now to make your reservation – it'll be worth it!
Address: 142 S Meridian Ave, Tampa, FL 33602
Phone: 813-605-0764
Located just within Downtown Tampa's Channel District and walking distance to the illustrious Florida Aquarium, Fabrica Pizza churns out upscale Neapolitan pies.
If you want authentic pizzas and friendly service, head over to Fabrica Pizza. Their pies are not only fresh but also flavorful.
Even their website says it all: We bring the taste and energy of pizza Napoletana to our guests. At Fabrica, chefs hand-stretch their dough using oo flour. Furthermore, they make their tomato sauce from the finest tomatoes around.
You can either choose one of Fabrica's favorites, like polpette, or create your own pie. Thirsty? Fabrica boasts various wines and beers on tap. Try them with your pizza and enjoy the experience!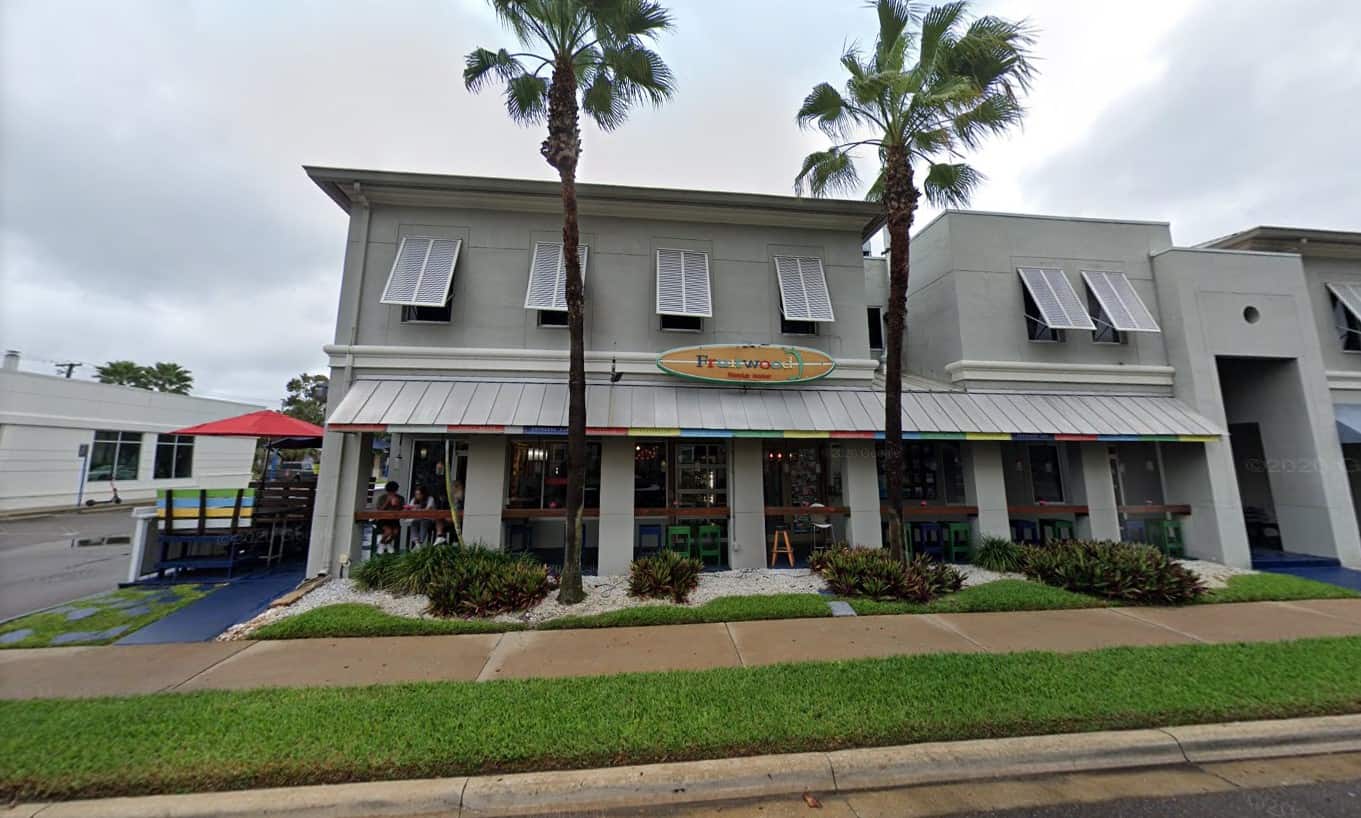 Address: 2203 W Swan Ave, Tampa, FL 33606
Phone: 813-254-7500
For those in search of unique flavors, head over to Fruitwood Stand Up Market in the heart of Hyde Park. This pizza place offers some of the craziest combinations of flavors out there.
This is the perfect place for a delicious, healthy, and fast lunch. I suggest getting their Coral Reefer or AJ's Pink Flamingo for an amazingly yummy bite!
You might also want to try their freshest salads, flatbreads, and cold-pressed juices. This funky little place offers indoor and outdoor dine-in, takeout, and delivery services.
Unique, innovative and trendy are three words that sum up this place. The place invokes a young millennial vibe with modern-day eating habits. And since it's right next to a Smoothie Kings, there is something for everyone!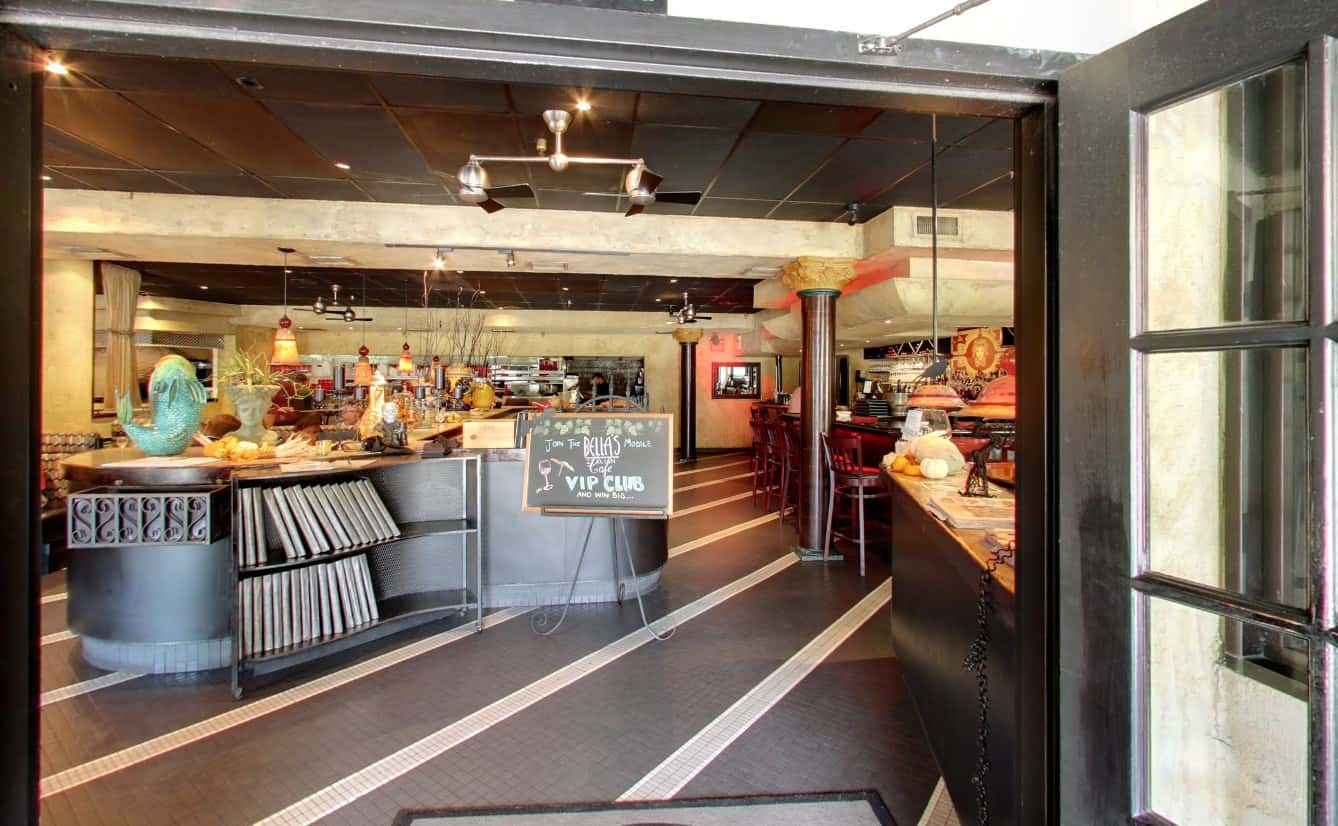 Address: 1413 S Howard Ave, #100, Tampa, FL 33606
Phone: 813-254-3355
Bella's Italian Café has been a favorite for locals and guests alike for more than three decades. This casually chic mainstay serves rustic Italian dishes along with customized pasta combos.
At Bella's, everything from the pizza dough to pasta is made from scratch to produce home-cooked flavors. Their open kitchen gives customers a hint of what's to come, and there's a patio with outdoor dining.
While Bella's décor appears to be overdone – courtesy of subdued lighting and gracious details – the entire setup is charming. Even better, Bella's favorable prices and late hours heighten its appeal.
Despite their reasonable prices, Bella's pies have significant portions and incredible taste. Overall, it's a beautiful pizza place with a family-friendly vibe. Be sure to call ahead for seating because Bella's doesn't take reservations.
Address: 12121 W Linebaugh Ave, Tampa, FL 33626
Phone: 813-854-1616
Marina's Pizza is a long-standing, family-run pizza place serving New York-style pies in Westchase. Their menu includes much more than just N.Y. pies.
At Marina's, you'll find gourmet pies, calzones, salads, Marina pasta, subs, and more. A must-go joint, Marina's prices are super reasonable, considering most joints around the area charge exorbitant prices.
Its casual setting is nice and clean, and the service is terrific. They're a tad busy on Fridays, but the line moves pretty fast. These guys are professionals; very good at what they do!
I wish they had wine or beer on tap, not just soda. If you'd like to eat pizza with wine, I suggest carrying your own. Generally, eating at Marina's pizza place feels like having a meal with the family. The owner is a nice guy who's always friendly and fun to talk to.
Final Thoughts
Each of these 15 best pizza places brings something unique to Tampa's pizza scene. Whether you're after a traditional-style pie or a greasy thin crust slice, these incredible eat spots make absolutely mouthwatering pies.
Do you have another pizza spot in mind that you'd like us to add to this list? Comment below and we'll be pleased to check it out and update our list!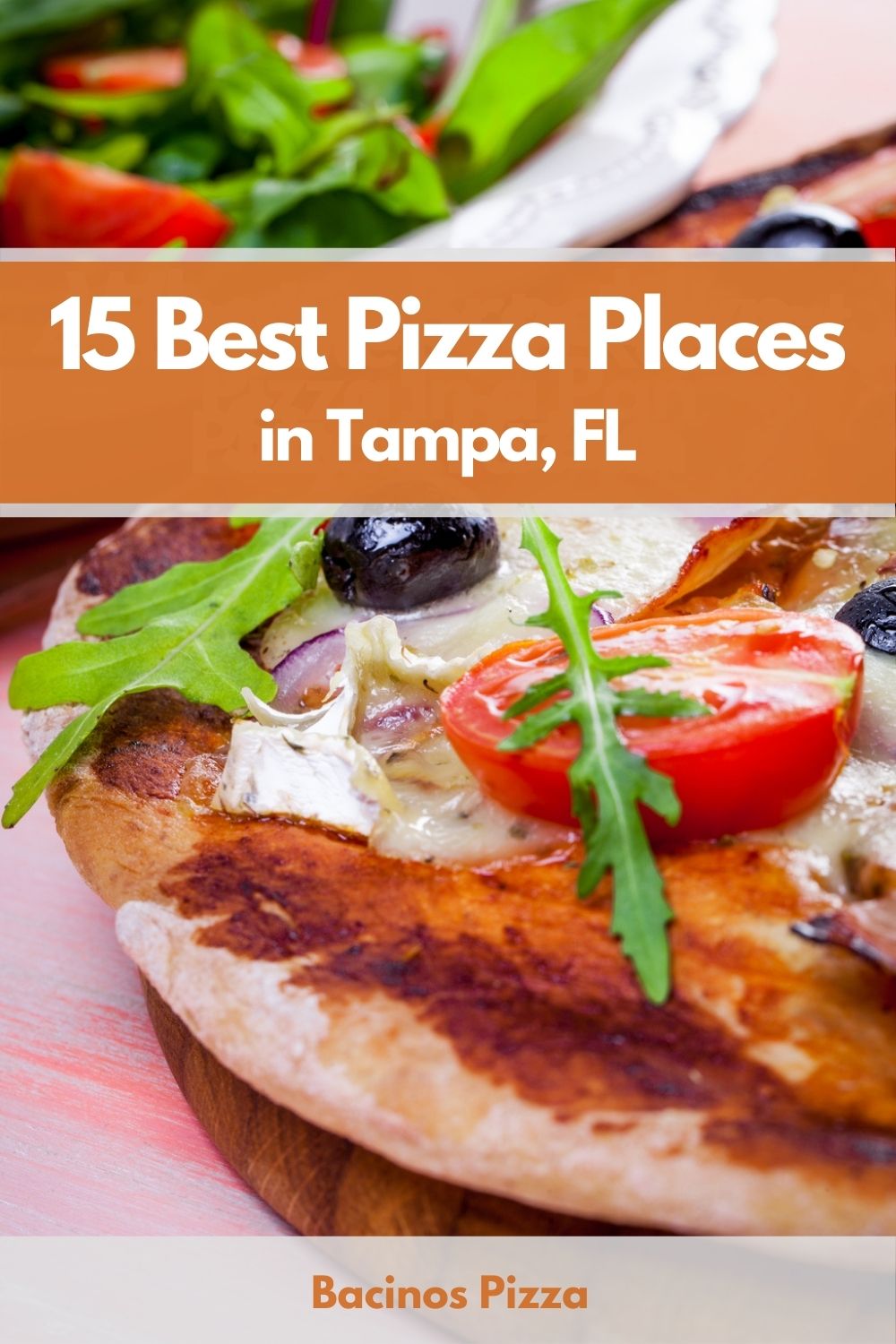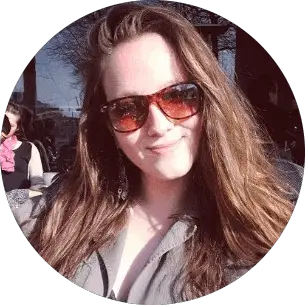 Barbara is an enthusiastic food-exploring person that goes through different culinary experiences. She got inspired by creating a pizza blog post after she tasted one of the best-selling pizzas in Toledo.