Honolulu is a paradise for both its residents and its visitors. Suppose you're in the area and have a craving for pizza. In that case, Honolulu offers a wide variety of options, including homemade pies, New York-style pizza, Boston-style pizza, pan-made pizza, brick-oven pizza, and vegan pizza.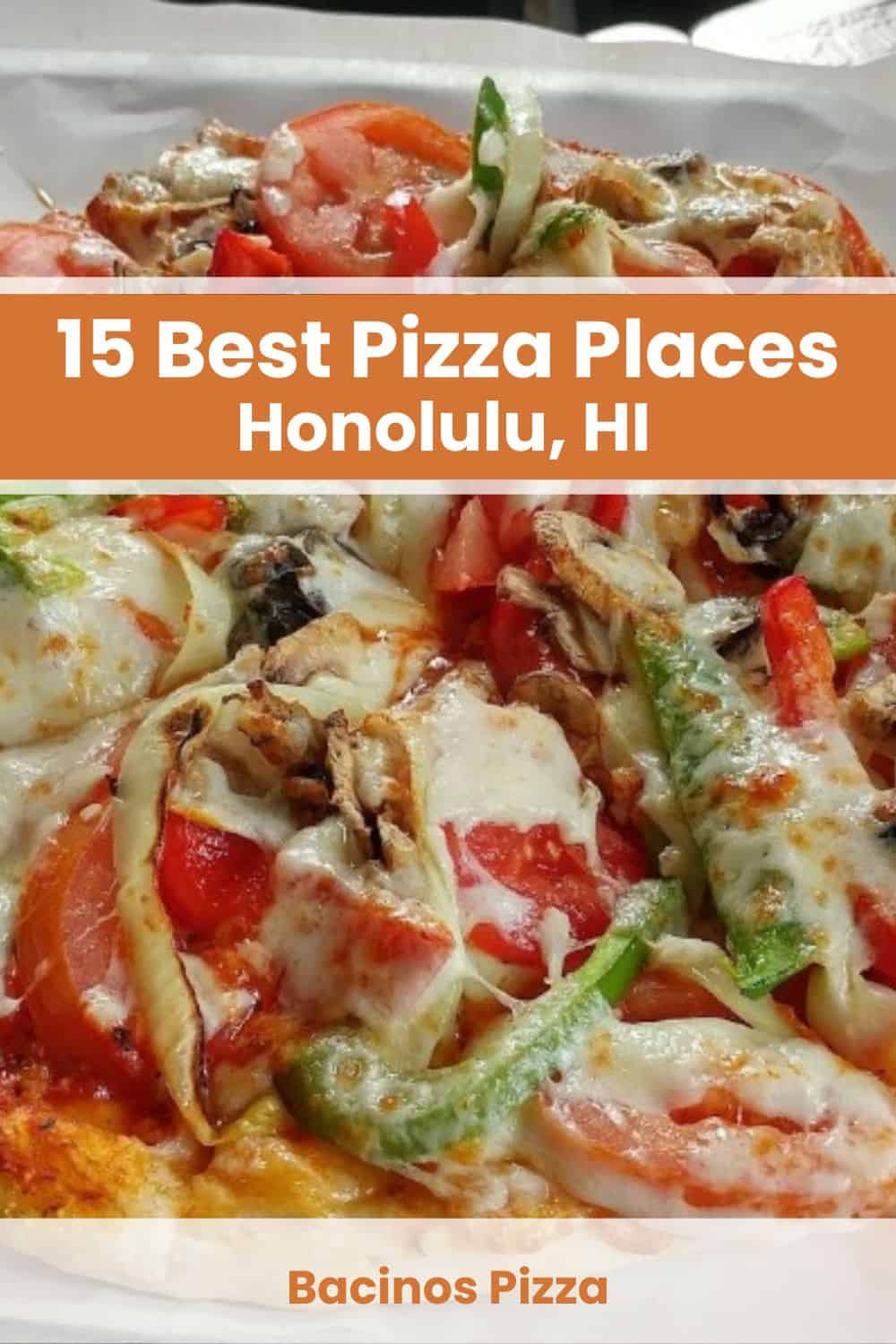 No matter your preferred flavor, you can find your pizza in the area. Here are Honolulu, Hawaii's most popular dining-in and takeout pizza options.
Price: $$
Address: 16 North Hotel Street, Honolulu, Hawaii 96817
Phone: (808) 369-2445
Our first stop is Pizza Mamo, a great little pizza place in Chinatown. Pizza Mamo makes pizzas in the style of Brooklyn and Detroit with the best ingredients and old-world methods. The flour used to make their dough is organic.
They have a few different kinds of pizza, and you can also make your own with various toppings. The price of the pizza was a little high, but it's worth it once you've tried it. You can also order by the slice, making it easy to go there yourself.
Price: $$
Address: 1694 Kalākaua Ave D, Honolulu, HI 96826
Phone: (808) 949-3548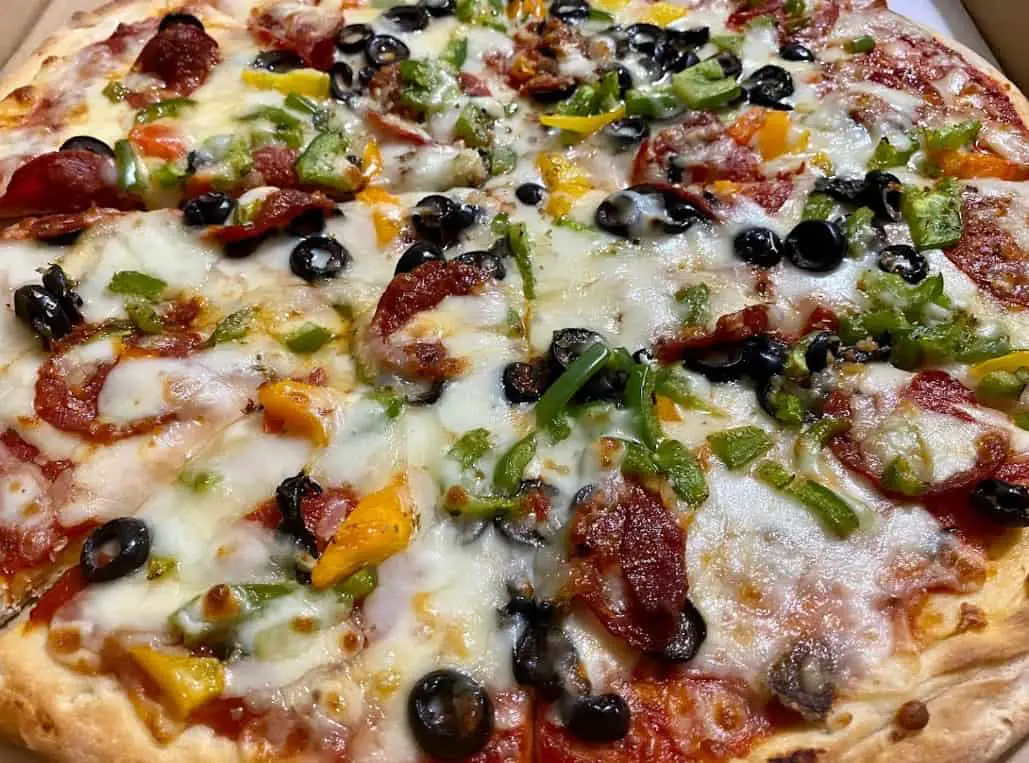 The next stop is this hole-in-the-wall place with the best Italian pizza, French bread pizza, calzone, oven-baked pasta, and salads. Their menu has a lot of pizza flavors to choose from. There are even great vegetarian options.
Their pizza is tasty and cooked perfectly. Both the crust and the fillings were delicious. They are the only place in the area serving toppings and halal meat dishes. Also, this place is only open for dinner, and you can only get food to go.
Price: $$
Address: 550 Paiea St, Honolulu, HI 96819
Phone: (808) 833-5588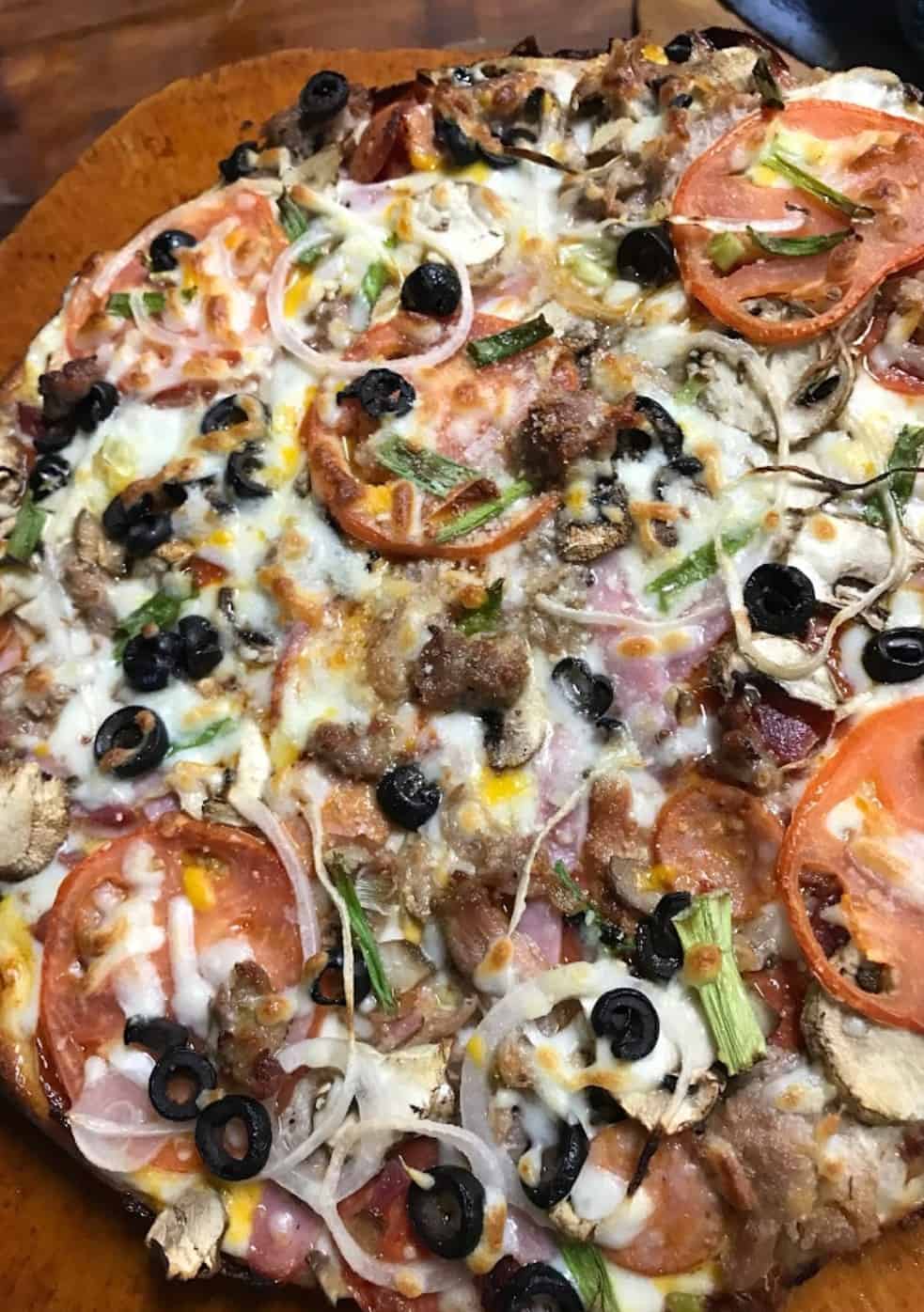 Next on the list is Big Kahuna's Pizza, a top pizza place near Honolulu airport that makes the best pan pizza on the island of Oahu. Their thick-crust pizza had a nice crunch and the satisfying texture of pan pizza.
Big Kahuna also have sandwiches and their famous garlic cheese balls, which are made to order to make sure they are fresh. There are also vegetarian options, and you can make your own pizza. A must-try when you are in the area!
Price: $$
Address: 1425 S King St, Honolulu, HI 96814
Phone: (808) 941-6634
La Pizza Rina is another must-see pizza place in Honolulu that serves New York-style pizza and pasta in a small, cozy space. Their pizza is excellent. The sauce tastes fresh, the cheese is nice and thick, and the crust is just right.
It's always hot and full of cheese. They have a mini pizza is more than enough for one person. Street parking is sometimes hard to find, but it's worth the trouble. La Pizza has good food, excellent service, and a clean ambiance.
Price: $$
Address: 3447 Waialae Ave, Honolulu, HI 96816
Phone: (808) 379-2430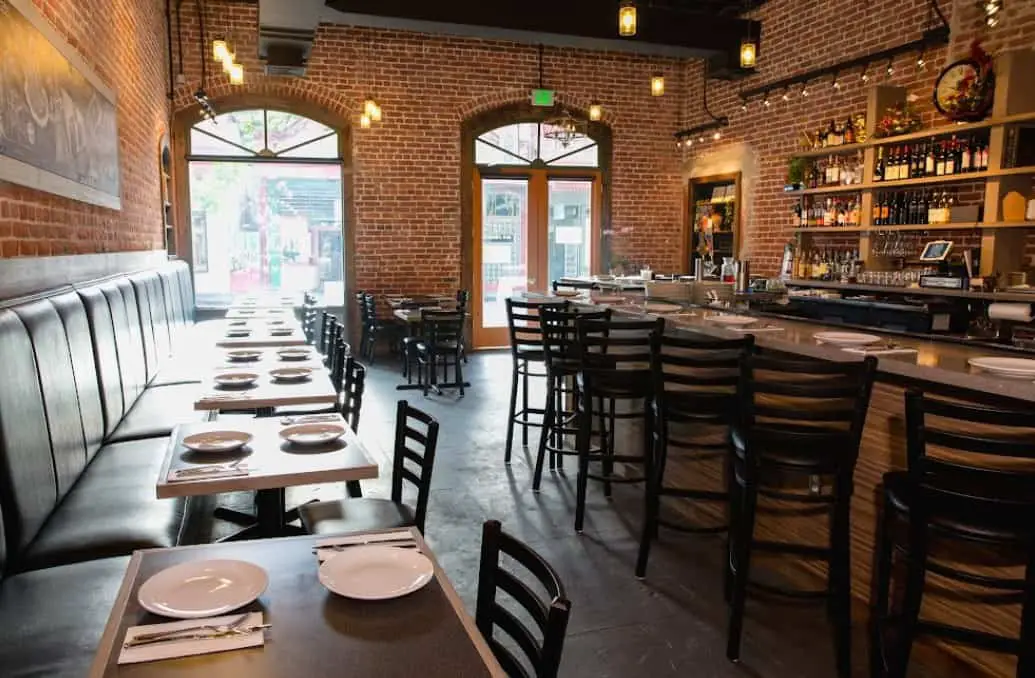 Brick Fire Tavern serves authentic pizzas made in the Neapolitan style. Every batch of dough, every swirl of tomato sauce, and every perfectly cooked slice of pizza are authentically Napoletana, as evidenced by their VPN certification.
Their pizza's crust is light and crisp. The sauce is as fresh as it can possibly be. In addition to pasta and an abundance of tasty vegetarian options, the menu also features pasta. Brick Fire Tavern is similar of dining in someone's cozy kitchen, with a very relaxing atmosphere.
Price: $$
Address: 1124 Kona St, Honolulu, HI 96814
Phone: (808) 859-1525
View this post on Instagram
Floralia is a well-known pizza restaurant in Honolulu and Hawaii's first plant-based wood-fired pizza. The crust has an ideal chewiness and a flavor of charcoal. The homemade cheese is incredibly melty and creamy, which is very impressive.
Their pizza is 100% vegan and authentically Neapolitan. The location is low-key, cozy, and has a great neighborhood atmosphere. If you enjoy pizza in the Neapolitan style, you must visit this restaurant!
Price: $$
Address: 150 Kaʻiulani Ave, Honolulu, HI 96815
Phone: (808) 922-1150
View this post on Instagram
The Appetito Craft Pizza & Wine Bar is on the list, a full-service Italian restaurant serving hand-crafted pizzas from a Kiawe wood-fired oven with unbeatable flavor. It is a lovely place with very relaxing outdoor seating. The toppings on the pizza are perfectly proportioned.
The crust was chewy and flavorful, and the sauce was perfectly seasoned. Additionally, Appetito has an elegant bar and booth with an extensive wine list. The service was prompt and the staff was amicable.
Price: $
Address: 820 W Hind Dr, Honolulu, HI 96821
Phone: (808) 377-1364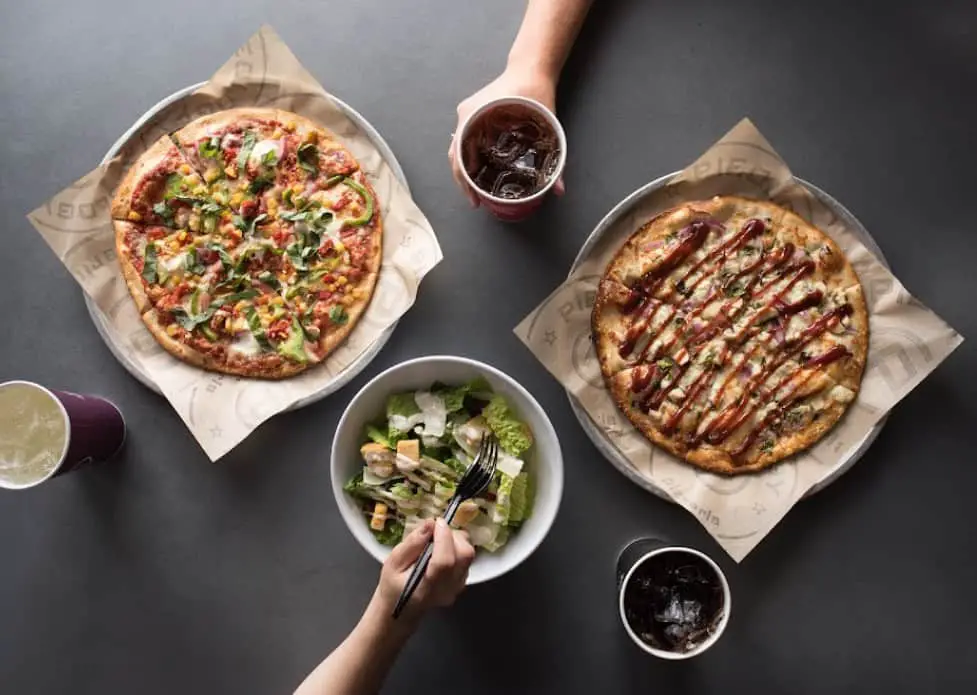 Pieology Pizzeria is a pizza chain that serves oven-baked pies with various sauces, cheeses, and toppings. Thin-crust pizza is their specialty, but they also offer other crust options.
You can order a pizza with your choice of daily-prepared sauces, creamy cheeses, an assortment of fresh, nutritious vegetables, and premium Italian meats. They offer cauliflower-based pizza dough for health-conscious customers. If you are searching for a gluten-free pizza crust, you must visit Pieology!
Price: $$
Address: 808 Sheridan St, Honolulu, HI 96814
Phone: (808) 699-9116
The Little G Cafe, another popular pizza spot on the Island, serves incredibly fresh and flavorful pizza that is difficult to beat. The size of their pizza is comparable to that of a personal pizza, but the flavor is excellent.
The size of their pizza is similar to that of a personal pizza, but the taste is exquisite. Both the seasoning and the amount of toppings are perfect. The pizza's crust is thin and delicious. Freshly squeezed lemon juice gave the pizza a kick and made it taste unique. This is one of the best places in Hawaii to get pizza.
Price: $$
Address: 3506 Waialae Ave, Honolulu, HI 96816
Phone: (808) 734-1945
View this post on Instagram
Kaimuki's Boston Pizza is a cozy pizzeria famous for its enormous Boston-style pizzas that barely fit in the box. Their pizza is made with the freshest ingredients, and our dough is prepared daily. Kaimuki serves super-sized 19-inch pizzas, the typical size for a Boston pizza.
The slices of pizza are so large that you are satiated after consuming only one. They are incredibly generous with the toppings, and their freshly baked pie crust is extremely crisp! Their prices are slightly higher than their competitors, but they are well worth the cost.
Price: $$
Address: 2005 Kālia Rd, Honolulu, HI 96815
Phone: (808) 955-0137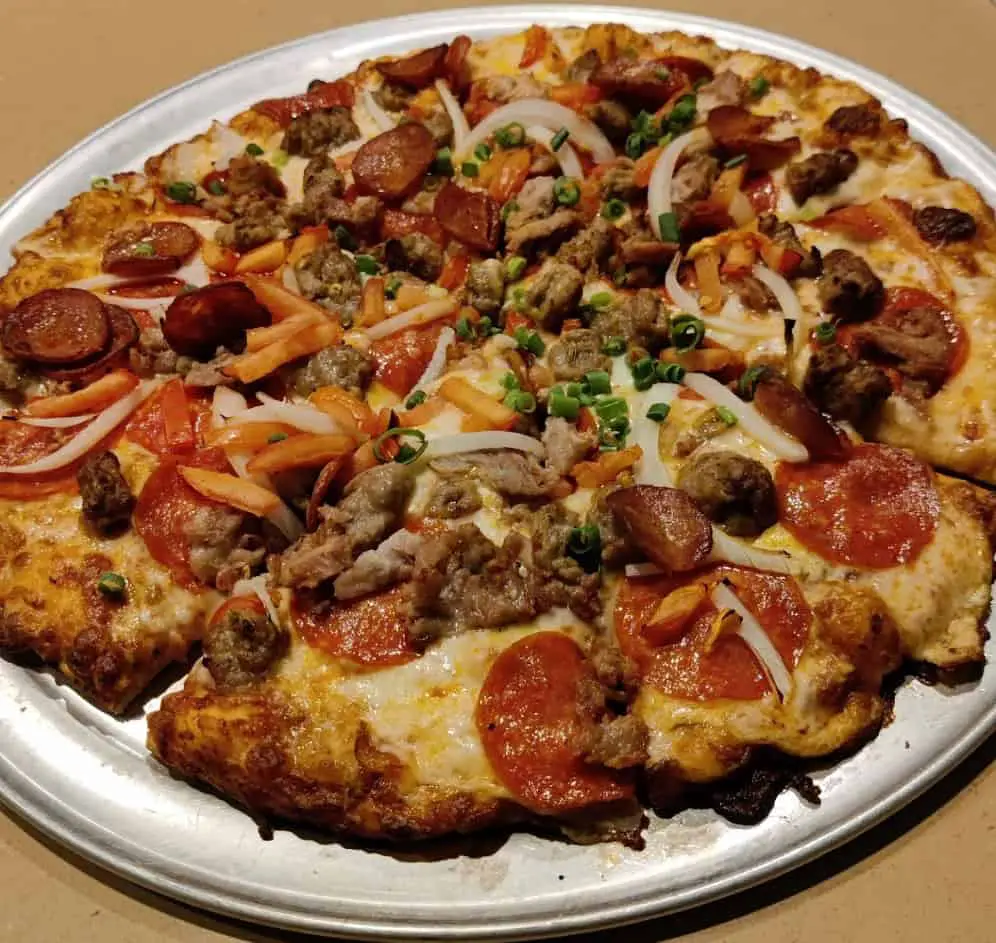 Round Table Pizza has served delectable pizza for more than six decades. Throughout the years, they have continued to serve pizza made with decade-old recipes, dough rolled by hand, homemade tomato sauce, and fresh toppings.
Their pizza crust was delightfully crisp, the toppings were new, and the sauce was exceptionally flavorful. The crust is chewy and not excessively thick. Because Round Table Pizza is a small, cozy restaurant with limited seating, most orders are takeout.
Price: $$
Address: 801 Dillingham Blvd, Honolulu, HI 96817
Phone: (808) 888-6200
Yellow Cab Pizza is a Filipino pizza chain that serves New York-style pizza. Both the toppings and the chewy crust were delectable. At Yellow cab, you can order four seasons pizza, a single pizza with different toppings.
Yellow cab is ideal for large groups due to its affordable prices and enormous pizzas. Yellow cab serves delicious salads, pasta, and their best-selling chicken wings in addition to pizza.
Price: $$
Address: 515 Pepeekeo St A, Honolulu, HI 96825
Phone: (808) 394-8001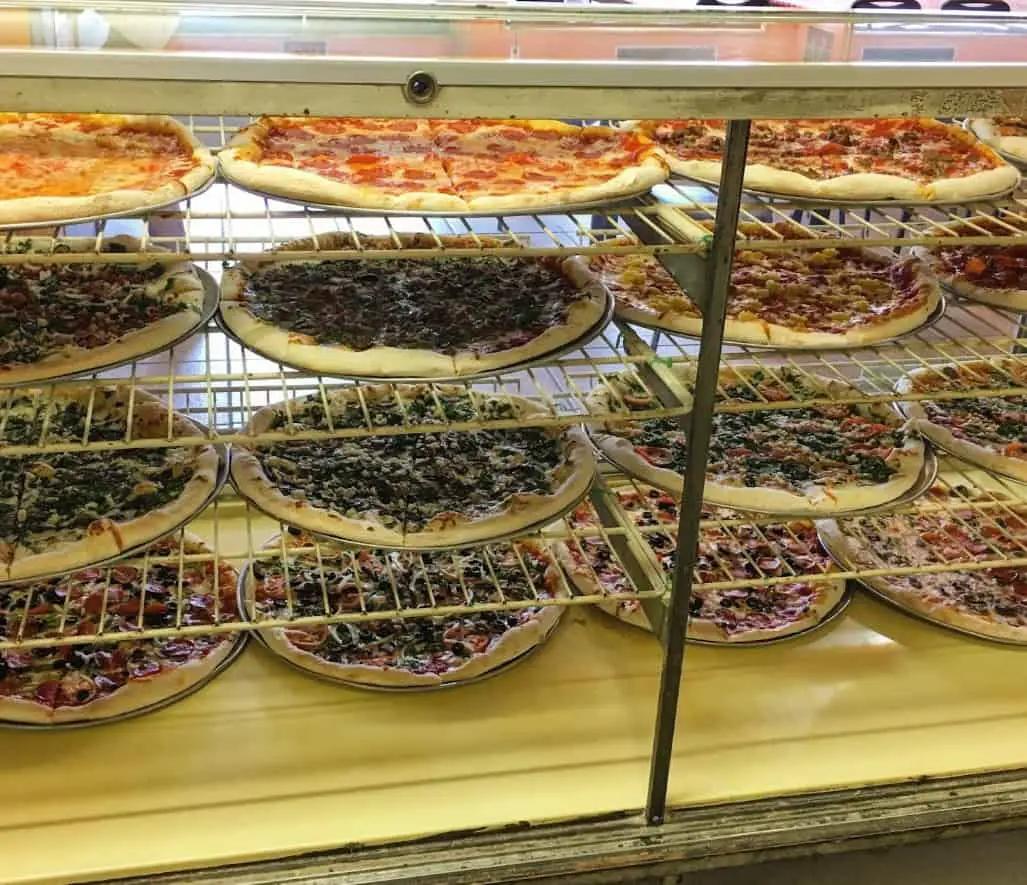 Boston's Pizza Hawaii Kai is a pizza restaurant with a checkered tablecloth and fresh topping options on 19-inch Boston-style pizzas. Excellent-tasting pizza with a thin crust and numerous toppings.
It tastes exactly like New York-style pizzas, with its crisp crust and flavorful sauce. The topping were fresh, but spread out unevenly. They sell by the slice, and one slice per person was sufficient. There are pizzas available for both meat eaters and vegans.
Price: $$
Address: 1147 Bethel St, Honolulu, HI 96813
Phone: (808) 537-4992
Dolans is one of the pizza places on our list. J. Dolans is a pub with an Irish theme that serves delicious pizzas. You can also choose your own toppings and make your own pizza. Their crust is thin and crispy, and they put a lot of toppings on it. There is just the right amount of tomato sauce and melted cheese. There are no reservations, so make sure you get there early.
Price: $$
Address: 2211 Kūhiō Ave., Honolulu, HI 96815, United States
Phone: (808) 537-4992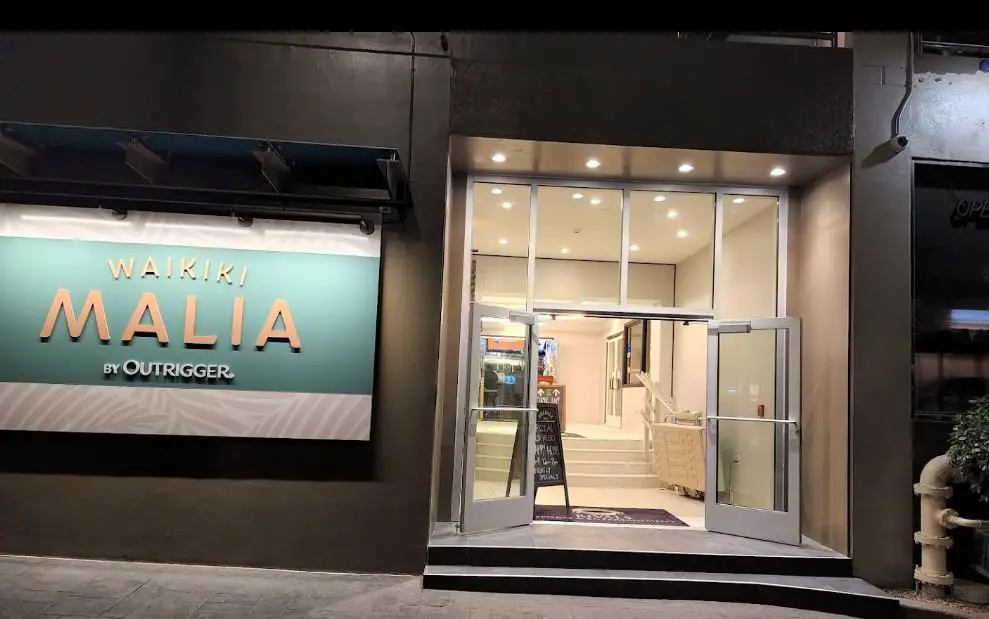 Slice of Waikiki is yet another hole-in-the-wall that offers delicious pizza at a low price. You can order your pizza slice at the bar while sipping your favorite beverage.
Slice of Waikiki offers fresh pizza with exquisitely twisted crusts and lots and lots of cheese. The pizza dough was tender, airy, and flawlessly baked. One slice of their incredibly huge pizza was enough for two people. Definitely, a place you should try when in the Waikiki neighborhood.
Our team chose the pizza places listed above based on customer reviews, ratings, satisfaction, cost, and customer service. If you have a craving for pizza, call one of the pizza places on the list, place your order, and it will be delivered in minutes. We only listed the best pizza restaurants in Honolulu, Hawaii because you deserve only the best!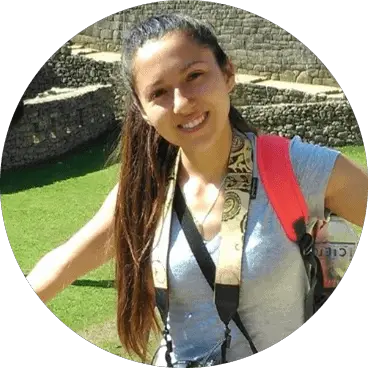 Kathryn's love for pizza started when she was still young. When she was young, she's been a picky eater–that's what her Mom used to say. The only food that she enjoyed and loved was pizza–until now! Her love for pizza turned into a passion!