We may grow old but never get tired of having pizza. In the most literal sense, pizza is what makes life happier and worth living. The smell of a pizza from the oven will brighten the day and make you smile.
If you're like us, that would do everything and hunt for the best pizza in town. Then we're glad to sail the same boat with you. Here, we collected excellent pizza bars in Milwaukee, WI. We are super-duper sure that you will love them!
So, let's dig in and head on to the 16 best pizza places in Milwaukee, WI.
Price: $$
Address: 1724 N Farwell Ave, Milwaukee, WI 53202, United States
Phone: +14142898776
Established in 1954, Zaffiro's Pizza & Bar has served its guests the best thin-crust pizzas around Milwaukee. As you enter this pizza spot, you'll find its ambiance exudes a chill and cozy vibe, perfect for a memorable catch-up with your friends.
What's more impressive is that Zaffiro's has been at the top place of popular pizza spots in Milwaukee. There's a chance you would bump along with famous politicians and celebrities. Awarded in 2021 as Best of Milwaukee, this pizza bar is worth your time and money.
So, if you're lucky enough to go and visit Milwaukee one day, never forget Zaffiro's Pizza & Bar on your must-try list. We are 100% sure that Zaffiro's will never disappoint you.
Price: $
Address: 623 S 2nd St, Milwaukee, WI 53204, United States
Phone: +14147368709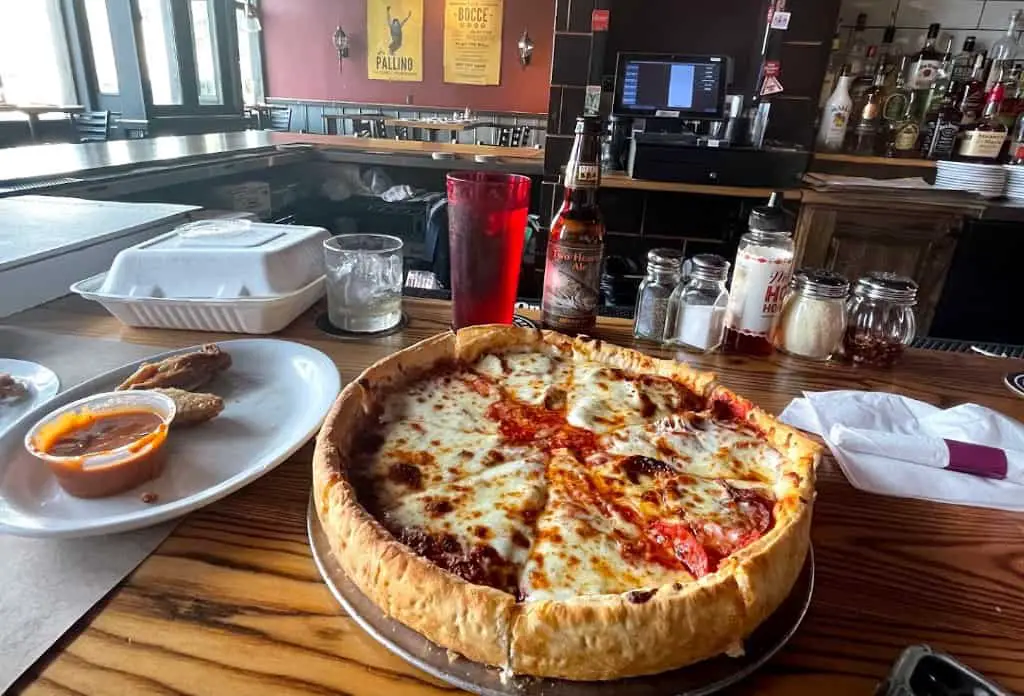 With its charming bistro over signature pizzas and Italian plates of pasta, Fixture Pub is one of Milwaukee's pizza places to die for. Name it, and you'll have it. You come to the right place if you're a pizza lover who can never be satisfied with just one pizza slice.
Fixture Pizza Pub offers its guests sizes of pizza according to their liking. You can add some stuff and select premium meat, vegetable, or cheese toppings. For pizza recommendations, check out their best-selling ones like Fat Daddy's, Walker's Pint, and Tin Widow.
And as we all can relate, pizza and chicken wings are a fantastic pair. So, also try their chicken wings which are available in three flavors: buffalo, garlic parmesan, and honey ginger.
Price: $$
Address: 838 N Old World 3rd St, Milwaukee, WI 53203, United States
Phone: +14142762876
San Giorgio Pizzeria Napoletana welcomes you to the taste of real, Neapolitan pizza. If there's one pizza salon in Milwaukee where you can have wood-fired Neapolitan pizza, it's this place.
So, if you're feeling blue and want to have some comfort food, San Giorgio opens its doors for you. You can come with your best buddies on a cold Sunday night. Or you can celebrate with your loved ones for special milestones in your life.
Whatever you do, and wherever you are, it's always best to have pizza. Who would not want that, right? At your chill time, visit San Giorgio Pizzeria Napoletana. Their stellar customer service and friendly staff will surely accommodate you.
Price: $
Address: 5025 W Forest Home Avenue, Milwaukee, WI 53219, United States
Phone: +14145434606
Sometimes, all we want is to remember our nostalgic memories with our best friends over a slice of pizza. If you're looking for a pizza bar that will relive the great memories you have with your buddies, you are fortunate to cross this page.
Maria's pizza is an old-school place like we all had back then. For $18, you can have the traditional but classic pizzas that we all come to love, such as Cheese, Sausage, & Pepperoni, or Pepperoni and Cheese alone.
Open since 1957. Maria has taken pride in serving its customers the tastiest thin-crust pizza for over 50 years now. So, swing by this place the next time you are in Milwaukee.
Price: $$
Address: 101 W Mitchell St, Milwaukee, WI 53204, United States
Phone: +14147630438
The top five on our list are none other than Transfer Pizzeria Café. This incredible pizza spot is proud to announce that they have served their guests over 40+ types of pizzas. Are you the type who likes to try different pizzas in one sitting? Then, congratulations! You have come to the right place.
Transfer Pizzeria Café is a warm, relaxed café with a menu featuring creative pizzas. You can go for Garlic, Traditional, Veggie, and Specialty. Promise, we are telling you that there are endless options for pizza.
If you prefer healthier options for your pizza, that's not a problem. There's a lot for you, such as Bob's Special. This unique veggie pizza is made of mushrooms, spinach, onions, and fresh avocado, all filled with garlic sauce. What a pizza blast!
Price: $$
Address: 5601 W Vliet St, Milwaukee, WI 53208, United States
Phone: +14149433278
For sure, the fact that we all love pizza is up to no debate. So, here's another pizza hub that can brighten up your day. Using the traditional way of baking pizza, Wy'east pizza offers their guests pizza slices made from natural, fresh ingredients.
That's why it is no wonder that Wy'east pizza is highly sought around Milwaukee. There are Red Pies and White Pies. Zig-Zag, Three Sisters, Margherita, and Hot Marmot are their best-selling pizza.
Do you want a refreshing and delightful dessert over a slice of pizza? For $3.50, you can have Mint Chip Ice Cream, Vanilla Ice Cream, and Whiskey Ice Cream.
However, because of the Covid pandemic, be sure to check always check their website for information if you plan to visit. To avoid any hassle, this pizza restaurant prefers early reservations.
Price: $$
Address: 2961 North Oakland Avenue, Milwaukee, WI 53211, United States
Phone: +14143326360
As the old proverb says, the best pizza is always around the corner. A family-operated and owned restaurant, Lisa's Pizzeria has provided the finest pizza in the neighborhood of Milwaukee since 1960.
As we all love, Lisa's Pizzeria offers their customers hot-served and delicious pizzas. Wherever you are in town, you can always expect that Lisa's will get your pizza made from the freshest and finest ingredients. And, to make it more awesome, you can pair up your pizza with their mouthwatering appetizers.
Of course, pizza would never be complete without a refreshing drink. Do you like to have a chill time? Then great news waits for you. You can unwind and relax at Lisa's Pizzeria with their pizza over a glass of cold beer.
Price: $
Address: 2035 E North Ave, Milwaukee, WI 53202, United States
Phone: +14147279200
Ian's Pizza Milwaukee makes one of the best absolute pizzas in the town of Milwaukee. This pizza bar is the go-to pizza restaurant if you want the ultimate comfort food. Have you ever heard of chicken and waffles pizza? Ian's pizza would love for you to try one.
Caribbean Jerk Chicken Pizza is one of the best-selling and creative pizzas in this pizza bar. This fantastic pie contains rice, coconut beans, a spicy habanero marinade, and pineapple toppings. If you're on the hype for barbeque pizza, then you can try their Brisket & Tot Pizza.
Whatever your mood, there's an available pizza that could uplift your soul and touch your heart. So, the next time you are in the chase for comfort food, stop at Ian's Pizza.
Price: $$
Address: 2597 North Downer Avenue, Milwaukee, WI 53211, United States
Phone: +14142721745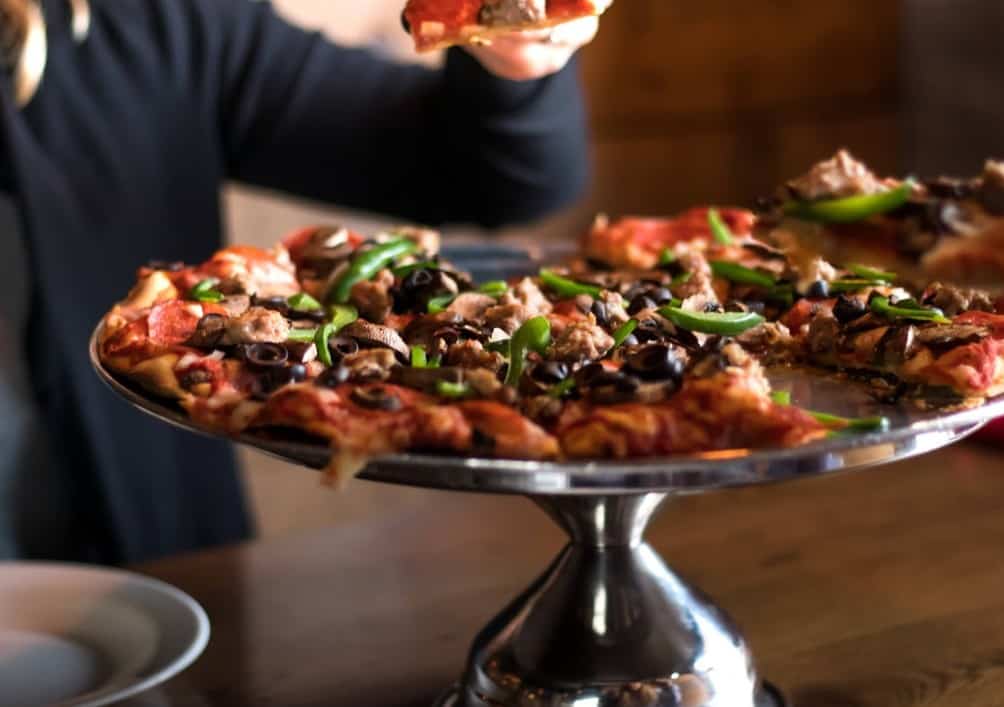 Since any day is a great time for pizza, you should visit Pizza Man Milwaukee. Regarding creative and unique pies, Pizza Man Milwaukee has a lot to offer. This pizza salon covered you from deep-dish pizza to Broccolini pizza and Bogo Pizza.
You can have a wonderful time with their delicious pizza entrees any day of the week. You can pair it with their superb plates of pasta and flavorful appetizers. One of the crowd's favorite appetizers we would love for you to check out is their cheesy curds and cheesy bread.
This restaurant got you if you want a place to host your pizza party. They provide their guests with a stunning place to gather, with fantastic catering options. Just get in touch with them, and Pizza Man will be glad to serve you.
Price: $$
Address: 53212, 930 E Wright St, Milwaukee, WI 53212, United States
Phone: +14142699703
Coming up on our next best pizza place is Riverwest Pizza. You will never regret stopping by Riverwest Pizza with its exceptional service and friendly staff. Whether you live in the local neighborhood or are a newbie in Milwaukee, Riverwest will pop up if you're hunting for great pizza bars.
When you catch a glimpse of their menu, you will realize that Riverwest Pizza is the ultimate hang-out place. They have all your favorites. They got everything from fries, chicken wings, mozzarella sticks, and sandwiches.
Of course, since you're in the chase for a good pizza experience, you're in the perfect place. Of course, to make it more heavenly, you can build your pizza. And yes, you can fill it with toppings you love and enjoy! Happy eating!
Price: $$
Address: 509 E Erie St, Milwaukee, WI 53202, United States
Phone: +14142771800
Every pizza meal should be a memorable experience. That's what Riverfront Pizzeria wants when it comes to serving its guests. When it comes to pizza, woodfire pies would never grow old.
In this pizza, you can enjoy woodfire pizza that would make you reminisce about all the good things in life. Check out their variety of woodfire pizzas: Bianca, Salsiccia, Margherita, and Philly Fighter.
Suppose you like to have and enjoy a delightful slice of pizza in the comfort of your home. Then, even better, Riverfront Pizzeria gladly accepts pick-up and online orders.
Plus, if you have an upcoming celebration such as birthday parties or hosting a corporate meeting, call them right away!
Price: $$
Address: 139 E Kilbourn Ave, Milwaukee, WI 53202, United States
Phone: +14142704433
It's always great to have pizza when you're destressing and unwinding in a warm hotel. So, stop by Proof Pizza if you stay at Saint Kate in Milwaukee. For sure, you can have a casual and fast Neapolitan-style pizza.
Proof pizza makes up one of the best pizza bars in Milwaukee with a blend of modern, sophisticated design with old-world character. Pie in Proof Pizza would never be the same with its classic flavors. And while you're at it, go for their salads and snacks for a quick bite.
Price: $$
Address: 2797 S Kinnickinnic Ave, Milwaukee, WI 53207, United States
Phone: +14142382406
Oh, but there are more pizza places you can find around Milwaukee. Here's another pizza restaurant that you will surely love, Classic Slice. Located near Kinnickinnic Avenue, Classic Slice is one of the crowd's favorites.
Hand-Tossed Pizzas. Vegetarian or Meat? They have it all. If you're a newbie, we recommend you check out their Radical Meat Pizzas, from Chunky Chicken to Top Gun and Popeye.
But, if you prefer a healthier option, Classic Slice accommodates you by offering gluten-free, vegan pizzas. Yet, while it is on the nutritious side, the taste is not compromised. So, if you're into an active and healthy lifestyle, you can ask for their Super Veggie and Mediterranean.
Price: $
Address: 1827 N Farwell Ave, Milwaukee, WI 53202, United States
Phone: +14142899993
Have your best friends come over, and together check out Pizza Shuttle. With their wide selection, meat lovers and vegetarians will have a great time in this pizza salon. Located at Farewell Avenue, Pizza Shuttle is open for dine-in, curbside, pick-up, and delivery.
So, Pizza Shuttle is ready for you to host your next pizza pajama party with your friends. Whether it's a slice of pizza for midnight love confessions, truth or dare, or a movie marathon, this place is glad to bring hot pizza right next to you.
Price: $$
Address: 3246 S 27th St, Milwaukee, WI 53215, United States
Phone: +14146452400
Ned's pizza first opened its door in the 1960s. Since time immemorial, they have been offering original and fabulous pizzas. Made with the same recipes back then, Ned's Pizza is proud to give you the taste of their classic, thin-crust pie.
Your memorable pizza experience always comes first. So, expect only the best when you step into Ned's Pizza. Whether you're up for a quick bite or a delightful dinner, this pizza restaurant will always welcome you with pies made from love.
Price: $
Address: 3929 South Howell Avenue, Milwaukee, WI 53207, United States
Phone: +14147447400
Milwaukee Classic Pizza is the last on our list of best pizza places. Not only flavorful and unique, but this pizza bar will also let you have spectacular pizzas.
Milwaukee Classic Pizza keeps the tradition alive by serving square-cut, classic thin-crust pizza. But if you're in the mood for something with a twist, then go check out their specialty pies.
At an affordable price of $20.99, you can have the taste of premium pizza like Cheesy Pepperoni, Milwaukee's Classic, and Buffalo Chicken Pizza. And, for $1.50, you can add any toppings you like.
Pizza Places in Milwaukee: Is it Worth a Shot?
Of course, these 16 best pizza places in Milwaukee are worth it. Whatever you're feeling, you can always wrap up your day with a delightful pizza experience. But you would never know unless you give these pizza salons in Milwaukee, WI, a shot. So, eat good, and feel great!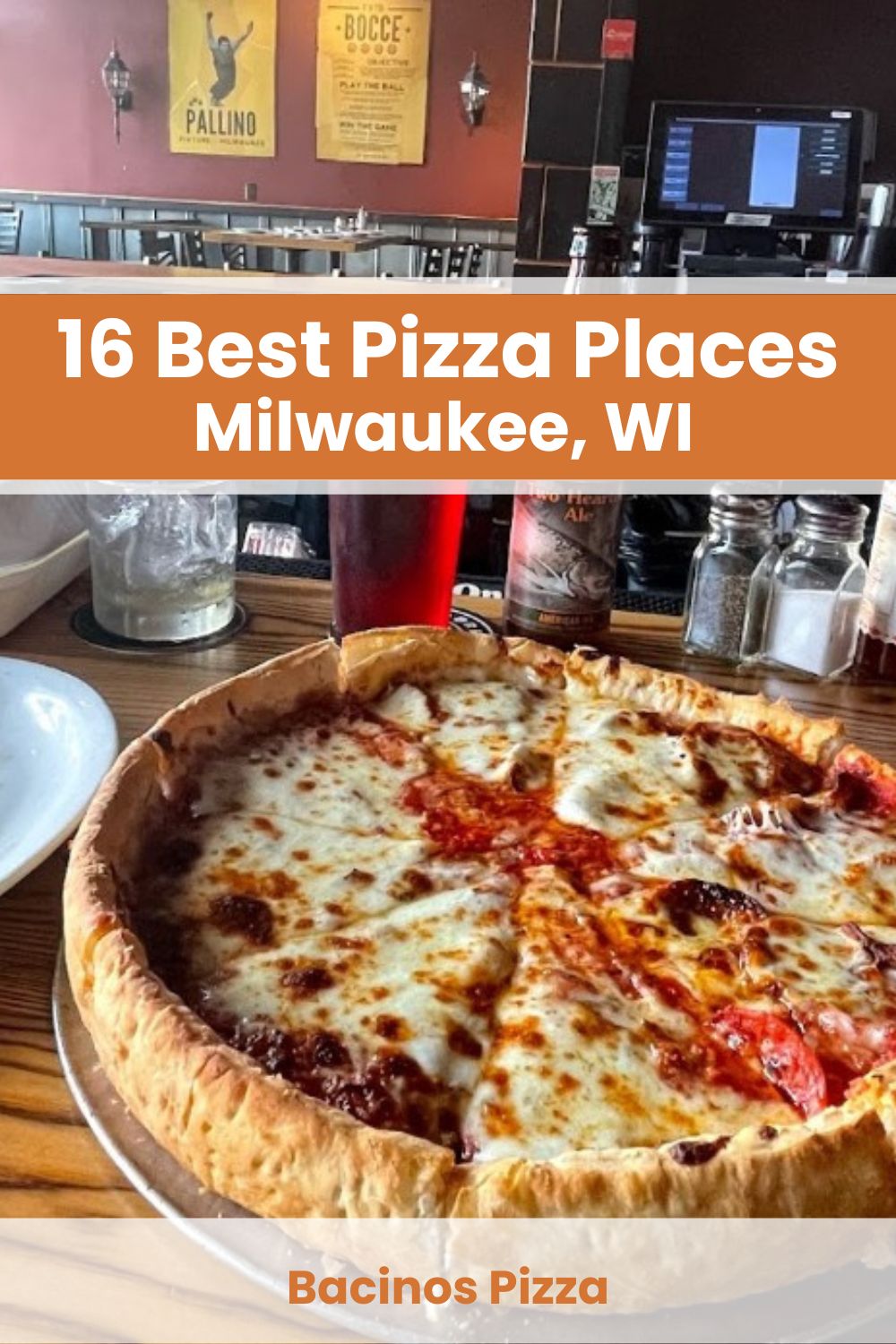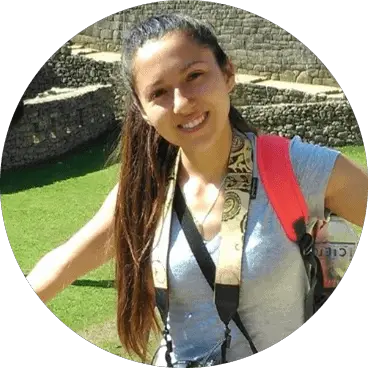 Kathryn's love for pizza started when she was still young. When she was young, she's been a picky eater–that's what her Mom used to say. The only food that she enjoyed and loved was pizza–until now! Her love for pizza turned into a passion!