St. Louis is a city packed with excitement and energy. It is home to the iconic Gateway arch, waterways, parks, and incredible dining places, including numerous pizzerias. If you're craving one of the most famous Italian fares, check out the 18 best pizza places in St Louis, MO.
Price: $$
Address: 1928 S 12th St, St. Louis, MO 63104
Phone: 314-449-1111
View this post on Instagram
Located in the iconic Soulard neighborhood, Pizzeoli serves Neopolitan-style wood-fired pizzas. This cozy pizza place uses locally-sourced and mindfully grown ingredients to maintain the high quality of food. The casual yet classy atmosphere is perfect for date nights or intimate dinners with loved ones.
The restaurant's line of artisan pizzas includes the Buffalo Chicken Bacon and Roasted Mushrooms. Its chefs use locally-sourced meat from sustainable farms around the area. It also serves sides such as chicken wings, salads, and other appetizers.
The pepperoni in the pizzas is preservative-free, non-GMO, antibiotic-free, and certified gluten-free. Meanwhile, the chicken is free-range and pasture-raised.
Price: $$
Address: 2017 Chouteau Ave, St. Louis, MO
Phone: 314-241-7799
View this post on Instagram
PW stands for Paul and Wendy, the creators of the pizza place. They focus on using fresh seasonal ingredients in their pizza creations while maintaining high quality. The creative and unique ambiance backdrops the restaurant's meals and drinks.
The cured meat and cheeses are grown and sourced locally. The vegetables come from tits own hydroponic farm and greenhouse, ensuring quality and freshness. It offers various pizza flavors, from Greek-inspired to classic all-American favorites. It also has gluten-free, vegan, and vegetarian options, so everyone at the party can enjoy every visit.
Price: $
Address:2438 McNair Ave Rear, St. Louis, Missouri
Phone: 314.833.4489
View this post on Instagram
This charming pizza place offers traditional brick-oven Pizza at reasonable prices. You can order a slice or a 13′ pie to share with family or friends. The flavors are simple but pack a lot of flavors. Its prompt and efficient service allows you to get a quick meal in the middle of a busy day. The pizzas are best paired with beer, soda, or Italian Lemon Ice. The secret to this place's Pizza is the basil, olive, oil, cheese, and sweet sauce. Many fans believe it's the best one in Missouri.
Price: $$
Address: 400 N Euclid Ave, St. Louis, MO 63108
Phone: 314-367-4300
View this post on Instagram
This pizza place strongly believes in making sustainable practices and purchases to minimize its carbon footprint. It uses the freshest ingredients to create delectable pizzas. It also serves craft beer, appetizers, and salads.
You can also make your pie using your choice's crust, toppings, and herbs. It was also the first pizza place in the country to offer a gluten-free and vegan menu. It takes pride in being mindful of people's food sensitivities. Pi Pizzeria has been featured in publications such as The Washington Post, Southern Living, and People Magazine.
Price: $
Address:  4189 Manchester Ave, St. Louis, Missouri
Phone: 314-899-0444
Pie Guy serves freshly-made New York-style pizza in a fun, casual atmosphere. As part of the St. Louis Green Dining Alliance sustainability certification program for restaurants, it ensures to source their ingredients locally. The pizza crust is so good that it's worth eating by itself.
The toppings are fresh and cooked just right, while the homemade sauce has all the perfect flavors. Loyal diners rave about the gracious staff that makes them feel welcome with every visit. You can get Pizza by the slice, which includes pepperoni, cheese, sausage, vegan, and vegetarian options.
Price: $$
Address: 5046 Shaw Ave, St. Louis, Missouri
Phone: 314-771- 4900
View this post on Instagram
Since 1988, this restaurant has served authentic family recipes to the St. Louis community. Owned and operated by the Carterro family, this place serves award-winning pizzas in the heart of the hills. Its menu also has other Italian, Mediterranean, and Spanish fare.
People love the cozy and relaxing atmosphere and the friendly and efficient service. It's a great place to celebrate special occasions such as birthdays and anniversaries. The extensive wine list can make the celebrations extra special. It would also be delightful to end your meal with tits famous tiramisu.
Price: $$
Address: 5861 S Kingshighway Blvd, St. Louis, Missouri
Phone: 314-832-3222
This place is one of the most popular pizza hangouts in S. Louis. It uses a wood-burning oven to create pizza with the freshest toppings. If you want to eat the pizza in the comforts of your home, you can choose takeout, delivery, or curbside options.
The Pizzeria Tivoli staff are always approachable, friendly, and accommodating, so you'll feel at ease when visiting. The bestseller is Pizza Madama. A creation made with green olives, prosciutto, tomato sauce, fresh mozzarella, and parmesan cheese. It also serves gluten-free options for those with food sensitivities.
Price: $
Address: 3196 S Grand Blvd, St. Louis, MO 63118
Phone: 314-266- 5400
View this post on Instagram
You don't need to head to New York City because Pizza Head in St. Louis serves delicious 20-inch NYC pies and slices. What's impressive about this place is that the pizza variants are all vegetarian. The flavors include cheese and vegan pepperoni.
You can also try the slice of the day that rotates on schedule. It's best to pair the Pizza with non-alcoholic beers and kombucha for a healthier meal. You can ask the servers for a fully vegan option. It would also be fun to build your Pizza using their soy-based "meats," vegan or dairy cheeses, and tomato sauce base.
Price: $$
Address: 6401 Clayton Ave, St. Louis, Missouri
Phone: 314-645-6565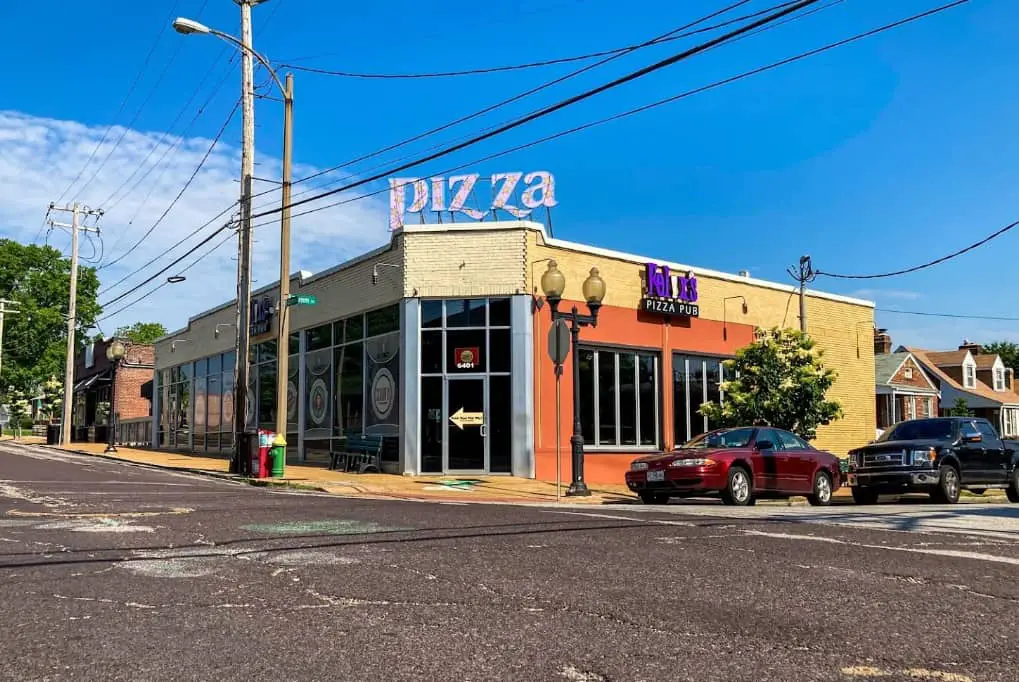 Felix Pizza Pub is a cozy and unique place to enjoy pizza and good company. The interiors have vintage bicycles hanging from the ceiling and exciting artwork. It also offers the biggest slice in St. Louis, making your dining experience memorable.
Every bite has flavorful bursts from the fresh toppings and slightly sweet, garlicky homemade dough. The pizza flavors have names based on famous places in the area. One crowd favorite is "Dogtown." It's a creation made of Italian sausage, pepperoni, and bacon. You can also build your pizza using a variety of meats, vegan ingredients, and premium vegetables.
Price: $$
Address: 4500 Hampton Ave, St. Louis, Missouri
Phone:  314-644- 6666
Many people are talking about this quaint and casual pizza place. It's no wonder since it serves excellent pizza with exceptional customer service. Its specialties are the Chicago deep dish, New York style, and Neopolitan-style pizzas. All made with their homemade sauce, various cheeses, and spices. Some diners even call it addicting.
You can enjoy the Missouri weather on their outdoor patio or enjoy the warm interiors. The pies are best paired with any beer or liquor from their collection. Loyal diners also love Caesar's salad, which has the freshest vegetables and the right amount of dressing.
Price: $$
Address: 5401 Finkman St, St. Louis, MO 63109
Phone: 31-802-8883
View this post on Instagram
This pizza place offers a one-of-a-kind dining experience where you can witness the cook tossing the dough. It serves specialty pizzas such as the Neopolitan style, a creation with tomatoes, onions, and fresh basil.
Meanwhile, it also has the famous gut-buster, filled with generous portions of sausage, pepperoni, ham, bacon, meatballs, bell peppers, and other ingredients. You can also build your Pizza using gluten-free or regular dough and a wide variety of meats and vegetables. This pizza dining spot is famous for its Sangria, a perfect pair for delectable meals.
Price: $
Address: 6703 Scanlan Ave, St. Louis, MO 63139
Phone: 314-781-1234
View this post on Instagram
For more than 50 years, this pizza place has been delighting the St. Louis community with hand-tossed New York-style pizzas. The owner has retained the family recipe created in 1967 by his father.
It is a proud recipient of the 2002 Best Restaurants in STL accolade published in the St. Louis Post Dispatch. You can enjoy pizza with toppings such as sausage, pepperoni, cheese, and Canadian bacon. The cooks can also whip up meat lovers and vegetarian specials in thick or thin crust.
Price: $$
Address: 2024 Marconi Ave, St. Louis, Missouri
Phone: 314-833-3734
View this post on Instagram
Stepping into Pizzeria da Gloria is like going on a trip to Italy. The owner Joe Kurowski grew up in St. Louis, but his family trips to Italy inspired him to create a pizza place. He took a pizza masterclass in Rome and used his knowledge to create authentic Italian Pizza.
The restaurant and the food revolve around simplicity but pack excellent flavors. The place also has a soulful vibe. Menu options include Margherita, Marinara, Sausage, Mushroom, and an extensive collection of wine and beers.
Price: $
Address: 6203 Gravois Ave, St. Louis, Missouri
Phone: 314-370- 2334
This charming pizzeria serves brick oven pizzas loyal diners call one of the best in St. Louis. People love the cozy ambiance and the warm and friendly service. The outdoor seating is perfect for enjoying a great meal of pizzas, salads, and drinks.
One of their specialties is the Eni's Pizza, a creation made of homemade sauce, sausages, peppers, and olives. It also offers Mediterranean Pizza filled with kale, olives, feta cheese, and grape tomatoes. If you want a value-for-money meal, try ordering the deal combo, which includes Pizza, chicken wings, and soda.
Price: $
Address: 3662 Weber Rd, St. Louis, MO 63125
Phone: 314-638-8861
The restaurant has an old pizza place charm perfect for a casual lunch or dinner. The lovely atmosphere is an excellent venue to enjoy the array of pizzas. You'll also get attentive and friendly service, making every visit memorable.
The Pizza is made from hand-rolled yeast dough, homemade marinara sauce, four cheese blends a variety of toppings. The flagship product, "The Monte Bello," has homemade Italian sausage. Hamburger, pepperoni, ham salami, banana peppers, and onions. Aside from the pizzas, this place is famous for the toasted ravioli and mozzarella sticks.
Price: $$
Address: 3735 Wyoming St, St. Louis, MO 63116
Phone: 314-776-0534
View this post on Instagram
The warm and accommodating staff of Black Thron will welcome you every time you visit. This pub opened in 1986 and included homemade Chicago style-pizzas on its menu. It's an excellent place for a refreshing drink and delicious pizza with family and friends.
The cooks use only the freshest ingredients in creating thick and thin crust pizzas. You can add up to eight toppings, including sausage, pepperoni, hamburger, bacon, mushrooms, and onions. The 16″ x 24″ Cafeteria-style Pizza is the best size for your satisfaction if you're dining as a big group.
Price:  $$
Address: Bank Building, The East, 1511 Washington Ave, St. Louis, MO 63103
Phone: 314-696- 8787
View this post on Instagram
Pizza and beer go well together. It represents good times with loved ones or a fun celebration. The Sliced Pint perfectly captures this combination and serves it to the St. Louis community. It focuses on local flavors and uses carefully selected ingredients.
The restaurant's relaxed ambiance and comfortable interior are excellent venues for enjoying happy hour with co-workers or catching a game with fellow sports lovers. The cooks make the pizzas using hand-stretched dough and a variety of toppings such as pepperoni, sausage, bacon, mushrooms, and peppers. It has hand-stretched, gluten-free, and thin crust options.
Price: $
Address: 1023 S Big Bend Boulevard, St. Louis, Missouri
Phone: 314-664-2000
Pointer's Pizza, established in 1994, has become a St. Louis tradition. It's a cozy family restaurant famous for its hearty pizzas made with hand-tossed, thin, thick, or regular crust. A crowd favorite is the Pointersaurus, a 28-inch pizza brimming with delicious toppings.
You can choose from pepperoni, sausage, turkey, meatballs, and a wide array of vegetables and cheeses. It's as big as a table and can feed many people in your group. It's also an interesting conversation piece for parties and potlucks.
Conclusion
Pizza isn't only a meal. It symbolizes fun, togetherness, and great times. The 18 best pizza places in St. Louis, MO, are home to the best New York, Chicago, or Neopolitan-style pizzas. You'll never run out of places to have this well-loved treat. Whether planning a date, a family celebration, or a simple day with friends, a pizza dining spot is perfect for you.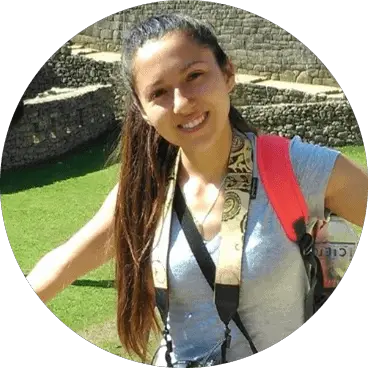 Kathryn's love for pizza started when she was still young. When she was young, she's been a picky eater–that's what her Mom used to say. The only food that she enjoyed and loved was pizza–until now! Her love for pizza turned into a passion!