If you think mozzarella on pizza is great, wait till you try burrata. It's like taking everything that's good about mozzarella and multiplying it by ten – and then spreading it all over a pizza base to create heaven on a plate.
For anyone who thinks they might like to have a go, we've had a look online to see what other people have been trying – and as a result, here are 27 irresistible burrata pizza recipes you can easily recreate at home.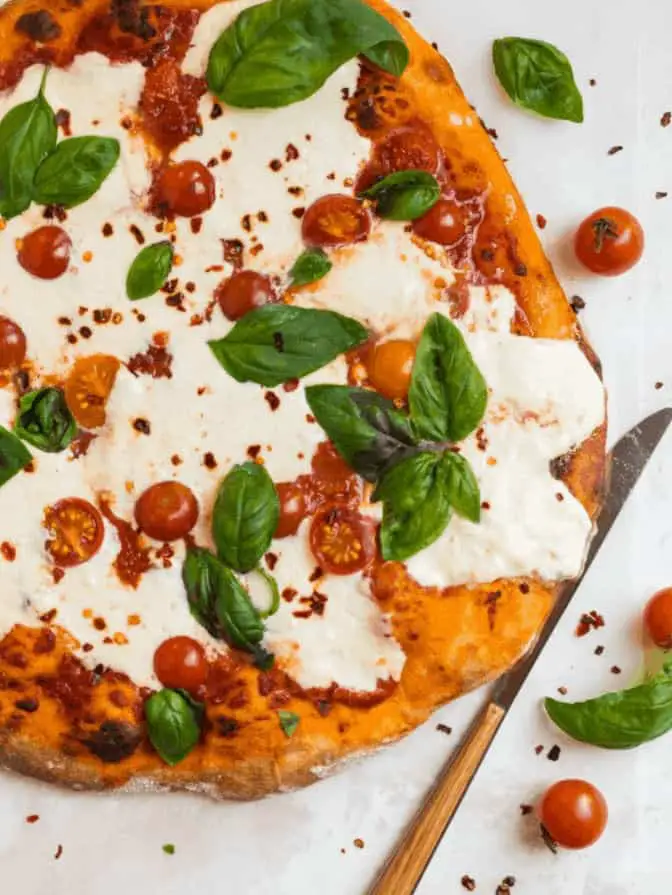 Burrata is such a perfect cheese for pizza – it's rich and creamy, and when you put it on, it melts all over the base, giving you an irresistible result that nothing else can match. In this recipe, this blogger recommends you keep it "all about the burrata". She suggests a few other simple ingredients, but you should let the burrata take center stage – and that way, you'll be able to enjoy a luxurious pizza just like the one in the photo. Check it out and you'll see what we mean!
2. How to Make a Burrata Pizza with Sourdough from Duff
In this video, the YouTuber shows us how to make a burrata pizza on a sourdough pizza crust. He starts off with a simple tomato pizza sauce and a couple of anchovies, which he then cooks. Once it's done and the crust has fluffed up nicely, he pulls it out and spreads the burrata over it so that it melts from the heat of the pizza. Finally, he gives it a sprinkling of fresh basil and olive oil – and the result is burrata pizza perfection.
This blogger describes burrata as the perfect pizza topping, and when we see photos like this, we think she may have a point. This recipe is for a simple marguerita pizza but with a large helping of gooey burrata melted over the top to transform it from the most basic pizza to the most decadent. Sound like something you might like to try? Then check out this post to find out how!
4. How to Make Perfect Burrata Pizza at Home
For us, we only needed to watch the first three seconds to know that this is a recipe we want to try. Just look at the creamy goodness oozing out of the burrata as this YouTuber cuts into it with a knife. Think you could say no to something like that? No, we couldn't either!
Here's another blog post with a photo that's making us hungry just looking at it. Here, they suggest adding a little prosciutto to the pizza along with the cheese, and it looks divine. This recipe is for an Ooni pizza oven, but it will work almost as well in any regular oven, so why not try making something like it yourself?
6. Prosciutto & Burrata Pizza from Kin
If you feel like trying something a little more unusual, here's an intriguing recipe that might tempt you. It combines prosciutto and finely sliced peaches over a delicious tomato sauce with a generous helping of burrata. When it comes out of the oven, she then adds a handful of watercress before serving. It's an extremely creative recipe, but we have no doubt it will work well, so if you want to surprise your family or friends, this is a pizza that could be worth trying.
Like the recipe above, this blogger gives her burrata pizza some flavor and color contrast by adding some greens once it's done – and in this version, she chooses arugula for the job. It's a stunning creation that she finishes with a drizzle of balsamic vinegar, and all we can say is, whoever got to help her eat this pizza was a very lucky diner indeed!
8. How to Make a Burrata Pizza from Preppy Kitchen
With burrata pizzas, "decadent" is a word that comes up often, and it's used again here at the start of this video. This version uses a flatbread base and includes fresh greens from the garden, homemade pesto – and of course, the burrata itself. The tutorial shows you how to make the whole thing from scratch, and as you can see, when it's done, it looks incredible. Give it a watch to see what you think!
The pizza in this recipe will take you around 30 minutes to make, but it will be a 30-minute labor of love. In fact, spending half an hour making something like this is nothing at all. With a crispy crust and all that melted cheese, this is another recipe plenty of people are going to want to try – give it a read and you'll probably be one of them!
Burrata on a pizza is always the star of the show, and it hardly requires any supporting cast. However, this recipe adds some roasted garlic to give it a little more depth and complexity, and we're convinced that this is an addition that will make it taste even better.
11. How to Make a Burrata Pizza from PIY
In this short video, this YouTuber shows us how to make an elegantly simple pizza with nothing more than burrata, fresh tomato, a few basil leaves, a sprinkling of parmesan and a drizzle of olive oil. The video is only a minute long, but there's no need to drag it out – and that means you'll also have more time for cooking….and then eating!
The key to great burrata pizza is combining it with just a few other simple but high-quality ingredients, and here's a great example of that. It includes nothing more than Roma tomatoes, baby spinach, shallots and a little pesto – but the innovation here is that they are placed on naan bread rather than on a regular pizza base, which gives this version a unique character of its own.
13. Cheesy Burrata Pizza is Taking Over the Internet
If you're wondering what all the fuss about burrata pizza is, then this is a video you need to watch. It shows this irresistible dish in all its glory, with people describing it as "the comfort food of comfort foods", "next level" and "cheese heaven". This video doesn't give you a recipe, but it's sure to convince you to try making one yourself – at which point, you can turn to any of the other recipes on our list.
This blog makes the perfectly valid point that if you want to treat yourself to something special, you can make yourself a burrata pizza for dinner…or even for breakfast. And for anyone who thinks that sounds like a good solution to all of life's problems, this post shows you how to make an appetizing version with prosciutto and basil. Bon appétit!
15. Burrata Pizza from Brick Oven
Here's another example of how burrata pizza is the epitome of elegant simplicity. The pizzaiola uses nothing more than fresh tomato sauce, basil leaves, some sliced parmesan, mozzarella and, of course, the burrata itself – but when you see how it looks when he removes it from the oven, you realize instantly that pizza perfection requires nothing else.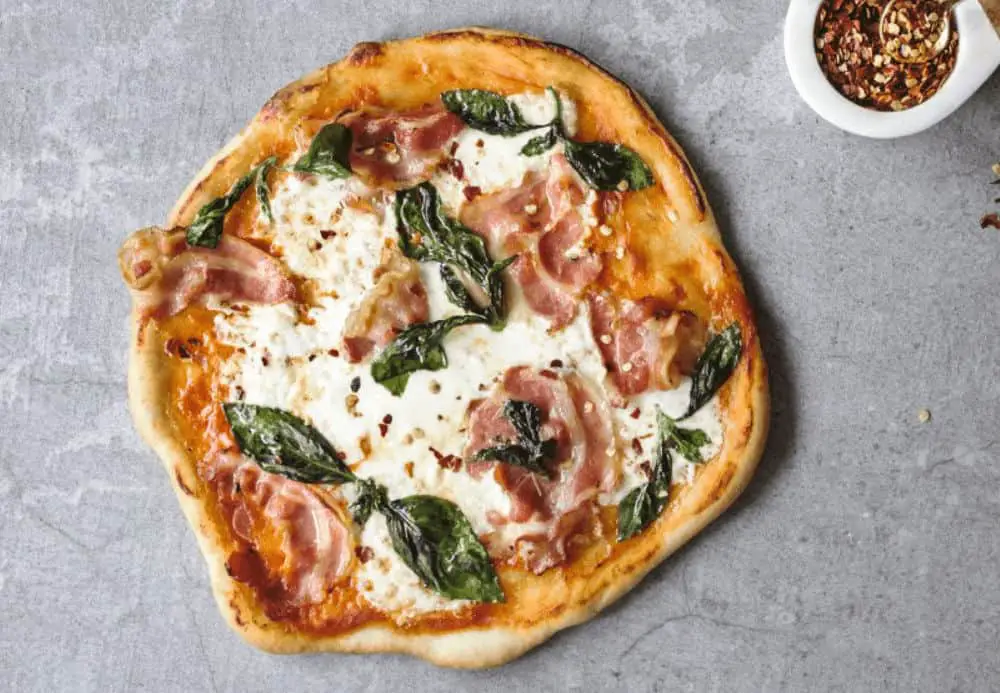 Thin and crispy pizza crust, tomato sauce, prosciutto, basil leaves, burrata and a few chili flakes to give it a little kick. What more do you need than just that? As it turns out, nothing. And the pizza you'll learn to make in this blog post is the proof!
17. Homemade Prosciutto Burrata Basil Pizza from Allison's Kitchen
Here's a fun video to watch. In it, this YouTuber revisits her high school days when she used to work in a pizza restaurant – and as you can see, her old skills come right back to her. The pizza she makes is a classic burrata marguerita with basil leaves and prosciutto. However, she gives it a personal twist by adding some chili sauce and some chili-infused honey – and that's an idea that's got our mouths watering just thinking about it!
We love the contrasting colors of this pizza, with the pink of the prosciutto, the green of the veggies, the white of the burrata and the red flecks of chili. Food that looks great tastes better, that's a fact. And something that looks this good can be nothing less than sublime!
19. Pesto Potato and Burrata Pizza from Half-Baked Harvest
We've seen a lot of recipes for marguerita burrata pizzas, and that's the original classic for a reason. However, it's always fun to find some other more original ideas, and this version using potato and pesto is just that. It also incorporates a few surprising herbs and spices, so this is definitely one that's going on our list of recipes to try in the future.
This is an idea we love – this is a burrata pizza that adds green olives and artichoke hearts for a richer and more complex flavor. Once cooked, the blogger also threw on a handful of arugula to finish the job, and the result looks spectacular.
21. How to Make the Best Pesto Pizza with Creamy Burrata Cheese
In the culinary world, there are some things that just go well together – and one example is pesto and burrata. So when you take those two ingredients and use them to top a pizza – along with some prosciutto for extra flavor and pistachio nuts for flair – you have a creation that is nothing less than a work of art. Check it out to see if you agree.
The calorie count for this recipe is 835, but let's be fair, you don't eat things like this when you're on a diet. This is what you cook when you want to give yourself an indulgent treat, and if that's what you think you deserve, this is the recipe you've been looking for.
23. Burrata Margherita Pizza with Sam the Cooking Guy
This is a YouTuber we enjoy watching because you can just feel his passion for great food whenever you see any of his videos. In this one, he teaches us how to much a rich and delicious burrata pizza, and he's come up with the goods again here.
If you're making a burrata pizza, this blog has some vital advice for you: don't overdo it with the toppings! The burrata just needs a few modest accompaniments that help to showcase it – and this blog post tells you everything you need to know to get it just right.
25. 10-Minute Burrata, Corn & Prosciutto Naan Pizza by Everyday Gourmet with Blakely
Check out the version of burrata pizza at the start of this video because it's a riot of different colors and ingredients. It's a naan bread version with one special secret ingredient – corn! That might not sound so earth-shattering, but we can totally see how it would work. And if you're feeling it too, this tutorial will teach you how to make it.
If you're not into culinary experimentation like the offering in #25, this more unassuming and down-to-earth version might be more your thing. It's just a simple tomato pizza with nothing fancy other than the burrata itself – it's one for the purists, but if that includes you, it's a recipe you'll adore.
27. How to Make Perfect Italian Sausage Burrata Pizza
Here's an interesting idea to finish – it's a recipe that combines burrata with Italian sausage. That sounds like another possibility that's sure to work well, so why not have a go at making one yourself and see how it turns out?
Lots of ideas for a decadent, indulgent pizza
Adjectives like 'rich', 'creamy', 'decadent', and 'indulgent' frequently describe burrata. If these words align with your perfect pizza, then burrata is a topping you need to try.
We've loved collecting these recipes for you, and we hope you've enjoyed reading and watching them. And above all, we hope we've helped you find the ideas you need for making a delicious burrata pizza of your own.
27 Best Burrata Pizza Recipes
Ingredients
How To Make A Burrata Pizza From Sourdough Duffy

How To Make Perfect Burrata Pizza At Home

Prosciutto & Burrata Pizza From Kin

How To Make A Burrata Pizza From Preppy Kitchen

How To Make A Burrata Pizza From PIY

Cheesy Burrata Pizza Is Taking Over The Internet

Burrata Pizza From Brick Oven

Homemade Prosciutto Burrata Basil Pizza From Allison's Kitchen

Pesto Potato And Burrata Pizza From Half-Baked Harvest

How To Make The Best Pesto Pizza With Creamy Burrata Cheese

Burrata Margherita Pizza With Sam The Cooking Guy

10-Minute Burrata, Corn & Prosciutto Naan Pizza By Everyday Gourmet With Blakely

How To Make Perfect Italian Sausage Burrata Pizza
Directions
Select your favorite recipe.
Organize all the required ingredients.
Prep the recipe in 30 minutes or less!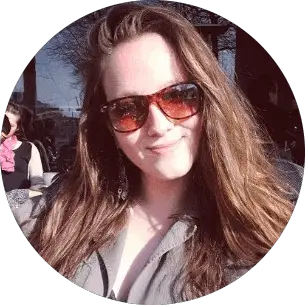 Barbara is an enthusiastic food-exploring person that goes through different culinary experiences. She got inspired by creating a pizza blog post after she tasted one of the best-selling pizzas in Toledo.