If you're eyeing some new, fresh pizza recipes, there are endless possibilities. From simple toppings like cheese and pepperoni to indulgent ones like spicy Italian sausage, these 19 Best Campfire Pizza Recipes will give a grand meaning to your family's outdoor gatherings. Whether having a family feast or an intimate dinner, be ready for satisfying meals with these campfire pizza ideas!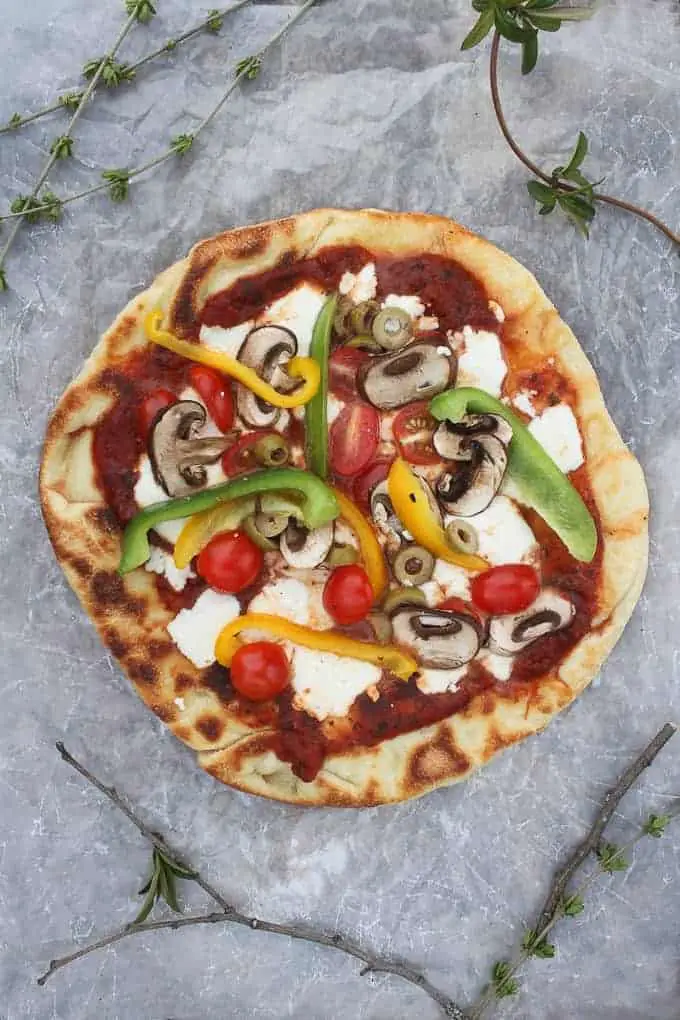 If you're an avid fan of bonfires, camping, and cookouts, then you are no stranger to the idea of campfire pizza. And how exactly can you get the crunchiest, thicker, but softest pizza crust?
The only secret is to use a campfire ring and grate or a portable campfire grate, as recommended in this pizza recipe. Finally, top it with veggie toppings such as cherry, mushrooms, hot peppers, olives, fresh spinach, and boom-perfection! It's so delicious your loved ones will crave it for days!
2. Campfire Steak Pizza Recipe
Coming up is a campfire pizza recipe from none other than Country Life Vlog YouTube Channel. This campfire steak pizza recipe is made only of simple ingredients of garlic, peeled tomatoes, veal bell steak, cheese, and bell pepper.
The pizza dough is made of flour, which creates a fluffy but crisp pizza crust. While this campfire pizza recipe might take some time to prepare, you have a fantastic reason to savor a glass of white wine as your reward!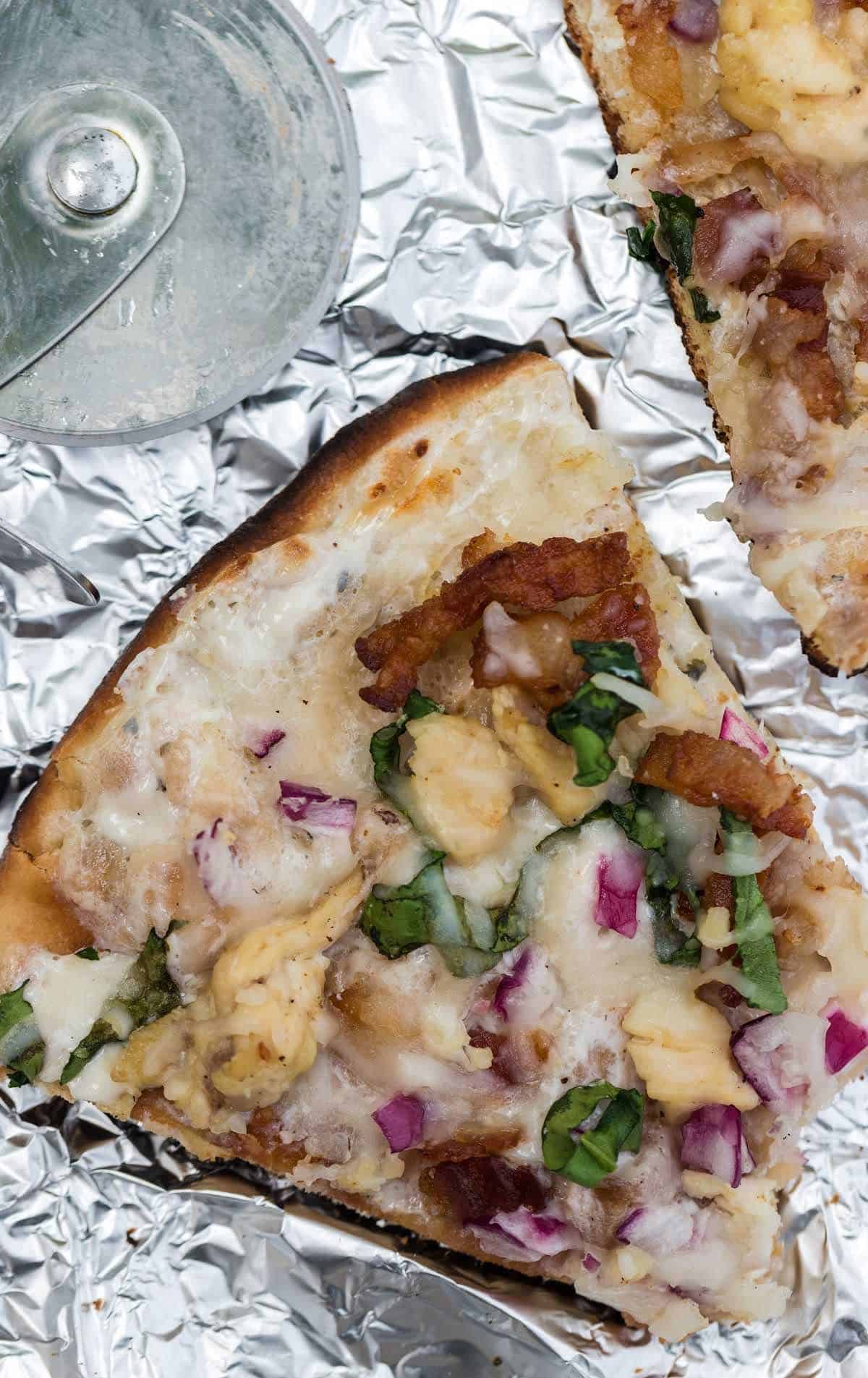 Buying a takeout pie from your favorite pizza parlor is a delightful treat, but making it all yourself is more satisfying. You can play and switch around your favorite pizza toppings and sauce.
This campfire pizza featured by Spaceships and Laser Beams is a must-try! Who says pizza recipes always need to be made in your kitchen oven? This pizza recipe is made by cooking over charcoal or wood. Then, add in some bacon, chicken, fresh spinach, and boom! You'll get a hearty pizza you'll never forget in this lifetime.
4. Campfire French Bread Pizza Recipe
Cream cheese and pepperoni are a match made in heaven inside these soft, mini-French bread loaves. Ready in a span of minutes, this campfire pizza recipe is super quick to prepare. It's also a fantastic way to use leftover cheese, marinara sauce, and pepperoni in the fridge. And, of course, this campfire pizza recipe is perfect when wrapped in foil and cooked in coals on fire. That crunch and crispiness of the ingredients are truly irresistible!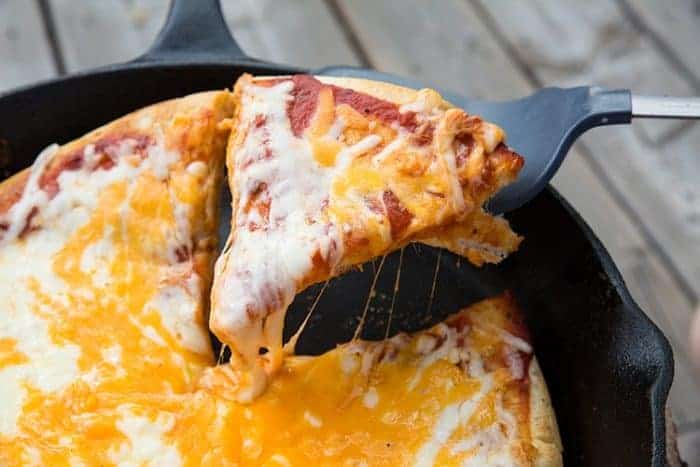 There's nothing that can be compared to the Kitchen Magpie campfire pizza recipe when we're talking about comfort food. The campfire pizza recipe is made of pizza sauce, mozzarella cheese, and your choice of vegetable toppings.
If you like to take your campfire pizza to the next level, add meat toppings like chicken, sausage, ham, and pepperoni. Pro tip: Do not put too much heavy toppings unless it's okay for you to eat loaded, soggy pizza.
6. Campfire Chicken Bacon & Chili Pizza Recipe
A chilly weekend evening calls for something warm and fluffy, and if you happen to hold charcoal in hand, campfire pizza is the way to go. Chicken, bacon, diced tomatoes, and chili bits sit in a self-made pizza crust. It's the perfect delicious snack for a cold weekend. All left is a warm pillow and a comfortable blanket for the perfect bonfire and camping night.
Is there anybody here who doesn't like pizza snacks on a campfire night? This pizza bake recipe includes a crunchy French bread base with sauce, cheese, and pepperoni. You wouldn't dare to skip bonfire night when you have this campfire pizza bake recipe as a dish!
Add lots of mozzarella cheese, and you'll wish to have this pizza meal again for ordinary days. It's that yummy and good. By using a store-bought French bread pizza as a base, you can prepare this fantastic pizza any day you wish!
8. Campfire Caprese Pizza Recipe
Campfire caprese pizza is a famous snack for the winter season. Serve this for dinner to keep you and your loved ones warm and satisfied. Are you going outdoors? Fill your plate with this delicious, comforting snack to enjoy a hot dinner outside. For this campfire pizza recipe, expect a grilled "Naan" as your pizza crust. With this caprese pizza recipe, you can easily bring the flavor of a popular pizzeria to your camp tent!
Sometimes, we all just want to eat and savor a hot, delicious, and cheesy pizza sandwich. When that time comes, this campfire pizza sandwich recipe from "Let's Camp More" is what you will need. An excellent bread for a pizza sandwich must be firm enough to carry all the fillings, sauce, and toppings inside.
In this recipe, the chef recommends English muffins. For the cheese filling, parmesan and mozzarella are the top options. And if you like your pizza sandwich well-flavored, add some pepperoni, ham, and sausage too!
10. Budget-Friendly Campfire Pizza Recipe
This self-made campfire pizza recipe will hit up your dining table in just a span of minutes. Yes, it takes a cast-fire iron to cook this delicious pizza recipe, but it's worth all the effort, wait, and sacrifice. The fantastic news is all the campfire pizza ingredients in this recipe are kitchen staples.
From white bread loaves to pizza sauce, margarine, ketchup, and toppings, you can grab everything at your pantry. All it takes is spreading, topping, and cooking in the cast fire iron. You'll have a hearty pizza sandwich in no time!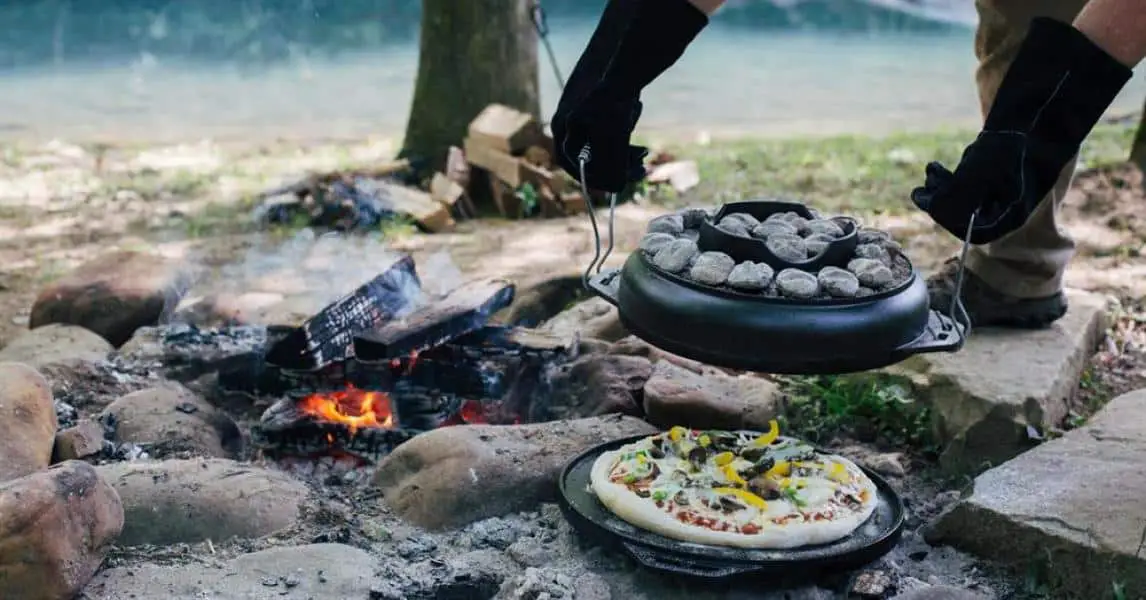 Let's bring the fantastic taste of a five-star pizza restaurant to your doorstep, shall we? Fresh toppings of pepperoni, yellow onion, mushrooms, mozzarella cheese, and green bell pepper make up this extremely popular campfire pizza recipe.
If you like meat-based toppings, no worries! You can always add sausage, ham, and chicken, so you cannot miss out! Spread sauce on pizza dough, toss in veggie toppings, cover with cheese, and prepare to be in awe!
12. Spicy Pepperoni Campfire Pizza Recipe
I'm not sure about you, but cooking a campfire pizza is so fulfilling, don't you agree? The goodness of the pepperoni and cheese toppings, the delicious taste of seasoned onions and oregano, and the pizza sauce make this campfire pizza recipe so drool-worthy! You'll most likely wish you could grab it right out of the Dutch oven.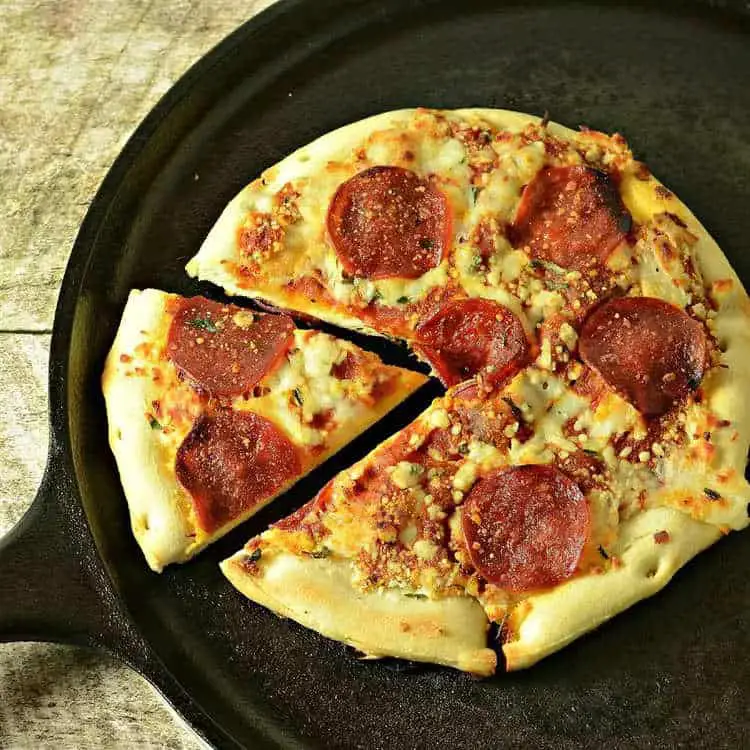 Just by the name of the pizza meal, you can easily tell that it tastes fantastic! This delicious pizza's flavor profile will blow your mind. The pizza's base is refrigerated store-bought dough. The topping goodness comes from slice pepperoni and shredded mozzarella cheese.
But of course, the main highlight of this recipe is it's cooked directly on a grill over a wood fire! Sounds amazing, right? Pro tip: It's best to use a pizza stone and cook for 10 minutes until the pizza turns golden brown.
14. Healthy Campfire Pizza Recipe
This is not your ordinary campfire pizza recipe. Try it out, and you might see yourself craving it all over again and again. his campfire pizza is made with healthy ingredients and requires a shorter preparation and baking time compared to some of the other recipes. It's perfect for family outdoor activities and recreation.
All you must do is set the pizza dough on a cast-iron pan, toss in your choice of toppings, then cook. Once you see the cheese melting, you're all set. Don't hesitate to arrange another batch of this campfire pizza because this meal will be gone in no time!
This campfire pizza recipe is one of the easiest but most fantastic meals you can ever cook. Period. But how? Just toss all your favorite pizza toppings into the original crescent rolls and let the campfire do the work.
Best of all, it's so delicious because of pepperoni, mozzarella, and provolone cheese. In fact, these three ingredients are all you'll ever need. It's mouthwatering, budget-friendly, and easy to make! How amazing is that?
16. Campfire White Pizza with Arugula & Balsamic Recipe
When it comes to healthier options and no meat-based toppings, this campfire pizza recipe would surely hit the checklist. This white vegetarian pizza is a combination of arugula and balsamic leaves cooked on a four-cheese blend and mozzarella. It smells cheesy, looks creamy, tastes sour, and healthy. It's a real feast of flavors!
This campfire pizza recipe takes up simple ingredients and turns it into an occasion-worthy meal. The whole-seed wraps are topped with salami, pepperoni, green pepper, mushrooms, and red onion. Then, it's drizzled with pizza sauce and baked until it's golden brown. The exciting part, after fifteen minutes, the campfire pizza rolls are ready to serve and enjoy!
18. Campfire Pepperoni Bread Pizza Recipe
The next pizza meal is going to fill your tent with a fantastic aroma that will make everyone drool. This Western-style pizza recipe is made of Italian bread loaf, spicy sausage, pepperoni, pizza sauce, and cheese. It's slow-baked until the cheese melts. Serve this at your outdoor family bonding, and they'll love it!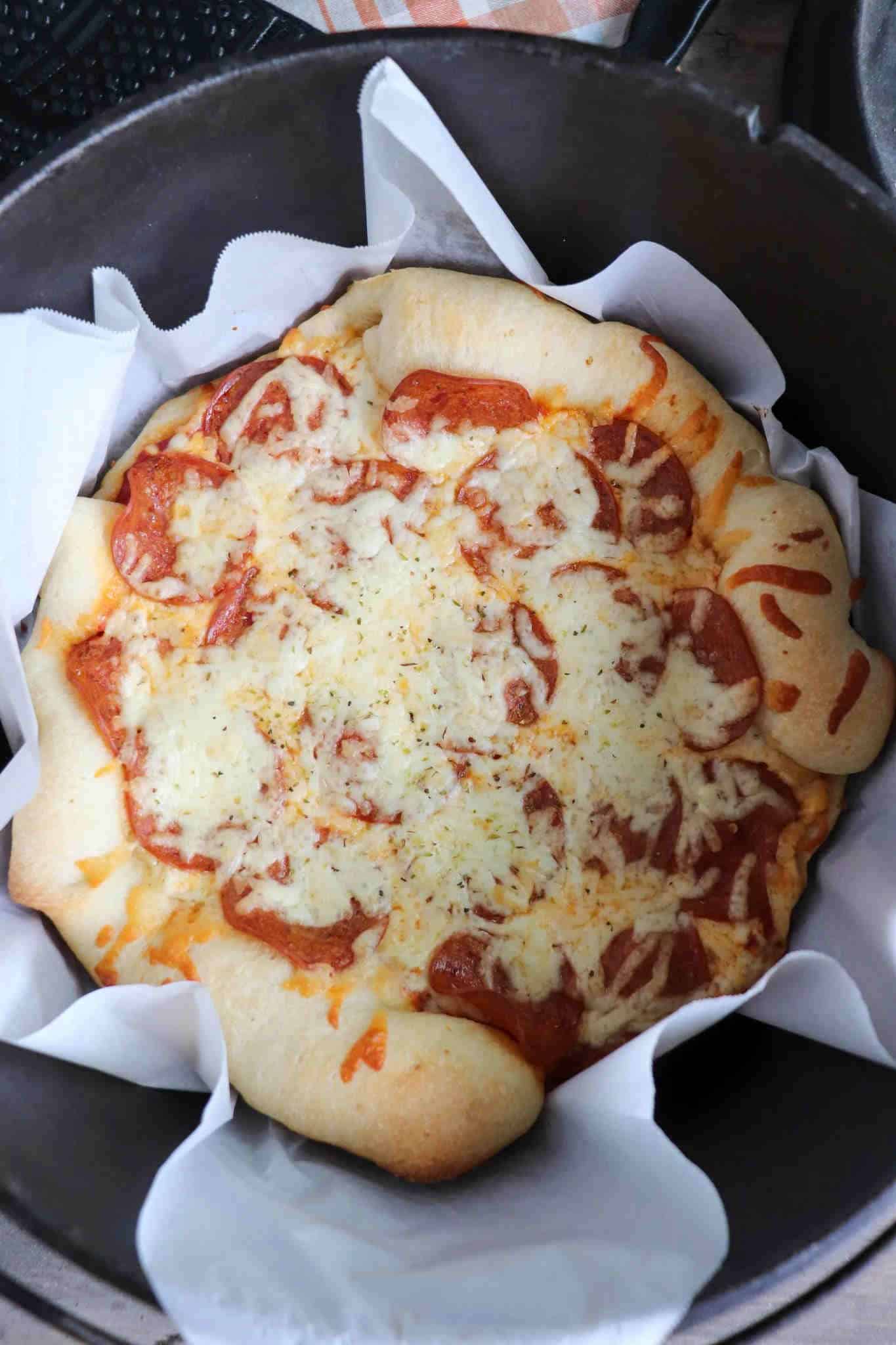 This campfire pizza recipe is a flavorful dish that sounds simple and basic yet so fulfilling! It goes through the basics of making a pizza but with a creative twist. Instead of using the kitchen oven, it's baked using a Dutch oven cast-iron pizza stone. The exciting part is you can toss in any toppings to your tummy's content, and every time you get drool-worthy results!
In Conclusion
Hurray, it's camping time! Saturday has come, and the family gets well-deserved quality time. For food lovers like me, nothing beats homemade recipes and making my family happy and satisfied with meals. Because of this, this write-up contains 19 Best Campfire Pizza Recipes that will make your outdoor family bonding more memorable and special!
19 Best Campfire Pizza Recipes
Directions
Select your favorite campfire pizza recipe.
Organize all the required ingredients.
Prep the recipe in 30 minutes or less!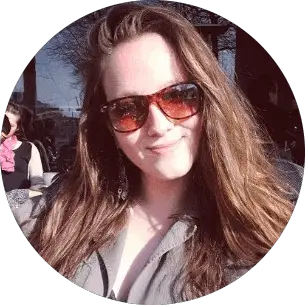 Barbara is an enthusiastic food-exploring person that goes through different culinary experiences. She got inspired by creating a pizza blog post after she tasted one of the best-selling pizzas in Toledo.