Deep Dish Pizza is an irresistible meal to die for! They're savory, succulent, and delectable. With proper baking skills, this simple but delicious meal will leave you and your family floating on cloud nine. Luckily, you won't have to break the bank or spend a fortune at your local pizzeria just to enjoy a delightful slice of deep-dish pizza.
All you need are excellent quality ingredients and a tiny bit of help from our drool-worthy collection of pizza recipes. From pepperoni and shredded chicken to well-seasoned Italian sausage filled with cheese and marinara sauce, a deep-dish pizza recipe is perfect for any family occasion. So, what are you waiting for? Get endless inspiration for your lunch and dinner meals with these 19 Best Deep Dish Pizza Recipes.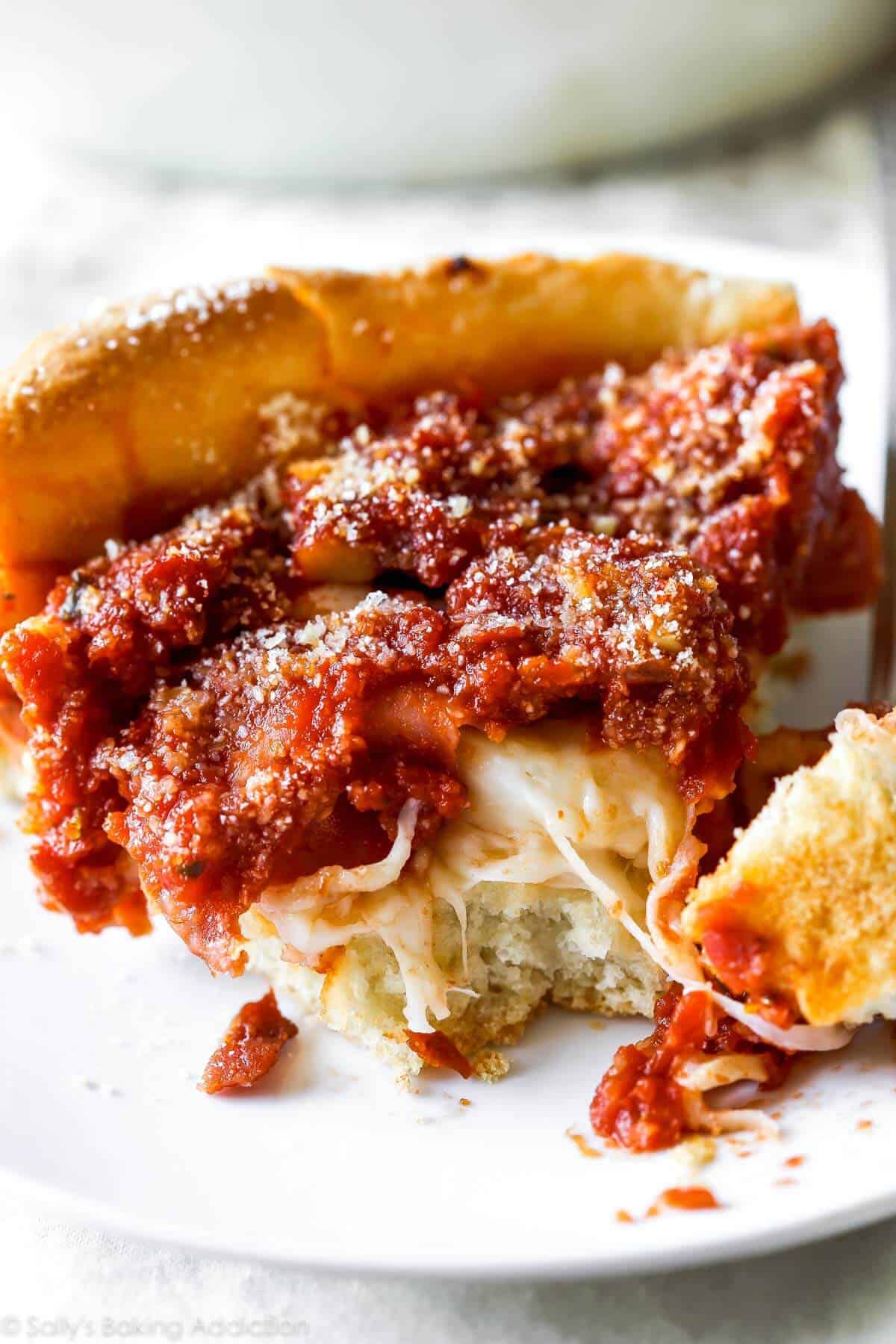 Chicago-Version Deep Dish Pizza is a flavorful, decadent meal that will surely make your taste buds tingle with delight. This authentic-tasting recipe combines a thick layer of mozzarella cheese, slightly sweet-tasting and luscious tomato pizza sauce, pepperoni, and cooked bacon on top of a buttery pizza crust.
And in case you want a more healthier option, you can freely swap the bacon and pepperoni with onions, sliced green peppers, crumbled sausage, and mushroom.
This Homemade Deep Dish Pizza Recipe from Tasty YouTube Channel will definitely make your family lunch or dinner a breeze. Cooked in crushed tomatoes with basil combined with fresh grated Parmesan, slices of mozzarella, and a pound of Italian sausage, this deep dish pizza meal is delightfully complex.
Most especially, this meal brings out all the exciting flavors when you add up oregano and crushed red pepper. Plus, the hint of butter just adds the much-needed taste to make you smile.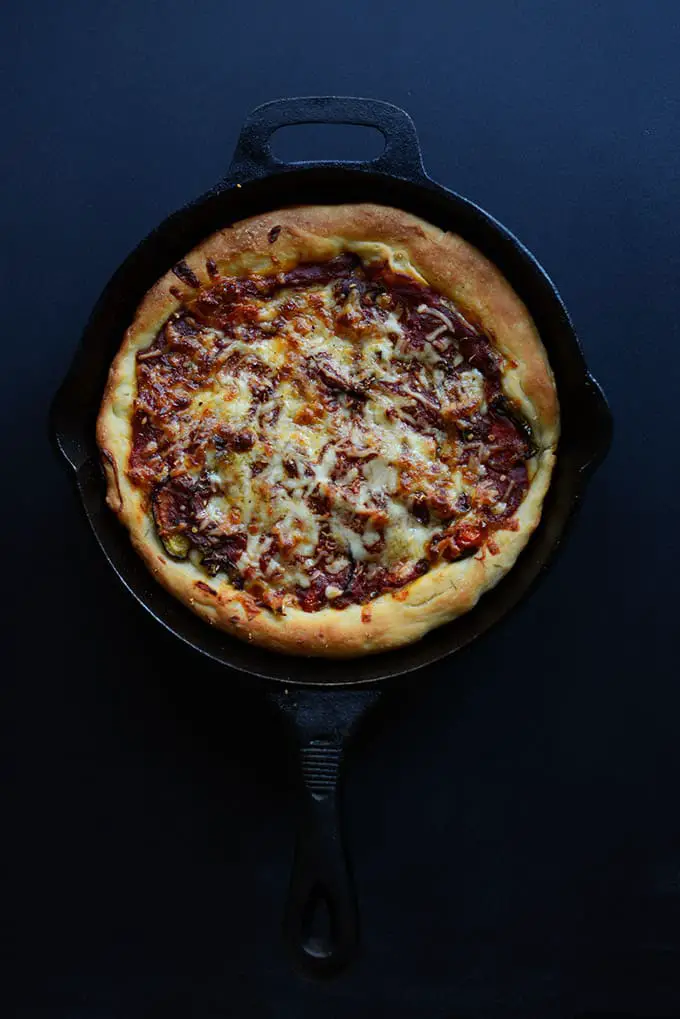 An authentic delight for everyone's taste buds, this simple deep dish pizza recipe is as mouthwatering as it is effortless. This is indeed a flavorful meal with the unique and fantastic combination of Italian seasonings of dried basil, thyme, oregano, red pepper, and grated parmesan cheese.
In addition, what's great about this recipe is that it's simple and straightforward, without the hassle of including the loaded toppings of roasted veggies and buttery filling.
If you're like me who have a big morning appetite, a full and hearty meal like deep dish pizza is perfect! This recipe is a satisfying and fulfilling meal, so better get ready. It includes bacon, crushed tomatoes, fresh chopped oregano, shredded mozzarella, and grated parmigiano reggiano.
On top of everything, you can easily customize this recipe by picking toppings based on your liking, such as cooked sausage, pepperoni, and salami, all drizzled in virgin olive oil.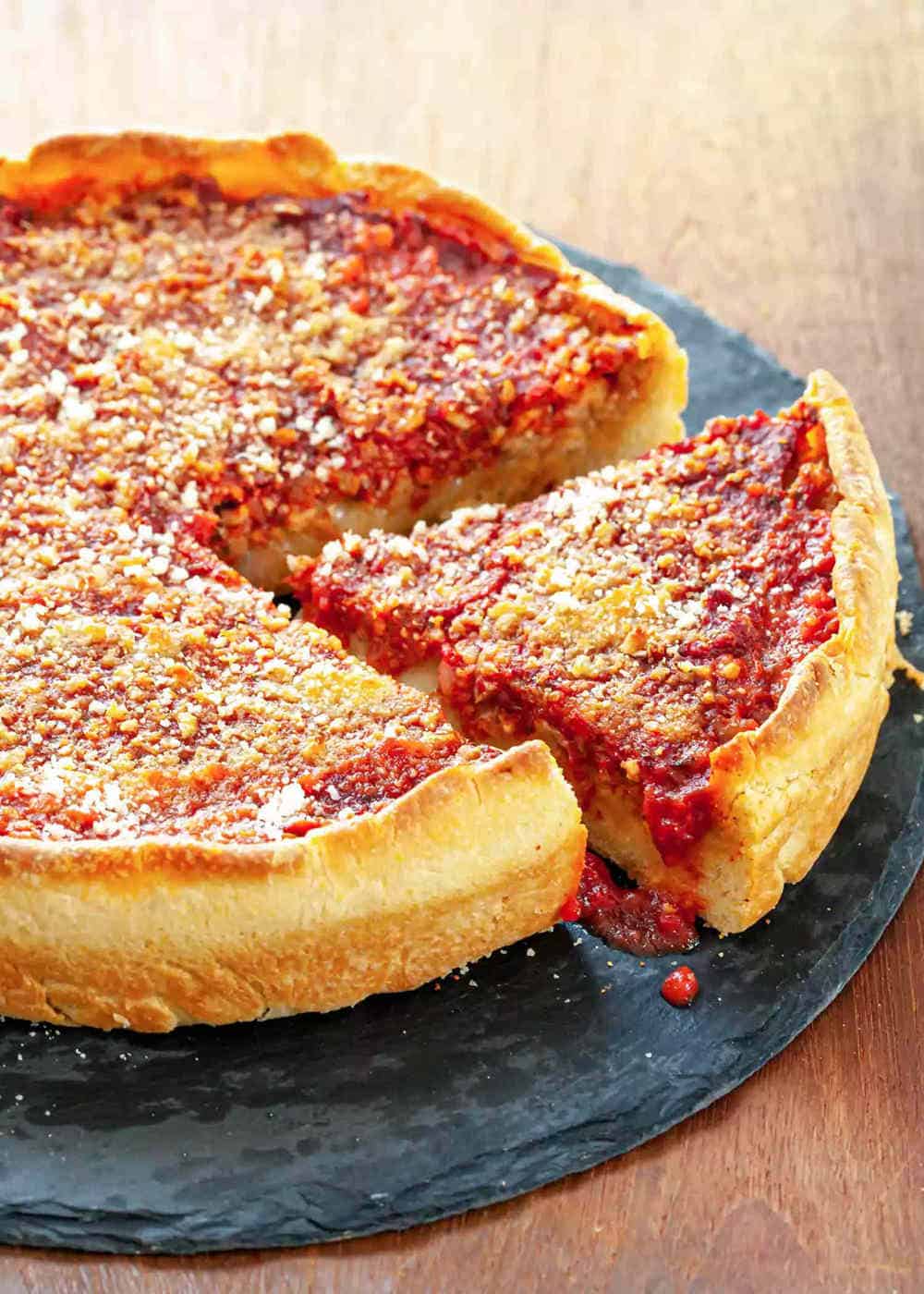 This Chicago-Inspired Deep Dish Pizza filled with Italian Sausage is a scrumptious and amazing way to jumpstart your day. Made with Italian seasonings of rosemary, oregano, and basil, you'll have a meal that's rich and bursting with complex flavors.
And while Chicago's deep dish pizza mainly uses and favors sausage as its primary topping, no one's stopping you from improvising and picking your own favorites. Personally, I swap the sausage topping with sauteed onions, spinach, pineapple, ham, cooked chicken, and mushrooms.
6. Perfect Lou Malnati's Deep Dish Pizza
Make this Perfect Lou Malnati's Deep Dish Pizza recipe once, and your loved ones will surely crave this Chicago-inspired meal every weekend. This delicious meal is a whirlwind of textures and flavor. Toppings such as grated Romano cheese, sausage, thick tomato sauce, and a dash of oregano finish it off, and it's made extra special with its Italian seasoning.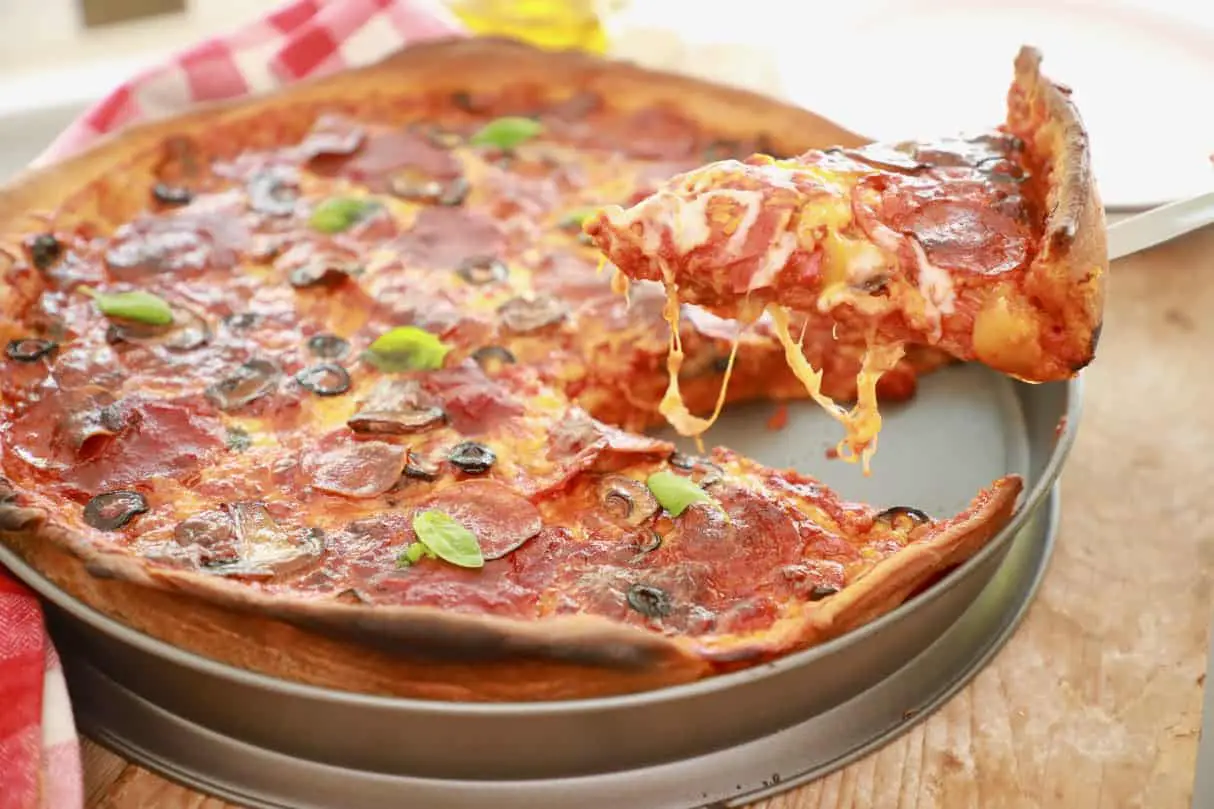 If you're on the search and quest for a flavorful and mouthwatering dinner, look no further than this deep dish recipe brought to us by Gemma Stafford. Featuring grated mozzarella cheese, pepperoni, yellow bell peppers, and pizza sauce, this meal will really step up as a game changer for the whole family.
And much better, this recipe only uses a stand mixer for the pizza dough, so cleaning up would not be a problem. So, just throw in your favorite toppings your loved ones like best, and indulge!
Here's another remarkable Chicago Deep Dish Pizza Recipe but still embarrassingly quick meal to include in your family's weekly meal rotation. This meal is made of golden brown, crusty dough mixed with sliced provolone, thick pizza sauce, and fresh mozzarella tossed all over with Parmigiano-Reggiano cheese.
With the delectable combination of savory and sweet flavors, this homemade deep dish pizza recipe might be straightforward and yet, an absolute showstopper. Finally, for best taste, garnish with parsley and cheese, serve, and enjoy!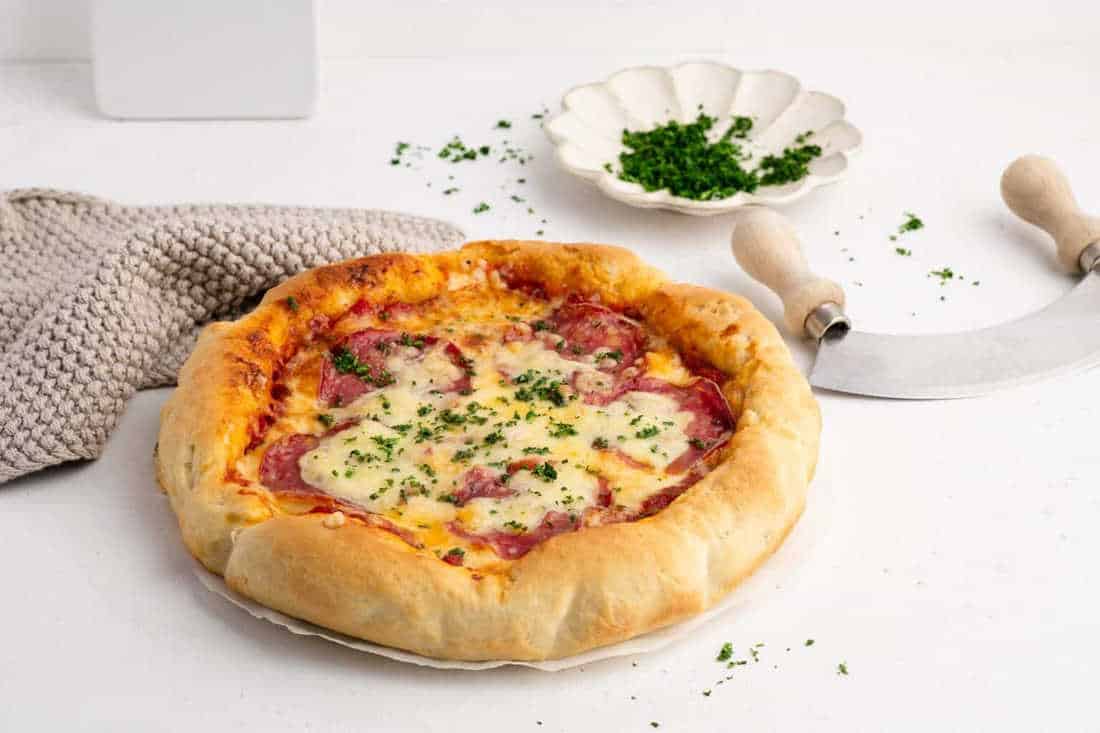 Get ready and crank up your oven with this delicious deep dish pizza recipe brought to us by Eat, Little Bird. Featuring the classic, all-time favorite pizza toppings and melted cheese wrapped in a delectable tomato sauce, this meal will surely get its reputation of being the best homemade pizza you'll ever taste.
On top of everything, you can definitely save time since this deep dish can be baked for only fifteen to twenty minutes or until the pizza's edges are golden brown and the grated cheese is fully melted.
10. How to Make Deep Dish Pizza in a Cast Iron Pan (Chicago Style)
Lounging around the dinner table, deep dish pizza is one of holiday dinner meals you'll always spot at your precious loved ones' gathering. And while there's a lot of variations, this recipe from Omnivorous Adam YouTube Channel is a classic. With its crisp pizza dough exterior and cheesy toppings, a Chicago-style deep dish pizza gets more tasty for each and every bite.
It's filled with bursting flavors, thanks to its pizza sauce that combines dried oregano, red wine vinegar, fish sauce, San Marzano tomatoes, and Kosher salt. With excellent baking techniques and careful preparation, this deep dish pizza recipe is guaranteed a star of the night in any holiday dinner.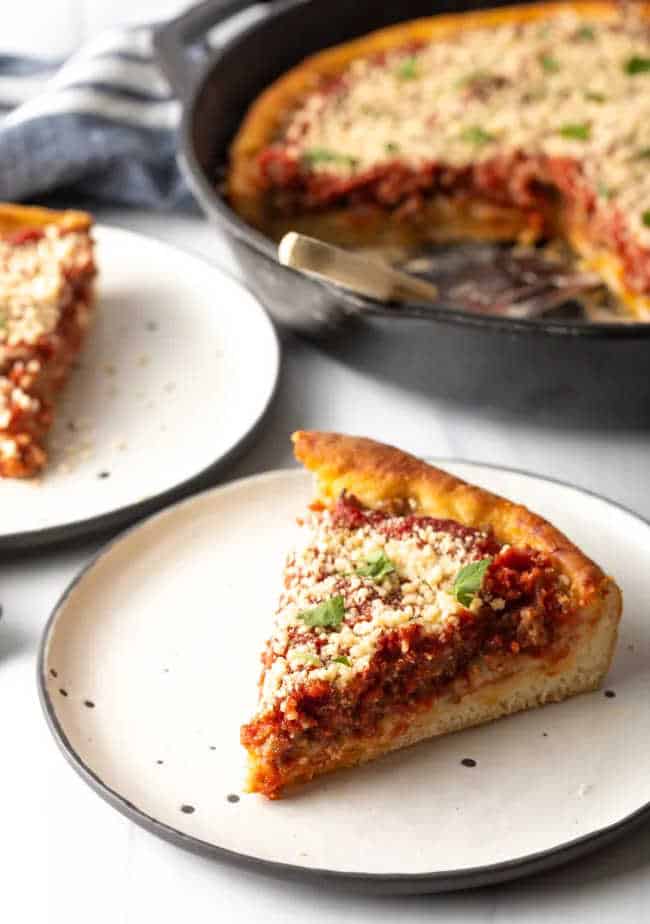 This traditional, Chicago-inspired deep dish pizza is loaded with sausage and cheese on the bottom and a layer of tomato sauce on top. But what we love about this recipe is you can freely incorporate any toppings to this delicious cast iron pizza.
Toss around a variety of meats like ham, shredded chicken, and pepperoni, or create a vegetarian pizza with bunch of chopped vegetables. With the use of ready-made pizza dough, this Cast Iron Deep Dish Pizza Recipe will only take an hour to bake. So, any weeknight is fantastic for a family pizza celebration.
12. Food Network Deep Dish Pizza Recipe
Do you want a fantastic, Monday meal option to whip up in a dreary week? Then, save this delightful deep dish pizza recipe from Food Network YouTube Channel. This pizza recipe has a rich, filling flavor that you'll enjoy in each bite.
Sliced provolone, honey and grated Parmesan cheese infused in the marinara sauce make the deep dish pizza more satisfying that will make you constantly lick your plate. Finally, add some red pepper flakes and dried oregano for a powerful kick of spice!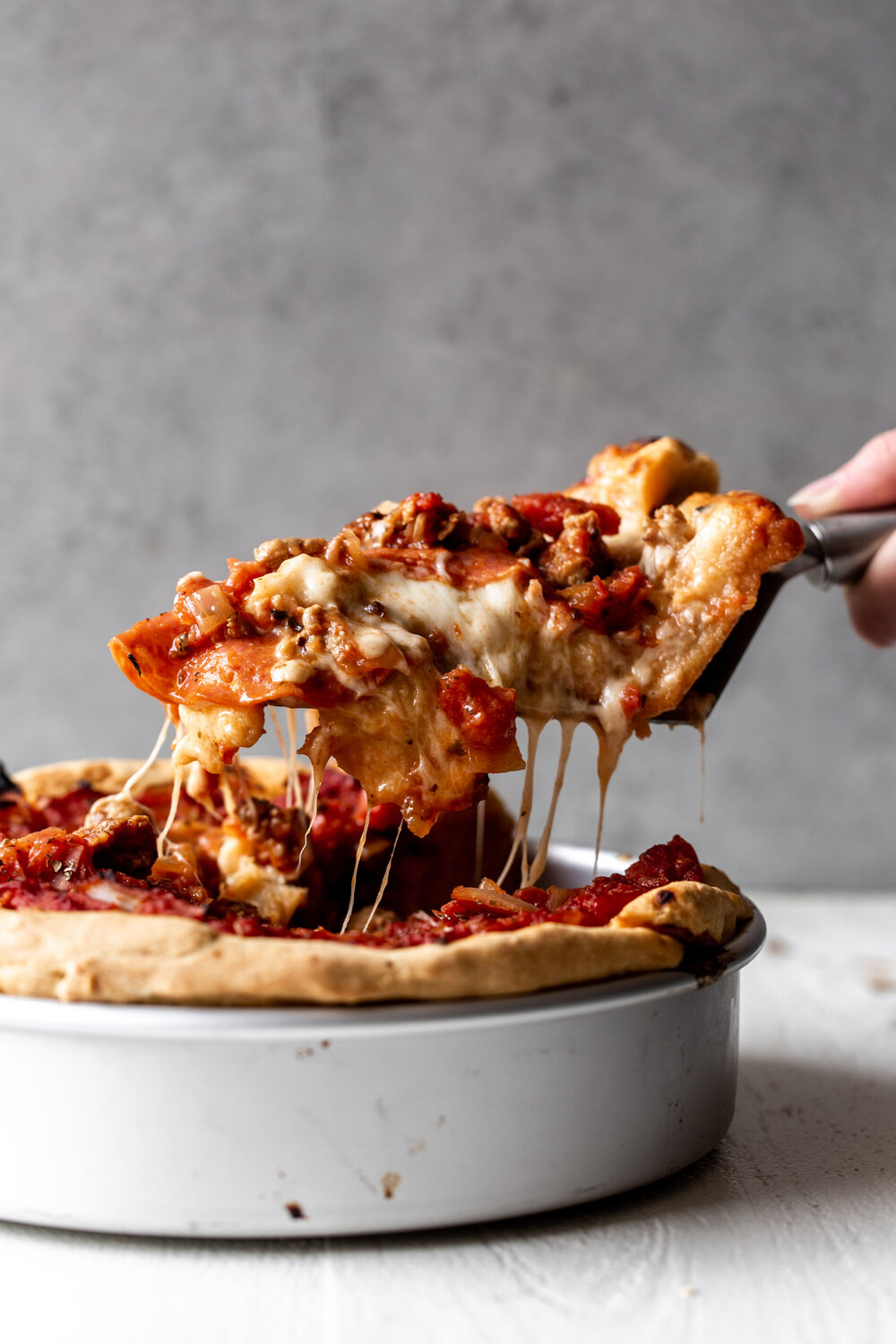 This Chicago deep dish pizza filled with sausage and pepperoni will definitely place a pep in your step when weekends hit. It's more than just a pizza dough with cheese, toppings, and tomato sauce.
The main ingredients of this dinner meal are really out of this world. With Italian sausage, Parmesan-Reggiano, shredded mozzarella cheese, and pre-slice pepperonis, the overall taste of this deep dish pizza recipe is immensely satisfying and fulfilling.
14. Jacob Burton's Chicago Deep Dish Pizza Recipe
Are you looking for a great baking project for a windy weekend afternoon? This deep dish pizza recipe ala Chicago Style from Jacob Burton's kitchen can help you survive the dark winter season. Made with the delicious all-time favorite ingredients of mozzarella cheese, ground sausage, and thick pizza sauce, this deep dish pizza meal is perfect to have on a warm bowl of mushroom soup, perfect as a comfort food on rainy seasons!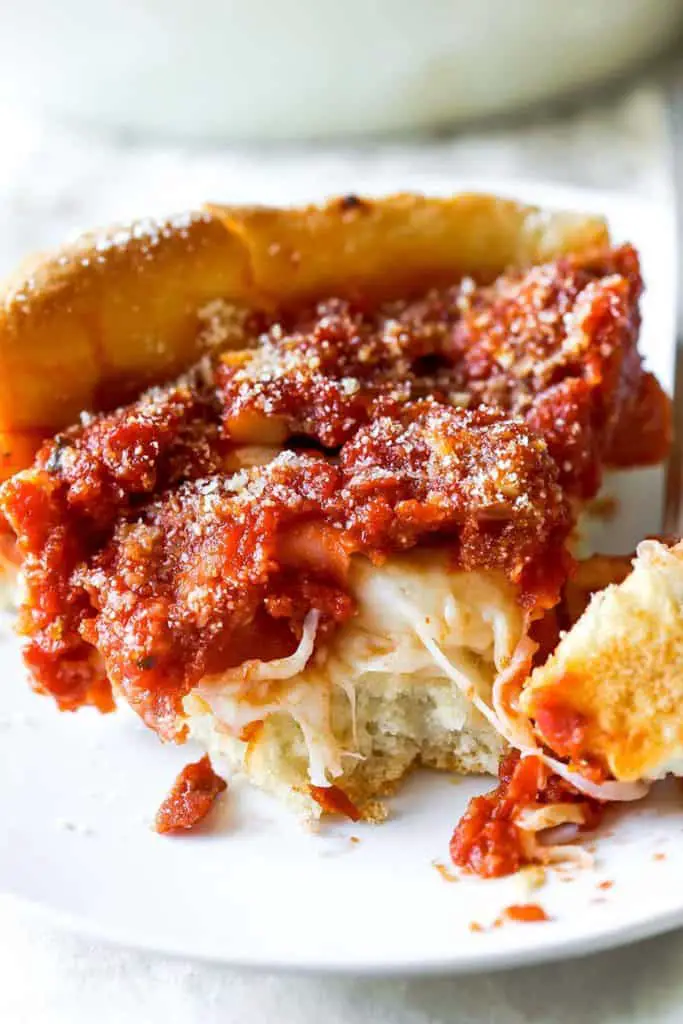 Chicago deep dish pizza recipe is a dinnertime staple food that needs no further introduction. Whether you're running out of meal ideas on a hectic week or you like a dish that would liven up the weekend night and great to have with sparkling wine, this deep dish pizza recipe from Red Star Yeast is the ticket.
While the recipe is simple and straightforward, it's pure magic when properly done. With tender pieces of cooked and crumbled bacon, pepperoni, sliced mushrooms, and grated Parmesan cheese, it's nothing but pizza perfection!
16. Brian Lagerstrom's Deep Dish Pizza Recipe
Baking deep dish pizzas are fantastic ways to make a tasty treat that needs only minimal effort. They're so sweet, buttery, and mouthwatering that eating just one slice proves to be difficult and challenging. And the best part of this deep dish recipe is it's made of well-seasoned Italian sausage, thick, flavorful sauce, and bunch of cheese. You can nibble and munch on them all week whenever you feel like having a satisfying dinner meal.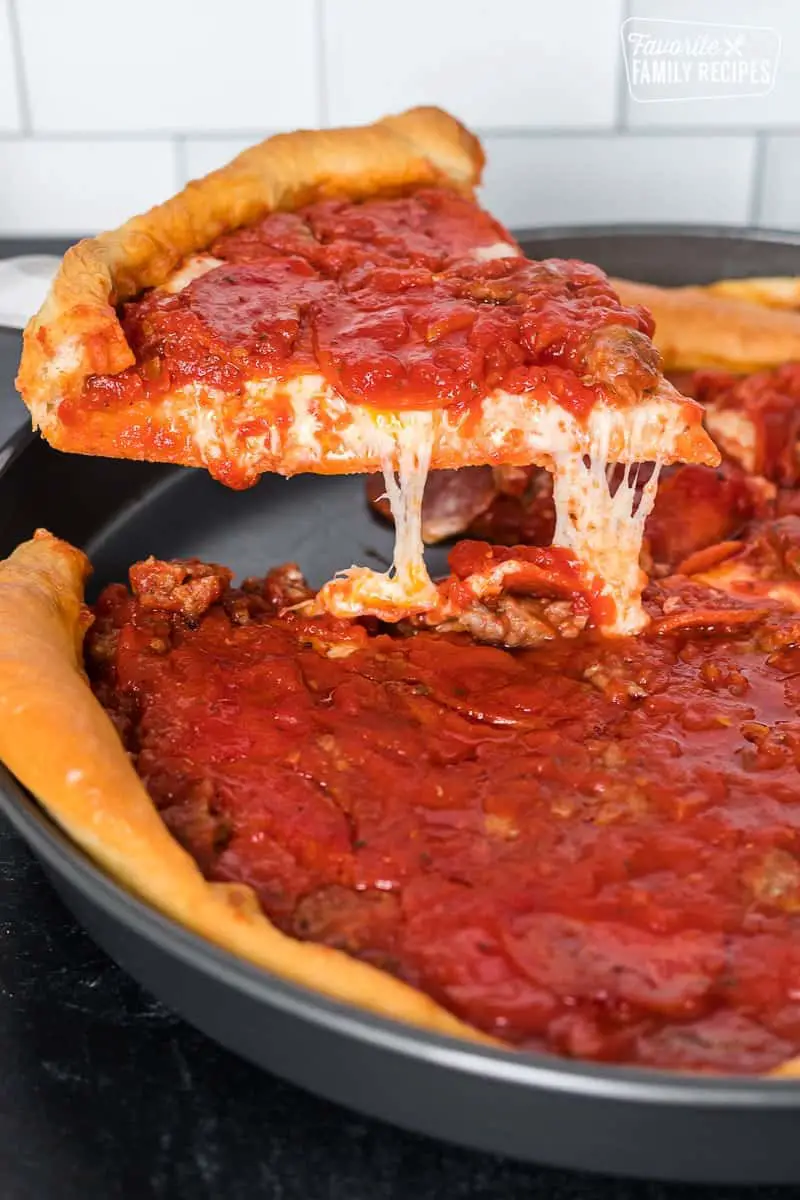 Gino's Deep Dish Pizza recipe always reminds me of nostalgic memories at home. Personally, what I love about this traditional comfort food is that it's relatively convenient to make and yet, the overall taste is not compromised and incredibly good.
This pizza meal is filled with flavorful toppings of mushrooms, red onions, green peppers, and olives with pizza sauce to die for. So, whenever you're in the mood for some comfort food, deep dish pizza truly checks all the tick boxes.
18. Chef Tom's Deep Dish Pizza Recipe
If you think that you had more than enough fill of deep dish pizza, well, think again! This deep dish pizza recipe brought to us by Chef Tom combines hot Italian sausage, fresh grated Parmesan, sliced mozzarella, and Mojo white pizza seasoning for an incredible pizza pajama party. Pair it with Italian Bruschetta Bar, Spinach Artichoke Dip, and Caesar Salad, and take your ordinary dinner to new heights!
If this deep dish pizza recipe from Mandy does not get your mind and heart racing, nothing will. Using a homemade oven combined with meticulous baking skills and quality ingredients, you will have for sure a satisfying deep dish pizza meal that will definitely uplift your mood and spirit.
Fill the pizza dough with mouthwatering toppings such as chopped cherry tomatoes, brown sausage, mozzarella cheese, and mini pepperonis and served them over a delightful bowl of potato soup. It feels like heaven on a single plate!
Wrapping up the Best Deep Dish Pizza Recipes
Need a quick, flavorful dish for lunch or dinner? These 19 Best Deep Dish Pizza recipes are the ticket! After all, these recipes are guaranteed to be delightful and mouthwatering that the whole fam bam will flip for. From sausage to cheese filling and thick tomato sauce, you'll surely adore each of these deep pizza recipes that we offer!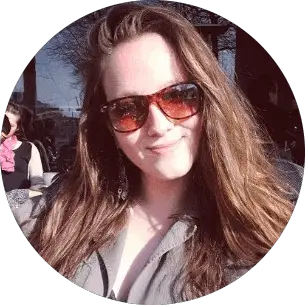 Barbara is an enthusiastic food-exploring person that goes through different culinary experiences. She got inspired by creating a pizza blog post after she tasted one of the best-selling pizzas in Toledo.