Everyone loves garlic bread, and everyone loves pizza – so it only makes sense to combine the two and enjoy them together. There are lots of ways to do it too, including giving a pizza base a garlic topping or spreading your favorite pizza ingredients on top of regular garlic bread.
We've had a look online to find out what other people have been trying – and for anyone who wants to give it a go themselves, here are our favorite 30 garlic bread pizza recipes you can easily recreate at home.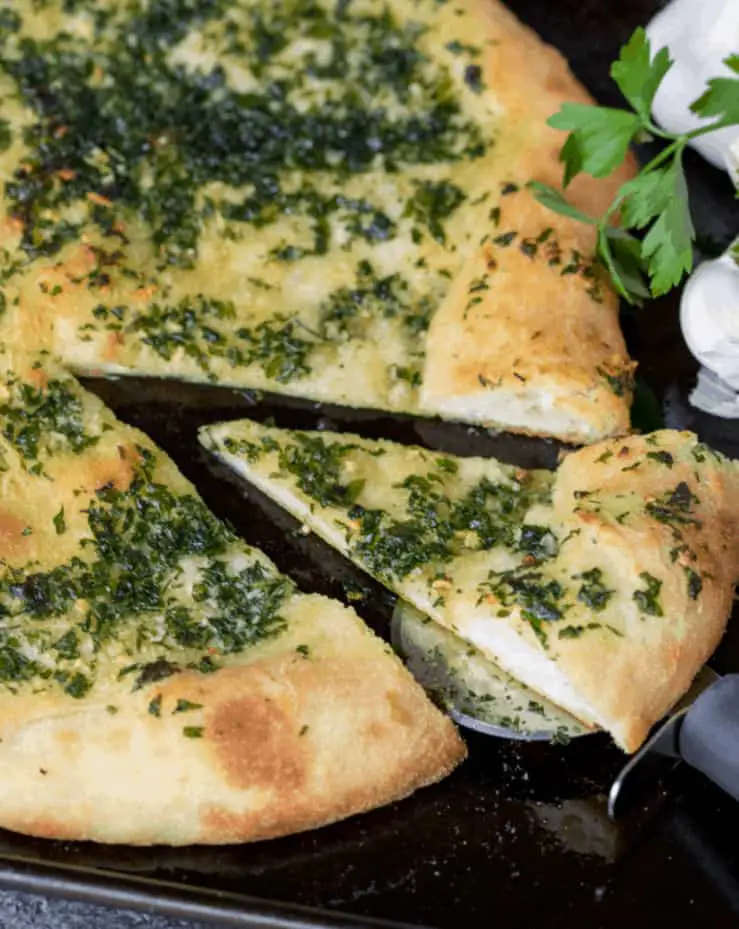 The basic elements of this garlic pizza bread are a crispy pizza base, plenty of garlic and a good helping of parsley to help with the balance. However, as this blogger explains, you don't need to stop there since you can add things like mozzarella, tomatoes and more. And if you want to know how he does it – and are interested in his other suggestions – make sure you give his blog a read.
2. How to Make Better French Bread Pizza
A great hack for making any kind of pizza is to use French bread instead of pizza base, and in this video, this YouTuber shows us how to make French bread garlic pizza. He starts off with some regular supermarket-bought French bread, makes it into garlic bread and then stacks it with delicious pizza toppings. So easy and so tasty – and one we're sure plenty of people will want to try copying right away.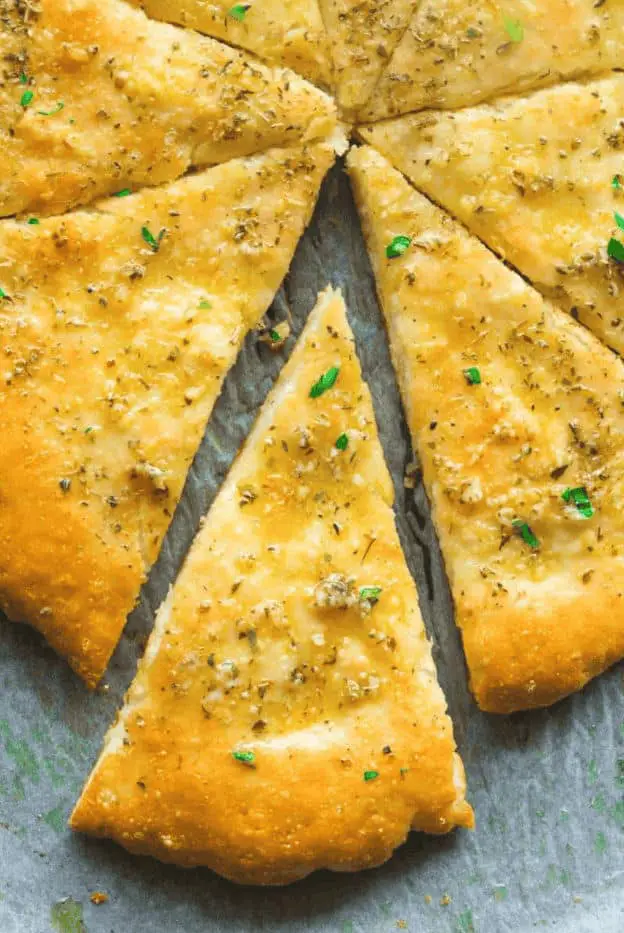 The great thing about knowing how to make your own pizza dough from scratch is that you can do it whenever you want, and with this recipe, you won't even need any yeast. It can be ready and on your plate in 20 minutes, and in the words of this blogger, this version is thick, chewy and loaded with garlic flavor. And who could say no to that?
4. Cheesy Garlic Bread Pizza with One Pot Chef Show
Here's a variation on garlic bread pizza that sounds irresistible – it's garlic bread on a cheesy pizza base, and the word this YouTuber uses to describe it is "divine". Topped with olive oil, fresh garlic, parsley and cheese and baked until golden, this is a recipe that's crying out for you to try it!
With its crispy edges, garlic and butter topping and a sprinkling of fresh parsley, the garlic bread pizza in the photo at the top of this blog post looks amazing. It was cooked on a special pizza steel, but even if you don't have one of those, this recipe will work nearly as well in any regular oven. And if that sounds appealing, head over to the blog for the tutorial.
We love the opening shot of this video – it's a slicer cutting through a pizza that's been cooked to perfection, with slightly browning cheese on top and a delicious crisp base below. The rest of the video then goes on to show you what you need to do to reach that point, from preparing the dough to mixing the garlic topping and preparing it all for the oven. Another quick and easy recipe for garlic bread pizza that is already making us feel hungry.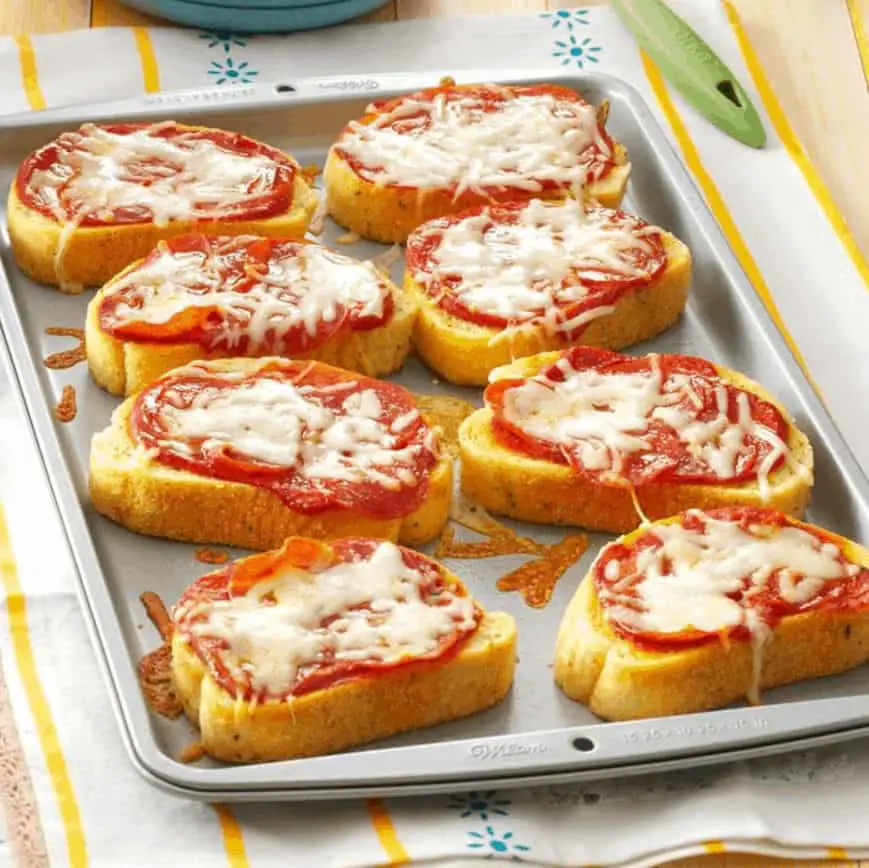 This recipe is slightly different from a lot of the others we've seen since most combine a pizza base with a garlic topping whereas this one is based on toast with a garlic and tomato topping. However, there's nothing wrong with being creative as long as it tastes good, and judging by the photos, these garlic toast pizzas are unlikely to last very long once they come out of the oven.
8. The Best Stuffed Crust Garlic Bread Pizza
Here's an amazing idea that we can't wait to try ourselves. The middle is just a regular pizza – the one in the video has a pepperoni topping – but this YouTuber has given it a garlic stuffed crust, and he says it's the best pizza ever. That's a big claim, but it looks super-good, so he might have a point. In any case, we're off to make one now so we can decide for ourselves!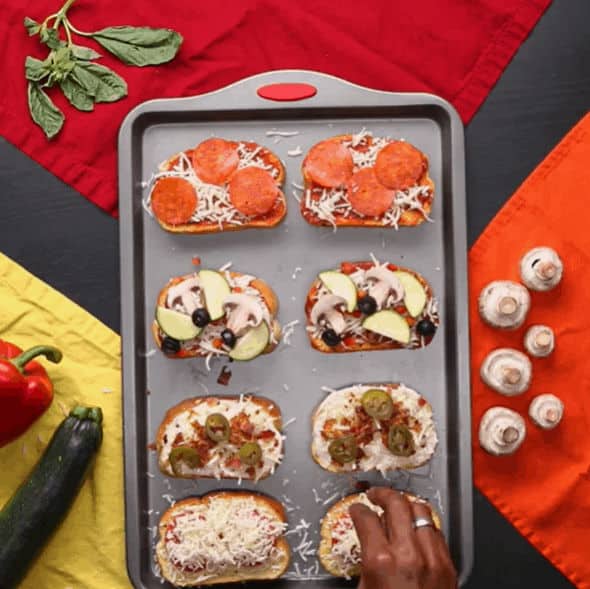 Looking for a delicious last-minute snack because you don't have time to cook anything more sophisticated? Then this recipe for 15-minute garlic bread pizza could be just what you need. This blogger writes that it's ideal when you're running late for class. Well, it might not be ideal for your classmates, but if you don't need to worry about having garlicky breath, it's one you're sure to come back to over and over again!
10. Garlic Mozzarella Bread
Garlic and mozzarella on a crispy pizza base, what could be better than that? Perfect for a snack with drinks or as a starter to your meal – and super-easy to make too. We love the way she makes grooves in the dough and stuffs them with strips of cheese so the mozzarella melts right into the bread, and as you can see when it comes out of the oven, the result looks amazing!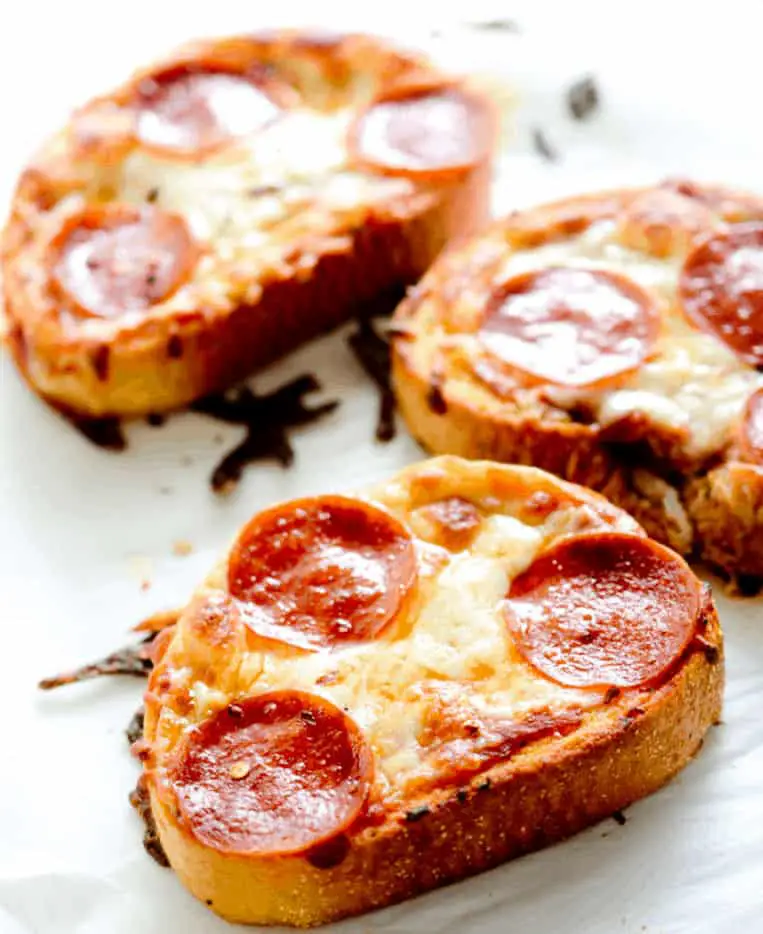 This is another super-quick recipe that you can easily make at home as long as you have some slices of bread, some garlic and anything else you want to use as a topping. You could eat it as a snack or make a larger quantity and have it as a meal. You can even use different toppings for some variation, so the only limit to the possibilities is your imagination.
12. How to Make Cheesy Garlic Pizza Bread in a Pizza Oven
In this video, we get to watch as this skilled cook prepares the perfect garlic bread cheese pizza using just a few simple ingredients. This recipe doesn't have any fancy frills, but when you see the cheese and oil bubbling in the pizza oven, you realize it doesn't need anything else, and we're sure that anyone who watches this video will be keen to try replicating the idea at home ASAP.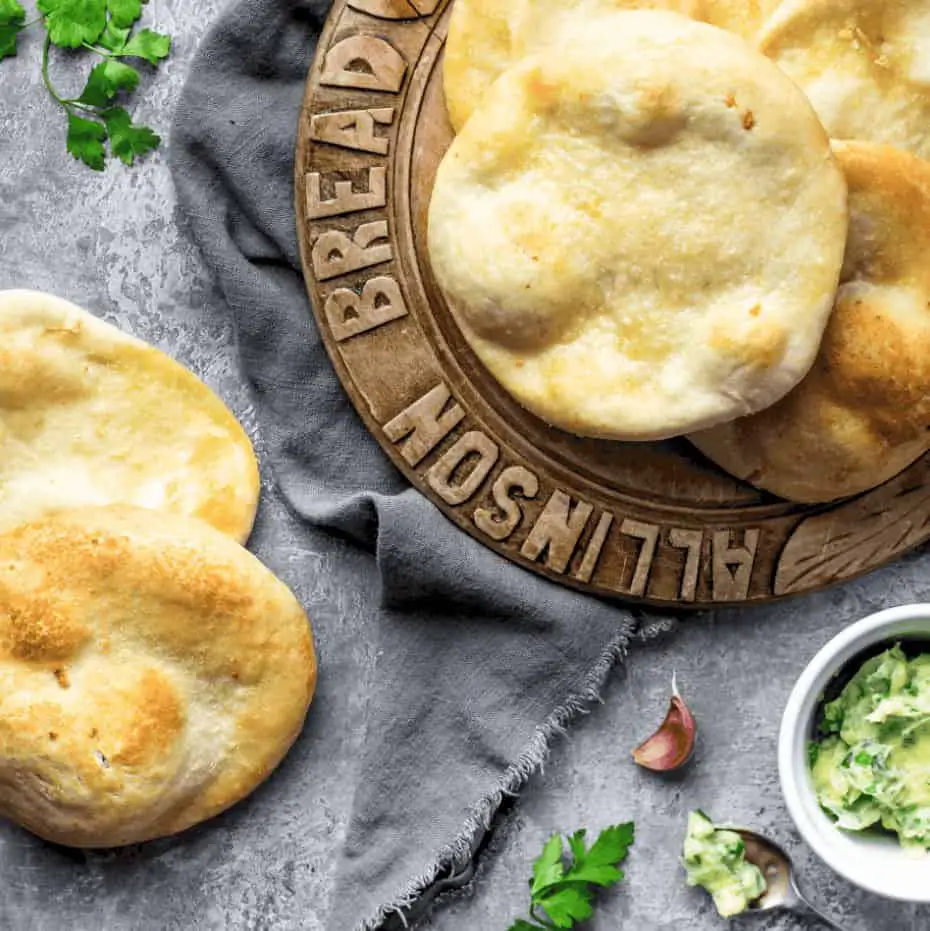 As this blogger writes, after you make a quantity of pizza dough, you can keep balls of it in the freezer, allowing you to whip up pizza – or garlic bread pizza – whenever you feel like it. Once you have the dough, the pizza can be ready in only ten minutes, so it's a great option whenever you need to serve food in a hurry.
14. Garlic Pizza Bread Recipe
Garlic bread pizza is such a simple thing to make, and with a recipe like this, you can produce a high-quality version in short order whenever your family wants it. This version includes some dried herbs like rosemary, thyme and basil to give it a bit more flavor, and the finished pizza comes out looking a bit like focaccia. Check it out and see what you think!
We love the look of these homemade garlic bread pizzas with a basil, tomato and mozzarella topping and a generous drizzle of olive oil. Super-easy to make and ready in no time, this is a recipe we're sure plenty of people will enjoy trying.
16. Cheese Garlic Bread Pizza Recipe
This is another of the more original versions we've seen because these garlic bread pizzas look more like toasties covered in tomato sauce and sprinkled with even more extra toppings. However, our philosophy is always that if it tastes good, then it works – so why not make some yourself and see how they turn out?
This recipe is a bit of a cheat since it starts with a piece of ready-made frozen garlic and turns it into a pizza by adding extra toppings. But if you're pushed for time and you just want something satisfying and indulgent to eat, it's a quick and easy solution – and there's nothing wrong with that!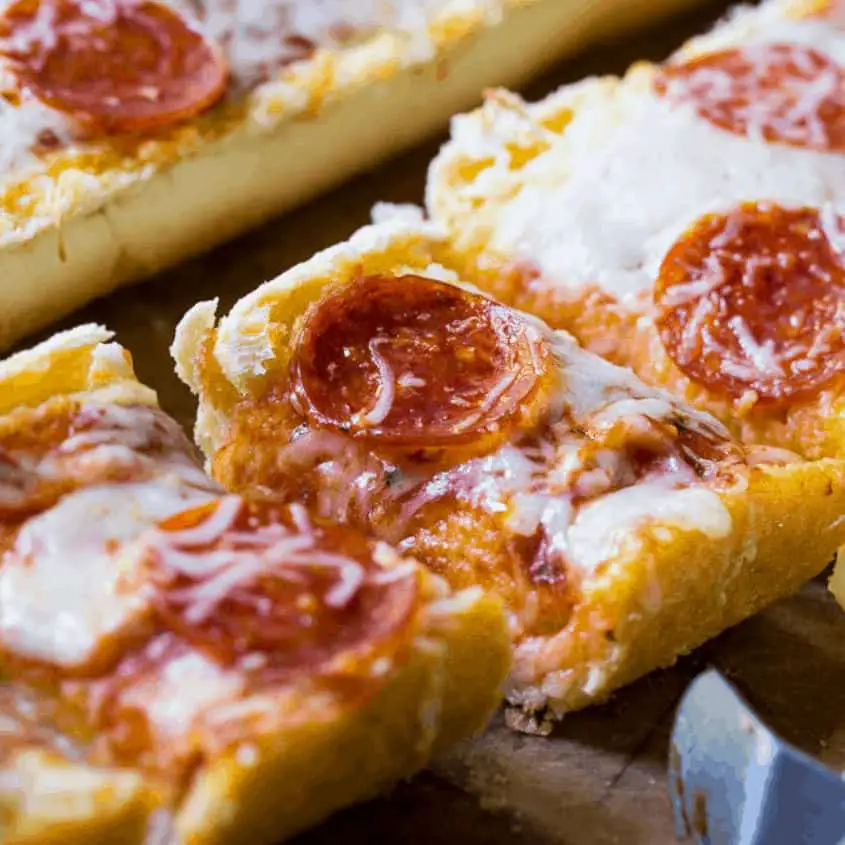 Like #17, this is another "cheat" recipe that turns regular frozen garlic bread into a rich and delicious pizza, complete with tomato sauce, pepperoni and mozzarella. In the photo, it's shown cut into small squares, making it a great snack to share among friends.
19. Making Garlic Bread with Pizza Dough using Ooni Koda Pizza Oven
This yummy looking garlic bread pizza was made using an Ooni Koda pizza oven, but if you have any other type of pizza oven – or even just a regular oven – you can still hope to achieve similar results. The recipe includes just butter, garlic, rosemary and salt – we want to try some too!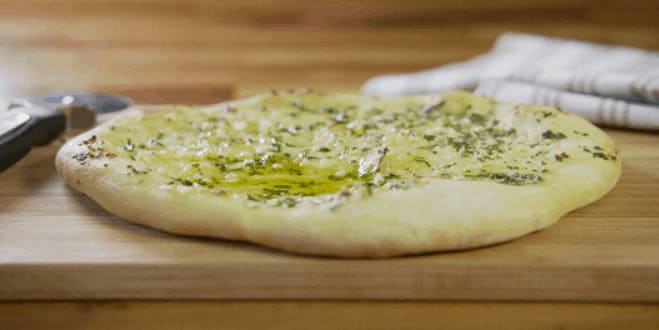 Although this recipe tells you it's a tutorial for making "garlic bread", it's close enough to pizza-style garlic bread that it still made our list. Of course, once you know the basics, you can add more pizza toppings, allowing you to get as creative as you like.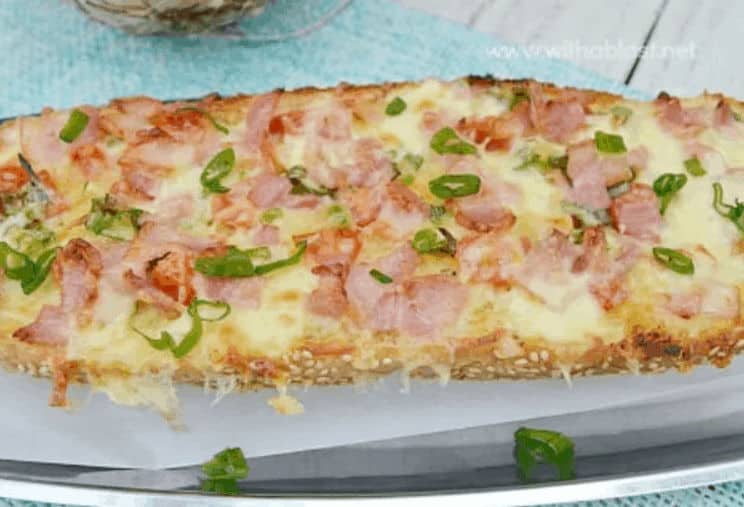 Some of the purists might not want more than just garlic and herbs on their garlic bread pizza, but for those with open minds and adventurous palates, this is an intriguing option. The main innovation is a generous helping of bacon and a sprinkling of chopped spring onion – and that's more than enough to convince us to try it!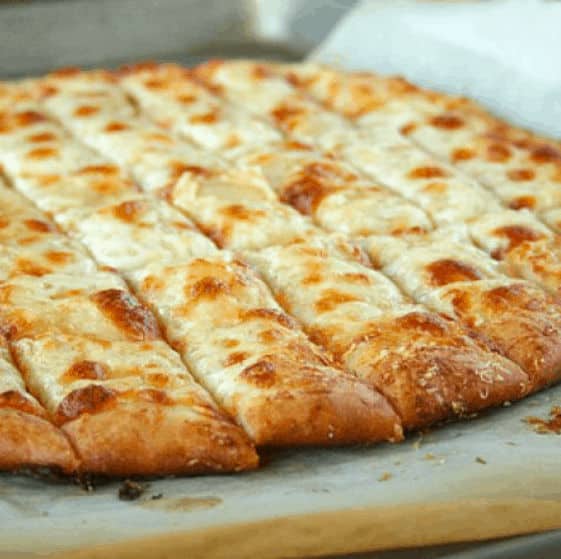 If you're like us, anything with "fail-proof" in the title is automatically worth a look. It's not that we're hopeless in the kitchen, but things don't always go right either. So when we find a recipe for something as delicious-looking as the morsels this post shows us, and we're told it's impossible to mess it up, we're already heading for the kitchen.
23. How to Make Pizza Garlic Bread from One Kitchen
For those who have the time to plan ahead instead of always throwing food together at the last minute, this recipe is an option. You'll need to prepare your starter dough eight hours in advance, but if you're the kind of person with the foresight to do that, the garlic bread pizza this video teaches you to make will be heavenly.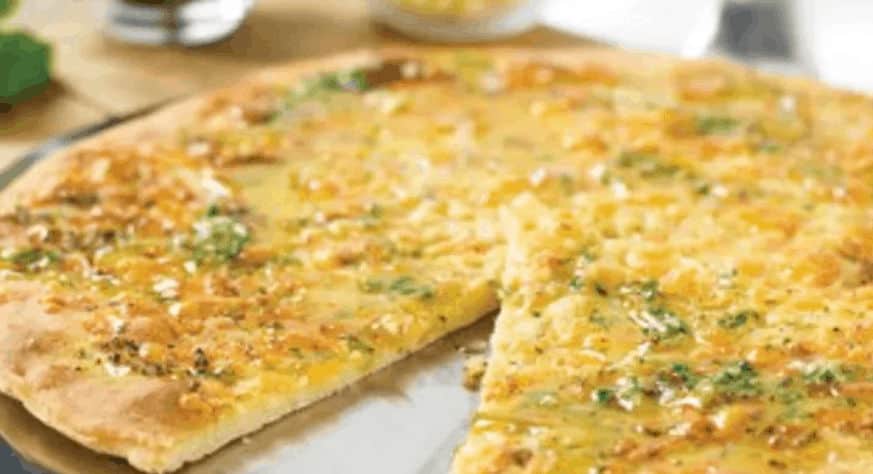 As this blogger points out, as well as a tasty snack in its own right, garlic bread pizza is a great choice to serve at barbecues. It's easy to make, and everyone loves it, so if you want some for your next outdoor gathering, this plan has all the details. Just make sure you make enough to go round!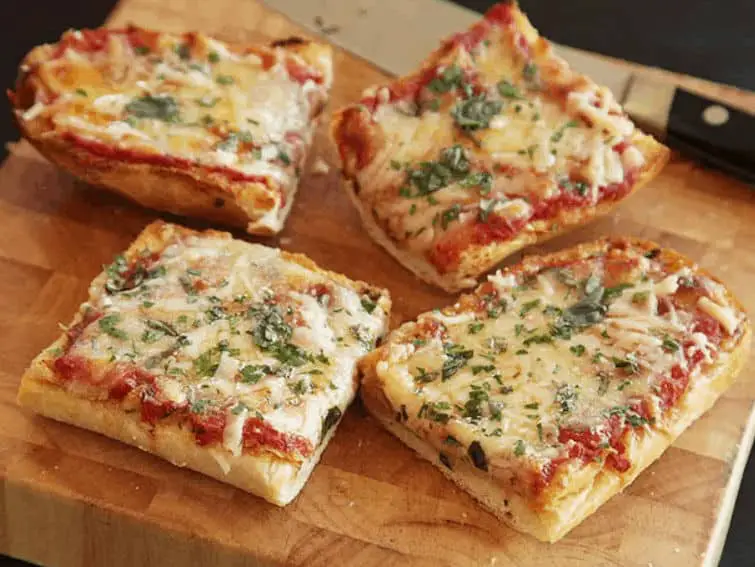 As the introduction to this blog so succinctly explains, this recipe is for classic French bread pizza upgraded with a heavy dose of garlicky butter, two kinds of cheese and fresh herbs. It doesn't really need much more selling than that, does it? So what are you waiting for?
26. How to Make Cheese Garlic Bread – Fluffy and Chewy
Some people prefer their garlic bread pizza thin and crispy while others are firmly in the fluffy and chewy camp. If you prefer the latter, this recipe for a Korean-style version should be of interest, and we love the way you can just pull off convenient bite-sized cheesy chunks!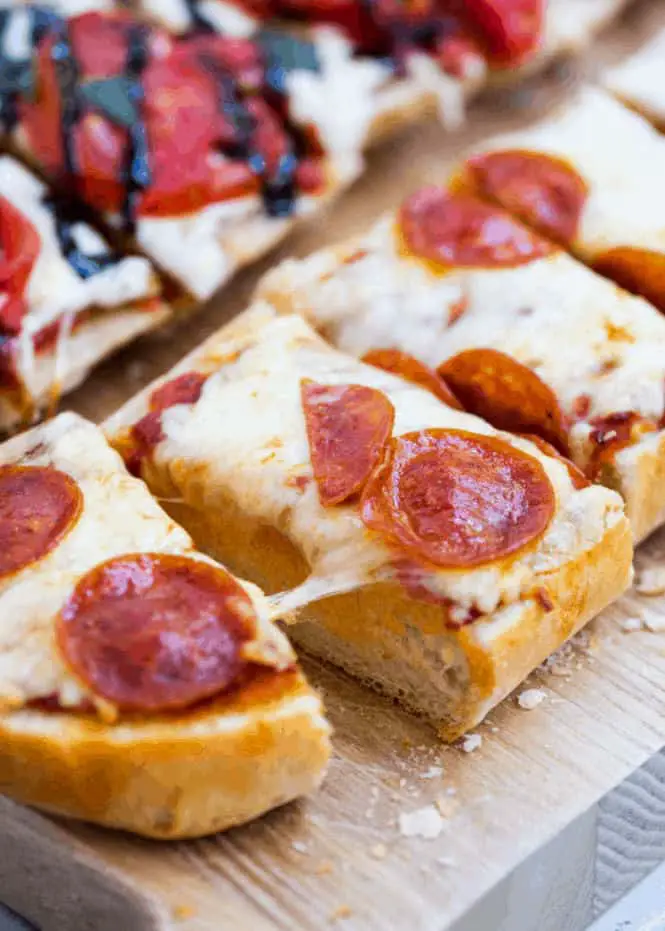 Perhaps the most impressive thing about this recipe is that the blogger explains that she prefers to use homemade French bread for her garlic bread pizzas, but she also mentions that you can use bought bread too. Another great thing about this idea is that you can divide the bread up into four pieces, allowing you to make pizza with four different toppings if you want to shake things up a bit. And to find out more, why not give her blog a read?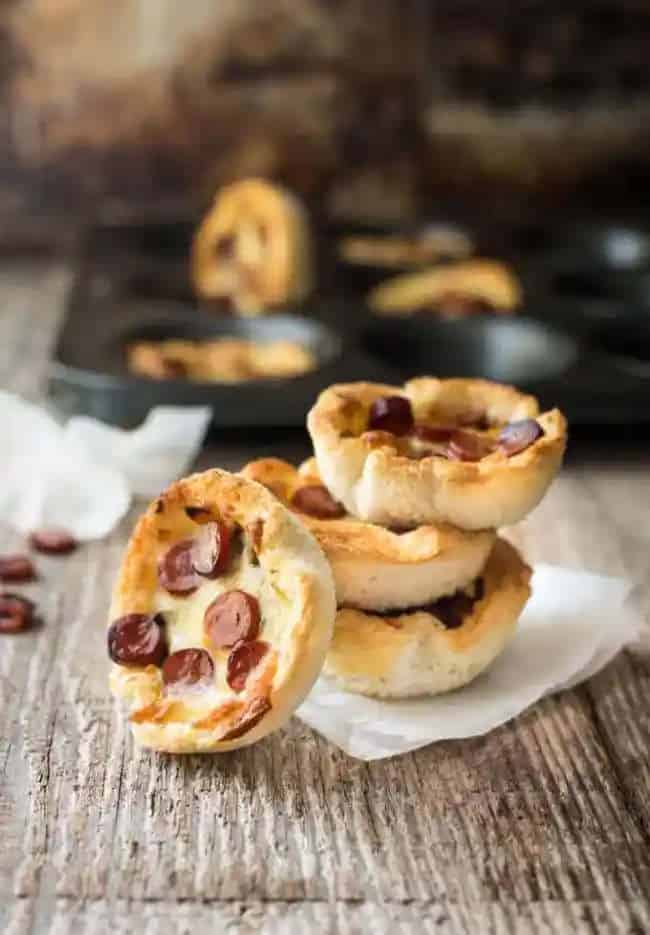 Not in the mood for big garlicky pizza slices? Well, this mini pizza is an excellent alternative for you. Made in muffin tins, this tiny pizza is a size of a cup!
But don't let their small size fool you. This delicious garlic bread cup is packed with the same garlicky and cheesiness that can rival those big pizza pans. Perfect as a party appetizer or as a snack.
29.  Garlic Bread Pizza with Texas Toast
This recipe from Poor Man's Gourmet will surely make your breakfast a lot easier! Just whip out some garlic bread, top it with some pepperoni and cheese, and pop it in the oven.
Set the oven to 425⁰F for seven minutes, and done! You can easily make this recipe in less than ten minutes —a perfect last-minute dish!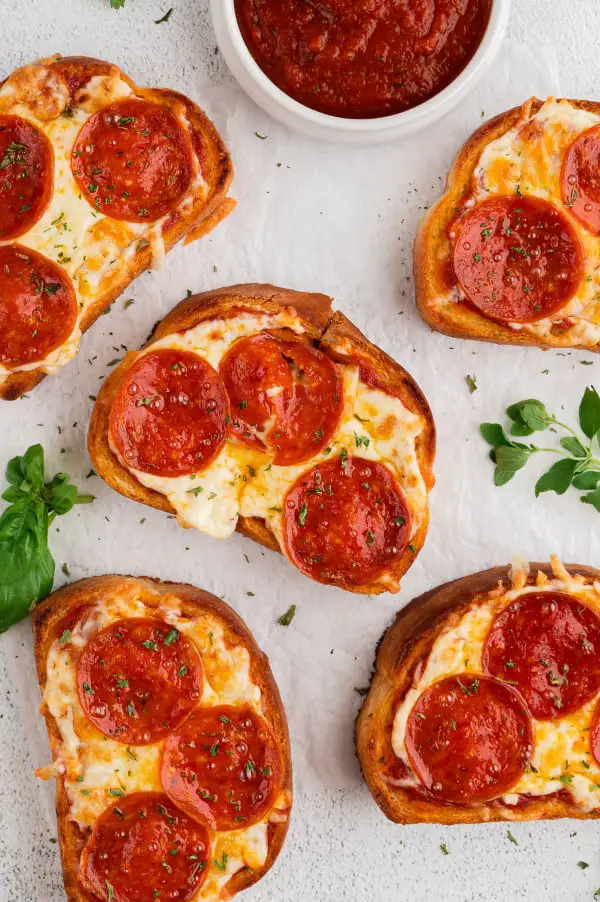 Picture this: you want some garlic bread pizza but don't have time to prep. Well, this air-fryer recipe is the answer to your dilemma.
The result is a crunchy pizza toast with a garlic bread base. You'll surely love to make this as an easy breakfast toast or a fast snack!
Loads of devilishly delicious recipes for garlic bread pizza
As you can see, there are so many ways to make garlic bread pizza, from simple classic recipes to more creative and surprising ideas.
We've enjoyed collecting these recipes for you, so we hope you've enjoyed watching and reading them too. And above all, we hope we've helped you find the recipe you were looking for to make your own irresistible garlic bread pizza at home.
27 Garlic Bread Pizza Recipes
Ingredients
How To Make Better French Bread Pizza

Cheesy Garlic Bread Pizza With One Pot Chef Show

Garlic Pizza

The Best Stuffed Crust Garlic Bread Pizza

Garlic Mozzarella Bread

How To Make Cheesy Garlic Pizza Bread In A Pizza Oven

Garlic Pizza Bread Recipe

Cheese Garlic Bread Pizza Recipe

Making Garlic Bread With Pizza Dough Using Ooni Koda Pizza Oven

How To Make Pizza Garlic Bread From One Kitchen

How To Make Cheese Garlic Bread – Fluffy And Chewy

Garlic Bread Pizza With Texas Toast
Directions
Select your favorite garlic bread pizza recipe.
Organize all the required ingredients.
Prep the recipe in 30 minutes or less!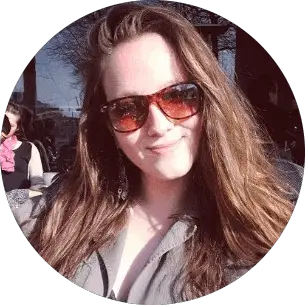 Barbara is an enthusiastic food-exploring person that goes through different culinary experiences. She got inspired by creating a pizza blog post after she tasted one of the best-selling pizzas in Toledo.