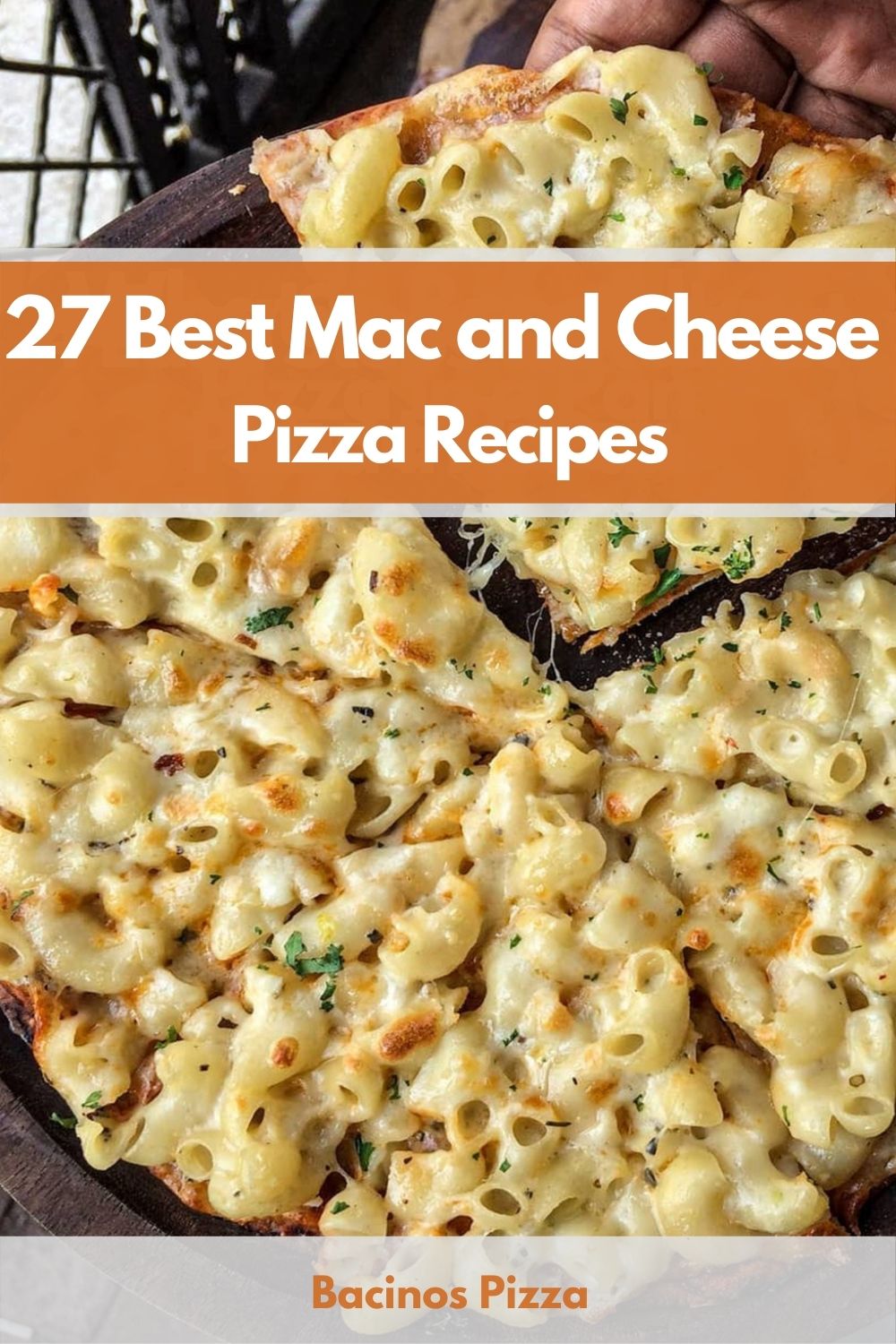 Everyone loves mac and cheese, and everyone loves pizza – so what could be better than combining them into a single dish?
For anyone who wants to try, we've had a look online to see what other people have been attempting – and as a result, here are our favorite 27 mac and cheese pizza recipes you can have a go at cooking yourself.
Mac and cheese is a classic family meal and so is pizza – so if you can't decide which to cook, why not have both? If that sounds like something you might be interested in, here's a great recipe that teaches you everything you need to know about this intriguing dish, allowing you to produce a hybrid masterpiece the whole family is sure to love.
2. Mac and Cheese Pizza from TheCooknShare
As this YouTuber explains in his intro, mac and cheese pizza is the kind of one-off dish that not many people would think of themselves. It's super-easy too, simply combining traditional mac and cheese with a pizza base. This recipe throws in a bit of mozzarella and basil for good measure, creating a delicious dish that gives you the best of both worlds on one plate.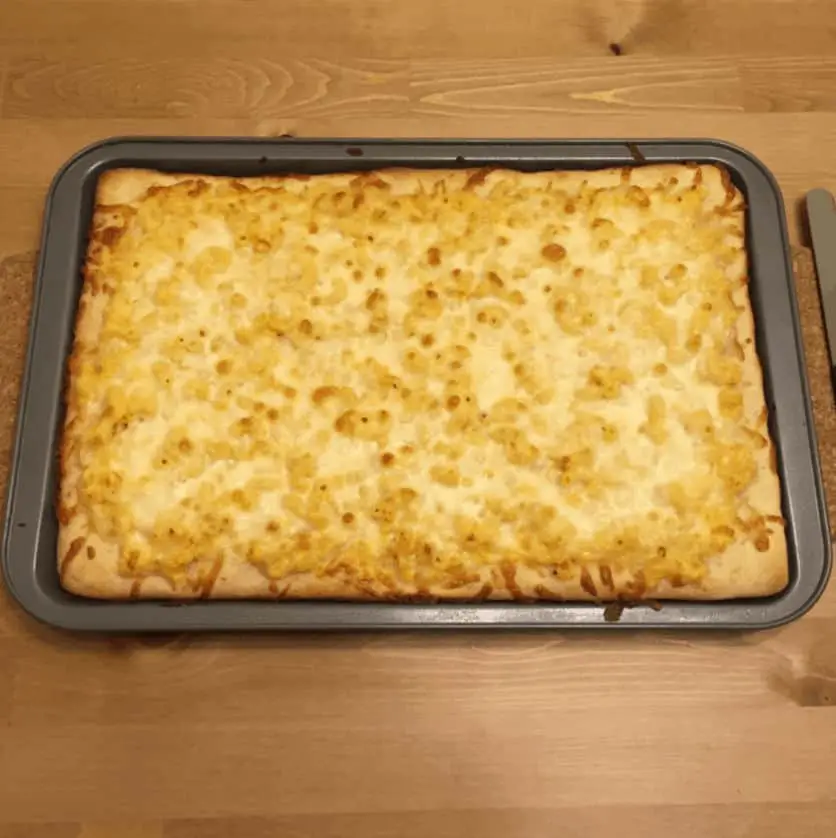 A basic mac and cheese pizza is extremely simple, and this blogger estimates it won't require more than around 25 minutes of prep time. However, once you have the technique down, you can start experimenting with extra ingredients of your own. She suggests bacon, onion, avocado, tomato, Havarti cheese or gruyere cheese, but feel free to get as creative as you like!
4. Mac and Cheese Pizza from Sam the Cooking Guy
Here's a video from a YouTuber who's extremely passionate about food. In his tutorial, he teaches us how to create a spectacular mac and cheese pizza from scratch, including making the pizza dough, and for his own personal flourish, he also adds some crispy grilled bacon. He claims his version of this dish is "crazy good" – so why not copy his recipe and see if you agree?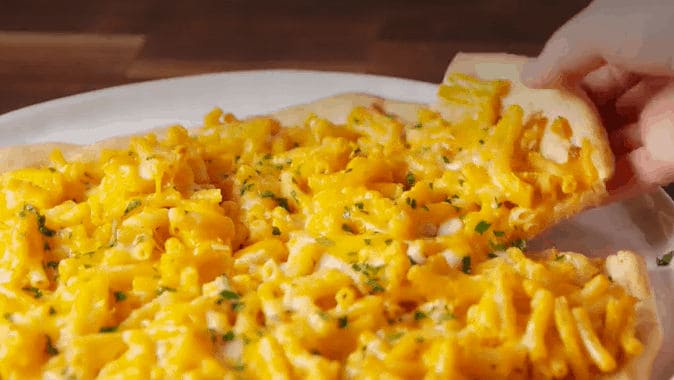 We love the way the pizza in this blog looks – it must be a combination of the creamy melted cheddar and mozzarella cheese combined with a sprinkling of chopped parsley. The recipe is pretty easy to follow too, consisting of only four simple steps – so once you've assembled the necessary ingredients, you shouldn't have any trouble producing something just like it.
6. Mac and Cheese Pizza Recipe from Mythical Kitchen
Here's a fun video tutorial to watch. In it, these YouTubers show us a couple of interesting creations you can make based on the humble mac and cheese – including a delicious version of pizza. We love their geeky sense of humor, but they know their way around the kitchen too, so if you want to learn some new cooking skills while also being entertained, this is the kind of video that should appeal.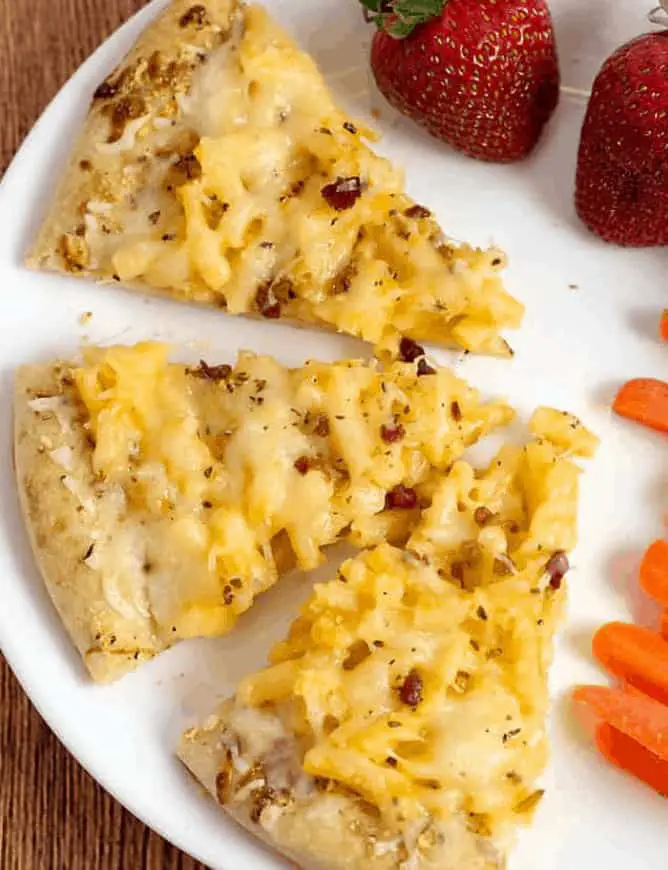 If you're in a hurry and you need something you can serve to your family in short order, this 10-minute recipe for mac and cheese pizza could save the day.
Since you get to choose what goes into homemade cooking, it also gives you more control over what you and your family eat, so even when making something like this, you can still take steps to make it healthier. Want to know how? Then check out this blog for details.
8. How to Make Pizza Mac and Cheese by Chef Teach
As the introduction to this video mentions, mac and cheese pizza can be considered the ultimate comfort food, combing two go-to classics into one delicious treat that everyone will love. This recipe includes cheddar, fontina, smoked gouda and a touch of mozzarella, and this blend of cheeses gives it a richness and complexity not found in many other recipes. It looks fantastic when it's done too, and we're sure plenty of people will be keen on copying it ASAP.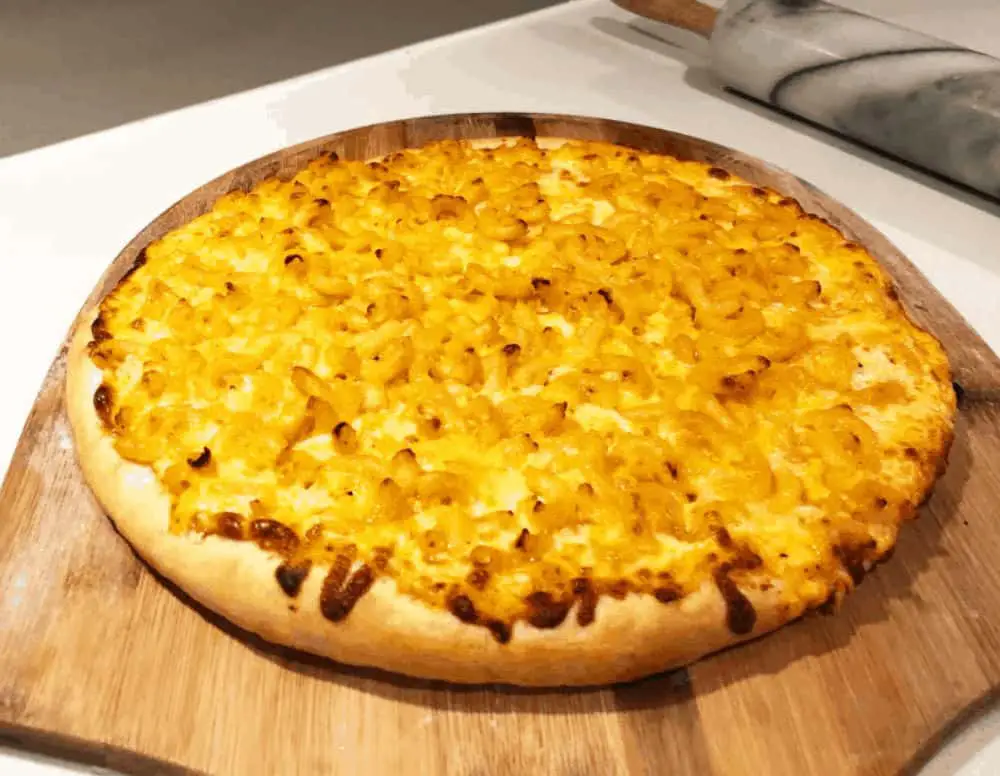 Here's another post that starts with a photo of a delicious-looking pizza, this time one that's overflowing with melted cheesy goodness. This blog specializes in creating weird and wild pizza toppings, so cheese and mac isn't even one of their most outlandish. So if you want to know how to make this and even stranger pizzas, this is a blog that will be of interest.
10. Mac and Cheese Pizza from Definitely Not Gourmet
This is a YouTuber whose videos we enjoy watching. His channel is called Definitely Not Gourmet, so you can imagine the style of cooking he specializes in. However, with his unique blend of humor and unpretentious yet irresistible recipes, we're certain that we won't be the only fans of the dishes he creates. Give it a watch and see what we mean!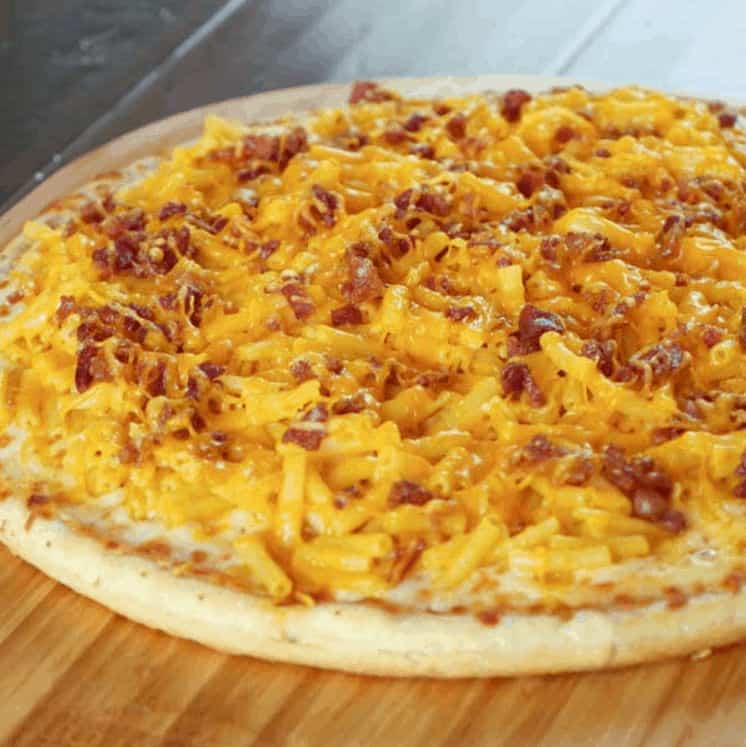 Since this recipe starts with a ready-made cheese pizza, turning it into a cheese and mac version could hardly be easier. This is essentially a recipe for jazzing up a regular store-bought pizza, but if that sounds like something you might be interested in trying, this is a tutorial that's well worth checking out.
12. How To: Easy Macaroni and Cheese Pizza (Full Recipe!)
As far a quick and easy meal ideas go, this recipe is about as effortless as they come. In the tutorial, you'll learn how to create a yummy dinner using just a handful of basic ingredients. It's the kind of food that nobody can mess up, but it's also sure to go down well with whoever you serve it to. And if you want to know how to do it, just give the video a watch to find out.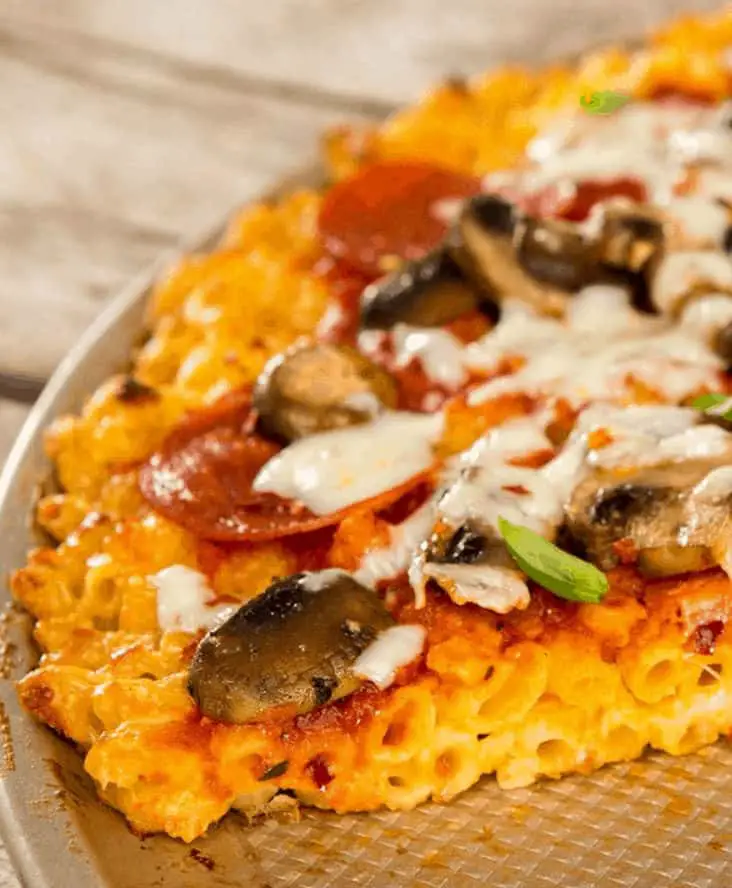 Here's an interesting idea for a pizza – because instead of using mac and cheese as a topping on a traditional pizza base, this version uses the mac and cheese as the base itself. After that, you can get creative adding any other toppings you like, allowing you to come up with all kinds of original versions that your family or friends will love.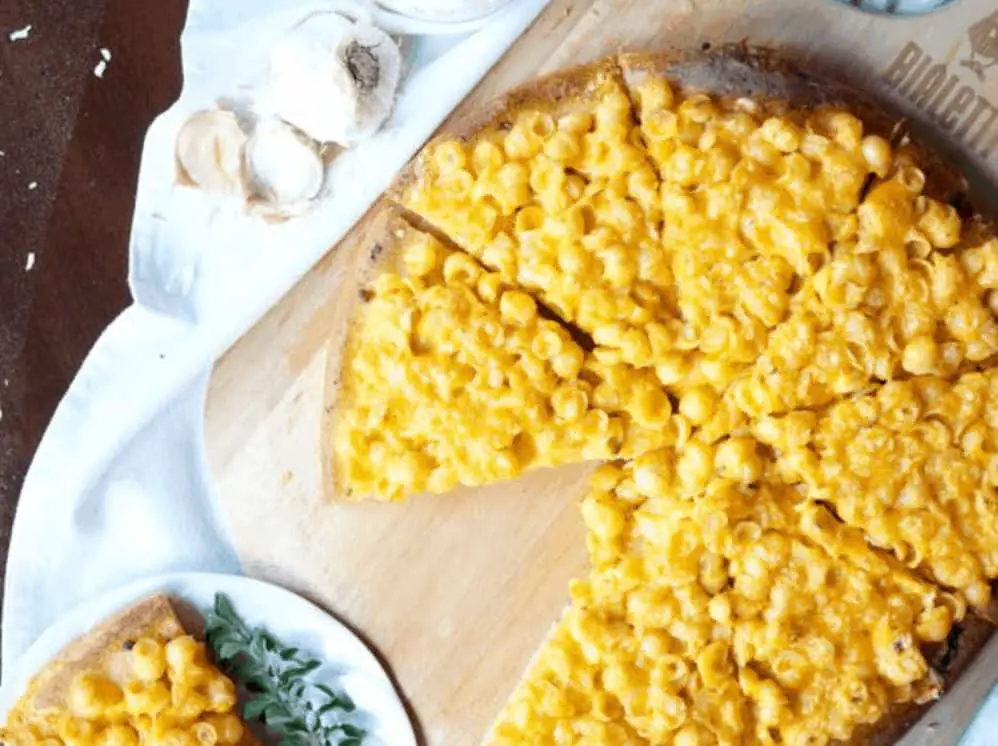 This twist on the cheese and mac pizza uses a garlic-infused base to give it some extra kick, and as the blogger who created it writes, it's a pizza that will make all your carb dreams come true! It might not be the kind of thing you want to eat too often, but it will make a great occasional treat. And if you want to know how she did it, her blog has all the info you need.
15. Mac and Cheese Pizza Recipe from World of Flavor
When a recipe is so simple, there's no need to overcomplicate things – and if that's a sentiment you agree with, then this is the tutorial for you. In it, in just over a minute, this YouTuber explains how to make a mac and cheese pizza that also includes pepperoni and fried bacon to give it a bit of extra flavor. Super-easy but also super-delicious, and since the video is so short, you can spend less time watching and more time eating!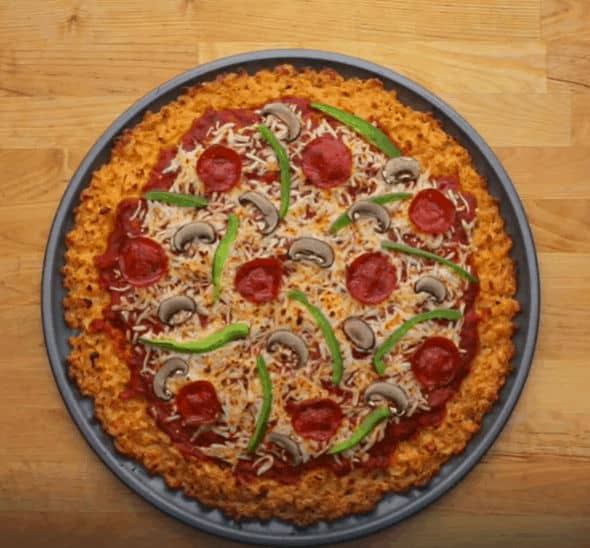 Like the recipe in #13, this is another one that swaps a traditional pizza crust for one made from mac and cheese. This means it's not going to be the kind of pizza you can pick up and eat with your hands, but it's such a great idea, it's got to be worth trying at least once. Although we're convinced if you try it once, you'll be coming back to this recipe over and over again.
17. Mac and Cheese Pizza from Alwayshungry
Pizzas with mac and cheese crust must be pretty tasty because we've seen several interesting recipes that teach you how to make them. Here's one more for you to check out if it's a concept you find interesting – then you can choose the one you think is best when it's your turn to recreate your own version. We're not sure which is our top pick, but this recipe is definitely up there!
Take some gooey cheese, chewy pasta and a bit of smoked sausage and smear it all over a crispy pizza base. What do you get? To food snobs, it might sound like a culinary abomination but to people who just appreciate simple, unpretentious fare, it sounds like carb and cheese heaven. And if you belong to the latter group, this is a recipe you need to see!
19. Mac and Cheese Pizza from Tablespoonrecipes
If you're looking for the shortest possible video tutorial that will show you how to make cheese and mac pizza, at only 35 seconds, this one will take some beating. However, since it's such an easy idea, why drag it out? It's fun to watch the time-lapse video as this delicious dish takes shape too – so if you've got half a minute to spare, why not give it a watch?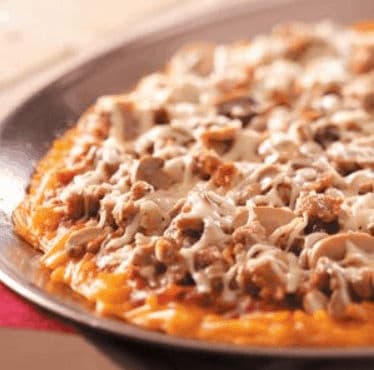 Here's another version of this recipe that substitutes mac and cheese for a traditional pizza base. The innovation here is the suggestion to use pizza sauce in the recipe – although of course, you can make your own using tomatoes, oregano and basil. However you do it, we're sure it will turn out well, making this a meal that's likely to become one of your staples.
21. How to Make Macaroni Pizza – Simple Cooking Videos
This video teaching you how to make a make and cheese crust pizza is great to watch for a couple of reasons. First, it's extremely easy to copy so anyone will be able to make something similar at home – and second, it looks fantastic too. But third, the video also includes a chilled soundtrack, so watching it will even help you relax and unwind. We enjoyed it anyway – so why not see if you do too?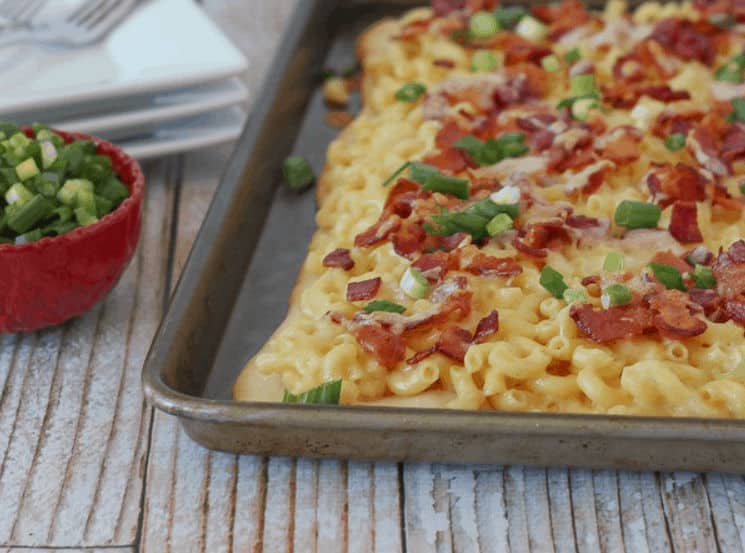 There are so many ways of giving the basic mac and cheese pizza your own twist, and this blogger does it with the addition of bacon and green onions. It's nothing earth-shattering, but it works well – and the post also includes the details you need if you want to copy it.
23. Macaroni and Cheese Pizza Recipe from SimpleCookingChannel
Here's a great video that even those who are less accomplished in the kitchen will be able to manage. It teaches how you to make a perfect mac and cheese pizza that's sure to fill you up – but that you also won't be embarrassed to serve to guests if you need to.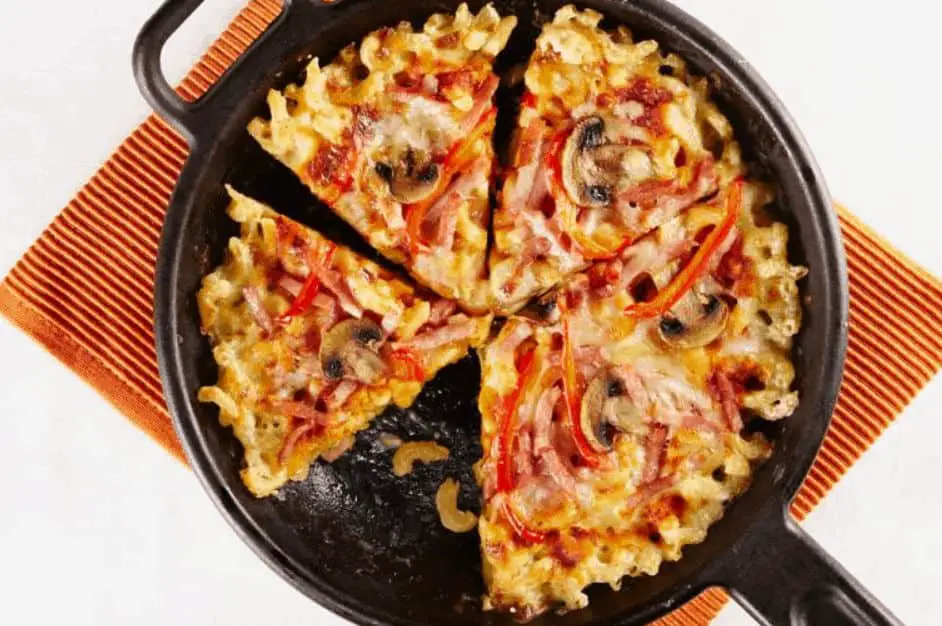 This recipe for mac and cheese crust pizza from north of the border is another of our favorites. We love the inclusion of peppers and mushrooms along with the traditional ingredients, making this a version we're looking forward to trying ourselves.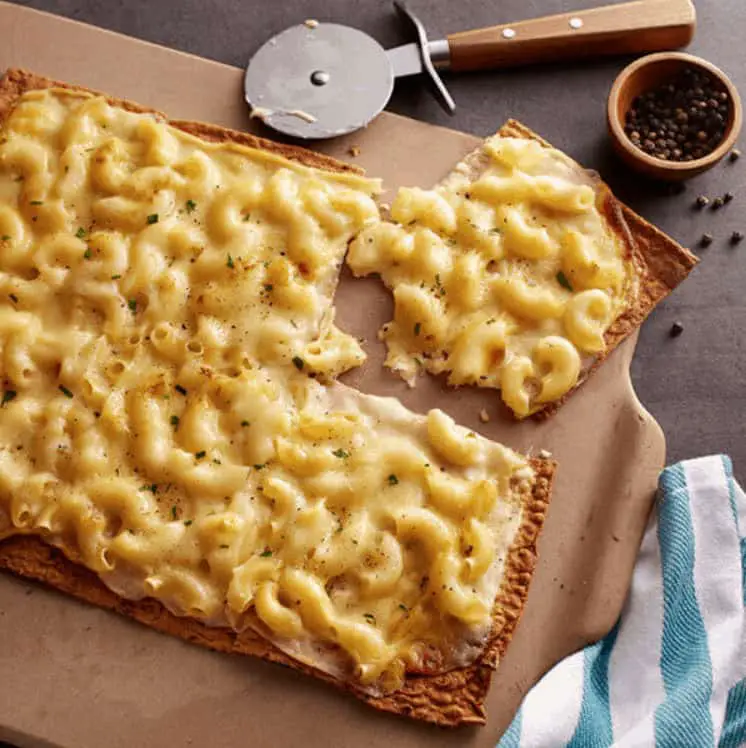 Macaroni and two-cheese sauce on a thin and crispy pizza base cooked to perfection and served steaming, melting and gooey. Sound like the kind of thing you might enjoy? Then check out this post to find out how to make it!
26. Making Mac and Cheese Pizza from VlogsByCaitlin
In this video, we get to watch as these YouTubers create not just one but two amazing pizzas. One is more traditional, but the other is a mac and cheese delight. Check out their upload to see their handiwork!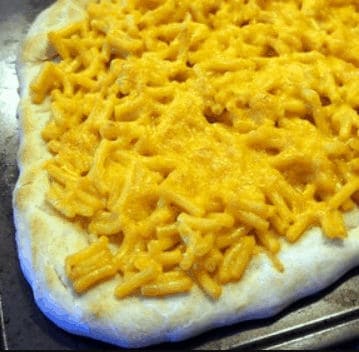 This recipe requires four ingredients, 20 minutes prep and 10 minutes in the oven, and it doesn't get much easier than that. That way, you can get the food on the table with a minimum of fuss, leaving you to concentrate on the rest of your evening's activities.
Plenty of ways of making an irresistible meal
As you can see, whether you want to make a version with a pizza base or one without, there are plenty of recipes showing you how to create a simple but delicious cheese and mac pizza meal.
We've enjoyed collecting these recipes for you, so we hope you've enjoyed watching and reading them too. And above all, we hope we've helped you find the ideas you needed for making a mac and cheese pizza of your own.
27 Best Mac and Cheese Pizza Recipes
Ingredients
Mac And Cheese Pizza From TheCooknShare

Mac And Cheese Pizza From Sam The Cooking Guy

Mac And Cheese Pizza Recipe From Mythical Kitchen

How To Make Pizza Mac And Cheese By Chef Teach

Mac And Cheese Pizza From Definitely Not Gourmet

How To: Easy Macaroni And Cheese Pizza (Full Recipe!)

Mac And Cheese Pizza Recipe From World Of Flavor

Mac And Cheese Pizza From Alwayshungry

Mac And Cheese Pizza From Tablespoonrecipes

How To Make Macaroni Pizza – Simple Cooking Videos

Macaroni And Cheese Pizza Recipe From SimpleCookingChannel

Making Mac And Cheese Pizza From VlogsByCaitlin
Directions
Select your favorite recipe.
Organize all the required ingredients.
Prep the recipe in 30 minutes or less!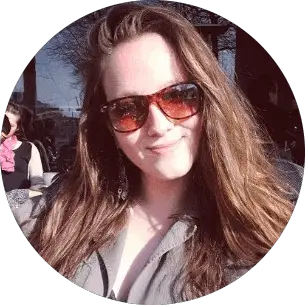 Barbara is an enthusiastic food-exploring person that goes through different culinary experiences. She got inspired by creating a pizza blog post after she tasted one of the best-selling pizzas in Toledo.