Nothing beats flame-cooked toppings and leopard-spotted crust on a pizza. And you know it's a gem when you see one of those! Luckily, you stumbled on the right page. Because these pizza recipes using an Ooni oven can gratify an undeniable love for pizza.
Portable pizza ovens, like Ooni, allow pizza lovers to whip up a good-tasting dish anytime. From wood-fired flavor to electrified convenience, it's a win-win in every slice!
Are you ready to achieve the ultimate pizza you'll ever know in the comfort of your home? If you are, get that oven up and running, and let's start assembling the pizza.
Here are 20 superb pizza recipes cooked in an Ooni pizza oven.
A cheesy pizza with a satisfying cheese pull always makes it at the top of the list of a pizza lover kid. Even adults enjoy this easy-to-assemble pizza, cooked in less than an hour. Steph Standen shares some tips on the blog for using an Ooni pizza oven to avoid burned edges. So fret not if your pizza oven is new and you still need to gain experience.
Have you tried sourdough pizza at any pizzeria? Sourdough gives more pizzazz with its flavorful, tender texture and easier-to-digest properties. Kitchen & Craft shows the step-by-step fermentation process until baking with an Ooni Koda.
Tim topped it with mozzarella and parm, shaved Brussels sprouts, pancetta, and egg. Heads up! It might take a whole day to ferment the dough – but rest assured that it tastes exceptional.
Who's up for some homemade bar-style pizza? This pizza recipe uses high-intensity heat in an Ooni pizza oven. It helps achieve well-caramelized toppings and seared meat. It is also an enhanced version of the traditional, thanks to added flavoring herbs and spices. With the innate extra thin crust of the pizza, it makes the perfect fold-over meal.
4. Easy Homemade Pepperoni Pizza in the Ooni
Pepperoni pizza is the "always present" pizza type at any family gathering. Its savory taste and spicy notes cater to the masses' palate. Not to mention that it goes well with a malty beer, perfect for a weeknight. Mike Mullen shows how to make a simple New York-style pizza with generous pepperoni. Baked under a 500-degree pre-heated Ooni oven, it gives the pizza a crisp bottom and soft top.
Macheesmo's tuna pizza with capers recipe may sound all Greek to you – but it tastes just as tuna sandwich melts. It is perfect if you want light toppings yet have big flavors. They cooked the pizza in an Ooni, giving the tuna a little charred in spots. Add a dollop of arugula and a few lemon zest if you want an extra zing and freshness.
6. New York Pizza on the Ooni Karu 16 
This recipe gets a nod to today's classic New York cheese pizza – thanks to the science behind it! The dough undergoes a cold-proving technique that takes 24 to 72 hours. Refrigeration slow-up the fermentation process, allowing the yeast to work with the sugars. With this lengthy time, expect a complex structure dough with a deeper flavor and texture. Indeed, you'll receive good things when you wait.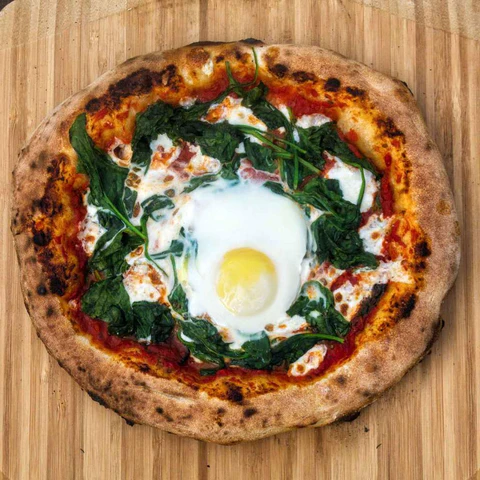 Creamy cheese, spinach base, topped with an egg – it's a simple combination yet appetizing! And to achieve the perfect leopard spots, the pizza bakes in a 500-degree Ooni with a baking stone inside. If you don't fancy an egg on your pizza, it's alright not to crack one. But remember to drizzle some olive oil to add fragrance and layer in every bite.
8. Smoked Salmon Pizza Using Oonin Koda 12
Inspired by Wolfgang Puck's smoked salmon pizza, Chef Tuan created his version you can try at home. This recipe combines the flavor of sour dill cream, smoked salmon, and sweet red onion. Also, pay close attention to the toppings layering; so no fresh salmon goes to waste. Serve this elegant-looking pizza on date night or when you feel fancy to elevate the mood.
If you plan to make your kids eat healthy in a fun way, try out this spinach and artichoke pizza recipe. Spinach and artichoke may be an unusual combo to the eyes of the kids. But they won't notice it anyway because of the white sauce and layers of cheese. Lay out an array of toppings, and let your kids get wild on garnishing their pizza slices to engage them.
10. Cajun Shrimp Pizza
Here's another pizza for all our seafood-lover readers! Chef Tom shows how to assemble a Cajun shrimp pizza using an Ooni to bake. The shrimp soak in a BBQ marinade to pump in flavors before topping the pizza.
Additionally, the Cajun bechamel sauce packs a flavor punch, bringing every ingredient together. If you want to optimize the use of your Ooni oven with all the ingredients, try this recipe.
Who said vegetables and meatless meals have to be plain and boring? This recipe is meat-free yet breaming with flavor goodness. We also reckon it could be the next family favorite during meatless Mondays or game nights.
The pizza has layers of freshly sliced vegetables and mozzarella that cook perfectly in an Ooni oven. It bakes within 2 to 3 minutes, turning every 20 seconds for even cooking.
12. BBQ Pulled Pork Pizza
When we hear pulled pork, oozing savory sandwiches fill our minds instantaneously. And while it tastes magnificent on bread, pulled pork aces it on a pizza. Jepgato uses a Kamado Joe to smoke the pork and an Ooni Koda to bake the pizza. The toppings only need a few ingredients to avoid overpowering the smoked pork. Also, if you agree that pineapple goes on pizza, you'll love this recipe in no time.
Are you up for some white pizza to add to tonight's menu? Despite not having tomato sauce, this recipe stands out with its flavorful toppings. Shaved potato slices, crumbled bacon, and sour cream — all lining the pizza to entice your taste buds. Then, bake in an Ooni pizza oven for 3 to 4 minutes for that perfectly cooked layer of toppings.
14. Detroit Style Oven Pizza
Transform a regular pizza into a textural masterpiece, even if you're a beginner. Detroit-style pizza does not need intricate pizza dough shaping. In the video, Ethan Chlebowski shows how to make a 70% hydration dough that you can finish two or 96 hours in advance. He also recommends the best cheese cut to achieve a better pull, so keep an eye on that information!
Get a restaurant-quality pizza at home without having to go out. And no, we're not talking about pizza deliveries! Inspired by the California Pizza Kitchen menu, here's a pizza you could recreate at home. It has a chewy crust with marrying flavors of a tangy homemade BBQ sauce and juicy shredded chicken. Pop some color by adding herbs for garnish. Voila, a restaurant-grade treat!
16. Caramelized Pineapple, Pepperoni, and Jalapeño Pizza
Who knew that a piece of fruit would divide the pizza community? If you know someone who loath pineapples, this recipe might convince even the stalwart of critics. The caramelized pineapples on this pizza have olive oil and salt seasoning to render it less sweet. It is also pre-cooked to add bits of char and pocket for juiciness. Give this recipe a shot, and let's see the final verdict.
Make your pizza close to authentic ones in Italy with an Ooni wood pellet pizza oven. Laura Strange shares how she made this gluten-free pizza using Mulino Caputo Fioreglut. She also listed some pizza sauce and cheese recommendations to keep it gluten-free. Keep a tab on this pizza recipe. Even your gluten-eating friends can enjoy this delightful treat.
18. Neapolitan Style Pizza
Do you have an Ooni Pro Pizza Oven at home? Try out this gorgeous Neapolitan-style pizza at your next family get-together. In the video, you'll learn some tips on creating pizza dough with a springy texture and enhanced flavor. The toppings are kept simple with some cheese, basil, and a sprinkle of olive oil. Feel and flavor-wise: it is the dough that makes all the difference.
Want some pop of fall palette on your pizza? Add butternut squash to your pizza and incorporate it with bacon, sage, caramelized onion, and balsamic drizzle. This pizza recipe greets the palate with a sweet and savory flavor with a blanket of slightly salty cheese. It bakes in an Ooni for 60 seconds to create a crisp crust. Ever so, it is a firework of flavor dancing in your mouth.
20. BBQ Chicken Pizza Using Ooni Koda
Give your BBQ chicken pizza an added smoky flavor using an Ooni Koda Gas-fired pizza oven. From a channel dedicated to creating a pizza, you'll see a four-ingredient dough recipe that can be your go-to pizza base. With the right temperature on your Ooni, you can achieve a flecked char all over the crust. Yum!
Summary
So there you go! Twenty pizza recipes using an Ooni pizza oven to keep on your tab. Now for the anticipated question. Which recipe will you try first for later's pizza party celebration?
With a range of alternatives, we're sure you'll chance upon a pizza recipe that will captivate your heart and tummy.
20 Superb Pizza Recipes Made With An Ooni Pizza Oven
Directions
Select your favorite recipe.
Organize all the required ingredients.
Prep the recipe in 30 minutes or less!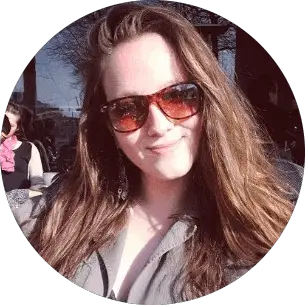 Barbara is an enthusiastic food-exploring person that goes through different culinary experiences. She got inspired by creating a pizza blog post after she tasted one of the best-selling pizzas in Toledo.