What's your favorite part of making pizza? Professional cooks will tell you it's kneading the dough – which is probably the worst part for novices! Also, making dough always looks easy on YouTube, but wait till you try! So pita pizza recipes can feel like a lifesaver and a godsend.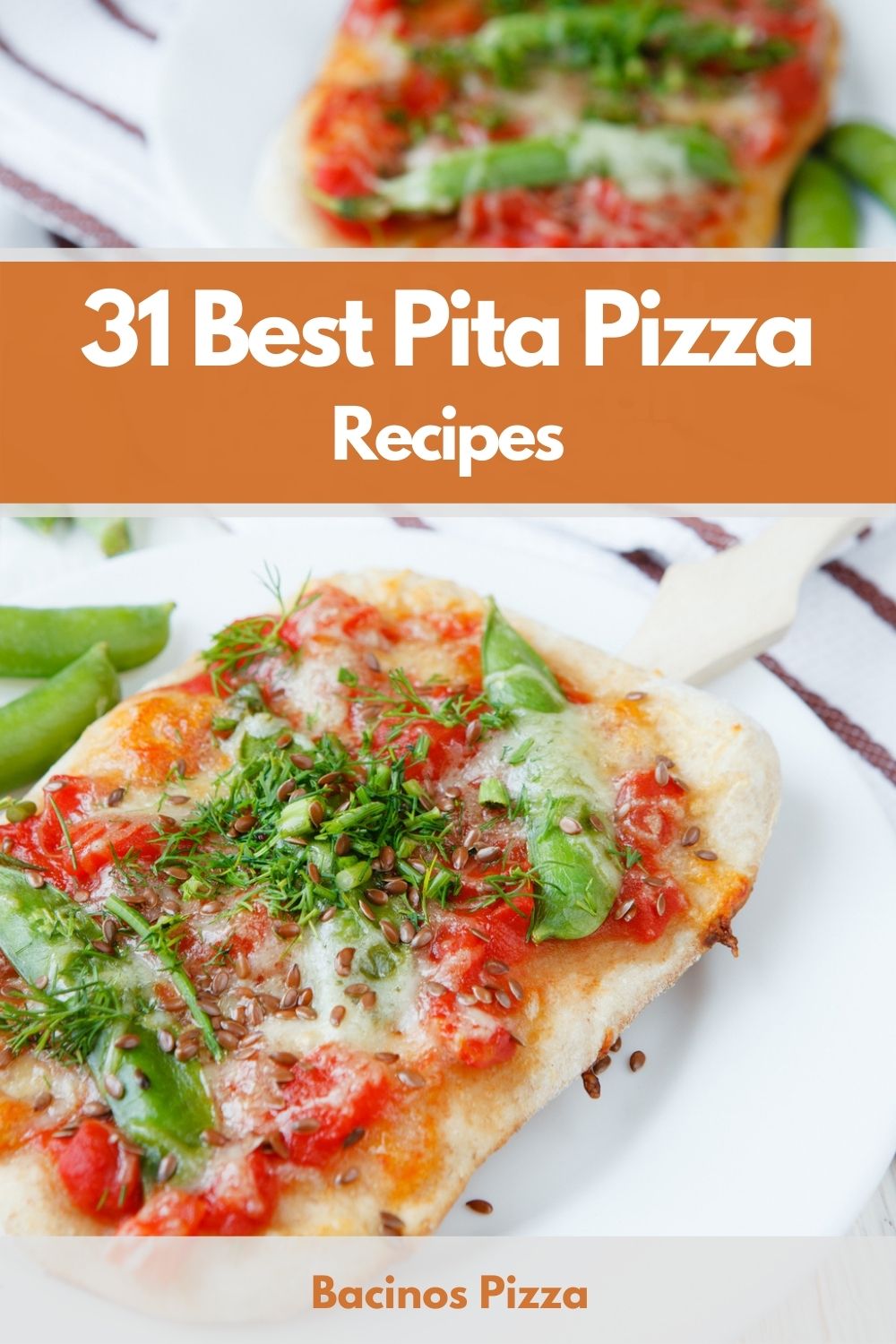 Pita (sometimes spelled as 'pitta') is a soft, hollow flatbread. It's commonly slit open for stuffed sandwiches. Naan is a similar-looking flatbread, but the dough is enriched with eggs and dairy. So you'll probably see some naan pizza recipes on this list. Let's get started!
1. Ten-Minute Pita Pizza
We'll begin with something quick and simple. It's ready in ten minutes because the pita is prebaked. You just need to melt the cheese. Toppings include mushrooms, olives, and cherry tomatoes. Slice the pita sideways, being careful not to crumble it. Put tomato sauce on the crumby side and add the toppings. The toppings should be thin to avoid breaking the base.
Some say using store-bought pizza dough is cheating. So what would they think of using flatbread that's already baked? Luckily, their opinions won't affect your taste buds. So when you need a toasty pizza in minutes, just load those toppings on your pita. In this recipe, the bread isn't sliced – just warm the pita and add marinara, olives, pimento, and blue cheese.
3. How Do You Do Pita Pizza
By the way, in proper Queen's English, when someone asks 'How do you do?' you should respond with 'How do you do?' In fairness, only the Queen and her kin actually do it … and there's no protocol for responding to the response without getting into an endless loop!) Back to pita pizza recipes. Top yours with mushrooms, greens, pizza herbs, and cheese.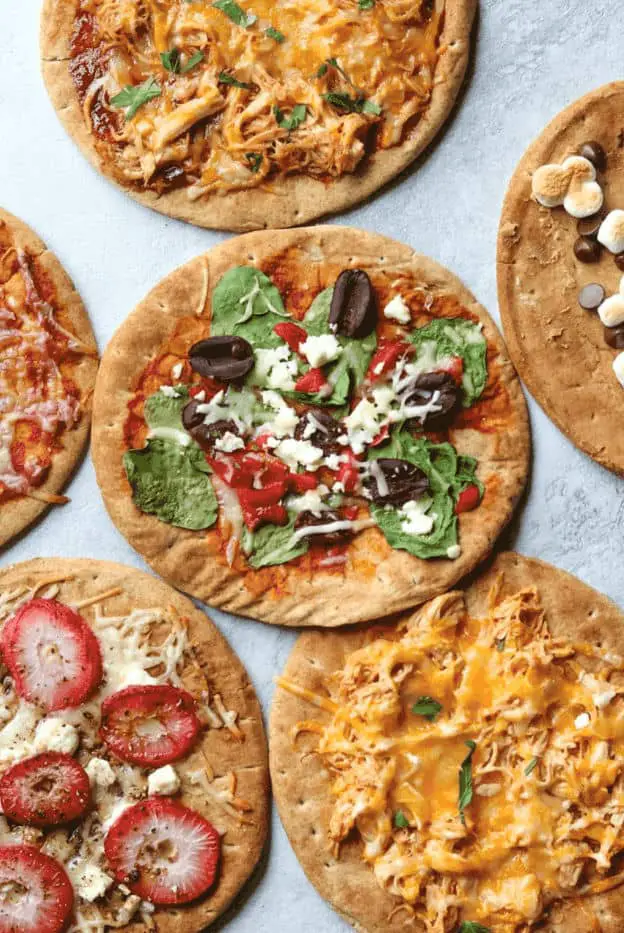 Peanut butter! This pita pizza recipe has peanut butter! Well, one of them does – the recipe has several toppings variations. These include shredded chicken + hot sauce + cheddar; sliced strawberries + feta; shredded pork + bbq sauce; spinach + kalamata olives + feta; and my sweet personal favourite, peanut butter + chocolate chips + s'mores. You're welcome!
5. Ethan's Hummus Chicken Pita Pizza
This seemingly simple pita pizza is filled with complex flavors. It's bigger than usual because he used a non-fluffy Lebanese pita base. You can use other non-hollow breads like roti, tortilla, or lavash. And the entire pizza is a smidge under 800 calories. Use hummus as your pizza sauce and precook the chicken. Finish with fresh veggies for texture and garnish.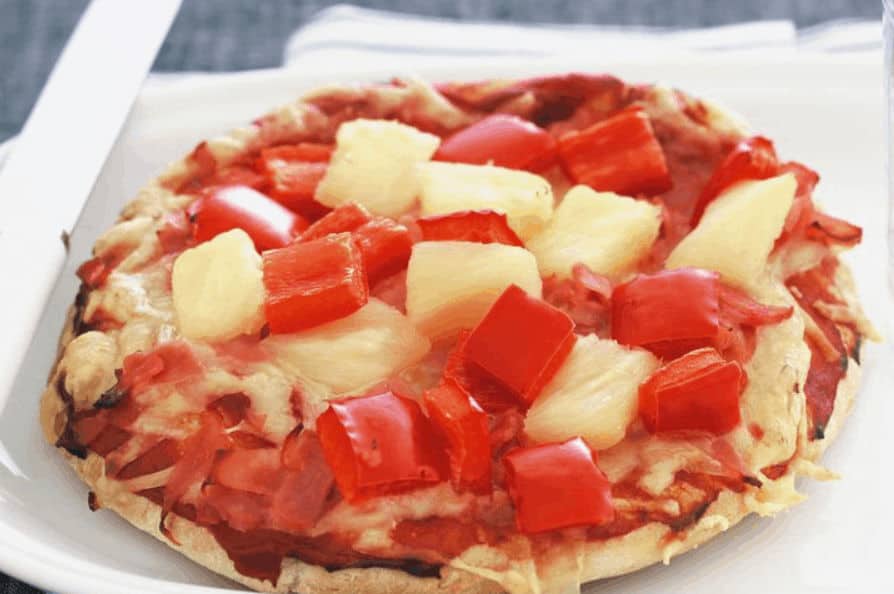 This recipe includes ingredients such as pineapple and ham. This pizza is densely packed with pineapple wedges, diced tomatoes, finely chopped bell peppers, and lean shaved ham. No, it doesn't mean other ham is hairy – it just means the ham comes in super-slim slices from a commercial blade. Use tomato paste as your pizza sauce and top the pita without slicing it.
7. Puffy Pita Pizza Sandwich
Often, pita is used generically in the pizza space. It could refer to crisp flatbreads like roti or softer ones like naan. You can also use shawarma bread. The spicy flavor in this shawarma pizza comes from the tikka mayonnaise and chicken marinade. This marinade includes dairy and tandoori. The double-crust pita pizza has a chili garlic red sauce and a fluffy cheesy top.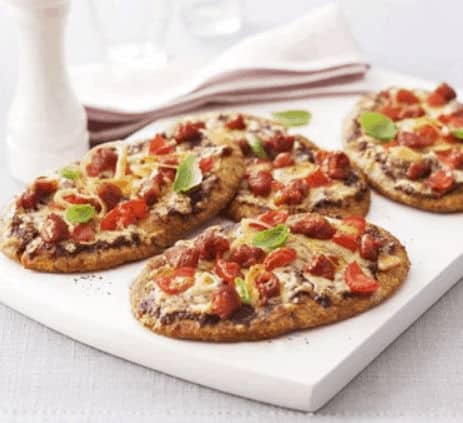 If you're baking your pizza on a sliced pita, you need toppings that are light and dry to hold the bread together. For heavier toppings, you could do a pita pizza sandwich, stuffing the fillings between two whole pitas. Or you could top a single unsliced one. This pita pizza has cherry tomatoes and diced chorizo sausage. The red purée comes from sundried tomatoes.
9. Time Cheater Pita Pizza
Pita pizza recipes are the quickest you can get. And if you're not fussy, you can buy all your ingredients ready-made, including cheese singles or pre-shredded cheese, marinara in a jar, and ready-to-eat pita bread. Then all you do is spoon on the sauce, add the toppings, and bake until it reaches your preferred crispness or brownness. He uses homemade sauce here.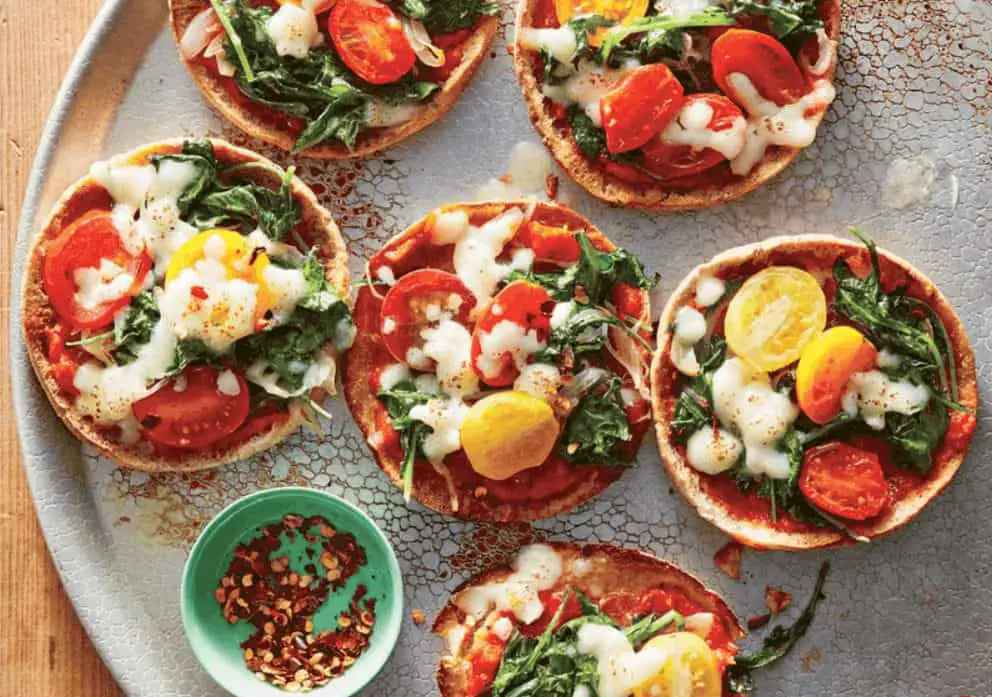 You might be the type of pizza lover who gets pissed at 'healthy pizza'. Or you may have changed your lifestyle and are looking for ways to have your cake pizza and eat it. Keto pizza is one. Their veggie crusts or protein crusts are king! Another option? Less cheese, more kale. This pita pizza is topped with chili flakes, cherry tomatoes, kale, and just a smidge of cheese.
11. Dimitra's Three-way Pita Pizza
You no longer need to start family feuds over which pizza flavor to order. Instead, whip out a pack of pita and fill the countertop with large bowls of topping options. You can even offer sauce varieties like pesto, red sauce, white sauce, ranch, or salsa. Then everyone can use what they want. Pita pizza recipes are a fun way to use up all your leftovers as toppings.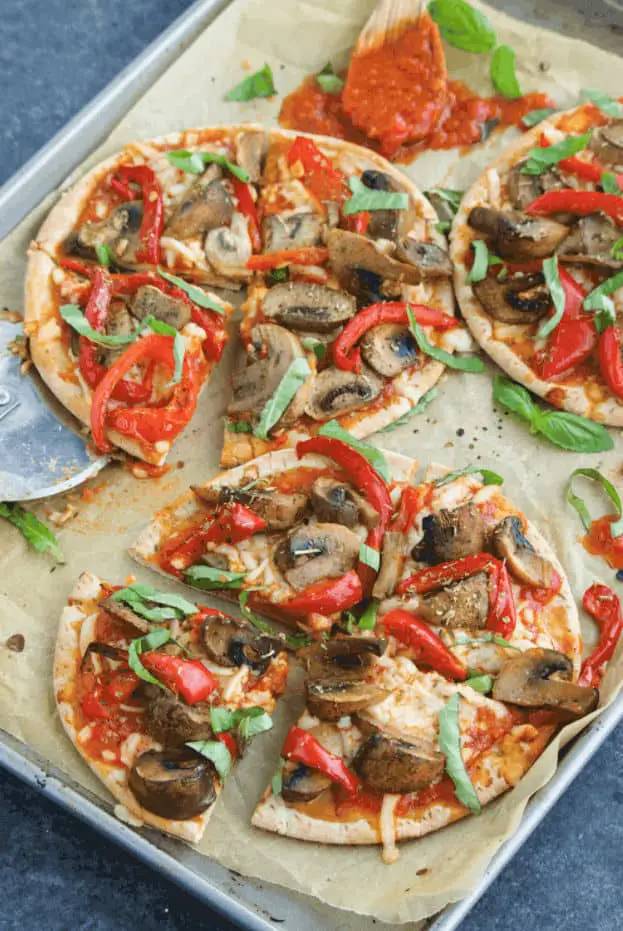 Some people perceive vegans (and carnivores) as having extreme views and lifestyles. But their food is pretty good, so it's worth trying out this vegan pita pizza recipe. It uses vegan cheese, vegan pita, Italian seasoning, and basil. For the toppings, use a red sauce, red roasted bell peppers, and cooked cremini mushrooms with powdered onion and garlic.
13. Pita Pizza Dinner Mix
It's easy to say pita pizza recipes are good for leftovers. But you may want more specific guidance on how you can combine said leftovers. First, decide if you want a fluffy pita (like naan) or a crispy pita (like the Greek or Lebanese kind). Hollow pitas are better for pizza parcels and pouches like these. Topping options include pepperoni, pineapple, and bacon.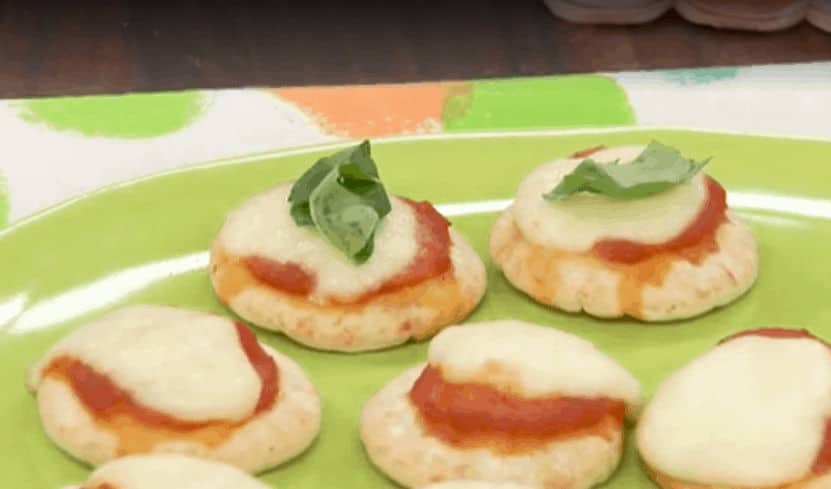 While it does make a lovely rhyme, you'll more often see this pizza spelled Margherita (while margarita mostly refers to the cocktail). Semantics aside, these pizzas are assembled on mini pitas and topped with red sauce, bocconcini, and shredded basil. Bocconcini are small balls of fresh mozzarella, so you can plant one on each pita. Bake briefly for 8 to 10 minutes.
15. Mushroom Pita Pizza
Mushrooms are strangely controversial. It's always a good idea to wipe them instead of washing them so they don't get soggy. You can precook them but if you want to bake them from raw, use thin slices to ensure they cook through. For this pita pizza recipe, the mushrooms are sautéed in a wok before topping. The pizza also has chili, onions, and two types of cheese.
For those who love color on their plates, this rainbow pita pizza recipe is pure heaven. And the toppings are arranged in rows or spirals so you can fully enjoy this palette for your palate. Toppings include red cherry tomatoes, yellow sweetcorn, green broccoli, orange bell peppers, and purple from onions, cabbage, radishes, or beetroot (which are all labeled 'red').
17. Pepperoni Meatball Pita Pizza
You could roll mini meatballs from uncased sausage. Or use leftovers from a spaghetti-meatball dinner earlier in the week. You could also buy pre-made meatballs from the pizzeria or the store. You might make mini pita pizzas using a whole meatball on each one, or slice them to avoid weighing down crispy pita. You could even dice them for a cheesy pita pocket.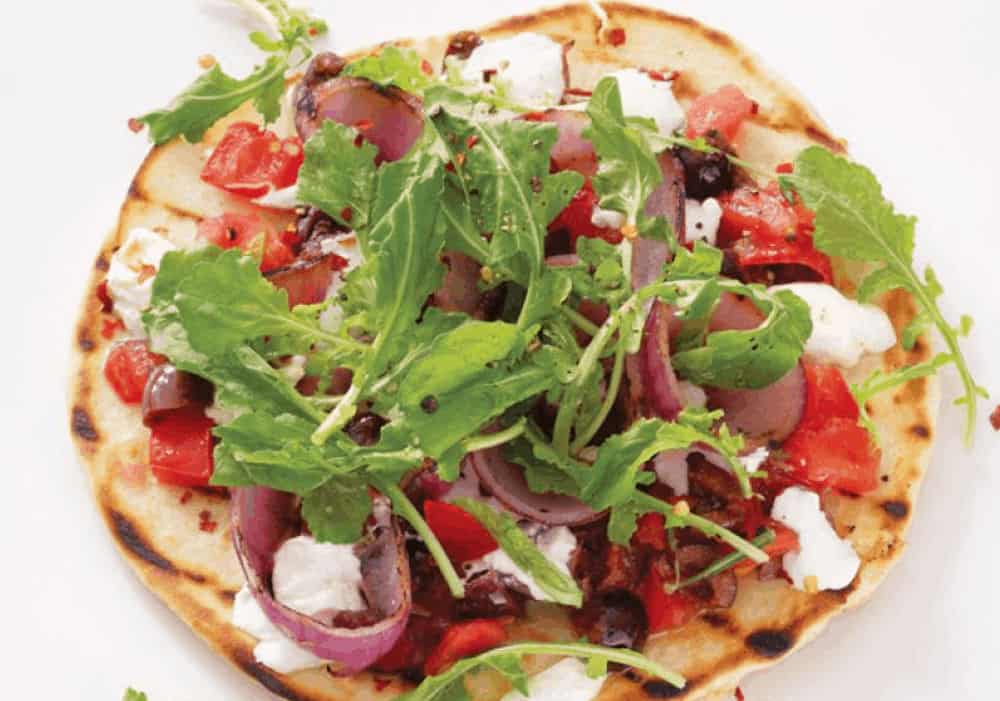 Most pizza recipes rush for mozzarella. It has that trademark pizza gooeyness and its flavor is characteristically mild so it goes with everything. But you could try different cheeses to mix things up. This pita pizza recipe has both mozzarella and ricotta. Other toppings are baby arugula, diced tomatoes, olives, and rosemary. This pizza has no sauce – just brush olive oil.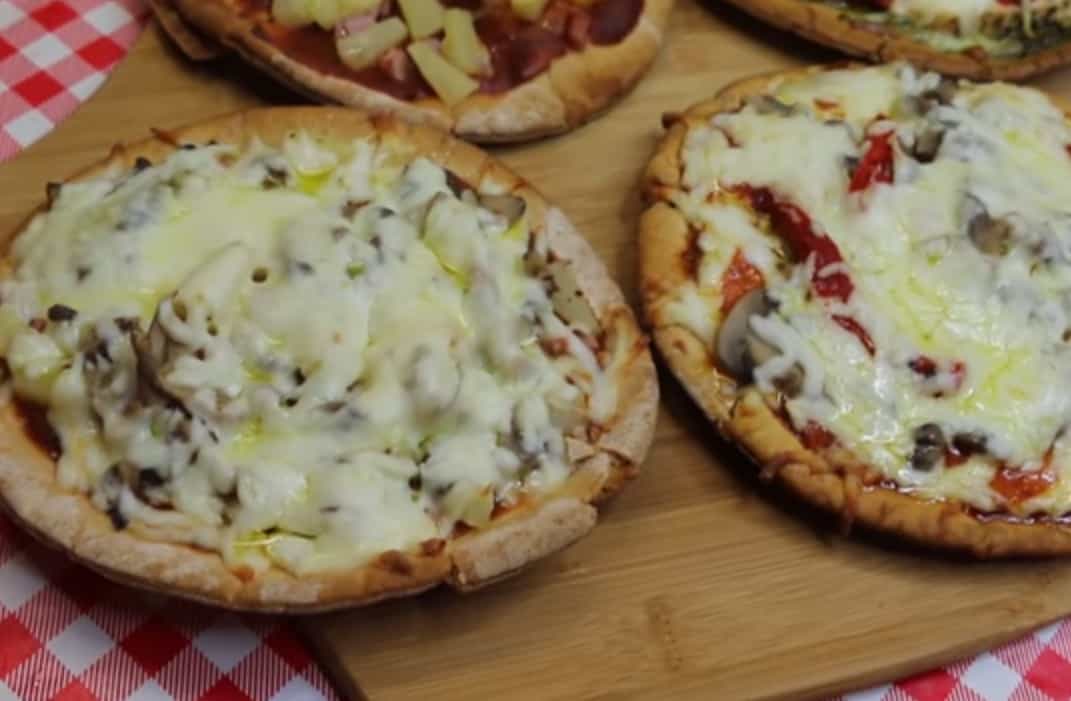 We assume self-service pizza parties are just for kids and sororities. But adults can enjoy a pizza bar too. It just means you can have more risqué toppings (meat marinated in brandy, beer, or wine, for example). Or include the fillings that kids avoid – things like mushrooms and olives. Other suggestions are anchovies, broccoli, pesto, chilies, and sharp cheese.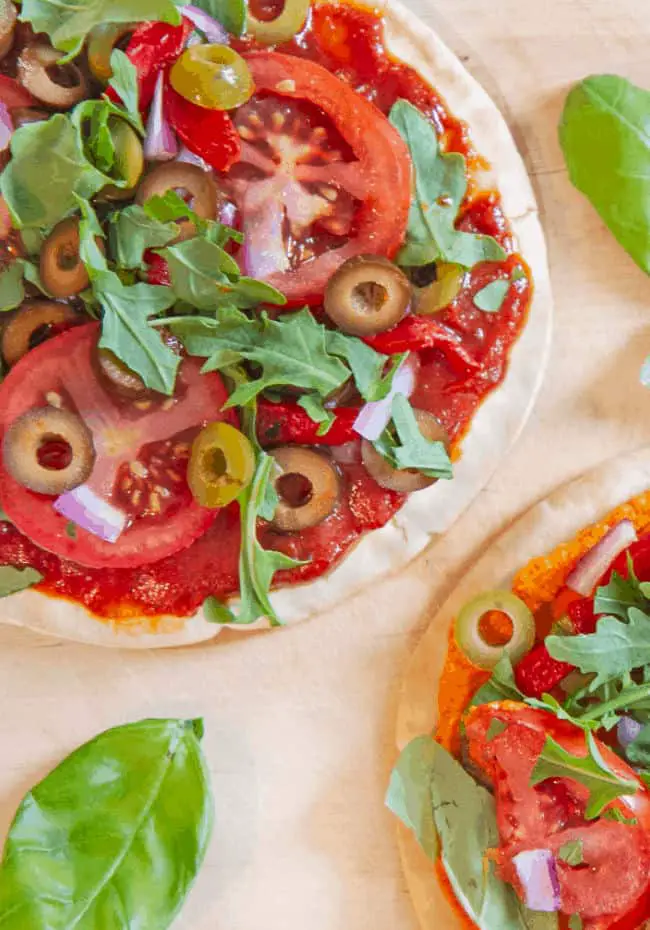 What happens when you get a pita pizza recipe from a doctor? Well, it depends on the doctor. But with modern medics, your pizza won't necessarily be bland. It may end up being quite tasty. Try this pita pizza as an example. It's recommended by the Physicians Committee for Responsible Medicine. And it contains goodies like hummus, olives, arugula, and thyme.
21. Pita Pizza For Us Foodies
When you want a quick fix, get a good brand of jarred marinara. (Or just spice a can of tomatoes with pizza herbs.) The toppings you can try here are cheese singles, red + yellow bell peppers, salami or pepperoni, jalapenos, and cooked sausage. Remember, the white 'ribs' is where the chili hides in your jalapenos, so keep them or slice them out as needed.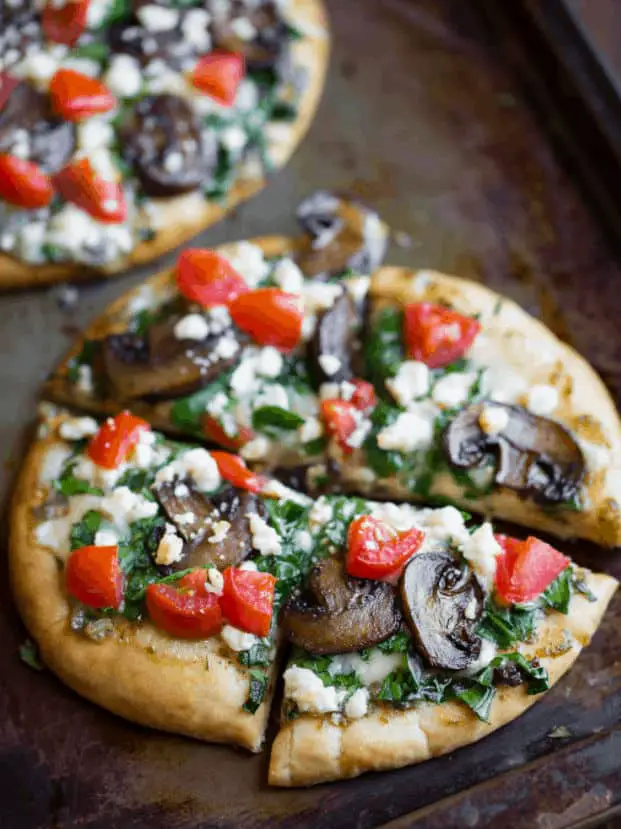 Lots of us assume the only pizza sauce choices are red sauce, white sauce, or no sauce. But we've seen tons of sauce substitutes on this list so far. They can be as simple as bottled barbeque sauce or as complex as homemade chili pesto. Which is what we're using here. The pizza also has feta cheese, spinach, mushrooms, tomatoes, red pepper flakes, and mozzarella.
23. One Kitchen Pita Pizza
This channel really does have a thousand ideas. And they're all cute, quirky, and tasty. The pita bread is sliced sideways and the toppings are put on the crumby side. Toppings include shredded cheese, shredded ham, pepperoni, and homemade red sauce. Pita pizzas can be frozen and thawed later, but you should ideally eat (or freeze) immediately or they get soggy.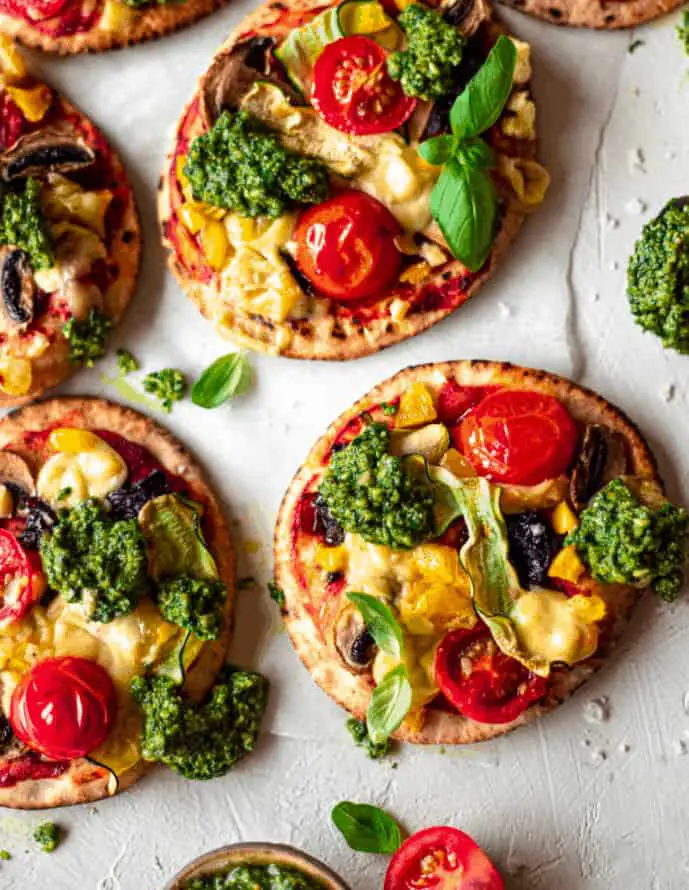 Gluten-free, dairy-free, vegetarian, keto, and even carnivore diets can sometimes stem from medical recommendations. They might be inspired by allergies or weight loss. A vegan diet is chosen to avoid supporting cruelty to animals. This means vegan dishes aren't necessarily allergy-friendly. All this is to say … this vegan pesto has pine nuts … and vegan cheese is often nutty too so grab that Epipen!
25. Bodybuilding Pita Pizza
Some say bodybuilding is an art rather than a sport. You craft these beautifully bulging muscles and aesthetics are everything! So your diet needs minimal carbs and lots of protein. This pita pizza recipe has 178 calories, 6g of fat, 8g of protein, and 13g of carbs. The toppings include lite mozzarella, fat-free cheddar, turkey pepperoni, butter spray, and low-carb sauce.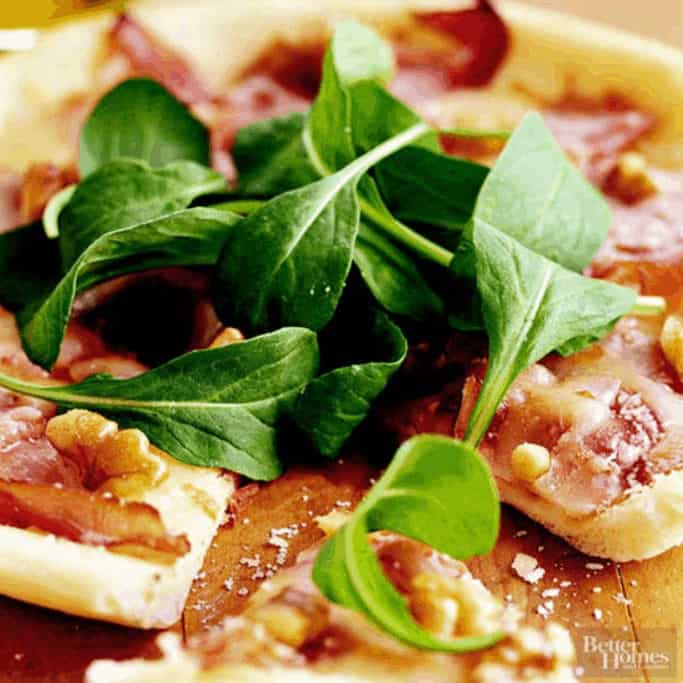 Prosciutto is a type of smoked ham. So when Italians put it in pizza, they add it last after the dough and toppings have left the oven. It's almost a garnish and will be mixed among shredded basil or torn parsley. That's the case here. The pita bread is warmed then slathered with tomato sauce and cheese. Bake it for about 7 minutes then add the basil and prosciutto.
27. Rob Riches Pita Pizza
Here's another bodybuilding pizza. Keto livers prefer veggie no-carb crusts, but bodybuilders still want a bit of carb to build mass. This episode of Fit Foods promises a 300-calorie pizza with a whopping 35g of protein. The trick? Small pita base, filling high-protein toppings. Rob uses onion, red bell pepper, sliced tomatoes, chicken, mushroom caps, greens, and cheese.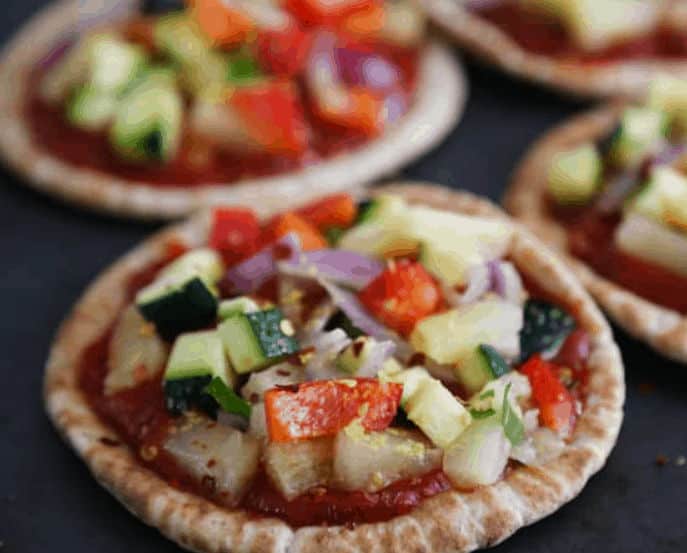 Ham and pineapple go well together, yes. But you can also get tongue-tingling textures and flavors by mixing sweet fruit with sour veggies. And this pita pizza recipe does just that. Start with pasta sauce. Then top the thick pita with pineapple, zucchini, bell pepper, basil, and onions. Finish with a sprinkling of pizza herbs, pepper flakes, and/or nutritional yeast. #
29. Hummus Pita Pizza Three Ways
Hummus makes a protein-packed alternative to pizza sauce. Pesto does too, though it's not as protein-heavy. All three pita pizza recipes are baked on crispy pita with a thick foundation of hummus. And they're all topped with cherry tomatoes, red onions, and chili flakes. But the second pita pizza adds pesto and walnuts while the third has jalapeno slices for extra heat.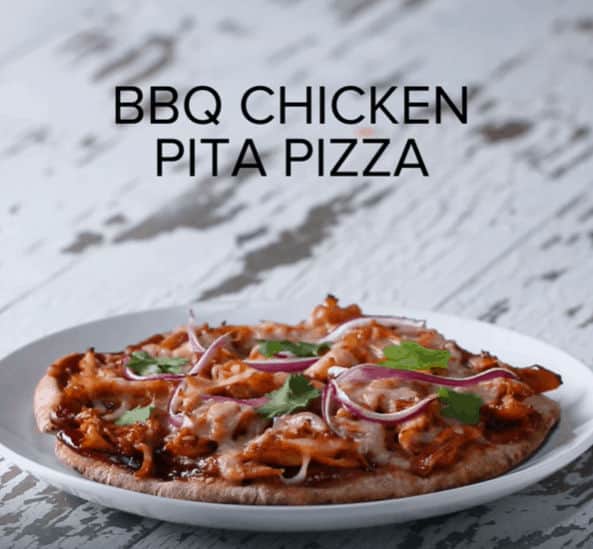 What's the quickest way to make BBQ chicken? Shred some cooked chicken breast or leftover rotisserie chicken and marinate it in bottled BBQ sauce. This works for leftover turkey too. Use more of the BBQ sauce on the pizza base as a red sauce. Spread the chicken over the red sauce then follow with shredded mozzarella and red onions. Garnish the pizza with cilantro.
31. TPC Breakfast Pizza Pita
As an adult, so yes, you can have pizza for breakfast. And yes, it can be a healthy choice. This version has 410 calories per pita pizza. That's 39.5g carbs and 30.5g protein. It also has 4g of sugar and 14.5g of fat. TPC tops his breakfast pita pizzas with kale or spinach, cheese, red sauce, bacon, and scrambled eggs (cook one whole egg plus three egg whites).
What's your favorite pita pizza recipe? Let us know the ingredients and how you make it!
31 Best Pita Pizza Recipes
Ingredients
Ten-Minute Pita Pizza

How Do You Do Pita Pizza

Ethan's Hummus Chicken Pita Pizza

Puffy Pita Pizza Sandwich

Time Cheater Pita Pizza

Dimitra's Three-Way Pita Pizza

Pita Pizza Dinner Mix

Mushroom Pita Pizza

Pepperoni Meatball Pita Pizza

Noreen's Palooza Pita Pizza Bar

Pita Pizza For Us Foodies

One Kitchen Pita Pizza

Bodybuilding Pita Pizza

Rob Riches Pita Pizza

Hummus Pita Pizza Three Ways

TPC Breakfast Pizza Pita
Directions
Select your favorite recipe.
Organize all the required ingredients.
Prep the recipe in 30 minutes or less!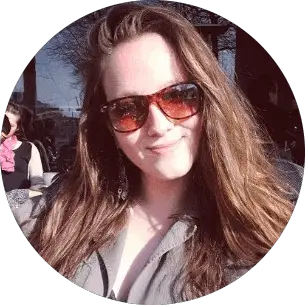 Barbara is an enthusiastic food-exploring person that goes through different culinary experiences. She got inspired by creating a pizza blog post after she tasted one of the best-selling pizzas in Toledo.