Anchorage, Alaska, is the largest, most populated city in the state, and its cold climate makes it perfect for enjoying some delicious, hot, and cheesy pizza. You can choose an old-school classic like pepperoni and Canadian bacon, or you can try some local toppings like salmon or reindeer.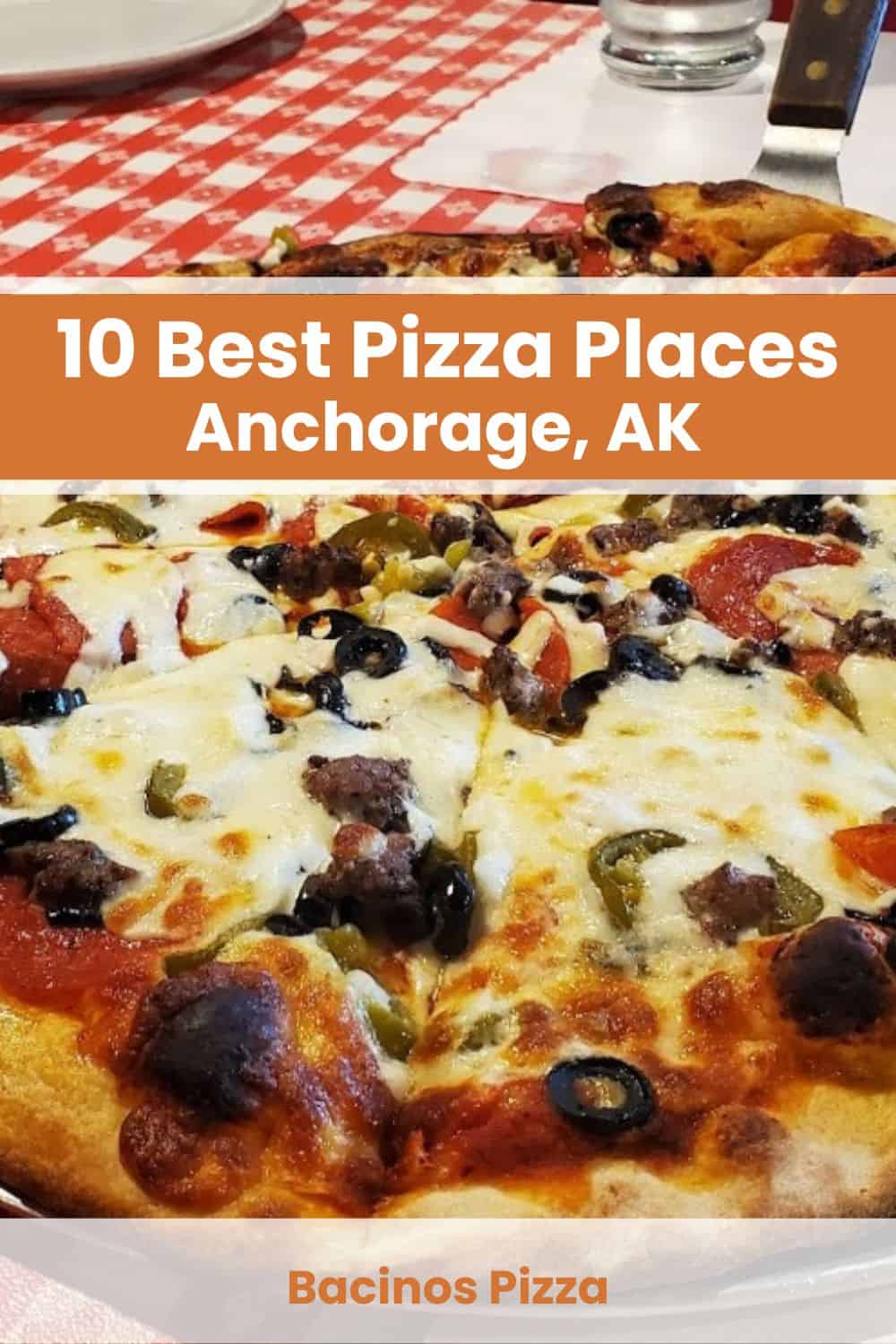 Whether you prefer a cozy hometown diner, a fun bar, a delivery to your home, or a gourmet restaurant, you can find excellent pizza in Anchorage. After you check out some of the area's excellent museums and other attractions, you can stop for lunch and get a slice. You can order a huge pie and have dinner with friends or family members. Here are some restaurants and other places you can visit for the best pizza in Anchorage.
Price: $$
Address: 3300 Old Seward Highway, Anchorage, Alaska 99503
Phone: 907-258-2537
Moose's Tooth Pub & Pizzeria is a popular favorite among locals. You might have to wait a bit for a table, but you can spend your time enjoying an excellent microbrew. For lunch, you can choose a slice of cheese or pepperoni pizza or the daily pizza special. You can add a salad with no meat, chicken, or salmon as well.
For dinner, try the Aloha Escape with Canadian bacon, pineapple, mozzarella, provolone, and marinara sauce. The Call of the Wild has reindeer sausage, steak, bacon, mushrooms, green onions, red peppers, garlic oil, garlic cream sauce, provolone, and mozzarella.
Price: $
Address: 500 Muldoon Rd. #1, Anchorage, Alaska 99504
Phone: 907-333-7711 or 907-333-8111
Muldoon Pizza has delicious pies and a fun, casual atmosphere. You can select a regular or thick crust, and lots of toppings are available. Meats include pepperoni, hamburger, salami, Canadian bacon, and Italian sausage.
You can also pick green peppers, mushrooms, jalapeno peppers, onions, black olives, anchovies, pineapple, or fresh tomatoes. This place has delicious cheese bread and garlic bread. You can also enjoy a side salad, fries, meatballs, or sausage. If you don't feel like pizza, you can try lasagna, spaghetti, fried chicken, or ravioli.
Price: $$$
Address: 1200 West Northern Lights Blvd., Suite F, Anchorage, Alaska 99503
Phone: 907-222-0888
At Hearth Artisan Pizza, you'll get delicious pizza cooked in a wood-fired oven with organic ingredients. For lunch, personal pizzas are available. The Classico comes with fresh mozzarella, organic tomato sauce, house-made fennel sausage, smoked provolone, mushrooms, Alaska soppressata salami, and red bell peppers.
 Vegetarians can try the Farmer's Pie with organic pizza dough, ricotta, mozzarella, tomato sauce, spinach, mushrooms, roasted garlic, organic olive oil, red onions, and fresh basil.
Price: $
Address: 1207 West 36th Ave., Anchorage, Alaska 99503
Phone: 907-569-6000
Milano's Pizzeria is a small place that makes lots of deliveries. The chicken ranch pizza has parsley, grilled chicken, red onions, fresh tomatoes, mushrooms, mozzarella, feta, and ranch dressing.
The gyro pizza comes with cucumber sauce, garlic butter, gyro meat, feta, mozzarella, mushrooms, onions, and fresh tomatoes. Milano's also offers a great selection of Philly cheesesteaks, subs, and calzones for lunch or dinner. The chicken wings or strips come with mild, medium, or hot spices and ranch sauce.
Price: $$
Address: 610 East Fireweed Ln., Anchorage, Alaska 99503
Phone: 907-278-3439
Sorrento's has gourmet appetizers, delicious pizza, and decadent desserts. You can start with Escargot Champignon, French snails with butter, white wine, and fresh garlic in mushroom cups. You can get stuffed mushrooms with shrimp, Parmesan, crab, herbs, breadcrumbs, and lobster butter sauce as well.
The Fireside pizza comes with Canadian bacon, sun-dried tomatoes, pepperoni, crushed red peppers, and mozzarella. With the Chicken Supreme, you'll get Alfredo sauce, cheddar, mozzarella, Parmesan, mushrooms, chicken, broccoli, and red onions. Desserts include tiramisu, strawberry or turtle cheesecake, and red velvet cake.
Price: $$$
Address: 939 West 5th Ave., Anchorage, Alaska 99501
Phone: 907-726-6000
Fletcher's is part of Hotel Captain Cook, but you don't need to check in to enjoy delicious pizza. The White Sauce pizza has Alfredo sauce, bacon, spinach, caramelized onions, mozzarella, Roma tomatoes, and provolone.
With the Greek pizza, you'll get roasted garlic, artichoke hearts, sun-dried tomatoes, feta, red onion, mozzarella, Kalamata olives, and marinara sauce. Many beers, wines, and cocktails are available. You can also try a delicious nonalcoholic mocktail.
Price: $$$
Address: 530 East Benson Blvd., Anchorage, Alaska 99503
Phone: 907-433-0002
Saverio was born in Naples, Italy, and his restaurant serves authentic Italian food, including pizza. The Clams Casino pizza includes clams, olive oil, bacon, lemon slices, bell peppers, garlic, and mozzarella.
Saverio's Special has pepperoni, ham, Italian sausage, onions, mushrooms, bell peppers, jalapenos, black olives, and anchovies. If you don't want a whole pizza, you can try a calzone with pepperoni, ricotta, ham, and mozzarella or a pepperoni roll with pepperoni and mozzarella.
Price: $$$$
Address: 737 West 5th Ave., Suite 110, Anchorage, Alaska 99501
Phone: 907-724-2739
Glacier Brewhouse offers great pizza and a variety of craft beers made on the premises. It cooks its pizza in a brick oven that reaches 600 degrees Fahrenheit, and the dough rises for 48 hours before cooking.
The double sausage mushroom pizza includes spicy Italian and Andouille sausage made in Alaska, oyster mushrooms, caramelized fennel, house-made marinara sauce, and mozzarella.
With the Thai chicken pizza, you'll get a blend of five cheeses, pickled carrots and other vegetables, toasted peanuts, red onion, red pepper, Thai chili, and cilantro. This popular place can fill up fast, so reservations are required.
Price: $$
Address: 171 Linblad Ave., Girdwood, Alaska 99587
Phone: 907-783-2500
Chair 5 is in Girdwood, a suburb of Anchorage, and it's been around since 1983. You can order a hand-tossed pizza or a large, square deep-dish pan pizza. The Cadillac comes with bacon, pepperoni, mushrooms, jalapeno, pineapple, parsley, and red peppers, and the Meat Lover's pizza has sausage, Canadian bacon, taco meat, regular bacon, and pepperoni.
Appetizers include 9-ounce wild Alaskan halibut chinks with tartar sauce and lemon and buffalo wings with barbecue, traditional, or teriyaki sauce.
Price: $
Address: 11700 Old Seward Hwy., Anchorage, Alaska 99515
Phone: 907-349-3799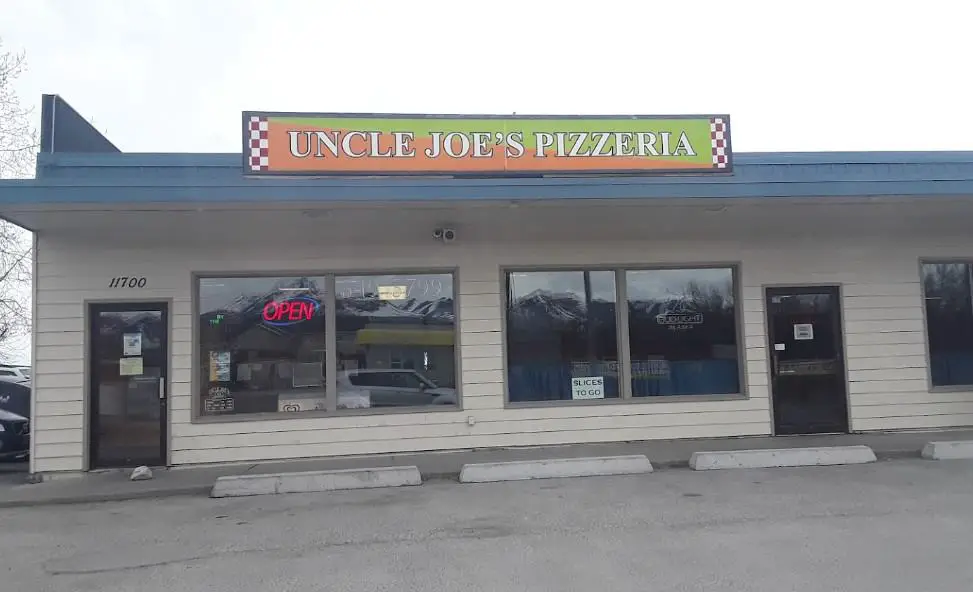 Uncle Joe's Pizzeria has a variety of delicious pizzas. The bacon cheeseburger pizza has bacon, hamburger meat, mozzarella, red onion, lettuce, Roma tomatoes, cheddar, and thousand island dressing.
With the Saint Nick, you'll get reindeer sausage, marinara sauce, chicken, pepperoni, roasted red peppers, provolone, mozzarella, and fresh cilantro. The Greek salmon pizza comes with garlic sauce, black olives, mozzarella, feta, tzatziki sauce, Roma tomatoes, smoked salmon, red onions, and parsley.
Summary
At these excellent restaurants, you can find the best pizza in Anchorage. Your options include thin-crust, traditional hand-tossed Italian pizzas, deep-dish pies, and more. You can also try lots of local ingredients and outstanding appetizers. Whether you want a casual place, a gourmet restaurant, or a convenient delivery, Anchorage offers many choices.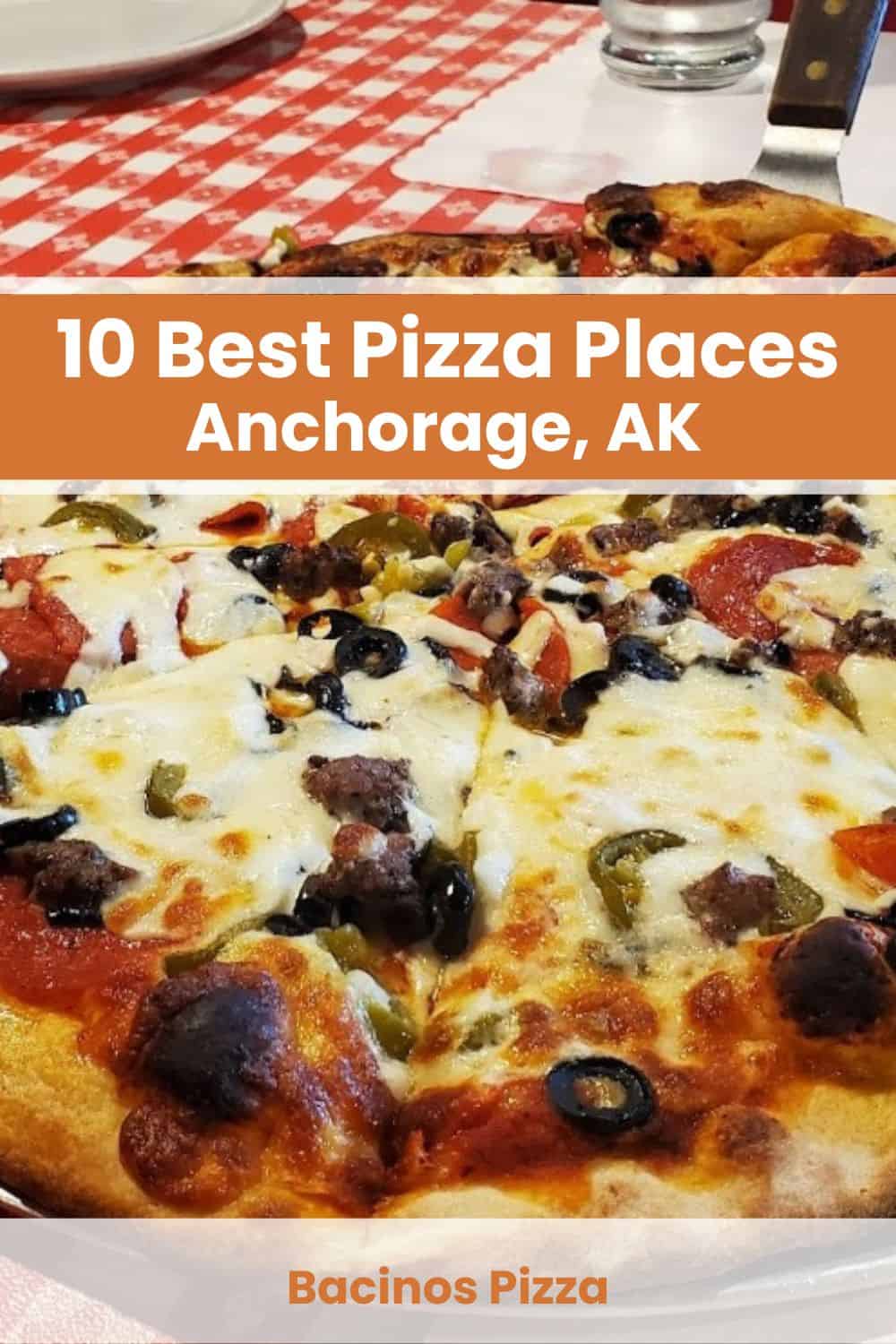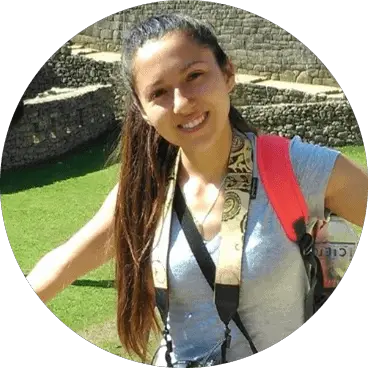 Kathryn's love for pizza started when she was still young. When she was young, she's been a picky eater–that's what her Mom used to say. The only food that she enjoyed and loved was pizza–until now! Her love for pizza turned into a passion!