When you think about the best pizza cities in America, you picture New York, Chicago, San Francisco, or Miami. Nobody associates Toledo.
Is Toledo, being overlooked by pizza lovers?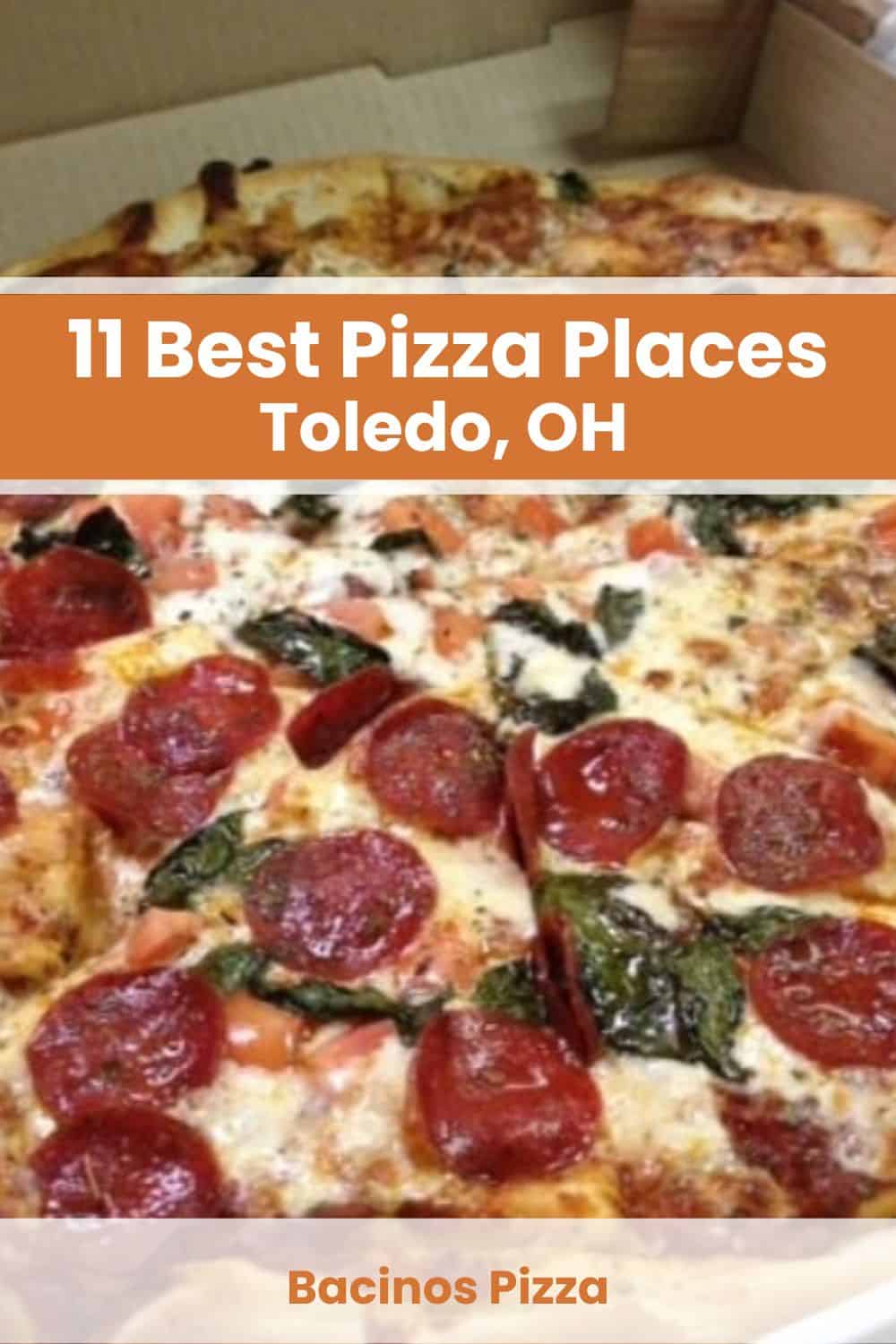 Ohio has a vibrant food culture, and Toledo is no different. This city has influences from Polish, German, Serbian, and Italian Communities. All these influences are evident in Toledo's Pizza.
We set out to find the best pizzerias in Toledo. We combed through tons of reviews on Yelp, Google, and Travel Advisor. From established chains to humble mom-and-pop pizzerias, we've got them all.
For our cost rating, we used the key below:
$- Cheap Pizza
$$ – Affordable
$$ – Expensive
Join us as we countdown to the best Toledo pizzeria.
Price Rating: $$
Location: 3115 W Bancroft Street, Toledo, OH 43606
Phone: +1 419-720-1818
View this post on Instagram
"Good food, service, and atmosphere" are the three common praises among reviewing customers. The Stubborn Brother Pizza specializes in New York-style pizzas. The atmosphere is busy, loud, and sometimes rowdy.
It's the perfect place to gather around some pizza and watch a game. There's also a fine selection of craft and draft beers to wash down the crunchy crust. The rowdy atmosphere may not be ideal for toddlers, but your older kids will love it.
Price Rating: $
Location: 3550 Executive Parkway, Toledo, OH 43606
Phone: +1 419-531-2400
Regarding dining experience, ZaZa Wood Fired Pizza wins by a mile. The colourful lights outside are a sight to behold. It makes the pizzeria pop and stand out among the dull row of shops.
The inside isn't any different. The pizzeria complements its fantastic ambiance and courteous staff with an amazing pizza selection. And as its name suggests, they cook wood-fired pizza.
ZaZa's pizzas are thin and flavorful, with crunchy crusts.
Besides the broad pizza menu, ZaZa Wood Fired Pizza also offers a selection of classic Mediterranean dishes. Whenever you find yourself near the Executive Market Place, Toledo, make a point to visit ZaZa Wood Fired Pizza.
Price Rating: $
Location: 4336 Monroe Street, Toledo, OH 43606
Phone: +1 419-473-1223
This pizzeria specializes in Italian cuisine. Jo-Jo's Original Pizzeria is the home of pizza, Pepperoni, fish, and lasagna. The pizzeria's courteous staff and homey ambiance is the key to Jo-jo's success.
Whether you decide to take out or dine in, Jo-jo's pizzas pack a punch every time. The pizzeria is an excellent hangout location with seductive neon lighting. It is also the perfect venue for birthday parties and romantic evenings.
Jo-jo's Original Pizzeria deserves its spot among the top 10 Toledo pizzerias.
Price Rating: $$
Location: 6636 W Bancroft Street #2, Toledo, OH 43615
Phone: +1 419-214-1104
Big Slice Pizzeria is a force to reckon with in Toledo. They excel in making mouth-watering New York-style pizzas with a unique blend of sauces and toppings. Their pizzaiolos approach every cook professionally, and you can expect the perfect proportions of cheeses, sauces, and other ingredients.
The result is a hot pizza slice with a buttery crust and parmesan finish. Only a few pizzerias approach the New York-style pizza as well as the Big Slice Pizzeria Sylvania does.
The pizzeria's storefront is spectacular. Big Slice Pizzeria employs a minimalistic yet classic design in their restaurant. Whether you can dine in or order to go, every bit is an experience.
Price Rating: $$
Location: 626 Chestnut Street #1974, Toledo, OH 43604
Phone: +1 419-255-4235
Jomaa Brothers is a humble family-owned pizzeria that serves great pizza. The staff is pleasant, and the service is excellent. You have the option between drive-in, kerbside pickup, and contactless delivery.
Aside from the delicious pizza, Jomaa Brothers Pizza serves gyros and chicken. This pizzeria enjoys a high rating among customers on Google.
Your Toledo pizza journey wouldn't be complete without Jomaa Brothers Pizza.
Price Rating: $$
Location: 519 Monroe Street, Toledo, OH 43604
Phone: +1 419-244-7722
PizzaPapalis is a restaurant chain with multiple locations across the country. It all started with Joe Sheena in 1986. Joe creates an amazing atmosphere complemented by mouth-watering pizza recipes. From Detroit to Toledo, you can expect the same quality of service.
Outdoor seating is available to guests who enjoy open-air space. The pizzeria is also wheelchair accessible.
If there's a style that PizzaPapalis does well, it has to be the Chicago-style deep-dish pizza. They also offer pies, ice cream, and chocolate chip cookies. PizzaPapalis also has a rich selection of crisp beers that can wash down your grub. We recommend their craft beer.
Tip: The pizzeria is usually busy between 2 pm and 9 pm. You may have to wait for up to 30 minutes for your meal during these hours. To avoid this inconvenience, you can call ahead and place your order. Call when you're 20 minutes away, and always specify the number of guests in your party.
Price Rating: $$
Location: 3945 N Detroit Avenue, Toledo, OH 43612
Phone: +1 419-476-0500
Inky's Italian Foods has been serving Toledo residents since 1956. The pizzeria is family-owned and currently run by the third generation.
The restaurant has a homey vibe with neon lighting and a fantastic ambiance. They also offer outside seating for those who like the option, and the restaurant is wheelchair accessible. If you're a fan of Chicago-style pizza, Inky's Italian Foods is the place to be.
The pleasant staff and excellent food make Inky's Italian Foods a great pizzeria. No wonder the local Mayor recommended it to One Bite Pizza Reviews.
4. Dandino's Pizza & More
Price Rating: $

Location: 4804 Lewis Avenue, Toledo, OH 43612

Phone: +1 419-407-5526
Dandino's and More is a hidden gem located on a quiet plot along Lewis Avenue. The pizzeria offers a homey atmosphere that's perfect for friends and family. You can also bring a date.
Dandino's and More offers a fine selection of pizzas on their menu. One pie you ought to try is the Mediterranean Pizza with black olive; delicious. And if black olives aren't your cup of tea, you can opt for green olives instead.
Price Rating: $

Location: 28 S St. Clair Street, Toledo, OH

Phone: +1 419-724-7437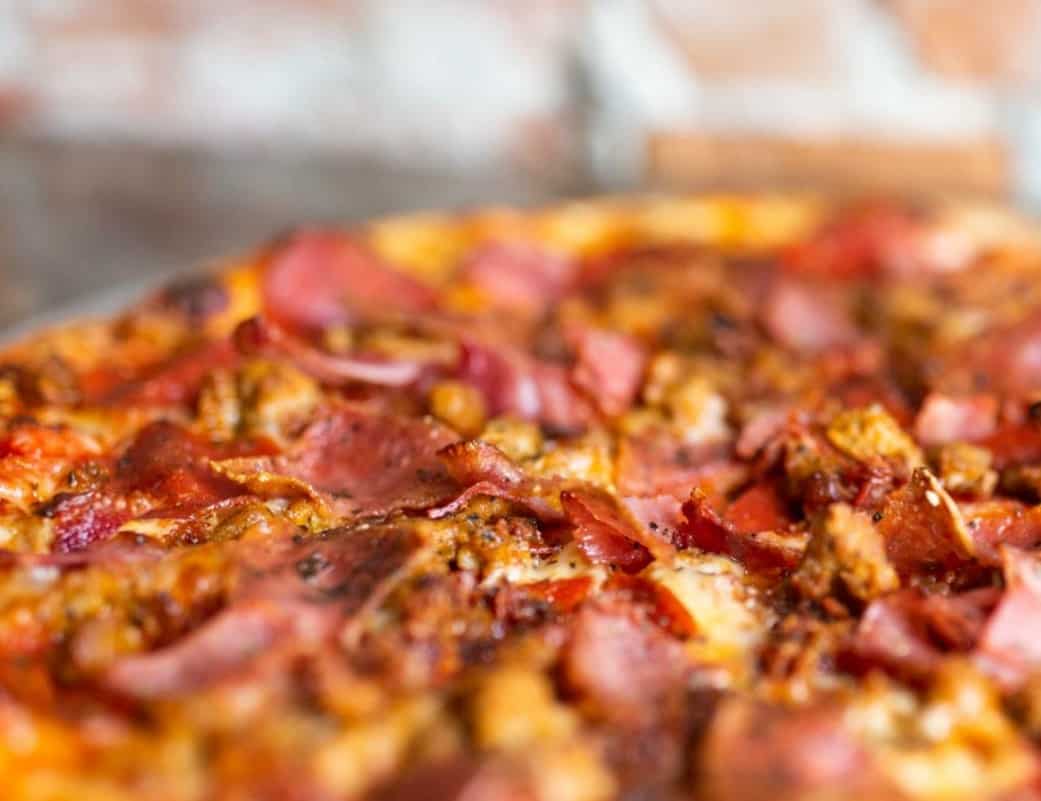 Since its founding in 2006, Home Slice Pizza has served New York-style pizza to the masses. With an intimate and warm atmosphere, Home Slice Pizza has become a favorite neighborhood pizzeria. It looks and feels like your typical Brooklyn pizza joint.
Their Spinach and Mushroom Pizza is one of the best pizzas you will ever have. The crust has a delicate balance between texture and crispiness. Home Slice Pizza also uses the highest quality ingredients, and the amount of cheese and toppings is always perfect!
Home Slice Pizza also serves calzones, subs, and salads.
The pizzeria is also pet friendly, and you can use the patio at the back to enjoy your pet's company while gobbling your NY-style pizza. Home Slice pizza is perfect for dates. It's also a great hang-out for friends or family.
Price Rating: $

Location: 4034 Monroe Street, Toledo, OH

Phone: +1 419-214-1640
Established in 2017, Pizza Cat is one of the youngest entrants on our list. Despite its age, the pizzeria is making waves in Toledo, OH. The pizzeria's name comes from a bunch of shirts that the owner, Matt Wojtowicz, used to wear while working at Gino's Pizza. He wore the shirts so much that the nickname stuck.
As you enter the pizzeria, you're greeted with amazing life-size murals painted by local artists. Pizza cat is big on supporting local causes. Matt Wojtowicz pledges 3% of all sales to local charities.
Among the popular pizza offerings are the Adams Street Veggie Pizza and the North End Brisket Pizza. And for those who love the hot and spicy, be sure to order your pizza "Colony Style." I would disclose the recipe, but that will ruin the surprise.
Price Rating: $

Location: 3330 W Central Avenue, Toledo, OH

Phone: +1 419-463-9274
Blaze Pizza is a large chain with multiple locations around the country. Blaze Pizza was founded in 2011 by Wetzel's Pretzel couple (Rick and Elise Wetzel). They even managed to convince NBA superstar Lebron James to invest in the early days. Mr. James is still heavily involved with the pizza chain.
Blaze brands itself as a fast yet high-quality pizzeria, and the Toledo location is no different. They have a rich selection of pizzas on their menu; each is better than the last. Whether you're a devout meat eater or a vegan, Blaze Pizza has something for you.
They also offer a keto menu for the diet-conscious consumer. One particular offer that's earning a lot of praise in the review forums is the Cauliflower Pizza.
Stop by Blaze Pizza to enjoy the best pizza in Toledo, OH.
Did We Miss Your Favorite Toledo Pizzeria?
And that's it; the best pizza places in Toledo, OH. As you can see, Toledo, OH, has a lot to offer. It's far from the bland image we all paint in our heads. Toledo is a melting pot of food and culture.
Did we miss any pizza places? Let us know about your favorite Toledo pizzeria. Drop your comment below.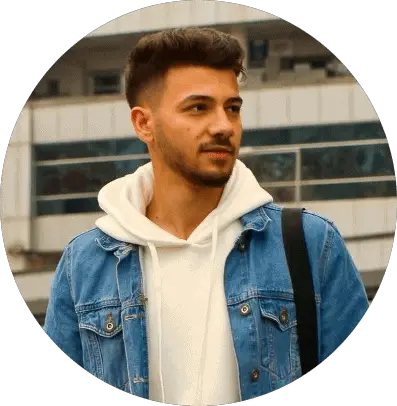 James is one of our undergraduate writers that grew up loving good food and pizza. When it comes to food, James is not a stranger to different styles of pizza! Because of his interest in different varieties and cultures of pizza, he decided to work with our team sharing his love for pizza.