Do you relish the pleasures of pizza? Do you love the savory, salty taste of prosciutto? Then you're in for a true delight! This dry-cured ham hails from Italy and is a popular ingredient in many of the nation's dishes.
It can add a delectable taste that complements other toppings like cheese, arugula, and tomatoes. Its texture also provides a unique chewiness that's incredibly satisfying.
We've rounded up the 20 best prosciutto pizza recipes to make your taste buds sing. Chefs, home cooks, and restaurant owners shared their favorite versions. You'll learn about classic combinations, unique pairings, and innovative techniques. Good luck and happy cooking!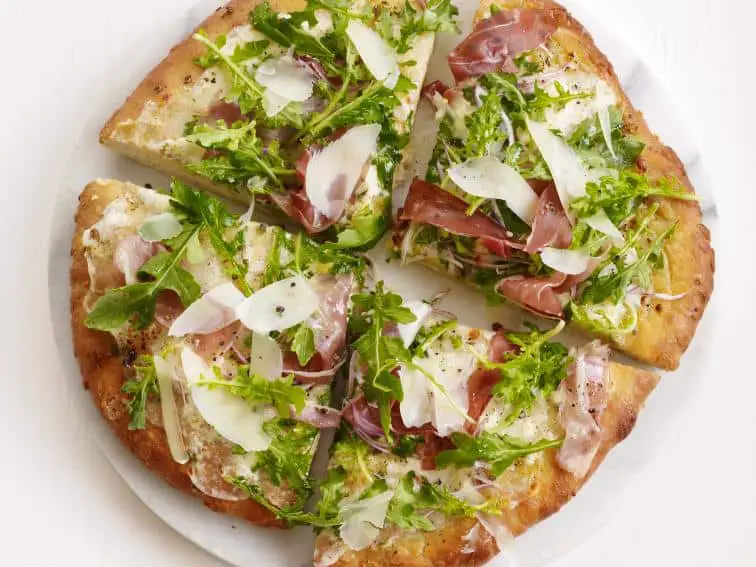 Arugula and prosciutto is a dynamic duo that adds an exciting twist to your pizza night! You can quickly whip up a scrumptious dish with these two ingredients plus four types of cheese. To ensure it doesn't stick to the baking sheet, sprinkling cornmeal on it will do the trick!
2. Classic Prosciutto Pizza
This video showcases how to make the best Italian-style prosciutto pizza at home. The cook selects farm-fresh arugula, sundried tomatoes, mozzarella, and Parmigiano-Reggiano to create this fantastic recipe. He'll guide you through making the dough from scratch, rolling it out, and spreading the toppings. The finished product is a satisfying dish that'll transport you to Italy.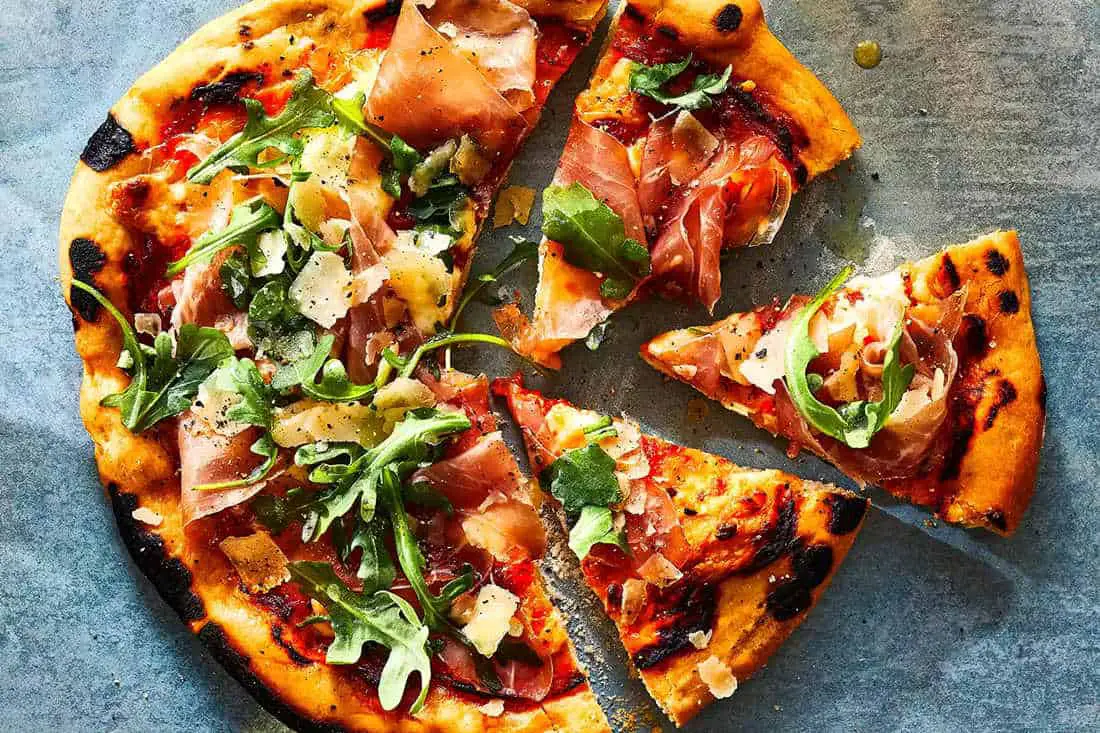 This delicious Italian treat may be easy to make, but it's flavorful! The burrata cheese, arugula, and sun-dried tomatoes create a symphony in your mouth. This meal's secret is the ingredients' quality and the preparation's simplicity. The addition of prosciutto provides a subtle blend of salty and sweet flavors. When it's combined with the peppery bite of the veggies, it creates a delectable dish.
4. Restaurant-quality Fig and Prosciutto Pizza
Check out this tutorial that shows you how to make a prosciutto pizza using fig newtons! You've read it right; you'll use this favorite childhood snack in making this dish. Recreating a restaurant version can be a fun and rewarding experience you can do at home.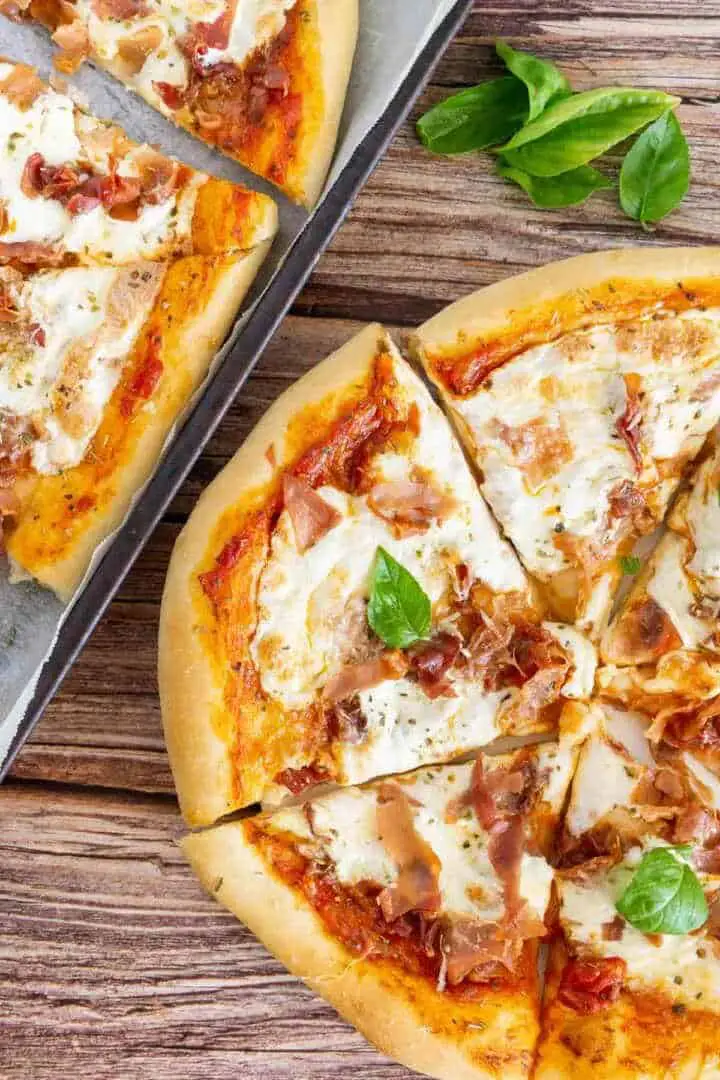 This Prosciutto Pizza with fresh mozzarella is simply divine! The best part? Thanks to the effortless homemade dough, you can whip up this recipe in just a little over 30 minutes. You can always use store-bought crust if you're short on time. Try topping this dish with balsamic glaze for a sweet and savory flavor explosion.
6. Neopolitan-style Prosciutto Pizza
This video teaches you how to make perfect pizza dough and stretch it properly to achieve the classic thin crust. You'll use fresh San Marzano tomatoes for the sauce. Finishing it with fresh basil leaves adds freshness and balance to the dish. The right temperature will help you achieve that crispy base and gooey cheese.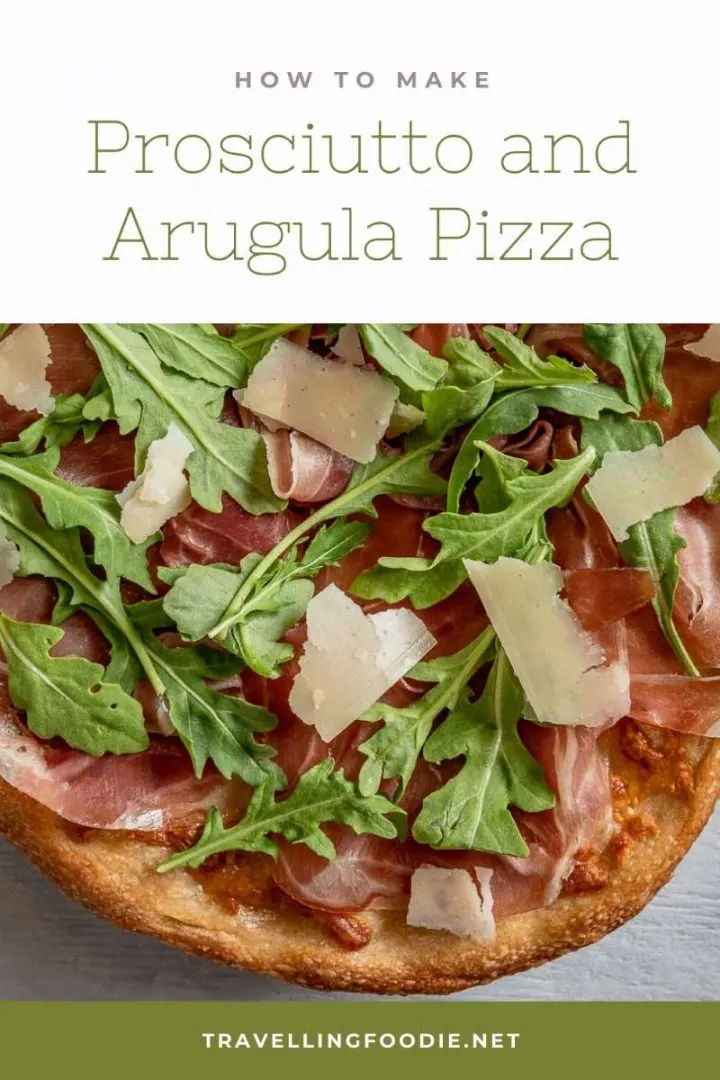 Creating this pizza is a simple task you can do with minimal effort and few ingredients. It's super speedy- taking just 25 minutes from start to finish, including the dough's resting time. This dish uses authentic Italian ingredients. However, the star of the show is the world-famous Prosciutto di Parma PDO. This cured meat is 100% all-natural and free from gluten, preservatives, and hormones.
8. Loaded Prosciutto Pizza
Are you ready to create a masterpiece loaded with yummy olives, mushrooms, and red peppers? This detailed guide will show you how to create the perfect pizza base. You'll learn to knead the dough and shape it into a beautiful circle. It will be the canvas for your delicious toppings. The food lovers in your group will be more than happy to indulge.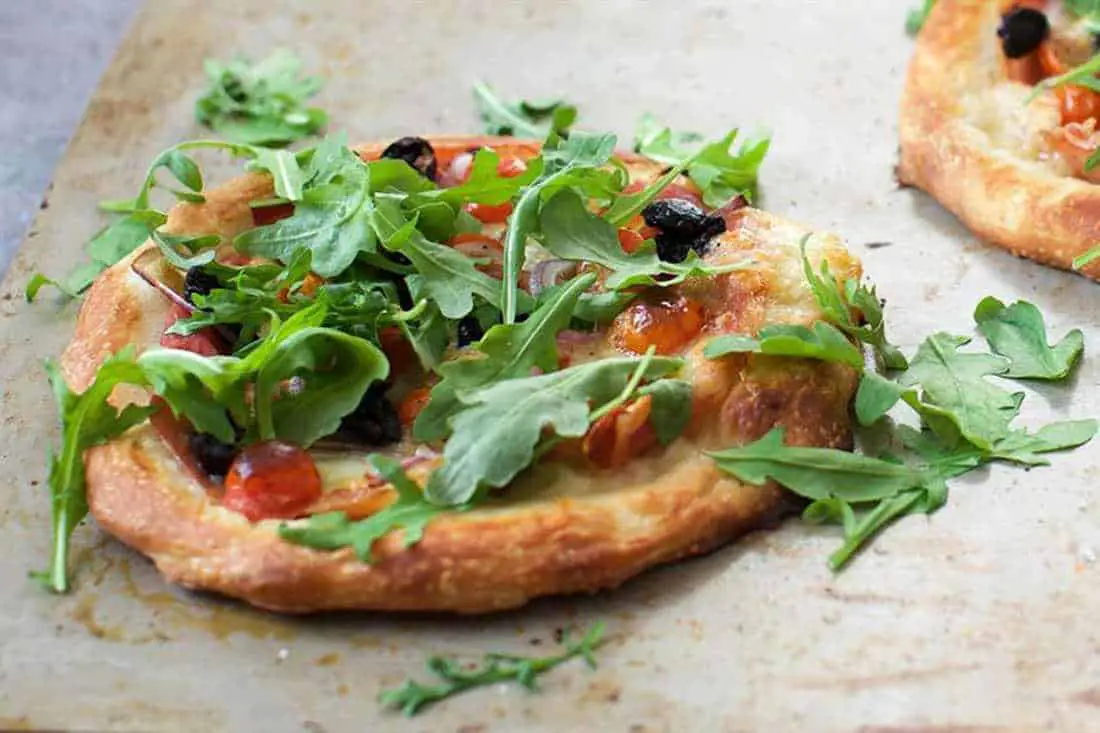 This pizza is a treat for your eyes and your taste buds. It's a perfect combination of fresh and cooked ingredients, giving you a balanced and satisfying meal in one dish. The prosciutto used in this recipe comes from pigs raised humanely. It's free from antibiotics and hormones, ensuring a healthy and delicious meal for you and your family. To make a larger pizza, stretch the dough to fill a large baking sheet.
10. Best Grilled Prosciutto and Arugula Pizza
This recipe puts a twist on the traditional pizza that you'll love. You'll start making the dough from scratch and slather on homemade tomato sauce. Then you'll add a generous layer of fresh mozzarella cheese and prosciutto.
But here's the fun part: you won't bake your dish in the oven. Instead, you'll cook it on a hot grill for an extra special touch. The host will show you to get that perfect charred crust and melted cheese without burning them.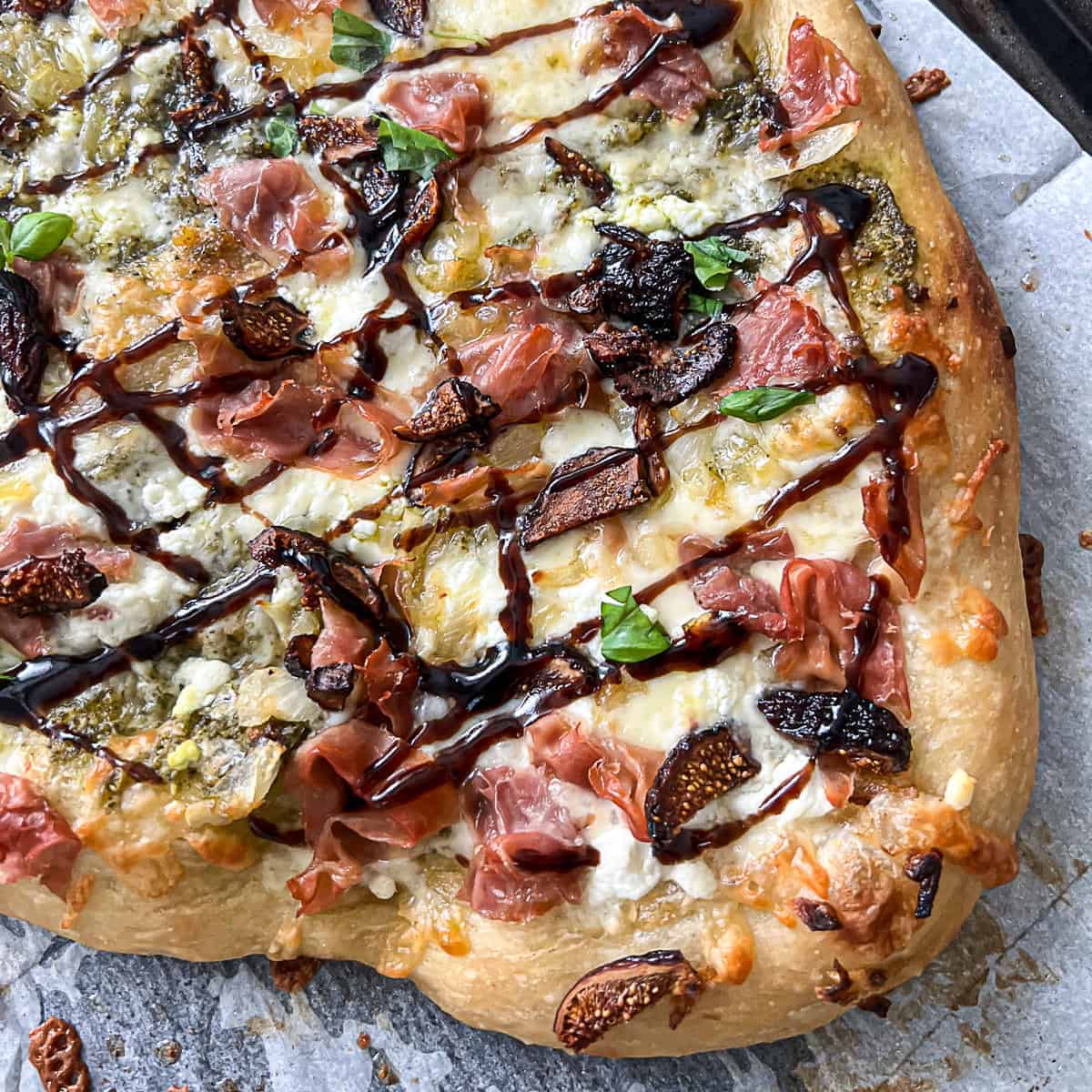 This fig and prosciutto pizza is a must-try recipe with a delectable combination of sweet and salty flavors. It makes you think, what better way to bond with your loved ones than a delicious homemade meal? If some ingredients are unavailable, you can substitute with fig jam, fresh arugula, or mozzarella cheese.
12. Homemade Prosciutto, Burrata, and Basil Pizza
The video opens with the host tossing a dough up in the air. It's an indication that good things are in store for the audience. You'll discover how to make delicious prosciutto, burrata, and basil pizza from scratch – from preparing the crust to adding the toppings. Finally, you'll see how to top the dish off with fragrant herbs before baking it until its perfect.
The first step in this recipe is to make the dough from flour, yeast, salt, and warm water. Don't fret! The directions will guide you through the process so you can make the perfect crust every time. Assembling the dish is also pretty straightforward. A drizzle of olive oil toward the end will seal the deal. Enjoy it with chilled red wine or a cold beer, and share it with your loved ones for a delightful meal.
14. Prosciutto, Corn, and Ricotta Cheese Pizza
Unlike other pizzas, this one doesn't have tomato sauce. It's a unique take on an Italian classic. Instead, it features a creamy and flavorful combination of ricotta and sweet corn. It's a cheesy and tasty dish perfect for a fun family night or a casual get-together with friends.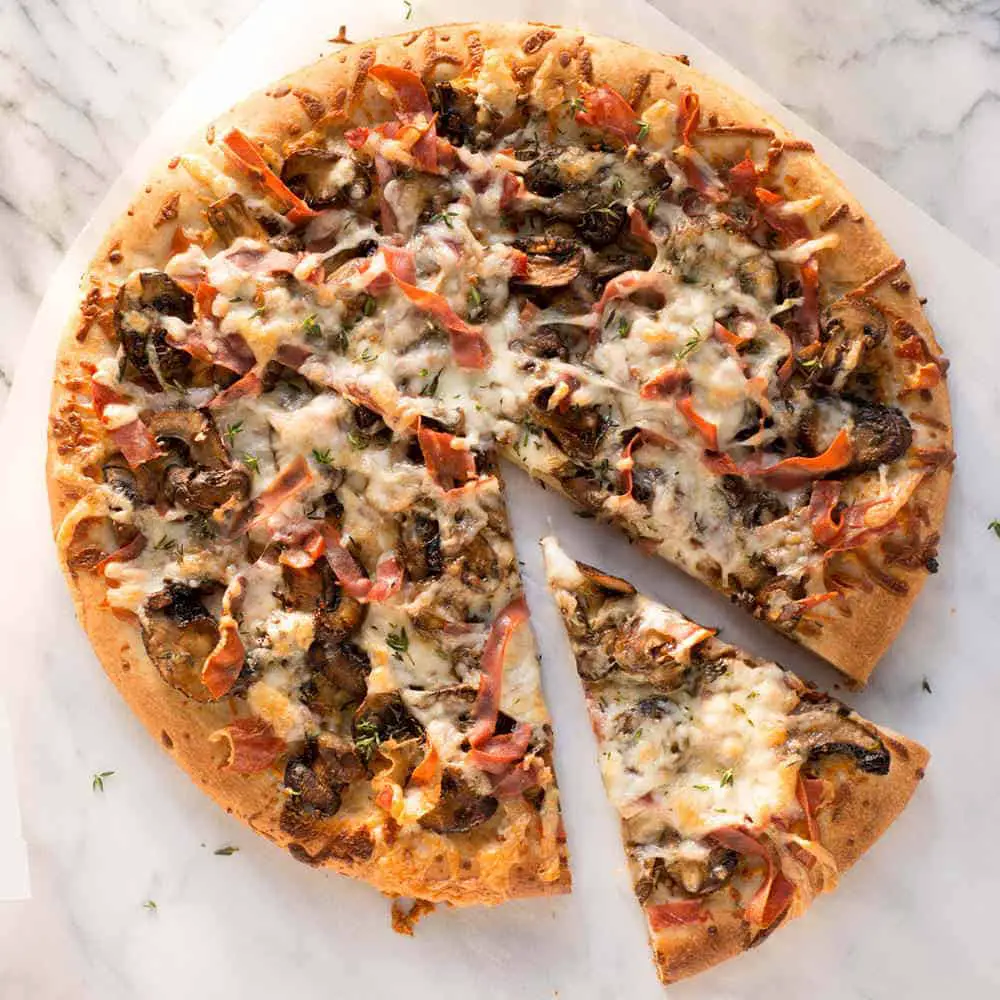 This quick and easy pizza recipe can be ready in just 20 minutes! You can make it healthier by using whole-grain pizza dough you can buy from the supermarket. Please note that the secret to a perfectly crunchy crust is baking it on a pizza stone. Another tip would be to use a splash of red wine vinegar instead of the sherry variant to balance the rich flavors.
16. Pear and Prosciutto Pizza
This pizza will have you saying "wow" after every bite. The gorgonzola cheese and California Bartlett Pears create a divine combination of flavors and textures. The creamy and juicy symphony will also leave your taste buds wanting more. When the fruits are in season, you'll enjoy them at their freshest. You'll realize that these toppings are a match made in heaven!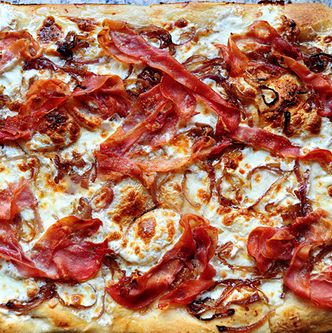 Do you have some extra pizza dough in the fridge? Great! Life can go by in a whirl, but that doesn't mean you have to sacrifice a delicious meal. This quick and easy recipe can be your savior on harried days.
The delightful combination of sweet caramelized onions, salty prosciutto, and fresh mozzarella cheese makes it stand out -they all blend perfectly. Additionally, making the crust ahead of time will make it taste even better!
18. Gourmet Prosciutto and Feta Cheese Pizza
This pizza may look fancy, but it's pretty simple. Even if it only has a few elements, it still bursts with flavor. Surprisingly, picky eaters will love this delicious recipe and may ask for seconds! To make the spicy oil, you need to chop up some chili peppers. This add-on gives the dish a delightful kick. For the best crust, the cook recommends you use homemade dough.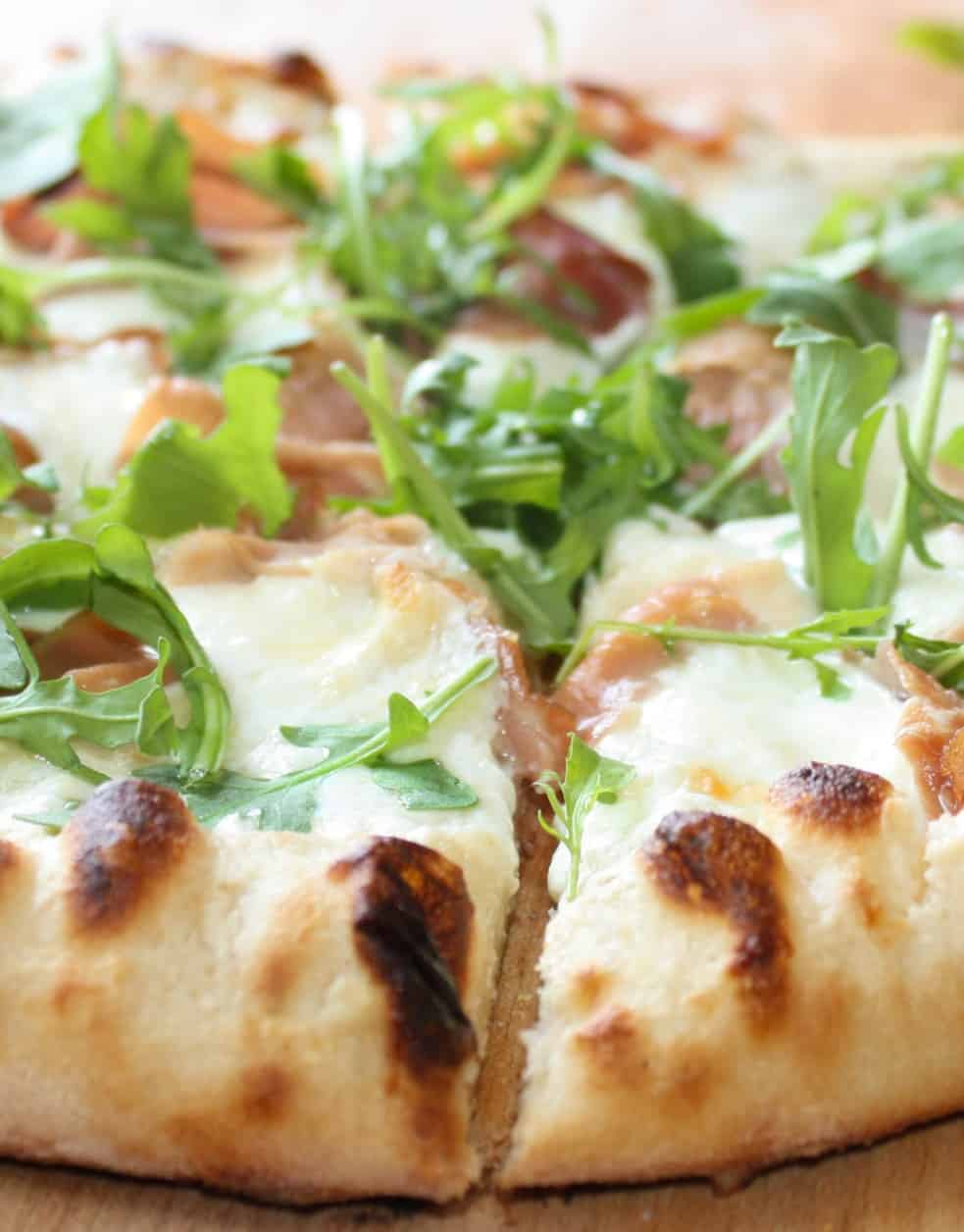 This pizza with garlic béchamel is a food lover's dream! The melted fresh mozzarella cheese, crunchy prosciutto bits, and peppery arugula create a perfect marriage of tastes. The creamy, white sauce is the star of the show. The recipe recommends using a special grill attachment. However, you can easily make it in a regular oven if you don't have one.
20. Peach and Prosciutto Naan Pizza
Fresh juicy peaches are often used in sweet dishes. But this pizza recipe is a game-changer! In just under 10 minutes, you can create a fantastic savory pizza that will blow your taste buds away. The summer fruit pairs perfectly well with the creamy cheese and the salty prosciutto. This combination of flavors and textures will make it your new favorite treat.
Conclusion
If you're a fan of prosciutto's salty, savory goodness, these dishes are for you. The 20 best prosciutto pizza recipe collection will help you create a delicious masterpiece in no time. Don't let the instructions limit your creativity. Feel free to use your favorite toppings and different types of dough. For sure, you'll have fun making them uniquely yours!
20 Best Prosciutto Pizza Recipes
Directions
Select your favorite recipe.
Organize all the required ingredients.
Prep a Recipe Make With Pizza Dough in 30 minutes or less!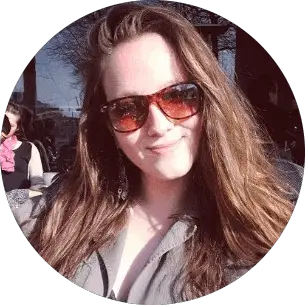 Barbara is an enthusiastic food-exploring person that goes through different culinary experiences. She got inspired by creating a pizza blog post after she tasted one of the best-selling pizzas in Toledo.