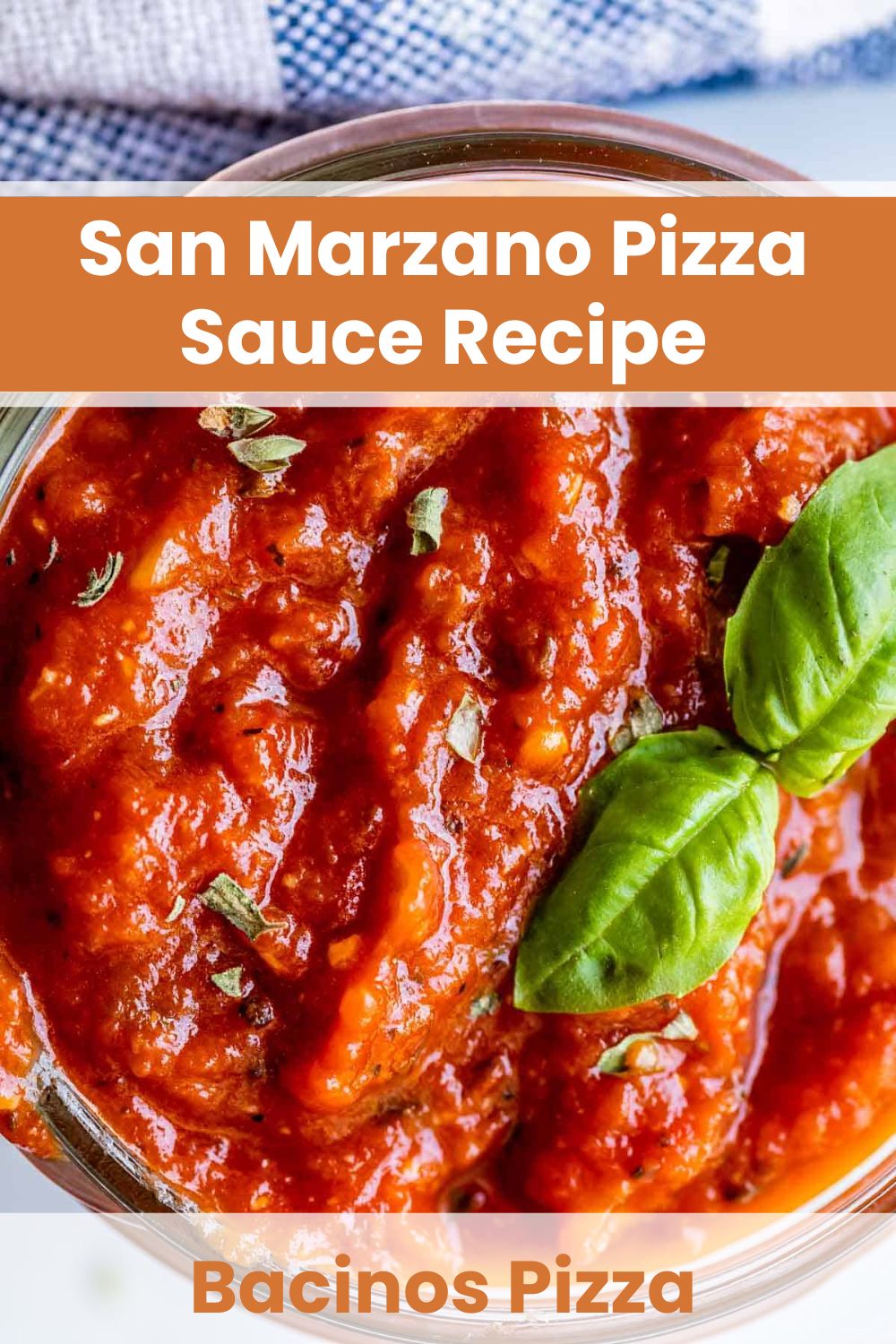 San Marzano tomatoes are a very sought-after variety from Italy. One of the best ways to enjoy it is by making it into a pizza sauce.
Fortunately, it's very easy to make in the comfort of your home! You can follow this recipe for a quick and easy San Marzano Pizza Sauce.
Why We Like This Recipe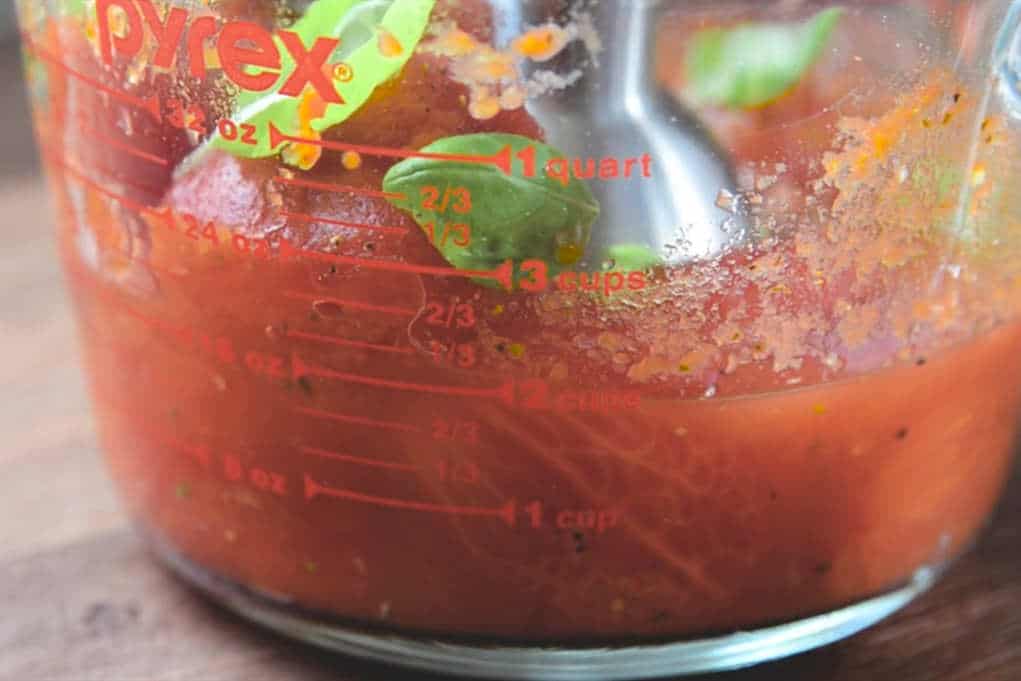 Beginner-friendly. This recipe is so easy to make, so even novice pizza makers can do it!
Simple Ingredients. Since this recipe uses canned tomatoes and easy-to-find ingredients, you'll spend less time making the pizza sauce. You won't have any problem finding any of the ingredients.
Excellent Flavors. With this recipe, you'll let the fresh flavors of San Marzano tomatoes shine. If you're a fan of this particular tomato, then you're in luck. You'll surely love this recipe.
Authentic Italian Taste. As San Marzano tomatoes are part of the Protected Designation of Origin or DOP, authentic cans of this tomato variety will always come from Italian lands. That said, there are some US alternatives, but they are not the original San Marzano variety.
What You Will Need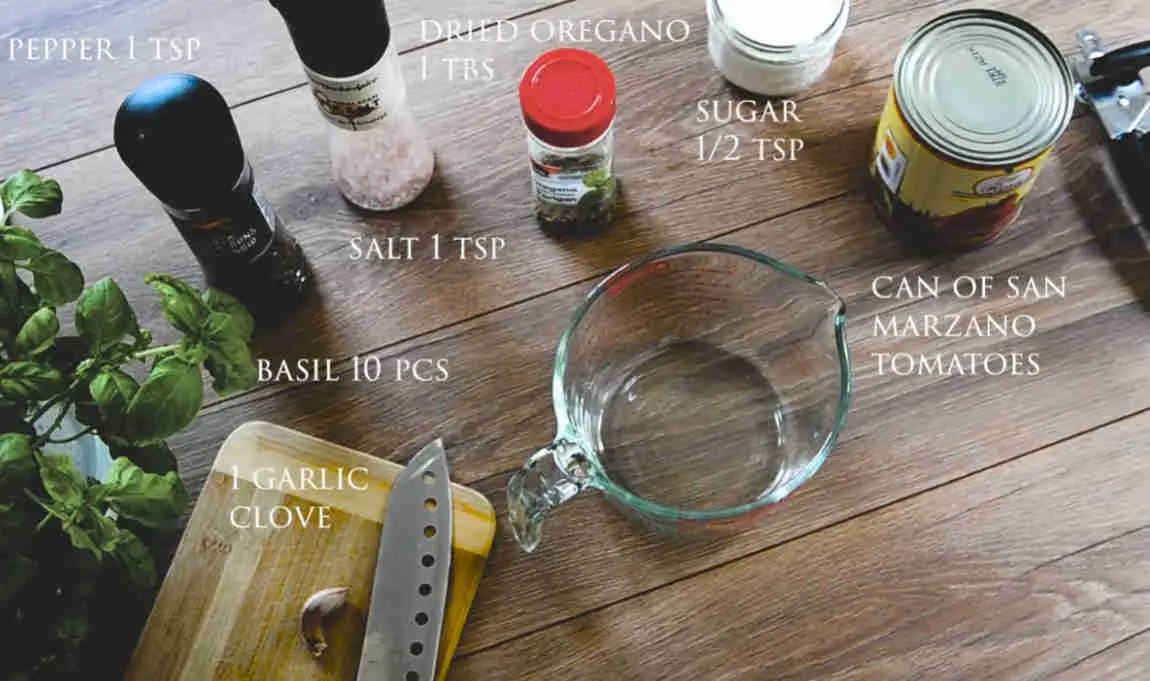 Here are the ingredients and equipment you need to make this pizza sauce.
Ingredients
San Marzano tomatoes (canned or fresh)
Basil Leaves
Dry Oregano
Garlic
Sugar
Salt
Pepper
Balsamic Vinegar (optional)
Pepper flakes (optional)
Equipment Needed
Can Opener
Strainer
Hand Blender or Standard Blender
How to Make San Marzano Pizza Sauce Recipe
Now that we're familiar with the equipment and ingredients, let's get into the steps of making this delicious pizza sauce recipe.
1. Chop the garlic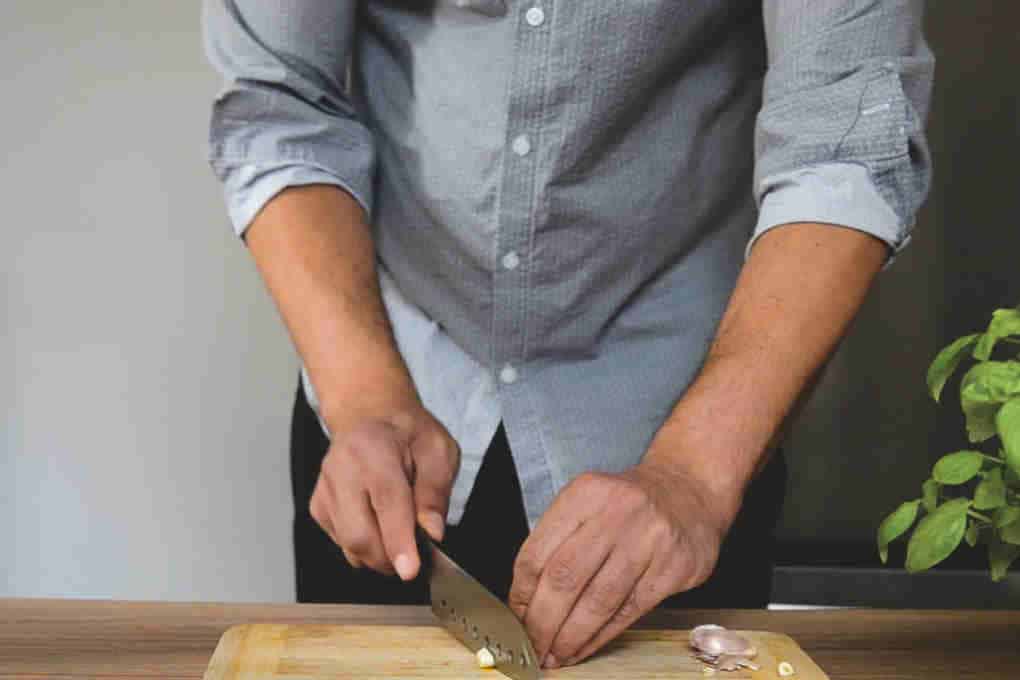 Before starting in the base of the sauce, you should chop the garlic for easy mixing later.
2. Drain the water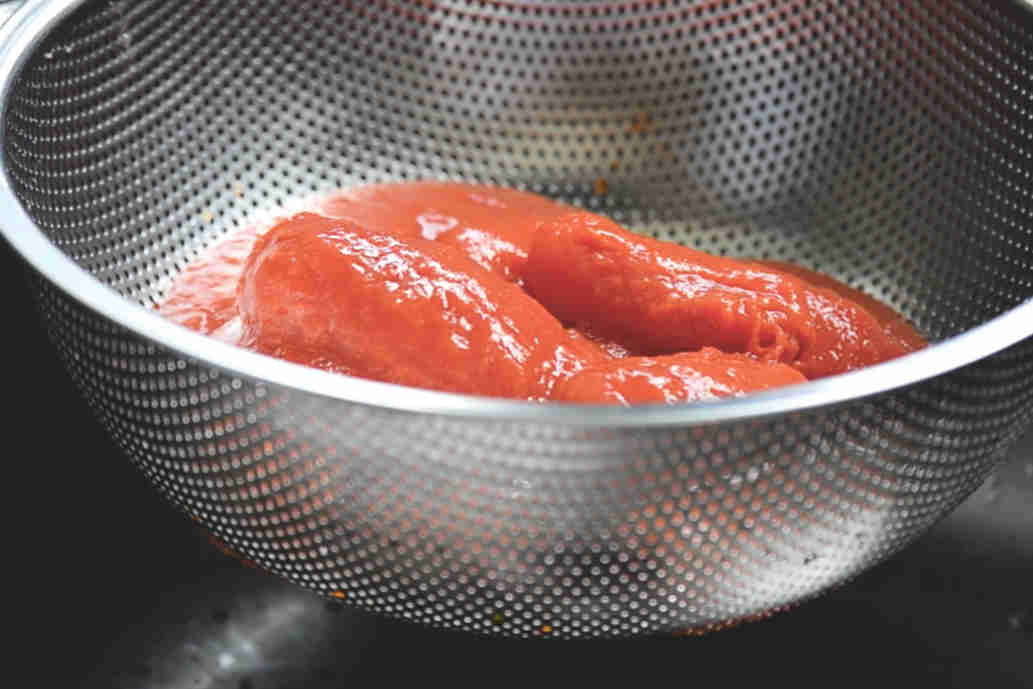 San Marzano tomatoes have a good amount of water content. So, to make the pizza sauce as thick as you can, you'll need to remove the excess liquid. That said, you can keep it as a pasta sauce!
Using a strainer, pour in the sauce to remove the excess liquid. Make sure not to press on the tomatoes to keep the natural juice intact.
3. In a container, add all of the ingredients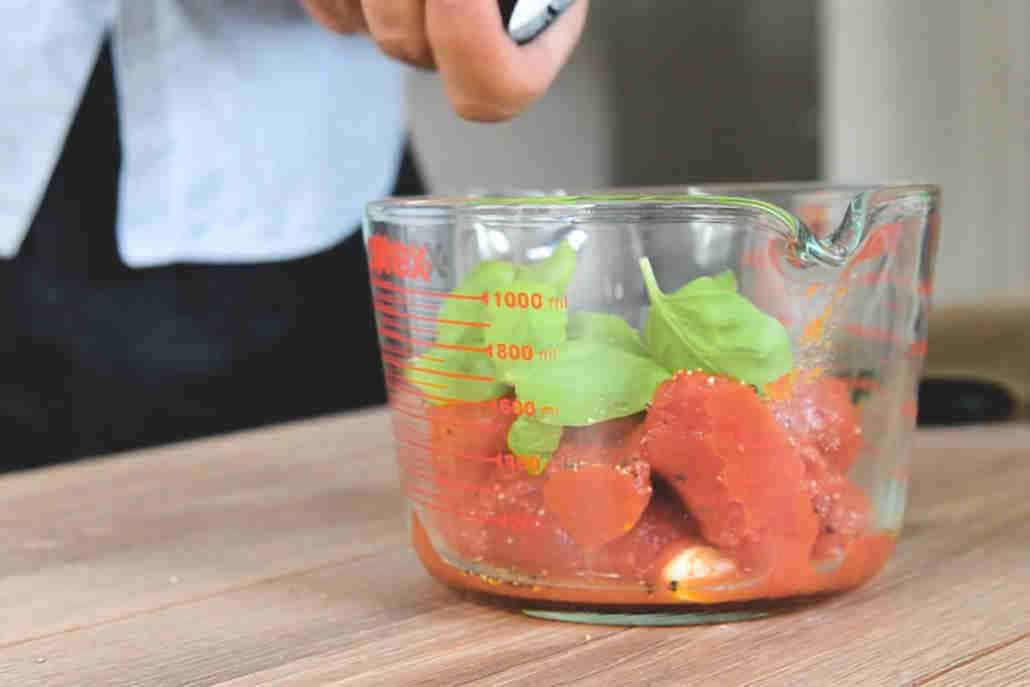 In a measuring cup or a mixing bowl, put in all of the ingredients, including the basil, oregano, garlic, sugar, salt, and pepper.
Ensure the container has high sides to prevent spills during the mixing process.
4. Blend until you get a smooth and thick sauce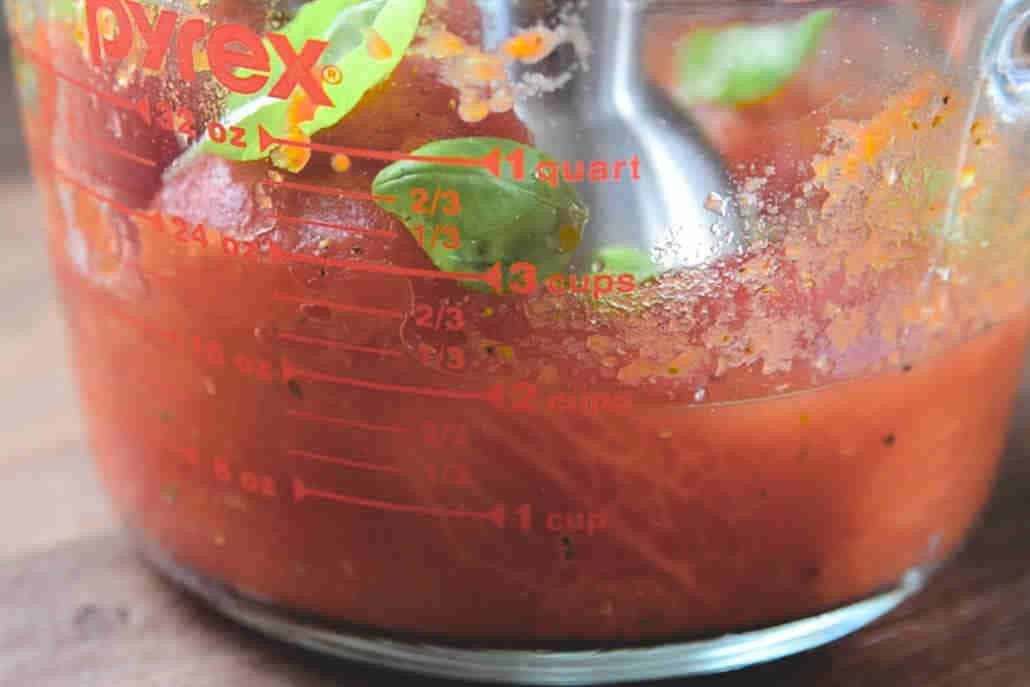 Using a small hand blender, mix the sauce together until all ingredients are combined. Stop the blending once you get your desired consistency.
5. Put the sauce on your pizza dough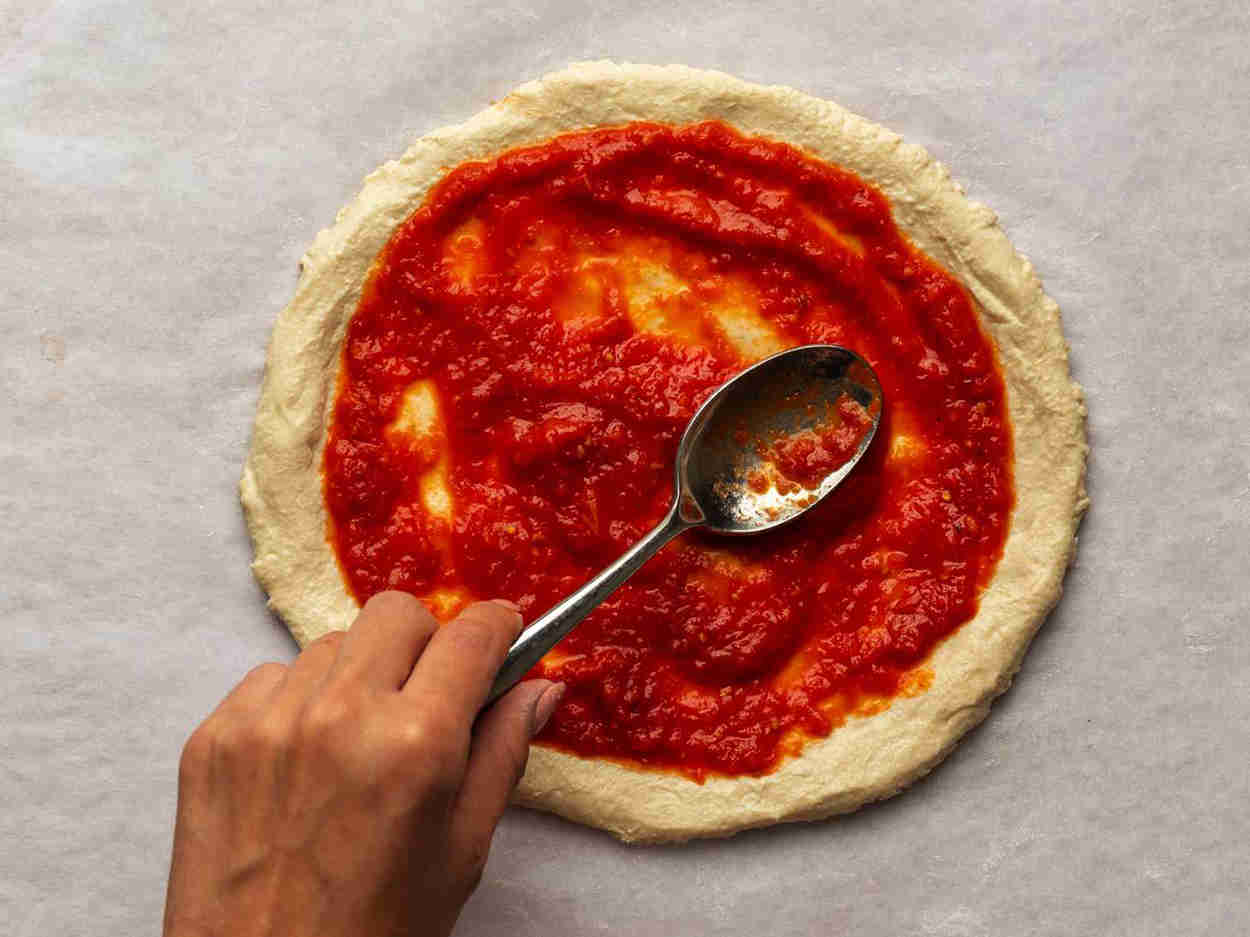 Lastly, your pizza sauce is now ready to use. Spread the sauce evenly across your pizza dough, add the cheese and toppings, and your San Marzano pizza is ready to bake!
Steps (If using fresh San Marzano):
If you use some fresh San Marzano tomatoes, you will need some additional steps, such as:
1.  Wash the tomatoes
When using fresh tomatoes, make sure to wash them thoroughly. Also, check for bugs and any imperfections.
To wash them, run them under cold water and gently remove any dirt.
2. Deseed the tomatoes
After washing them thoroughly, you'll need to cut them and remove the seed. Tomato seeds can introduce a slight bitterness and undesirable texture to the sauce.
3. Cook on a pan
Evenly lay down the tomatoes on a skillet or cast iron pan. Cook for 20 to 30 minutes on low heat in the stove or oven. Stir occasionally to avoid any burning.
4. Combine the Ingredients
Let the tomatoes cool down. With the sauce now thickened, combine it with the remaining ingredients.
5. Blend
Use a hand blender to blend all the ingredients until smooth. Once you reach the desired consistency, it's now ready to use.
Note: You should check if your San Marzano is authentic and of DOP standards. This applies whether it's canned or from fresh produce.
Tips and Tricks
Here are some tips and tricks to make a better San Marzano Pizza sauce!
Don't throw out the excess tomato liquid; you can use it for some pasta sauce.
If available, opt for unseasoned canned San Marzano tomatoes.
Add a bit of olive oil if you want a more thick and creamy sauce.
Avoid over-seasoning, as San Marzano's flavors are pretty delicate.
You can use a standard blender if you don't have a hand blender.
Add some balsamic vinegar for richness or red pepper flakes for a bit of heat.
Common FAQ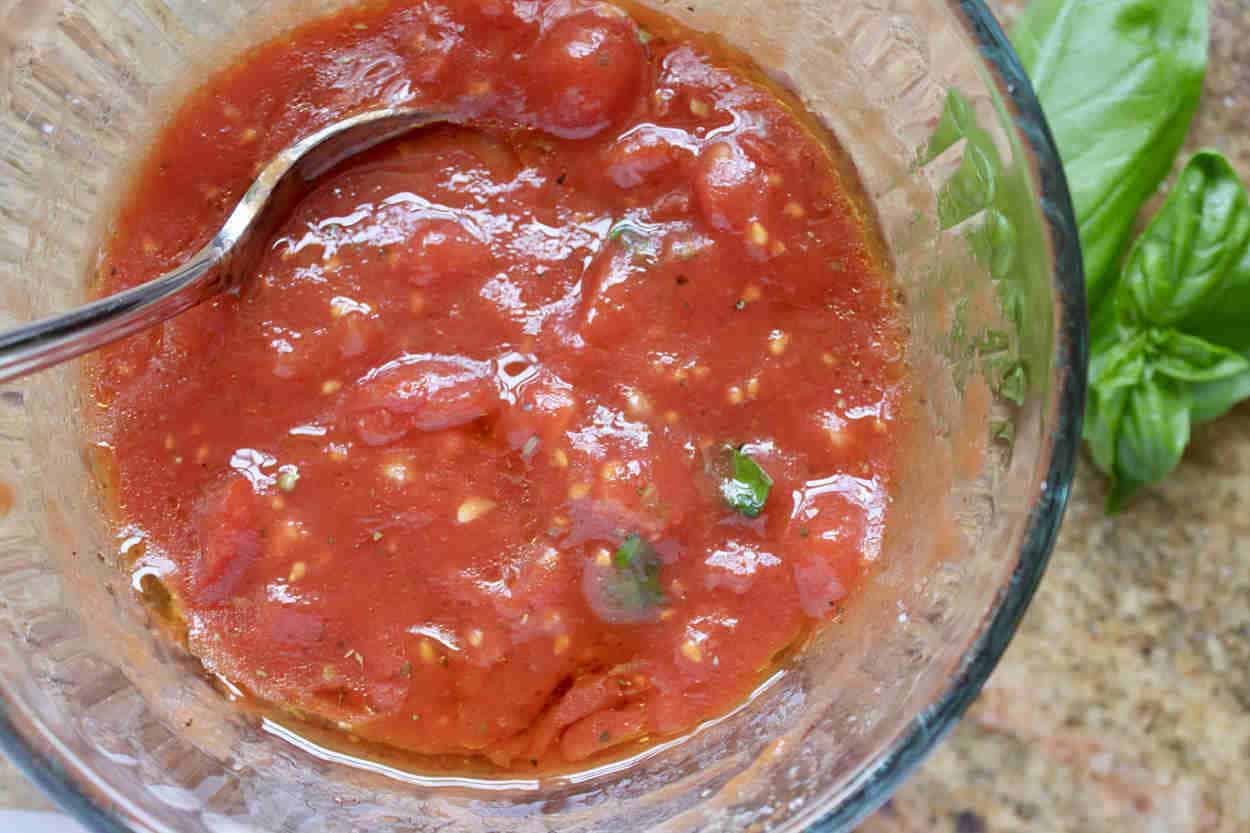 Here are the common FAQs about making your own pizza sauce!
Can I use fresh tomatoes?
Yes! Even though this easy recipe calls for canned San Marzano tomatoes, feel free to use fresh ones. It's an even better option!
Just be sure to deseed them to remove any bitterness and for better texture. That way, your sauce will still be thick and rich.
What toppings work well with San Marzano Pizza sauce?
San Marzano pizza sauce utilizes the classic Italian taste. So, toppings that lean into that will be your best option.
Try some classic basil, fresh mozzarella, and a slight dash of olive oil for a classic pizza. Some prosciutto and olives will also lend well if you love more flavors.
What types of cheese should I use for San Marzano Pizza Sauce?
Mozzarella is the classic cheese for pizza; it includes San Marzano as well! It's very melty and flavorful yet lightly rich, so it lends well with the toppings. That said, other cheeses, such as parmesan or buffalo mozzarella, are also great options.
How to store leftover San Marzano Pizza Sauce?
In order to limit the bacteria and spoilage in your pizza sauce, be sure to keep it in an air-tight container in a freezer. Then, thaw it in the fridge overnight when you use it. Alternatively, you can also thaw them in a bowl with water.
How to make the best San Marzano pizza sauce?
When it comes to San Marzano tomatoes, their intricate flavors work well with simplicity. Avoid over-seasoning or making a very flavor-heavy base. San Marzano has its own set of flavors that can shine when not overpowered by pungent notes.
Summary
That's it! With this easy recipe, you can make your own San Marzano pizza sauce in no time. So ready up some tomatoes and schedule a pizza night!
San Marzano Pizza Sauce Recipe
An easy and authentic San Marzano pizza sauce recipe, showcasing the fresh flavors of the tomatoes with basic ingredients.
Ingredients
28oz San Marzano Tomatoes  (fresh or canned)

¼ Cup Basil Leaves

1 tbsp Dry Oregano

1 Clove or 1/2tbsp Garlic

1/2 tsp Sugar

1 tsp Salt and Pepper

1 tsp Balsamic Vinegar (optional)

1 tsp Pepper flakes (optional)
Directions
Peel and chop the garlic.
In a strainer, drain the excess liquid from the tomatoes.
Combine all of the ingredients in the bowl.
With a hand blender, mix all of the ingredients.
Let the mixture blend until you have the right consistency.
Instruction (For Fresh Tomatoes):
Wash the tomatoes with water and remove the dirt thoroughly.
Cut the tomatoes in half and remove the seeds.
Spread the tomatoes in the pan and let them cook for 20 to 30 minutes on low heat.
Combine all the remaining ingredients with the sauce.
Blend until smooth.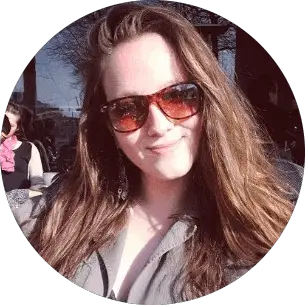 Barbara is an enthusiastic food-exploring person that goes through different culinary experiences. She got inspired by creating a pizza blog post after she tasted one of the best-selling pizzas in Toledo.