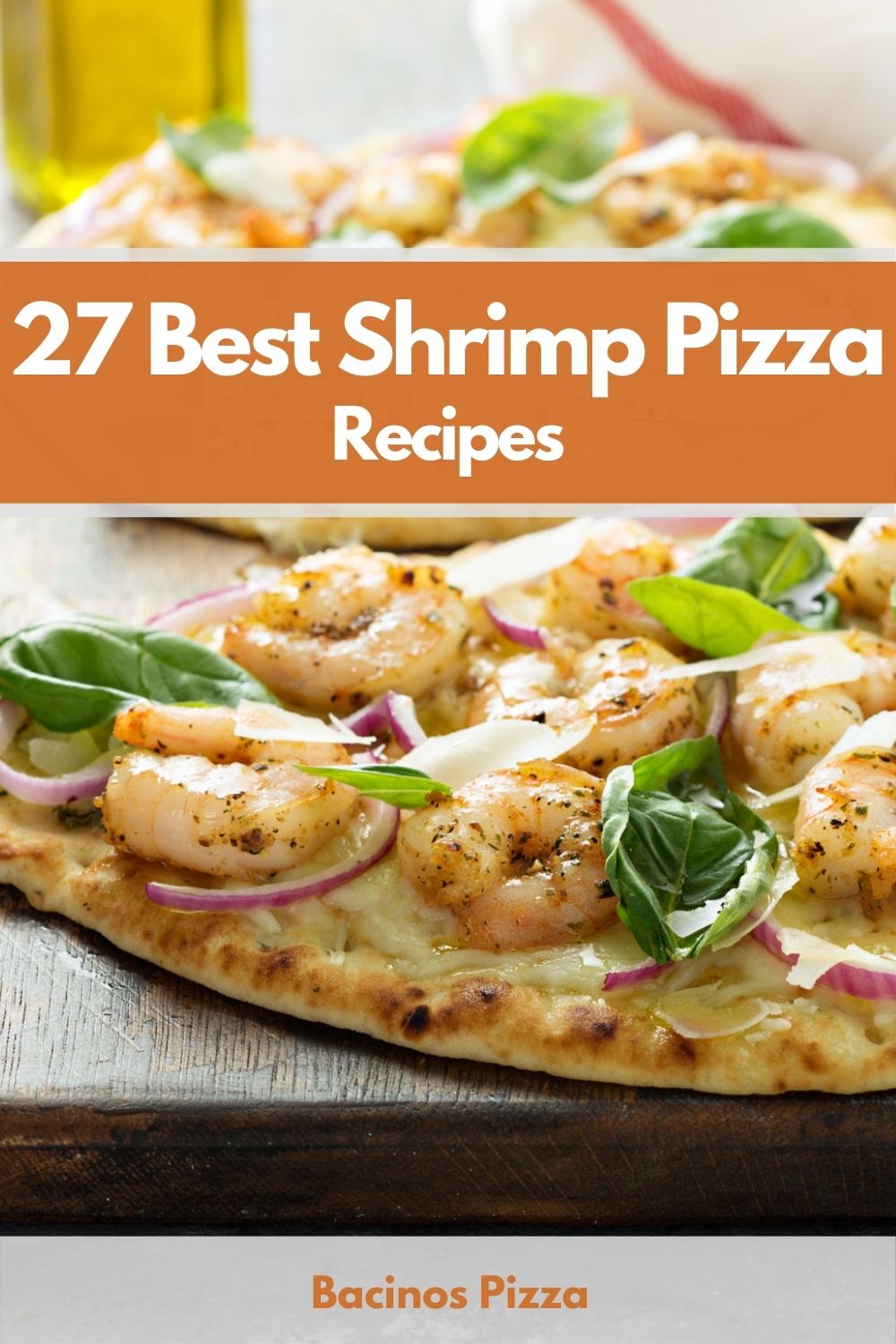 It might not be one of the most common recipes, but for those who enjoy seafood, there's no denying that shrimp pizza is a delicious treat.
For anyone interested in making one themselves, we've had a look online to see what other people have been trying – and as a result, here are our top 27 shrimp pizza recipes you might like having a go at recreating at home.
1. Shrimp Scampi Pizza – The Blond Cook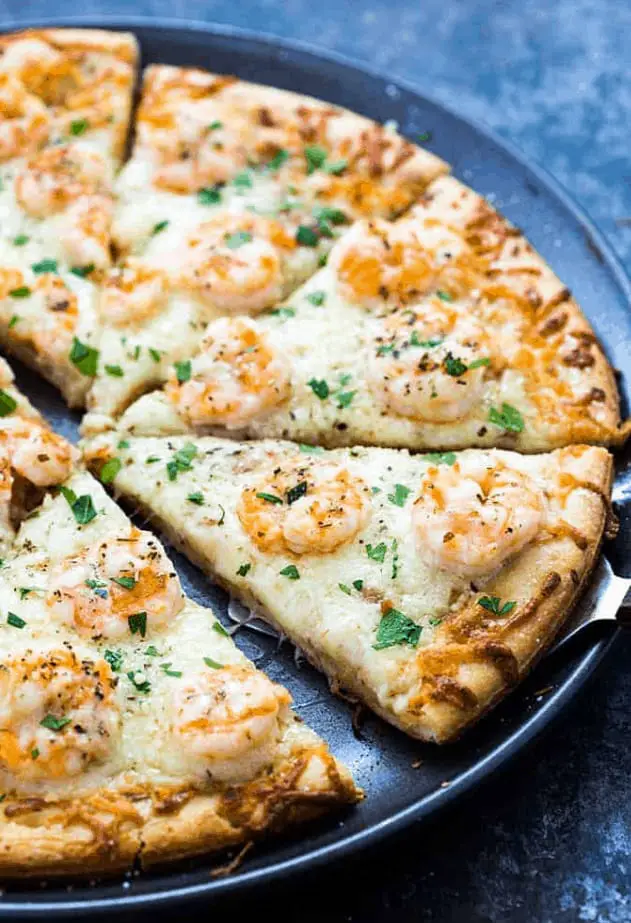 If you're looking for a simple recipe for shrimp pizza, this one using ready-made pizza dough should be of interest. If your shrimps are already shelled, this pizza can be ready and on the table in only around 25 minutes, making it a quick and easy yet extremely tasty meal you're sure to love.
2. Garlic Prawn Pizza Recipe
Garlic prawns are delicious on their own, but they're also fantastic to use as a pizza topping. Just combine them with a generous helping of cheese along with a squeeze of lemon to create an irresistible pizza that seafood fans everywhere will appreciate. Want to know how to do it? Then check out this video for details!
3. Shrimp Pizza with Garlicky Cream Sauce – Foodess Recipes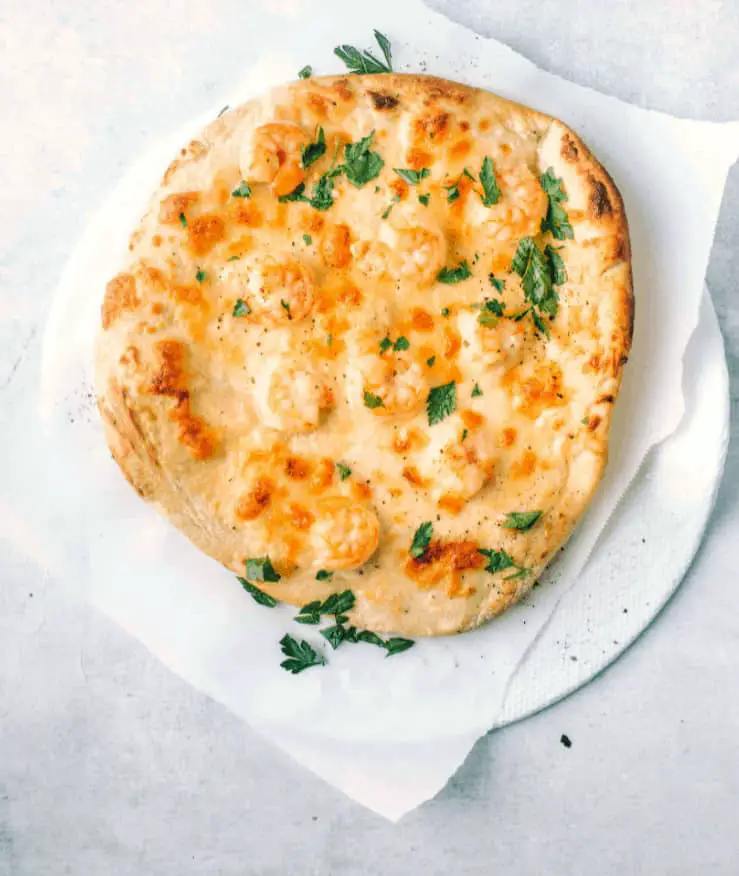 This recipe teaches you how to make shrimps in a creamy garlic sauce to use as a topping for your pizza. It's a rich and indulgent idea that is sure to be a big hit with seafood lovers everywhere, so why not check out the recipe and see if you can make something similar?
4. Shrimp & Crab Cast Iron Pizza
Here's a fantastic idea for a pizza topping – this version uses shrimps along with crab and cooks the whole thing in a cast-iron skillet on the stovetop. This recipe also uses ready-made bought pizza dough, so you don't even have to worry about making your own. And as you can see when it's done, the finished pizza looks amazing!
5. Shrimp Pizza (3 Cheese!) – A Couple Cooks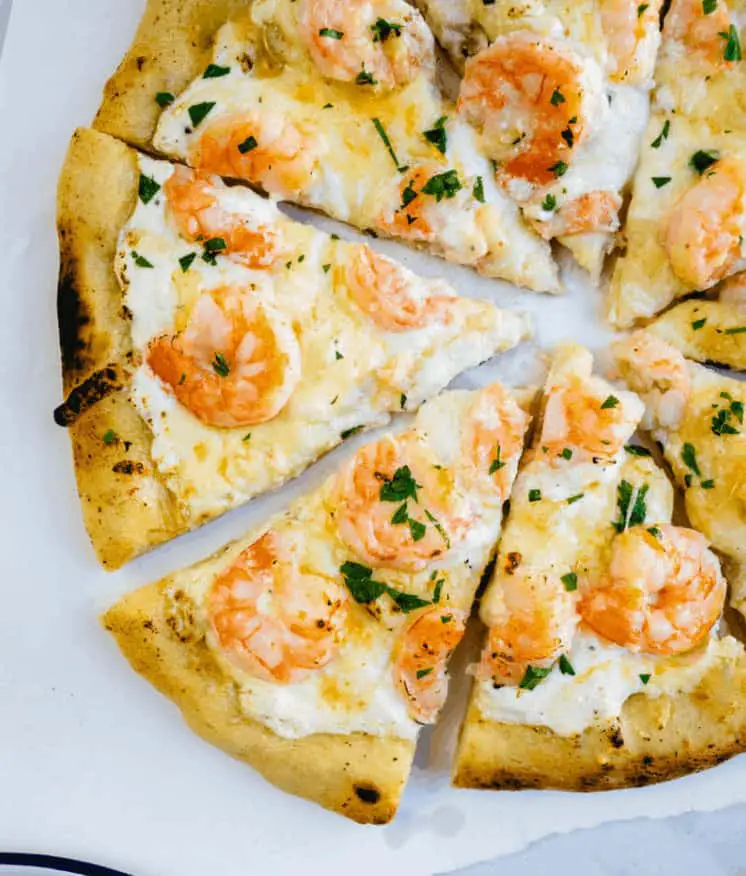 Lots of shrimp pizza recipes include garlic along with cream sauce, but this version takes things a step further with the addition of three different types of cheese. This gives your pizza an extra layer of richness and complexity, so if you're looking to experiment with some more original pizza toppings, this one is well worth a look.
6. How To Make Shrimp Pizza in Under 30-Minutes
Shrimp pizza might not be counted among the all-time classic recipes, but it's definitely one that's worth sampling if you've never tried it before. It might seem a little more complicated to make than some other recipes, but this version only takes 30 minutes from start to finish, and when you taste it, we're sure you'll agree that it's worth the extra time and effort.
7. Shrimp Pizza Recipe: How to Make It – Taste of Home
There are plenty of variations of shrimp pizza, but this one stands out through the use of two secret ingredients – mustard powder and cayenne pepper. Both of these combine perfectly with the flavor of the shrimp while also giving the pizza a little extra kick. Sound like something you might like to try? Then check out this blog post for further details!
8. Old Bay Shrimp Pizza from Kitchen Trap Queen
Here's another version of a shrimp pizza cooked in a cast-iron skillet, this time using olive oil mixed with herb seasoning to give your pizza a delicious crispy crust. We love the way this pizza looks, covered in a rich and creamy sauce along with those juicy shrimps. This is one we want to have a go at making ourselves, and we're sure we won't be the only ones.
9. Shrimp Fra Diavolo Pizza – Gimme Some Oven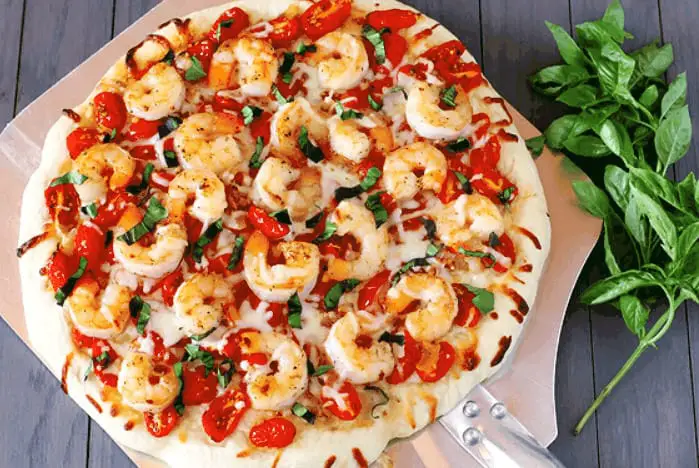 With the red of the grape tomatoes, the green from the torn basil leaves and the tones of orange and cream from the shrimps and the cheese, this pizza looks like a work of art. Throw in some chopped garlic, a sprinkling of chili flakes, a pinch of oregano and a generous helping of parmesan and you have something that must be close to shrimp pizza perfection.
10. Shrimp Scampi Pizza – Closet Cooking
Sometimes you don't want to go to lots of trouble cooking and just want something quick, easy and unpretentious to eat – but even so, that doesn't mean you have to compromise on taste. If that sounds like something you can relate to, this is a recipe you should enjoy because it teaches you how to make a fuss-free shrimp pizza that requires minimal effort but delivers maximum flavor.
11. Shrimp Scampi Pizza from Thomas Johnson
If you want to know the secrets of making the perfect shrimp pizza, this is a video you need to see – because in it, Chef Tom demonstrates his technique for making his ultimate version. It's certainly a high-quality offering, but is it the best you've tasted? We'll leave that to you to decide!
12. Shrimp Pizza Recipe – Allrecipes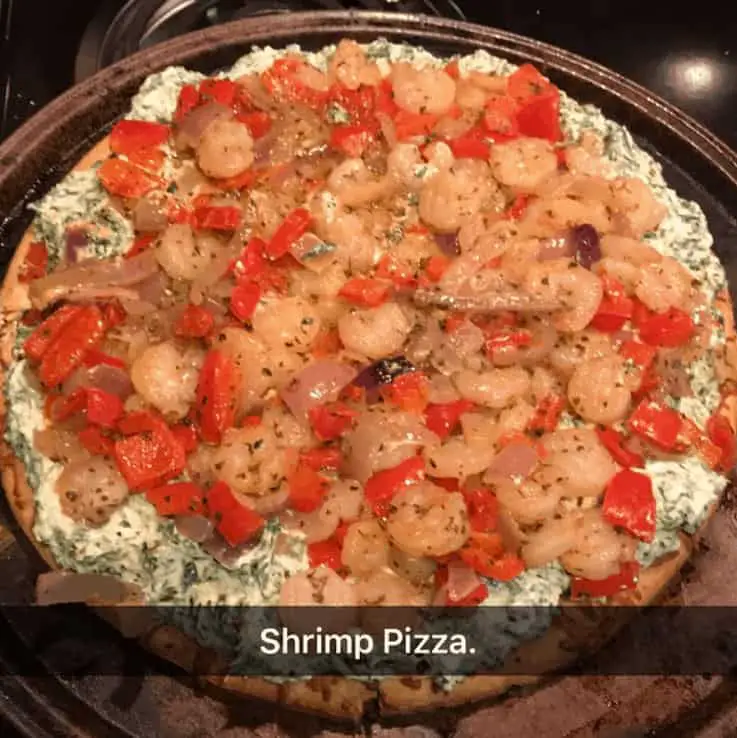 As this blogger writes, this pizza is light and refreshing, making it a great option for the summer – especially since it can be served hot or cold. The recipe combines the shrimp with some frozen chopped spinach, which makes it not only more delicious but healthier too.
13. Shrimp Pizza from Plums Kitchen
Here's a fun video to watch. In it, this YouTuber demonstrates how to make a delicious pizza topping using marinaded shrimps in alfredo sauce. We love the simplicity of this tutorial – everything is clearly demonstrated, so it's easy for anyone to copy – and when the pizza comes out of the oven, it looks fantastic. And if you agree, why not have a go at making something similar?
14. Simply Delicious Shrimp and Spinach Pizza Recipe – Food.com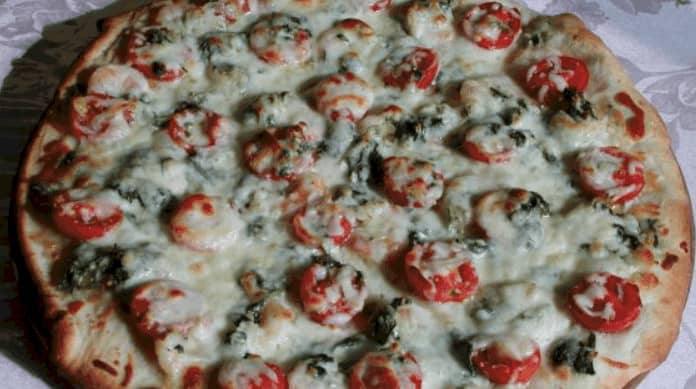 Here's another recipe for shrimp pizza that incorporates spinach, but this time, using cherry tomatoes too. For those who like it hot, there's also the option of adding some habanero sauce, which we things sounds like a great idea – although if you aren't a fan of spice, you can always leave it out.
15. The Ultimate Shrimp Pizza from Trini Cooking with Natasha
This recipe claims to teach you how to make the "ultimate" shrimp pizza, which is quite a claim, but there's no denying it looks like a particularly yummy version. This tutorial shows you how to make the whole thing from scratch, including the pizza dough itself.
It then incorporates green and red peppers and mushrooms along with the prawns themselves, and when it comes out of the oven, it gets a sprinkling of sweet basil too. It looks highly impressive – definitely an option we'd be interested in sampling!
16. Shrimp Scampi Pizza – Cooking With Curls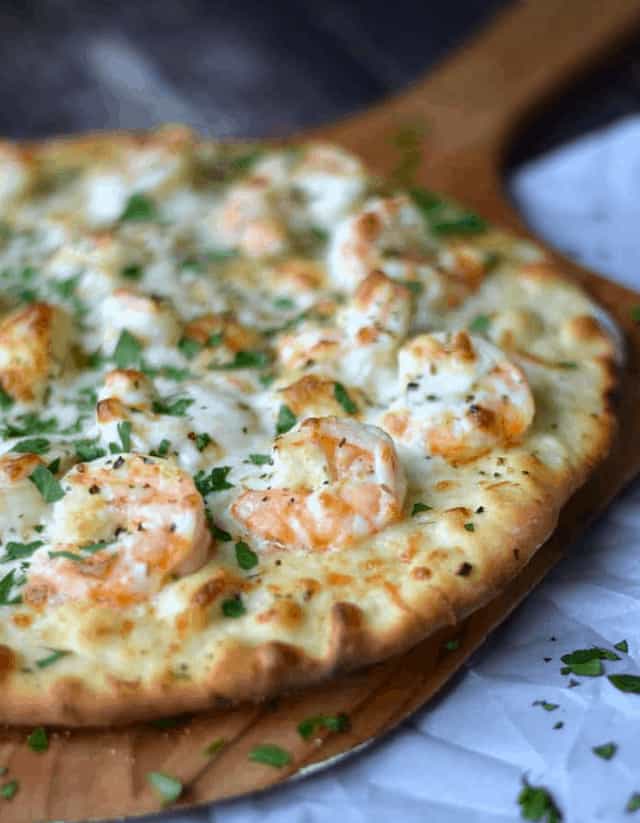 The blogger responsible for this recipe starts by telling us how much she loves pizza – so much so that she thinks she could eat it every day of the year. However, even if you eat pizza just once a week, you'll need to vary your toppings from time to time, in which case shrimp could be a great option. This version is a simple affair that combines the shrimp with plenty of melted cheese and a pinch of Italian seasoning, making it a perfect alternative to some more classic versions when you feel like changing things up a bit.
17. Seafood Alfredo Pizza
This recipe isn't just for shrimp pizza – it's for a full seafood version in a delicious creamy alfredo sauce. However, the shrimp features prominently, so this is a recipe that still deserves a place on our list, and as you can see when she pulls it out of the oven, it looks irresistible – and it's a recipe that just about anyone should be able to copy too.
18. Pizza With Shrimp Fra Diavolo – Ricardocuisine.com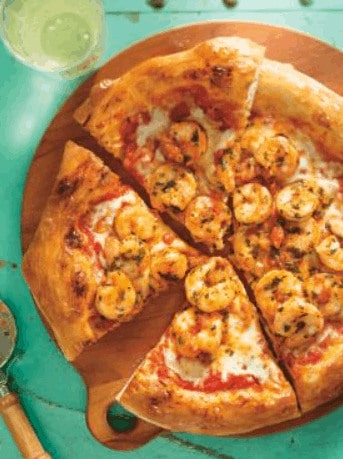 Take your shrimps, cook them with salt, pepper, white wine, chopped parsley and tomato sauce and then combine them with onion, garlic and tomato sauce to use as the topping for a pizza. Sound like something you might enjoy? Then this recipe has all the details you'll need to make a version of your own.
19. Prawn Pizza Recipe from Zeena's Recipes
Here's a quick and easy recipe for spicy prawn pizza that is sure to be a big hit. The prawns are first fried in oil before being put onto the pizza, which has been prepared with a tomato and shrimp sauce. To this is added peppers and olives – along with a generous handful of cheese – leaving you with a pizza for seafood lovers to savor!
20. Shrimp and Garlic Pizza Recipe – MyRecipes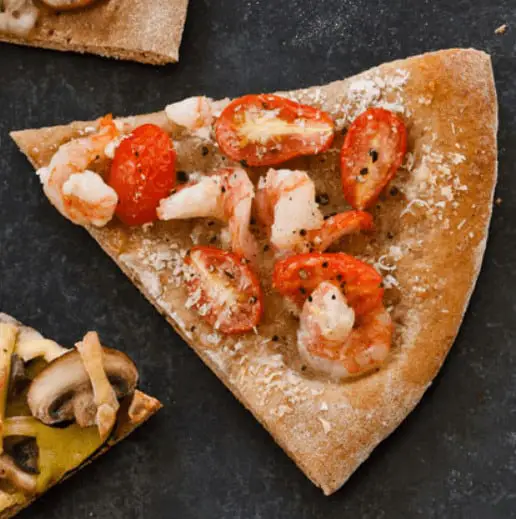 This recipe calls for pre-baked pizza crust – either homemade or store-bought. You then top it with the shrimps and garlic and cook it again, after which it's ready to serve. With this recipe, you can prepare most of it in advance, so it's a great option to serve when you're entertaining. That way, you can spend less time in the kitchen and more time with your guests.
21. Prawn Pizza from Sanjeev Kapoor Khazana
Shrimp pizza doesn't need to be overly complicated, as this simple recipe proves. The shrimps are simply fried in oil along with some crushed garlic and chili flakes and then arranged on top of the pizza along with a tomato sauce base and a good sprinkling of cheese. The tutorial is less than three minutes long, which shows just how easy it is to make – so what are you waiting for?
22. Shrimp Scampi Pizza Recipe – We are not Martha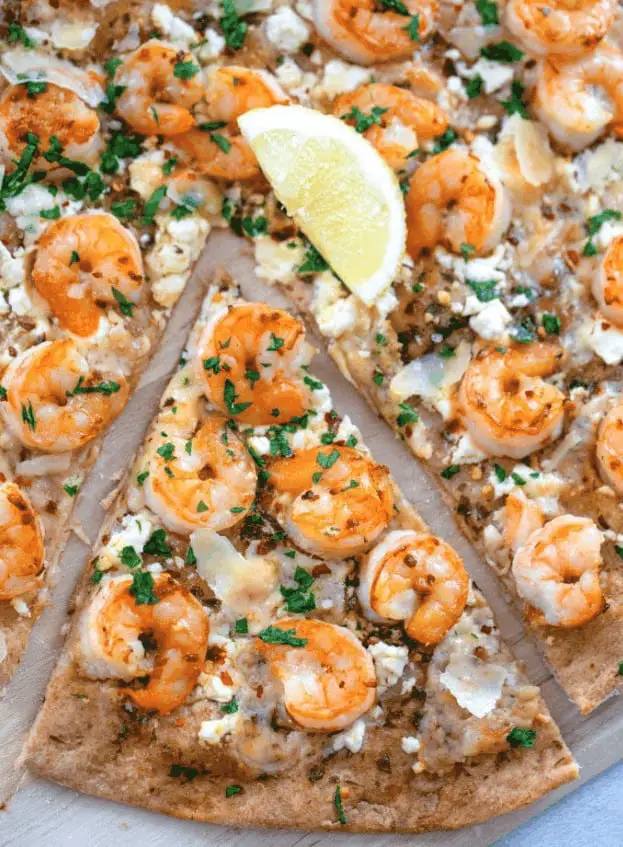 Here's an idea we love – a shrimp pizza that adds salty feta to the mix to create something truly special. Give it a squeeze of lemon, plenty of garlic and a pinch of herbs and you'll have a shrimp pizza that's just bursting with flavor. It's making us hungry just thinking about it!
23. Cajun Shrimp Pizza
Cajun shrimps are one of the world's culinary delights, and if you love them as much as us, you'll be excited about the idea of using them as a pizza topping. It's an unusual idea, but we can imagine how good it must taste – and we're sure plenty of other people will be keen on trying this recipe ASAP.
24. Shrimp Pizza with 5 Minute Alfredo Sauce – Laughing Spatula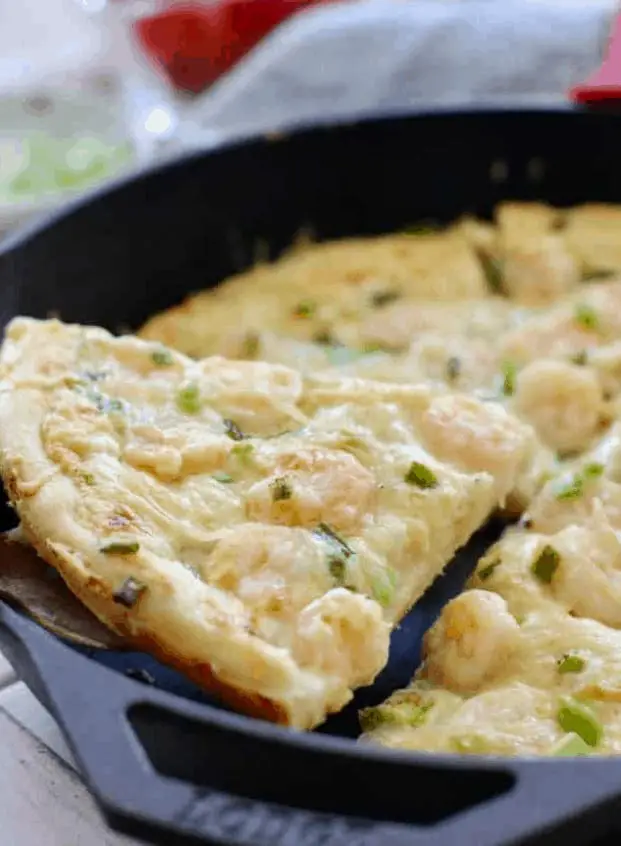 This recipe is based on a simple 10-minute alfredo sauce that even the most novice cook will be able to copy. Once you have this ready, you combine it with the shrimps to make a delectable pizza topping everyone is sure to love – and that will have everyone coming back for a second helping.
25. Shrimp Scampi Pizza from Food.com
If you don't have time to watch long and elaborate videos, this recipe should be of interest –since it lasts less than a minute. You can watch as they combine the red onion, garlic and white wine to cook the shrimps and create the perfect pizza topping. And if you want to make one of your own, all you need to do is follow the simple steps they demonstrate.
26. Avocado and Shrimp Pizza – Kitchen Stories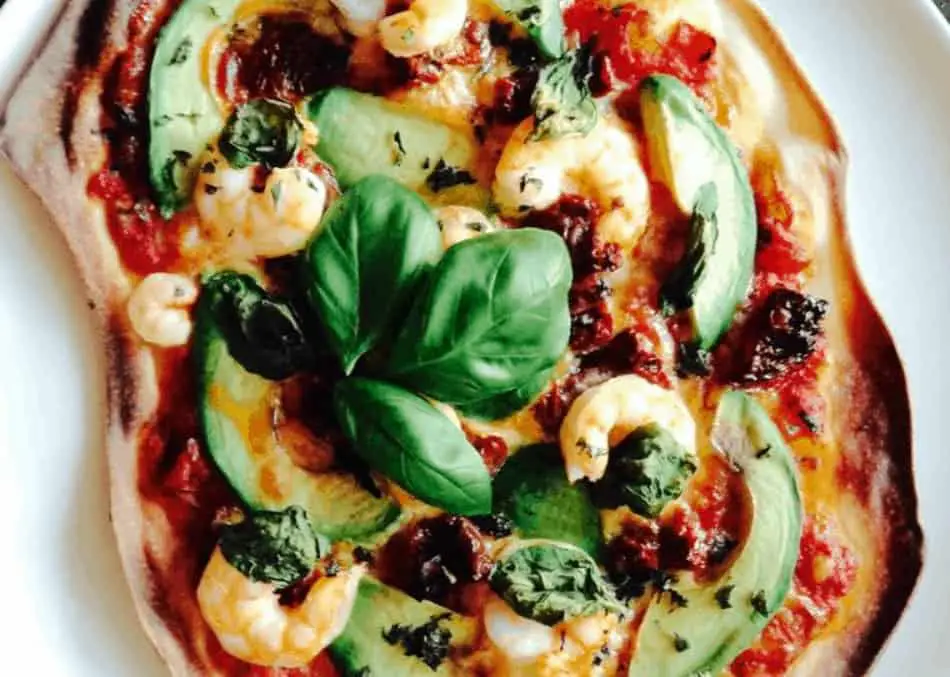 We love it when we come across innovative new culinary ideas, and this recipe for avocado and shrimp pizza certainly qualifies. With a combination of such delicious ingredients, how can it be anything but delicious? In any case, we can't wait to give it a go and find out!
27. Hot and Spicy Shrimp Pizza with Arugula – Caribbean Green Living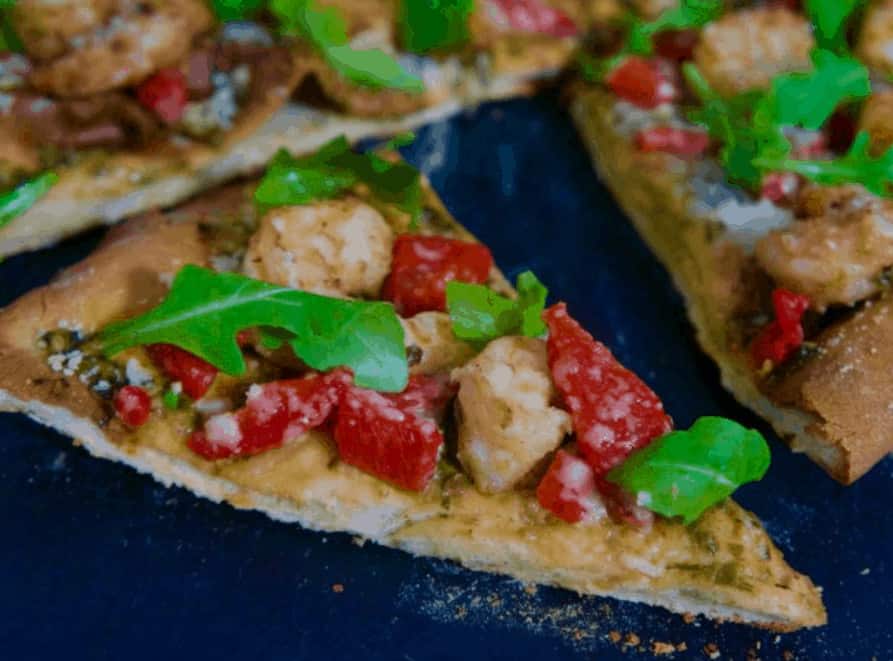 Just from the sound of it, hot and spicy Caribbean-style shrimp pizza with arugula sounds like the kind of thing we need to try – but if there was any doubt, the photos in this blog closed the deal. Sound like the kind of thing you need to sample too? Then give this blog a read to find out how to make it!
Loads of amazing recipes for shrimp pizza
As you can see, there's no shortage of recipes for shrimp pizza, from the most basic versions to more elaborate or innovative creations.
We've enjoyed collecting these recipes for you, so we hope you've enjoyed reading and watching them too. And above all, we hope we've helped you find the inspiration you needed for making a delicious shrimp pizza of your own.
27 Best Shrimp Pizza Recipes
Ingredients
Garlic Prawn Pizza Recipe

Shrimp & Crab Cast Iron Pizza

How To Make Shrimp Pizza In Under 30-Minutes

Old Bay Shrimp Pizza From Kitchen Trap Queen

Shrimp Scampi Pizza From Thomas Johnson

Shrimp Pizza From Plums Kitchen

The Ultimate Shrimp Pizza From Trini Cooking With Natasha

Seafood Alfredo Pizza

Prawn Pizza Recipe From Zeena's Recipes

Prawn Pizza From Sanjeev Kapoor Khazana

Cajun Shrimp Pizza

Shrimp Scampi Pizza From Food.Com
Directions
Select your favorite recipe.
Organize all the required ingredients.
Prep the recipe in 30 minutes or less!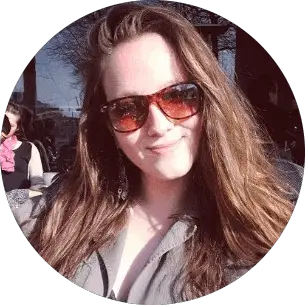 Barbara is an enthusiastic food-exploring person that goes through different culinary experiences. She got inspired by creating a pizza blog post after she tasted one of the best-selling pizzas in Toledo.