Taco Bell is a restaurant that has provided excellent food since Glen Bell started serving tacos in California in 1962. One of their most delicious dishes is famous Mexican pizza you can try in 7,000 restaurants and over 350 franchises worldwide.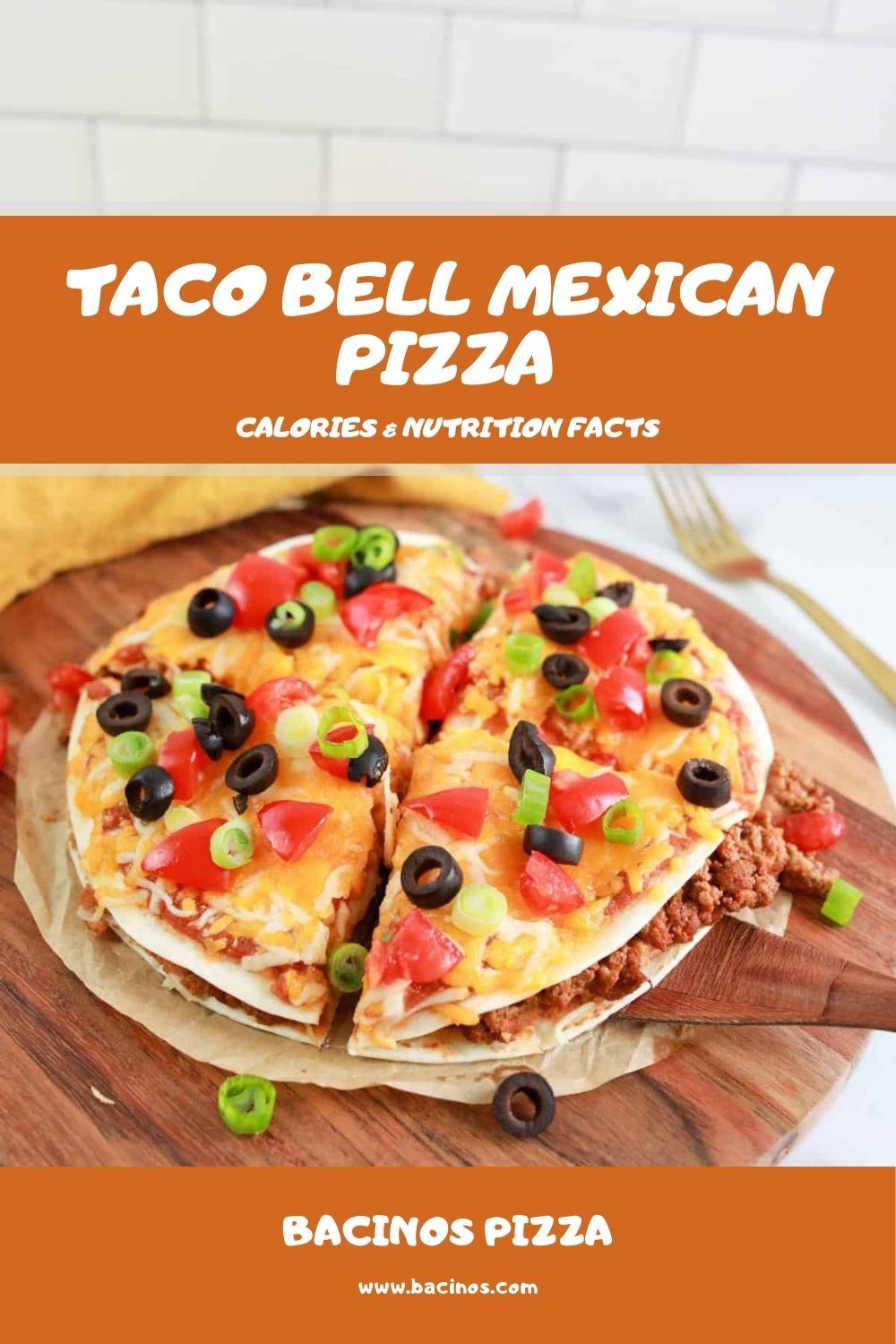 This company is one of the top ten most innovative companies globally and the first one to launch a mobile app for dining and drive-thru orders in US restaurants. Now, let take a look at Taco Bell Mexican pizza calories & nutrition.
Taco Bell  History
Since the 1960s, when the first Taco Bell opened in Downey, California, this Mexican restaurant has become one of the favorite American fast-food chains. The company's menu is mainly inspired by traditional Mexican cuisine.
You can try various tacos, burritos, and nachos there, but this restaurant always follows trends. So, you can find many other fast-food options there, including delicious pizza prepared on Mexican way.
Taco Bell Mexican Pizza Calories and Nutrition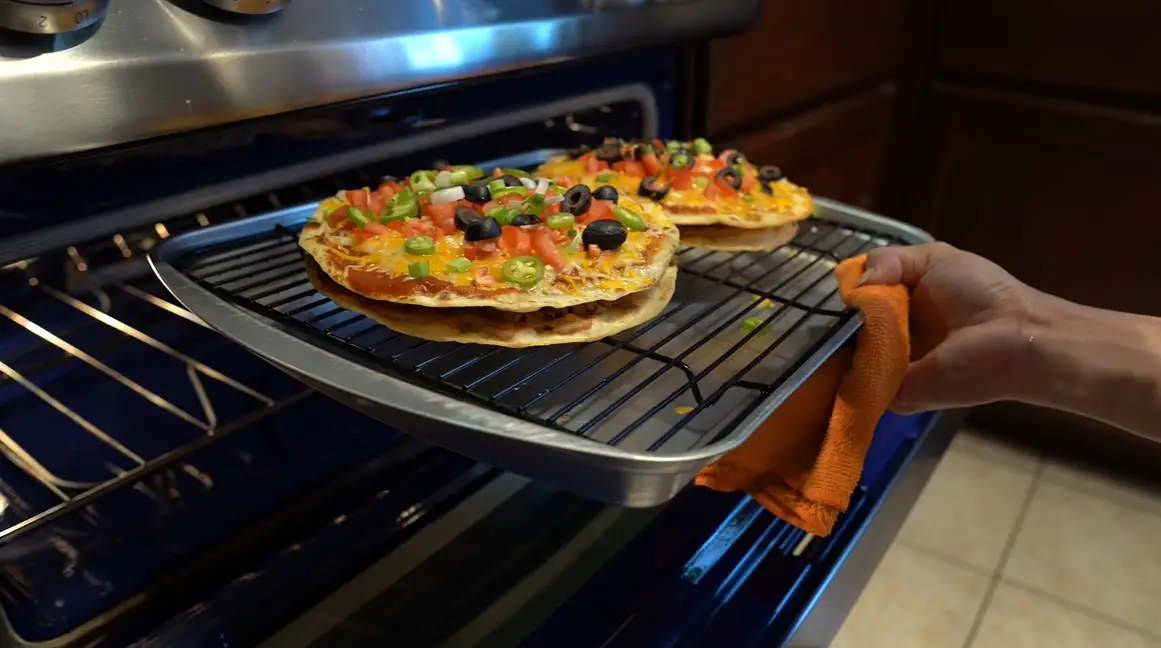 Taco Bell Mexican pizza is a yummy dish served with several sauces and toppings, including seasoned beef, steak, chicken, shredded chicken, black beans, beans, and potatoes.
The original Taco Bell Mexican pizza recipe includes the following ingredients:
Mexican pizza shell
Seasoned beef
Three cheese blend
Refried beans
Mexican pizza sauce
Tomatoes
However, you can also customize it by including or excluding Mexican pizza sauce, Creamy jalapeno sauce, Nacho Cheese sauce, three cheese blends, guacamole, beans, and tomatoes.
Remember that some sauces will add more taste to your Mexican pizza, including the most popular:
Avocado ranch sauce
Spicy ranch
Creamy jalapeno sauce
Nacho cheese sauce
Chipotle sauce
Red sauce
Guacamole
Salsa
Pico de Gallo
Reduced-fat sour cream
However, you should think twice before ordering Taco Bell Mexican pizza if you prefer a healthy diet with low-calorie content. A typical Mexican pizza from Taco Bell has 530 to 550 calories, including 49.1% from fat, 35.6% from carbohydrates, and 15,3% from proteins per serving of 213 g.
Taco Bell Mexican pizza calories and nutrition per pizza pie

Nutrients
Value
Daily nutrition value
Calories
530 to 550 (260 from fat)
32%
Proteins
19 to 20 g
38 to 42%
Total fat
29 to 31 g
45 to 48%
Cholesterol
40 to 45 mg
13%
Saturated fat
8 to 10 g
40 to 47%
Polyunsaturated fat
0 g
0%
Monounsaturated fat
0 g
0%
Trans fat
0.5 g
33%
Total carbs
47 to 49 g
16 to 21%
Sugars
3 to 5 g
4%
Dietary fiber
7 to 9 g
28 to 36%
Sodium
860 to 1,040 mg
36 to 43%
Potassium
0 mg
0%
Except for those ingredients, Taco Bell Mexican Pizza also contains:
10 to 15% of vitamin A daily needs
4% of vitamin C daily needs
30 to 35% of calcium daily needs
15 to 20% of iron daily needs
Unfortunately, this particular food doesn't contain other vitamins and minerals.
Keep in mind that ingredients' Percent Daily Values are always based on a recommended average 2,000 calorie diet for adults and kids over four. However, these values are not constant and vary depending on your diet.
Even though most people need to intake recommended calorie level, your individual needs will depend on your age, gender, metabolism type, and physical activity.
Sauces and Toppings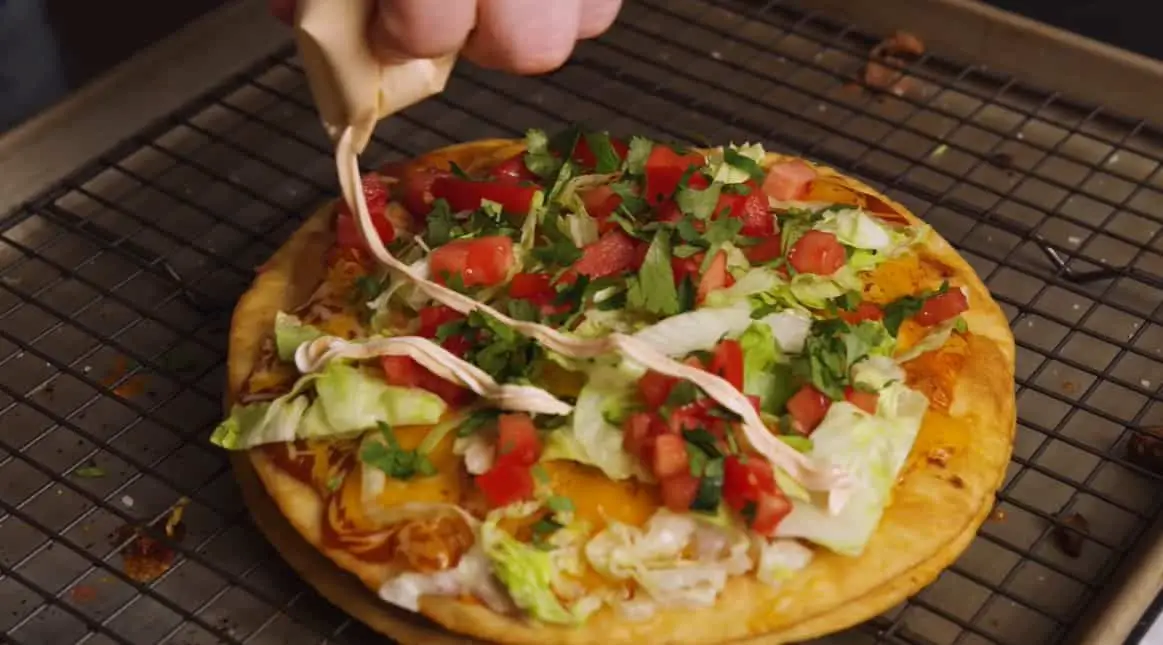 It won't be enough to know the calorie and nutrient value of Mexican Pizza from Taco Bell. If you want to have a whole picture, you need to calculate calories from added sauces and toppings, as well.
Taco Bell pizza sauces Calorie

Sauce
Calorie
Pico de Gallo
5
Red sauce
10
Reduced-fat sour cream
20
Salsa
20
Nacho cheese sauce
30
Guacamole
35
Spicy ranch
70
Creamy Jalapeno sauce
70
Chipotle Sauce
80
Avocado ranch sauce
80
Remember that added toppings will add some undesired calories to your meal and increase its price. An average topping's cost ranges from $0.25 to even $1.5, so you should count it in overall expenses.
On the other hand, some sauces are free of charge, like red sauce, but you need to pay from $0.25 to $0.55 for other types available. Some of them can add significant calories number to your meal.
Taco Bell pizza toppings Calorie

Add-on
Calorie
Onions
0
Lettuce
0
Romaine lettuce
5
Jalapeno peppers
5
Steak
50
Chicken
50
Shredded chicken
60
Seasoned rice
60
Red strips
70
Fritos
80
Hot Fritos
80
Black beans
80
Potatoes
90
Cheese
110
If you are a vegetarian, you can prepare a healthy vegetarian Taco Bell Mexican pizza copycat low in calories. It contains 370 calories, 14.6 g of total fat, and at least 10 g of fiber.
Taco Bell Menu
Except for pizza, you can order many other delicious meals at Taco Bell. Their calories and nutrients are different so that you can calculate the best meal for your needs.
Most nutritious options
Black beans are the best nutritious option among sides
Soft breakfast with egg and cheese is the best choice for breakfast
Crunchy is the best option among tacos available
Cinnamon twists should be a dessert of your choice if you prefer food with low-calorie level and excellent nutrients value
Bean burrito is a nutrients win-win combination among other burritos
Shredded Chicken is the one you should choose if you are a quesadillas' lover
Veggie power menu bowl is the most desirable part of the power menu this restaurant provides
Triple-layer nachos is the best that nachos can offer
Cheesy roll-up is a pearl of $1 value menu
Lipton iced tea is a drink that won't add unnecessary calories to your meal
Most Taco Bell's nutritious options

Type
Calorie
Proteins
Fats
Carbs
Sodium
Black beans
50
2 g
1 g
8 g
135 mg
Soft breakfast taco
170
7 g
9 g
15 g
330 mg
Crunchy taco
170
8 g
9 g
13 g
310 mg
Cinnamon twists
170
1 g
6 g
27 g
210 mg
Spicy tostada
190
6 g
10 g
22 g
410 mg
Shredded chicken quesadilla
310
13 g
13 g
35 g
705 mg
Triple layer nachos
320
7 g
15 g
40 g
480 mg
Bean burrito
350
13 g
9 g
54 g
1,000 mg
Veggie power menu bowl
430
12 g
18 g
57 g
850 mg
Lipton unsweetened iced tea
0
0 g
0 g
0 g
160 mg
Least nutritious options
Breakfast crunch wrap should be your choice for breakfast only if you don't mind counting calories
Crunch-wrap supreme is a high-calorie burrito option
Nachos bell-grande is the least nutritious option among nachos
Cheesy fiesta potatoes is the most horrible calorie bomb among sides
Cinnabon delights are sweets that will add a bunch of calories to your daily diet
Fiesta salad is a calorie bomb among tacos
Quesarito is full of fat and calories, and the worst choice among offered quesadillas
Power menu bowl from the power menu will add more calories to your diet than you need for a day
Beefy Fritos burrito is a top calorie star on the value menu of $1
Mountain Dew Baja Blast is the most caloric drink available in this restaurant
Least Taco Bell's nutritious options

Type
Calorie
Proteins
Fats
Carbs
Sodium
Fiesta taco salad
740
25 g
38 g
75 g
1,110 mg
Nachos BellGrande
740
16 g
38 g
82 g
1,050 mg
Breakfast crunchwrap
650
21 g
41 g
51 g
1,290 mg
Quesarito
650
21 g
33 g
68 g
1,390 mg
Crunchwrap supreme
530
16 g
21 g
71 g
1,200
Power menu bowl
480
26 g
20 g
50 g
1,170 mg
Beefy Fritos burrito
440
13 g
18 g
57 g
1,000 mg
Cheesy fiesta potatoes
230
3 g
12 g
28 g
520 mg
Small Mountain Dew Baja blast
220
0 g
0 g
59 g
65 mg
Two-pack Cinnabon delights
160
2 g
9 g
17 g
80 mg
Taco Bell Special Offers
Taco Bell also provides diet-specific options, depending on your needs and preferences.
Gluten-free options
Even though some food is considered gluten-free, you should be careful, especially if you have Celiac disease. For example, their corn-based tortillas and chips are gluten-free, but they are sometimes prepared with food containing gluten.
Vegetarian food
You can order most of Taco Bell's meals without animal products and with extra beans and veggies. However, many non-animal ingredients are bought from suppliers producing animal products.
Some Taco Bell restaurants include a separate menu for vegetarian and vegan customers, but it is not a rule.
Food allergies issue
Taco Bell offers various options for customers suffering from different allergies. Such a menu excludes fish, eggs, dairy, soy, and nuts. However, be aware that such food is prepared near allergens, so you should be careful.
Summary
Taco Bell Mexican pizza is delicious food served with several sauces and toppings, including seasoned beef, steak, chicken, shredded chicken, black beans, beans, and potatoes.
Unfortunately, it has a high-calorie level, plus you can even upgrade it by adding more cheese or jalapeno sauce. However, you can calculate your options and enjoy this yummy dish from time to time, even without intaking too many calories.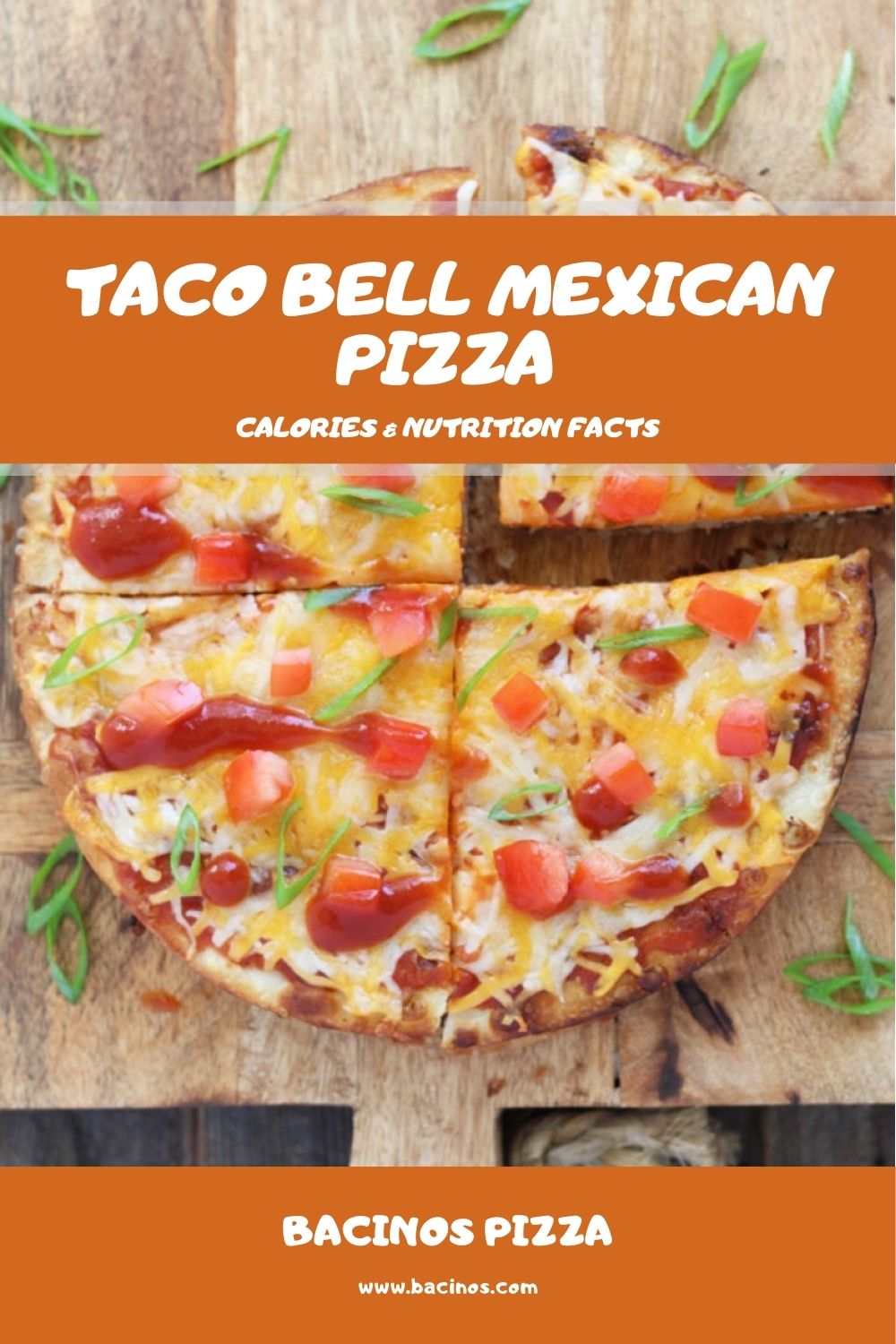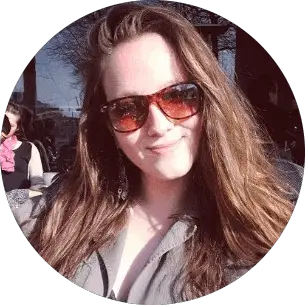 Barbara is an enthusiastic food-exploring person that goes through different culinary experiences. She got inspired by creating a pizza blog post after she tasted one of the best-selling pizzas in Toledo.