You are on the exact post if you are looking for Thai Pizza recipes that you can easily follow! This post will tell you the 19 Thai Pizza recipes we carefully analyzed and picked for your best interest. But, Before anything else, let's talk about what makes a Thai pizza different from other countries' versions. If yes, let's talk about it first.
Thai pizza is often characterized by a strong spicy flavor, distinct from pizzas made with the usual bland sauce and toppings. Moreover, unique features of Thai pizza include using curry and peanuts in the pizza sauces and toppings. Infusing Thai herbs & spices, like Krapow or holy basil, is the most prominent characteristic of a Thai Pizza.
Now, let's review these recipes and see what makes them authentic Thai Pizza recipes!
We will start with the one closest to the typical pizza recipe– Easy Thai Chicken Pizza! This is just like the original version people often make. But, instead of using the usual tomato sauce, this one has peanut sauce, giving the dish a salty yet sweet taste. It also contains nutritious toppings such as shredded chicken, moisturized carrots, chopped cilantro, onion, and mozzarella cheese.
2. Spicy Thai Krapow Pizza
You'll know this is a Thai fusion pizza recipe from the name itself. It has the spicy quality of most Thai dishes and the addition of holy basil or Krapow. What's more fascinating about this is that it doesn't use any sauce, unlike in usual pizza recipes; the toppings are set directly on the dough. Most importantly, the crust is extra crunchy due to the cooking technique.
Although the process of making this and the ingredients is almost identical to other chicken pizza recipes, this one is different because the pizza dough is replaced with flatbread. This makes this recipe much healthier as flatbread has a low level of fat and calories but has an elevated fiber count.
So, suppose you are conscious about your health. In that case, this Thai chicken flatbread is an excellent choice.
4. Vegan Thai Pizza
Where are our Vegans at? Here is the perfect Thai pizza recipe for you!
This enticing and colorful pizza recipe requires the cautious use of vegan ingredients. The dough used is hand-made to suit the criteria of veganism, but store-bought can also be an alternative. Aside from plenty of veggie toppings, this one also has meatless chicken– which is an acceptable substitute for real chicken.
Like the previous recipe, this is also meatless and good for vegetarians. This recipe has a balanced taste of everything and a slight taste of spice, sweetness, cheese, and peanuts. More than that, this light and fresh pizza will surely satisfy your family or guests.
The Meat-free Thai Pizza recipe serves 4 and requires more than two hours of cooking and preparation time.
6. Tom Yum Skillet Thai Pizza
Tom Yum is a popular dish in Thailand. That's why it makes sense to add a Tom Yum version of pizza to this list!
 This recipe requires advance preparation, as the homemade dough is advised to be left to rise overnight. Besides that, this pizza is very straightforward; the cooking time may only last about 10 minutes because it is cooked in a skillet.
No list is complete without this Thai BBQ chicken pizza recipe!
It has the right combination of flavors, perfect for your next dinner or weeknight snack. You can also pair this with a no-mayo coleslaw or a radicchio salad for a better-balanced eating experience. Adding mozzarella or smoked cheese is also a great idea so you can still taste the traditional pizza.
Here is a Thai chicken curry pizza from Morgane Recipes. This tasty and appetizing pizza recipe will need a well-kneaded dough. Regarding the toppings, you only need slices of chicken, curry paste, and spices.
Thai chicken curry pizza is an easy dish that even kids will love. Follow the exact measurements in this guide, and you will have a substantial rectangular pizza.
The main ingredient for this pizza is Tempeh, a food created from fermented soybeans. For people who don't like meat, this recipe might be an alternative to still keep a protein-rich meal or snack. Moreover, the 5-minute peanut sauce is easy to make as it only has 7 essential ingredients. It also has a crunch due to the additional toppings like shredded cabbage and sesame seeds.
Next is this fun-to-make sausage pizza! It is a version of Thai Sausage pizza that uses lots of herbs and spices for the herb paste, which will be mixed in the ground pork meat and fat. Yes, include the fat in the homemade sausage, as it gives a distinct juicy flavor to the pizza. It is highly recommended to prepare the sausage beforehand to let all the flavor fuse.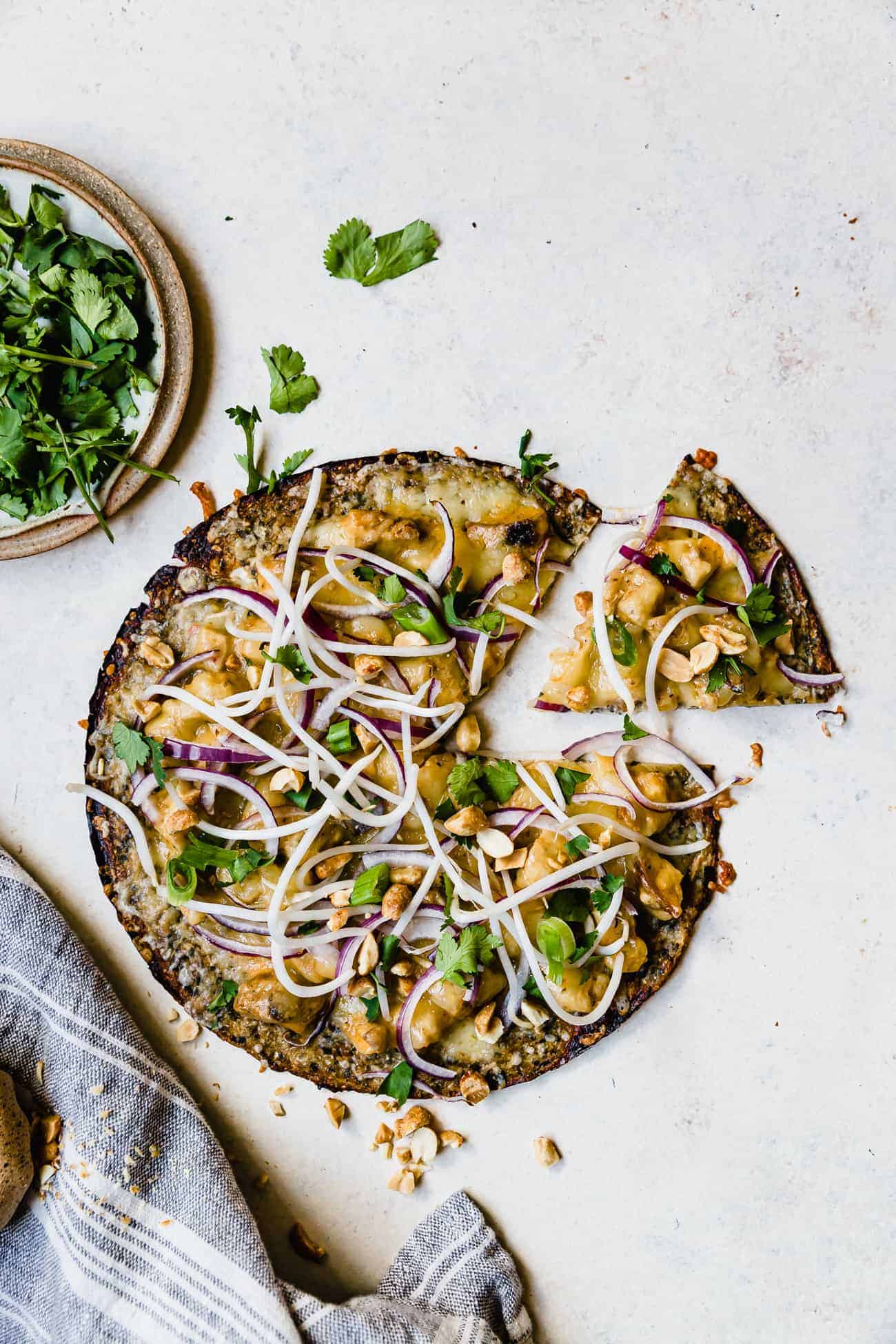 Do you need to serve Thai pizza for people who have gluten-free and ketogenic diets? If yes, this might be the recipe that will erase your worry! This Gluten-free & Keto Thai pizza is just like the original or standard version of pizza; it's just that the crust used here fits with the diet.
This Italian-Thai fusion pizza can serve as a main dish for 3 people.
12. Chicken Pad Thai Pizza
Pad Thai is a famous dish in Thailand– and now here is the pizza version of the delicacy!
Each slice of this pizza is bursting with flavor and color. Using colorful veggies like carrots, red bell pepper, bean sprouts, and cilantro is a great way to make this a vibrant and eye-pleasing pizza. The sauce used here is Pesto which gives a garlicky and nutty taste.
Our next recipe draws inspiration from the famous Shrimp Satay, another Thai cuisine. This Thai sweet & spicy shrimp pizza bursts in flavors, from spiciness to the freshness of the seafood. If you love spicy seafood, go for this one!
You can also make this pizza with ease, as all you need is 20 minutes of your precious time to create this. Serve this and save yourself the hassle.
14. Thai Mini Chicken Pizza
The following recipe yields tiny versions of Thai chicken pizza. Making this is an extraordinary idea for promoting fun at the dining table, especially if you have kids. Just be cautious of the spiciness of this pizza.
This mini Thai chicken pizza includes the common peanut sauce found in Thai pizza. It also has two kinds of cheese: mozzarella and cheddar for the satisfying cheesy pull.
Next on the list is this Thin-crust Thai pizza! It is a straightforward recipe with very minimal and essential ingredients. This is different from other pizzas not only because of its thin crust but also because of the sauce. Instead of the usual tomato paste, this one has a sweet chili and ginger root mixture.
Since this recipe requires a thin crust, be careful when stretching the dough.
16. Plant-Based Tom Yum Thai Pizza
Indeed, Tom Yum-based Pizzas are a trend, but this time, we will give you a Vegan version of it! This plant-based Tom Yum pizza contains Thai herbs and spices like basil, lime leaves, and lemongrass. For the topping, tofu is infused with herbs for better flavor and aroma.
Use this recipe to elevate your usual Tom Yum soup and serve it with your loved ones!
This Tom Yum-flavored margherita pizza is a product of innovation as it brings the strength of both Italian and Thai cuisine in a single fulfilling meal. The Tom Yum brings spice and a sour taste to this fusion, while the Margherita fuses a tangy and sweet style.
If you are looking to add an exciting twist to your next meal, this recipe could be an excellent choice.
18. Red Thai Curry Pizza
This red Thai curry pizza is vegan-friendly. It has the most basic yet nutritious ingredients, like coconut milk, red curry paste, carrots, onions, bell peppers, and cheese.
If you need to serve a quick meal or snack, this might be the ideal Thai pizza recipe to do just that. Just prepare the sauce, toss the toppings, bake, and you're set!
Lastly, we have this spicy Thai shrimp with a cauliflower crust! Yes, this is different from the usual dough for a pizza; hence, you must make your own, as store-bought might be unavailable. This one also has pineapples, which resemble a Hawaiian-style pizza.
In terms of the making process, all you need is 55 minutes. Also, beware that this recipe has an estimated calorie count of 468.
Final words
Whether you are serving many guests, creating a delicious family meal, or enjoying a single slice of pizza yourself, this list of 19 Thai pizza recipes will help you! All of these recipes are straightforward and have affordable and accessible ingredients.
Try these out, and you won't have to worry about craving another Thai pizza anymore!
19 Thai Pizza Recipes
Directions
Select your favorite Thai Pizza recipe.
Organize all the required ingredients.
Prep the recipe in 30 minutes or less!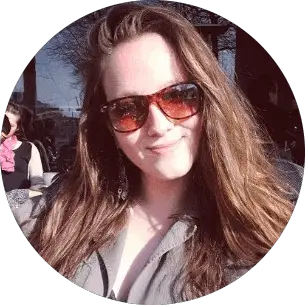 Barbara is an enthusiastic food-exploring person that goes through different culinary experiences. She got inspired by creating a pizza blog post after she tasted one of the best-selling pizzas in Toledo.