Artichoke pizza has become one of the most famous pizza flavors worldwide. Healthy and tasty as it is, many people have created different recipes and ways of preparing it. The possibilities are infinite.
If you want to create your artichoke pizza, this article is exactly what you need. We have done some research for you, and found the best artichoke pizza recipes for you to try!
We'll start with a great variable of artichoke pizza. Yes, we have decided to set the bar quite high from the beginning and bring you a spinach artichoke pizza recipe for you to try. Say 'goodbye' to pepperoni, because once you have tried this recipe, you will want to repeat it over and over again.
2. New York-Style Artichoke Pizza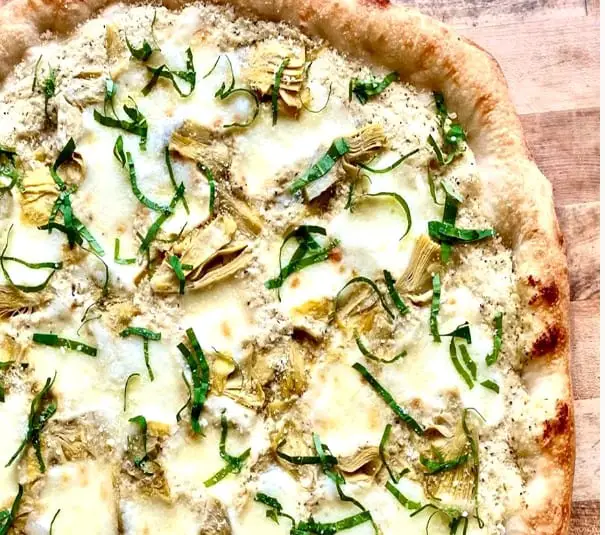 If you are into New York-style pizza, this recipe is what you have been looking for. A cheesy topping to go with your favorite vegetable. What's best, this recipe even explains how to create the same dough New York pizza has! Can't miss it. A great way of enjoying a fantastic meal with family and friends.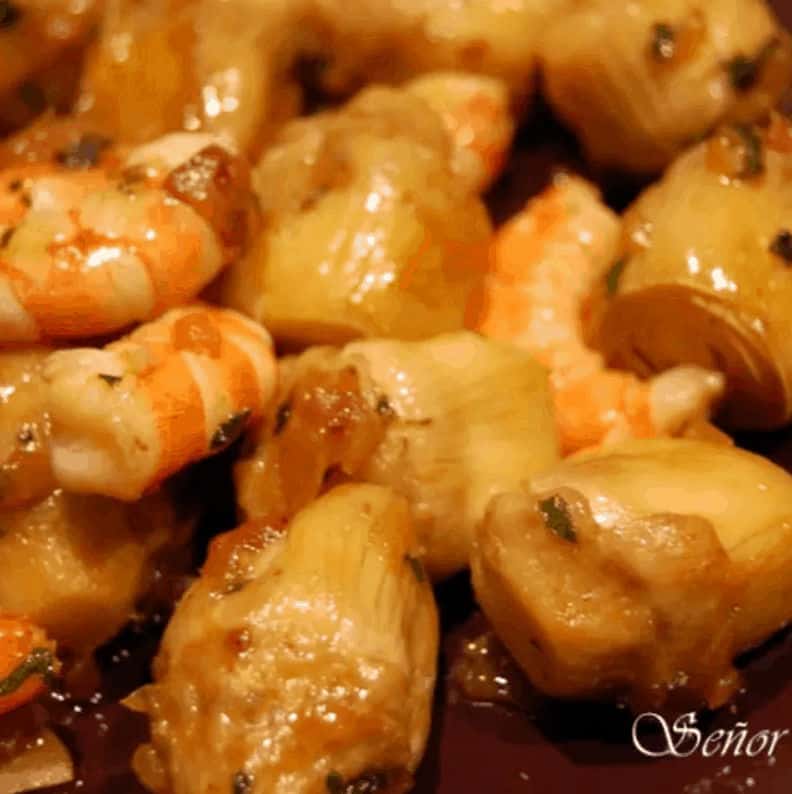 Don't read the heading twice, because you got it straight right from the beginning. This artichoke pizza goes for the most tender part of it: its heart. What's more, it also includes shrimps on top of it. Healthy and easy, this pizza will be the star at any meeting of yours. Try it out, and be amazed by its great taste!
4. Artichoke and Cheese Blend Pizza
If you love the looks of mozzarella cheese blending into any ingredient, you should follow this recipe. It guides you through creating a mixture of artichoke and mozzarella that will surely water your mouth. Grab a napkin, and start cooking this fantastic New York-style artichoke pizza.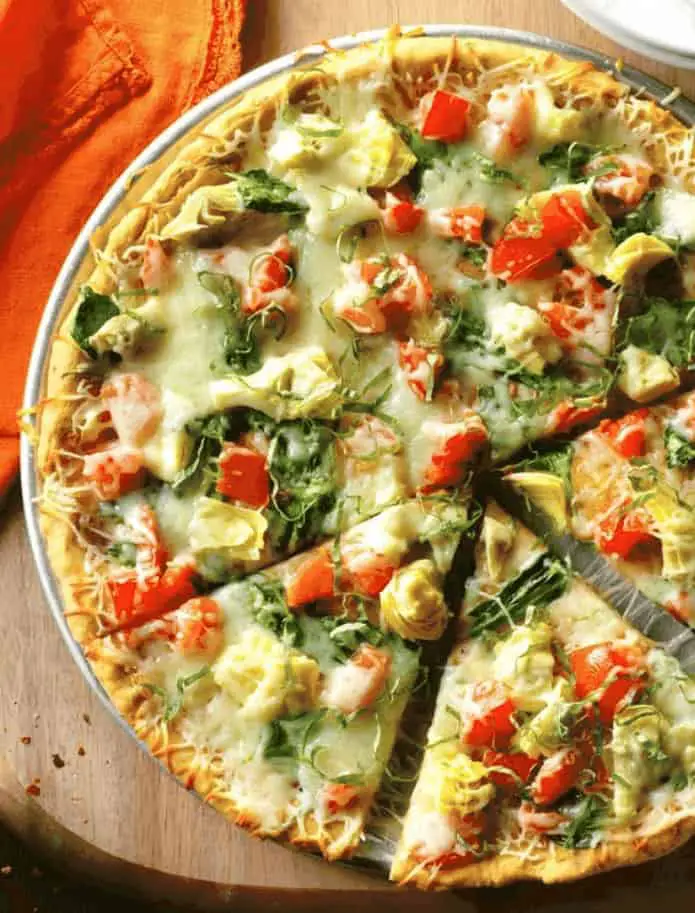 This recipe applies the taste of non-alcoholic beer to your artichoke pizza. Add it to your ingredients, and feel the difference in your mouth! The dough gets a great touch with this addition, and the blend of spinach and artichoke for the topping is a really good choice. Italian shredded cheese makes the blend even better.
6. Average Guy Artichoke Pizza
This recipe includes both toppings and sauce. The taste of it is amazing, and the way both ingredients blend in together is incredible. A tip: paprika might get somewhat spicy, so be cautious when adding it to your sauce. If you are not into spicy food, you can dismiss it, and the taste will not be worsened. Try it out!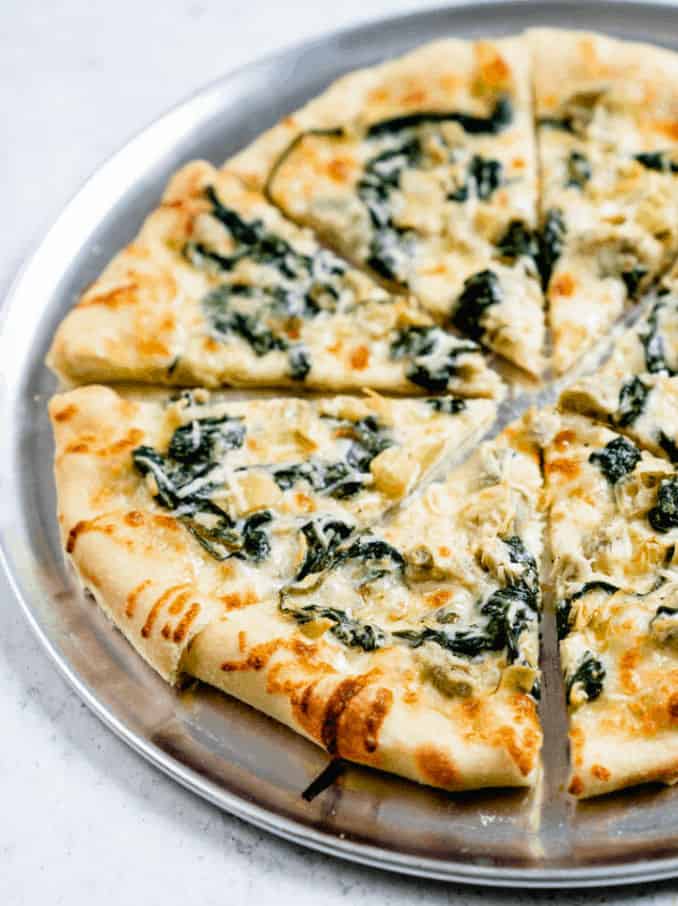 When a recipe makes it look so easy to cook something, it is because it actually works that way! Have your artichoke pizza prepared right from scratch and ready within minutes in your kitchen. It also comes with some tips for you to prepare your own dough if you want to, although you can also buy it and save even more cooking time.
8. Basille's Creamy Artichoke Pizza
Don't you love the looks – and taste – of a creamy artichoke pizza? This recipe teaches you exactly what you need to do to get a pizzeria-like pie in your kitchen. Get it done within minutes. Sit back, and enjoy one of the tastiest artichoke pizzas out there. Grab a slice or two, and save some for later!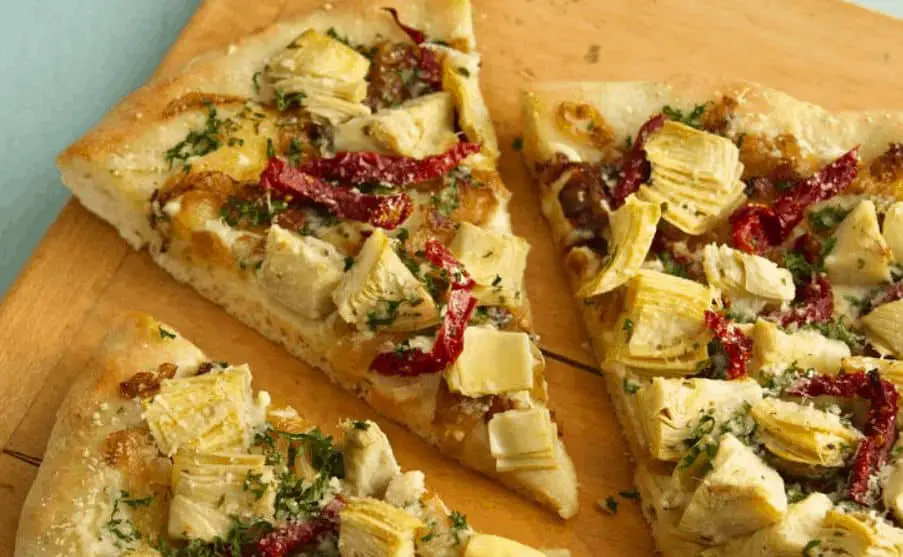 This artichoke pizza recipe takes about 40 minutes to prepare, and you are ready to go! A fine mixture of ingredients and parmesan cheese that blends in to create a spectacular pie. Try it out, and have a healthy meal for you and your guests. A must-try when looking for including vegetables in your everyday diet!
10. Artichoke and Eggplant Pizza
If you are looking for something else to add to your artichoke pizza, this might be the solution. Still healthy, and adding a great taste, grilled eggplant can become your artichoke's best companion on top of your pie. Add some cheese, tomato sauce, and you are good to go! A delicious meal, made within few minutes.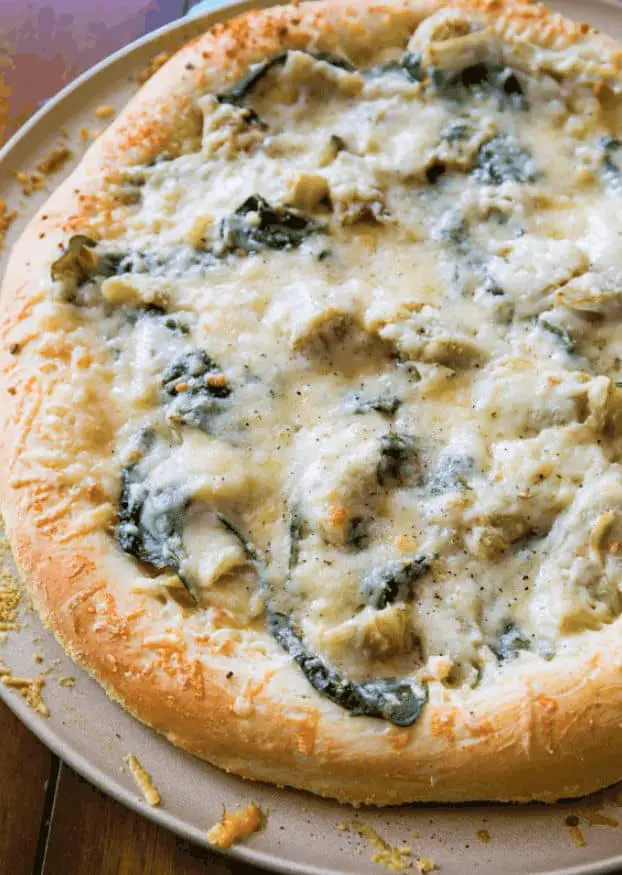 With this recipe, you will learn how to blend your artichoke with white cheese. Homemade dough for the crust, roasted garlic, and spinach to go with the rest of your toppings. The taste is similar to an artichoke dip, thanks to the light taste of white cheese. A creamy texture for a great pizza flavor made at home.
12. Matt & Andrew's Artichoke Pizza
This is another way of preparing Basille's creamy artichoke pizza. Make one of the most famous and tastiest pizza flavors done in your kitchen. Simple as it sounds, and healthy as mixing cheese with vegetables! A great creation for you, your family, or your friends. Surprise your guests and enjoy this artichoke pizza recipe.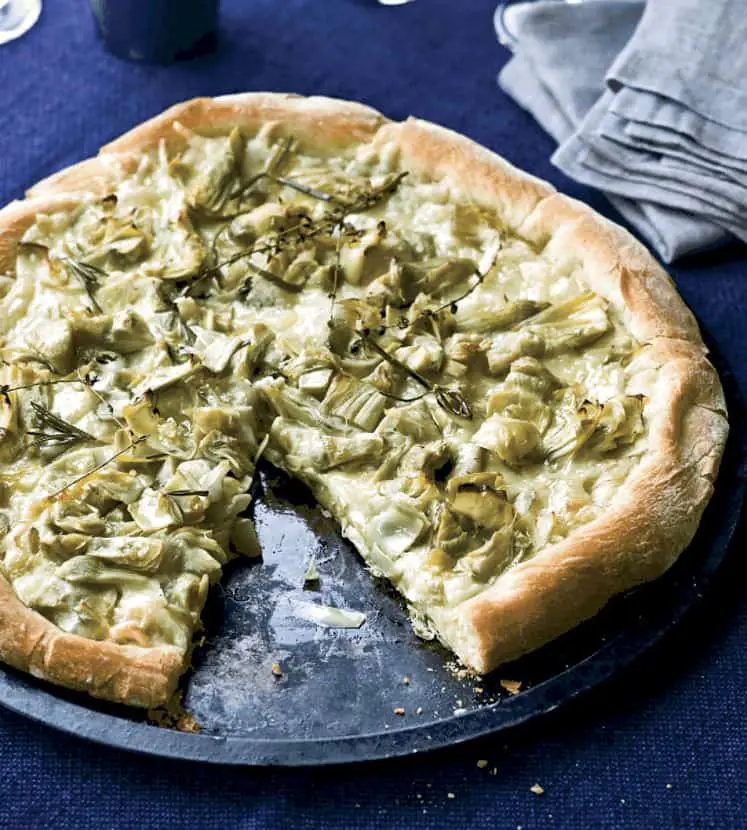 Artichoke can blend with almost any kind of cheese. In this recipe, instead of using mozzarella or parmesan, they decide to try out fontina cheese. And, believe me, it is great! A heavily loaded pie with your favorite ingredients, and variables like lemon juice, thyme, bay leaf, and rosemary. The mixture tastes incredibly good!
14. Artichoke and Spinach-Skillet Pizza
This recipe uses artichoke and spinach-skillet pizza. Moreover, it also modifies the cheese blend with half a cup of ricotta cheese together with shredded mozzarella. Add garlic, Kosher salt and pepper, and extra-virgin olive oil, and get into work. The result: a tasty, healthy, and easy-to-prepare artichoke pizza!
This recipe claims to be the easiest artichoke and spinach pizza ever made. It might be true, but we'll let you decide upon it. What we can say about it, is that the creamy mixture of garlic herb cheese, artichoke, spinach, sun-dried tomatoes, and melted mozzarella cheese is one of a kind!
16. Raw Artichoke Salad Pizza
Yes, once again, you've read it correctly. This recipe does not include cooking artichokes before topping your pizza with them. Instead, it goes with a raw artichoke salad on top of your pie. Tossed with olive oil and lemon dressing, this pizza will become one of your favorites. And, as you may have imagined already, it is very easy to prepare.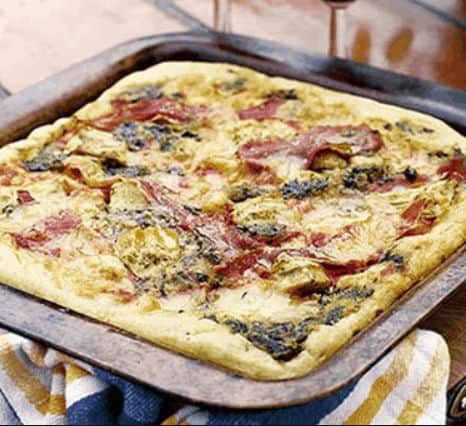 For artichokes pizza fans, here is a recipe that will blow your mind. Pesto-pizza combines perfectly with this vegetable, and prosciutto provides quite a salty taste to a perfect balance. A nice alternative when looking for different ways to prepare your artichoke pizza. Have it done within minutes, and enjoy with whoever wants to try this delight!
18. Napolina's Artichoke Pizza
This artichoke pizza recipe modifies some of the classic ingredients used to top your pie, to bring a new taste to your table. Cherry tomatoes and basil add a special flavor to your artichoke pizza. Go with your favorite type of crust, and serve it within minutes of preparation. A healthy and tasty alternative to the classic version.
Tieghan's artichoke pizza brings alternatives not only for the toppings but also for your crust. Sauteed spinach, garlic herb butter, three different kinds of cheese, and spicy artichokes go on top of it. The secret ingredient to its great taste? A cheese-filled crust that will make you want to eat the whole pizza in one single sitting!
20. Sam's Artichoke Pizza
This alternative recipe to get an artichoke pizza combines your favorite vegetable topping with feta pizza. A one-of-a-kind alternative, full of flavor for you to enjoy. Try it out and do it yourself in your kitchen. Invite a few friends over and have a wonderful, healthy and tasty meal without ordering any food!
This Mediterranean artichoke pizza is a great alternative. With ingredients as spring onions, goat cheese, and roasted red pepper – and, of course, artichokes – it gets a spicy touch and a unique blend of flavors. A nice twist to your classical artichoke pizza, this recipe is a good way of changing things over.
22. Ten-Minute Artichoke Pizza
This recipe guarantees your artichoke pizza will be ready within ten minutes. It's that easy to prepare! Mix all ingredients all together and stir until getting a creamy texture. Then just spread it all over your dough, leaving some space for the crust to harden. It also gives you some further tips if you want to modify it according to your preference!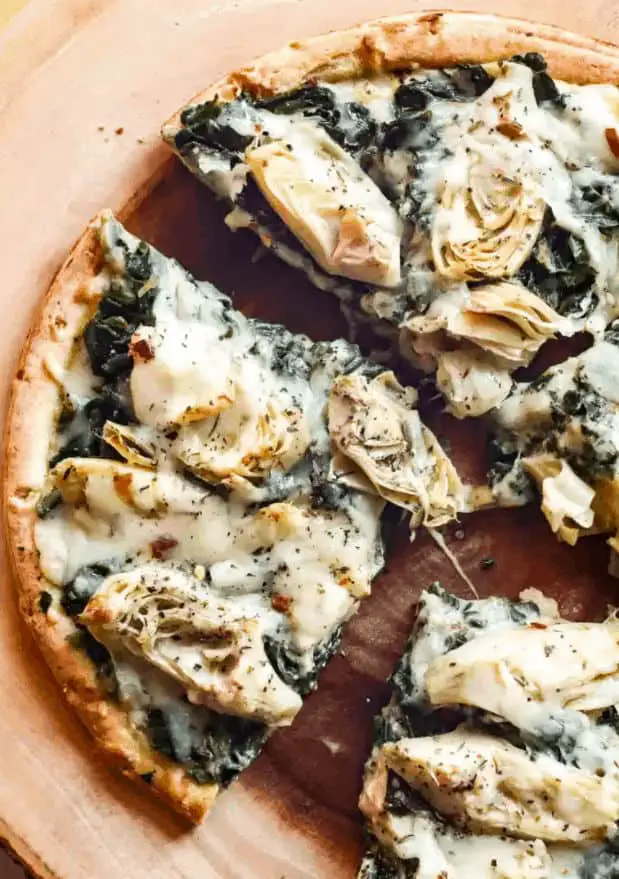 For those who need gluten-free ingredients, here's your solution! This recipe tells you exactly what ingredients you can use to have a pizza that fits your health requirements. Now you can also enjoy this healthy and tasty meal. The best thing is that you do it yourself, so you know exactly what ingredients you are mixing, which is safer for you too!
24. Artichoke, Chicken, and Pesto Pizza
If you love artichoke pizza but want something different to add to it, then this might be the one for you. Adding chicken to your toppings gives an extra tasty touch to your pie. The unique flavor of pesto also adds to its taste, making it unique. Enjoy it yourself, or share it with your friends and family. Remind them it is not fully veggie!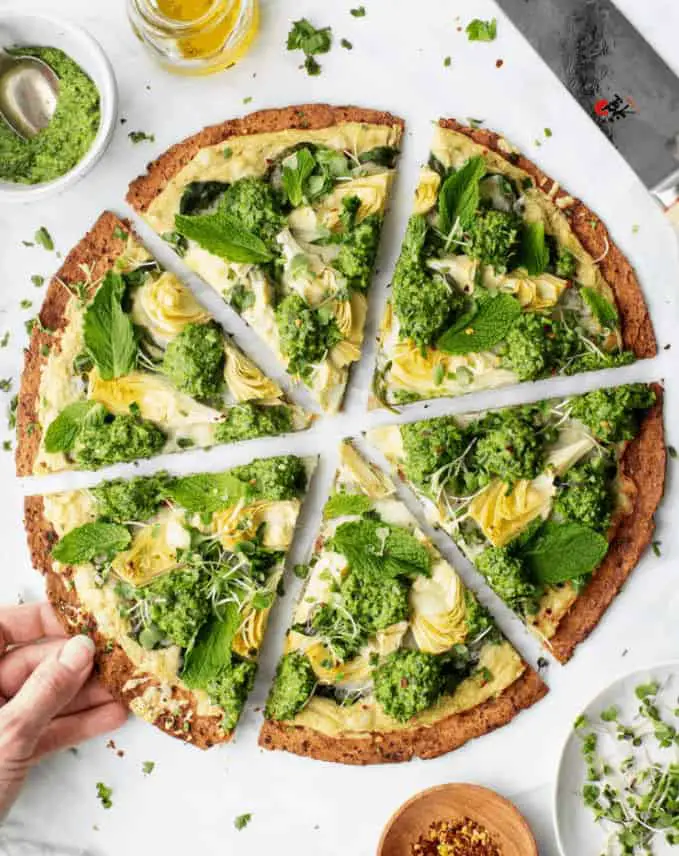 This recipe uses flatbread for the crust. This is exactly what you need when you are craving a pizza, but don't want to prepare the dough – or cannot buy it -. It is still healthy, and maybe even healthier than other pizzas. The taste is incredible, and it is so easy and quick to prepare that you may want to apply this method to every other pizza you make from now on!
26. Whole-Wheat Artichoke Pizza
Now, this is a real game-changer. This whole-wheat artichoke pizza has a great taste that comes from the different crust. About thirty minutes from start to end, this recipe is very easy to prepare. And you can have your pizza served in no time. The lemon slices also add a particular touch to it. Try it out!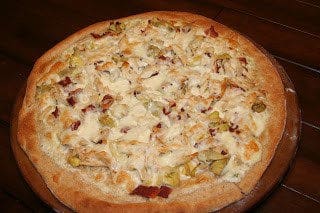 This is not just another artichoke pizza with chicken in it. It also contains bacon! Add that salty and crusty taste of bacon to your pizza, and feel – or taste, actually – the difference! It also contains cornstarch and a whole lot of garlic! A great alternative if you want to keep it healthy, yet adding some twist to its flavor.
28. Vegan Artichoke and Mushroom Pizza
This vegan artichoke pizza includes mushrooms. A great addition if you want it to be 100% healthy, yet got tired of having classical-flavor pizza. Mushrooms blend perfectly with the artichoke preparation, and will also become one of your top favorites! You will want to keep this recipe somewhere else to repeat it soon!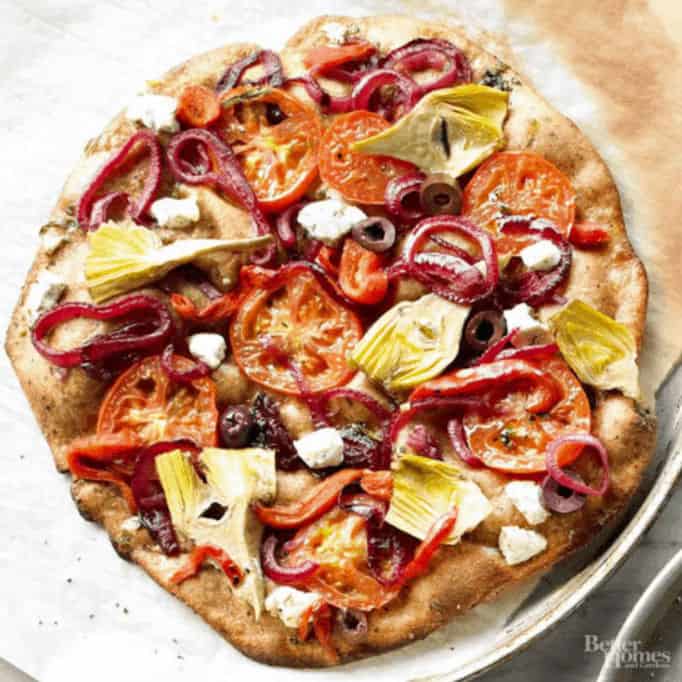 If you simply love loaded pizzas, and you want your artichoke pizza to have lots of ingredients and toppings, pay attention! It takes about 20 minutes to prepare, and 20 more to cook. So, in less than an hour you can have a pizzeria-like pie in your own house. This is a great way of making little kids eat their vegetables in a fun and tasty way!
30. Italian-Style Artichoke Pizza
We know there are different pizza styles out there. But as pizza fans, we also know the original one is and will always be Italian. This recipe tells you how to have an Italian-style artichoke pizza made just by yourself! Enjoy what Italian cuisine has to offer without leaving home! A must-try for any pizza fan.
So, here are some alternatives for artichoke pizza recipes you can try at home. Have you ever tried any of them? Feel free to comment and share your experience with the community!
30 Best Artichoke Pizza Recipes
Ingredients
New York-Style Artichoke Pizza

Artichoke And Cheese Blend Pizza

Average Guy Artichoke Pizza

Basille's Creamy Artichoke Pizza

Artichoke And Eggplant Pizza

Matt & Andrew's Artichoke Pizza

Artichoke And Spinach-Skillet Pizza

Raw Artichoke Salad Pizza

Napolina's Artichoke Pizza

Sam's Artichoke Pizza

Ten-Minute Artichoke Pizza

Artichoke, Chicken, And Pesto Pizza

Whole-Wheat Artichoke Pizza

Vegan Artichoke And Mushroom Pizza

Italian-Style Artichoke Pizza
Directions
Select your favorite recipe.
Organize all the required ingredients.
Prep the recipe in 30 minutes or less!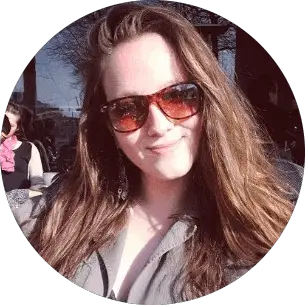 Barbara is an enthusiastic food-exploring person that goes through different culinary experiences. She got inspired by creating a pizza blog post after she tasted one of the best-selling pizzas in Toledo.