Imagine using your favorite side dish, asparagus, as a topping for your pizza. Yum!
Asparagus's fantastic earthy taste is sure to liven up any classic pizza crust coated with mozzarella cheese.
There are lots of ways to prepare asparagus: you can roast it, grill it, blanch it, or sauté it. It also pairs well with lots of other toppings.
Asparagus is wonderfully versatile. Using this lovely spring vegetable as a topping creates many options for vegans, vegetarians and meat lovers alike. Asparagus pizza is a healthy, wholesome meal.
We looked at different asparagus pizzas and chose the best ones just for you. Bon appétit!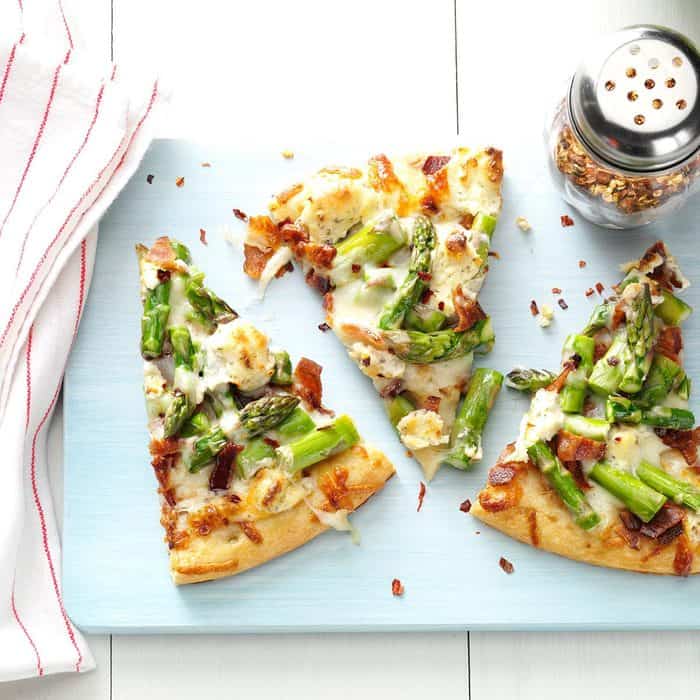 This delicious pizza takes only 30 minutes to prepare. The bacon and garlic-herb spreadable cheese work beautifully with the asparagus.
The recipe comes with a list of hand-picked ingredient brands. Enter your ZIP code to find them in retailers near you.
Find the perfect garlic-herb spreadable cheese for this quirky, scrumptious pizza!
2. Asparagus Ham Ricotta Pizza
Make some lovely white pizza sauce using ricotta cheese, heavy cream, extra virgin olive oil, red pepper flakes, minced garlic, and freshly ground black pepper. If you'd like, add some herbs like parsley and cilantro.
Top with ham and chopped asparagus! Blanch the asparagus beforehand to mellow out its characteristic bitter taste.
3. Asparagus and Mushroom Pizza
The sliced asparagus, morel mushrooms, and roasted garlic cloves on a white bed of fontina cheese make for a gorgeous presentation. Serve with a glass of white wine.
Sautéeing the sliced morel mushrooms with minced garlic beforehand creates a wonderful harmony between them and the roasted garlic clove toppings.
4. Flatbread White Pizza with Bacon & Asparagus
Whip up this tasty breakfast pizza in less than 10 minutes! Use flatbread for a readymade pizza base.
The star of this pizza is the unbelievably creamy pizza sauce. It's made of ricotta and parmesan cheese, garlic powder, extra virgin olive oil, and whole milk.
Top with bacon strips and whole asparagus spears.
5. Asparagus and Triple Cream Brie Pizza
 

 

View this post on Instagram

 
Follow this detailed recipe to make an excellent pizza crust from scratch. Prepare your pizza dough the day before and leave it in the fridge overnight for best results. You can also prepare the pizza dough up to three days before.
Thinly slice the triple cream brie cheese for a luxuriant topping that pairs deliciously with your asparagus topping.
6. Giardino Fresco Pizza
The Giardino Fresco pizza recipe is an original recipe by chef and internet personality Bruno Albouze. In this video, he gives top-rated tips on how to make a five-star quality pizza. Watch how he makes the crust!
The topping is made of grilled asparagus and roasted red bell peppers. Mr. Albouze also uses pesto and ricotta cheese.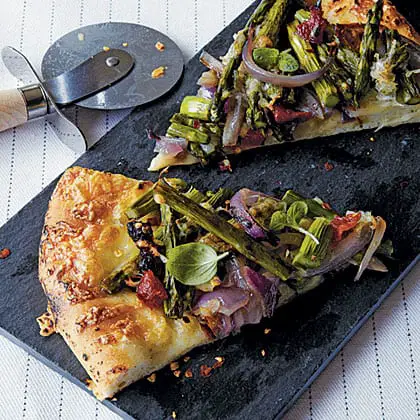 This delicious pizza is perfect for vegetarians. To make it vegan-friendly, find a vegan cheese substitute for the fontina cheese sprinkles or simply leave them out.
The topping is made of gently caramelized onion slices sautéed with asparagus slices and salted tomato. Sprinkle fresh oregano leaves over your freshly-baked pizza for a magical touch!
8. Hulk Smash Chicken, Asparagus, and Avocado Pizza
This hearty, healthy chicken, asparagus, and avocado pizza won't take you more than 20 minutes to prepare.
On a base of naan bread, add minced garlic, Greek yogurt, shredded Parmesan cheese, avocado dices, asparagus slices, small chicken pieces, and shredded mozzarella cheese.
Bake for 10 minutes at 405°F. Yum!
9. Asparagus Artichoke White Pizza
This original homemade recipe is an amazing find. It loads up on veggies and uses a simple white sauce.
The pizza is vegetarian-friendly. It's filled with dairy products though making it unideal for vegans.
Follow the recipe to make a pizza crust using whole-wheat pizza dough for a healthy take on classic pizza.
10. Wood-Fired Lemon and Asparagus Pizza
This innovative pizza uses lemon slices as topping! The chef marinates the lemon slices in syrup to offset their bitterness. The bright lemony burst of flavor enhances the spinach and asparagus toppings.
The mix of cheeses is delightful! The pizza uses Parmigiano Reggiano cheese as well as two mozzarella cheeses: stracciatella and fior di latte.
11. Springy Asparagus and Date Pizza
 

 

View this post on Instagram

 
This incredible pizza uses whole asparagus stalks as topping for a stunning visual effect. The dates add a sweet, surprising element that is delectable.
The recipe cleverly uses miso, lemon juice, and lemon zest to create a sour bridge between the sweet and slightly bitter tastes of the topping.
12. Asparagus & Watercress Pizza
What a lovely springtime vegetarian pizza! Both asparagus and watercress are in season in the spring.
The key is to sprinkle fresh watercress as garnish after the pizza has baked. Don't put the watercress into the oven with the diced asparagus.
A whole wheat pizza dough base ties this dish together. You don't have to make it from scratch. Simply buy it from the store.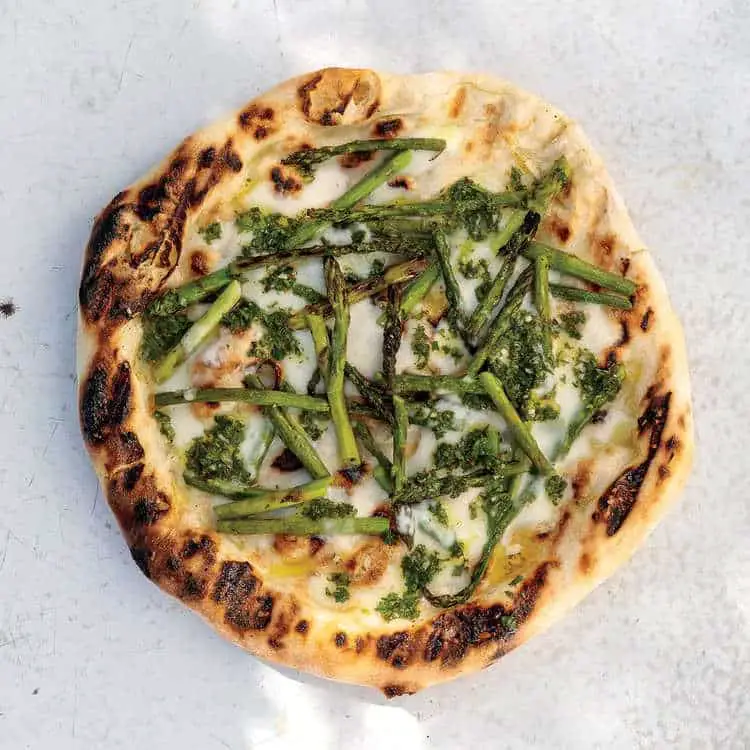 This recipe yields several 2.5 inch pizzas. Decide how many you'd like to have! Repeat the recipe until you have your desired number of mini pizzas.
Gremolata is a tantalizing dressing made with parsley, oregano, lemon zest, lemon juice, garlic, and crushed red pepper. It makes a fantastic addition to the grilled thin asparagus slices and mozzarella cheese.
14. Asparagus Goat Cheese Pizza
This recipe is simple and straightforward. If you buy readymade pizza dough or use a base of naan or flatbread, preparing this pizza should take you less than 15 minutes from start to finish.
Slice and sautée the asparagus before using them as topping. Generously sprinkle goat cheese before baking your pizza for 8 to 10 minutes.
15. Asparagus Lemon Ricotta Pizza
The lemon slice toppings pack a strong punch that's mellowed out by the thick creamy ricotta. Remember to cut the lemons into very thin slices to keep their sour taste in balance.
This zesty pizza is extremely eye-catching. Make it the centerpiece of a summer picnic spread.
The basil leaves and asparagus are refreshing as well.
16. Zucchini and Asparagus Pizza
A wholemeal pizza dough base infused with grated zucchini is the lovely heart of this dish. The base also includes pepper, garlic, and Greek-style yogurt.
Top with zucchini ribbons, asparagus, radish, red onion slices and chili flakes. Generously spray olive oil over the pizza after each step to keep it moist.
17. Scallion and Asparagus Pizza
 

 

View this post on Instagram

 
Subtle delicious lemony notes cleverly infuse this pizza.
Make a pizza sauce by simmering cream with crushed garlic, the juice of half a lemon, and the zest of one lemon.
Make the topping using shaved asparagus and shaved scallions. Sprinkle some lemon juice over your freshly-baked pizza.
18. Crab, Cheddar & Asparagus Pizza
Marino's Garlic Spread is the central feature of this recipe. It's a blend of butter, margarine, Pecorino Romano cheese, and garlic. To begin, spread it over your pizza dough base.
Then arrange crab meat, asparagus pieces, and aged cheddar cheese as topping. Bake for 8 to 12 minutes between 350°F and 375°F. Enjoy!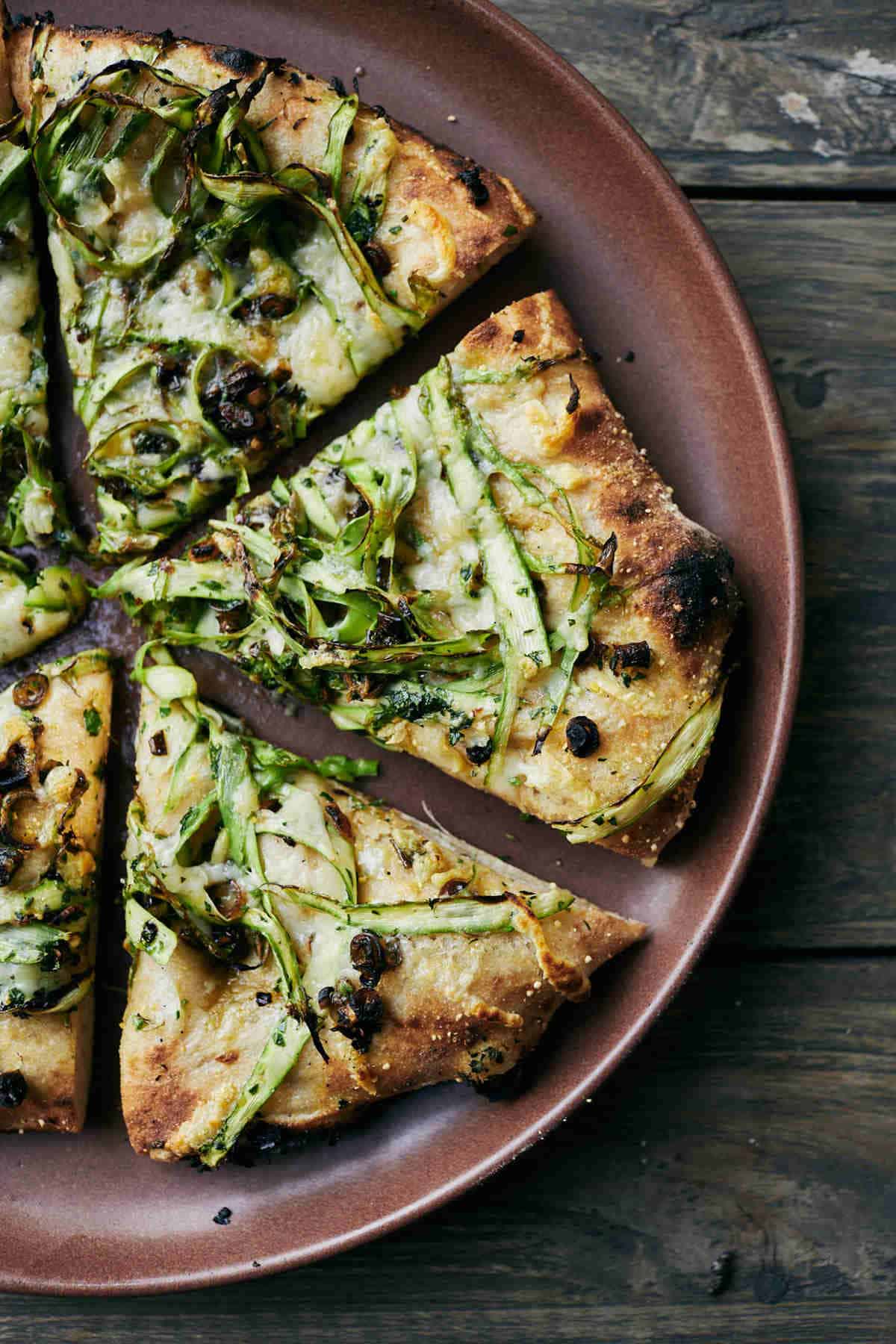 Lightly sautée shaved asparagus and thin slices of scallion to get the delicious crispy topping for this pizza. For best results, toss the asparagus and scallion in olive oil.
Use shredded Gruyere cheese in addition to the usual mozzarella cheese. Gruyere cheese's rich saltiness brings out the pizza's crispiness.
20. Asparagus and Gruyere Puff Pastry Pizza
Using puff pastry dough as the base for a pizza is a great idea. Spread some Dijon mustard over the dough to create a soft, chewy, and tasty base when it's done baking.
The topping includes asparagus stalks, cherry tomatoes, and shredded gruyere cheese. Remove the fibrous ends from the asparagus for best results.
This outstanding recipe creates a perfect harmony between sweet and savory flavors using prosciutto, asparagus, and caramelized onions.
Cook the onions in butter and brown sugar for the sweet taste. The savory notes come from the other toppings: crispy sautéed asparagus pieces, prosciutto, and Parmesan and mozzarella cheeses. Add salt and pepper to taste.
22. Green Skillet Pizza with Asparagus and Pesto
This amazing skillet pizza is both gluten-free and vegan-friendly! It uses blended soaked millet and ground flax seeds as a substitute for regular wheat flour.
Spread kale pesto over the base. The recipe will show you how to make kale pesto using kale, garlic, lemon, and almonds. Top with freshly cut asparagus.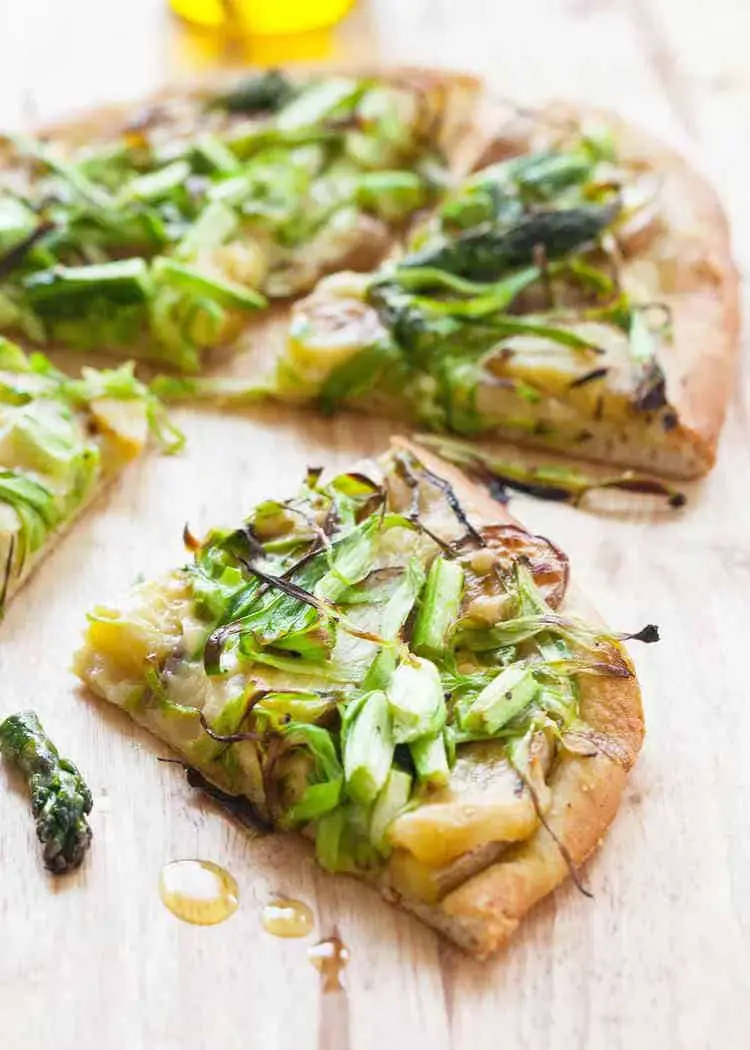 Shave your asparagus stalks with a vegetable peeler! The dainty pieces left behind make the perfect topping.
Use baby potato pieces as topping for a similar dainty effect. Place slices of gouda cheese over the pizza before baking.
Gouda cheese is prized for its uniquely sweet taste. A great substitute for gouda cheese is fontina cheese.
Summary
There you have it folks! These are the best asparagus pizza recipes out there right now.
Set aside some time to whip up one of these delectable delights, then dig in with family or friends.
Pair your asparagus pizza with wine for a classy touch. Use soft drink accompaniments for children.
23 Best Asparagus Pizza Recipes
Ingredients
1. Asparagus, Bacon, And Herbed Cheese Pizza

2. Asparagus Ham Ricotta Pizza

3. Asparagus And Mushroom Pizza

4. Flatbread White Pizza With Bacon & Asparagus

5. Asparagus And Triple Cream Brie Pizza

6. Giardino Fresco Pizza

7. Grilled Pizza With Asparagus And Caramelized Onion

8. Hulk Smash Chicken, Asparagus, And Avocado Pizza

9. Asparagus Artichoke White Pizza

10. Wood-Fired Lemon And Asparagus Pizza

11. Springy Asparagus And Date Pizza

12. Asparagus & Watercress Pizza

13. Grilled Asparagus Pizzas With Gremolata

14. Asparagus Goat Cheese Pizza

15. Asparagus Lemon Ricotta Pizza

16. Zucchini And Asparagus Pizza

17. Scallion And Asparagus Pizza

18. Crab, Cheddar & Asparagus Pizza

19. Crispy Scallion Asparagus Pizza

20. Asparagus And Gruyere Puff Pastry Pizza

21. Sweet & Salty Prosciutto Asparagus Pizza

22. Green Skillet Pizza With Asparagus And Pesto

23. Shaved Asparagus And Potato Pizza
Directions
Select your favorite pizza breadsticks recipe.
Organize all the required ingredients.
Prep the recipe in 30 minutes or less!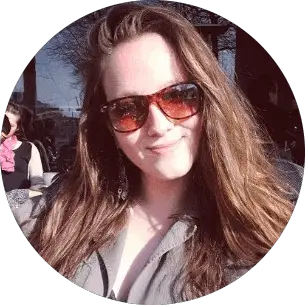 Barbara is an enthusiastic food-exploring person that goes through different culinary experiences. She got inspired by creating a pizza blog post after she tasted one of the best-selling pizzas in Toledo.