Add some razzle-dazzle to your morning with these breakfast pizza recipes. From a vibrant fruity breakfast pizza to a savory pizza, you'll want to make them all!
Breakfast pizzas are fun and easy to make, like the classic Italian ones. But of course, minus the tedious task of swirling and shaping the dough.
In this list, we rounded up recipes that highlight your favorite breakfast meals. That includes sausages, bacon, and eggs. But we also have something for those who want to venture out of the ordinary.
Take a look, and let us know which recipe you'll share with your family and friends.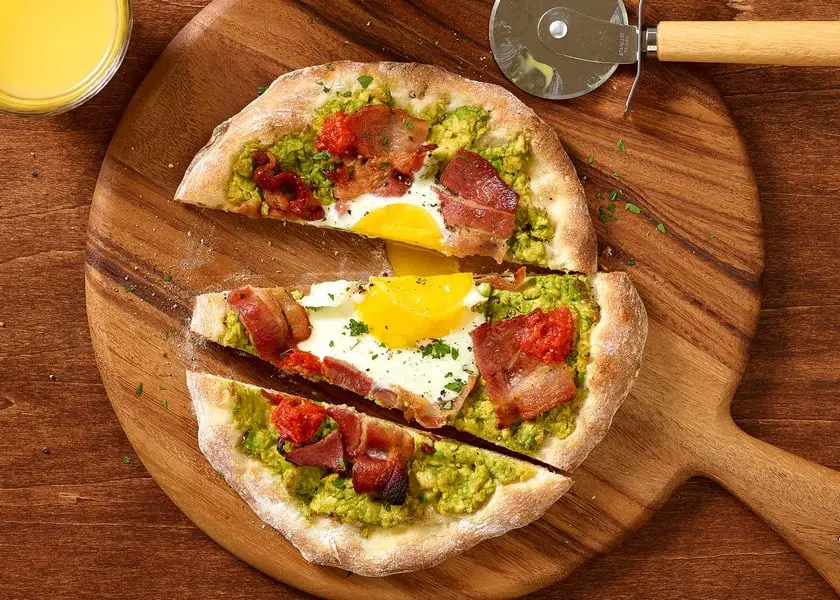 Do you love some avocado toast for breakfast? Try out this pizza recipe for a spin you'll crave regularly. Here, you'll find fresh avocados, bacon slices, and eggs on a crust that we reckon tastes better than traditional avo toasts.
You can also sprinkle it with hot sauce if you feel like challenging your taste buds in the morning.
2. Egg and Bacon Breakfast Pizza
Why not turn the classic egg and bacon breakfast into something better? This Midwestern staple has everything desirable for a morning recipe.
It has Monterey jack cheese that oozes, emanating slight sharpness in flavor. The smokey bacon and Greek yogurt mixed with eggs also add creaminess which is sure to please.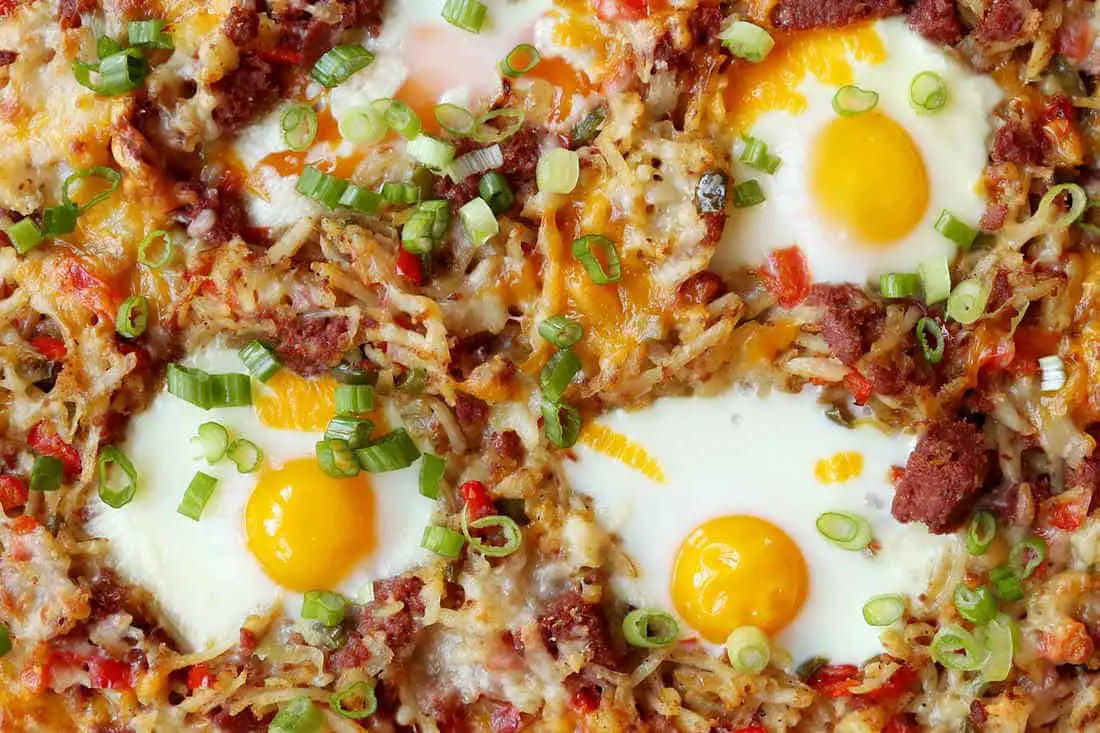 Do you know what's better than hash browns? A hash brown with corned beef, cheese, and bell peppers in it!
And to complete the whole set-up, an egg sits on top and is covered with more cheese. This irresistible treat takes 40 minutes to finish but can surely keep you full all day.
4. Breakfast Pizza With Sausage and Eggs
This recipe is your token to breakfast bliss for something savory. It features smoked sausages, creamy eggs, and thick globs of cheese.
The milky flavor and soft, delicate texture are everything you'd crave in a morning meal. So go ahead, and whip up this recipe to reward yourself for a productive day coming.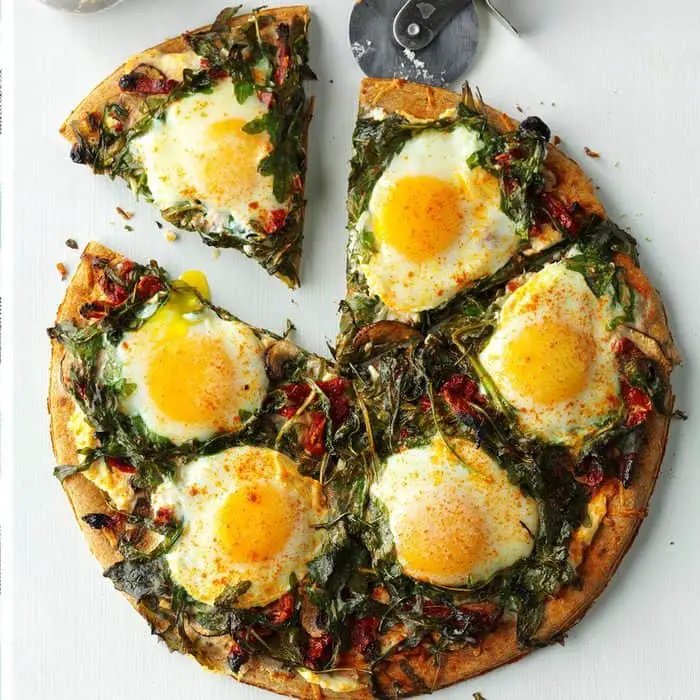 Mornings just got better with this healthy breakfast pizza recipe. It has portobello mushrooms, arugula, and reduced-fat ricotta cheese, providing low calories.
It is also a great make-ahead meal, sure to cut down on meal preparation time. Just freeze the pizza without the egg and bake it the next day in time for breakfast.
6. Loaded Breakfast Pizza
Get loaded with this breakfast pizza to kickstart your morning. This recipe features creamy sausage gravy, herby potatoes, scrambled eggs, and more!
The marriage of breakfast staples gives a phenomenal taste, enough to please even the amplest appetite. That said, you can add other breakfast favorites to cater to your preference.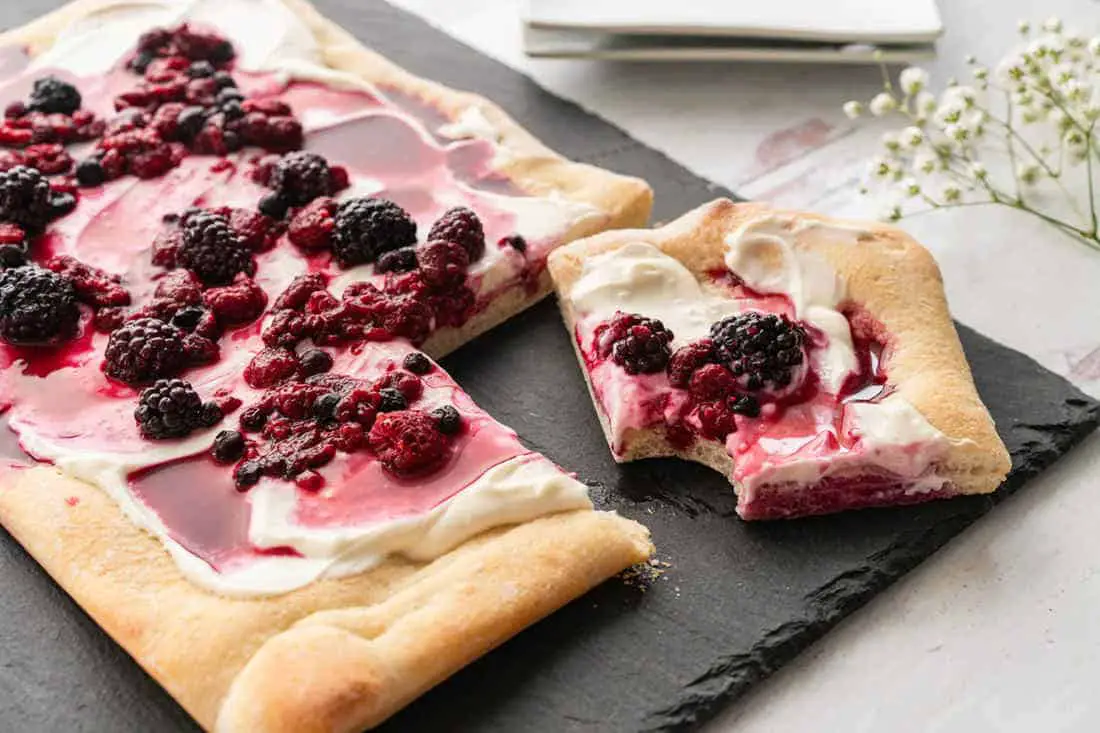 Looking to switch your usual breakfast with something sweet and fruity? Try this triple-berry breakfast recipe. It has blueberries, raspberries, and blackberries sitting on a bed of cream cheese mixture.
For extra zing, you can add honey or cacao nibs before serving. We're sure your kids will adore this recipe!
8. Ultimate Breakfast Pizza
Start your day with a bang with this ultimate breakfast pizza. It is a breeze to make but delivers the greatest flavor.
The crust is filled with fluffy eggs, blends of cheese, savory bacon and sausage, and fresh veggies! You can also go crazy with your favorite ingredients, like olives or spinach.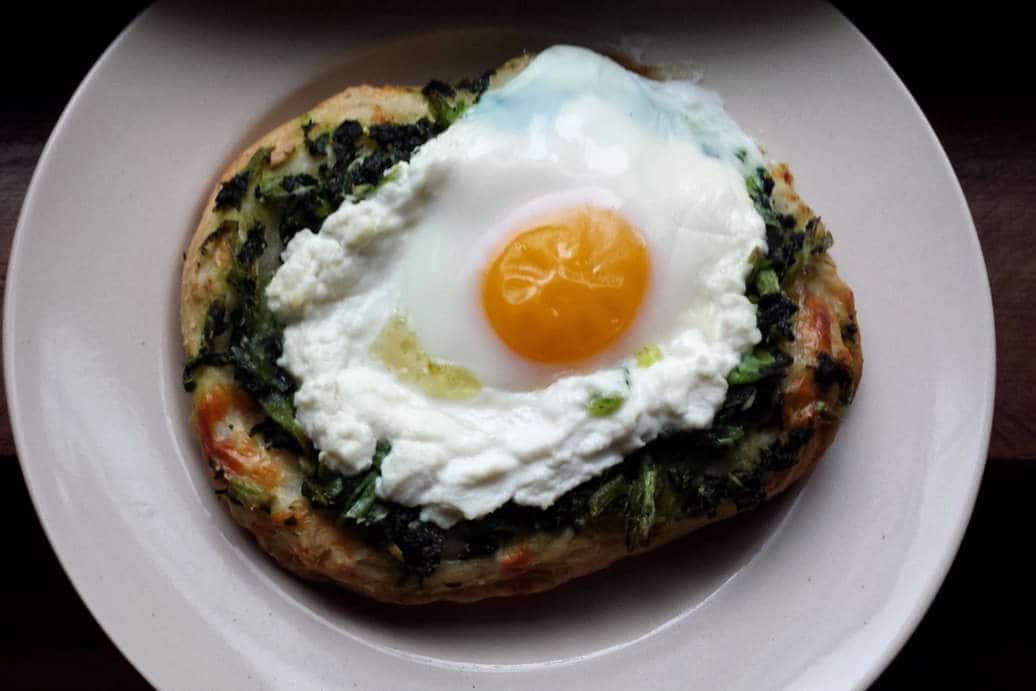 Kale and ricotta join forces to create this delectable hearty breakfast. A match made in heaven that is made better with a runny yolk on top.
You can expect a garlicky yet creamy combination done in under 35 minutes. But if you want it quicker, you can do a toad-in-a-hole-style using regular bread.
10. Easy Flaky Biscuit Breakfast Pizza
If you're looking for a breakfast with flaky layers like French bread, this recipe is the winner! All you need is a couple of refrigerated biscuit dough flattened on a pan. Then, top it with sausage crumbles, sautéed vegetables, eggs, and cheese.
Once cooked, you can see formed pockets in every layer, giving a light and airy texture. Perfectly satisfying even on their own!
Are you up for some elegant yet tasteful pizza breakfast? Well, look no further than this gourmet recipe! Every bite offers crispy prosciutto, caramelized onions, and mixed forest mushrooms. All contributing to the elevated taste and texture.
Also, did we mention that this recipe uses pre-made dough? Yup! Make it fancy but easy to make.
12. Breakfast Pizza With Spinach and Cherry Tomatoes
Need a way to make your kids eat healthy breakfast? This hearty recipe can do the trick before the school bus even arrives.
Each slice has spinach, cherry tomatoes, and cheese to tuck in the vegetables. It also has crunchy, savory bacon, covering the slightly bitter taste of the greens.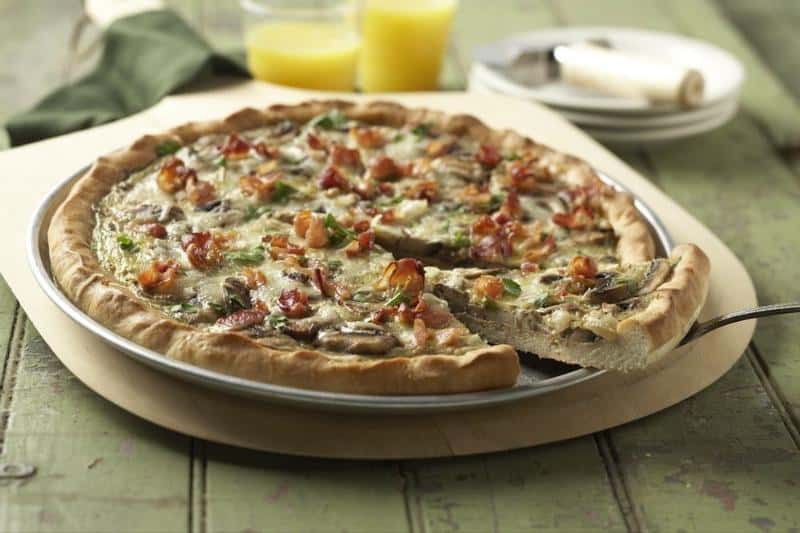 Are you tired of the usual mozzarella and cheddar pairing? Try out this breakfast pizza covered in globs of Swiss cheese. Its sweet and nutty flavor harmonizes with the fatty bacon and sautéed mushrooms. And for an added refreshing taste, you may opt to garnish it with snipped parsley or basil.
14. Four-Ingredient School Breakfast Pizza
The simplest preparation and recipe are what parent needs during a Monday morning rush. Luckily, this pizza recipe only requires four ingredients. That is country gravy, sausage crumbles, mozzarella cheese, and crust.
You can also serve it with diced fruit to ensure a full stomach while waiting for the school lunch break.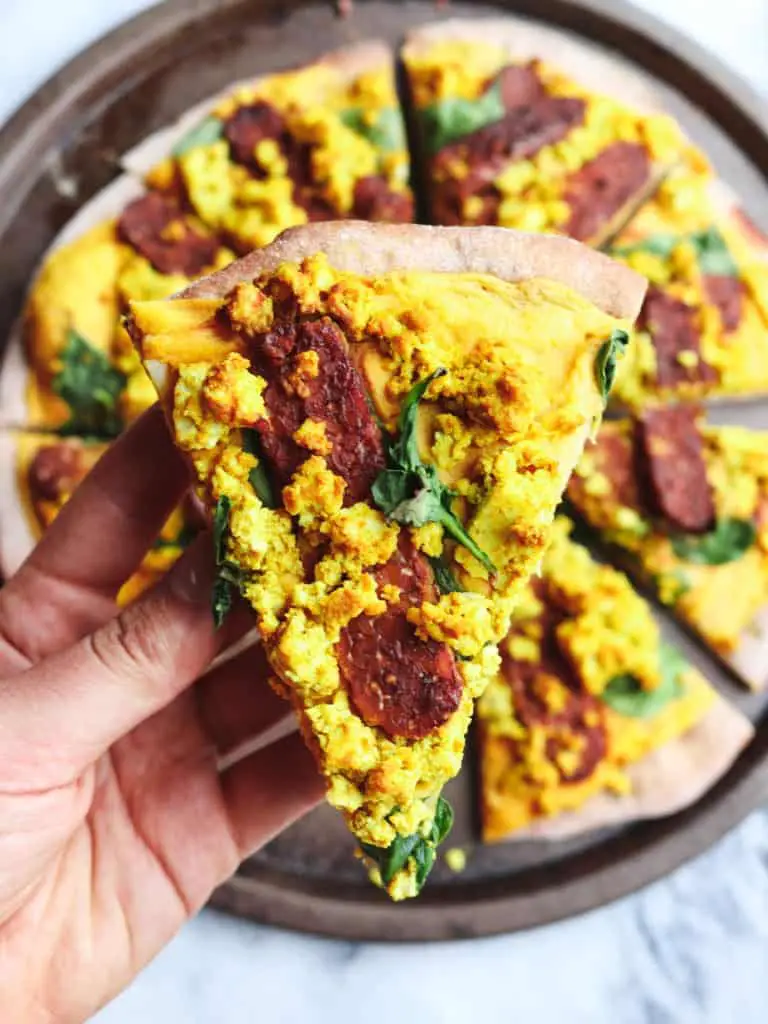 Ladies and gents, are you ready for a game-changing breakfast pizza? This vegan recipe features homemade whole-wheat pizza dough kneaded to perfection.
On top, you'll find creamy cheese sauce, tofu scramble, and smoky tempeh bacon. So be warned because the smell alone will make you question if it's 100% vegan!
16. No Yeast Breakfast Pizza
The best way to serve the eggs in the morning is to top them in a homemade pizza. If you haven't tried it, don't fret because we won't let you miss this out.
This recipe features a no-yeast dough, perfect when you're craving pizza early in the morning. Then, throw in a ready-made sauce and fresh ingredients, and it's done!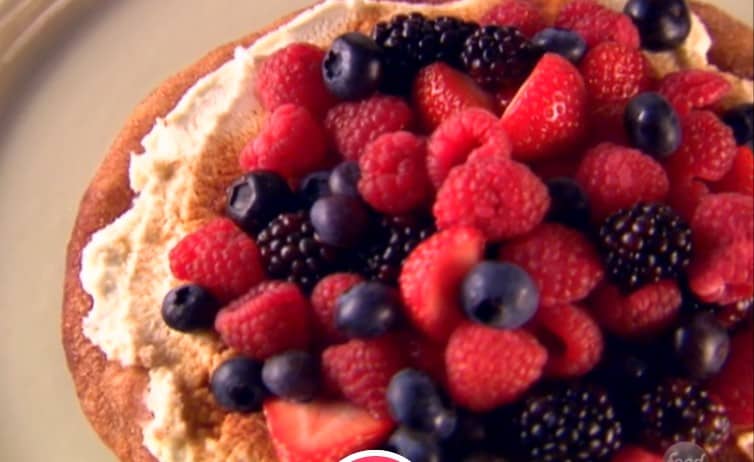 Wake your taste buds the right way with this refreshing breakfast pizza. It is light, sweet, and fruity that can instantly brighten a gloomy day.
Each bite contains a golden cinnamon sugar, citrusy cheese mixture, and colorful berries. It will leave you feeling full and satisfied while making your palate joyful!
18. Keto Breakfast Pizza
Follow the ketogenic diet with zero settlements through this breakfast pizza recipe. Ketofoucs shares a fathead dough recipe that is low in carbs but high in fat. The low-carb marinara makes this also a steal!
So what are you waiting for? Move past the cauliflower pizza phase. Explore this recipe without compromising the crust taste.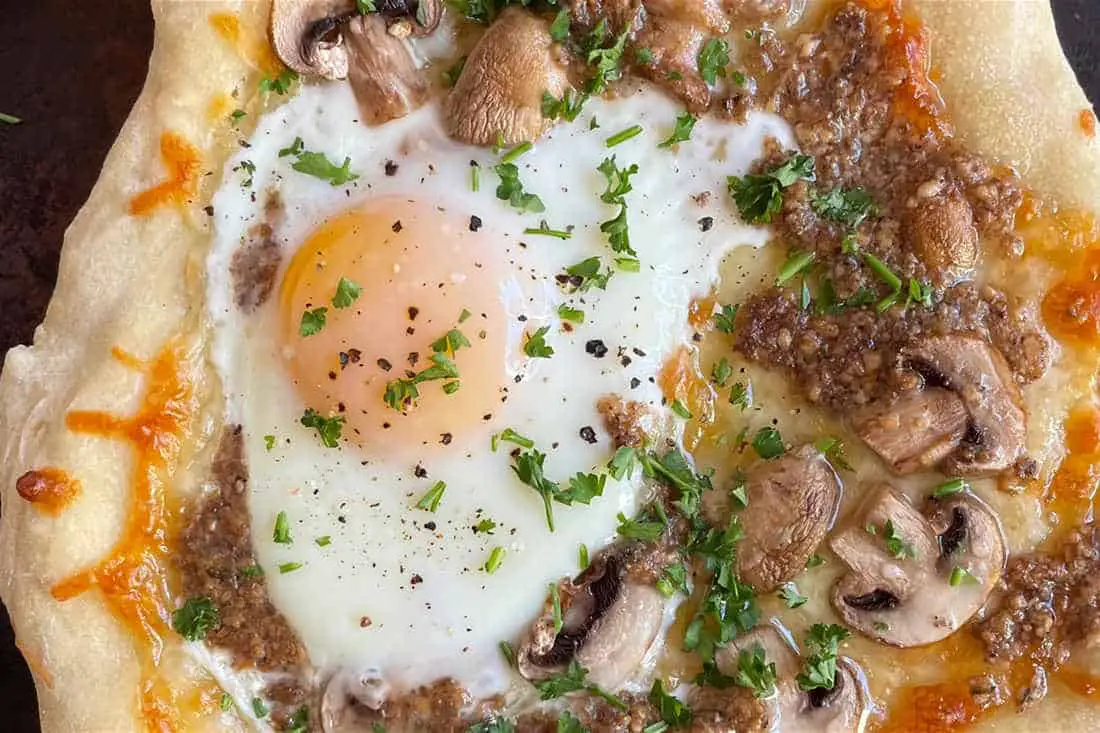 Are you looking for the perfect holiday breakfast to serve at your family reunion? This breakfast pizza recipe features a truffle pesto and fresh white mushrooms for a savory meal.
The provolone cheese and mozzarella topped with runny egg also add to the festive feel of any occasion. Try it out and surprise everyone with your pizza-making skills.
20. Smoky Breakfast Pizza
End the cold leftover pizza routine for breakfast, and try out this hot and smoky recipe instead. With store-bought pizza dough, you can elevate it with a dash of smoked mozzarella, tangy pecorino Romano cheese, peppery basil oil, and more!
So say goodbye to soggy frozen pizza and say hello to a fresh and nourishing breakfast.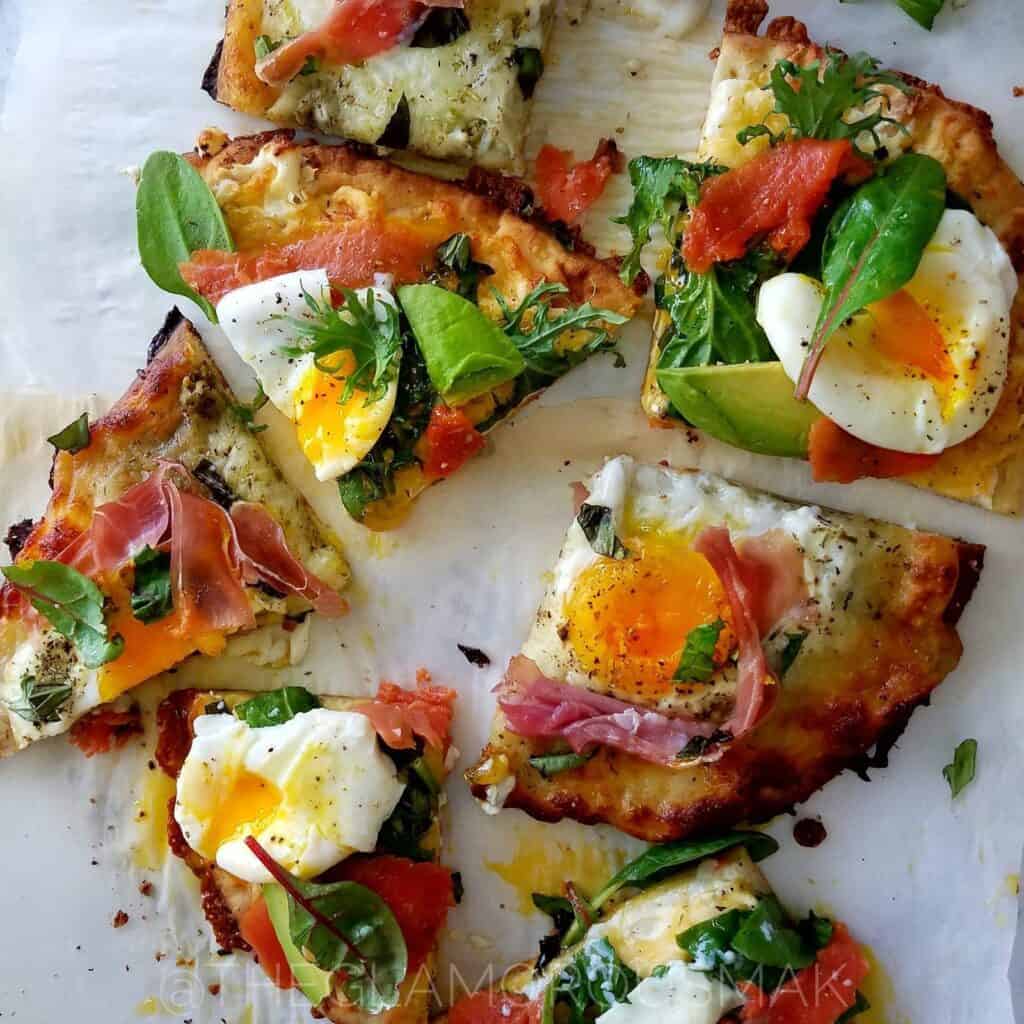 Who says you can't have dinner for breakfast? This smoked salmon recipe contains gouda cheese, mixed greens, and Italian seasoning that gives spice to the dish.
If that's not appetizing enough, wait till you try it with poached eggs, showing off that beautiful yellow yolk. In all, the flavors round beautifully to create a savory breakfast.
22. Cauliflower Breakfast Pizza
To all the cauliflower fanatics, this loaded low-carb breakfast pizza is to die for! It has a crunchy base made from cauliflower and tasty extenders. Then on top, is a tomato salsa layered with sautéed veggies and ham.
Slice it immediately for the cheese pull. Then, witness why it's considered the breakfast of the chomp-ians!
Bring your cereal game to the next level with this crunchy granola pizza. This fun-size meal contains yogurts, berries, peanut butter, and almonds. With the ingredients, we can say it's like a granola bar.
You can also mix other fruit combinations like bananas, apples, and kiwis. Then, drizzle it with chocolate or strawberry syrup for a delightful treat.
Take Away
Breakfast is the most important meal of the day for many good reasons. That's why it's fitting to serve or prepare a meal that would give you enough energy to carry out daily tasks.
Among our 23 breakfast pizza recipes, which one was your favorite? Was it the fruity selection or the savory pizza choices? Interact with us in the comment section below to share your thoughts on this list.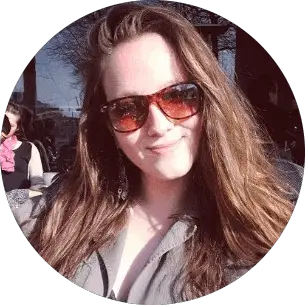 Barbara is an enthusiastic food-exploring person that goes through different culinary experiences. She got inspired by creating a pizza blog post after she tasted one of the best-selling pizzas in Toledo.