For many people, life wouldn't be the same if they had to give up pizza – but unfortunately, pizza is not usually thought of as being one of the healthiest options, and many people choose to eat it sparingly, if at all.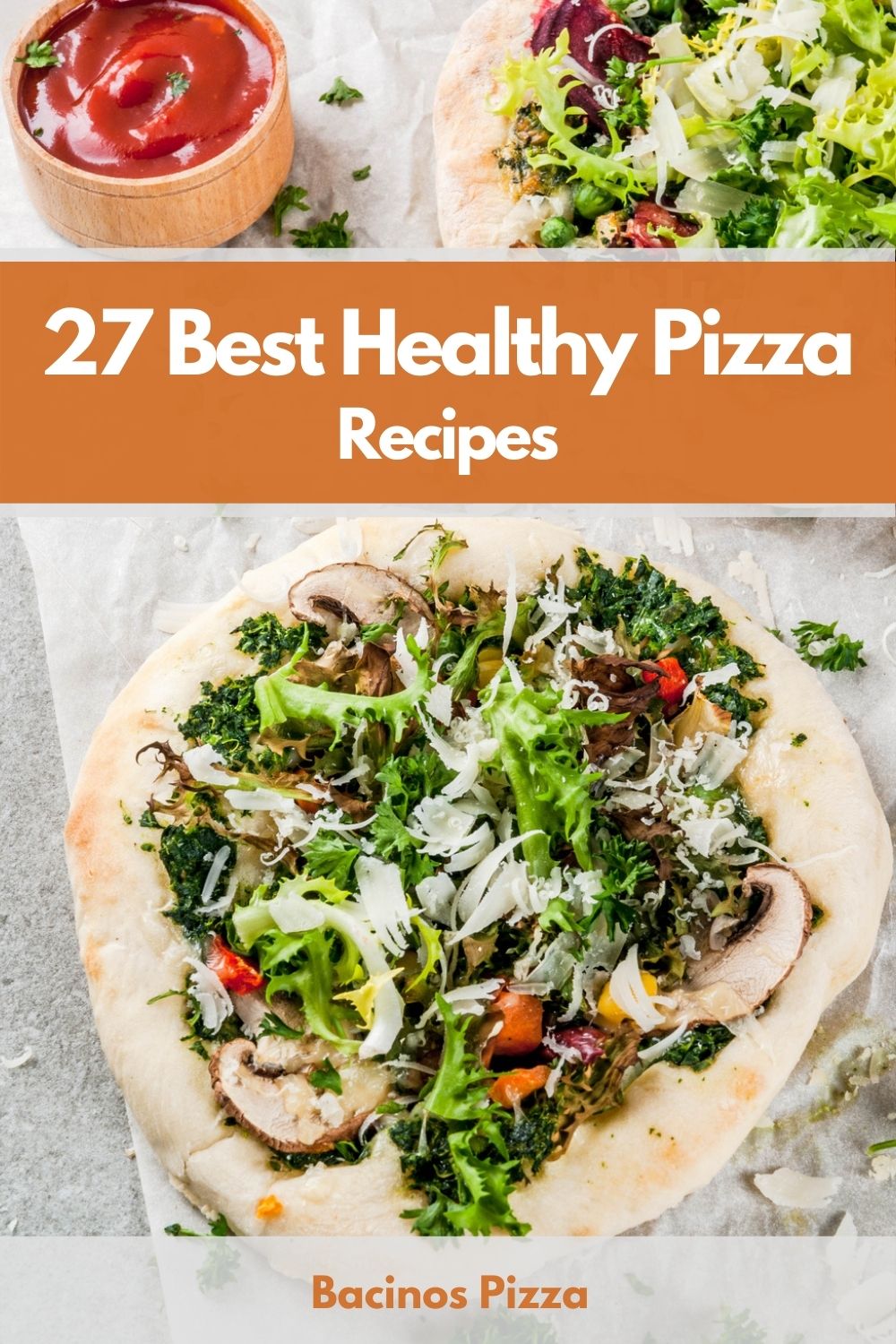 However, there are options that allow you to enjoy it without worrying about putting on weight – and to prove it, here are 27 healthy pizza recipes you can have a go at making yourself.
1. Best Healthy Pizza – A Couple Cooks
With its special tomato pizza sauce and plenty of veggies on top, this pizza looks irresistible. However, since it has less cheese than regular pizza as well as a thin crust, it packs far fewer calories per slice, meaning you don't have to feel so guilty every time you eat it. These bloggers estimate it contains only around 96 calories per slice rather than a whopping 300 in a Pizza Hut version – so that's got to be something worth trying, right?
2. 50-Calorie Pizza from Emma's Goodies
If you think 96 calories per slice sounds good, then this will be even better – because this pizza weighs in at only around 50! Even better, you can have it ready and on the table in only five minutes, making it a quick and convenient meal as well as a healthy one. This recipe also uses low-fat cheese, so you don't even need to sacrifice the gooey cheesiness that makes regular pizza so delicious.
3. Superhealthy Pizza Recipe – BBC Good Food
Here's a simple pizza that's not difficult to make – and the whole thing contains only an estimated 479 calories. This one doesn't use cheese, but the selection of yummy veggies more than makes up for it, so this is a pizza your family will love – and one you can make for them as often as they request it.
4. High Protein Low-Calorie Pizza from Pernilla Stryker
At the start of this video, this YouTuber compares the "macros" in her pizza and a Domino's pizza – and as you can see, when it comes to the healthiest choice, there's no contest. However, her pizza even arguably looks tastier than a bought one – and you can also control the freshness of the ingredients you use – so when you think about it like that, why would you choose anything else?
5. Healthy Homemade Pizza – Crumb Top Baking
In this post, rather than tell you exactly what you should put on your pizza, this blogger gives us tips for making pizzas healthier in general – without sacrificing the flavor. She gives us suggestions about what to use for the base, what to add to replace salt, and what to consider for toppings. We like the way she has suggestions for meat versions since lots of healthy options tend to be meat-free. We found this blog useful – check it out to see if her ideas can help you too.
6. Vegan Pizza Recipe – Oil-Free and Low Fat
Most vegan food is naturally healthy, so making a vegan pizza is a great way of reducing your junk food intake – whether you're a vegan or not. The recipe in this video is for an oil-free, low-fat pizza, and it even includes vegan cheese, making it a delicious option that's also great for your line.
7. Healthy Homemade Pizza – Super Healthy Kids
Pizza has always been a big favorite with kids, but responsible parents might be reluctant to let them have it too often since it's not usually considered a healthy option. However, if you follow recipes for homemade pizza like the one in this post – based on whole-grain crust, protein-rich whole cheese and plenty of veggies – you can serve them a pizza they love that's good for them too.
8. Healthy Pizza that is Actually the Real Deal (Under 20 Minutes from Scratch!)
The healthy pizza this YouTuber teaches us to make is cooked in a skillet and takes only 20 minutes to make from scratch – and as he says, it's the real deal. It's a low-calorie option that's made with yeast-free dough, and when it's cooked, it has crispy edges but a soft interior. Sound like something you'd like to try? Then give his video a watch to see how it's done!
9. Easy Healthy Pizza (20 minutes!) – I Heart Naptime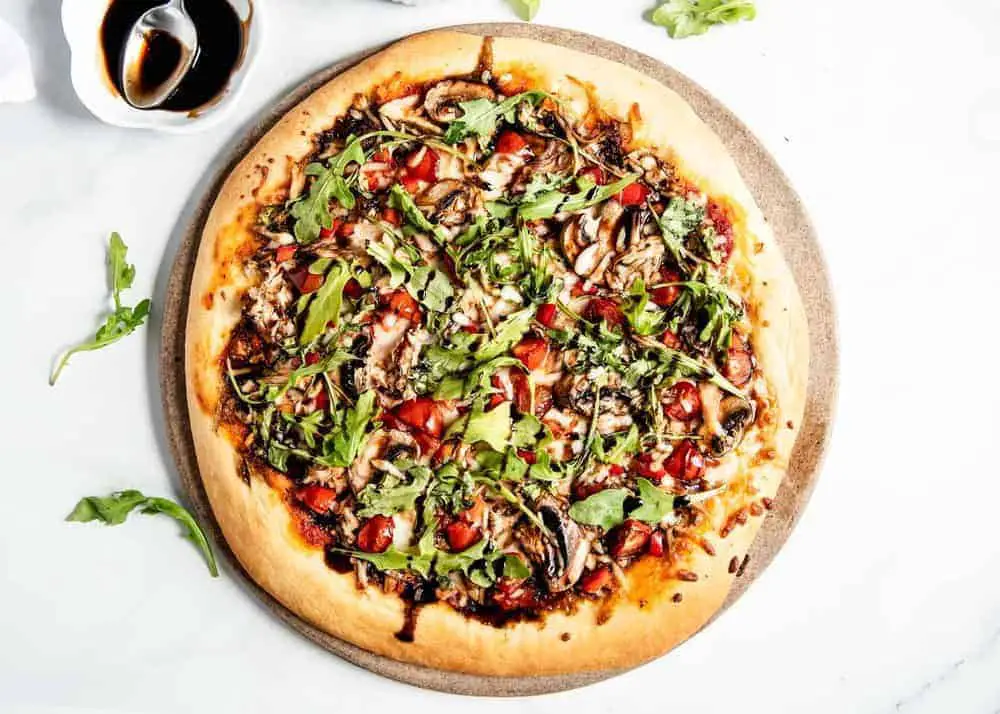 We love the pizza in the photo at the top of this blog – it features fresh veggies, mozzarella, chicken, arugula and a balsamic glaze, which to us sounds like pizza heaven. However, it's also an incredibly healthy option, so if you want great pizza that won't cause you to pile on the pounds, this is a recipe that's worth checking out.
10. How to Make a Lower Calorie Personal Pizza that Still Tastes Good
This is an interesting video to watch since it takes a highly scientific approach to making a healthy pizza. He starts by taking the ingredients of a regular pizza and working out the calorie count – but then attempts to replicate it using ingredients that are lower in calories but will still leave you feeling satisfied. We like his honest evaluation at the end too – give it a watch and see what you think.
11. The Easiest Whole Wheat Pizza Dough Recipe – Cookie and Kate
As this blogger writes, pizza nights should be fun and easy, and her dough recipe gives you an option that can be ready in only 15 minutes and is better for you too. The pizza comes out crisp underneath but chewy in the middle, and we also love her suggestions for healthy pizza toppings – which one do you want to try first?
12. Low Carb Protein Pizza! Only 228 Calories and 12g Carbs in the Whole Pizza!
If you're watching what you eat, you'll be interested in the numbers – and at only 228 calories and 12g of carbs for the whole thing, the figures for this pizza read favorably. However, as you can see from the video, it looks just as tasty as any regular version, making this a great option if you love pizza but prefer to eat healthily.
13. Homemade Whole Wheat Pizza Crust – Sally's Baking Addiction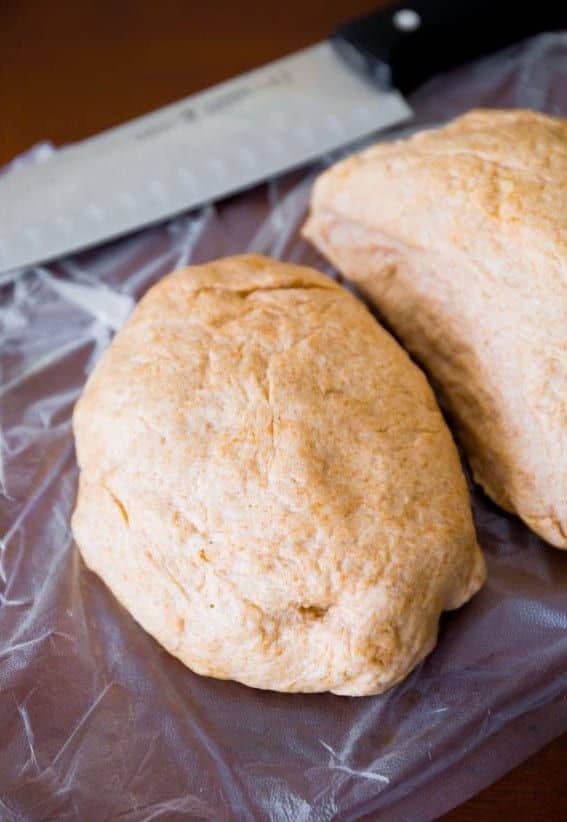 A big part of what makes pizza fattening is the kind of dough used for pizza base. That means just by switching up the base, you can instantly make your pizza better for you. This recipe teaches you how to make an easy wholewheat crust – and after that, all you need to do is cover it with a selection of healthy toppings.
14. Healthy Pizza Recipe – How to Make a Low Carb, High Protein Pizza
This YouTube channel is called Buff Dudes, so you can probably guess what type of content these guys specialize in. However, even gym rats get cravings for pizza, and if you want to learn how to make a low carb, high protein version that won't mess up your physique – and will even help your workouts – this could be the recipe you're looking for.
15. Healthy Pizza Recipe – Make a Tasty Healthy Pizza Recipe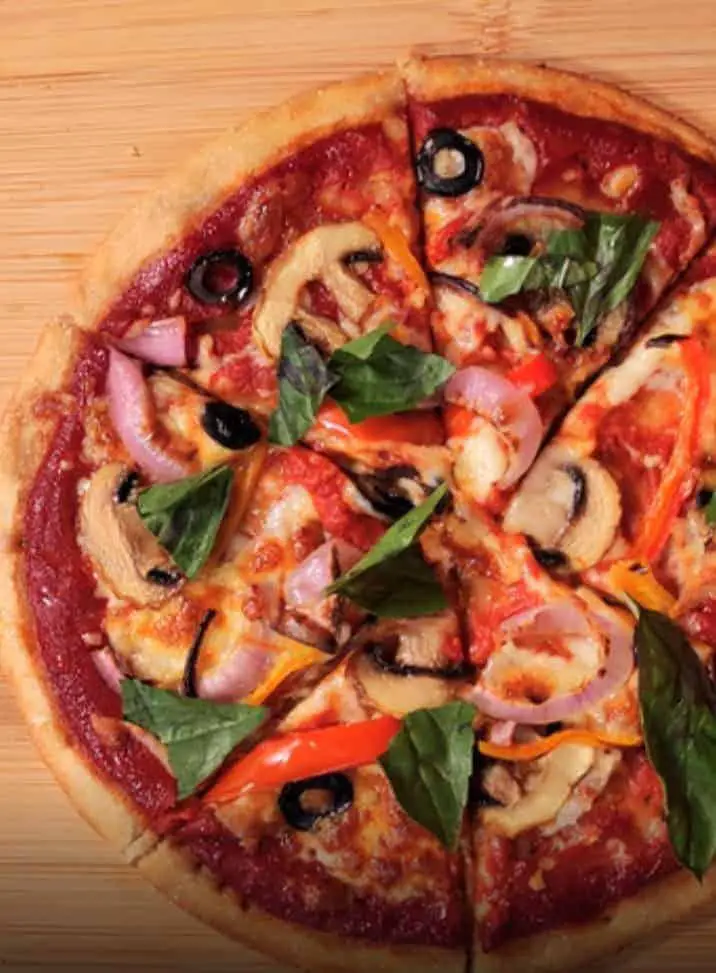 As this post explains, many people are hesitant to try making healthy no-yeast pizza at home because they imagine it probably takes too long, preferring to sacrifice healthy eating for convenience by ordering delivery. However, it doesn't need to be like that because you can make healthy pizza in no time at all – and this blog teaches you how.
16. Plant-Based Alfredo Sauce and Easy Pizza Dough Recipe
As we've already mentioned, vegan pizza is pretty much guaranteed to be healthier than a regular version loaded with cheese and meat. However, this plant-based version of alfredo pizza sounds like an intriguing option to try if you feel like something a bit more original – and if you agree, why not see if you can make something like it yourself?
17. The Best Cauliflower Pizza Crust – Eating Bird Food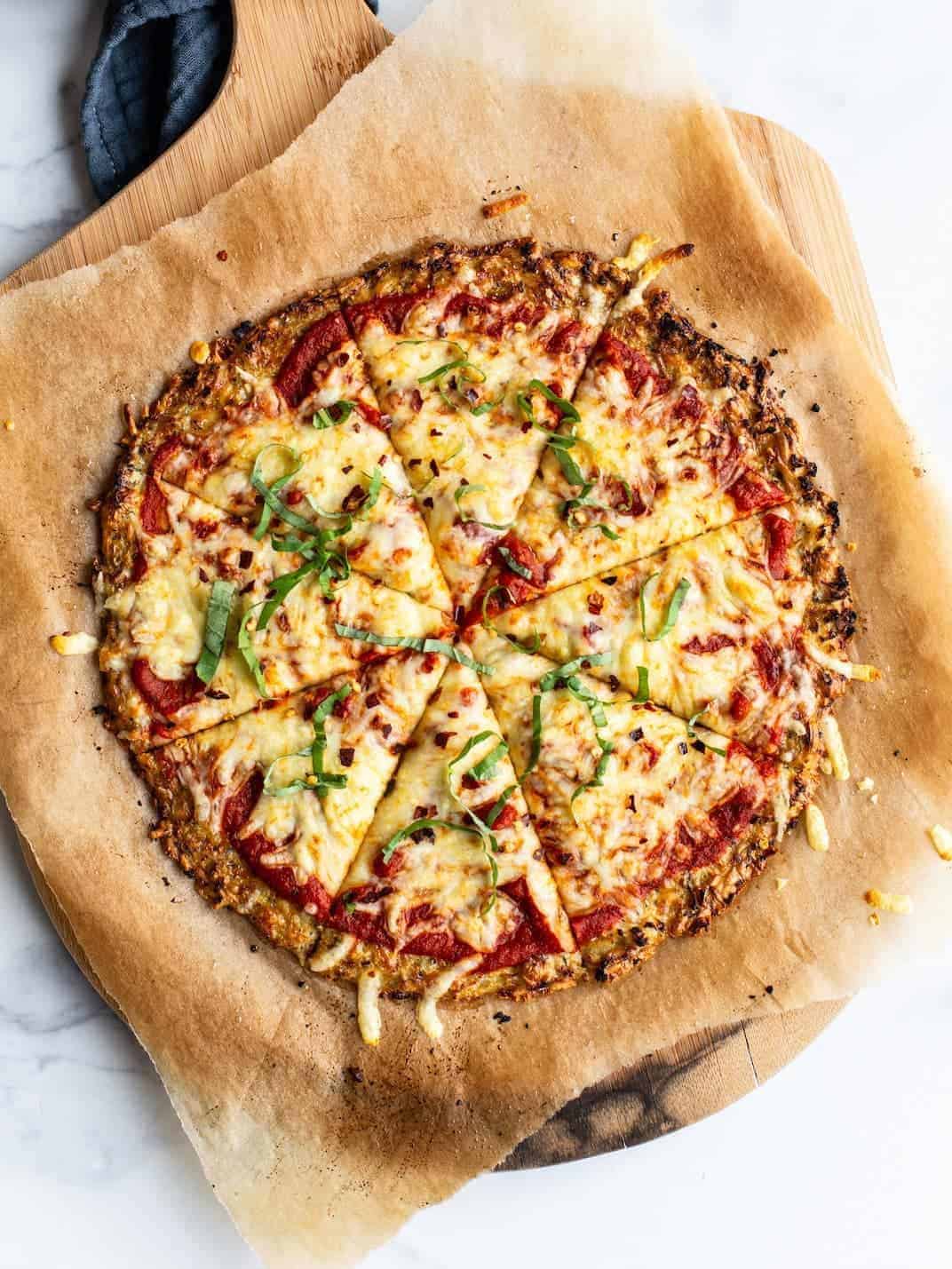 In recent years, cauliflower has become a popular ingredient in many dishes, and this recipe teaches you how to make pizza crust based on riced cauliflower. It might not taste quite the same as regular pizza base, but it's way better for you, so if you're looking for healthy alternatives, this is one that's worth a try.
18. Ultimate Vegan Pizza from Scratch – The Buddhist Chef
The goal of this video is to show that if you learn how to make everything from scratch, eating vegan can be delicious – and affordable too. This YouTuber then proves it by making a vegan pizza with ingredients like homemade vegan mozzarella, demonstrating how it's possible to eat well with just a little dedication and patience.
19. 10-Minute Vegetarian Tortilla Pizza – Homemade Mastery
Another smart alternative to carb-loaded regular pizza base is to use tortillas instead. For those who want to try, in this post, you'll find a great recipe for a vegetarian version that looks both delicious and better for your body.
20. High Protein Low-Calorie Pizza for Abs and Weight Loss
For people who are trying to lose weight or develop their abs, pizza might seem like it's completely off-limits. However, that doesn't need to be true – as this YouTuber shows us – because she demonstrates how to make three different versions. We're not quite getting her aversion to using a knife and fork to eat them – but apart from that, it's a video that merits a watch! [34 Best Low-calorie Pizza Recipes]
21. Healthy Personal Pizza Recipe –Cleaneatingmag.com
The suggestion this blog gives you for making your pizzas healthier is turning to pita bread instead of regular dough for the base. From there, you can then load up with all your favorite veggies, and this post also has plenty of ideas for the kind of thing you can use.
22. Oil-Free Pizza Crust – Healthy & Plant Based
In this video, you'll learn how to make a vegan pizza based on an oil-free wholewheat crust and piled high with a range of healthy toppings. As this YouTuber says, his channel is based on making healthy food that actually tastes good – and this pizza is one of them.
23. LiveLighter – Healthy Pizza Base Recipe
Here we have another great recipe for a healthy pizza base that takes no longer than ten minutes to make. There are also suggestions for meat-based and vegetarian toppings you can use, allowing you to eat delicious pizza without a shred of guilt.
24. Keto Pizza in 10 Minutes
In this video, this YouTuber promises to teach us how to make a keto pizza in only ten minutes. The base relies on a combination of almond flour and coconut flour, and since it's keto, there's no restriction on cheese or pepperoni. So if you're trying to avoid carbs but are missing pizza too much, this is the solution you've been looking for.
25. Healthy pizza recipe – BBC Food
With its array of attractive colors including greens, purples and yellows, this pizza looks unbelievable. It's based on a wholewheat dough, and all the toppings are healthy too, so this is the kind of thing you can turn to when you want to feed your family in a hurry but prefer not to give them junk food.
26. Multigrain Pizza Recipe – Healthy Atta Pizza Dough and Sauce
The multigrain pizza in this video looks amazing, and since it uses only healthy ingredients for the toppings, it's also great for anyone who's watching what they eat. It's quite an original idea for a pizza, but it looks like it works well – and it's one we're looking forward to trying ourselves.
We've seen quite a few options that replace regular pizza dough with something healthier and less fattening, and this recipe turns to homemade gluten-free bagels for the pizza base. They're then given a selection of healthy toppings, and we think the ones in the photos look sublime. [27 Best Pizza Bagel Recipes]
No need to give up pizza if you want to eat well
Just because you want to eat healthily or lose a few pounds, it doesn't mean you need to give up pizza – and as you can see, there are plenty of recipes to turn to if you want to make healthy versions of your own.
We've enjoyed collecting these recipes for you, so we hope you've enjoyed watching and reading them all too. And above all, we hope we've helped you find the recipe you needed for making a healthy pizza at home.
27 Best Healthy Pizza Recipes
Ingredients
50-Calorie Pizza From Emma's Goodies

High Protein Low-Calorie Pizza From Pernilla Stryker

Vegan Pizza Recipe – Oil-Free And Low Fat

Healthy Pizza That Is Actually The Real Deal (Under 20 Minutes From Scratch!)

How To Make A Lower Calorie Personal Pizza That Still Tastes Good

Low Carb Protein Pizza! Only 228 Calories And 12g Carbs In The Whole Pizza!

Healthy Pizza Recipe – How To Make A Low Carb, High Protein Pizza

Plant-Based Alfredo Sauce And Easy Pizza Dough Recipe

Ultimate Vegan Pizza From Scratch – The Buddhist Chef

High Protein Low-Calorie Pizza For Abs And Weight Loss

Oil-Free Pizza Crust – Healthy & Plant Based

Keto Pizza In 10 Minutes

Multigrain Pizza Recipe – Healthy Atta Pizza Dough And Sauce
Directions
Select your favorite recipe.
Organize all the required ingredients.
Prep the recipe in 30 minutes or less!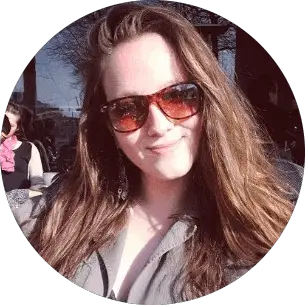 Barbara is an enthusiastic food-exploring person that goes through different culinary experiences. She got inspired by creating a pizza blog post after she tasted one of the best-selling pizzas in Toledo.