If you're looking for a healthier way to enjoy pizza, you may have heard of cauliflower pizza crust. But what is it? Why is it better for you? And can you make it for yourself?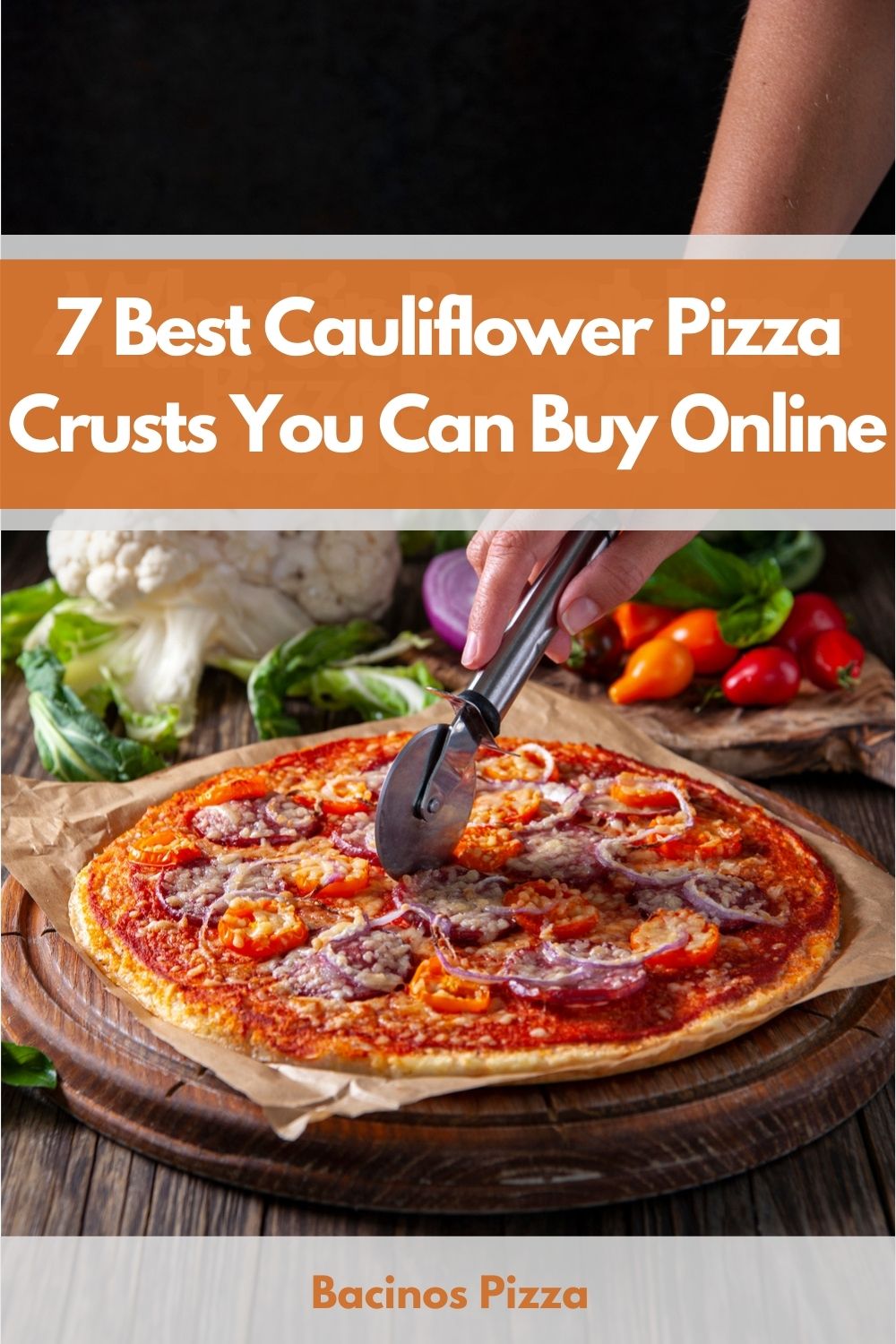 We're going to take you through the answers to all those questions and more! And we'll tell you where to buy cauliflower pizza crust so you can try some for yourself.
So if you're ready, read on and learn more about this intriguing addition to the world of pizzas.
What is cauliflower pizza crust?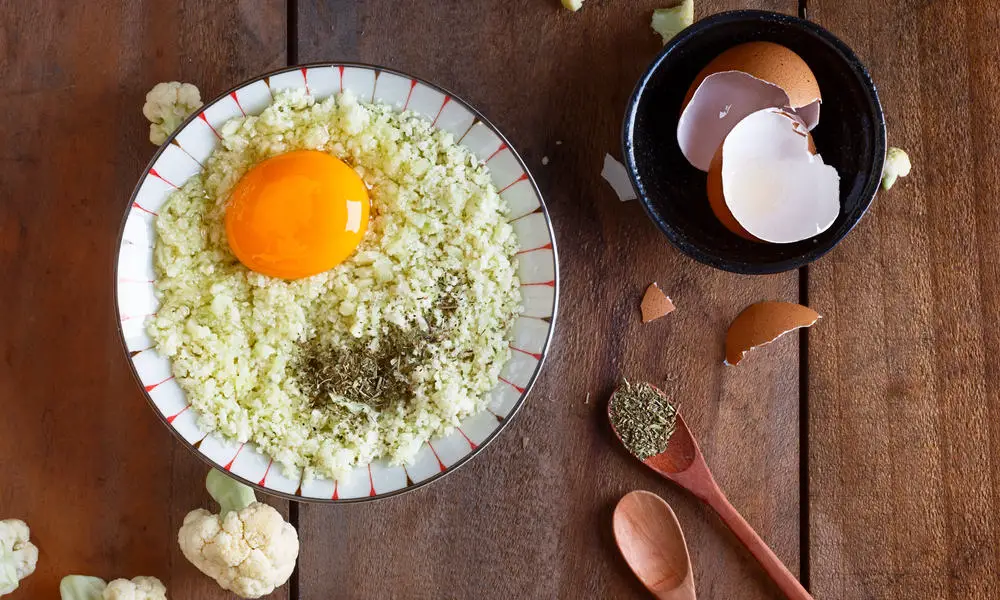 Cauliflower pizza crust is just what its name suggests – a tasty base for your pizza that's made from cauliflower instead of dough.
It uses the same principle as cauliflower rice, making a virtue of the fairly bland flavor of the vegetable. When mixed with other ingredients, it can be formed into a flat "crust" that becomes crisp when baked. It works beautifully as a base for your favorite pizza toppings and sauce.
The major benefit of cauliflower crust is that it contains plenty of vitamins and fiber, and very few carbohydrates and calories. That makes it a great option for people to watch their weight or manage health conditions like diabetes.
But not all cauliflower pizza crust is made in exactly the same way. And if you don't want to buy it ready-made, it's also very easy to put it together yourself. [Is Cauliflower Pizza Healthy? (Calories, Carbs, Fat & Sodium)]
Making your own cauliflower pizza crust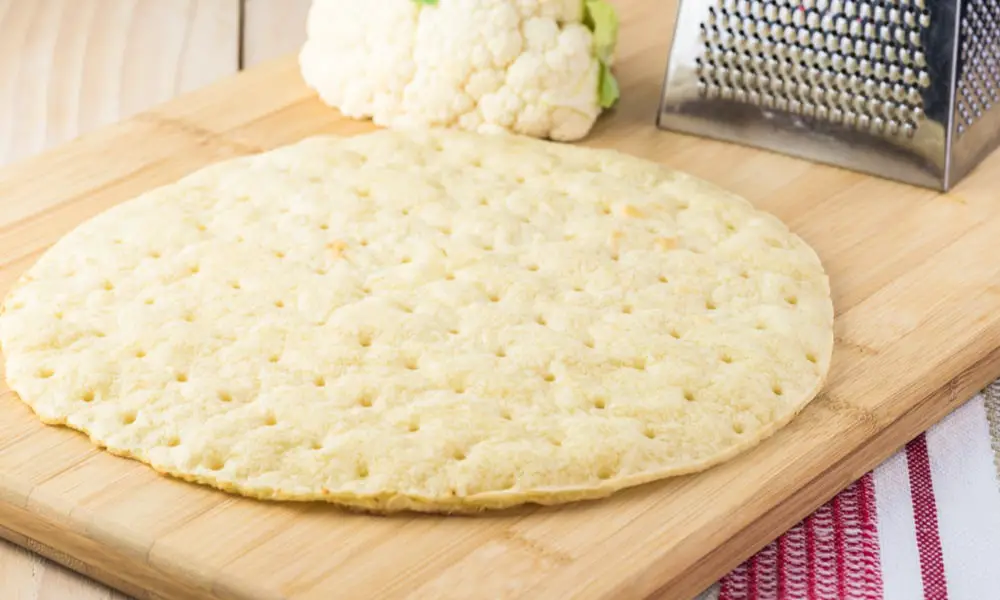 Making your own is a great way of knowing exactly what's going into your cauliflower pizza crust.
And you can also make it even lower carb than most ready-made versions. That's because the kind you can buy pre-formed often makes use of cornflour and potato starch. Both these ingredients add significantly to the carb total.
If you want to try making it yourself, you'll find plenty of recipes online. Most use eggs to bind the cauliflower, and some use cheese and herbs to add extra flavor. Note, however, that while using cheese will increase the protein levels, it will also add to the calorie content.
We love this recipe from BBC Good Food, which uses crushed almonds to impart a really crispy texture.
Whichever recipe you use, the key to getting good results is removing as much moisture as you can from the cauliflower. That will help it bind with the egg. And it will create a light, crunchy texture that's perfect for pizza.
But if you don't have the time or inclination to make your own cauliflower pizza crust, you can also buy it ready-made. Then it's a quick and easy job to load it with your favorite sauce and toppings and bung it in the oven.
So where do you find it?
Where to buy cauliflower pizza crust
Cauliflower pizza crust is becoming increasingly easy to find in supermarkets as well as health food shops. And you can order it and have it delivered to your door from a range of online retailers.
Here we take a look at some of the best cauliflower pizza crusts out there, and where you can find them.
Caulipower is the USA's top selling brand of cauliflower pizza crust. The cauliflower is mixed with rice flour, corn and tapioca starch, eggs, baking powder, sugar and yeast. There's also salt, vinegar and bicarbonate of soda.
Two slices, or a sixth of each crust, will give you 170 calories and 28 grams of carbohydrates. It's low in fat and cholesterol, and you'll get a gram of fiber as well as calcium, potassium and iron.
You put your toppings on before it goes into the oven, and your pizza will be baked in 12 to 15 minutes. Add in a little time to prepare the extras and preheat the oven, and this is still a very quick and tasty meal.
Caulipower is available at Amazon, or at supermarkets and whole foods markets across the USA. New Yorkers, for example, can find it at the Whole Foods Market, Brooklyn Fare, and some branches of Gristedes.
But wherever you're located, you can find a stockist on the Caulipower website. Just put in your zip code and it will list the stores where you can find it.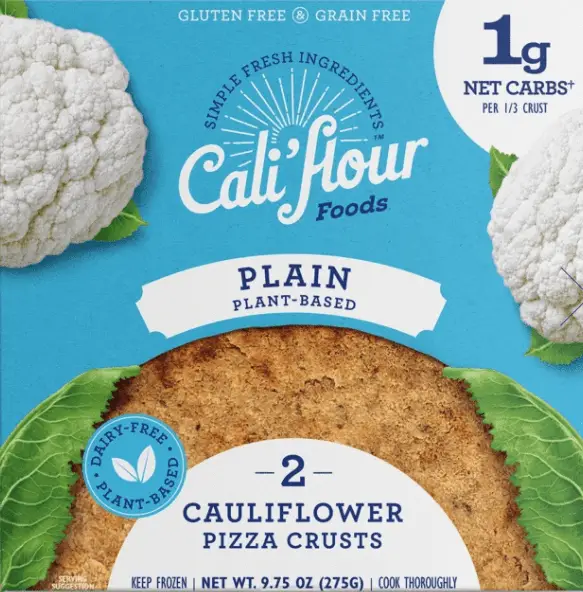 Cali'flour was one of the original purveyors of the cauliflower pizza crust. They've since expanded their range to include plain, spicy jalapeno, and sweet red pepper.
All the options are very low carb. Two slices, or a third of the crust, of the original flavor has just 4 grams of carbs. And with 2 grams of dietary fiber, that's a net carb count of 2 grams. The same amount of pizza has just 90 calories.
All that means you can eat more without worrying about your waistline or blood sugar! It's great for those on keto or gluten-free diets, and there are no grains here either.
The pizza crusts come in packs of two. You can purchase multiple packs at a time directly from the online store. Or if you prefer, you can buy a bulk pack that contains ten crusts.
You can also find it at Amazon. And it's stocked in stores across the USA. Just go to the website, key in your zip code, and it will show you your nearest stores. There's even a mail order service for pizza lovers in Canada.
Grocery store Trader Joe's makes their very own cauliflower pizza crust – and it's delicious. This one is made with cornflour, though. So while it's much lower in carbs than conventional pizza bases, there are better options if you want to minimize your carb intake.
You'll get six slices from a crust. Eat a third (two slices), and you'll be consuming 34 grams of carbohydrate and 160 calories.
There are Trader Joe's across the country. Visit the website to find your local branch.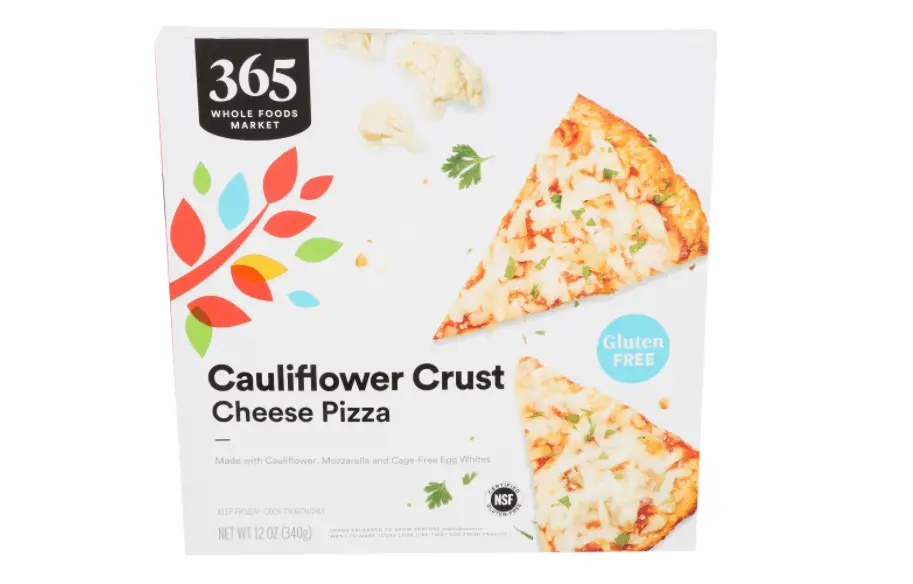 The 365 range from Whole Foods Market is available at their grocery stores across the USA. Visit the website, and you can find your nearest store by typing in your zip code.
With this one, you'll get a cheese pizza on a cauliflower base. And if you want to add meats, seafood or vegetables on top, you can.
In its pure cheesy form, a third of the pizza will give you 220 calories, 16 grams of carbohydrate, and 11 grams of fat. Pop it in the oven at 425 degrees Fahrenheit for 15 minutes, and it's ready to serve. It couldn't be easier.
5. Molinaro's
Molinaro's cauliflower pizza crust is another one that's available across the USA. And because you can buy it at Amazon, you won't even have to leave home to get it! Canadians can find it at their local Costco too.
Each pack includes two pizza crusts. And to make your life even easier, you'll also get two sachets of tomato sauce.
Here, the cauliflower is mixed with rice flour, corn starch, mozzarella, tapioca starch and canola oil. The crust also contains sugar, salt, vinegar and baking powder. And it's flavored with spices and dried vegetables including red and green bell peppers, onion and garlic.
The crusts are designed to serve four people. One quarter, without sauce or toppings, contains 130 calories and 24 grams of carbohydrate. It tastes delicious, and browns beautifully in the oven too.
6. Realgood Pizza Co.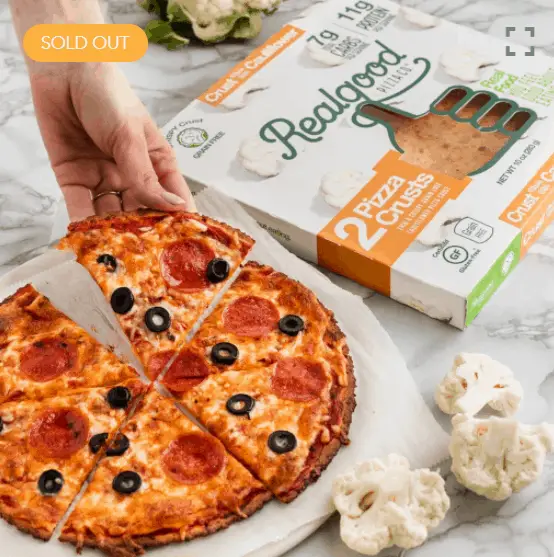 Realgood Pizza Co. ship their wares across the eastern United States and Canada. Visit the website and type in your zip code to find your nearest store or check delivery options. And if you spend more than $150 online on their products, shipping is free.
Those products include a cauliflower pizza crust that's very good indeed. The cauliflower here is mixed together with almonds, cheese and eggs. That makes it higher in protein than most other cauliflower crusts, with 11 grams per third of a crust.
It is more calorific too, however, with that third-of-a-crust serving clocking up 200 calories. But the absence of processed flour means it's very low in carbohydrates. That same serving contains a meagre 7 grams of carbs.
And the company is so confident in their product that they offer a refund if you don't love it.
7. Boulder Bake
Boulder Bake's cauliflower pizza crust is another one you can get your hands on via Amazon. It comes in a pack of three, and it's grain and gluten free.
It is, however, considerably lower in its cauliflower content than you might expect! In fact, the primary ingredient here is tapioca starch, and the only cauliflower element is cauliflower powder.
Each pack includes enough mixture to make a 12-slice pizza. Two slices of the crust itself will give you 30 grams of carbs and 200 calories. Remember, any sauce, cheese, or other toppings will add to this total.
Ready to try cauliflower pizza crust?
If your stomach is now rumbling, we hope you're ready to try cauliflower pizza crust!
If you're feeling adventurous, why not try making it yourself? It's very easy to do, and you'll be able to control the ingredients precisely.
But if you'd rather take the simpler route to see whether you like it, there are lots of great brands to choose from. And no matter where you live, there's a store – or an online supplier – to purchase them from.
We hope you're soon enjoying a delicious cauliflower crust pizza!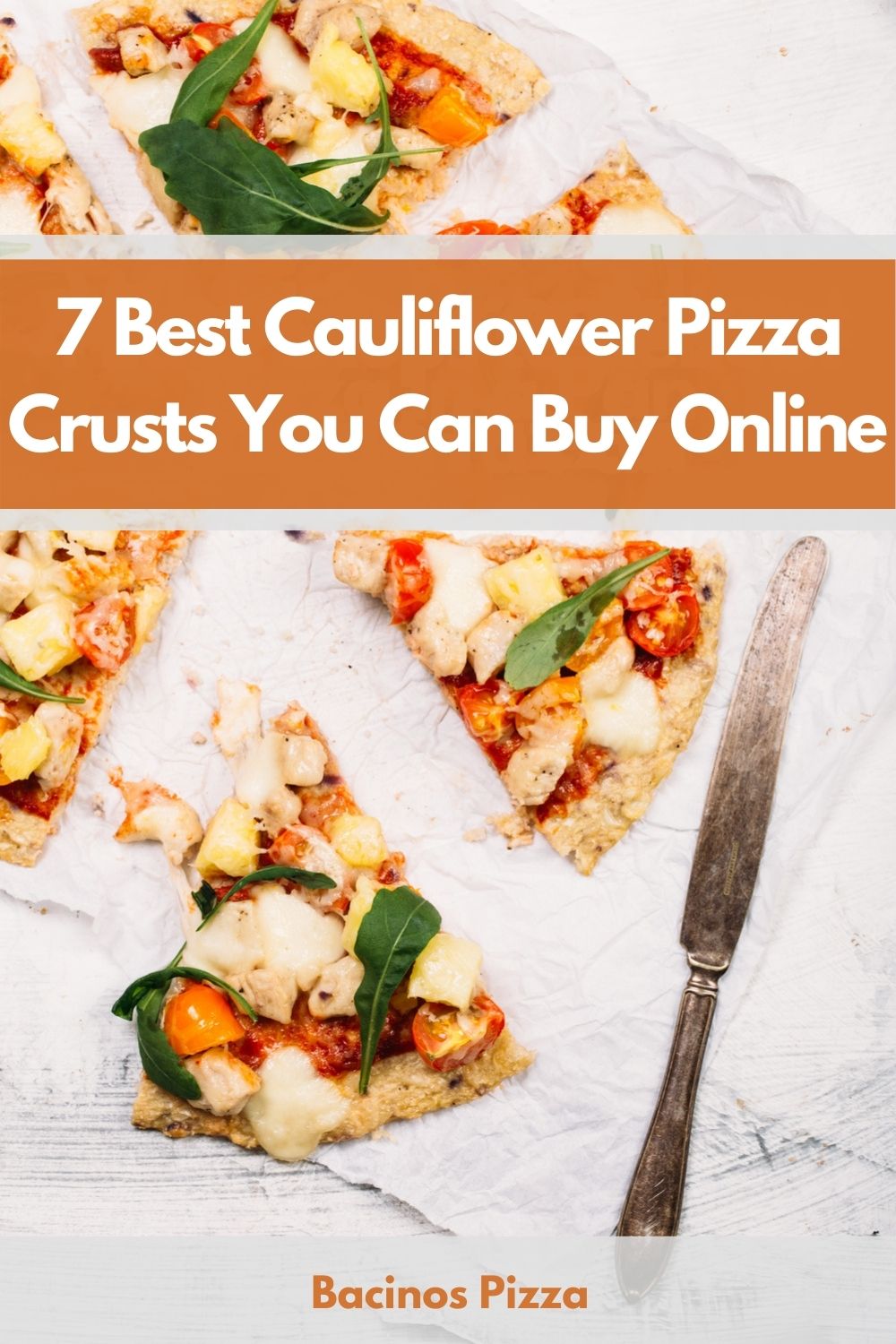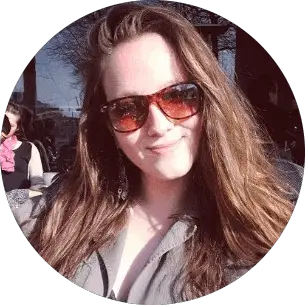 Barbara is an enthusiastic food-exploring person that goes through different culinary experiences. She got inspired by creating a pizza blog post after she tasted one of the best-selling pizzas in Toledo.