When a city has a whole style of pizza named after it, you know you're onto a good bet! And sure enough, when you're in need of pizza, Chicago has plenty of options. But with so much choice, how do you choose the right place to spend your money?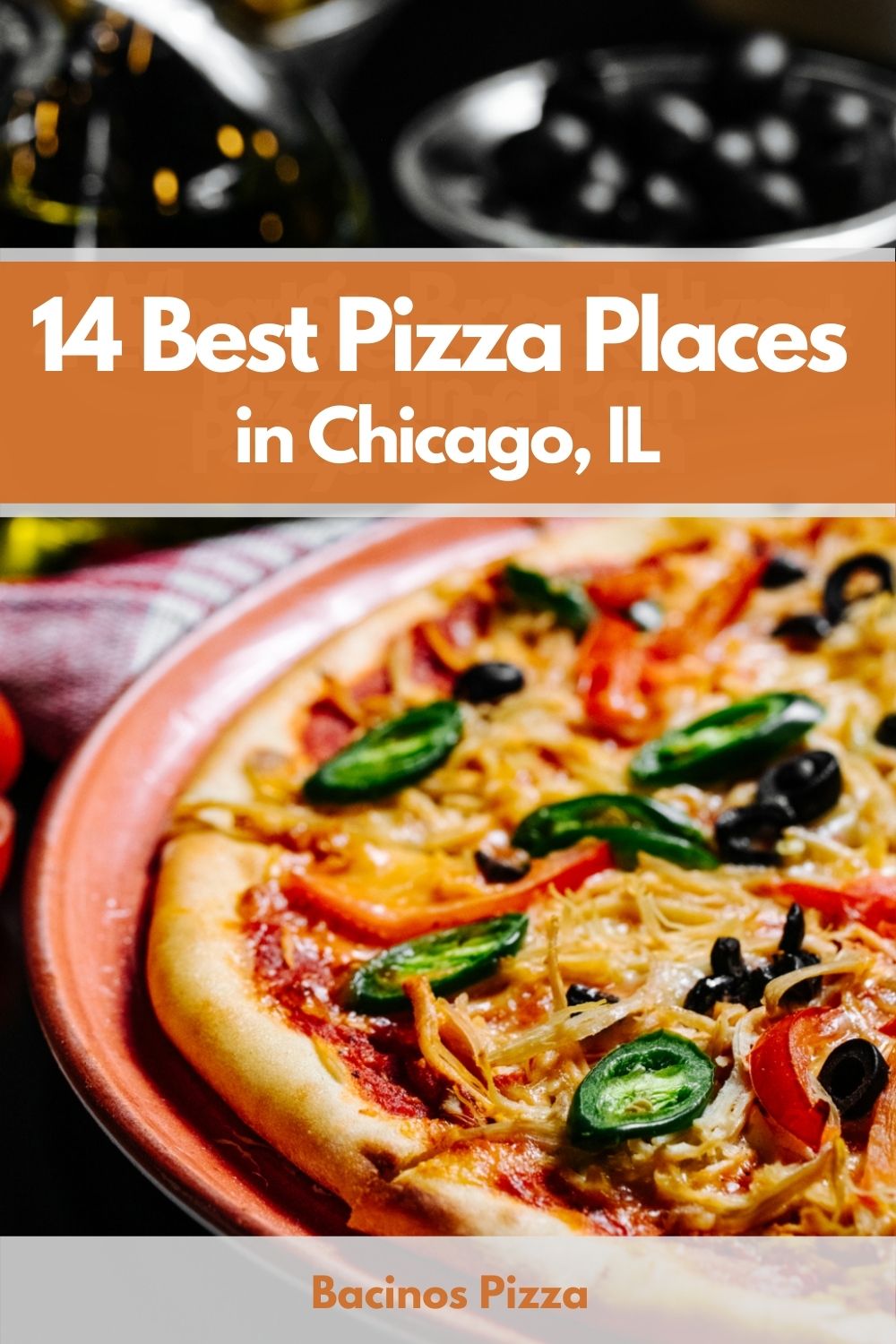 That's where we can help! We've found 15 places to get the best pizza in Chicago. We're going to tell you where to find them, what makes them great, and how to order.
So step this way for everything you need to know before your next pizza night!
Address: 2207 North Clybourn Avenue, Chicago, Illinois 60614
Tel: 773-327-1512
Pequod's Pizza is a casual eatery where you can get a cold beer alongside excellent pizza. It's open until late seven days a week. On Sundays, you'll be able to get your food until midnight, and the rest of the week it's 2 am.
For many of its loyal patrons, Pequod's is the home of the best pizza in the city. You can dine in, pick up your order curbside, or have your food delivered. However you get it, you'll enjoy a crispy, caramelized crust. And there's a great range of toppings that can be added to half or the whole of your pie.
You can choose from the thin crust or pan pizza. The thin crust is available in three different sizes or by the slice. With the pan pizza, there are four sizes from personal (7 inches) to large (14 inches).
In addition to pizza, the menu features appetizers, soups, salads, pastas and a tempting selection of desserts. And wines and beers are available whether you eat in or dine at home.
Address: 1521 North Fremont Street, Chicago, Illinois 60642
Tel: 312-280-6000
In normal times, Pizzeria Bebu offers great pizza for dine-in, pick-up or delivery. It's closed temporarily due to covid restrictions, but check the website for details of its reopening.
It's worth waiting for because this is another pizzeria that wins rave reviews for its food and service. The emphasis here is on fresh, seasonal ingredients. All the pizzas are 14 inches, and you can also choose from a great selection of salads, big enough to share.
The menu here features both red and white pie. (Look for "panna" in the description to identify the white ones.)
Tasty flavor combinations include the Vodka Meatball, featuring vodka sauce, house-made meatballs, three kinds of cheese and pickled jalapenos. And vegetarians should check out the Hot Daisy, topped with vodka sauce, Calabrian chilis, parmesan, mozzarella and basil.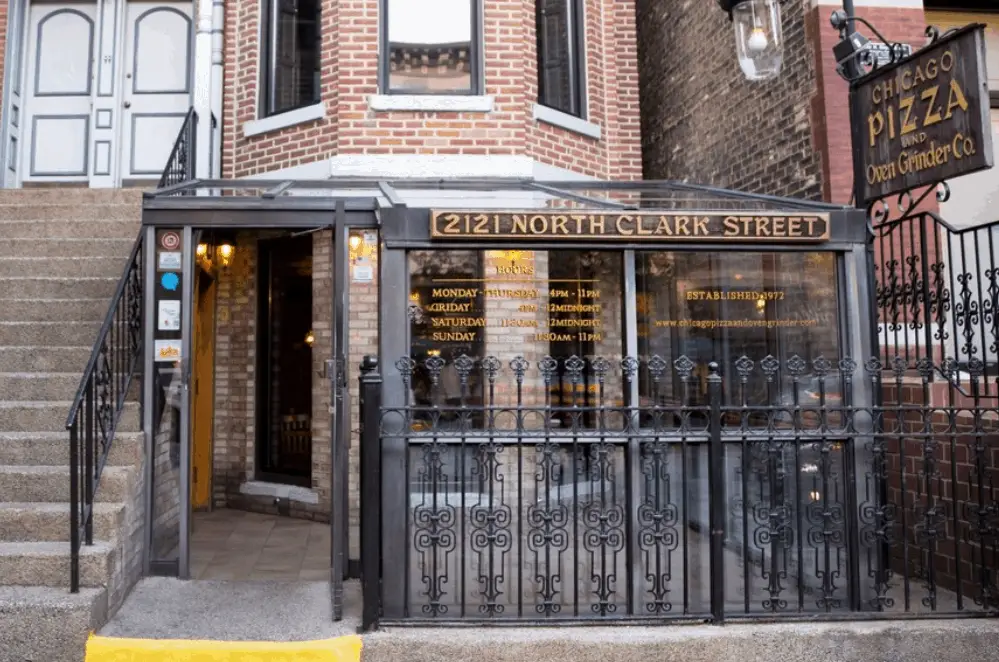 Address:  2121 North Clark Street, Chicago, Illinois 60614
Tel: 773-248-2570
For those who like simple pies with plenty of cheese, the Chicago Pizza and Oven Grinder Co. is a must-visit. This cash-only eatery is located in a traditional brownstone, where you can dine in or pick up your food curb-side.
The house specialty is the "pizza pot pie". It's made with triple-raised dough, a fresh tomato sauce with blended cheeses, big chunks of sausage and whole mushrooms. There's also a vegetarian version. Both come in half-pound or one-pound servings. And you can even buy frozen pies to take home.
Also available are Oven Grinders. These are large Italian loaves filled to bursting with meats, vegetables and cheese, drizzled with garlic oil and baked in the oven.  You'll also find antipasti and generous salads.
And for dessert, there's tortoni, a frozen cream confection topped with rum, crushed macaroons and toasted graham crackers.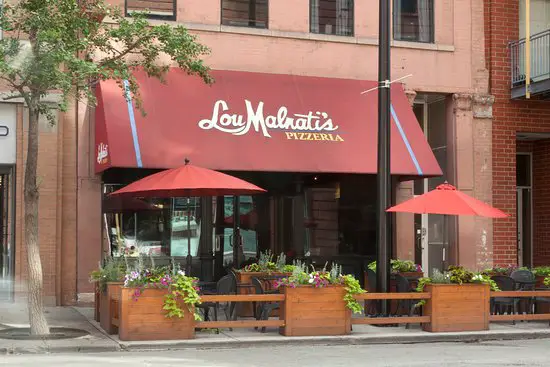 Address: 439 North Wells Street, Chicago, Illinois 60654
Tel: 312-828-9800
Lou Malnati's is a family-owned chain of pizzas local to Chicago. You can eat their delicious food in the restaurant or get it delivered to you at home. And the North Wells Street branch is open seven days a week.
You can choose between the pan and thin-crust pizzas, plus specialty gluten-free crusts. There's even a crustless pizza that uses Lou's house-made sausage as a base. And most pies are available in four different sizes.
There's a great range of fresh toppings, so you can create your own or choose a pre-set combination. The menu also features salads, appetizers, pastas, sandwiches and desserts. There are some excellent combo deals too.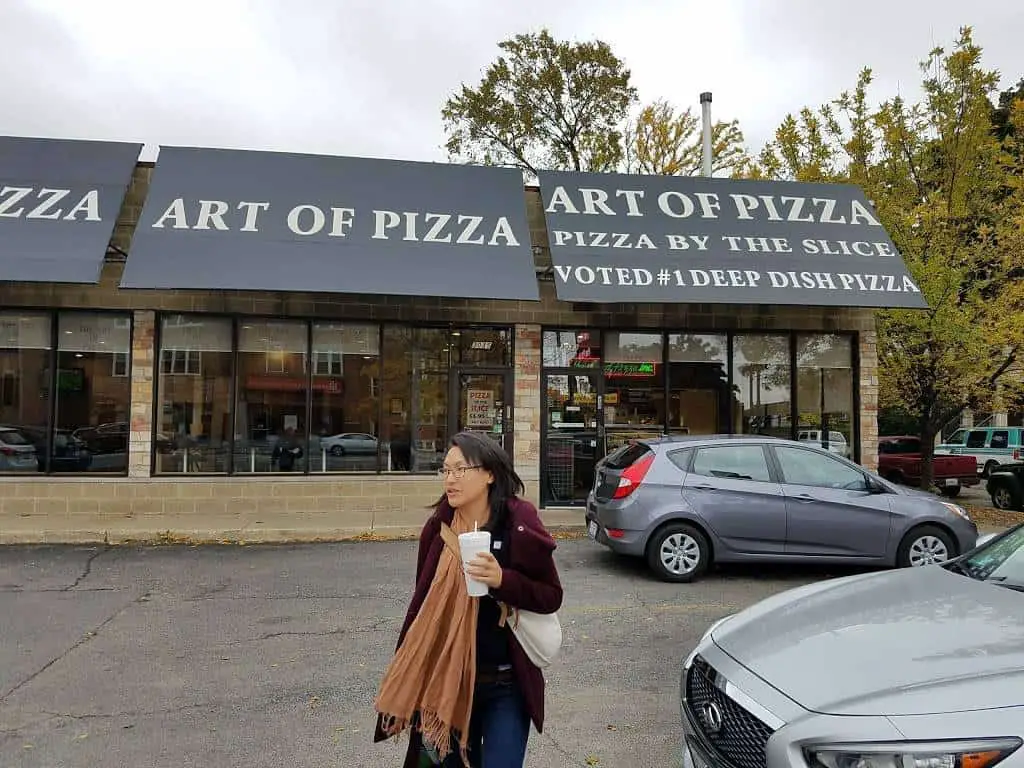 Address: 3033 North Ashland Avenue, Chicago, Illinois 60657
Tel: 773-327-5600
The Art of Pizza is open seven days a week, whether you want to dine in, collect curb-side or get delivery. Note, though, that it's not the best option for late night snacking. It closes at 9 pm most nights, staying open until 10 pm on Fridays and Saturdays.
The range of pizzas is impressive, with lots of them available by the slice. You can also order deep pan, thin-crust or stuffed pizzas as a whole pie. But note that if you order a specialty pizza, you won't be able to swap out any of the toppings.
There's also a great range of sandwiches, including a daily special, plus subs, soup, salads, chicken, shrimp and desserts.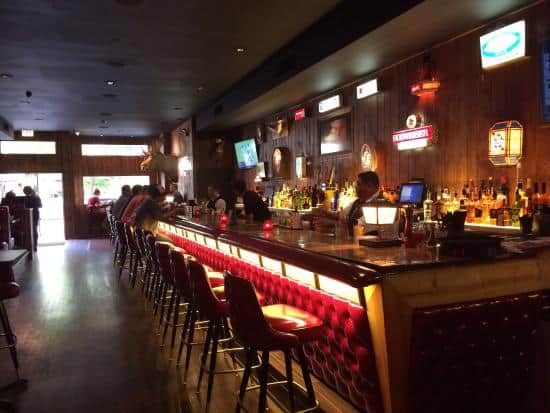 Address: 1801 North Spaulding Avenue, Chicago, Illinois 60647
Tel: 224-656-4732
Milly's is a relatively new addition to the Chicago pizza scene, having first opened its doors in 2020. But it's already gathered a loyal following.
The menu is small but perfectly formed, with a choice of five pan pizzas in 10 and 14-inch diameters.
Options include the Clickbait, with Castelvetrano olives, red onion, mushrooms, mini peppers, kumato tomatoes, jalapenos, chilis and ricotta. Or there's the Que Suerte, which combines brown sugar bacon with pineapple, cherry tomatoes and jalapenos,
There's also the option to create your own, with a list of high quality toppings. All of them can be added to half of your pizza, or to the whole pie. And the sauce is made fresh every day.
Note that this one is only available for takeaway or delivery. And it's closed on Tuesdays.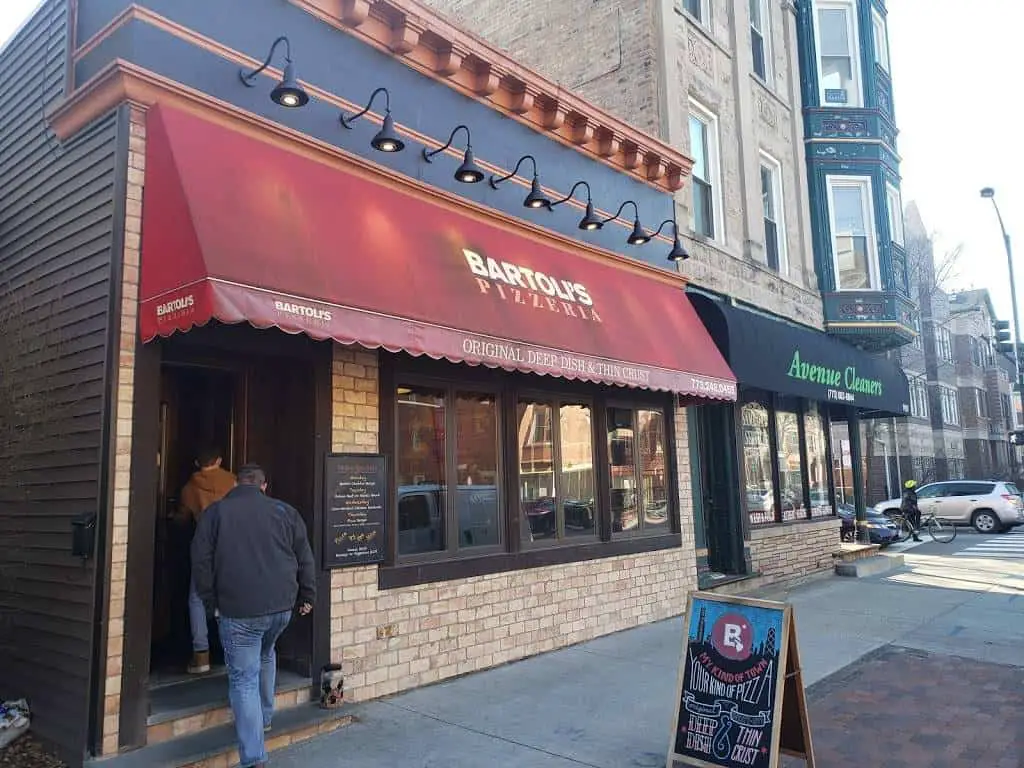 Address: 1955 West Addison Street, Chicago, Illinois 60613
Tel: 773-248-0455
Bartoli's Pizzeria has won numerous awards. Dine in for a cosy atmosphere and great service, or order your pizza for delivery through a range of partners. Place your first order with GrubHub and you'll get free delivery.
The Roscoe Village location is one of two serving Chicago. It's open seven days a week and offers both pan and thin-crust pies. The pizza sauce is a hit. And the deep dish pepperoni pizza is a highlight of the menu.
You'll also find plenty of starters, sides and sandwiches. And there are some delectable desserts to tempt you too.
Address: 1321 West Grand Avenue, Chicago, Illinois 60642
Tel: 312-226-2625
Coalfire is a casual pizzeria where you can dine in, enjoy your food as takeout or get it delivered to your door. The West Town location is one of two in Chicago, and it's open every day except Mondays.
The pizzas here are between 14 and 15 inches in diameter. They're cooked in a coal-fired oven and covered in toppings sourced locally wherever possible. Meat comes from hormone-free animals raised to high welfare standards. Vegetables are fresh, organic and not genetically modified.
You can build your own pie or choose one of the innovative combinations. These include the Honey and Salami, with Berkshire sopressata, clover honey, basil and Calabrian chilis.
There's also a good list of beers and wines, including prosecco, and a range of soft drinks.
Address: 1769 West Sunnyside Avenue, Chicago, Illinois 60640
Tel: 773-878-2420
At Bongiorno's you can sample homemade Italian cuisine at the restaurant, collect it as takeout, or have it delivered. Whatever option you choose, you're in for a treat. Chicago magazine called this the home of the greatest pizza in the city.
The restaurant is located inside the River Plaza Condominium. You can eat indoors or outside, next to the river. It's open six days a week, closed on Mondays.
Unusually for Chicago, the menu here is all about the Neapolitan thin-crust pizza. They're available with red or white sauce in a single size. The toppings are traditional, fresh and excellent quality. And some offer a twist on old favorites – like the Dee Lish, which combines pepperoni with truffle oil.
Also on the menu are antipasti, soups, sandwiches, pasta and chicken dishes. And there's a small but delicious selection of desserts too.
Address: 1252 North Damen Avenue, Chicago, Illinois 60622
Tel: 773-442-7238
The team at Craft Pizza focus on doing a few things very well indeed. The menu may not be as extensive as at some other Chicago eateries, but everything here is great quality.
Pizzas are available in 14 and 18-inch pies. You can also buy slices between 5 and 6.30 pm Tuesday through Friday, and between 12 and 4 pm on the weekend.
Both red and white pizzas are available, and for an extra dollar you can have vegan Diaya cheese. Many of the topping combinations are vegetarian-friendly, although there are also good options for meat lovers. And you can create your own pie if you prefer.
You'll also get a choice of fresh salads, and a few antipasti dishes and desserts.
Address: 800 South Clark Street, Chicago, Illinois 60605
Tel: 312-588-1100
Sono is a cosy Italian wine bar where you can watch your pizza being cooked in the wood-fired oven. You can't dine in here, though, so you'll need to collect your food or have it delivered. The food has a Tuscan flavor, and it's picked up an impressive four Michelin recommendations.
The pizzas are 14 inches. You can create your own or choose from one of the eight pre-set topping combinations. The options are classics like Funghi, Prosciutto and Salsiccia Bianche. They're lifted by top notch ingredients and careful preparation.
The starters here are exceptional. If you don't think you dislike Brussels sprouts, you haven't tried them oven baked with prosciutto, aioli and smoked paprika. Other favorites include sumac-crusted sea scallops, lamb meatballs and an heirloom beet salad.
Address: 1615 North Damen Avenue, Chicago, Illinois 60647
Tel: 773-525-4580
Dimo's at Wicker Park is the second location for this pizzeria, following on from its flagship at Wrigleyville. It's open every day, closing at 2 am on Thursday, Friday and Saturday nights. The rest of the week it closes at midnight.
With more space on offer than at the original Dimo's, this one features a salad bar, daily vegan slice and range of craft beers. It also regularly hosts live music and displays local art.
The pizza crusts are delicious and there are innovative flavor combinations like Fried Chicken and Waffles and Mac & Cheese. Order a slice or a whole pie as you prefer.
Dine in, and you'll be treated to friendly and attentive service. Check the website for up-to-date pick-up and delivery options.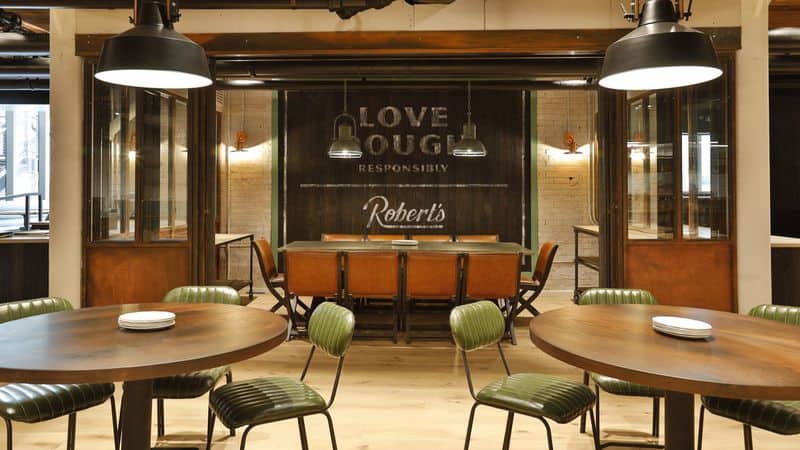 Address: 465 North McClurg Court, Chicago, Illinois 60611
Tel: 312-265-1328
Robert's is a bi-level restaurant and bar offering dine-in, pick-up and delivery. It's open every day, closing at 10 pm on Friday and Saturday nights, and at 9 pm the rest of the week. Head there from Monday to Friday and you can enjoy happy hour from 3.30 to 5.30 pm.
There's an excellent range of pizzas, including a vegan option and a wide range for vegetarians. Innovative ingredients include calamari, truffle cream, Brussels sprouts and braised fennel. And you can choose a gluten-free crust for an extra $2.
If you fancy a change from pizza, you'll also find sandwiches on homemade bread, salads, pasta and small plates.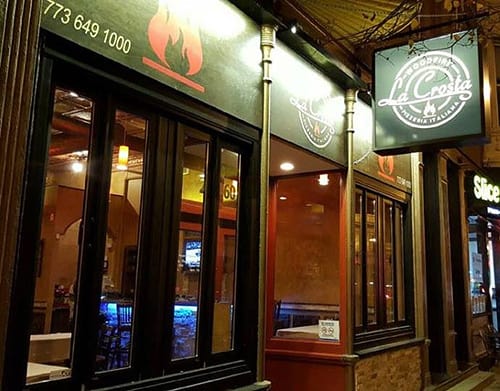 Address: 2360 North Lincoln Avenue, Chicago, Illinois 60614
Tel: 773-649-1000
Reserve a table at La Crosta to celebrate a special occasion in a vibrant and cosy setting. Alternatively, you can order your food for delivery or takeout. It's open seven days a week.
You'll find a good selection of red and white pizzas, all in a single size.  The crust is light, thin and crispy, and the toppings are fresh and tasty. Amongst the house specialities is the Truffle Burrata, a white pizza topped with creamy burrata, white truffle oil, fresh basil and Parma ham. Delicious!
There are plenty of choices for both vegetarians and carnivores. And if you prefer to go your own way, you can create your own pizza or calzone.
There are also antipasti, salads, and a small but delectable selection of desserts, including tiramisu and Death By Chocolate cake.
Ready to order your pizza?
That brings us to the end of our tour of the best pizza places in Chicago. We hope it's given you food for thought!
This city is a pizza lover's dream – so why not try a few different options? With so many great restaurants and takeaways out there, you can afford to experiment.
We hope you enjoy your next pizza night!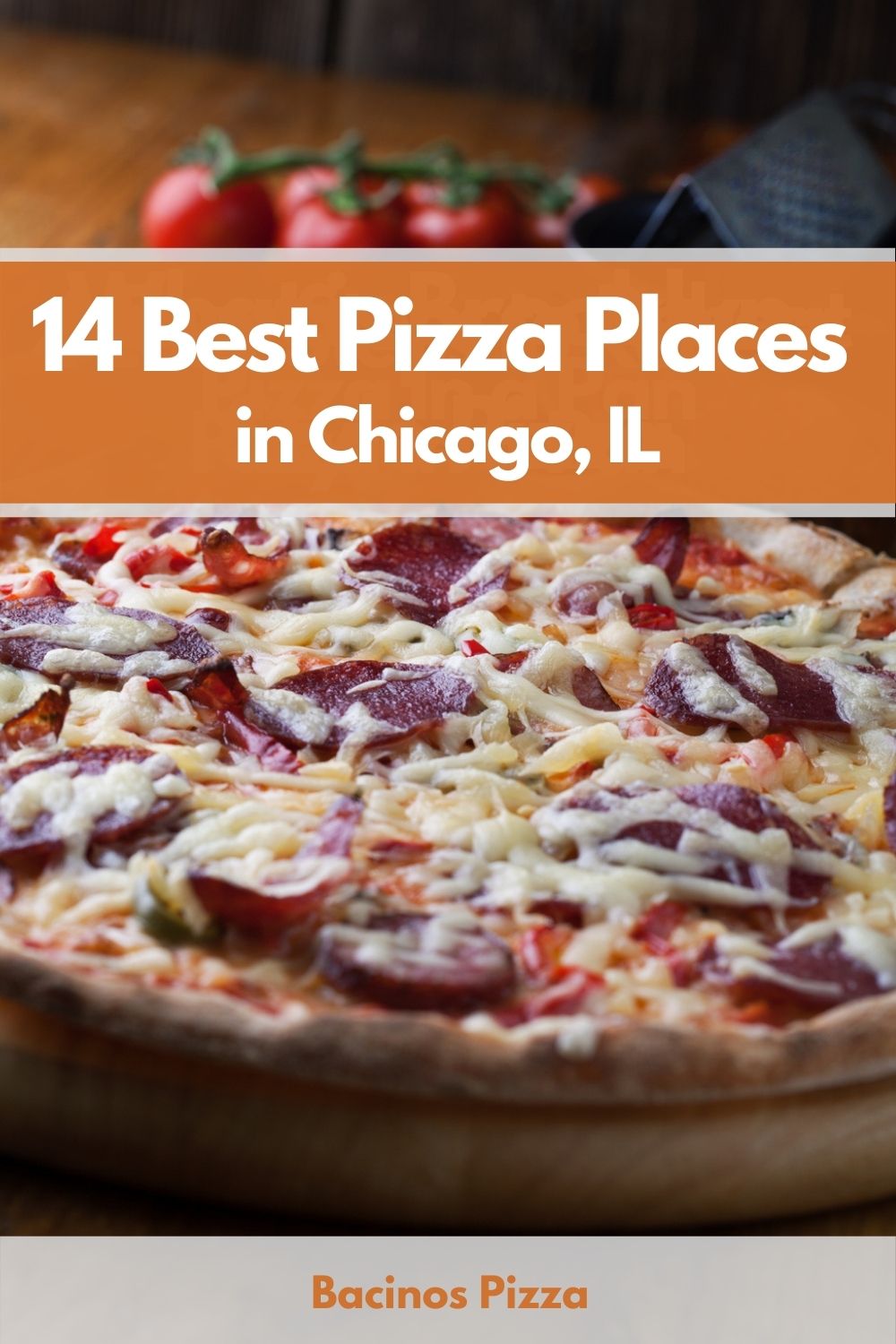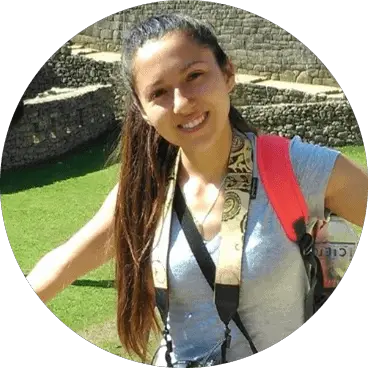 Kathryn's love for pizza started when she was still young. When she was young, she's been a picky eater–that's what her Mom used to say. The only food that she enjoyed and loved was pizza–until now! Her love for pizza turned into a passion!