Pizza and pot pie are quintessential comfort foods here in the US of A. So combining them into a single dish is a feat worthy of sainthood! We'll look at different pizza pot pie recipes, from pizza bowls and pizza balls to deep-dish pizzas where the entire crust is stuffed!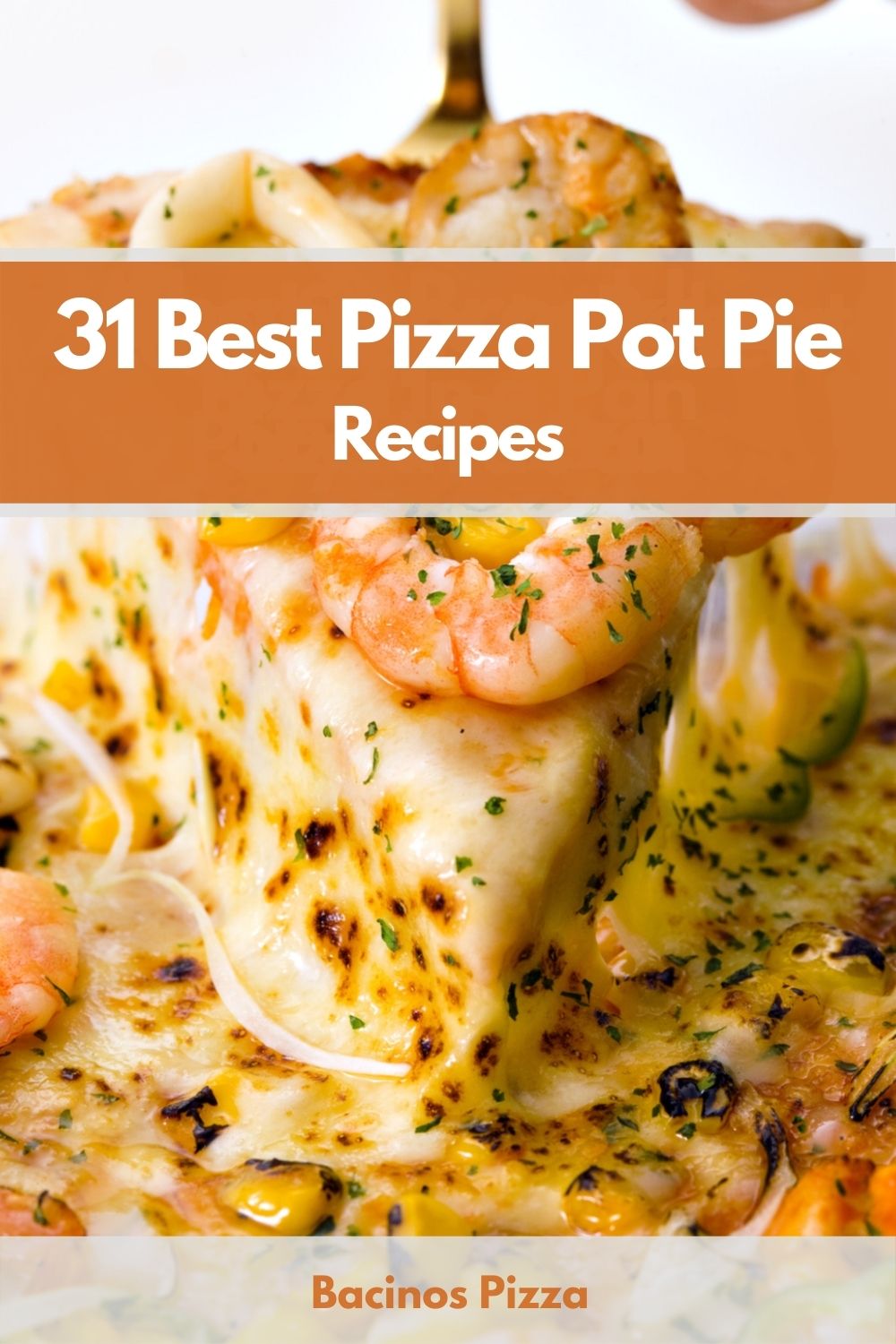 The key distinguishing factor is the top crust and depth. Pot pies are often deeper than pizza pies and may have a bowl-like shape. The top of the pie might be braided, latticed, or have extra toppings. Meanwhile, pies (aka pockets, parcels, pouches, or calzones) are hand-held.
1. Chicken Pizza Pot Pie
While it's not defined as a pizza pot pie in the recipe, it's baked in a pot pie pan and has a flaky top crust. This top crust has slits that form a pretty patterned lattice when you stretch the dough over the toppings. Said dough is enriched with egg and milk. The pizza pot pie is filled with chicken tikka, mushrooms, bell pepper, olives, and cheese. Glaze with egg wash.
2. Food Network Pizza Pot Pie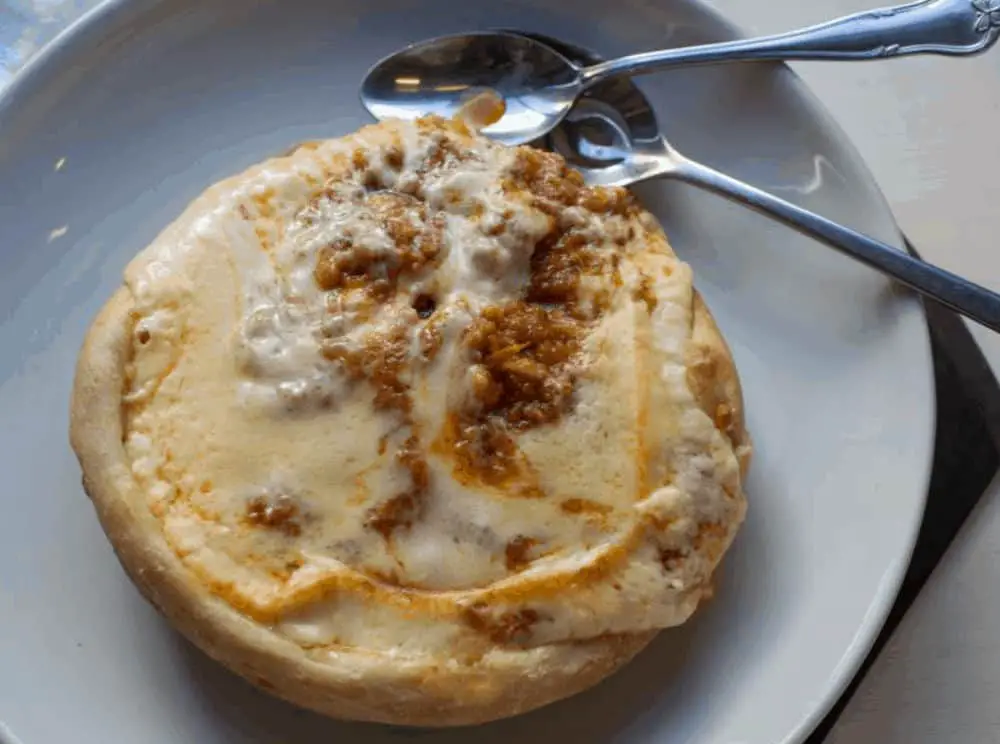 How simple or complex do you want your pizza pot pie recipe? You could make pizza dough and pizza sauce from scratch. Or you could buy both at the store, which is what this recipe does. The pizza pot pie is baked in the upside-down style made famous by CPOG. This Food Network version is stuffed with sweet Italian sausage, Havarti cheese, and bell peppers.
3. Chicago Pizza & Oven Grinder Co. Pot Pizza Pie
We all know CPOG invented pizza bowls aka upside-down pizza aka inside-out pizza. Their pizza pot pie is world-famous and has spawned tons of imitations. The original has cheese slices at the bottom of a pizza bowl. Follow with toppings, sauce, and dough. Their meaty in-house pizza sauce is simmered overnight (8 to 10 hours) to get that distinct CPOG flavor.
4. Gluten-Free Deep Dish Pizza Pot Pie
Mini pizzas are a hit at pizza parties. Especially if everyone can make their own. So make some pizza pie crust and get disposable pie pans. Fill each pan with your pre-made flaky crust. Let your guests fill their personal pizza pot pies with fillings of their choice. The options in this recipe include crimini mushrooms, olives, vegan cheese, basil, and garlic.
5. Noreen's Portobello Pizza Pot Pie
Yes, pizza pot pies can be eaten right-side up if you crack the crust with a fork or spoon. But most people prefer to flip the pizza and remove the bowl. If you've tried it, you'll notice how the crust looks a lot like a Portobello mushroom cap. For a quick pizza pot pie recipe, remove the stem, stuff the cap, and grill or bake it. Try sausage, pepperoni, olives, and cheese fillings.
6. Pillsbury Pizza Pot Pie
Pillsbury is the all-star of frozen store-bought dough. And for this pizza pot pie recipe, you want to use their pie crust, not their pizza crust. The pie crust will give your pot pie that fluffy, flaky texture (as opposed to the crisp quality of thin crust or the bready feel of thick pizza bases). For fillings, use broccoli, basil, chicken, cheese, and pizza sauce or marinara.
7. Savory Pizza Muffins
Umami pizza cakes are a type of pizza pot pie because it's basically pizza slices stacked into a cake tin with dough forming the outer crusts. So you could try this pizza muffin recipe. These tiny pizza pot pies are baked in a muffin pan. Everything is baked into the dough – sausage or pepperoni, sweetcorn, pizza sauce, chili, yogurt, pizza herbs, bell peppers, and cheese.
8. Skillet Pizza Pot Pie
While a pie pan is the go-to for pizza pot pie recipes, you can bake your pot pie in a skillet as well. You'll start on the stovetop and then move to the oven. And since this is a one-skillet recipe, start by sautéing your broccoli, bell peppers, and mushrooms in that order. Add sausage, flour, sauce, and cheese. Stretch the dough over the food in the pan and put it in the oven.
9. Air Fryer Portobello Pizza Pot Pie
When you cook in an air fryer, you get the same crispy results as deep frying. But you'll only use a tablespoon or two of oil. So this mushroom-crust pizza with minimal oil and low carb quotient is super healthy and keto-friendly. You have to take out the stem, but you can keep the gills if you like them. Brush the caps with oil and marinara then stuff with cheese and fry.
10. Cheese Crusted Pizza Pot Pies
The most common method of baking pizza pot pies is to line the bottom of a ramekin with cheese slices, fill the ramekin with pizza toppings, and drape dough over the rim. For this recipe, the fillings (sausage, carrots, capsicum, etc.) go directly in the bowl without a cheese lining. Cover the bowl with dough, brush it with egg wash, and add two cheese slices on top.
11. Pizza Cake Pot Pie
Now let's try an actual pizza cake because the cake shell technically makes this a pizza pot pie. Corinne uses cheese, sauce, pepperoni, and dough – all store-bought versions. She tops and bakes each pizza separately before stacking them in a springform pan (meaning it has a removable bottom and detachable sides). The top of the pot pie cake has toppings as well.
12. Pepperoni Pizza Pot Pie
You can probably make a million pizza variants just by trying their branded dough sheets. This time, we're using crescent roll dough. Get the sheets, not the pre-cut triangles. Put a few spoons of pizza sauce at the bottom of our ramekins. Put shredded cheese on the sauce then cover with pepperoni and more cheese. Cover the bowl with dough. Glaze with egg and bake.
13. Emmy's Pizza Balloon
A pizza balloon is an enclosed pizza with a puffy top crust. That sounds a lot like a pot pie. But in this age of covid (and beyond), you probably want to make this pizza pot pie recipe yourself. (Who wants to eat food someone else has inflated?!) It can be a fun party activity for kids, teens, dorms, or baby showers. Because blowing them up process is so entertaining.
14. Pear Tree Pizza Pot Pie
Beth bakes her pizza pot pies in clear custard bowls. She flips those 10-oz Pyrex dishes to serve the pot pie. Try British-style teacups because you can use the handle to slide it off. She lines the dish with provolone slices, spoons sauce and toppings onto the cheese, adds more cheese slices above the stuffing to form a 'cheese ball' then covers the bowl with pizza dough.
15. Pizza Cube Pot Pie
Do pizza cubes count as pot pies? Well, they're enclosed, have dough on all sides, and pizza toppings in the middle, so … yes? Either way. JP and Julia give these pizza cube pot pies their special hellthy touch. The pot pie crust is embellished with an egg wash glaze and pepperoni slices while the inside is stuffed. Also, cameos from Julia's mother and brother.
16. Crème de la Crumb Pizza Pot Pie
Here's a more traditional recipe for pizza pot pie, baked in a ramekin and flipped for plating. The dough is homemade and the pot pie fillings include mushrooms, Italian sausage, Canadian ham, and pizza herbs (oregano, garlic, and basil). For a pizza pot pie, you want low-moisture cheese slices at the bottom, but you can use wetter cheese varieties for stuffing.
17. Cajun Pizza Pot Pie
And now for a spicy take on pizza pot pie from Louisiana. The pot pie fillings include a meaty leftover pasta sauce that will serve as pizza sauce. Instead of lining the bowl with cheese, he brushed melted butter along the sides and dusted the bowl with romano cheese. Parmesan would work too. Follow with mozzarella, mushroom, meat sauce, then cover with oiled dough.
18. Paula Deen's Pizza Pot Pie
Double-crust pizza pot pies are made in pie dishes with high sides. You can also make them in a baking ring or springform pan. But single-crust pizza pot pies only have a top crust, so curvy bowls make them easier to flip. Here's a no-flip recipe baked in a square dish – but be sure it has straight sides and no lip. You could also use a casserole dish with small handles.
19. Pizza Stuffed Bell Peppers
Before you get all up in arms, stuffed Portobello pizzas qualify … so stuffed capsicum should be equally eligible, no? Yes. So here's the recipe. Cut the bell peppers in half horizontally and hollow them out. Cook the fillings (sausage, mushrooms, pizza sauce) and spoon them into the capsicum shell. Lay these on a bed of pizza sauce, add mozzarella, pepperoni, and olives.
20. So Delicious Pizza Pot Pie
When CPOG invented their inverted pizza dish, they named it pizza pot pie to distinguish it from regular pizza pies (like calzones or hot pockets). So the 'traditional pizza pot pie' is one like this. The recipe is simple, with carrots, mushrooms, and minced meat (aka ground beef). This version is baked in clay pots, so grease them with butter before lining with sliced cheese.
21. Thrillist Pizza Pot Pie
This micro-video is 27 seconds long (shout out to all the swifties). But pizza pot pie recipes are quick and easy, so you don't need much direction. The pot pie is served in its bowl without flipping. It's stuffed with cooked sausage, pizza sauce, cheese, and basil before covering it with flaky Pillsbury Grands. Add pizza sauce and pepperoni to the top crust.
22. Tastemade Pizza Pot Pie
This pizza pot pie is baked in a ramekin with vertical sides, so it would be tough to scoop out. But it's served in its baking bowl so don't worry. For plating, add a layer of cheese, and pepperoni on the upper crust. Blend the texture and flavors of your filling by cooking them together in one skillet (mushroom, sausage, olives, cheese, capsicum, onions, and marinara).
23. Sam's Alfredo Deep Dish Pizza Pot Pie
If it has cheese below the toppings, is baked in a pan with deep sides, and has stuffing between its two crusts, then it's a pizza pot pie. Sam's version is based on his quick-and-easy alfredo sauce dolloped over chicken and artichoke. All this is sealed with a second sheet of dough to make his double-crust chicken alfredo pizza pot pie. Top with red sauce and cheese.
24. Woolworths Pizza Pot Pie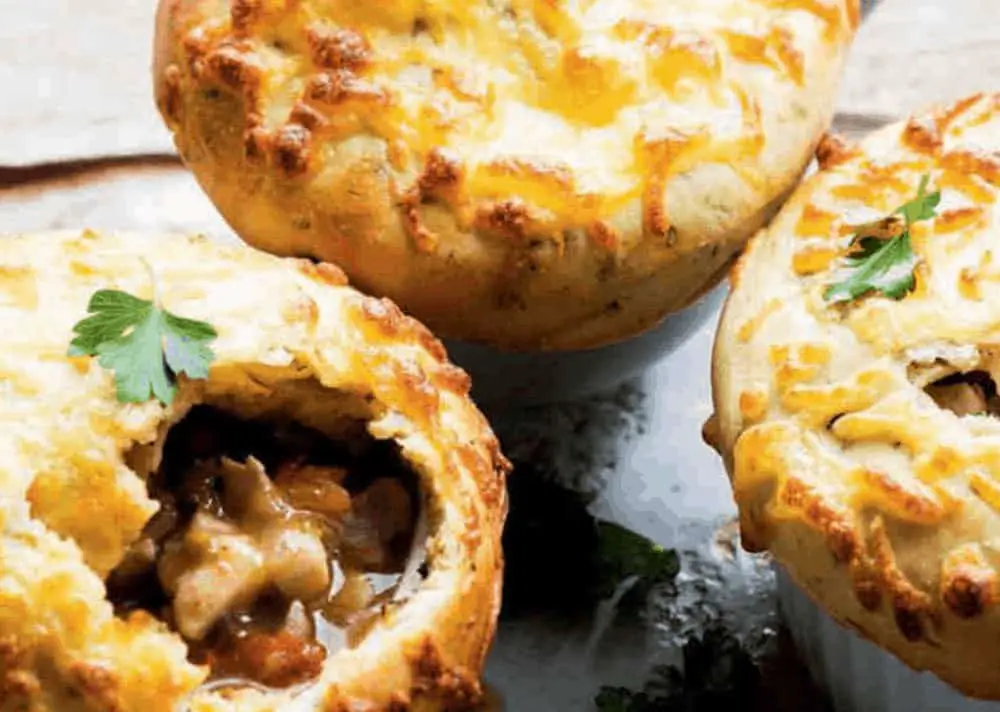 The dough in this pizza pot pie recipe is a mix of focaccia flatbread flour and pizza flour, with oregano mixed into the dough. For the fillings, cook mushrooms, onions, olives, tomatoes, bell peppers, and chicken thighs in chicken stock. The pot pies will be served in ramekins so the filling can be soupy. Cover with dough, glaze, sprinkle shredded cheese on top and bake.
25. Pop Kitchen Pizza Pot Pie
This double crust pizza pot pie is so easy to make. Sauté your ground beef, mushrooms, and diced bell peppers in a skillet. In a bowl, mix cream cheese, mozzarella shreds, and oregano before adding the cooked stuffing. Next, olives and canned tomatoes. Load these between two dough sheets in a pie pan. Brush with egg, slit and add pepperoni and capsicum on top.
26. Seasoned Mom's Pizza Pot Pie Casserole
This seasoned Virginia mother makes her pizza pot pies with biscuit crusts. For speed, use store-bought biscuit dough, jar marinara, and pre-shredded cheese. In a pan, fry your stuffing (ground beef, marinara, onions, etc.). Pour it all into a casserole dish and cover with cheese. Spread the mini biscuits over the stuffing – they don't have to cover completely.
27. Corinne's DIY Pizza Pot Pie
Let's check in with Corrine. This time, she's trying a more traditional version of pizza pot pie. But as always, she gives it her unique flair, and you can too! And no, don't panic … despite her opening commentary, she didn't put any actual p*t in it (though she did want to). She uses a six-hour red sauce made from fresh tomatoes. Her fillings include onions and olives.
28. AGG Pizza Pot Pie
The recipes on Average Guy Gourmet are relatively easy to follow. So if you're a pizza pot pie beginner, start here. The potpie fillings include Italian sausage, mozzarella, pepperoni, pizza sauce, and bell pepper. Fry everything together in an oven-safe skillet (except the cheese). Let the toppings cool then add the cheese on top. Cover with dough + pepperoni then bake.
29. Foodamentary Pizza Pot Pie
The sizzling start to this video will tantalize you into trying the recipe. The pan holds ground beef and Italian sausage. Add bell peppers and mushrooms. Cool this mixture and fold into cream cheese, mozzarella, garlic powder, onion powder, Italian seasoning, diced tomatoes, and pizza herbs. Spoon the stuffing between two sheets of dough in a pie pan with pepperoni.
30. Topsy Turvy Pizza Pot Pie
This pizza pot pie recipe is baked in a casserole dish covered with breadstick dough. You can bake it in a pie pan too. It's easy – just cook all the fillings and dump them into the pan. Let them cool about 10 minutes before covering it all with cheese. Then twist the breadstick strips and stretch them to cover the pan from rim to rim. They'll form a rope-like lattice.
31. Black Iron Pizza Pot Pie
Let's close the list with something that could clearly start a beef with all the vegans. It's a meat supreme pizza pot pie recipe with meatballs, sausage, ham, bacon, and pepperoni. It also has mushrooms, bell peppers, olives, onions, garlic, and cheese. Cook the meat on a BBQ grill before combining all the fillings in a skillet and covering them with dough.
What's your favorite pizza pot pie recipe? Show us how you make it in the comments!
31 Best Pizza Pot Pie Recipes
Ingredients
Chicken Pizza Pot Pie

Chicago Pizza & Oven Grinder Co. Pot Pizza Pie

Noreen's Portobello Pizza Pot Pie

Savory Pizza Muffins

Air Fryer Portobello Pizza Pot Pie

Pizza Cake Pot Pie

Emmy's Pizza Balloon

Pizza Cube Pot Pie

Cajun Pizza Pot Pie

Pizza Stuffed Bell Peppers

Thrillist Pizza Pot Pie

Sam's Alfredo Deep Dish Pizza Pot Pie

Pop Kitchen Pizza Pot Pie

Corinne's DIY Pizza Pot Pie

Foodamentary Pizza Pot Pie

Black Iron Pizza Pot Pie
Directions
Select your favorite recipe.
Organize all the required ingredients.
Prep the recipe in 30 minutes or less!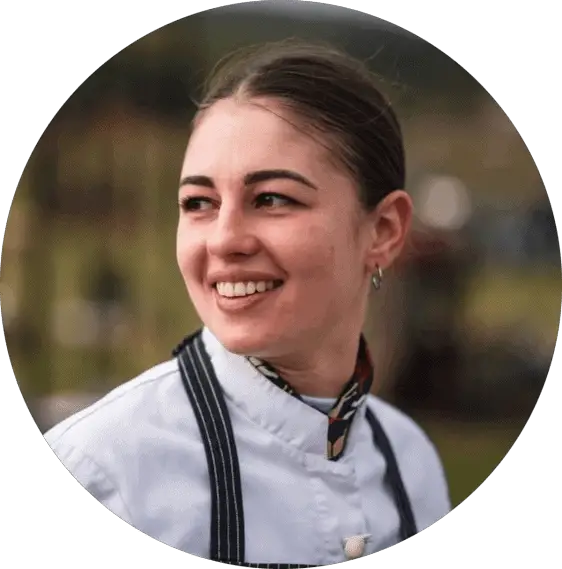 Julie has five years of experience in the restaurant industry, she decided to share her knowledge about her liking and fondness for food and pizza, of course, cooking as her love language. She's very passionate about what she's doing, making all the things she writes regarding pizza recipes, very amazing!