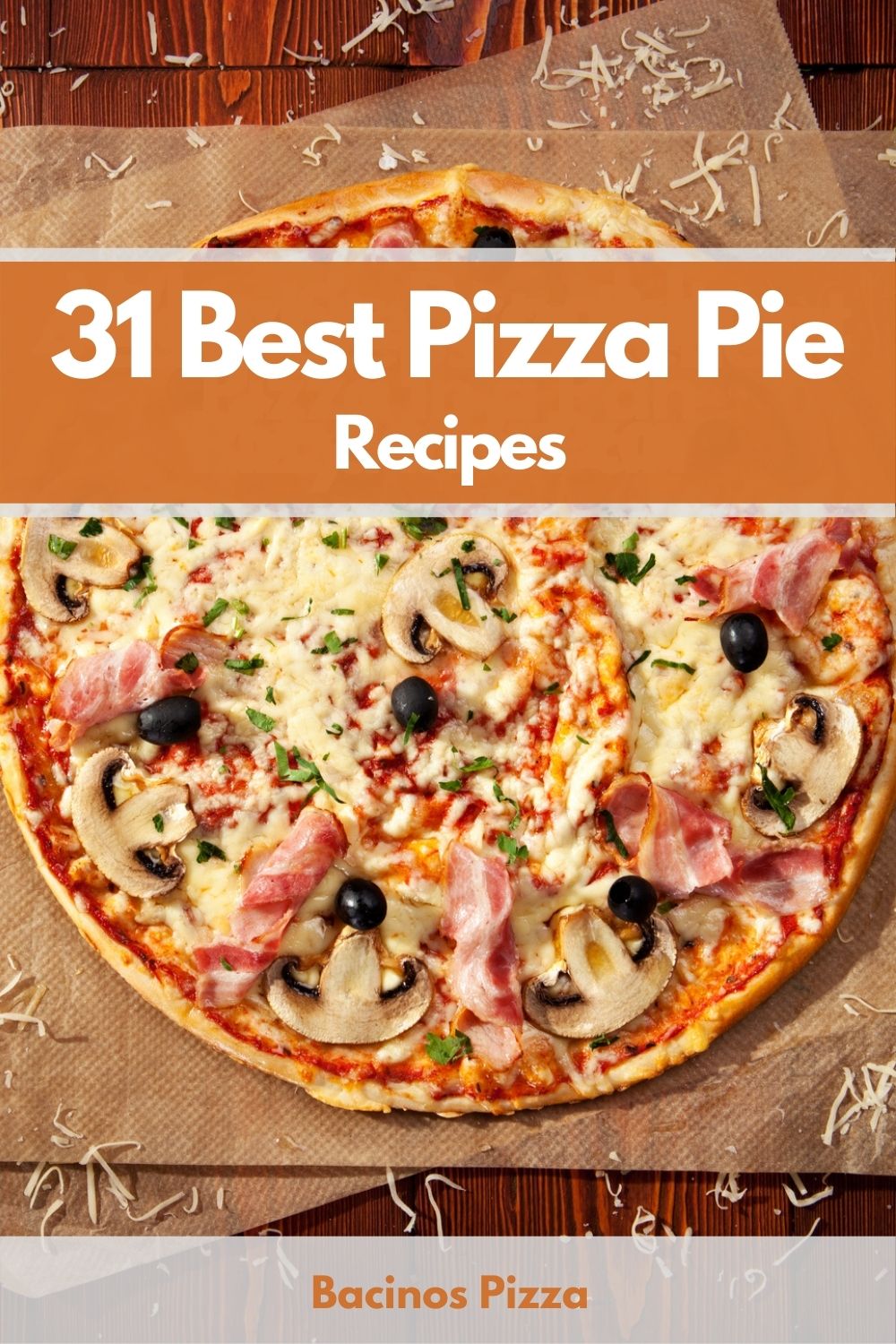 What's your definition of a pizza pie? Some people say all pizzas are pies. Others think a pie must be sealed, so they only count calzones, hot pockets, and double-crust pizzas as pies. Or maybe you think it only applies to pot pies that have pizza filling. Whatever your stand is, you're sure to enjoy these popular pizza pie recipes. So try them and tell us what you think!
1. DIY Giant Pizza Pot Pie
Let's start with our favorite YouTube chefs Julia and JP. Today they're joined by their bubbly neighbor – Arturo Alejandro Del Rivero) – as they jerry-rig a massive pizza pie recipe. (And yes, it turns out the Hellthy Royals are contagious.) The recipe has ground pork and ground chuck (cow shoulder), which is fattier than regular cuts of beef. Also, mushroom.
2. Tom Kerridge's Pizza Pie
The key difference between pizza pies and stuffed pizza is that pizza pies generally have a naked top surface. It may be shined with egg wash, seasoned butter, or even vodka water, but it rarely has cheese or toppings. Tom's pizza pie recipe is made with bread dough and filled with cheese, basil, and olives, but you can add meat. It has a topping of cheese and red sauce.
3. Kiki Foodies Pizza Pie
These palm-sized pizza hearts (pun intended) make the perfect pizza pie. Make the dough from scratch and use a cookie cutter, pie shaper, or pie press to shape your pizza pies. The latter two have optional crimped edges. Adding cold butter to the dough keeps your pie crust soft and fluffy. Fill your pies with red sauce, pepperoni or ground meat, and mozzarella.
4. Food Network's Pizza Pot Pie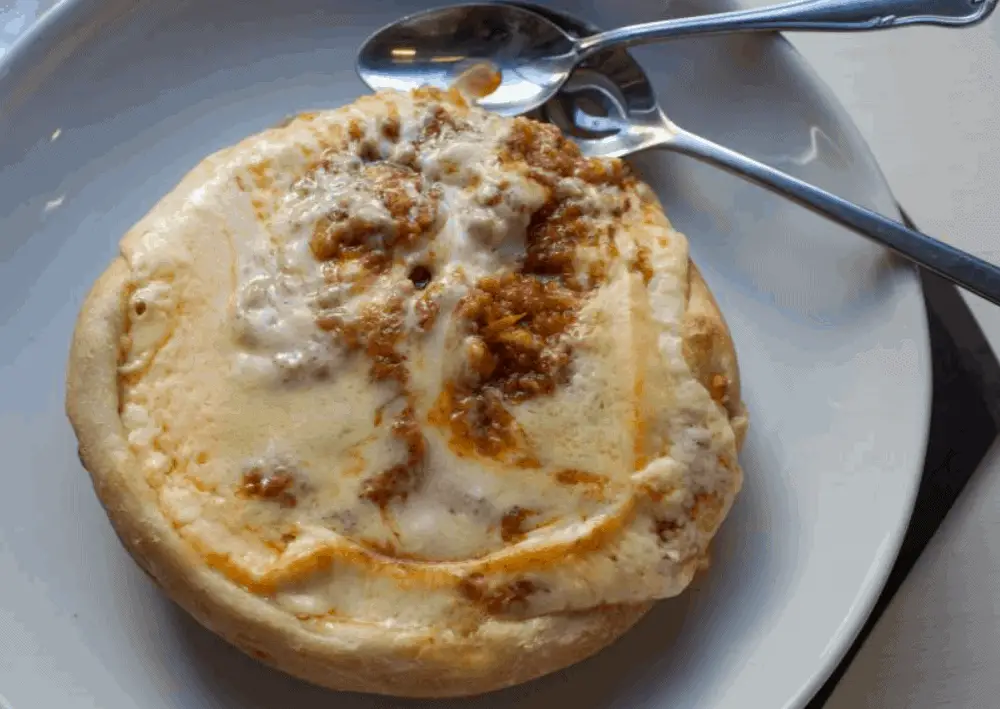 Online recipes can be misleading because the video lasts two minutes but the process takes three hours! But they're fun to use and are often more user-friendly than formal cookbooks. This pizza pie recipe takes over two hours – and that's with store-bought dough! It's filled with Havarti cheese, sweet Italian sausage, bell peppers, garlic, oregano, and red chili.
5. Smiley's Mini Pizza Pies
These half-moon pizza pies are sometimes called calzones in Italy. They were originally baked in Naples but now you can buy (or bake) them anywhere. Smiley's is a veggie version so it's filled with onions, oregano, green pepper, mushroom, and tomatoes. All the vegetables are chopped and chunky while the dough is enriched with yogurt to keep it light and fluffy.
6. Supreme Pizza Pie
This pizza pie recipe looks like a more conventional American pie. The edges are wonderfully wavy and the top crust has steam slits. This pizza pie filling is a rich sautéed mix of crumbled Italian sausage, pepperoni, olives, bell peppers, and onions. Fill the pie crust with alternating layers of stuffing, shredded mozzarella, and provolone slices. Coat with egg wash and bake.
7. One-Pot Pepperoni Pizza Pie
Another defining characteristic of pizza pie is the stuffing/filling. In flat pizza, the sauce is often separate from the topping. In a pizza pie, the marinara is often cooked with toppings to make a saucy stuffing mix. For this recipe, the fillings are ricotta, mozzarella, basil, and pepperoni. This pizza pie has a bottom crust but no top crust and it's gorgeous!
8. Aussie Pizza Pie
Sometimes, pizza (pot) pies are made using regular pizza dough. So your pie can be thin and crust or soft and bready. Other times, you stuff pizza toppings into a pre-made pie crust that's both crisp and flaky. Or just buy puff pastry from the store. This Aussie recipe fills the frozen puff pastry with olives, ham, cheese, onions, pizza sauce, mushrooms, and oregano.
9. Lincoln Park Pizza Pot Pie
Different baking dishes give different baking results. Pie pans might have patterned sides to give the pie decorative detail. They're often thinner than cookie sheets or pizza stones. The faster heat distribution makes the sides of your pizza pie crust crisp and brown. These pizza pot pies are baked in a bowl covered with dough then turned upside-down for a gooey finish.
10. Upside-Down Pizza Pot Pie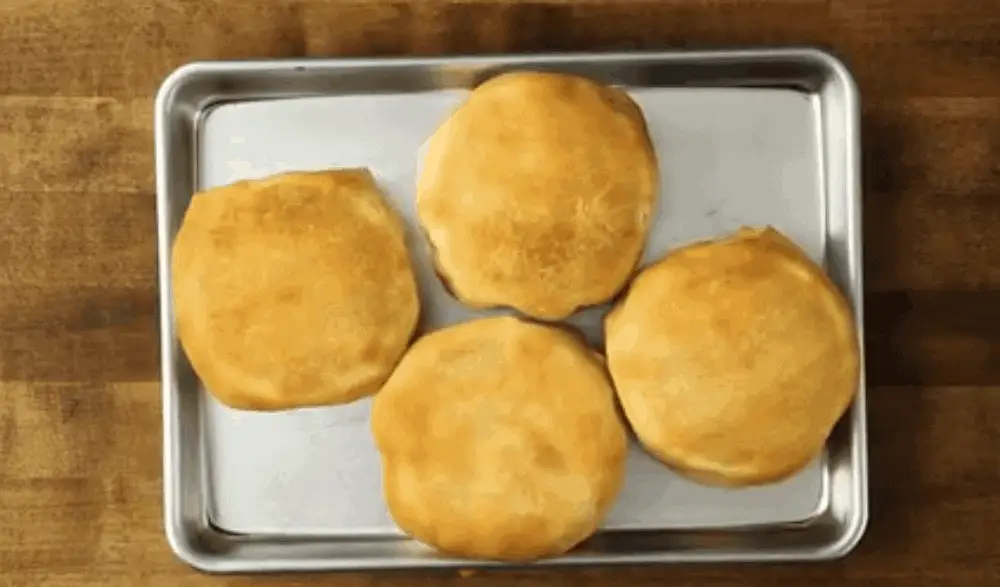 The secret to a good pizza pie filling – whether it's a pot pie or a regular pie – is to simmer. Some pizzerias simmer their meaty pizza sauce overnight. Then you just put the cheese at the bottom, add the sauce and stuffing, slap the dough on top, bake, and flip. This version uses crescent roll pizza crust (with the cheese on top) and is eaten in ramekins right-side-up.
11. CPOG-Style Pizza Pot Pie
Not everybody can simmer their pizza pie filling for 8 hours (like they do at Lincoln Park). Luckily. Most of the recipes on the list need 5 to 50 minutes of cook time. At least for the saucy stuffing. This recipe is a homemade version of that famous pot pie. To get the gooey top, put cheese at the bottom of the ramekin, add sauce, top with dough, and flip to serve.
12. Spaghetti Pizza Pie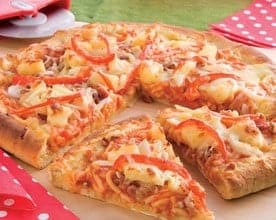 The definition of pizza pie can be pretty loose. If you baked the pie in a pan that has a lip or a rim, it's basically a pie. This Kiwi variation is filled with spaghetti, pizza herbs (oregano, basil, Italian seasoning, etc.), and pineapple. The recipe has oregano and milk baked into the dough. The filling includes bacon/ham, capsicum, and canned spaghetti in tomato sauce.
13. Dimitra's Pizza Pot Pie
Chicago Pizza & Oven Grinder (CPOG) gave us the template for this flipped pizza bowl. Now let's see what Dimitra makes of it. Her dough and sauce are homemade. Sliced cheese (singles, pre-sliced, or home-sliced) works best because it's easier to arrange them. Also, cups with handles are easier to flip. Alternative leftover fillings include meatballs or turkey.
14. Clean Eating Pizza Pie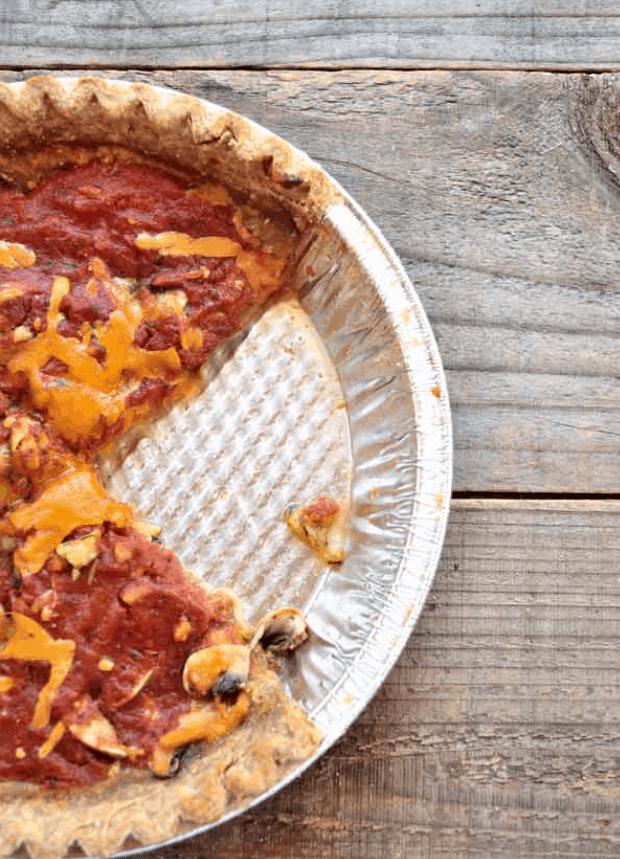 When you're making a pizza bowl, don't dock or prick the dough. You want those air bubbles to keep the crust puffy and leave room for the fillings to fully cook. But this pizza pie recipe bakes topless, so you do need to prick the pie crust base. You can find a pie crust recipe on the web page or you can buy some from the store. Fillings include mushrooms and zucchini.
15. Trutru's Easy Pizza Bowl
Italian pizza is a popular topping (and filling) for pizza. But you need to squeeze the meat out of its casing. Otherwise, the casing will leave unsightly flakes in your pizza pie. Cooking spray is great for greasing your oven-proof bowls. Line them with mozzarella slices and add the cooked-sausage-marinara. Bake until the crust is brown then cool slightly, flip, and serve.
16. Easy Deep Dish Pizza Pie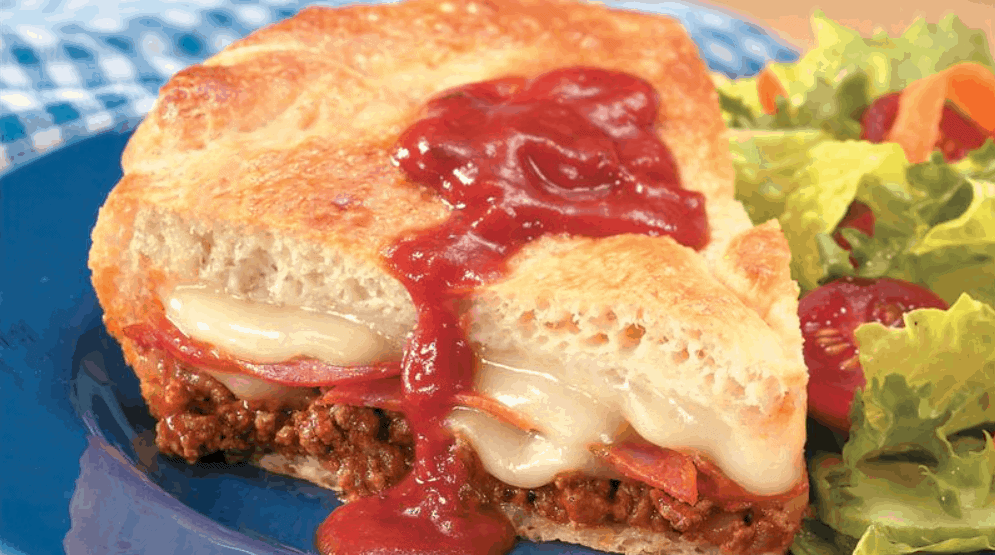 A deep-dish pizza isn't necessarily a pizza pie. It may have a thicker crust or a fatter base. The rim might be stuffed with cheese. But if it uses two dough sheets with cheese, veggies, or meat between – even if you have more sauce and toppings on the upper crust, then it's a pie. This version is stuffed with ground beef, pepperoni, and cheese between Pillsbury dough.
17. Chicken Pizza Pie
This pizza has gorgeous slit patterns on top, is filled with spicy hot chicken, and glazed with a milk wash. Enrich the dough with egg, milk, and butter. Marinate diced chicken in yogurt, garlic, chili, pepper, salt, tandoori masala, and lemon juice or vinegar. Cook on low heat until dry. Before the chicken, spread pizza sauce, capsicum, sweetcorn, cheese chunks, and olives.
18. Pizza Lovers Pizza Pie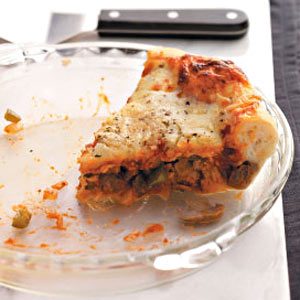 Bread dough works well for pizza pie recipes because it can support heavier toppings. This meat-lover's pizza pie has a rich filling of pulled pork sausage, pepperoni, mushroom, bell peppers, parmesan, and mozzarella. The pork pizza pie has roughly 300 calories per slice so it's not diet-friendly. But your tongue and tummy will love it, so try out the recipe and see.
19. Shiko's Homemade Pizza Pie
Do they eat pizza in Africa? Well, you may not have noticed, but those pretty black hands in Kiki's video (Recipe #3) were from Nigeria. And here's a pizza pie variant from Kenya. Shiko makes her dough, sauce, and cheese from scratch – all three recipes are linked in her show notes. Yes, her pizza pie has pineapples. And ground beef, which locals call mincemeat.
20. Short Crust Pizza Pie
Does it still count as a pizza pie if the top is open? It can. This recipe uses shortcrust pastry dough and has a textured edge from the pie pan so yes, it's eligible. Remember to weigh down the dough as you pre-bake it. This flattens it so it can better hold the pie fillings. Here, they've used pepperoni, olives, anchovy fillets, pizza herbs, and cheese. The sauce is raw.
21. OPTP-Style Fried Pizza Pie
Here's an interesting one. Its pie dough has an egg, milk, and yeast so its texture is cakey. It has oregano baked into it too. For the pizza pie fillings, marinate diced chicken in ginger, garlic, spices, and lemon juice. Fry the chicken dry. Stuff the pie with pizza sauce, chicken, olives, capsicum, cheese, tomatoes, onions, and jalapenos. Seal the pizza pie and deep-fry.
22. Delish Pizza Pot Pie
Not all pizza (pot) pies are pizza bowls. Here's an example of a pizza pie recipe baked in a skillet. Cast iron, of course. It has two layers of dough with stuffing in the middle and pepperoni on top. The pie filling combines Italian sausage, mushroom, broccoli florets, bell peppers, cheese, pizza sauce, and herbs. If the filling is too soupy, add flour to the saucepan.
23. Sooper Chef's Chicken Pizza Pie
Two questions – one, how do they get those pretty holes on the pizza pie top crust? By slitting and stretching. Two, what turns a chicken pot pie into a chicken pizza pie? Pizza sauce and pizza herbs. Here – as with many South Asian recipe hacks – the dough has eggs and milk. And the pie filling has chicken tikka, mushroom, and capsicum (bell pepper).
24. Meat Lovers Upside-Down Pizza Pie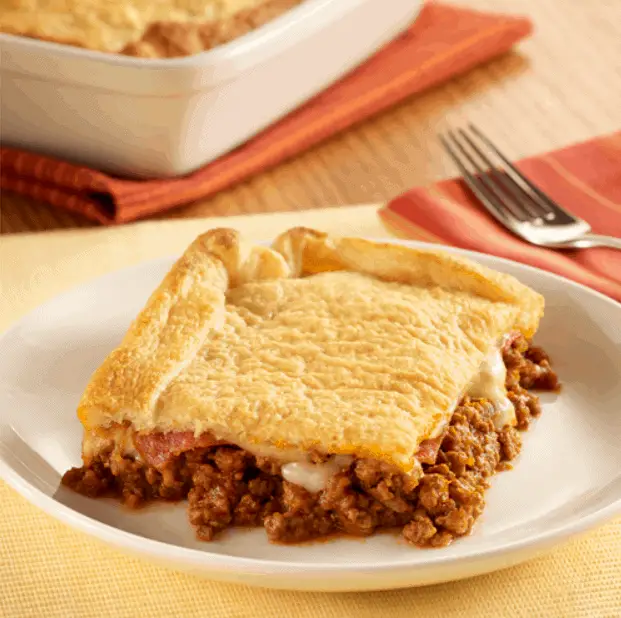 When you see the phrase 'upside-down pizza pie' they're generally referring to a pizza bowl. Not this time. The pizza pie is baked in a skillet and has a plain glazed top with toppings below. And it has no bottom crust. Cook the stuffing, pour it into a baking dish, cover it with pie crust, and bake. These fillings include ground beef, pepperoni, cheese, and pork sausage.
25. Braided Pizza Pie
These days, it's not just cake frosting, tomatoes, pumpkins, or avocados that get carved into pretty shapes and pictures. This pizza pie has an elaborate flower wreath on its upper crust. Make your dough with egg and milk then cook your chicken, cheese, and mushroom stuffing. Slit the upper crust to form a lattice. Work the rim into a braided rope crowned with a rose.
26. Spinach Pizza Pie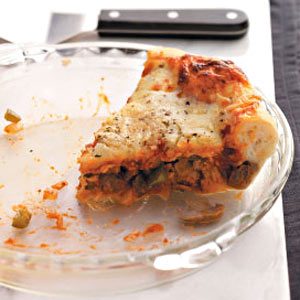 We don't know for sure if Sweethaven has any relation to Naples, but the spinachy puns in Popeye and Olive Oyl certainly put pizza on the brain. Especially green Napoli pizza. This pizza pie is filled with chicory, kale, anchovy fillets, pizza herbs, and yes, olives. The pizza pie dough has egg and milk. The cheese that works best is provolone, Gruyere, or anything fruity. [31 Best Pizza Pie Recipes]
27. Courtney Budzyn's Pizza Pot Pie
Let's get back to pizza bowls as we wind down. The What's For Din version is fairly easy. You don't need to cook anything (except for the pizza sauce). Just line the ramekin with cheese slices, pepperoni, onions, mushroom, and bell peppers. Spoon your pizza sauce over the filling and add your dough on top. You can serve it in the baking bowl or flip it onto a plate.
28. Pie Maker Pizza Pies
If you bake it in a pie pan (or using pie crust), then it's a pizza pie. And if you make it in an electric pie maker, that definitely counts. This pizza pie recipe makes eeny mini pizza pies that look closer to muffin cups. But as always, the pizza sauce and pizza herbs leave your pies on the right side of the menu. Try fillings like prosciutto, pineapple, or black olives.
29. Mozzarella Pizza Pie
Here's another flowery pizza pie. The filling includes mozzarella, salami, basil, or any other topping you like. The upper crust has a shrimp edge and its middle section is dotted with flowers. You could make the dough in the recipe, but store-bought and a good cookie cutter will give you the same result. Egg wash gives your pizza pie and pretty shine.
30. Cauliflower Cheese Pizza Pie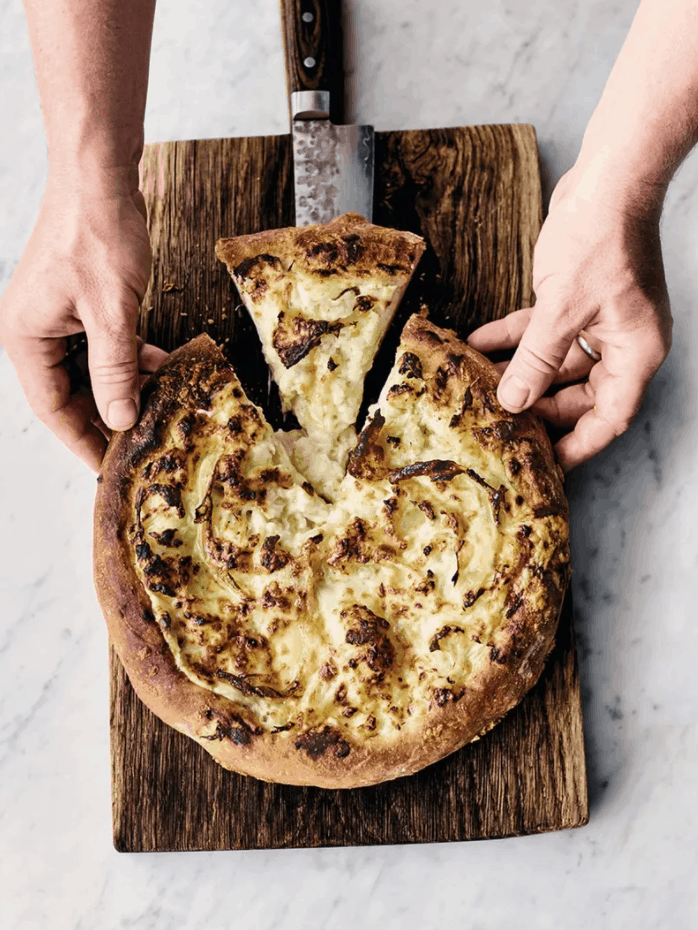 You might enjoy this if you're vegan. But even if you don't, it's a fun one to try. Cauliflower is often used as a diet-friendly substitute for mashed potatoes, so yes, it works as a healthy pizza base. But in this case, Jamie uses it as a pizza pie filling. Cook the cauliflower in a white sauce with English mustard, butter, flour, milk, butter, onions, and bay leaves. Add cheese.
31. Rigatoni Pizza Pie
Our final pizza pie recipe is sufficiently epic. From healthy cauliflower pizza, we're now moving to a pasta-crust pizza. Any pasta works but this recipe uses boiled rigatoni mixed with parmesan. Stack them tightly and vertically in your baking dish, standing on a pizza sauce base. Mix ricotta, milk, and eggs. Pour over the pasta. Add toppings and bake.
What's your favorite pizza pie recipe? Tell us how you make it in the comments!
31 Best Pizza Pie Recipes
Ingredients
DIY Giant Pizza Pot Pie

Kiki Foodies Pizza Pie

Smiley's Mini Pizza Pies

One-Pot Pepperoni Pizza Pie

Lincoln Park Pizza Pot Pie

CPOG-Style Pizza Pot Pie

Dimitra's Pizza Pot Pie

Trutru's Easy Pizza Bowl

Chicken Pizza Pie

Shiko's Homemade Pizza Pie

OPTP-Style Fried Pizza Pie

Sooper Chef's Chicken Pizza Pie

Braided Pizza Pie

Courtney Budzyn's Pizza Pot Pie

Mozzarella Pizza Pie

Rigatoni Pizza Pie
Directions
Select your favorite recipe.
Organize all the required ingredients.
Prep the recipe in 30 minutes or less!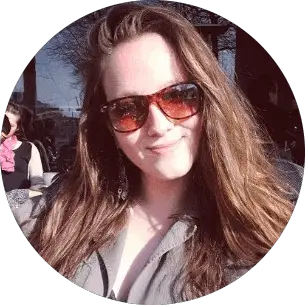 Barbara is an enthusiastic food-exploring person that goes through different culinary experiences. She got inspired by creating a pizza blog post after she tasted one of the best-selling pizzas in Toledo.