Stuffed pizza means different things to different people. It could be a stuffed crust with cheese along the folded rim. It could be a pizza cake, with toppings and extra 'pizza dough slices' encased in a cake-like casing.
Or the whole thing could be folded like a calzone or a hot pocket. Or maybe the entire base is stuffed! So let's dig into today's top stuffed pizza recipes.
1. Sam's Stuffed Crust Garlic Bread Pizza
If you're familiar with Sam the Cooking Guy, you know his videos are on the longer side. He's the epitome of 'cooking and a show' because his tips are both helpful and entertaining.You'll need about half an hour for the video, so get comfy! One, build in the flavor by mixing crushed garlic and oregano into the 3-minute dough before baking the base. Two, jalapeno cheese stick stuffing!
2. Chicago-Style Stuffed Pizza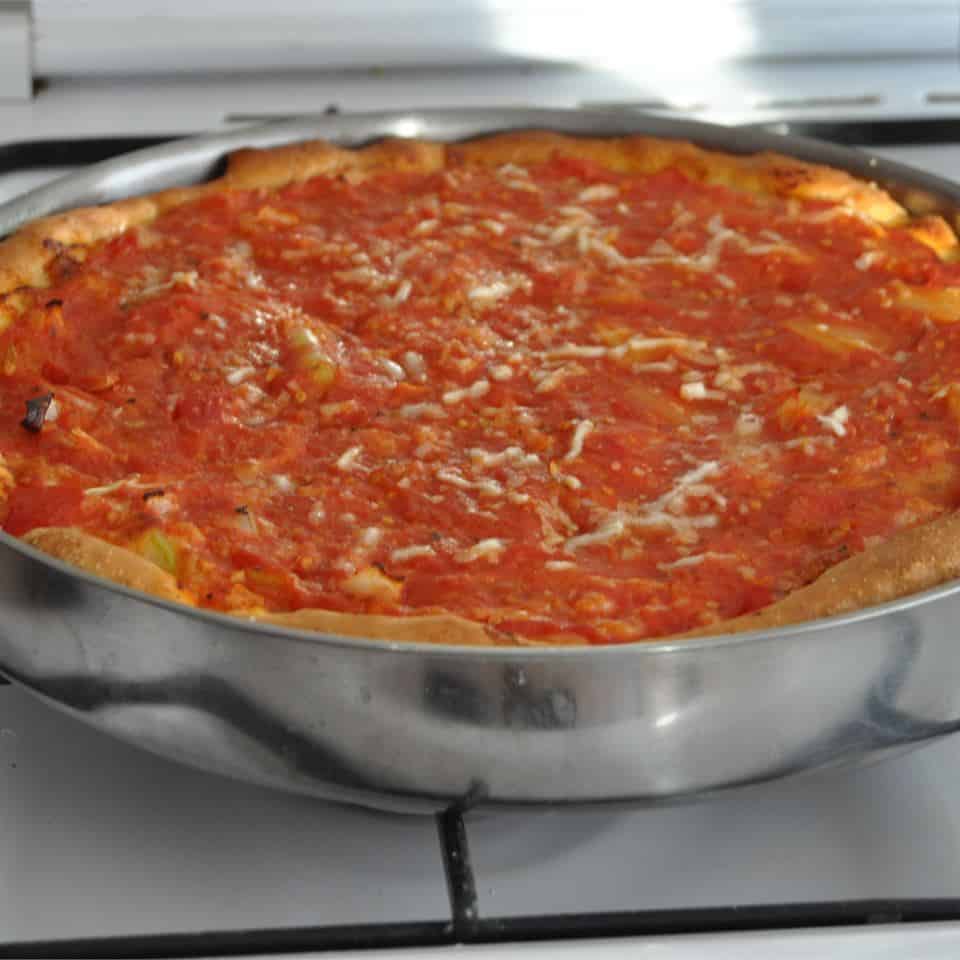 Urban legend claims Chicago residents only eat stuffed thick-crust pizza. If you've been here before, you know we've debunked that. Completely! But if you do delight in deep dish delicacies, try this amazing recipe. The whole base is stuffed, not just the rim. And it's not just cheese – the stuffing has sausage, pepperoni, bell peppers, onions, garlic, and herbs.
3. Shawn's Stuffed Crust Pizza
Sam's recipe showed you how to make the no-knead pizza dough from scratch. But if you're good with that (or if you prefer store-bought dough), you can pick a trick from Shawn. His video focuses on stuffing. Oil the pan and coat the dough in flour to stop it from sticking and keep it crisp. Overlapping the pan makes it easier to tuck cheese stuffing into your pizza crust rim.
4. Double Decker Stuffed Pizza
Stuffed crust pizza is nice. But fully stuffed pizza? That's paradise. And in this stuffed pizza recipe, the base is made of two dough sheets and lots of topping on either side. So the pizza has goodies both above and below. The top of the pizza is mostly cheese and marinara, but the inside has baby mushrooms, pepperoni, Italian sausage, and cooked bell peppers.
5. Fugazzeta Stuffed Pizza
Regional food variants can be a delicious surprise. And this Argentinian version of stuffed pizza is a true delight. The yeast is bloomed with sugar and flour to make a rising paste. This white pizza has no red sauce. The two sheets of dough are stuffed with three kinds of cheese (diced mozzarella, cheddar, and butter-cheese slices) and topped with spicy sautéed onions.
6. King Arthur Stuffed Pizza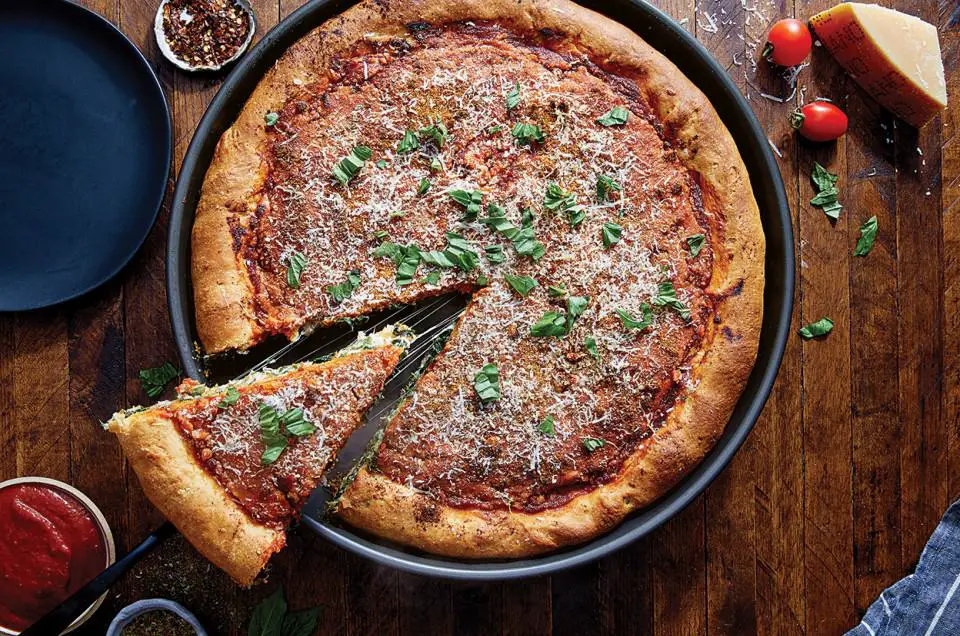 We can't speak for the residents of Camelot, but we're fairly sure this dish is worthy of the holy grail. And it's a complex stuffed pizza recipe, so it does seem like a knightly quest. The sausage, sauce, and dough are all homemade. The dough has semolina, all-purpose, butter, olive oil, and vegetable oil. The filling includes spiced sausage, spinach, and cheese blends.
7. World Champion Chicago-Style Stuffed Pizza
This 10lb treasure comes from a pizzeria in Northern Indiana. Lay the bottom sheet of dough in a deep, greased pan. Press the edges into the pan with no holes or gaps. Spread some red sauce along the rim but leave the base bare. Layer the pizza filling starting with crumbled sausage (or ground beef), pepperoni, and mozzarella. Add the top dough sheet and sauce.
8. Cooking Channel Stuffed Sausage Pizza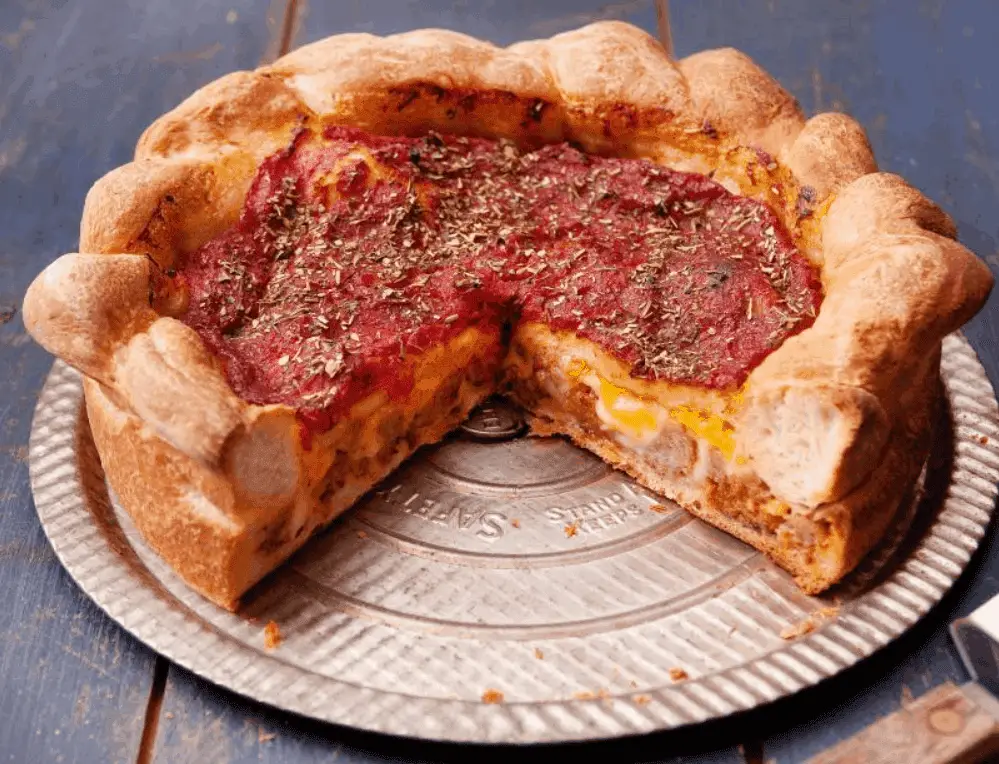 This stuffed pizza recipe is interesting because the knobby crust isn't stuffed but the base of the pizza is. So the top texture will grab your attention but the real secret sauce – pun intended – is in the pizza filling. That has two types of Italian sausage (hot + sweet), cheddar, and mozzarella. The red sauce goes on top of the pizza with a sprinkling of Italian seasoning.
9. Pepperoni Cheesy Bites Pizza
The stuffed pizza crust here is just as knobby as the previous pizza recipe. But the shape is more stylish … and it's stuffed with string cheese (or hot dogs). It takes some practice to twist the crust, but those crunchy corners are such a pleasure to eat. You can keep your toppings as simple as you like – sliced pepperoni, garlic butter glaze, and the usual pizza herbs.
10. Betty Crocker Stuffed Pizza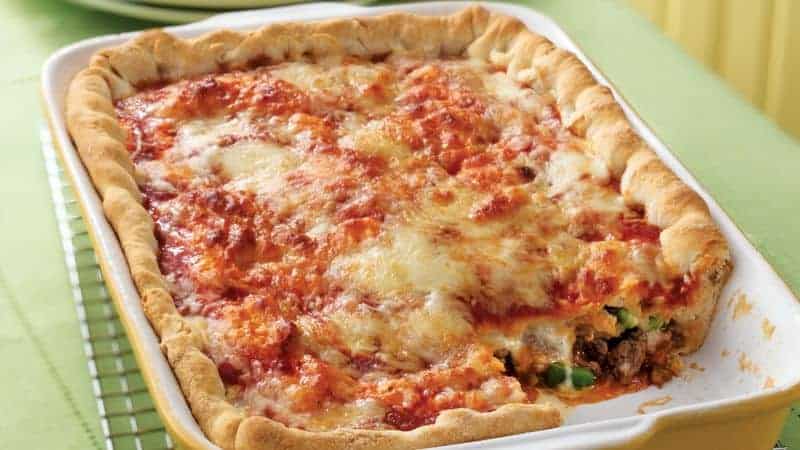 Rectangular pizzas are getting pretty popular these days. They're easier to make at home. Especially with Pillsbury dough that already comes as a rectangle. The pizza dough here comes from a Bisquick box mix. Add water, let it rest, and roll into two rectangular sheets. Between the pizza dough sheets, stuff the pizza with sausage, mushrooms, and ground beef.
11. Shrimp Edge Stuffed Pizza
Cheese is the most common stuffing for pizza crust. You can line the edge with string cheese also known as cheese sticks – that's the easiest option. Or you can tuck shredded mozzarella (or even grated cheddar) along the border. But this shrimp edge pizza recipe uses 'wet cheese' out of an icing bag, can, or tube. Use scissors to cut and twist the stuffed rim into curvy scallops.
12. Double-Stuffed Pan Pizza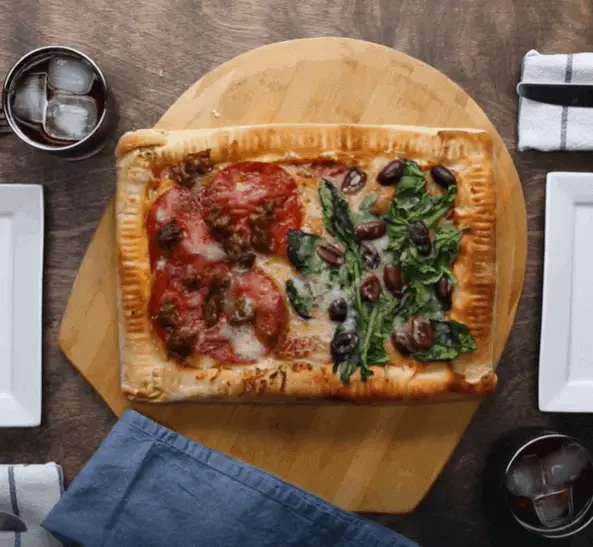 Here's another oblong pizza delight. This time, the cheese sticks are folded along the edge of rectangular pizza dough. This stuffed pizza recipe makes the yeasty dough from scratch and proves it for 90 minutes. The double stuffing comes from string cheese along the pizza dough borders plus shredded cheese between the two dough sheets. Finish with sauce and toppings.
13. Chicken Pizza with Decorative Borders
You can do a lot to enhance the visuals of your stuffed crust pizza. You can coil it, pinch it, or even braid it. Your 'rim treatment' affects how the pizza looks and cooks, and subsequently how it tastes. This tutorial shows easy ways to create gorgeous shapes. The pizza itself is topped with chicken, mushroom, leafy greens, sweet corn, and a lattice of white sauce.
14. Giordano's Stuffed Pizza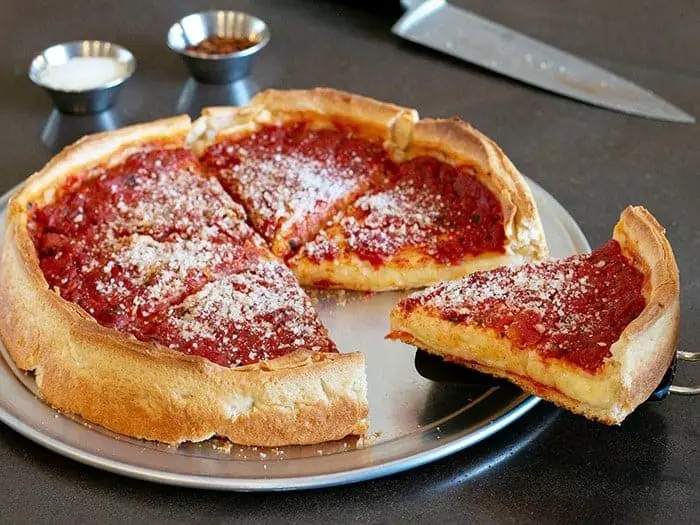 Chicago's deep dish pizzas often have the cheese below the red sauce. This happens whether just the crust is stuffed or the whole pizza base is full of cheese. That's what gives them their thick-crust its stereotypical look. These dough layers are stuffed with cheese, mushrooms, bell peppers, and crumbled sausage. Finish with a sprinkling of parmesan over the marinara.
15. Stuffed Pizza Doce with Chocolate
Pizza cake isn't the only form of sweet pizza. Here's an even sweeter version on a regular pizza dough base. The pizza is shaped like a love heart and its rim is stuffed with chocolate. The chocolate-filled crust is then scalloped into a shrimp edge. The pizza is dusted with powdered sugar and baked, then topped with vanilla frosting and chocolate shavings.
16. Cheesy Stuffed Pizza Crust Ring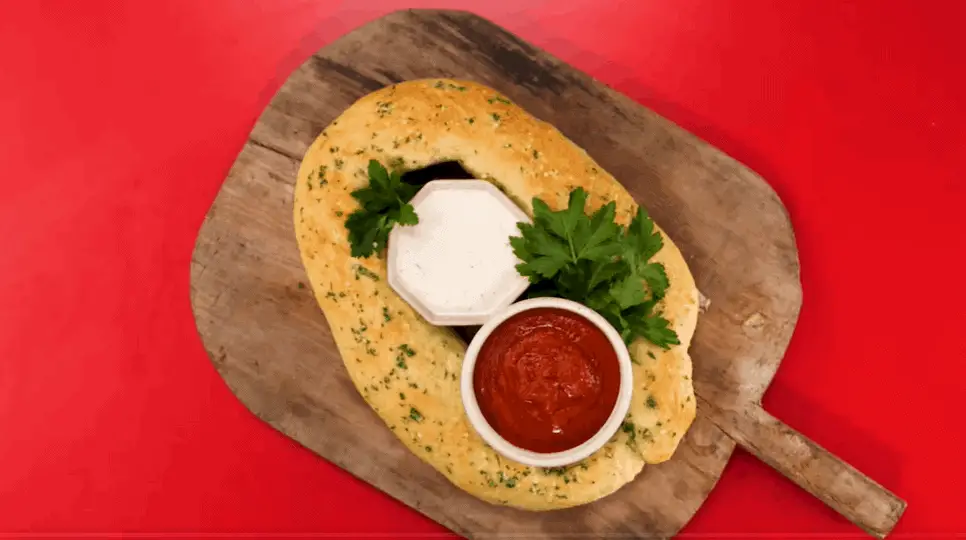 We focus a lot on stuffing the edges of your pizza. But what happens when the stuffed ring is all there is? The plating is prettier since you can put a bowl of dip in the middle of your pizza. It's easier to make too. Roll the pizza dough into a long strip and fill it with cheese sticks and parmesan. Pinch it shut, coil it into a ring, brush with herbed butter, and bake.
17. Quail Stuffed Pizza
The beauty of modern video recipes is their ease. You don't even need to understand the language – you can mute or turn on automated captions. This stuffed pizza recipe isn't in English but it's still delicious. The pizza crust is stuff with wet herbed cheese and the pizza toppings include shredded pepperoni, boiled quail eggs, onion rings, bacon, and peppers.
18. Stuffed Pizza Rolls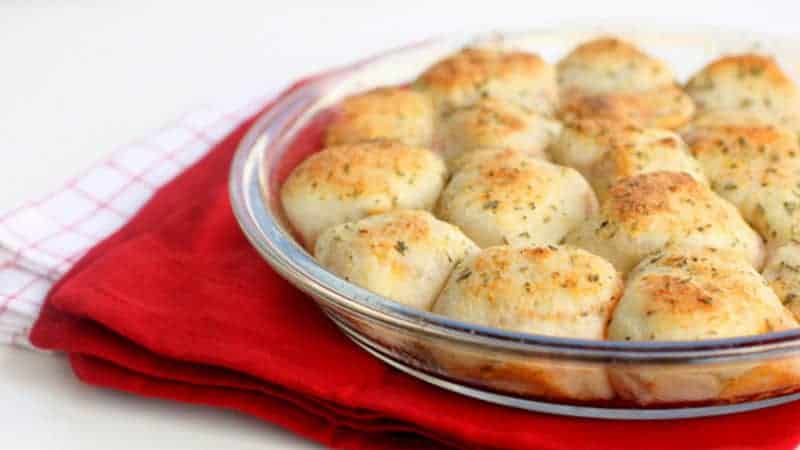 Stuffed pizza recipes come in all shapes and sizes. These come in the form of dinner rolls filled with pizza herbs, toppings, and spices. These are easy to make. Get some store-bought pizza dough and cut it into squares. In the middle of each square, place a cube or two of cheese and a pepperoni slice. Seal the squares, brush with butter or egg, and bake.
19. Volcano Edge Stuffed Pizza
Americans love our cheese sticks/string, and cans. But in other parts of the world, you can buy a bag of cheese paste and pipe it out. It makes stuffed pizza a cinch. This volcano-edge pizza has dollops of cheddar and mozzarella folded into the rim. Slit and curl the dough around the cheese to form mini volcanoes that 'erupt' in the oven. Use any topping you like.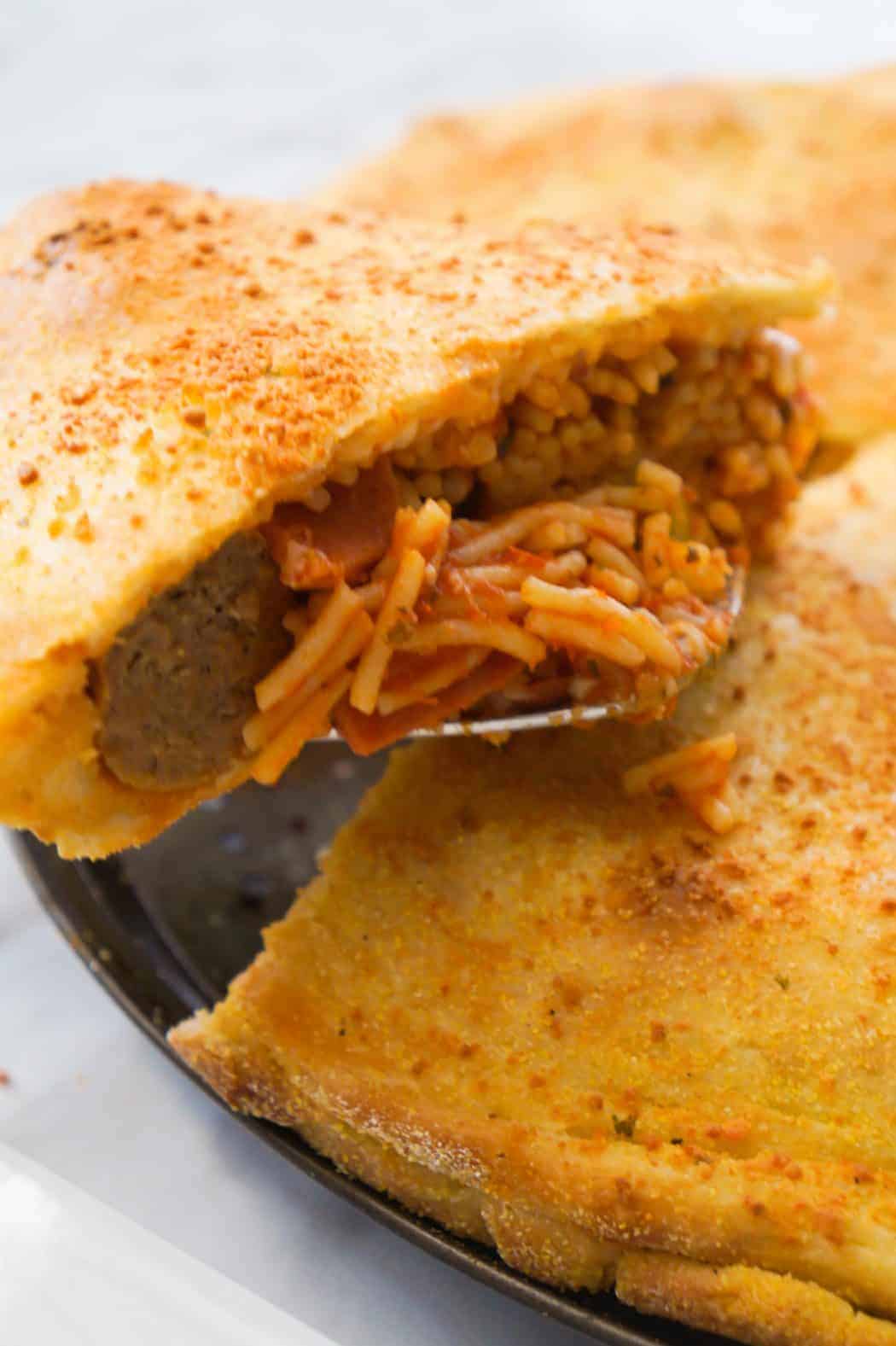 This is a rather polarising stuffed pizza recipe. But it's an amazing form of comfort food. And it's a great way to use leftover spaghetti and meatballs. You can also use mac 'n cheese. The food should be reheated (or cooked from scratch) in one pot. Once it's ready, spoon it between two sheets of pizza dough, seal, and bake. Putting pasta sauce on top is optional.
21. Potato Stuffed Volcano Pizza
Volcano-crust pizza is already pretty epic. But if you want to take it a step higher, add potatoes to your pizza filling. As you form your volcanoes along the rim, fill alternating craters with balls of mashed potato balls and squiggles of cheese spread (cheddar + catupiry). Top the pizza with red sauce, French fries, catupiry paste, bacon, and mozzarella.
22. Stuffed Arrabiatta Margherita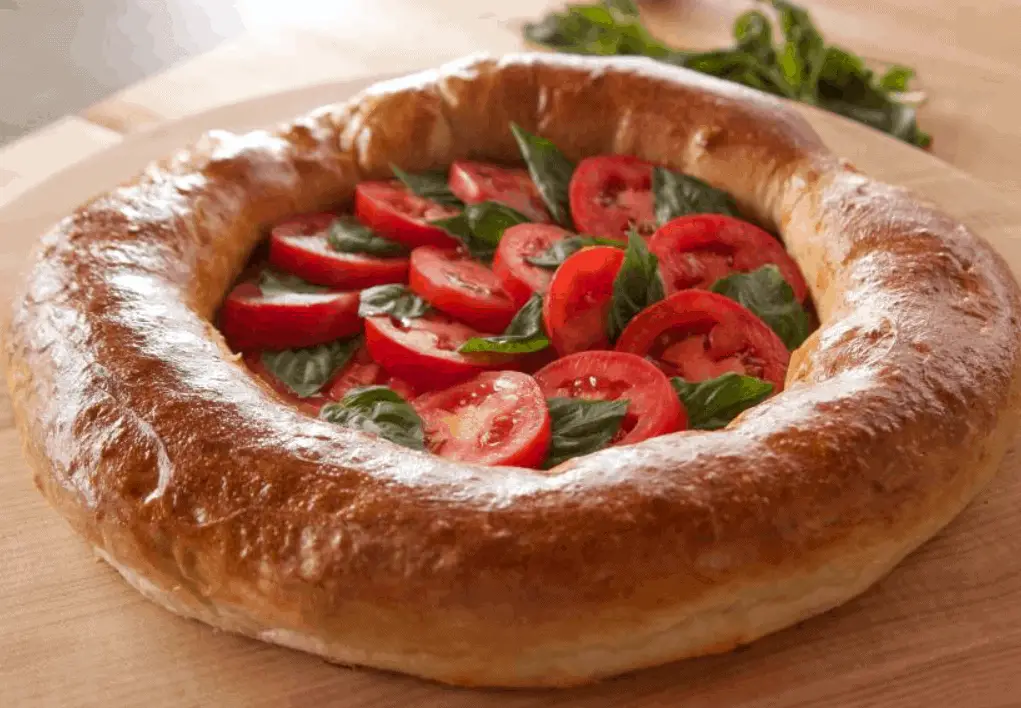 This stuffed pizza recipe combines a stuffed pizza ring with 'angry sauce'. The pizza 'toppings' are basil, tomato, and cheese, just like a regular Margherita. But the tomatoes are sliced, the basil is torn, and the pizza sauce is seasoned with spicy red chili to make arrabiatta sauce. The ring is filled with arrabiatta, parmesan, pepperoni, and mozzarella.
23. Stuffed Pizza Sol
If you can get past your GoT flashbacks, this starry sun-shaped pizza will impress your eyes as well as your palate. It may take a few tries to shape it right, but you still get to eat all the backfired versions, so win-win! Cut slits at the sides of your pizza dough and put a squiggle of cheese paste in each one. Fold the dough over to form stuffed wedges on your sunny pizza.
24. Stuffed Pizza Skulls
You might be making treats for Halloween. Or trying to bond with your goth teenager. It could even be an archaeology-themed party. Either way, these pizza skulls are sure to be a hit. Shape the raw pizza dough into skulls using your fingers or a cookie cutter. Fill each skull with sauce, cheese, and toppings then chill in the fridge to solidify. Bake and serve with a dip.
25. Stuffed Pizza Wreath
We've seen solar pizzas and stuffed rings. Now check out this pizza garland. Instead of just filling a narrow border with string cheese, form a circle of grated cheese, sliced onions, and shredded ham or bacon. Leave an empty spot in the middle and a margin at the sides. Slit the center, fold it over the sides, and seal to form stuffed pockets. Top them with tomato slices.
26. Stuffed Braided Pizza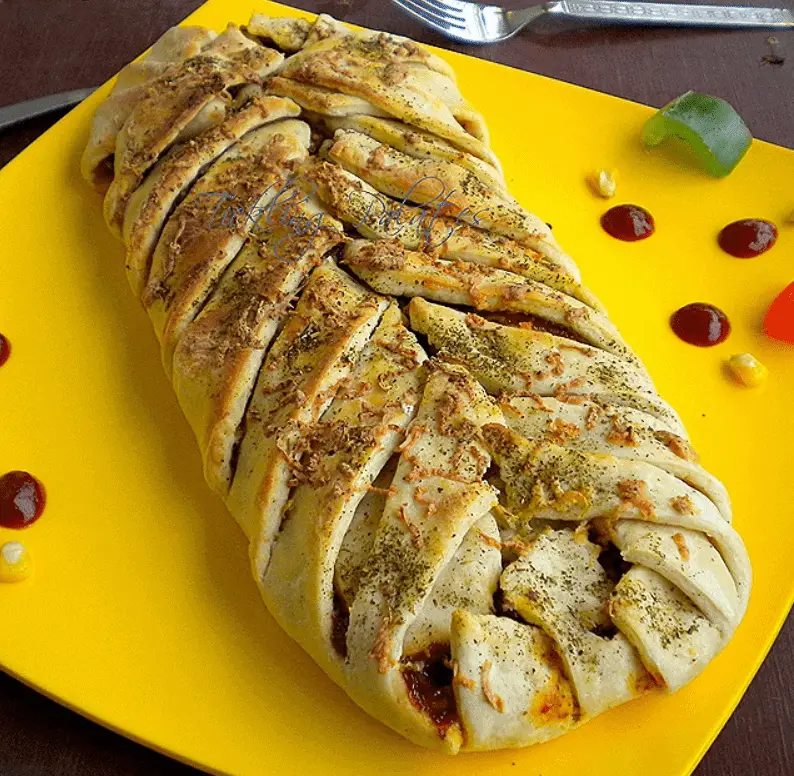 This pizza is really simple and you can tweak it to your taste. Radhika makes a veggie version with red sauce, sweetcorn, bell peppers, and onions. But you can also try Sam's no-sauce deli version with provolone, mozzarella, salami, chorizo, and spinach. For both variants, stack the toppings down the middle of the dough. Slit the sides, fold into a braid, bake, and serve.
27. Cheesy Chicken Stuffed Crust Pizza
You can fill your pizza with any type of chicken you like. Try this sweet-n-sour sauté fried in coconut oil and chili for added flavor. Just be sure the chicken isn't too soupy or it'll make your pizza crust soggy. Stuff the rim with string cheese and layer the chicken sauce in the center. Follow with mozzarella shreds, black olives, jalapenos, and green bell peppers.
28. Chef John's Calzone
Calzone is a different pizza category, but in many ways, it's just a fancy stuffed pizza. In its simplest form, a calzone is a small pizza folded in half and baked shut. This one is filled with ham (prosciutto + smoked and diced) and cheese (ricotta + mozzarella). Also, while flat pizza dough is often prebaked, calzones are stuffed and baked on raw dough so they cook longer.
29. Sam's Alfredo Stuffed Pizza
Remember Sam? He makes everything look easy – even alfredo. Follow his tailored recipe with whipping cream, garlic, and butter. To stuff the pizza, start with mozzarella and follow with red sauce. The cheese protects the base from getting mushy. Add the chicken shreds and marinated artichoke in alternating layers then pour on the alfredo and seal the stuffed pizza.
30. Escarole Stuffed Pizza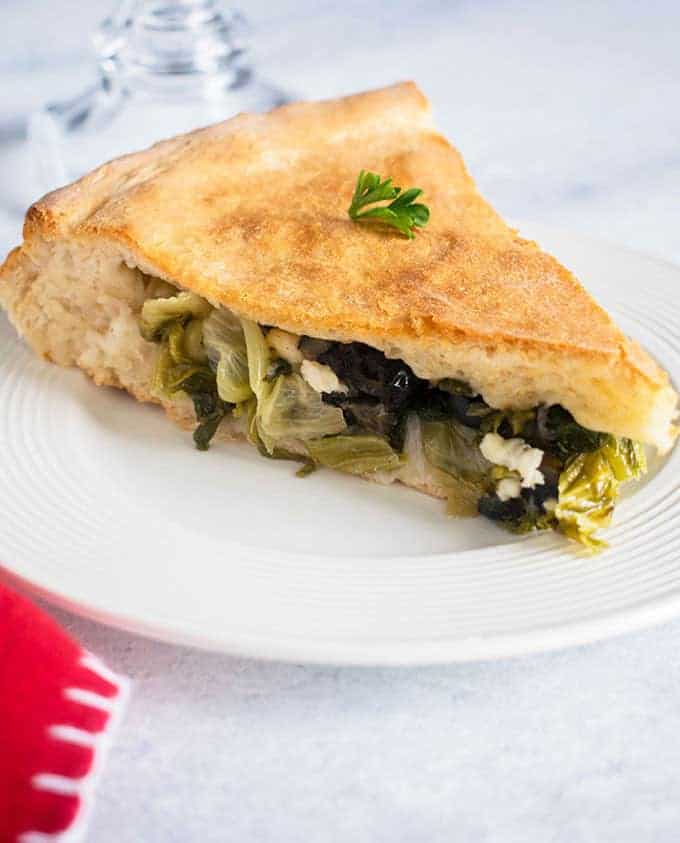 Escarole is a type of leafy green vegetable that – yes – Italians put in stuffed pizza. They call it Pizza di Scarola and it's … healthy. Blanch the greens then sauté for two minutes max in garlic and olive oil. Drain thoroughly and mix your greens with olives and Romano, Italian Fontina, or low-moisture mozzarella. Layer this between two sheets of dough and bake.
31. Stuffed Cheese and Chicken Pizza
We'll close our list with some surprising but delicious ingredients. The pizza dough is made from scratch and enriched with milk. The rim is then stuffed with cheese sticks stuffed in fried chicken tenders. For the topping, use red sauce, olives, jalapenos, red onions, sliced bell peppers, diced tomatoes, and breaded chicken tenders. Finish with shredded cheese.
What is your favorite stuffed pizza recipe? Drop us a comment to show us how you make it!
31 Best Stuffed Pizza Recipes
Ingredients
Sam's Stuffed Crust Garlic Bread Pizza

Shawn's Stuffed Crust Pizza

Fugazzeta Stuffed Pizza

World Champion Chicago-Style Stuffed Pizza

Pepperoni Cheesy Bites Pizza

Shrimp Edge Stuffed Pizza

Chicken Pizza With Decorative Borders

Stuffed Pizza Doce With Chocolate

Quail Stuffed Pizza

Volcano Edge Stuffed Pizza

Potato Stuffed Volcano Pizza

Stuffed Pizza Sol

Stuffed Pizza Wreath

Cheesy Chicken Stuffed Crust Pizza

Sam's Alfredo Stuffed Pizza

Stuffed Cheese And Chicken Pizza
Directions
Select your favorite recipe.
Organize all the required ingredients.
Prep the recipe in 30 minutes or less!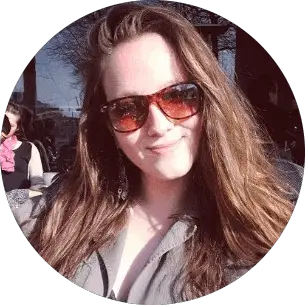 Barbara is an enthusiastic food-exploring person that goes through different culinary experiences. She got inspired by creating a pizza blog post after she tasted one of the best-selling pizzas in Toledo.